While it's known all over the world as the highest quality, most comfortable and stylish sneakers for girls, boys, and adults, Converse Chuck Taylor shoes are some of the best shoes you can buy for your family. Made from nothing but long-lasting materials, these sneakers are durable enough to make sure that your kids will wear them year after year and parents won't have to worry about these shoes breaking down quickly. Most of these shoes on our list are all All-Star designs, one being an All Seasonal high-top shoe. We're sure you will find a style that's suited best for everyone in your family.
Best Kids' Converse & Chuck Taylors for Kids
1. All Star Core Hi
The All Star Core Hi Sneaker is an all-purpose shoe for outdoor activities and indoor playing of
sports
that need the extra ankle support. They would be great for squash, badminton or basketball.
Expand to see more
The upper portion of these sneakers is a durable, breathable canvas that is light on the feet. Gum rubber is the material of the soles that will not mark up indoor floor surfaces. This sole material is beneficial for fast sports that need extra traction. The laces on these Chuck Taylor sneakers go to the top, so they can be laced supporting the ankle. Converse shoes are long-lasting and sturdy for all sorts of uses and sports.

Benefits
Having a great selection of colors means a lot to those that have a wardrobe they want to match. One purchaser bought one of each color to have a rainbow of her favorite shoes – Chucks.

What We Like About It
These are half-ankle shoes that tie all the way to the top. This gives the ankle extra support when running, jumping, and walking.
Pros
Comes in a selection of eight colors and many sizes
Upper portion made of canvas
Soles are made of rubber
Durable and long-lasting shoes
Laces halfway up the ankle
Cons
Some had problems with the soles splitting
Comments of the shoes not being comfortable
2. All Star Canvas Low Top
This low top sneaker of Converse gives the ankle free room to move for those twists and turns during sports and even everyday walking. They are for those times when you do not require ankle support from a shoe.
Expand to see more
A nice choice of colors is offered of these fantastic sneakers made of textile, rubber, and a canvas upper portion. The shaft is low-top of this lace-up shoe. Super cushioning is available from the Ortholite insole. The canvas is breathable and lightweight, and the overall sneaker is fashionable and versatile. Durable traction is provided from the rubber soles that are vulcanized. For a basic shoe in some terrific colors, try these low tops of Converse.

Benefits
Some Converse models sport the medial eyelets for fantastic airflow. Even these small air holes allow enough air in and moisture out to prevent fungus and wetness.

What We Like About It
Great cushioning is provided by the Ortholite insole on the inside. They will make everyday wear and any activity very comfortable and long-lasting.
Pros
The shaft is low-top from the arch
Is a low-top, lace-up sneaker
Features the Ortholite insole
Fashionable and versatile
Vulcanized rubber sole
Cons
Complaints of no arch support
A few did not believe these were legitimate Converse shoes
3. Shoreline Slip on Sneaker
The thirty-eight colors to choose from is marvelous! Colors have names such as mango, cherry, back alley brick, blue coast white, cloud grey, and dolphin, just to name a few. These have a pull loop to make putting them on very easy because they are slip-on sneakers.
Expand to see more
Benefits
The lacing is fixed, meaning that there is lacing but it is short and non-functional. There is elastic around the ankle collar to hold the shoe on the foot. This no-tie design has medial eyelets for terrific airflow in the shoe. The shaft from the arch is low-top in these sneakers made of textile and rubber for the soles. This is a great feminine-cut shoe for the park, beach, or wherever you go this summer.

What We Like About It
For the look of sneakers without the hassle of lacing them up or having to deal with Velcro strips, try these slip-on Converse Chuck Taylors. They go on easy and come off just as simply for your comfort and busy lifestyle.
Pros
Huge selection of colors available
The shaft from the arch is low-top
Is a slip-on shoe
Lacing is fixed
Has a no-tie design, pull loop, and ankle elastic
Cons
May be narrow for some
A few commented that they will not stay on
4. Chuck Taylor Canvas Low Top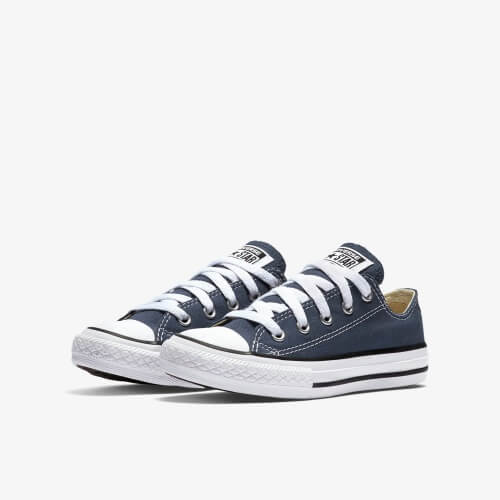 In sizes for infants, toddler, and little kids, these low-top sneakers are made of high-quality textile, canvas, and rubber for the soles. The Converse All Star logo is on the tongue of the sneakers.
Expand to see more
A few colors are available for each of the sizes in this lace-up shoe. The shaft from the arch is low-top. These are lightweight and breathable, plus there are great traction and durable all-day play. Both boys and girls will love these Converse Chucks with the soles of vulcanized rubber for superb traction and support.

Benefits
Only the best materials go into the production of these shoes. This is evident by the look, feel, and the compliments you will receive when others see them.

What We Like About It
Tiny sneakers are always super cute, but tiny Converse Chuck Taylors are wonderfully adorable! Your child will love these, and so will you!
Pros
Sizes for infants, toddlers, and little kids available
Made of textile, canvas, and rubber soles
The shaft from the arch is low-top
Is a low-top, lace-up sneaker
Provides great traction and durable all-day play
Cons
A few received the wrong size
Some buyers had damaged products
5. All Star Core Ox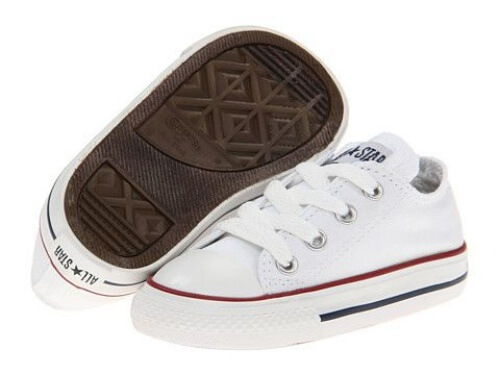 These Chucks have that classic look that is expected and loved of the Converse brand. They are made of canvas with durable rubber soles. The outsole is made of vulcanized rubber, which is the best for fantastic flexibility and dependable traction.
Expand to see more
Kids can use these indoors or outdoors for any activity, sport, or every day wear. They will love to wear them all the time because these Chucks are super comfortable and simple to put on and remove. A few color choices are offered, but the best selection for those that love plenty of colors is the model with the various-colored laces in a weave pattern.

Benefits
Several designs are offered under this model of All-Star Ox Chucks, even one with four colors of laces to create a basket weave rainbow on the shoes.

What We Like About It
For that classic look you love in Converse quality, this is a model for little kids with the same fantastic style. Just like the original but in a miniature form.
Pros
Available in little kid sizes currently
A few choices for colors are available
Made of canvas with rubber soles
Terrific classic Chucks look
Has an outsole of a vulcanized rubber
Cons
Labels may come off easily
Some said they were uncomfortable
6. All Star Canvas High Top
The All-Star High Top shoe for toddlers and little kids is available in over twelve fabulous color choices. These are made of durable canvas, textile, and rubber soles. The shaft is two-and-a-half inches from the arch of these high-top sneakers with strong lacing to the ankle top.
Expand to see more
With a boot opening of five inches wide, there is plenty of room for easy put on and take off. The long-lasting canvas is lightweight and breathable. These include the famous ankle patch and soles of vulcanized rubber with dependable traction. Try these fashionable and versatile Chucks for your kid. They will love them and wear them all day long.

Benefits
Sometimes it is hard to put sneakers, especially high-tops, with little kids and toddlers. These are easy to put on and take off because of the wide boot opening.

What We Like About It
Even toddlers and little kids want and look great in high-top sneakers. These are perfect because these Chucks have strong lacing and a boot design to keep them on the feet well.
Pros
Made of canvas, textile, and rubber soles
Available currently in little kid and toddler sizes
The shaft is 2.5 inches from the arch
Canvas is lightweight and breathable
Includes the famous ankle patch
Cons
Sizes may run large
Some said they are hard to get on toddlers
7. Chuck Taylor All Star Core
Made with the famous gum rubber soles and durable, high-quality canvas, these All Star Core Ox Chucks are made in the traditional low-top design. The low cut allows the ankles more flexibility and freedom for activities, sports, and everyday wear.
Expand to see more
Sometimes ankle support is not needed, and if not, these sneakers are a good option. For those who have trouble finding half-sizes, they are available with this model. There is a nice selection of sizes and colors offered. Many reviewers stated that this is their favorite sneaker of all the ones created by Converse, and they have many pairs for different types of activities and casual wear.

Benefits
For those who wear half sizes in shoes, fittings and buying new shoes can be problematic and troublesome. This model of Converse sneakers offers half sizes for many of the colors.

What We Like About It
Low-top sneakers allow the ankle to move freely when active and on the move. For those kids who do not need the extra support that a high-top offers, these low-top Chucks are perfect.
Pros
Many sizes and colors are offered
Made of canvas and rubber for the soles
Half sizes are available
Traditional low-top design
Allows free range movement of the ankle
Cons
Sizes may run large
A few buyers were not satisfied with the quality
8. All Star 2v Low Top
These low-top sneakers have Velcro enclosure to secure them on the feet. There will be no worries of untied shoes or trying to dress squirming kids because of the quick and easy secure fasteners. As with most Chucks, these are made of only high-quality textile, canvas, and all rubber soles.
Expand to see more
A grip tab on the back of the heel is to help with putting these on and taking them off. They are available in toddler and infant sizes and in a few choices of bright, neon colors. The shaft is low-top from the arch, plus the famous Converse All Star logo is on the tongue for authenticity. The added sock liner in the softest foam is provided for wonderful comfort and snugness.

Benefits
A cushioned sock liner is on the inside of these Chucks for kids so they are snug and comfortable. They will want to wear them all day long because they feel so good on the feet.

What We Like About It
Velcro closures on toddler and infant shoes certainly make them easier to put on and take off. Parents really appreciate this when they are trying desperately to dress a wiggling, fussy child.
Pros
Has a Velcro strap for the closure instead of laces
Includes a grip tab on the back heel
Available in toddler and infant sizes
Bright, neon colors in a few choices offered
The shaft is low-top from the arch
Includes a sock liner of soft foam
Cons
Some had issues with sizes
A few received wrong items
9. First Star High Top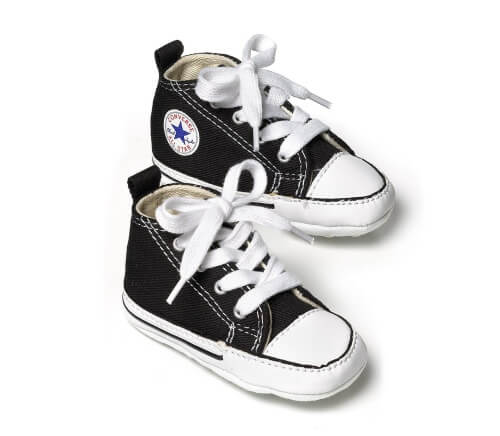 For Chuck fans, you will want to buy these adorable First High Top Sneakers for your infant or toddler. These make great keepsakes to show to kids as they grow up and give to them as their first pair of Converse shoes.
Expand to see more
These are offered in a few color choices for toddlers and infants. They are made of textile, canvas, and a synthetic sole, instead of rubber. The sole is comprised of a super soft terry cloth and is foam-backed for comfort and support. The ankle is supported also because of the high-top design and lacing up to the midway of the ankle. This is a lace-up bootie where the shaft from the arch is high-top. Children can wear these almost anywhere, but if they are walking, it is best they stay inside with these on because of the soft soles.

Benefits
Even a toddler needs support for their ankles as they crawl and try to stand. Even in the crib, a high-top shoe can provide great ankle support and help strengthen the muscles in the legs.

What We Like About It
These are made of terrycloth and are very soft and comfortable for the infant. without a sole of rubber, the infant can wear these anywhere and even while sleeping in the crib.
Pros
Available in infant and toddler sizes
The shaft from the arch is high-top
Sole is terry cloth and foam-backed
Is a lace-up bootie
Provides support for the ankle midway
Cons
Some said these did not fit well
May be hard to put on the infant
10. All Star Seasonal Hi
For a high-top shoe from Converse, this is a marvelous product that will provide comfort and durability in a sneaker. The shaft from the arch is high-top, and the laces go all the way to the top of the ankle.
Expand to see more
The combination of the canvas around the ankle and the lacing gives super support for the ankle in almost any move you can make during sports, activities, and every day wear. Made of cotton canvas for flexible comfort and lightweight, these sneakers have the famous ankle patch on the side. The outsoles are rubber for durable, dependable traction. Plenty of colors are available in the toddler sizes that are currently offered.

Benefits
These All Seasonal Sneakers are made of cotton canvas, unlike some of the other Converse products. This makes them suitable for both cold and warm weather and all types of terrains.

What We Like About It
Because of the well-known ankle patch with the Converse logo, you will know that these are the authentic product of high-quality creation. This is a special logo that is only on the genuine items commonly known simply as Chucks.
Pros
Plenty of colors are available
Offered in toddler sizes currently
Is 100% authentic
Made of cotton canvas
The shaft from the arch is high-top
Cons
Some buyers claim that these are not authentic Converse
A few comments of hard to get on infants
Criteria Used in Evaluation of the Best Kids' Converse & Chuck Taylors for Kids
Top-rated and most-bought items
All items on our list are the best products of Converse items that we found online. They are rated the highest and the most popular by purchasers and parents who would buy these shoes again. We only want the best for you and your family, so we work hard to bring you the top items that are currently available in today's markets. We even do the research for you so that all you have to do is sit back and choose which style will be comfortable for you.
Authentic high-quality brand only
Converse is a well-known brand that is globally known for its high-quality shoe apparel, comfortable fit, and outstanding overall styles. All of the items on our list are straight from the manufacturer and have the quality seal of the company's logo on the tongue or the ankle patch of the shoes. While parents desire excellence, Converse has the perfect sneaker for you and your family. Each product is authentic from the Converse company made from the best materials that provide comfort and support that a sneaker has to offer.
Specifically for infants, toddlers, and kids
Every item on our list is specifically for infants, toddlers, and younger children. These traditional, well-known Chucks, as they are sometimes called, in the smaller sizes are perfect for this age group. Made with proper support in the right places for their foot type and sizes and offered in a variety of colors that parents can choose from. We list several sorts of sneakers from high-tops to low-tops and even those that are slip-on if parents prefer.
Provide a wonderful, comfortable fit
Your children will be elated with the fit and feel of these Converse shoes. It's well-known that these sneakers usually run a bit large so try to buy the same foot size or a smaller size for your child. This will also give the best fit and time for them to wear a bit longer before outgrowing. It is important for shoes to fit children, more so than for adults because their feet are still growing. While your child does grow rather quickly, children can run through many pairs of shoes fast. If the shoes are too tight, then this will cause some growth problems. If the shoes are too big, they may not be able to walk in them properly. This is why it is important to make sure that your children's shoes fit ideally.
Converse Information
This All-Star model was created in 1917 originally as a basketball shoe that wouldn't skid on the court. Since then, it was promoted for the superior performance that it could deliver by the basketball star Chuck Taylor. For decades, others have adopted this fabulous sneaker with its recognizable ankle patch and timeless silhouette. For years people have wanted this shoe such as artists, dreamers, originals and thinkers. Eventually, the sneaker reached monumental fame as a high-quality shoe that was well-known for superior comfort, durability, style, and fashion.
The Chucks' Sole is Special
It is a gum rubber sole. This means that it was originally created for indoor sports and court sports, such as badminton, basketball, tennis, and squash. These soles have some wonderful advantages. They will not leave marks on an indoor court surface. The rubber will heat up while you play, giving you extra grip ability. The color is usually brown or tan. It is not a synthetic rubber, but a natural one.
Cleaning information
Choose your preferred cleaner and try some of it on a part of the shoe that is not visible. This could be the edges of the tongue or some other unnoticed place. This test is to make sure the mild soap you use does not change the color of the shoes or affect the material in an adverse way. For the canvas, leather, and synthetic sneakers use a wet cloth and rub softly with mild soap and warm water. Do not put these in the washing machine or dryer. For the suede shoes, just brush the dirt away with a brush for suede products when the shoes are dry. Do not put water on these sneakers or machine wash or machine dry. Drying can be done at room temperature. Stuffing the shoes with paper will help keep their shape. You may have to change the paper often as they dry. It is best to not use direct heat on the sneakers.
What is meant by "Converse Made by You"
From the website of the manufacturer, the "Converse Made by You" slogan is explained. They say it is a celebration of their customers who have through their creative works, expressed themselves over the past 100 years by decorating the sneakers in many styles and designs. This campaign has collected hundreds of Chuck Taylor All Star shoes from around the world. Each sneaker started off as a blank canvas to use for the creations, and eventually became the unique artwork of the owner. Converse promotes these creations as the endless self-expression and diversity of artistic people both present and past who love to wear the Converse brand. These are musicians, artists, skaters, fashionistas, the known, and the unknown from all walks of life. Converse states that no matter how the shoes are changed or customized, the designs showcase the huge potential that a blank canvas permits. The Converse company claims that these handiworks are verification that the Converse brand is made not only for you but by you too.
FAQ
Frequently Asked Questions
Q: What do the letters mean in the sizes, such as D and B?
A: From the comments and questions of online reviewers we have collected this information. This does not come directly from the Converse manufacturer, so we are not 100 percent sure that the intentions for the letter are for these purposes. However, more than one customer did give the same answer to this question, so we feel that the answer we provide here is accurate and can be trusted. The D is for the boy's (men's) sizes, and the B is for girl's (women's) sizes. These letters will be next to an S, M, or L for the intended sizes of small, medium, and large shoes.
Q: I have heard of a product called Sneaker Jesus for keeping sneakers clean. Does this really work?
A: Some reviewers claim it works great to keep sneakers in pristine condition. Suggestions are that when you first buy the shoes, to put Sneaker Jesus No 1 on them, and then maintain them thereafter with Sneaker Jesus No 13. This is just reviewers' opinions and not a recommendation from us. It is supposed to make the sneakers last longer and look great for a longer period of time. This product can be purchased online from Amazon if you desire to put it in your shoes to make them last longer. It was only mentioned by a few of the purchasers of the Converse brand of shoes.
Q: What is the difference between the toddler and the infant sizes of the shoes?
A: The infant shoes are normally stated as birth to 12 months old or birth to 24 months old, whereas toddler sizes are stated as 2 years old and older. So, for example, a child who is 2 or 4 years old would require toddler shoes, and a baby who is 9 months old would need the infant shoes. This is a general guideline to be used loosely for each individual child. Sizes do vary from age to age, just as widths are different for each age. It is best to have children professionally sized to know the exact shoe measurement and size needed for a proper fit. This is only the way to know if the child has shoes on that truly fit their feet.
Q: For the infant shoe sizes, what do the letter with the numbers mean?
A: The sizes are in quarter-of-a-year increments, so the 1M means the shoes will fit ages birth to 3 months old, the 2M will fit those 3 to 6 months old, and the 3M will fit babies 6 to 9 months old, etc. Some of the listings have a size chart for toddlers and infants with the descriptions with them. Look at the individual sizing information for each product to get the precise measurements for each size. The "M" indicators are generally as we have stated for most of the sneakers.
Q: I realize there are fake Converse shoes on the market. Are these original Converse Chuck Taylor shoes?
A: Yes, these shoes on our list are the original shoes from Converse manufacturing. These are not fakes, but the real product from the original company. Several reviewers stated that they believed some of these came from fake sources, but all of the positive reviews confirm that all of these items are the true products of Converse with the company's name on the tongue of the shoes or on the famous ankle patch.
Q: The sneakers that are for toddlers and infants, are these good training shoes for them as they learn how to walk?
A: The canvas is thin on these shoes, so it is best not to depend on them for training in walking. A thicker shoe with tougher materials, such as leather, will be needed for beginner walkers just learning how to stand, balance, and take steps. One item is for toddlers and infants and it does not have a sole of rubber. This is a shoe for the crib or inside use. The soles are made of soft terry cloth and cannot be used on outdoor surfaces. Such shoes are for keeping the feet warm and dressing purposes only.
Q: Can girls wear shoes that are not specified for girls? How would they fit?
A: Girls can wear the shoes marked for boys or not marked at all for either sex. The sizes will probably run larger than the girl sizes, so a size smaller would be best. For example, if a girl wears a size five in girl's shoes, then it would be best to order a size four-and-a-half or a size four for the best fit. Plenty girls do buy boy's shoes because the fit is better, especially for a wide foot. Girls with wide feet tend to prefer boy's shoes for the extra room and added durability. It would not be recommended for boys to wear the girl's shoes that are listed because they are usually narrow shoes. Girls typically have a narrower foot than boys, so they would most likely be too small for boys.
Q: I have heard that Converse shoes are primarily for indoor wear and sports. Can these be worn outdoors and for everyday wear too?
A: The Converse shoes were initially intended for indoor sports use because of the gum rubber soles. Over the years, the soles have been acclimated for indoor or outdoor wear for all types of activities, sports, and everyday general wear. You can wear Converse shoes wherever you want to, but if they are intended for indoor sports, then it may be best to purchase a separate pair for regular use. This way, the pair for indoor use will not be damaged on the soles. The soles are specially designed for indoor sports because as they are used in play, the soles acquire more traction as they heat up. They will also not scuff up indoor floor surfaces. Please see our section on this page for special cleaning directions straight from the manufacturer for best care and longevity.