10 Best Electric Scooters for Kids Reviewed in 2019
last updated
Jul 30, 2019
For parents, many of us remember riding bicycles, maybe even a few of us crossed over to the start of the scooter. While bikes, of course, are still a staple in a child's world, the electric scooter for kids is becoming wildly more popular as a form of transportation. Being more compact than a bike and being easier to ride than a skateboard, scooters offer a wonderful alternative for children who want to be active and cruise through town on a set of wheels.
The kids electric scooter has been around for a few short decades. What started out essentially as a skateboard with handlebars, has now branched out to include a motorized line of vehicles. Electric scooters are especially appealing to children, especially if you have a child who is fascinated by cars and motorcycles but is still too young to drive an automobile.
In a Hurry? The test winner after 31 hrs of research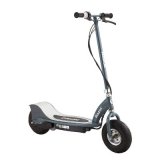 Razor E300
Why is it better?
Wide board base for kids to stand on
Can reach up to 15 MPH
Rechargeable
Twist-throttle grip allows rider control over acceleration
Durable; heavy build
In a
Hurry? Editors choice: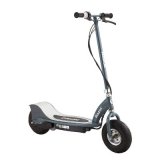 Test Winner: Razor E300
20
Researched Sources
189
Reviews Considered
31
Hours Researching
14
Products Evaluated
Design
Ease of Use
Age Range
Educational Value
By Default
10 Best Electric Scooters for Kids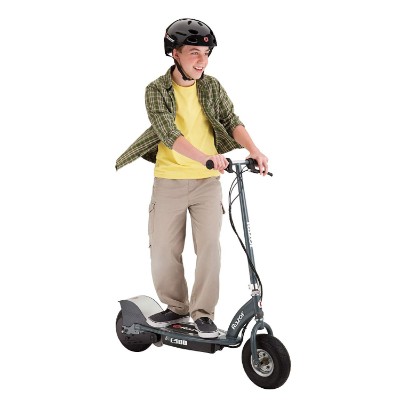 Wide board base for kids to stand on
Can reach up to 15 MPH
Rechargeable
Twist-throttle grip allows rider control over acceleration
Durable; heavy build
Outdated tech; lead-acid battery requires long charging times
Weighty; you'll need some muscle to load and unload it if you're travelling with it
Here's one for the slightly older crowd. A twist-grip throttle allows the rider to control their speed, and the best electric scooter comes with both a charger and the necessary tools for basic maintenance. It's heavier, which means it can hold more weight and survive a few collisions. That makes it less optimal for lots of traveling, but if you're looking for a good at-home scooter, this rechargeable Razor might be just for you.
Read more
Design
With a rechargeable battery, your family can take to the streets time and again. Charging time lasts between twelve and twenty-four hours, and the scooter can run continuously for up to forty minutes.
Ease of use
The motor is quiet, so you won't have to worry about bothering the neighbors, and the twelve-inch pneumatic tires make for smooth, safe riding.
Age Range
Intended for ages twelve and up, the Razor E300 can reach up to 15 MPH. Faster than many of its contemporaries, this little scooter packs quite a punch. We recommend this product for children who have some experience with scooters or feel comfortable with electric vehicles. Older kids and teens will probably find the E300 most appropriate and we still recommend supervising until they're ready to zoom about on their own.
Educational Value
Get your kids outside, enjoying the fresh air and active play. This scooter gives them all the confidence of a true speed demon while still providing safe construction and riding features.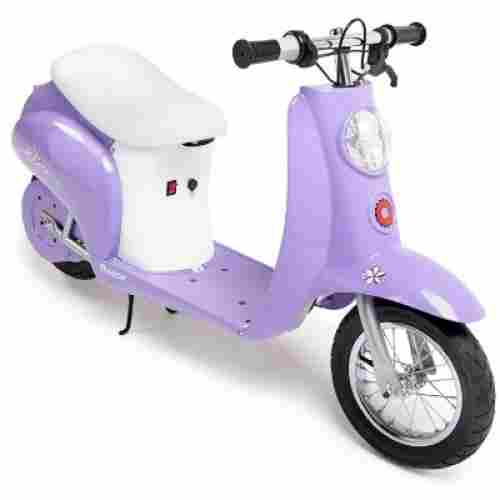 Desirable purple color, many girls and even boys like this color for their scooter. In a sense it is gender neutral
It reaches 15Mph, which feels very fast to young people
Tires are extra big, making it very easy to balance on
The rubber wheels make it easy to take it off roading
This scooter is surprisingly powerful
It may have battery issues sooner than expected
The scooter is smaller than it appears in the photos online marketing it
One of the most iconic scooters in the world is the Italian-made Vespa. It still runs to this very day and for people who want a piece of history, the Vespa offers such a benefit.
The first time we saw the Pocket Mod Miniature Euro we cannot help but be transported back in time to the late 40s and the early 50s when the Vespa ruled the streets. You were considered hip and trendy then if you rode one of these babies. And we knew right away that the Pocket Mod Mini Euro is going to be a real hit this coming holiday season; if not for children, we're pretty sure adults, too will love it.
In fact, it's so quiet they won't even notice that this electronic kids scooter is already alongside them. Just like the Vespa, the Pocket Mod also has a storage compartment underneath the fully padded and cushiony seat. It's ideal for storing your kid's things while he or she is busy roaming the streets of the neighborhood.
Read more
Design
First manufactured in the year that followed the end of World War II in 1946, Piaggio designed the Vespa as a really preppy, trendy, and colorful motorcycle for the masses. It features a unibody that is made of pressed steel, a flat floorboard, and a front flaring that has become one of its signature characteristics.
Ease of use
It features a high performance electric motor that allows it to cruise at 15 mph with a range of 10 miles on a single charge with typically takes 12 hours to complete. The 12-inch pneumatic tires allow for a comfortable ride while its ultra-quiet chain-driven motor will never disturb your neighborhood
Maximum Weight Limit: 170 pounds
Age Range
This is a scooter that is soft and appealing to the eye, it just has that soft and secure nature to it. This scooter is ideal for young girls probably that, feel vulnerable on standing open scooters.
Educational Value
This best electric scooter for kids is easier to balance, and a bigger surface area, on the base. This makes it very comfortable to sit on, it is sure that the rider will not have any major spills on this beautiful purple rider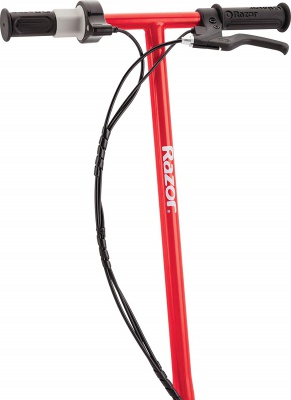 The retractable kickstand on this scooter makes for an enjoyable set up post-ride
It has gender neutral colors
The speed is not too fast for younger kids around 8yrs, just 10Mph
The materials are very durable
The battery is likely needed to be replaced within one year of purchase
If the battery takes a dump, then it does not have the ability to free ride it, and is hard to maneuver around
The E100 is a scaled-down version of Razor's E300. You can look at it as the E300's little brother designed specifically for younger riders. But don't underestimate the E100 because it still can pack a punch with its 24-volt battery-operated, high-torque, high-performance, and chain-driven ultra-quiet motor. It's so quiet you can literally sneak around the neighborhood unnoticed. This is perfect if you live in a neighborhood where it's loud motor or engine noise are strictly prohibited.
Read more
Design
Like its bigger brother, the E100 features the same hand grip-attached acceleration and brake system. There is no need to use one's foot to put the E100 to a halt. It's just a matter of squeezing the calipers and your kid can either stop or go
Ease of use
Need a comfortable ride for your kid? The E100 features an 8-inch front tire that is fully pneumatic allowing for smoother rides. Its rear wheel is made of high-grade polyurethane, however, to extend the durability of the E100 allowing your kid to take it wherever his or her hands will be steering the scooter to.
Age Range
The E100 is suitable for younger kids who are not fit to handle the speed of the E300. It's essentially made of the same materials and has the same design. Plus, it's from Razor, a company that has slowly established itself in kiddie performance rides.
Educational Value
You will not have to worry about your child being safe and sturdy on this scooter. The materials it is made from consist of nothing but the finest, and highest quality material. All-steel frame, then coated with a vibrant red tone of paint. If a kid has an accident on this scooter it is unlikely that the best electric scooter will break, plus the fact that it reaches 10Mph makes it a fairly safe scooter to ride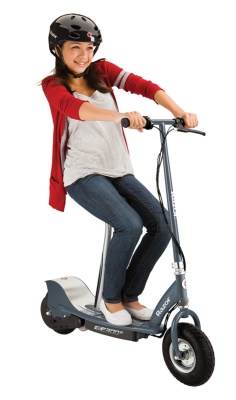 It is just the right size and roomy enough to sit small kids on your lap for a ride around the block
Hold a massive amount of weight for a scooter 220 lbs+
It contains enough power to make it uphill
The feel as it rides over cracks and bumps is smooth, and sturdy
Battery is capable of lasting 2 miles of continuous riding and not die
Is not really an improvement from the previous version of the scooter, lacking any real upgrades
The scooter is not ideal when it comes to customer service, and packaged in a neat manner
Imagine an ordinary-looking electric scooter with a single tube sticking up from its deck and a comfy seat attached on top. Or, imagine a Vespa scooter but remove all the front flarings and the unibody design.
That said, it features the same 10-inch pneumatic tires, a chain-driven ultra-quiet motor powered by two units of 12-volt battery system made of sealed lead acid, and an acceleration and braking system fully integrated into the handlebar of the E300S.
Read more
Design
However you want to view the E300S, it's still an electric scooter you would not dare miss this coming Black Friday or the holiday season. You can also give it as a birthday gift, if ever.
Ease of use
The E300S has almost the same features as Razor's E300. The only difference is that it has a built-in comfy and removable riding seat so kids won't have to be standing all the time while riding the E300S scooter. Then can conveniently and comfortably take a sit like what motorcycle riders do.
This helps relieve the pressure off the legs which may be noticeable after prolonged standing. The feet can be rested squarely on the wide deck of the E300S. If your kid doesn't want to use the riding seat anymore, you simply have to remove the seat attachment and the E300S goes back into its original E300 form.
Age Range
This is the best electric scooter that will take your kid from pre-teens into the adulthood of scooter riding experiences. It includes a seat on it, which makes it ultra safe for younger tweens, but it won't be an issue taking it into adulthood and continuing to ride it.
Educational Value
To and from work, the store. It can give your teen the opportunity to be far more independent in his ventures, and get the sense of how it feels to own a car and be capable of 'getting around' town.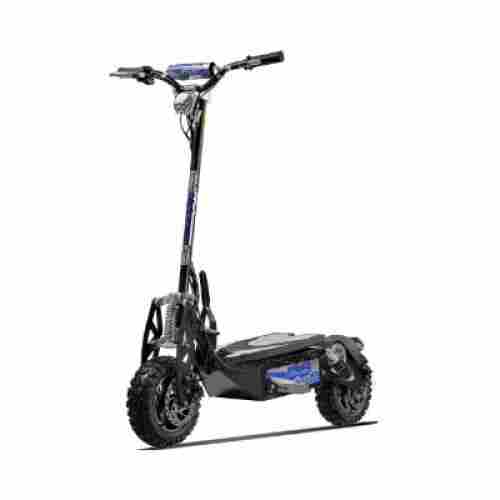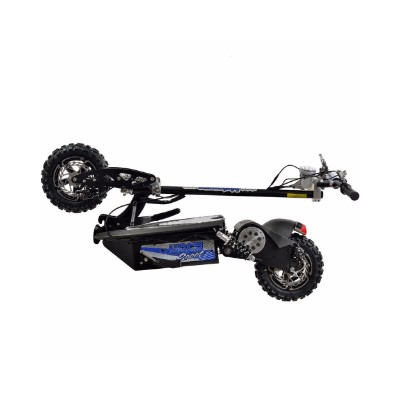 This is a great scooter for woman and young girls who are leery of electric fast scooter
You can add mirrors onto it
All in all this is just a really fun scooter
The price range is reasonable enough that people find themselves buying multiple for their family members
It is very much worth it to many people for the price, after compared to other more expensive electric scooters, this one checks out nicely
The scooter may feel too heavy to enjoy maneuver around
You will need to oil the scooter for a quiet ride
One of the most unique scooters in our list is the UberScoot. It features a remarkable Posi Lock system that allows the steering column to be folded down onto the deck and frame. This helps address storage issues which we have encountered in many consumer comments. Unfortunately, at 99 pounds, it's rather heavy for kids to bring along with them on its folded state. Nevertheless, the system is one of the most unique we have seen so far.
Additionally, it features 3 units of a 12-volt battery system giving it a top-of-its-class speed of 42 kilometers per hour. And if you think the foldable design will have an effect in its sturdiness, think again.
Read more
Design
This is why it also needs a 36-volt battery system because you will never know just how heavy the next rider will be. It's got 10-inch pneumatic front and wheel tires with a revolutionary front and rear, professional-grade disc brakes for phenomenal stopping power.
Ease of use
Oh, we almost forgot. The child electric scooters also come with a rider's seat which can be easily attached to the sturdy frame. And if your kid doesn't want the seat, you can simply remove it and it's good to go.
Age Range
It can carry a full-sized adult weighing up to 120 kilograms.
Educational Value
These child electric scooters are going to take your kid far, and I mean far without recharge this high-intensity scooter can ride for up to 18 hours. This means that your child will be able to enjoy the ride of a lifetime. This is going to be an amazing ride for kids who live on farms or can travel far distances to friends houses.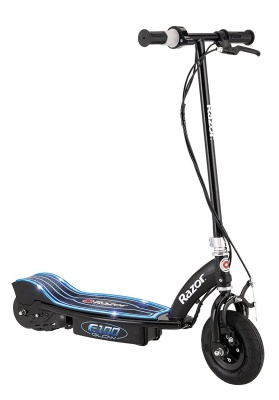 Lights up; makes rider visible to others on the road
Reaches up to 10 MPH
Able to carry 120 lbs
Rechargeable battery
Can control speed
Takes up to 12 hours to fully charge
We're all a little afraid of the dark for one reason or another. Whether it's monsters under your bed or the thought of your child trying to navigate the neighborhood at night, we all could use a little light in our lives.
Read more
Design
The Razor E100 helps alleviate that fear for parents. It's a light-up scooter that glows with just a twist of the handle.
Ease of use
Able to reach up to 10 MPH, it's a slower moving scooter, but that's probably a good catch-all for safety when maneuvering around in the dark. Kick-start the acceleration with the pedal in the back, then shift your speed with the twist-grip handles.
Age Range
This best electric scooter is targeted towards children ages eight and up. It tops out carrying weight capacity of up to 120 pounds and can run for up to 40 consecutive minutes. Given its weight limit and the way it's constructed, we recommend this scooter for younger riders. The light up feature makes this ideal for kids who are learning to ride more independently but we still suggest keeping an eye on them as the scooter can go up to 10 MPH. Kids can easily control the speed as well!
Educational Value
Having to rely on the sun to dictate when playtime is over can be a real letdown. If you want to get out there with your kids in the evening hours and keep having fun, this scooter makes riders visible in the waning light, so your family can enjoy quiet nights and evening strolls.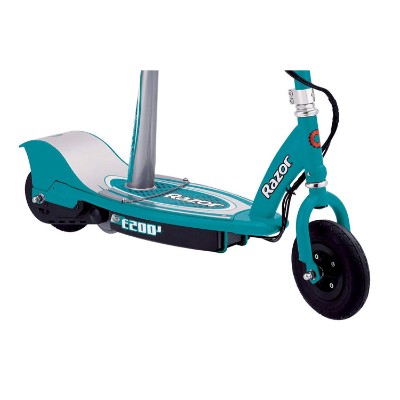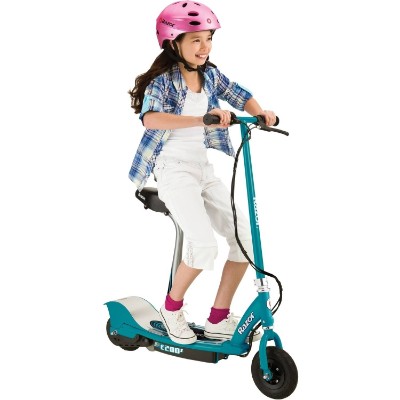 Can travel sitting or standing
Padded seat is detachable
Includes a detachable kickstand and soft rubber grips
Has a full-sized frame and deck
Comes with a hand-operated braking system
Battery may not last a long time
Scooter rides low to the ground
Children that are thirteen years old and older will enjoy riding this electric scooter that has a detachable padded seat. It removes quickly and easily for those that may want to stand and ride, so changing is trouble-free. Although some assembly is required of this item, the tools to do so are included for convenience.
Read more
Design
The batteries for operation are two twelve volts and the charger is also included. Whether you travel sitting or standing, the scooter can go up to twelve miles per hour. It has a full-sized frame and deck, plus a hand-operated brake system.
Ease of use
The handles are easy on the hands because they are covered with soft grips of quality rubber. For the child that may like to sit while they ride, this would make a fabulous gift or present for any holiday or special occasion.
Age Range
Versatility is the main feature of this electronic kids scooter that can be enjoyed standing or sitting. The padded seat comes off easy, so riders can choose quickly which they prefer to do.
Educational Value
Kids that cannot stand for the duration of a scooter ride can sit and be comfortable. This is a wonderful option for kids with disabilities that can still maneuver a scooter but not stand on one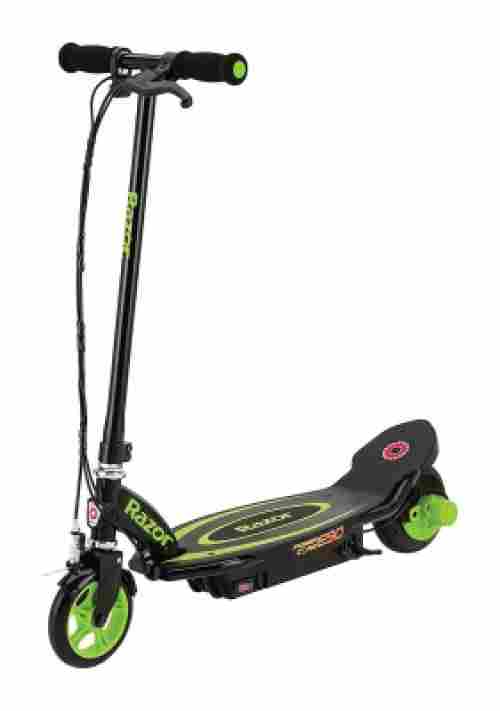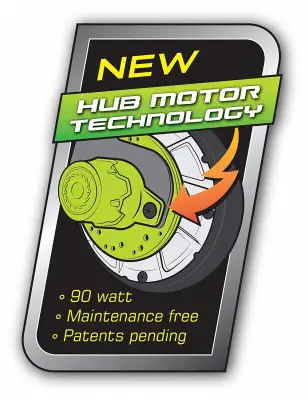 The retractable kickstand is very useful in stop and go rides
This is a kick-start scooter, which many people find to be very fun
Charging system is very easy to use, and the battery lasts long enough for 3 days of use before recharge
Great for camping trips and outdoor rides
Easy for kids to learn to ride, becoming pros instantly
Handle bar seems to be too low for the model
If the back wheels single motor unit fails, then it will cause the front steering wheel to be unable to turn completely
>You can liken the Power Core E90 by Razor as a tamer, yet equally powerful, the little brother of the E100. There are some very obvious differences, though. For example, the E100 can only last about 40 minutes of continuous use while the Power Core E90 doubles that. And you know what this means, right? Your kid will simply have a full hour and twenty minutes of continuous fun riding the innovatively-designed Power Core E90.
It's a cross between the E90 and the E100 albeit with more outstanding features. It features a push-button throttle instead of the twist-grip mechanism that has become the standard in most scooters of this design.
Read more
Design
The brake system is located on the front wheel and is activated by a caliper located in the handgrip. The front wheel is also made of polyurethane instead of steel or alloy to give it superior lightweight characteristics
Ease of use
At the very least, you will not have to worry about children complaining about their wrists feeling numb from the twisting motion on the handgrip. The throttle opens up the power of the high-torque hub electric motor. And unlike other systems, this is truly super quiet so it makes for a really convenient ride without the annoying engine sound.
Age Range
Aside from its newly-patented technology, this Razor scooter also features up to 50 percent more power than its predecessor, the E90. That is why it can perform double the E90's performance. Perfect for younger children.
Educational Value
One of the longest charged electric scooters for kids on our list, this scooter is full of amped- up power. Long lasting for short commutes to wherever your kid feels necessary. It won't be an issue if your kid loses track of time or mileage riding this Power Core. It is a sure way to have hours of good fun.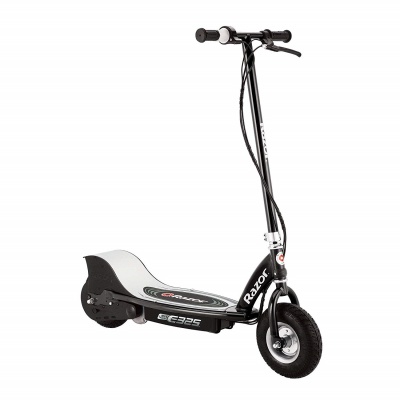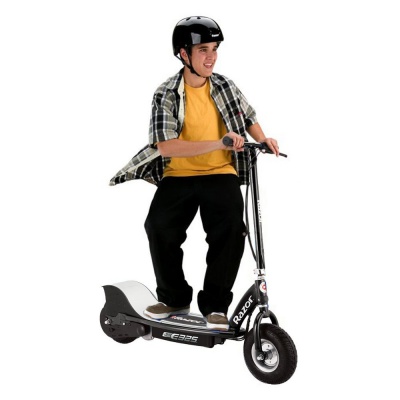 The extra wide tires help create a greater sense of balance
Battery remains extra durable after many miles of usage
Collapses fairly easily for easy storage and take-along trips
Great scooter to gift to a husband or grown friend
It has better overall quality, than most people really expect it to
Three prong system on the charging port, does not really make for a good set-up go to work with
A notch above the Razor E300 is the E325. So what differentiates it from the E300? Instead of a uniform speed, the E325 allows for variability. But here's one thing you will definitely love – the E325 can be folded, unlike the E300. This effectively solves the issue of transport and storage.
Read more
Design
The E325 also features a quieter electric motor and wider tires although it retains the standard 10-inch pneumatic design of the E300. The deck is also wider giving riders superb stability while riding it.
Ease of use
This is perfect for kids who really would like to have absolute control over their riding adventures. This means kids can go fast when they want to or even decelerate without hitting the brakes. Another difference is the run time of the E325 at 45 minutes; although this is quite negligible if you consider E300's 40-minute runtime.
Age Range
Another difference is the run time of the E325 at 45 minutes; although this is quite negligible if you consider E300's 40-minute runtime. The foldable characteristics of the E325 are some of the best things about this scooter. Additionally, the variable-speed and acceleration feature is what clearly separates it from the rest of the pack.
Educational Value
This is perfect for kids who really would like to have absolute control over their riding adventures. This means kids can go fast when they want to or even decelerate without hitting the brakes.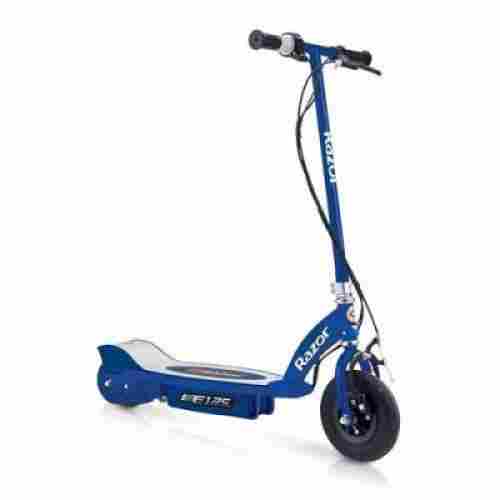 Is an entry level scooter
Has a strong electric engine
Can go up to 10 mph and 40 minutes on a charged battery
Motor starts with the press of a trigger and has a hand-operate brake
Comes with 2 - 12v batteries and a charger
A few say the scooter did not work well after charging
Some had back tire issues
Available in three great colors and built very sturdy, this Razor electric scooter is just perfect for young kids. They can confidently ride after they learn how to balance themselves on the foot stand while steering the vehicle. The motor starts easily with the press of a trigger on the handlebar, and the brake is hand-operated as well.
Read more
Design
Two twelve-volt batteries and a charger come with the scooter that has a strong electric engine. If your child desires a scooter that they do not have to push, this is a fabulous choice for a beginner electric scooter.
Ease of use
Operation of an electric scooter gives kids the freedom to ride quickly without having to use their own body power.
This is a scooter easy enough to handle for an eight-year-old. Kids want to ride independently on motorized vehicles as soon as they can, and this makes that possible quite early.
Age Range
This scooter only goes up to ten miles per hour, but it is fast enough for kids eight years old.
Educational Value
Coordination and gross motor skills will be exercised and perfected by riding this neat little scooter. It can go up to ten miles per hour once it gets going, and it can last up to forty minutes on a battery that is fully charged.
Criteria Used for Evaluation
Design
For parents, choosing the best electric scooter for your child should not be an extremely difficult task. However, the products we just presented to you on our short list come with electrical parts that could pose as a danger to the safety and health and even life of your child. Therefore, when we tasked our research team to perform the tedious search of determining the top 10 electric scooters for children, we had one very specific instruction--include only the scooters that have passed the rigorous testing of both federal and third-party testing organizations and all of these on our list have been duly certified by the same institutions.
This is extremely important especially for parents because we simply don't want your child to be riding in one of these scooters only to have it blow up right under his or her feet. We also don't want parents to have to worry about your home getting burned in an electrical short circuit or even an overheating charging mechanism. The safety of these products is a paramount concern for us, and we are pretty sure for parents as well.
Ease of Use
Choosing the top electric scooters should have been nothing but easy if we only looked at the customer ratings for each of these products. However, we do have to emphasize the value of product safety. Nonetheless, we also took note of what consumers are saying about each product especially if they had any negative experiences with a specific product. This way, we can create a more meaningful understanding of the overall value of the electronic kids scooter.

Age Range
One of the ways that we established the safety of the product is by associating it with the brand image of the company who made it. We had to make sure that the company had no history of product failures whatsoever. If in case there are, we carefully examined how they were able to handle the situation because it shows their sense of responsibility and liability to their customers.
Educational Value
It's very important to follow the companies recommended use and charging times of the electric scooter. Overcharging the system can often end with disastrous consequences not to mention an increase in your electric consumption. Failure to use the appropriate charging device can also lead to problems as well.
Most Important Criteria
(According to our experts opinion)
Experts Opinion
Editors Opinion
Users Opinion
By Default

Parents should know
Here are other tips you can observe to help your kids have a safer scooter ride.
Make them wear their helmets every time they ride their scooters even if it's only around the neighborhood or even in your backyard.
Make them wear elbow and knee protectors as well as appropriate gloves.
Make them wear appropriate non-slip shoes with thick outsoles and ample ankle support.
Always heed the height and weight recommendations of the scooter manufacturer and never go beyond what is recommended.
Teach your child to obey traffic rules.
Encourage your child to scoot with friends as it is always better to have someone ride alongside you.
Encourage your child to practice stopping on a dime. This should help them avoid obstacles as well as make very quick turns and sudden stops.
Parents should know
The electric scooter is one of the best gifts you can give to your child this holiday season or even on his or her birthday. With our list of the top 10 electric scooters, you now have an idea which model to buy
Other Factors to Consider
Safety
Experts in childcare don't necessarily recommend giving electric scooters to children because of all the risks that can be involved. In fact, some of these experts consider these gizmos particularly dangerous. While they're very similar to learning how to ride a bike, riding a scooter can result in fall-related injuries. This is especially true in kick scooters, where knowing how to balance is an absolute requirement. Shouldn't it be the same with electric scooters?
Durability
One major issue raised by concerned consumer groups and even childcare advocates is the inherent danger of exploding batteries and the short-circuiting electronic components.
When there's news of exploding batteries and overheating electrical elements being reported left and right, it's not surprising to be particularly cautious in our selection of electric scooters or anything that's electronic for that matter.
Even technicians like those from Samsung have not escaped glitches like their exploding Galaxy Note 7s. While Samsung is a giant in the telecommunications industry, they do have something in common with the products we have presented in this article-–rechargeable batteries.
Protection
If we remember correctly, there was even a time when hoverboards or self-balancing boards were a huge hit during the holiday season. Unfortunately, it was marred by incidences of boards overheating and exploding which led to several homes being gutted by fire. This prompted a recall of those products and a stiff warning against products coming from China. Since then, all batteries and charging mechanisms had to be tested and certified by the Underwriters Laboratories or the UL.
That is why it is important to make sure that each electric scooter that parents buy for their children has passed the rigorous testing and certification from credible third-party organizations. This will help minimize incidents such as exploding batteries and electrical fires.
It's very important to follow the companies recommended use and charging times of the electric scooter. Overcharging the system can often end with disastrous consequences not to mention an increase in your electric consumption. Failure to use the appropriate charging device can also lead to problems as well.
Frequently Asked Questions
q:

How safe are Razor Electric Scooters?

a:

We have all taken that first ride on a Razor scooter, most of the time as a child, our first ride is on a manual kick-push razor scooter. Obviously when stepping onto an electric scooter of any kind, or if you are watching your kid get on one for the first time, you will want to be reassured that it is safe in the first place.

Here are a few factors before taking that ride around the neighborhood.

Rider knowledge of the product: If a user does not understand how the scooter works, a rider may have falls or accidental crashes that can be potentially harmful.

Furthermore, if a rider does not know how to function the throttle system, a rider may pull the throttle rapidly if he is trying to brake. This could cause a jolt into oncoming traffic, which is very dangerous. A rider should always know how to function the throttle and braking system in order to start and stop correctly.
q:

What makes an electric scooter smooth as opposed to rough in its ride?

a:

he tires are what makes the most difference in the ride. If the tires are larger than average and made of rubber, then they will do better on ground that is rough like gravel. If the wheels are a lot thinner and harder rubber, then the scooter will do better on well-paved roads, like in the neighborhood.

Each scooter has a specific type of terrain it is built for, which is why it is important to know the elements in which you will be riding your scooter as well as how far you want to go. In order to have a smooth ride, you should also consider how long you need the battery to last. If you plan for your kid to ride his scooter alongside you for longer distances on trips to work or school, then, of course, the scooter will need to have a high-quality battery that lasts a very long time while in use.
q:

What is the fastest electric scooter for kids?

a:

Well, for a kids' scooter, the top speed is usually at a solid 15 miles per hour, although if you check out the reviews on Amazon or the makers' site you will begin to notice that consumers record the scooter reaching higher speeds than what is listed on the product descriptions.

A few of the faster scooters are
Razor E300 electric scooter
Razor Pocket Mod
q:

Are there any specific road laws while riding an electric scooter in my neighborhood?

a:

Generally there are not usually laws against the use of electric scooters in the United States. It is a good idea to check your state's or county's laws regarding electric scooters. It is recommended to wear a helmet and not to exceed the speed of 15 miles per hour while on the road.

The sidewalk is suitable to ride your scooter on as well as the street, out of the way of cars. Remember that your scooter is much slower than a car, even in low-activity neighborhoods. You must watch out for moving cars around you.
q:

How does the engine of an electric scooter function?

a:

Inside the engine of a kids' electric scooter, or any kind for that matter, is very specific wiring, and electric charge, with a very unique system that could potentially make both or just one single wheel to rotate. This is all worked into and mounted on the platform.

The battery is a significant piece to being able to make an electric scooter move, so important that without it, some scooters wheels do not turn. They will be stuck in a sense, not allowing them to rotate. If they do rotate after a battery has died or been damaged, the scooter will be quite difficult to maneuver around or ride.

Each engine and battery system has a specific set of instructions to care for the system. If you want to preserve your scooter's engine, it is a good idea to read the owner's manual. Some engines may not be able to ride in wet conditions while other scooters have the capability to withstand a high amount of moisture.

Upon receiving your brand new electric scooter, it will most likely need an extra long charge of the battery, which ensures that your battery gets off on the right foot. Trust that you will not want to avoid, or lazily charge the scooter the first time around. It will make a difference in the long run. That said, you will also not want to overcharge your battery unit. The instructions manual will have the exact hours that it should be charged for, initially.

If you have a purchased a children's scooter that has a tiny light on it, that indicates green for "fully charged" or the color red when it is not yet charged totally. You can just follow this as an indicator the first time that you charge your scooter. Although not all scooters have this feature, on the battery cord, or on the actual unit.