10 Best Kids Ice Skates Reviewed for Stability in 2019
last updated
Sep 24, 2019
Ice skating is a beloved tradition all over the world. While it's most popular during the winter months, many cities have year-round indoor ice rinks for kids to enjoy. If your family is full of aspiring skaters or even just children who love to get their exercise out on the rink, you'll want to invest in a good pair of ice skates. Below, we've gathered ten of the top-rated pairs for kids! A few even come in adult sizes as well so you can make skating a family event.
In a Hurry? The test winner after 40 hrs of research
Jackson JS 180/181/184
Why is it better?
Fashionably designed
Warm interior
Great beginner's blade
Low maintenance PVC exterior
Padded tongue and collar for support and comfort
In a
Hurry? Editors choice:
Test Winner: Jackson JS 180/181/184
23
Researched Sources
40
Hours Researching
14
Products Evaluated
Design
Comfort
Safety
Value
By Default
10 Best Kids Ice Skates Reviewed
1

. Jackson JS 180/181/184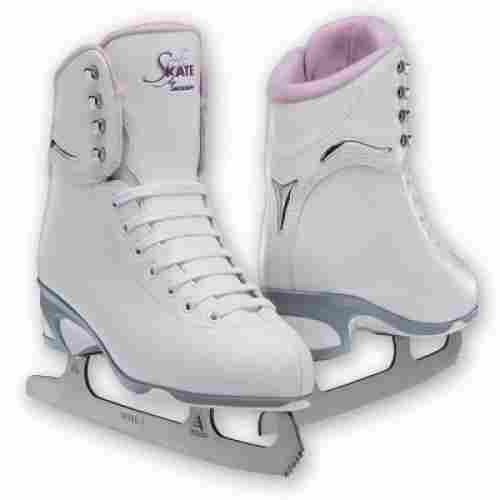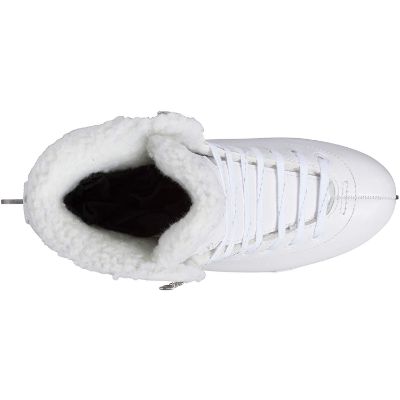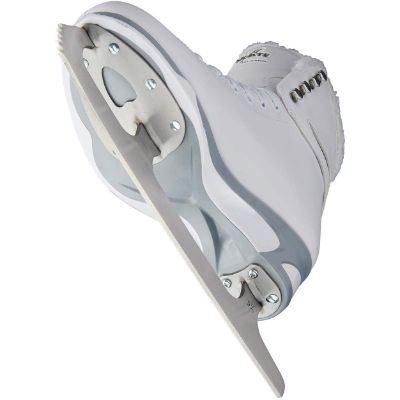 Fashionably designed
Warm interior
Great beginner's blade
Low maintenance PVC exterior
Padded tongue and collar for support and comfort
Very stiff
The upper portion (where laces string through the holes) gape wide so you'll have to pull the laces tight
These fancy, elegant skates are a sleek white design with options for colored interiors in beautiful pastels (blue, pink, and purple). A fashionably situated chrome insert gives them a little extra sophistication.
Read more
Design
Reinforced vinyl makes up the upper portion of the skate, with a padded covered tongue and collar for support, comfort, and warmth. You want those little feeties to be extra cozy on the ice! PVC outsoles make these exceptionally easy to clean. Low maintenance gear is a huge plus for busy families, and Jackson strives to make sure your love of the sport is never hindered by fussy gear. An Ultima Mark stainless steel blade rounds out this design and is rated one of the best blades for beginners. You want ice skates to be snug without being so tight that they're uncomfortable, so check the sizing chart. The company suggests ordering a size down from your street shoe size unless you have a wide foot.
Comfort
Ice skating requires a great deal of discipline and athleticism. It can help build flexibility, strength, coordination, and more, all while toning muscles and helping children gain cardiovascular endurance.
Safety
The blades are presharped to a degree that is suitable for beginner skaters. The high collar offers support to your child's ankle, thus making them great for those in the process of learning how to skate.
Value
These are a solid price for the quality you're receiving. You want to invest in a pair of skates that are safe, comfortable, and effective for your child's training and play. With these skates being easy to clean, you can easily get more value for your money by keeping them in pristine condition.
2

. Lake Placid Starglide Girl's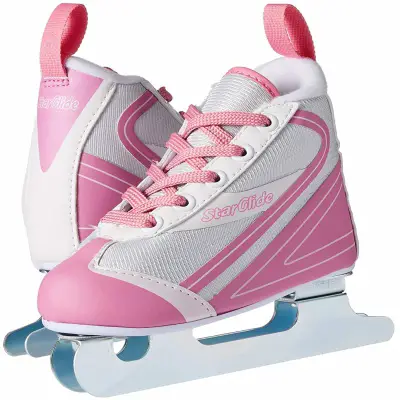 Has blades that are double runners
Upper is constructed of smooth vinyl with padding
Blades are heat-treated, zinc-plated, and edge-hardened
Includes a durable pull-tab on the heel back
Features a beautiful pink and white design
Blades cannot be sharpened
Needs more ankles support if used often
Made for girls with the design of a sports boot, the Lake Placid Starglide Double Runner Ice Skates are great for beginners. They have blades that are double runners for extra balance while learning how to skate and coordinate the feet and legs. The uppers are constructed of smooth vinyl with padding for added comfort and have a strong lace closure.
Read more
Design
The blades are heat-treated, zinc-plated, and edge-hardened. Several online customers commented on how these great skates cannot be sharpened. This is because they are beginner skates to get the child used to the movements of skating and being able to stand with them on. They are not meant for long-term skating lessons or long sessions and lessons. These wonderful skates include a durable pull-tab on the back of the heel for easy dressing. They feature a beautiful pink and white design with pink laces that will look great with any outfit.
Comfort
The extra padding and smooth vinyl materials make these terrific skates very comfortable to wear. Novices will appreciate how cozy they are and will want to stay on the ice longer to practice.
Safety
Double blades are ideal for the very young and beginners to feel more comfortable and stable on the ice. These have such blades, so children can be confident and steady as they learn the sport.
Value
These cute skates for little girls have a cost below the average. They derive their value from the double blades, the adorable design and color, and the strong laces and loops.
3

. Lake Placid Summit Girls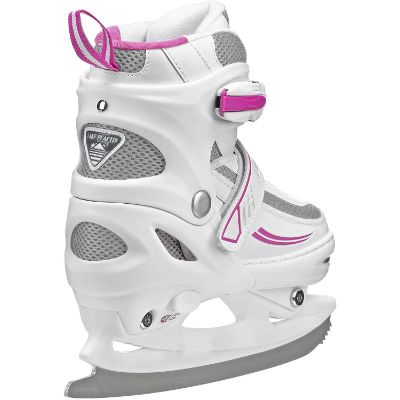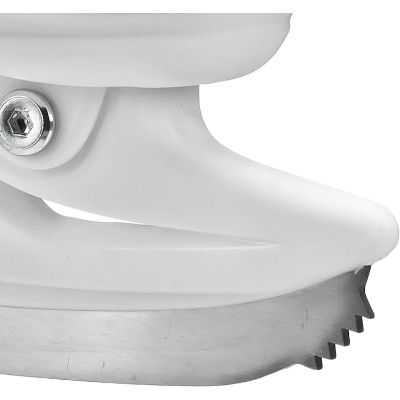 Easily adjusts in size with a push button
Has a woven warm lining and comfortable padding
The blade is made of stainless steel
Includes strong laces and pull-tabs
Features a toe pick for easy stopping
A few children had trouble with the top buckle
Skates can be heavy for some kids
The Summit Girls Adjustable Ice Skates from Lake Placid easily adjust in size with a push button to increase as much as four shoe sizes. They will last a long time because of the durable construction and the sizing accommodations.
Read more
Design
These amazing skates have a woven warm lining and comfortable deluxe padding, plus the sole is waterproof. The blade is made of stainless steel and the color is white with purple features for a look that goes well with any outfit. They include power straps on top of the foot, locking buckles on the ankles, and toe picks for easy stopping. These splendid skates for girls have strong laces and pull-tabs on the heel backs, plus the Lake Placid logo on the power straps and the tongues.
Comfort
The power strap and locking buckle give much-needed support for the ankle in two critical places. These are needed on beginner skates until the ankles get strong enough to make the skating moves well.
Safety
The locking buckle strap gives your child the freedom to skate like a pro or the stability to learn how. The strap locks to secure your child's ankle in a safe position and prevents it from bending in the skate.
Value
With a below-average price, the Summit Ice Skates for girls are valued for their strong blade, push-button technology for sizing, and the locking buckle on the ankle for support. In addition to the below-average price, we find these skates to be highly affordable due to their expanding feature. You can expand these skates to several sizes, thus allowing your child to wear them for several seasons.
4

. Jackson Ultima Softec Classic
Comfortable
Thinsulate increases warmth
Durable
Lightweight feel
Jackson Ultima has created a skate that is equally stylish and comfortable with their Softec Classic Line.
Read more
Design
Available in a wide variety of sizes in black, white, pink, and navy these skates can be enjoyed by children of all ages. The synthetic outsole reduces the weight of the skate and gives it a lightweight feel on the ice. The lightweight construction will allow your child to skate freely without feeling constrained or weighed down.
Comfort
To maximize your child's comfort, the shoe is created with a cushy foam padded tongue and a Thinsulate lined upper. The Thinsulate material will keep your child's foot warm whether they are skating indoors or outdoors.
Safety
Equipped with laces and a velcro closure, your child can get a secure fit. Not only will the laces and velcro keep the skate on your child's foot but it will provide support to their foot and ankle as they skate. The tight fit will keep your child's ankle from bending in awkward positions on the ice.
Value
Depending on the size and style you choose these skates range from $70 to over $100 dollars. However, their superior level of comfortability, durability, and safety make them worth every penny. These skates are designed to provide your child with a snug fit, thus depending on how fast your child is growing they may grow out of them quickly.
5

. Lake Placid Girls Nitro 8.8
Includes a comfortable liner that is washable
Includes cam buckles on the foot and ankle
Steel blades are nickel-plated heat-treated
Interior is soft and plush for the best comfort
Has a pull-tab on the back for easy dressing
Might be hard to move in for some kids
Does not have toe picks
Made just for girls, these Lake Placid Girls Nitro 8.8 Adjustable Figure Ice Skates have the technology of adjustable push button sizing and a comfortable liner that is washable.
Read more
Design
The construction is durable with molded boots and steel blades that are nickel-plated heat-treated carbon material. offered in large, medium, and small sizes these ideal skates do not have laces but include cam buckles on the feet and ankles that are quick-fitting. The color combination is a gorgeous white with light blue and pink features and has the Lake Placid and Nitro brands on the exterior. The interior is soft and plush for the best comfort, and there are pull-tabs on the backs for easy dressing.
Comfort
Little girls may not yet have the hang of tying shoelaces yet, but they can buckle these skates well by themselves. There are two easy buckles to fasten for closure and support of the ankles.
Safety
The durable construction of the boot will protect your child's foot against impact. The deluxe padding will cushion your child's foot as they spend hours on the ice while the buckles will provide support to their ankle.
Value
Having an average cost, these girls' skates from Lake Placid include the popular push-button technology to increase the sizes, easy buckles instead of laces, and an eye-catching colorful design.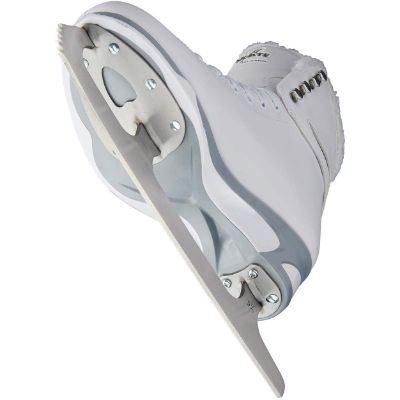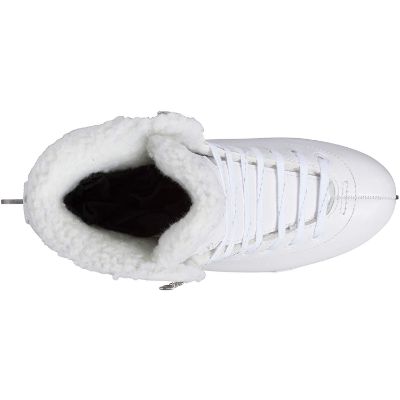 Laces and eyelets are strong and long-lasting
Upper is made of reinforced vinyl
Padded for comfort, support, and warmth
Outsoles are sturdy PVC material
Features the Ultima Mark I blade
Laces may be a bit thin
Some had trouble with sizing
The laces and eyelets are strong and long-lasting on these skates made just for girls. The upper is made of reinforced vinyl, and the tongue and collar are padded for comfort, support, and warmth.
Read more
Design
They feature the Ultima Mark I blade of stainless-steel for terrific beginner skates. The eye-catching white exteriors have a colored plush lining of either purple, blue, pink, or fleece, plus the outsoles are constructed of sturdy PVC material. Customers online were really satisfied with these skates for their daughters because of the high-quality and durability of the product.
Comfort
The extra interior padding and sturdy build of these wonderful skates are remarkable. They will take plenty of wear and tear and still look great and protect the feet well.
Safety
Even though most ice skates do come in a white variety, these are exquisite with the interior of soft pastel colors of blue, off-white, pink, and purple. They are so cool for skating on the ice!
Value
Having an above-average cost, these fabulous girls ice skates from Jackson are really worth the price. They have a strong construction, durable blades, and beautiful colors available.
Safety qualified
PU coating adds cushion
Plastic sole gives support
Leather and collar help keep feet warm
Sizing chart isn't accurate; shoe runs about a half size bigger
These high-quality synthetic skates feature a leather and a plush collar. The laminated fabric is lined with a PU coating to give a little extra cushion to skaters. The tongue slip is soft and giving while still helping to hold the skate firmly in place on kids' feet.
Read more
Design
A hard plastic sole makes this a solid option for kids and adults alike as they glide across the ice. The Botas Nicole Ni Blade received a GS European certificate, showing that they meet all safety standards. These skates will have you looking and feeling like a pro as you work your axles and turns. They come in both youth and women's sizes, so if you feel like a mommy-and-me class is in order, grab your matching sets today. See you at the Olympics, starlet!
Comfort
These skates are high-quality and designed with safety in mind. Skating helps tone muscles, improve balance, work on coordination, and strengthen cardiovascular endurance. Plus, it's just plain fun!
Safety
They're a great starter skate. They're made with comfort and safety in mind and they look lovely, too! Kids can gain a lot from skating and this pair of Botas is the perfect tool to help them as they learn.
Value
Botas are pretty middle-of-the-road pricing as far as skates go. Kids grow fast, but these are made well and will last them until they have to size up. The fact that they're available in adult sizes as well as a good sign that these are made to be a pair you'll want to keep coming back to.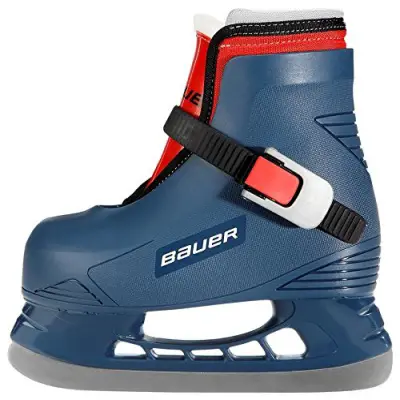 Fit is warm and comfortable
Includes a comfortable inner liner
Uses a simple buckle system for closure
Are easy to get on and take off
Are sturdy and perfect for beginners
Sizes may be small
The curve of the blades gave some children problems
The Bauer Lil Champ Skates have nylon one-piece interiors for a fit that is warm and comfortable. They are made just for little boys and are easy to get on and take off the feet. The feet are kept warm while skating because of the comfortable inner liners.
Read more
Design
They use a simple buckle system for closure and tightening of the skates and are sturdy and perfect for beginners. These fabulous boy skates are medium-blue in color with red and white liners. Many happy little boy customers were pleased to wear these and begin their skating instructions. The parents were pleased as well. Try them for your son to enjoy winter ice skating this year.
Comfort
The comfortable interior lining serves the purpose of the plush or fleece lining that is in most ice skates. It is a one-piece unit to keep the feet warm and snug inside the skates.
Safety
This is the ideal introductory skate for children. The sturdy exterior construction of the skate will protect your child's foot as it rests inside. While the single buckle does make it easy for children to put this skate on themselves, it also allows your child to get a secure fit. Adjusting the buckle to give your child a tight fit will increase their safety by providing support to their ankle.
Value
With the lowest cost of all listed ice skates, these Bauer skates are valued for their simple buckle system for tightening and fastening and being easy to get on and off the feet.
9

. Lake Placid Monarch Boys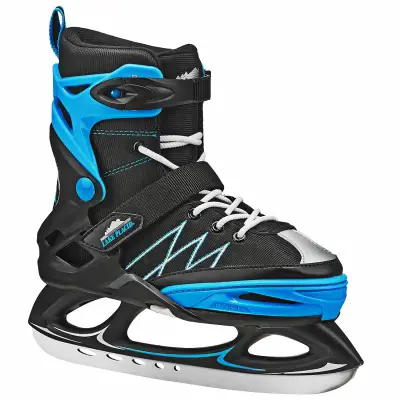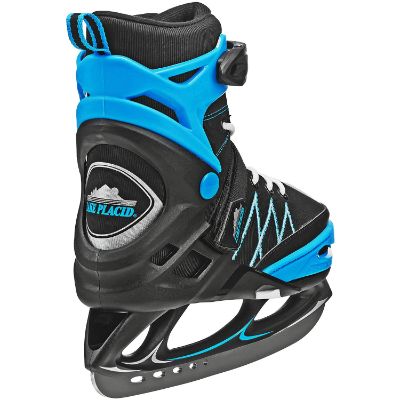 Can adjust the size with a push button
Has strong laces and eyelets
Includes a strong brace and a Velcro strap
Has a durable pull-tab on the back of the ankle
Front of the toe features a durable tough guard
Can be difficult to adjust
The top straps kept loosening for some kids
Made just for boys, the Lake Placid Monarch Adjustable Ice Skates can be adjusted in size with a push button, and the sole is waterproof. The lining is woven and warm, and there is comfortable deluxe padding. These terrific skates have blades made of stainless steel, strong laces and eyelets, and lacing that goes to the ankles.
Read more
Design
They include a strong brace on the top of the ankles and a Velcro strap over the top of the feet for support. Offered in a modern trendy design of blue and black that kids will love, the front of the toes feature durable tough guards. They have the Lake Placid logo on the tongues and the Velcro straps, plus durable pull-tabs on the back of the ankles for easy dressing.
Comfort
Boys will love the design on these skates and want to skate more often to show them off. Several online customers made comments about how their kids wanted to skate more because of this amazing model.
Safety
It is quite obvious that the maker of these skates wanted your child's feet to be well supported and protected out on the ice. The supports are strong, and the tough build is wonderful.
Value
Priced below the average of these products, this model of skates has the great qualities of adjusting the size, strong ankle and foot braces, and long-lasting construction.
Has a comfortable design
Lacing system is simple and easy
Skates are soft and have a velvet lining
Perfect for the casual or beginner skater
Allows a smooth glide while skating
Straps broke easily for some kids
A few people received the wrong products
The 615 Soar Jr Skates from Riedell has a comfortable design and a lacing system that is simple and easy. They are soft and have a velvet lining that is foam-backed and are offered in several terrific color choices. These fabulous skates give light support for stability and freedom to move and allow a smooth glide while skating.
Read more
Design
The skate tongue design is split for added comfort and support, as these are terrific for hockey to figure skating. The 615 Soar Jr has a support rating of twenty on a scale of 1 to 100 and includes a PVC sole that is lightweight. Made to keep the feet dry and safe for hours, these are perfect for the casual or beginner skater. They have great speed and handling, Velcro straps on the ankles for added ankle support and stability, and strong laces and loops.
Comfort
The lacing system and the Velcro strap at the ankle will give the best support and ankle strength to our child. skating is very hard on the ankles, so they need the best bracing that they can get for this active sport.
Safety
The sole is designed with a lightweight PVC material that will keep your child's feet dry. Constructed with extra padding in the lining your child's feet will be cushioned as they skate. The extra lining is especially ideal for beginners.
Value
Just a tad above the average price, these wonderful Riedell skates derived their value from the comfortable soft lining, the supportive construction, and the good color selection.
Criteria Used for Evaluation
Design
Offered in sizes only for kids, all of the items listed are made just for children. There is one model that did make adults sizes, and we note that in the summary of that item. Kids need their own size of skates, so they fit well and will not come off. With the perfect fit for their little growing feet, their ankles and feet will not be damaged from the many falls they will take on the ice. Ensure that you get the correct size for your child to allow them the most enjoyment from this excellent sport.
Comfort
Made of strong construction and high-quality materials, these skates from the best makers will last a long time and take the punishment from such an active sport. Kids can be rough with ice skates, especially if they use them often during the winter. These have thick linings, sturdy soles and outsoles, steel blades, and resilient uppers. Your child's feet will be well protected in these ideal skates.
Safety
These ice skates are all easy for kids and their parents to put on and takes off, as some of them have just a simple buckle closure. The ones with the laces will take a bit more time to get on, but they do offer more support and a better fit than just the buckles. The only thing needed before using the skates is to have them sharpened by someone. The skates come to you in a form that does not have a sharp blade to catch on the ice. An unsharpened blade will make the child fall down on the ice repeatedly because the blade has a rounded edge. In order to increase your child's safety, it is important to purchase a pair that will provide them with a snug fit. Properly lacing the skate will keep your child's foot in one position. Not only will this maximize their performance but it will also reduce the chances of injuries on the ice.
Value
The price range for these kids' ice skates is not wide, as the costs do not vary that much. The differences in products are the sizes, gender, and the materials used for the items. The brand also figures into the price, as these are from some of the best-known manufacturers of ice skates and sports products. We feature items from Bauer, Lake Placid, Riedell, and Jackson. In each product's Cost and Value section, we will rate the skates as either average, below-average, or above-average in cost. We do not list specific prices in our buying guides because online costs change frequently, and we do not want to give false information. We also tell you the features and qualities that make up each product's value, so you can decide which skates are the best ones according to the price category are perfect for your child. The most expensive skates on this list are the Jackson Ultima Softec Classic ST2300, and the least in cost are the Bauer Lil Champ skates. In addition to looking at the features and qualities of each skate, the sizing chart also contributed to our judgment of the overall value. With a majority of the skates being more expensive we wanted to be sure that your child would get several wears out of their pair. Skates that have laces allow your child to adjust the fit to their growth.
Most Important Criteria
(According to our experts opinion)
Experts Opinion
Editors Opinion
Users Opinion
By Default

Parents, Did you Know?
Choosing the ice skates that perfectly fit the children's feet is crucial to their performance on the ice rink. This ensures an increased learning process and performance levels, as well as a more enjoyable experience for the child.
Parents, Did you Know?
Although more expensive, the higher quality skates provide greater stability and comfort, leading to more enjoyable times. However, parents should keep in mind that children will outgrow the skates, therefore opt for medium-priced skates.
Other Factors to Consider

Brand
We only highlight the best-rated and the most-reviewed products in any given category for our informative buying guides. This helps you make the most of your shopping time and effort. We only want the best items for our families and so do you. In our summary sections, we tell you exactly what makes these products so great, what customers liked about them, and what they did not. By having all of the best products of one type together in one simple format, you can easily choose the perfect ones for yourself. The ice skates with the most reviews are the Bauer Lil Angel Champ Skates. The ones with the highest rating are the Riedell 615 Soar Jr Skates. Consumers are overwhelmingly pleased with these products and would purchase them again.
Frequently Asked Questions
q:

What are the differences in the boy skates and the girl skates?

a:

The only structural part of the ice skate that is different for boys and girls is the width and length. Just as in regular shoes, boys' shoes are usually wider and longer for the same sizes as the girls' shoes. This is true with skates also. The colors and designs for girls are more feminine in pastel colors and delicate patterns. Boys' skates tend to be bold dark colors in blues, blacks, and brown that would match their basic colors of clothes best.
q:

If they do not have my child's shoe size, should I go up in size or down for the best fit?

a:

It may sound strange, but if you really want to buy a certain model and the size you want is out or not offered, then go a size smaller for ice skates. This was recommended by one customer online. The reason is that loose ice skates can cause serious issues with the ankles turning freely in the skates causing damage to the ankles. A tight skate is better than a loose one. The best thing to do is to keep looking for a model that does offer the child's size for a perfect fit.
q:

What is the most common complaint online for these ice skates?

a:

Sizing is always a problem for any type of clothing or footwear item. It is hard to get the exact size needed when buying online because you do not know if the sizes run true to regular shoe sizes. Manufacturers were really good in all instances of accepting skates back and providing another size. Some people did not understand or know about sharpening the skates, so kids did fall down repeatedly and unnecessarily because of this. These were the two main problems noted in customer remarks online.
q:

Is it better to get skates with just the buckle for closure or to get the ones with the laces?

a:

The answer to thing depends on several things. First, the age of the child and who will be fastening the skates is important. If it will be the child, then they may prefer the easier buckles to the laces. Some models of skates come with both laces and buckles. If tying the laces is not a problem, then the choice is a matter of stability and support. the laces by themselves will provide adequate support for the foot and ankle, as most of the laces go up to the ankle. With just the buckles, most of the support is just in the ankle or on top of the foot. This has to be on fairly tight to give the best support. with buckles and laces together, the child has the best support and strength for the ankles that are developing into the most important part of the body for skating. The ankles take plenty of abuse from falls, twists, turns, and jumping, so it is best to give them the best support you can.
q:

Why do the skates need sharpening when you get them?

a:

Ice skates are shipped with a dull blade to prevent accidents in shipping and receiving of the product. They must be sharpened so the child does not have a rounded edge on the ice. This will make them fall continuously because the blades will not catch on the ice. This is a common misconception of people who purchase ice skates. Several online commented were made about this because no everyone knows that new skates must be sharpened. The models for the very young children might not need sharpening. We feature one such pair on this list. These are only to get the child used to standing and moving a bit on skates and are not really for continued use on the ice. Thus, they do not need sharpening. All other ice skates do need sharpening, though.
q:

Should children be able to put these on themselves, or should parents be doing this?

a:

This really depends on the age and capabilities of the child and the closure style of the skates you purchased or want to purchase. If the child is old enough to dress themselves and can do so without hurting themselves on the blade of the skates, then sure, they should be able to handle this. If they cannot, then the parents must help. You do not want your child to be cut by the blades. The skates with the buckle closures are much easier to handle for smaller kids that the ones with laces. Keep this in mind if you think your child will want to put on their own skates often.