All year round parents flock to toy stores looking for the perfect gift to give their kids for the latter's birthday, special achievements, or even holidays. And while dolls for girls and toy cars and guns for boys make up the bulk of the gift suggestions, many also consider play tents as one of the most useful tools for children especially when they are engaged in imaginative or pretend play. These kiddie tents are excellent addition to the scenario being played by kids which can then help develop their psychomotor and cognitive skills as well as enhance their social and emotional development.
Our Top 3 Picks
Crazy Forts!

Our rating
Unique Forts & Structures
Price:

See Here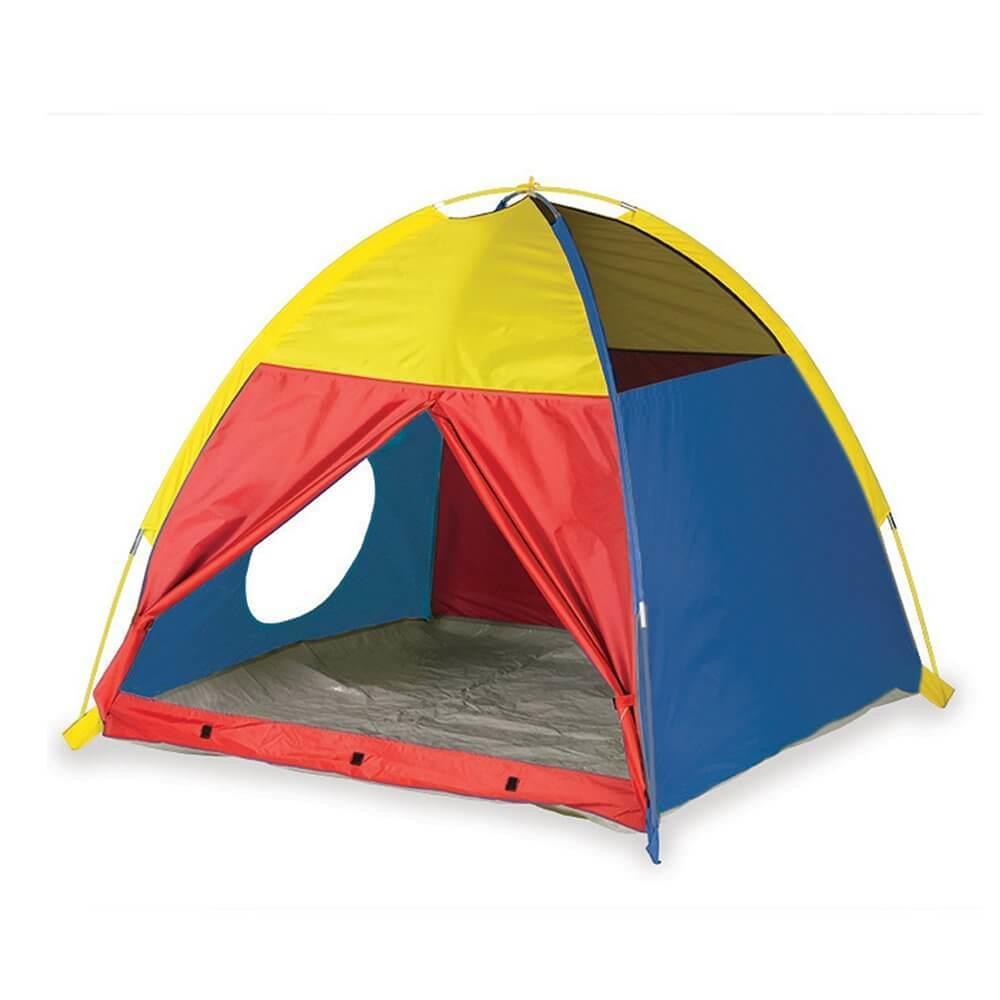 Me Too Tent

Our rating
Classic Tent Design
Price:

See Here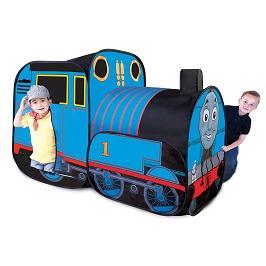 Play Hut Thomas

Our rating
Optional Connect Tunnel
Price:

See Here

We know how crazy frustrating it can be to choose the best make-believe camp for children. As such, we are bringing to you the top eleven play tents you can ever find for your child and his or her friends.
Pacific Play Tents Kids 'Me Too' Dome Tent
Age Range: 3 to 10 years old
Playhut Thomas the Train Play Vehicle
Age Range: 3 to 9 years old
Truedays Kids Fun Play Tent Playhouse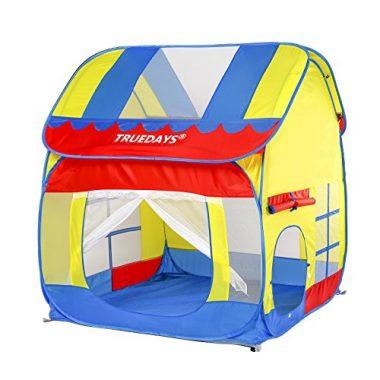 Age Range: At least 1 year old
Playhut Teenage Mutant Ninja Turtle Shell Raiser Vehicle
Age Range: 4 to 15 years old
Wenzel Children's Sprout Two-Person Dome Tent
Age Range: At least 3 years old
Club House Tent by Pacific Play Tents
Age Range: 3 to 15 years old
Kids Camouflage Pop Up Play Tent by Petra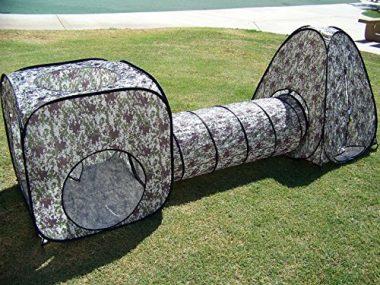 Age Range: At least 2 years old
Children's Play Tent Game Playhouse by BATTOP Toys & Games
Age Range: 1 to 7 years old
Cubby-Tube-Teepee 3pc Pop-up Play Tent by POCO DIVO
Age Range: At least 3 years old
POCO DIVO Crown Princess Castle Girls Outdoor Tent Pink Indoor Play House
Age Range: At least 3 years old
Criteria Used In Evaluation for The Best Tents for Kids
There's a lot to think about when buying a tent for kids. The following are just a few things you will want to consider:
Main Purpose
Will the tent be used for parties, camping, or everyday playing? Is it mainly for indoor use, or do you want one that the kids can use for backyard camping–or both? Will you be packing it around, or leaving it set-up somewhere? Honing in on the main reason that got you shopping in the first place will help immensely in deciding which tent to buy for the tinys.
How Many Kids Will Be Using It and What Ages
If you are in the market for a camping tent, the obvious question is how many kids will it sleep comfortably? You'll also want to consider the ages and sizes of the kiddos in question, for both camping and play tents. While some kids like cozy little spaces in which to cuddle up by themselves or with a good book, others prefer more room and a less claustrophobic feel.
Type of Material
The three most common materials used by tent manufacturers are nylon, polyester, and polyethylene.
Nylon: Nylon is a general term used to denote a synthetic polymer group based on two different types of polyamides. Although some if its properties can vary depending on how it is manufactured, in general, Nylon is a thermoplastic material known for its resiliency, elasticity, lustre, and oil- and moisture-resistant properties. While nylon can provide shade from the sun, it does not protect against UV radiation. It is easily washed and dyed and lighter/more breathable than polyester.
Polyester: Polyester is the type of material that results when carboxylic acid reacts with alcohol and forms chains of esters. It comes in different forms and combinations (e.g., polyester taffeta–one of the most popular combos used by tent manufacturers) and is used to make everything from clothes to canoes because of its wrinkle-, mildew-, water-, chemical-, and stretch-resistant qualities. While polyester fabric is quite strong and stain-resistant, it is also easy to clean and quick to dry. Polyester is commonly used for outdoor camping tents because of its durability and UV-resistant properties.
Polyethylene: If you use shampoo bottles and plastic grocery bags, then you are already familiar with polyethylene. It is perhaps the most widely used thermoplastic polymers because of its versatility, waxy feel, malleability. However, it is less durable than polyester.
Keep in mind that these fabrics are often blended with other fibers and woven in different ways to make a final product that is ideal for its intended purpose. Most tent manufacturers advertise the type of materials they use in their products and whether or not they are waterproof; however if they don't, do some research and consider how important qualities such as lightness, stain-resistance, flame-resistance, and waterproof are to you. But be sure to read the fine print: water-resistant is not waterproof and UV-resistant does not provide 100% protection from the sun. Even if a manufacturer does claim that their tent provides UV protection, remember that if a tent is left in the sun for long periods, its sun-protective capabilities will lessen over time. Visible fading is a good indicator of this. In the end, slathering the kids with sunscreen before they indulge in hours of sunshine outdoors–tent or no tent–is still the best measure to take to prevent sunburn.
How We Chose the Top Play Tents in Our List
Choosing the right tent for kids' playtime activities can be very challenging. We tasked our team of dedicated researchers to come up with a shortlist of the top kiddie portable canvas shelters that we can share with you. After several days of toiling through mountains of data, product reviews, and careful analysis, they were able to give us the top 11 play tents for kids.
If you're wondering how they did it, it was never easy. First they had to look at the overall design of the tent and make accurate assumptions as to how the product will be used by kids. More importantly, however, is how the tent will be able to help children develop or enhance their psychomotor, cognitive, emotional, and social skills. Next, the safety of the materials used as well as its construction have been examined closely. The tent maker's reputation or credibility was also ascertained. If there are any awards, recognition, or certifications related to the product's design, development, and manufacture, then these were also considered. Lastly, our team looked at the countless parents' reviews and feedback about the products. At the very least, we can share with you gift suggestions that are also highly recommended by many parents.
Play Tents, Imaginative Play, and Your Child's Development
Kiddie tents are usually used by children as props or accessories in their imaginative, dramatic, or pretend playtime activities. Depending on the objective of the game, children can surely benefit a lot from these kinds of playtime accessories or props.
First is the development or enhancement of children's psychomotor skills. A kiddie tent provides enough covered area for playing. Children can crawl into their tent or even jump onto it. If they are old enough, they can assemble the tent themselves without additional parental support. All of these require excellent control of the muscles. It helps refine their control of gross and fine motor movements while at the same time enhancing their sense of visual motor coordination and balance. Tying some of the knots in a certain kid's tent can help enhance manual dexterity.
Secondly, being important tools for imaginative or pretend play, kiddie tents can be excellent materials for enhancing children's cognitive abilities. When children are given a large house-like structure made of canvas to play with, their imagination is greatly stimulated. They are able to harness other cognitive skills such as problem solving, memory, cause and effect relationships, spatial reasoning, and counterfactual reasoning.
Imagination requires input from the kid's memory, the things he or she may have learned either through experience or from school. These pieces of information are processed by the brain to come up with a what-if situation. This is one of the crucial elements of critical thinking and divergent problem solving. This also helps in the identification of a variety of situations that are directly related to a single phenomenon. It helps foster curiosity which can further fuel the child's critical thinking processes.
Playing with kiddie tents also help children develop and enhance their planning skills. They have to try to identify the objective of their role play and what the different activities they need to do. This is an essential skill to master as it lays the foundation for scientific problem solving where a problem is best solved using a set of objectives that are problem-oriented. Looking for solutions to accomplish the objectives will lead to the resolution of the problem. Role playing allows children to start understanding the concept of careful planning and objectives-setting. This is important when they do grow up as adults especially when they go into business as well as other endeavors that require planning.
Third, imaginative playing with friends helps encourage cooperation and negotiation. When role playing, kids eventually have to talk and discuss among themselves who plays which role as well as the different actions that each one has to perform. This helps develop children's social skills. If they have to use the tent and there are many of them, children learn to take turns and share the different playthings in the kiddie playhouse. The social interaction obtained from imaginative role playing activities allow kids to learn empathy and consideration for the feelings of other children. They begin to understand the idea of proper behavior especially when they are in the real world.
Fourth, as a natural result of the increased social interaction playing with kiddie tents, children are also able to improve their language and communication skills. Pretend and imaginative play is a wonderful opportunity for children to use their very own vocabulary and language. They are able to use expressive language. Our role as parents is to help expand their vocabulary by paraphrasing what our kids have said during their pretend play. We can do this by using a more descriptive language which our kids will understand or by giving examples using expressive language.
Lastly, because children are able to express their thoughts and feelings through role playing and imaginative playtime activities, we help enhance their self-esteem. We are giving them power and control over their pretend world and these help enhance their creative abilities. They can create their very own story lines, decide what plots and twists to go with their story, and develop the personality of their main character in the story. All of these help enhance kids' self-esteem by giving them the power to control their world. And if we show that we also enjoy and truly appreciate what our kids are doing, the more that we enhance their self-esteem.
The Bottom Line
Many of us adults may have already forgotten the joys of playing pretend or role playing. Kids need these types of playtime activities to help them in their cognitive, social, emotional, and psychomotor development. And when it comes to imaginative or pretend play, one of the most useful accessories or tools we can ever give our kids is a playtime tent. With our top 11 play tents you can start encouraging the imaginative play of your own kids. You won't go wrong and kids will surely love you for it.
FAQs
Frequently Asked Questions
Q: What are some different ways younger children can use the tunnel-type tents besides crawling around in?
A: For babies or toddlers, the tunnel can be propped with a pillow and used as a ball ramp; or, it can be used either vertically or horizontally for different versions of peek-a-boo. For older toddlers/preschoolers, you can take each take one end of the tunnel and pass a ball back and forth by lifting your respective ends to get it rolling. Other ideas include using your tunnel tent as a reading station, either in a shady spot outside or a cozy corner inside. Turn off the lights, add a flashlight, and it becomes a reading cave!
Q: Where can I get replacement poles for the Pacific Play Kids 'Me Too' Dome Tent?
A: The company (Pacific Play Tents) is happy to send replacement parts if you follow the correct protocol. You can contact them at 1-877-722-0083.
Q: I lost the instructions for the Truedays Kids Big Tent Playhouse. How do I fold it back into its case?
A: Check out this YouTube video for folding instructions: https://youtu.be/-XZvohPRdtE
Q: What is the best way to care for my kids' play tent?
A: Always avoid leaving it outside in the sun and weather for extended period of time if used outdoors. Use a handheld vacuum or brush to sweep away dirt and debris from the tunnel or floor of the tent (if applicable), or simply shake it out before collapsing and storing. Avoid using scrubbing with water as much as possible, as doing so can remove mildew-, stain-, or water-resistant finishes from the fabric. If heavy cleaning is required, use a mild, detergent-free cleaner (ideally one made specifically for tents); rinse thoroughly, then dry.
Q: What are the top reasons parents buy play tents for their kids?
A: There are many reasons, but the following are the most common:
They provide easy entertainment on the go.
They make a unique and wonderful gift for children ages 2-12.
They give kids something to do at parties and sleepovers.
They are simple, yet can be used in so many ways.
Q: Where can I get balls if my kids want to try the ball pit idea with their tent, and how many should I get?
A: Although retailers such as Walmart sometimes have them in stock, we recommend these non-toxic balls for ages 5 and up, or these if babies or toddlers will be using them. Both are are available from Amazon and come in packs of 100, which is a good starting number.
You May Also Like
Best Water Toys For Kids
Best Outdoor Toys For Toddlers
Best Outdoor Playsets
Best Beach Toys