Best Kids' Slippers for Boys and Girls Rated in 2019
last updated
Aug 13, 2019
Kids love slippers as much as the next person. Who doesn't love toasty warm toes, and to have something cute on their feet while walking around inside the comfort of their home? One of the best things we do for our bodies is to pamper our feet. Not only do slippers increase the life of your socks, but they also play a part in eliminating household accidents such as slips and falls. Wearing slippers can also help stop the spread of bacteria, athlete's foot, and even the common cold! Whether you are choosing your child's next pair of slippers based on value, comfort, or if you're looking for a special character that they love, you are sure to find a pair they will fall in love with on this list. Below are the 10 top-rated and best-reviewed kids slippers in 2019.
In a Hurry? The test winner after 35 hrs of research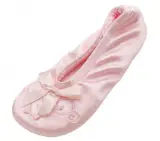 Isotoner Satin Pearl Ballerina
Why is it better?
Has delicate embroidery and small pearls
Made by Isotoner
Made of stretch satin
Sole is cushioned foam suede leather
Machine-washable and air-dry flat
In a
Hurry? Editors choice: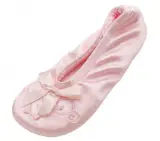 Test Winner: Isotoner Satin Pearl Ballerina
28
Researched Sources
35
Hours Researching
17
Products Evaluated
Design
Materials
Fit
Comfort
By Default
10 Best Kids' Slippers for Boys and Girls
1

. Isotoner Satin Pearl Ballerina

Has delicate embroidery and small pearls
Made by Isotoner
Made of stretch satin
Sole is cushioned foam suede leather
Machine-washable and air-dry flat
Sizes run large
Some buyers say the slippers will not stay on
For the little ballerina in your life, these charming slippers will be ideal. They are the most delicate pastel colors and have sweet decorations of pearls and embroidery on the top of the toe part.
Read more
The Isotoner Ballerina slippers will allow your little one to dance around the house in style. Being so lightweight and compact, these slippers can easily be packed in your child's suitcase for sleepovers and vacations.
Design
The slipper is adorned with beautiful embroidery and pearl detailing at the foot. The small bow adds an extra touch of elegance to the gorgeous design. When purchasing you can choose between pink, white, or even an ivory color for your child's feet.
Materials
Made of satin and soft foam, these Isotoner Satin Pearl Ballerina slippers are stylish, flexible and quite easy to maintain. When it is time to clean these slippers, simply toss them in the washing machine.
Fit
The top of the shoe is composed of a satin material that is not only soft but also stretchy. With the material stretching easily, children will have no problem putting these on by themselves.
Comfort
The inside of the shoe is designed with a foam cushioned sole that will provide your child with a comfortable fit. The bottom of the shoe is made to be anti-slip, thus they will give your little one the traction and stability they need to dance freely.
2

. Silver Lilly Classic Bunny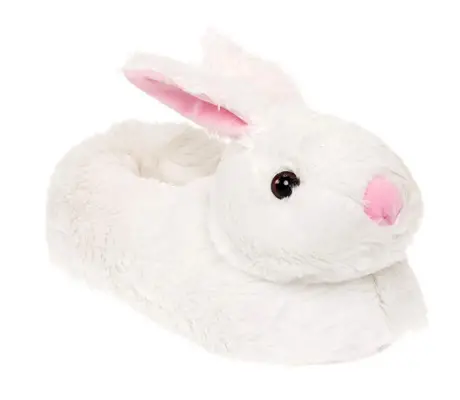 Has a cute bunny design
Keeps feet warm, comfortable, and dry
Includes traction dots on the sole bottoms
Easy to slip on and take off
Perfect for lounging around the house
Some had seams that opened
A few people received the wrong item
While this shoe is made with super soft fabric and non-slip soles,our favorite thing has to be the adorable bunny design. The bunny ears and tiny nose are just extremely adorable on each of the bunny slippers.
Read more
When people think of animal slippers, it is always a bunny that comes to mind. Bunny slippers have been worn for decades by children and adults because of the charming way they look and the fabulous comfort they provide for the feet.
Design
These from Silver Lily come in four great colors and in several sizes. They have an adorable design of big, furry ears, black button eyes, and a delightful pink or black nose. The white bunny has the pink nose, and the others colors have the black nose.
Materials
Whether you choose to wear the white, brown, pink, or grey bunny the adorable floppy ears are sure to bring a smile to your face. The super soft material on both the inside and the outside of the shoe will have you feeling like your living a life of luxury.
Fit
Children of all ages can easily put these slippers on and take them off by themselves. All your little one has to do is slide their foot into the opening and wah la they're dressed in bunny slippers.
Comfort
They keep feet warm, comfortable, and dry, so these are perfect for lounging around the house and wearing for hours. The footbed is cushioned and fits snugly around the foot, plus traction dots are included on the sole bottoms for safety.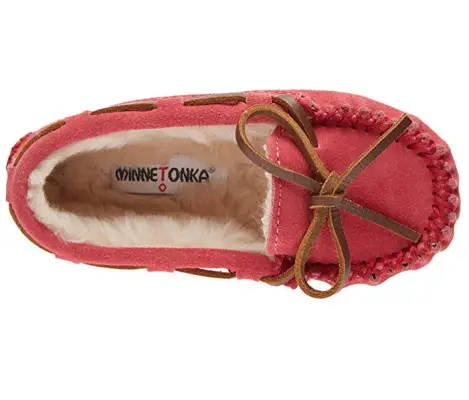 Sizes for a toddler, little kid, and big kid
Made of 100% cow suede
Great for indoors and outdoors
Lightweight and very warm
Modeled from the Cally adult slipper
Sizes run large
Some buyers received girls slippers when boys were ordered
Moms, if you've been sporting the Minnetonka Cally slipper then this pair is perfect for your child. The Minnetonka Cassie is designed to resemble the Cally so your child can walk around the house in style just like you. Established in 1946, Minnetonka is a 4th generation family-fun business. With such a long history of happy customers, we're confident that these slippers will bring nothing but joy to your home.
Read more
Design
Each pair is designed with stylish, but effective, stitching and leather lace. The lace is purely for style, thus it's okay if your little one doesn't know how to tie their shoes. Available in solid colors and patterns your child can easily find a pair to match their taste and pajamas.
Materials
Hand made from the finest materials you can be confident that you will receive a high-quality pair of slippers. The soles are composed of rubber and the outside of the slipper is made with 100% cow suede. The inside is composed of a faux fur and the lacing is rawhide. The durable soles allow these slippers to be worn indoors or outdoors. Going to check the mail? Now your child can walk with you!
Fit
With over nine different color options, you will surely be able to find a pair for your child. In fact, children of all ages can wear these as they range in sizes for children between the ages of 1 and 12. The lightweight design will allow your child to move around freely while wearing these without feeling as if they are weighed down. They're easy to put on and take off. Your child will simply need to slide their foot in and out. Watch their independence and confidence grow as they put on their own slippers.
Comfort
The luxuriously soft suede material will keep your child's feet comfortable. The rubber sole not only grants the slipper with a high level of durability but it will protect your child's feet from hard surfaces. Furthermore, it will provide support to your child's body. The faux fur lining will have your child feeling as if they are walking on clouds with its superior softness. Also, the fur absorbs moisture so it will keep your child's feet warm without feeling sweaty.
4

. Silver Lilly Plush Pug Dog
A few size choices are offered
Has the head of the Pug on top
Soles have traction dots
For those that love dogs
Perfect for holiday or birthday gifts
Not much cushioning on the bottom
Sizes may run small
The Pug is an adorable dog that most people just love because of their wrinkled skin on the face. These cute slippers for kids look just like a Pug in cartoon form!
Read more
The head of the puppy has button eyes and nose, wrinkled snout, and small curled ears. These Pug slippers are perfect for holiday or birthday gifts or just anytime for everyday wear. The adorable puppy face is sure to get everyone in the house smiling.
Design
Silver Lilly makes wonderful footwear products, especially for kids and toddlers. These are created in the form of Pug puppies that any child will love. The color scheme is in a two-toned brown color similar to the shades of the real dog.
Materials
The high-quality stitching guarantees the eyes, nose, and ears will stay on through several wears. The slipper soles also have traction dots for non-slip purposes on smooth surfaces.
Fit
A few size choices are offered, so choose the most appropriate size needed. The head of the pug will not hinder your child's mobility. Just like the other slippers in Lilly's line, these are easy to slide on and off.
Comfort
While the slippers may appear to be bulky, they actually have a lightweight feel. These include a footbed that is cushioned and fits snugly around the foot, and there is extra cushioning on the upper portion of the slipper.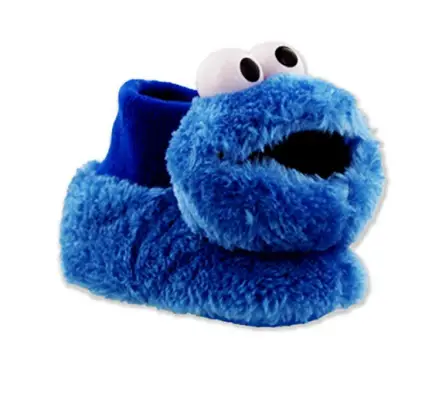 Choose Elmo or the Cookie Monster
Includes a knit collar, faux-fur, and a stippled bottom
Licensed by Sesame Street
Has a footbed made of foam
Four sizes are available
Some buyers say these are scratchy on the inside
Eyes come off if pulled
Sesame Street fans will just adore these gorgeous slippers! They are made like the head or Elmo or the Cookie Monster in two bold, vibrant colors of red or blue.
Read more
Sesame Street fanatics will fall in love with these Elmo slippers. If your child is a fan of the cookie monster, you're in luck. You can also purchase these in your child's favorite cookie devouring blue monster.
Design
These slippers are available in a wide range of styles. Both Elmo and Cookie Monster are designed with brightly colored soft fabric that will appeal to your child's sensory development.
Materials
The anti-slip bottoms will help provide traction and stability to your child as they learn to walk. They are made of high-quality faux fur and soft bottom making them cozy for children of all ages.
Fit
The finger loop on the back of the slipper makes it easy for you and child to pull these shoes onto their feet. With these slippers being lightweight, your child is free to fully roam.
Comfort
Designed with a stretchy knit collar that rests on your child's ankle, these slippers will keep the cold air out and your child's feet nice and warm. The foam footbed makes it easy for your child to walk around comfortably.

Has the Star Wars logo on the heel
Available in several characters
Has a soft inner lining
Hand wash and air dry
Features a non-slip sole
No much padding in the bottom
A few had size problems
Any Star Wars fan will love a pair of these incredible slippers! The manufacturer did a wonderful job of recreating the detailed features of each character for these slippers.
Read more
Anything with the Star Wars theme or personalities on it will make kids and adult crazy for it. If you are a true fan and you try to avoid buying another Star Wars related item, we have one thing to say to you: May the force be with you! - because you are going to need it.
Design
These nifty slippers for kids feature four of the well-known characters of the Star Wars fame. Choose from Darth Vader, Chewbacca, Storm Trooper, or R2D2. The Star Wars logo is on the back heel of each slipper too.
Materials
A soft inner lining is included and a non-slip sole for those smooth surfaces. Hand-washing and air drying are recommended for these slippers to keep them looking their best.
Fit
These are not only very comfortable and warm, but they are also super easy to put on and take off because of the open design. The character features do not get in the way of putting the foot in and out.
Comfort
These are pillow-like slippers are thick, comfortable, soft and warm, so kids will want to wear them all day long around the house. They are durable and long-lasting if cared for properly.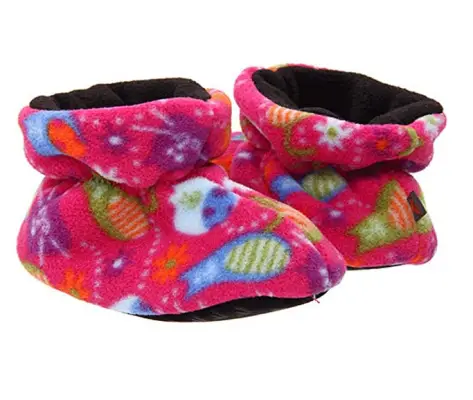 Has an elastic ankle cuff
Roomy and comfortable footwear
Includes tread that is non-slip
Easy to pull on and take off
Made of very soft polyester fleece
Some said the sole traction is not the best
Sizes were a problem for a few parents
Slippers cannot get much more adorable than this! Toddlers and kids will look oh so, cute with these ACORN Easy Bootie slippers on their feet. Make sure you get the camera ready!
Read more
These slippers are so wonderful that they have been endorsed by professionals of Harvard Medical School and Children's Hospital Boston. Both boys and girls will love these fabulous booties.
Design
These Acorn booties come in many fun colors and patterns sure to please any child. Not only are they heavenly cozy, but they will also keep their tiny little ankles warm when the temperatures drop.
Materials
"Soft" is the word for these cute slippers because they have soles that are squishy soft and are made of soft velvety polyester fleece. Children will love the feel of these and wear them all the time.
Fit
They are easy to pull on and take off, plus several sizes are available to find your perfect fit. They have an elastic ankle cuff and tread that is non-slip, for safe and flexible movement of the feet.
Comfort
The sole is comprised of fabric and is squishy-soft for terrific cushion and comfort. These booties are roomy and comfortable because of the very soft polyester fleece.
8

. Maybolury Home Slippers
Available in a variety of colors
Keeps feet warm
Designed with thick soles
Well Made
Prepare for cuteness overload when you see your child hopping around the house in their Maybolury Home Slippers.
Read more
Design
Malbolury has modernized the classic bunny slipper design. Boys and girls can choose from over fifteen different colors and bunny styles. Your child can waltz around the house with slippers that are designed with or without a back. The variety of colors and bunny designs makes it easy to pair these with practically any pair of pajamas. While the colors may vary, each slipper is designed with an adorable bunny face on the toe area.
Materials
The inside is lined with fur while the outside is composed of soft suede material. The thick TPR sole will protect your child's feet from the ground's impact while also providing the slipper with a high level or durability. With anti-slip soles, your child will be given a high level of traction on a variety of different surfaces. The slippers are well made as they are designed with top of the line stitching. Your child will be able to wear their pair until they grow out of them.
Fit
The half-covered heel slippers are available for toddlers who wear sizes 4.5-6.5. The rear strap on the slippers will prevent them from falling off throughout the day and night. The slippers without straps are available for children who wear sizes 8-13.
Comfort
The fur lining will not only give your child a comfortable spot to rest their feet but it will also keep the cold from nipping at their toes. The foot bed is equipped with a little extra padding to provide your child with soft steps.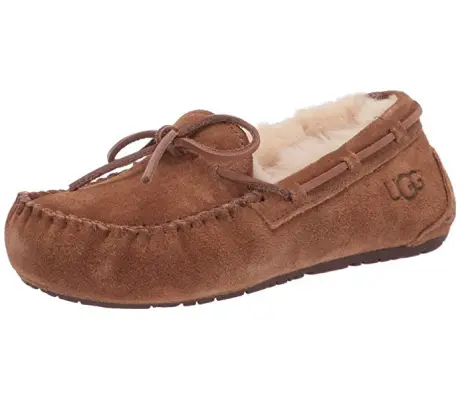 Made of suede leather with a rubber sole
The lining is fur of shearling lamb wool
Has strong stitching
Moccasin style slipper
Great for inside or outside wear
Some said these are shallow when worn
A few sizing issues
The UGG name means excellence because of the superior items they create. These Dakota Slip-On Slippers fit well in their worthy product line. These are made of suede leather with a rubber sole, and the lining is fur of shearling lamb wool.
Read more
When you think of cozy shoes, you usually a thing of the good old UGG design. These slippers are not an exception to that rule. Unlike their traditional boot model, these give out a more classy moccasin vibe.
Design
They have rawhide lacing and a bow on top of the foot for a splendid decoration. If you are looking for a basic, comfortable slipper for your kids, then try these wonderful Dakotas.
Materials
Made in the moccasin style, the Dakota Slip-On is comprised of suede leather and lambswool. These quality materials ensure that these slippers are durable and long-lasting.
Fit
The stitching is strong giving them a great fit, plus the inner lining is thick, soft, and comfortable. These moccasin-style slippers are perfect for indoors or outdoors because of the sturdy soles.
Comfort
These cozy slippers live up to the high-quality of the UGG name and are unbelievably comfortable! Kids will want to wear these wherever they go and all-day long.
10

. NORTY Grizzly Bear Stuffed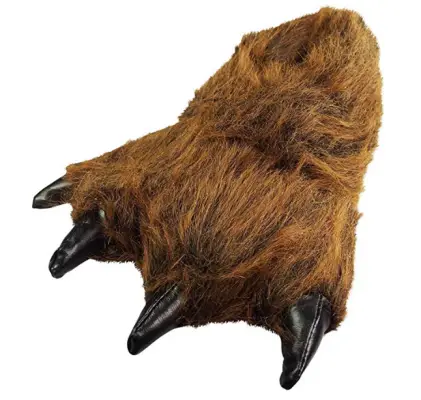 Made like animal claw paws
For boys and girls
Has rubberized dots on the soles
Adds fun to regular slipper wear
Great for costumes, parties, and holidays
The sizes were problems for some buyers
A few had a small hole where the claws are
Wearing these animal paw slippers will encourage your child to use their imagination and engage in a world of pretend play. What child would not want to walk around in feet like a wild animal? These are marvelous just for the look!
Read more
Animals offered are a dinosaur, tiger, grizzly bear, white tiger, zebra, and leopard among others. For gifts, costumes, or regular wear, these are some awesome slippers to have. They are highly versatile as your child can wear them around the house daily, play dress up, or even pair them with an animal-themed costume.
Design
For those that want exciting slippers to wear all the time, these Animal Claw Paw Slippers are just the thing. They are made like the claws and paws of well-known animals that appeal to children and adults.
Materials
The faux fur is soft and really takes the look of these slippers to the next level. They contain polyurethane foam that is comfortable and warm. There are rubberized dots on the soles for great traction, and soft, padded soles.
Fit
The size range covers every size for men, women, and kids, so the range is wide. The slippers are easy to put on and off as they only require the wearer to slip their foot in and out.
Comfort
These are for boys and girls and can be worn every day. Kids can walk around comfortably in the feet of their favorite animal with these superb slippers. The fact that they are very cozy, soft and warm is just an added plus.
Criteria Used for Evaluation
Most Important Criteria
(According to our experts opinion)
Experts Opinion
Editors Opinion
Users Opinion
By Default

Parents, Did You Know?
Pediatrics often remind parents that the barefoot environment is crucial for optimum and proper foot development to occur. However, shoes are meant to protect feet from potential injuries and infections and the purpose of slippers is to allow children to be safe yet comfortable during everyday activities since the stiffness of everyday outdoor footwear might cause bone deformities and loss of mobility.
Parents, Did You Know?
It is important to look for light-weight, flexible and breathable slippers made of high-quality fabrics in order to prevent bacterial infections such as toenail fungus or athlete's foot. Bacteria reproduce in moist areas and since children participate in many physical activities, make sure he/she wears slippers that won't sweat the feet, and have rubber soles when he/she is using public toilets and showers as well.
Other Factors to Consider
Maintenance
Since parents already have a lot on their plate with their daytime jobs and house chores, we wanted to provide them with designs that are easy to care for when it comes to maintenance. Each item featured can be machine-washed, except the Animal Claw Paws, Sesame Street slippers, Ballerina Slippers, Star Wars slippers, and the Silver Lily Pugs. These items have extra embellishments such as pearl beads, face beads, or head parts that would not do well in the washing machine. For the best care and longevity of the product, it is best to hand wash and air dry these items. The other slippers not mentioned here can all be machine washed and tumbled dry. Don't wring out slippers after washing them because this makes them lose their shape. Just lay them out on a towel to dry. To stop slippers from smelling, try wiping them out with baby wipes to eliminate the odor.
Safety
Slippers can be durable, colorful and easy to maintain fabrics, however, the main concern for most parents is usually whether they are safe for the child's movement and posture. You might find the right design, size and fit yet end up with a product that glides on the floors or even worse, on the stairs, when your children are going up and down from one room to another. Many sock companies on the market make sure to include rubber dots beneath the feet in order for children to move around freely however they are not as soft and warm as slippers so it only makes sense if manufacturers of slippers include the same mechanism in their products in order to allow kids to be active and develop properly during early childhood. These well-designed slippers will keep your children safe and secure for many years to come.
Frequently Asked Questions
q:

Which slippers are for girls and which ones are for boys? Which ones are for both?

a:

The products that specify they are for boys, such as the Doggie slippers or the Star Wars slippers, also can be used by girls. Simply purchase a smaller size than their normal shoe size. The slippers mentioned for girls, such as the Rabbit slippers, would probably not fit the larger foot structure of a boy, so these would be just for girls. The Ballerina slipper does not specify girls, but they are most likely very narrow and would only fit girls. The other slippers here are for both boys and girls.
q:

Which slippers must be hand-washed?

a:

We would recommend hand-washing the slippers that have buttons, beads, and extra features for the characters on them. These include the Sesame Street slippers, the Animal Claw Paw slippers, Ballerina Slippers, Star Wars slippers, and the Pug puppy slippers. Air drying is also recommended for these products.
q:

Is there some general advice about sizes?

a:

Size seems to be the biggest problem when purchasing footwear for kids. Most of the manufacturers give a sizing chart in their product descriptions. Use this the best you can to match the foot size of your child, while buying a little larger. This larger size should give your child's feet room to move a bit in the slippers and also some added time to wear them before outgrowing the item.
q:

Which ones can be worn outdoors as well as indoors?

a:

The slippers with traction dots or rubber soles can be worn outdoors. Most of these slippers have these features, so the ones that cannot be worn outdoors are the Sesame Street slippers, Ballerina slippers, and Silver Lily Bunny slippers. These do not have protective soles to defend the sole fabric.
q:

What age is too young to wear slippers?

a:

Toddlers and babies are never too young to wear slippers. Even if they are not walking yet, they can benefit from wearing slippers on their feet to keep them warm. We only highlight slippers for toddlers and kids on this page. Look on one of our baby pages for our top picks of baby slippers.
q:

Any advice on teaching a toddler how to walk in slippers?

a:

Make sure the child has the correct size for their feet and they fit well without coming off easily. If the child can walk on their own, then no extra effort should be needed to walk in slippers. Get some that have traction dots so the child will not slip on smooth floors. If the child is not walking yet, then practice standing them up and let them take a few steps at a time with supervision. Eventually, they will catch on to walking with time.
q:

What are the benefits of wearing slippers rather than socks in the house?

a:

Basically, slippers are safer for kids to walk in the house because most of them have some sort of traction on the soles to prevent slipping. They also keep the feet warmer, preventing colds and sickness that is not a protection of socks alone.
q:

Are the slippers with the animal heads or claws on them hard to walk in for small kids?

a:

No, these slippers with the extra heads or features should not be any different to walk in that a regular, plain slipper. They may distract kids when they walk if they watch the slippers instead of where they are going, but otherwise, they should be safe to use for any size child.