One of the most fun activities in the winter for a family to do is to go explore the thick, deep, snow and icy, slick surfaces that the winter season creates. Of course, exploring these areas is best if you have wonderful snowshoes for the whole family that will allow you to effortlessly walk across without bogging down in the depths. Companies make snowshoes just for kids in sizes, designs, and styles that will be fun and appeal to them.
Snowshoes are flat, thin structures that strap to the bottom of your feet, giving you great traction walking through snow. They help give you a much bigger footprint to distribute your weight on top of the snow evenly during your walk or hike. Some of these snowshoes even come with trekking poles and carry bags that you can store them in, and the little colorful ones for toddlers and younger children come with stickers so that they can decorate them.
Picking the size for snowshoes can be tricky–just remember that it is the weight of the user that determines the size of the shoe. This is so that you can get the best flotation from them. The body weight must have a large enough surface area on the snow with the shoes to keep the person on top of the snow area. We specify sizes for each product when they were supplied by the manufacturer. If you look below, you will find the best snowshoes in today's markets of 2019.
10 Best Kids' Snowshoes Reviewed
1. ALPS All Terrian + Free Bag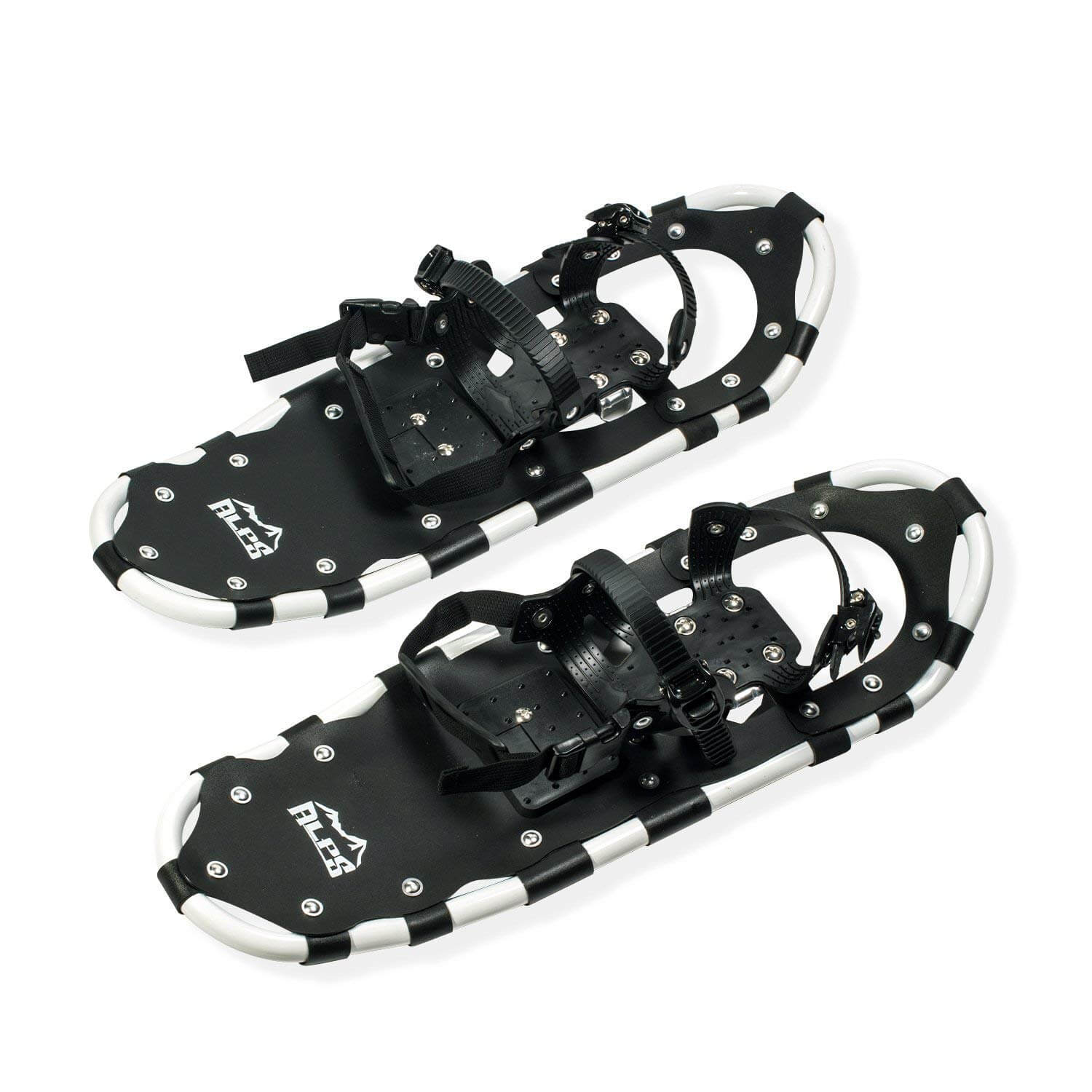 Available in three wonderful sizes according to the length of the shoes and the weight of the user, these all-terrain snowshoes are made for high performance and many weather conditions. The frames of the shoes are made of aluminum lightweight tubing, and the sturdy decks are comprised of lightweight Nytex material.
Expand to see more
Customized buckles make getting these snowshoes on and off easy and simple, plus the bindings are shaped around the feet for security. A free carrying bag is included with these shoes, and they are great for both boys and girls to wear. The special frame design allows the most floatation in many snow conditions, even in light fluffy new snow. These are made for high performance and longevity. When choosing the size, consider the added weight of any equipment you will be wearing or anything you will be carrying, as this affects the weight limits of these shoes. This is called the recommended load or carrying capacity for choosing snowshoes.

Benefits
When walking in various depths and types of snow, fresh or not fresh, you need to have snowshoes that can safely get you through it. These can handle almost any type of snow condition well and let you enjoy your walk or hike.

What We Like About It
This Alps product is different from the other one we highlight in that it has sizes specifically for youths too. These shoe sizes go according to body weight and not so much foot size.
Available in three great sizes
Bindings are formed on the feet for security
Free carrying bag is included
These are made for high performance
The special frame design allows the most floatation
Some products arrived damaged
The straps may loosen in deep snow
2. ALPS All Terrian Anti-Shock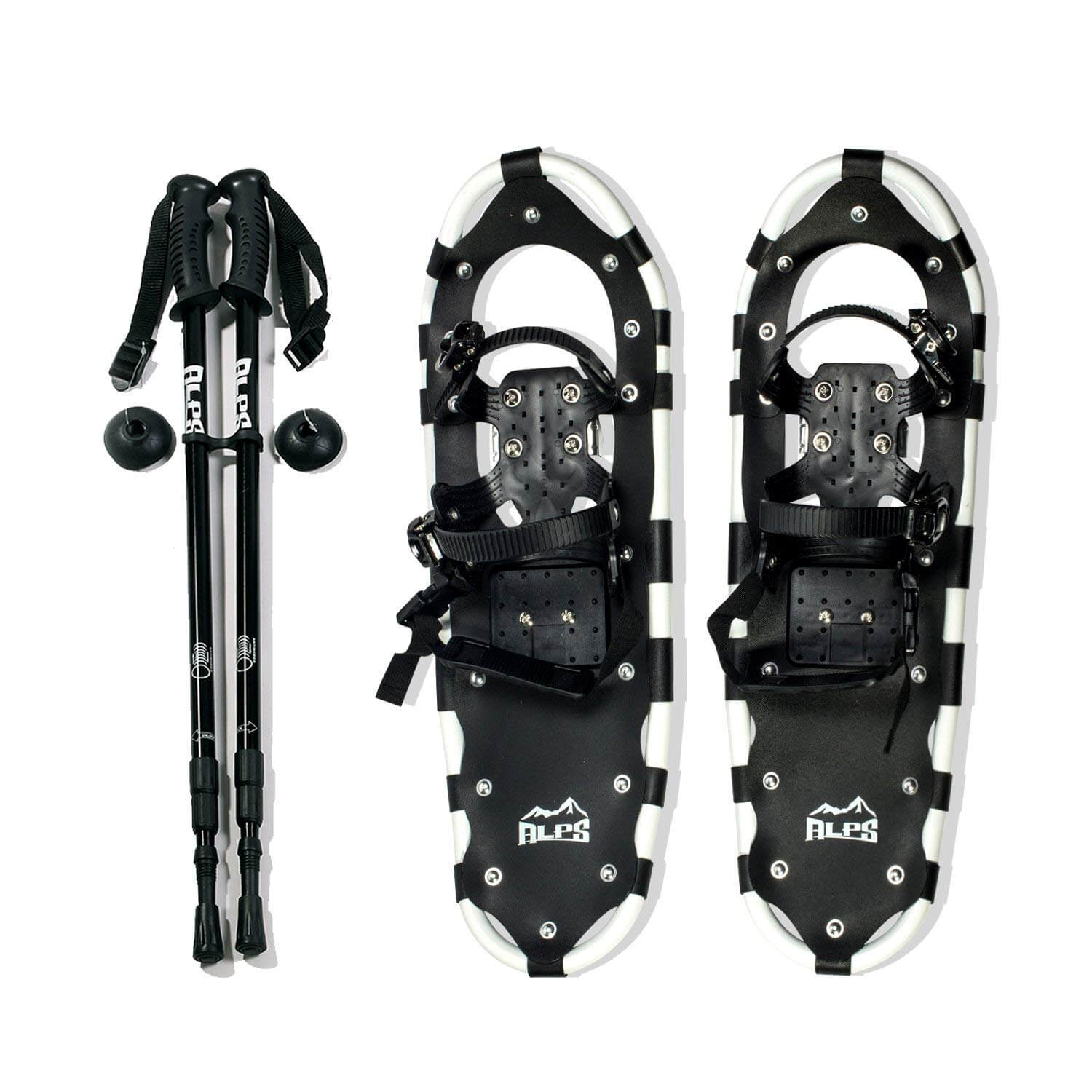 The All-Terrain Snowshoes from Alps have decks that are comprised of lightweight, durable Nytex material. The sturdy frames consist of 6000 series lightweight Easton Aluminum tubing, and the feet are held securely by the terrific lacing system.
Expand to see more
Plastic decking is long-lasting and ready for heavy usage in harsh weather. The robust frames give the best floatation for heavy snow weather. There are not any pressure points when these are worn because the bindings are fitted around the boot to pad the ball and arch of the foot and cradle it. these are easy to put on and get off because of the Fast-Loc buckles. They come with a free tote bag and sturdy walking poles. Only the color of black is offered for the decking and poles for this item. The best weight range for these shoes depends on the size purchased. For the small length, the weight range is 80 to 160 pounds, the medium length is 150 to 200 pounds, and the larger length range for weight is 175 to 225 pounds.

Benefits
These snowshoes include a free pair of durable walking poles and a handy tote bag to use on those long walks and hikes in the snow. Not much else is needed for winter fun and excitement, except some great goggles.

What We Like About It
The manufacturer has great recommendations for various body weights to use their products successfully. There are three lengths and sizes of this item to accommodate almost any weight of child or teenager.
Decks are comprised of durable Nytex material
The frames consist of lightweight tubing
These are easy to put on and get off
Comes with a free tote bag and sturdy walking poles
Plastic decking is ready for heavy usage
Some buyers had clamps that broke off
A few did not receive the poles
3. Chinook Trekker
The Trekker Snowshoes from Chinnok have an ergonomic design for easy walks and comfort. They feature strong aluminum frames that are lightweight. The polyethylene decking is UV resistant and flexible up to -40-degrees, and the included heel straps have buckles with a quick release.
Expand to see more
These snowshoes have dual ratchet bindings that are easy to use and adjust, even with your thick gloves on. The aluminum crampons are of heavy-duty quality that moves freely to get the best traction in the snow. The crampons for heels give traction for going down the milder slopes. These shoes come with a carry bag that has straps to fit it on your back. It has mesh ventilation, side handles, and pole carriers with Velcro straps. The recommended weight load for these is 59 to 90 pounds. They are perfect for hiking through forests and forest trails, plus they are durable and long-lasting with a lifetime warranty.

Benefits
Included with these shoes is a carry bag with back straps to help lug extras you take out walking or hiking. Even poles can be strapped to it for convenience.

What We Like About It
The crampons on these snowshoes are designed to move freely to get the best traction. This helps when you are in fresh, new snow and it is soft.
Has an ergonomic design
Features strong aluminum frames
Polyethylene decking is UV resistant
Has dual ratchet bindings
Durable and long-lasting
Some said plastic pieces broke off after wearing
Snow may clog on the bottoms
4. Lucky Bums Youth
These snowshoes for big kids and teens come in various sizes for the weight range of 65 pounds to 175 pounds. There are four sizes and three wonderful color choices. The colors are bright and vivid, so the boots can be seen well in snowy landscapes.
Expand to see more
These have an aluminum lightweight frame and adjustable bindings. The decking provides durability and the metal crampon gives solid, consistent traction in packed snow. A shoulder-strapped carry bag is included with this purchase. The almost indestructible frames provide maximum efficiency for outdoor treks. One important feature of these snowshoes by Lucky Bums is the hinge that raises the back of the shoe is engaged with each step adding speed and mobility to the user.

Benefits
The metal frames for these snowshoes are tougher than some of the other top brands of snowshoes. This is best for this age group of older kids and teens because they will be more active in the snow than smaller kids.

What We Like About It
It is nice to receive extra items when making purchases, like the free carry bag that comes with these snowshoes. It has a shoulder strap to make it convenient to carry with you on your hikes and walks.
Offered in three color choices and four sizes
Has an aluminum lightweight frame
Decking provides durability
Metal crampon gives solid traction
A shoulder-strapped carry bag is included
A few had trouble with these staying on the feet
Cleats may ice up
5. ENKEEO All Terrain
With weight range capacities from 40 to 210 pounds, these terrific snowshoes have a streamlined ergonomic design with a rounded tail that is slightly upturned. Only one color choice of black and orange is available for these, but four various sizes are offered according to body weight measurements.
Expand to see more
These provide an easy, comfortable walk for climbing and hiking in the snow. The PE decking is high quality and generates maximum floatation, plus the bindings adjust easily to most shoes and provide a secure fit. These snowshoes include all-terrain forged alloy crampons to supply the best aggressive traction. They have a one-buckle mechanism for tightening combined with the heel strap to give the best support. The high-quality lightweight materials used for this product guarantee the snowshoes are easy to use. A fantastic carry bag for the shoes is included with the purchase. Keep in mind when choosing the size of snowshoes that the drier and the lighter the snow is and the heavier the person determines the surface area of the snowshoe needed. This is needed to get the proper amount of floatation when you walk on the snow.

Benefits
The carry bag that is provided with these snowshoes is wonderful because when they are not in use the bag will keep them dry, clean, and out of the way of children.

What We Like About It
The manufacturer of these snowshoes states that they are comfortable and easy to walk in. this is important, especially for kids that may be new to walking on snow with these attached to their feet.
Has a streamlined ergonomic design
Includes all terrain crampons
The bindings adjust easily to most shoes
Has a one-buckle mechanism for tightening
A carry bag for the shoes is included
A few buyers said that snow sticks to the cleats
The traction may not be the greatest
6. Wildhorn Outfitters Sawtooth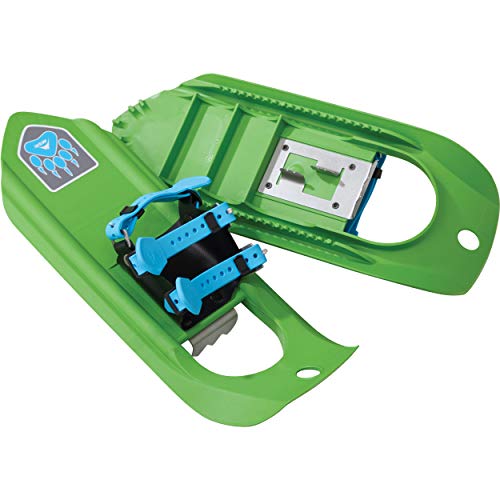 Winter is coming
! A fun family activity, your family can do together is snowshoeing. This MSR Tyker snowshoe is specifically made for any child who weights 90 pounds and under. These fun snowshoes are adjustable and user-freindly for kids.  
Expand to see more
This product is comfortable, lightweight and easy to adjust while adventuring through the snow. It is a kid-friendly style made with materials that feature steel crampons and provides grips for all weather conditions. These shoes are durable and will last for years. They are specifically designed on the smaller size and can be used with a variety of other children's footwear. They also come with a little carry bag for the snowshoes and the manufacturer provides a three-year warranty.


Benefits:
These snowshoes can last through many hard winters and have fantastic traction. They measure at 6.5 x 17 inches. They are lightweight, kid-friendly and perfect for snowy adventures.

What we like about this product:
We love this product because snowshoesing is a fun winter activity that you can do as a family. These snowshoes are kid-friendly and will help your child gain independence.
Lightweight
Kid-friendly
Adjustable
Durable
Carries 90 pounds
Not particularly for toddlers, but they can use them; they just may look awkward on
7. Crescent Moon Gold 10
The Crescent Moon Gold 10 Snowshoe has a frame that is constructed of high-quality aluminum metal and crampons that are made of durable stainless steel. Two great colors are offered for this item that comes with a lifetime warranty. The deck material is strong polyurethane.
Expand to see more
These are designed for deeper snow, rugged travel in the backcountry, and a person carrying a backpack. They include an extra set of traversing claws made of stainless steel to handle the deep snow and the steep hills and mountains. If you are trekking through or must walk through rough areas, then these snowshoes will get you on your way quickly and efficiently.

Benefits
These shoes can handle the rough areas, deep snow, and a user carrying a heavy load. They were made for traveling in the toughest weather and the harshest environments.

What We Like About It
You cannot go wrong with these wonderful snowshoes because they include an extra set of traversing claws. These will help get you through deep snow and hilly country well.
Frame is constructed of high-quality aluminum metal
Crampons are made of durable stainless steel
The deck material is strong polyurethane
Comes with a lifetime warranty
Includes an extra set of traversing claws
May be too big for smaller childrens feet.
8. MSR Lightning Ascent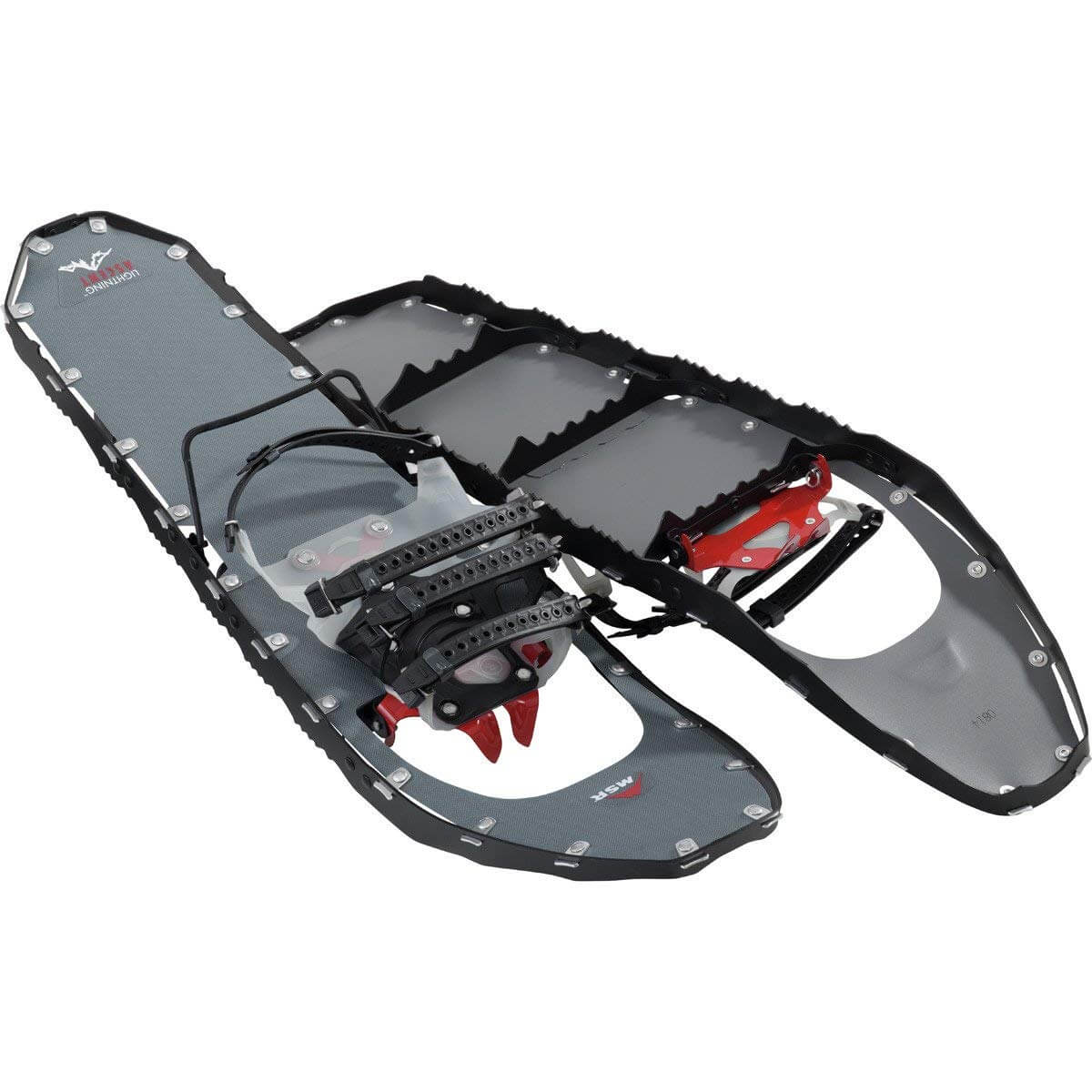 Ascent shoes are used mainly by everyday explorers, alpinists, and professionals to discover the backwoods, mountains, hills, and snowy areas all over the colder areas. These snowshoes provide an edge-to-edge fantastic grip from the 360-Degree Traction frames and will support from 180 to 280 pounds depending on the snowshoe size purchased.
Expand to see more
The Torsion2 Crampons have split teeth for more continuous contact with the surface and better weight distribution forces. These shoes include AT bindings that are in two-pieces and are conforming independently to give a secure attachment that is freeze-resistant. The Add-on Modular Floatation Tails that can be bought separately can be put on these snowshoes to give you maneuverability that is customary with a smaller snowshoe. With the Ergo Televators, your traction increases, and fatigue is reduced in steep areas because they have an ergonomic design that engages with a quick pole grip flick.

Benefits
Depending on the size you buy, these snowshoes can support greater weights than most others on the market currently. The smallest has a limit of 180 pounds and the largest is 280 pounds.

What We Like About It
The special crampons on these snowshoes will keep you from bogging down in the snow and not allow the snow to clog to your feet. This is because of the split teeth on these that provide better contact with the icy surfaces.
Provides edge-to-edge fantastic grip
The Torsion 2 Crampons have more contact
The AT bindings give a secure attachment
Add-on Modular Floatation Tails can be put on these
The Ergo Televators increase traction and reduce fatigue
The rivets on the decking can catch and tear pant legs
Some said the bindings are not good
9. Tubbs Kids' Snowflake
The Snowflake Snowshoes are for kids that weight less than fifty pounds. They are made of mesh and synthetic materials, making them lightweight and durable. These shoes should last for at least two winter seasons, as they will fit children aged three- to six-years-old.
Expand to see more
These are made in the USA and are
wonderful for first-timers on the snow
. These snowshoes have easy-to-use binding in just two steps, and they are
perfect for both boys and girls
to wear. They come in only one design that is a combination of red, yellow, and blue parts. A pack of stickers comes with these snowshoes, so kids can decorate them as they like.
Benefits
Having snowshoes for toddlers like these in bold colors that can be seen on the white snow easily is a huge plus for parents. You can always spot your child even a distance away with these on their feet.
What We Like About It
Besides being very functional, these little snowshoes are just adorable! The cute shape and design look so charming, plus the vibrant colors add to the appeal of these.
Is a wonderful first-timers on the snow
Has easy-to-use binding in just two steps
Includes a pack of stickers
Ideal weight is less than 50 pounds
Good for both boys and girls
Some said these do not grip the surface enough
A few had trouble keeping them on tight
10. Thunderbay All Terrain
Just for kids, these aluminum-alloy snowshoes come with sturdy trekking poles and a durable
carrying bag
. They are offered in three fabulous colors and have an adjustable ratchet feature.
Expand to see more
The frame is made of aircraft, lightweight, aluminum-alloy that gives a sturdy platform. With polyethylene high-density decking, you get the maximum floatation that can be had fork snowshoes. The pull bindings simply adjust to almost any footwear, plus the shoe is kept in place over difficult terrain with the best pivot bindings. Included are steel crampons that are forged and give aggressive traction for all terrains. These snowshoes will hold up to 150 pounds. They have tapered frames at the ends of the shoes to allow easier strides and easy tracking. These shoes also contain an anodized finish on the frames that will resist peeling, chipping, fading, and corrosion. Includes non-slip bases for the feet and duel cleats for increased stability and extra traction.

Benefits
The non-slip base and the sturdy steel crampons on these wonderful snowshoes will give the best traction possible. This is a great combination to keep you on your feet and not slipping on hard, slick icy surfaces.

What We Like About It
Snowshoes are products that you want plenty of use from and a long life to use them. These have frames that will take the punishment of wear and tear and not show signs of aging.
Decking provides maximum floatation
Comes with trekking poles and a carrying bag
Includes steel crampons that give aggressive traction
Contains an anodized finish on the frames
Has a non-slip base for the feet and duel cleats
Buckles may break
Some people had trouble with the straps staying tight
Criteria Used in Evaluation of the Best Kids' Snow Shoes
Good for toddlers, kids, and teens
Products like these are intended for and were made for children; especially for toddlers, little kids, big kids and maybe even teenagers. Several styles of snowshoes for each age are included on our list. Children should be able to use these shoes confidently and walk well on those snowy days. Most of the snowshoes can be put on and taken off very easily by young children because of the simple straps and buckles.
Durable and long-lasting
The snowshoes that have been featured are made of high-quality materials and are long-lasting as well. These items are comprised of durable aluminum frames and metal bindings. Snowshoes for toddlers and little kids are made more so of a mesh and synthetic materials to help make them lightweight. This also helps make them easier to manage for smaller legs and feet. Each of these products should last for at least two seasons while your child is growing. They won't bend easily or break even with rough or harsh environments. Each product has great traction, allowing your child to be able to walk on smooth, icy surfaces without the fear of falling and slipping.
Best-rated and most-bought items
Every product featured on our list is a top-rated product for this category. It is also one that purchasers have bought the most of. We choose only the best items for our readers so that it will help save you time shopping for the perfect product by only offering you a look at the best. Each style has received overwhelmingly positive reviews from buyers online. We know that you want only the best of the best for your children, as we do for ours, so we work hard to show you the top-quality products that consumers would buy again.
Comfortable and purposeful for snow walking
Kids will be able to comfortably and efficiently walk in and through snow accumulations with these. The snowshoes are easy to use and are well-suited for the smaller feet of children. They will keep kids from bogging down in the snow banks and allow them to walk freely on the surface. With practice, they will enjoy using these snowshoes to get around efficiently in deep snow and go for long walks during trekking and hiking with others.
FAQ
Frequently Asked Questions
Q: Which snowshoes are best for toddlers?
A: The best snowshoes for first-timers on snow are the Tubbs SnowGlow and Lucky Bums Snowshoes. These will fit according to their smaller weight measurements. The SnowGlow are made of synthetic and mesh to give a hard, durable surface for the child's feet. These have great traction just like the metal snowshoes do, but they are lighter for younger feet and legs to lift and manipulate well.
Q: Are all of these items good for walks in the snow? Which ones are good for long hikes in snow?
A: Snowshoes are good for long walks and hiking on deep snow. They will keep kids on top of the snow and prevent them from bogging down in it. it is important that the weight of the child be used in selecting the size of the snowshoes because that is what determines the size they should have. If the correct size is not obtained, then the child will sink in the snow because they are too heavy for the shoe size they have.
Q: Does being left- or right-handed matter when choosing these products?
A: No, being left- or right-handed does not matter for putting on or wearing snowshoes.
Q: Do these shoes need any kind of special care to keep them in good shape?
A: No, there is no special care for any type of snowshoe that we feature on this page. Just keep them dry and clean of dirt when they are not in use.
Q: How do you store these shoes after winter is over?
A: After winter is over, make sure the shoes are dry and store them the same and where you store any other winter gear, such as thick coats and pants worn in that season. Some of the snowshoes come with their own carry bag to store them in.
Q: When snowshoeing, which is better for kids to have on, goggles or sunglasses?
A: When it is snowing, it is best to have on the goggles. When the sun is out, kids can wear sports sunglasses for the best eye protection.
Q: What are the grippy teeth for on the bottom of the snowshoes?
A: These are crampons and they provide the needed traction to walk on the snow. For kids snowshoes, these are not very long, but on adult snowshoes, they are long for hiking. These work much like cleats on sports shoes that provide athletes with the traction they need to run on grassy surfaces and playing fields.