Whether swimming at the pool or in the ocean shallows, kids will benefit greatly from wearing a sturdy pair of swimming goggles. Besides protecting the eyes from contaminants and chemicals in the water, goggles will keep other harmful things such as debris and water insects from harming your child's eyes. Goggles protect the eyes from UVA/UVB sun rays and glare because they are coated for this and anti-fogging. Glare from the sun reflects on the water and can damage the eyes very quickly. The anti-fogging addition to the lenses helps kids see better underwater because the lenses will not fog and cloud their vision. Because these goggles are made for children, they come with head straps that are adjustable to allow for head growth. A quick-release button is used once the straps are set for the child's head size, so putting the goggles on and taking them off is easy each time afterward. Some of these items come in pairs or just one set, and the lenses may be treated differently for varying purposes. A few of them come with attached ear plugs and nose clips to aid in the underwater comfort for children that are just learning to experience the water. Some of these goggles come with hard cases to store them and keep them from being crushed or damaged. All of the goggles here have the best online ratings and the most reviews of any other products in the same category. Customers loved them the most and would definitely purchase them again. We highlight them here for you for your shopping experience. Here are the best kids' swimming goggles in 2019.
12 Best Kids' Swimming Goggles Reviewed
1. Aegend No Leaking Anti Fog
If you are wondering if these swimming goggles are really as cool as they look, then the answer is yes! With a few select features that put these wonderful goggles far ahead of the competition, they will be the first item to take to the pool, beach, or on a vacation.
Expand to see more
The Aegend Swim Goggles are offered in ten different vibrant colors and are available in various lens options, such as reflective and tinted. The great lenses are also treated, so there are no worries about exposure to harmful rays while enjoying the water. They are anti-fog and in an ergonomic design, which keeps them firmly secured to the face. There will be no room for water leaks or any discomfort when worn for long periods.

Benefits
Children will look very professional with these high-quality modern swimming goggles. Looking good is just as important to kids as feeling good, especially out at the beach and by the pool.

What We Like About It
It is important that swimming goggles for kids fit the shape of their small faces exactly to prevent water seepage. These fantastic googles have a special ergonomic design just for that purpose.
Has UV protection
Gives a secure fit
Offered in ten fabulous designs
Comes with various lens options
Includes an ergonomic design for comfort
May not offer a clear view underwater
Might be hard to select the correct lens
2. COOLOO Pack of Two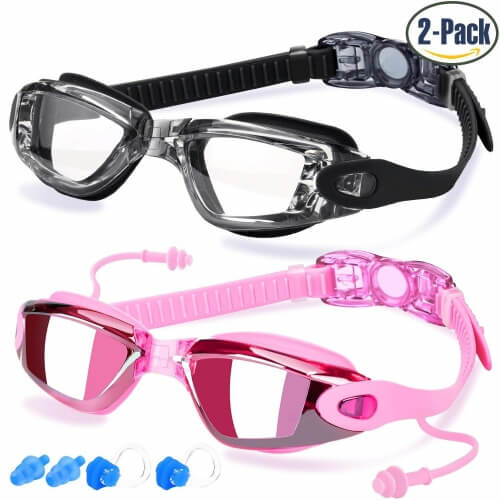 Get two pairs of wonderful swimming goggles with different lenses with this offer. The lenses are quite different on each pair with one having transparent lenses and the other with electroplated lenses. Several options for exciting colors are offered and these are one-size-fits-all.
Expand to see more
The adjustable head straps include a buckle that is quick-release to make taking them off easy, plus a bulge stripe on the inside keep the goggles from slipping off. The lenses are impact-resistant for great eye protection, and the anti-fogging feature prolongs clear vision underwater. The electroplating lenses reduce sun glare and protect from the harmful sun rays when children are outdoors. Included are silicone gaskets that will seal the eye sockets well to avoid leakage while underwater. These superb goggles are made of comfortable, safe, and durable silicone for a fabulous fit. These come with functional nose clips and attached earplugs for a wonderful underwater adventure experience.

Benefits
The adjustable head strap makes these wonderful goggles perfect for kids of all ages and sizes. Once the strap is set, then just triggering the quick-release buckle when taking them off removes them easily from the face.

What We Like About It
These terrific goggles come with attached earplugs and a nose clip to make it easy and comfortable for kids underwater. They will not lose them because they will always be where the swimming goggles are at all times. They will not have to be reminded to wear them either.
Pros
Comes with functional nose clips and attached earplugs
Has a buckle that is quick-release
Includes a bulge stripe to prevent slipping off
Has silicone gaskets that will seal the eye sockets
Features impact-resistant lenses
Cons
A few complaints about the anti-fog feature
Some did not like the earplugs attached
3. Zionor G1 Polarized
Suitable for kids three-to-fifteen-years old, these wonderful swimming goggles from Zioner are lightweight and easy to put on and take off. The long-lasting and sturdy one-piece construction will fit both narrow and round faces.
Expand to see more
They have a small frame designed specifically for kids' faces and includes a terrific nose gasket for superior sealing. The silicone materials are odorless, allergy-free, and hypoallergenic, and the great lenses are impact-resistant. These super goggles provide anti-fogging and UV
protection
and give a clear view with the absence of sun reflection when under the water. Chlorine will not irritate the eyes when these are worn because of the excellent watertight shape. Included is an optimized cushion to reduce pressure and an adjustable head strap. The split-head strap enables less pressure and convenient wearing on the head. Many color schemes options are available for these effective swimming goggles.
Benefits
It is important that kids are able to put these goggles on themselves and take them off when they want. These goggles are perfect for that because they are easy for children to use.
What We Like About It
The split-head straps of these terrific goggles allow a secure custom fit for the child's head. They can be placed together side-by-side or spread apart a bit to ensure the fit is snug and comfortable.
Pros
Will fit both narrow and round faces
Provides anti-fogging and UV protection
Lenses are impact resistant
Features an excellent watertight shape
Includes an optimized cushion
Cons
A few people experienced fogging underwater
Straps may be thinner than expected
4. Speedo Junior Hydrospex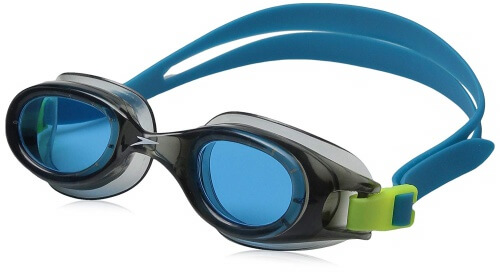 These Hydrospex Swim Goggles are offered in six great bright colors, and they will fit most kids from six-to fourteen-years-old. They feature the Go Fit System with the fit of the outer eye and have a gasket shape that is placed outside of the eye socket.
Expand to see more
These fantastic goggles are reliable and secure, plus they have a flexible soft frame of one piece to make them extra comfortable. The head strap is made of silicone and is split for a great head fit. Specifically made for narrower smaller faces, the goggle lenses include anti-fog coating and UV protection. Speedo is one of the most popular brands for swimming equipment, so trust the best with this product for your children.

Benefits
PVC and latex were not used in the manufacturing of these swimming goggles. These substances are not the best for kids to wear or be exposed to because they have been found to be harmful to their skin.

What We Like About It
The anti-fog coating and UV protection for the eyes is wonderful for kids as they play outside in the water. Plenty of goggles for kids do not offer this feature, but these from Speedo do. Parents can rest easy knowing their children's eyes are protected from harm.
Pros
Has a gasket shape
Is reliable and secure
Includes a flexible soft frame
Lenses have anti-fog coating and UV protection
Are PVC and latex-free
Cons
Will leak if not worn tight
Some said there is a film on the lenses
5. PHELRENA Anti Fog UV Protection
With lenses constructed of premium silica gel and polycarbonate, these fabulous professional swimming goggles come with three different sizes of nose bridges to get the perfect fit.
Expand to see more
The straps are adjustable, and the fit is snug on the face because of the ergonomic design and high-quality silicone material. Included is a 100% guarantee for your satisfaction, plus ear plugs and a nose clip made of silicone. These great goggles will provide clearer vision underwater because the inner part of the lenses is treated with an anti-fogging coating. The lenses are also conditioned with an ultraviolet absorber for light that will block the UVA and UVB rays from the sun. the swimming goggles come with a protective case to store them in and a cleaning cloth to care for them. The manufacturer offered a 100% guarantee for your complete satisfaction.

Benefits
For kids that participate in races or competitive swimming, these terrific goggles are a necessity. They have many features to help children see well underwater and not have any navigational issues.

What We Like About It
The included protection case and cleaning cloth are wonderful accessories to have for these swimming goggles. They help kids keep their equipment clean and safe from harm.
Pros
Includes ear plugs and a nose clip
Comes with a protection case and a cleaning cloth
Treated with an anti-fogging coating and ultra-violet absorber
Will provide clearer vision underwater
Comes with three different sizes of nose bridges
Cons
Nose clip broke easily for some children
Straps may not adjust enough for a few kids' heads
6. TYR Youth Tie Dye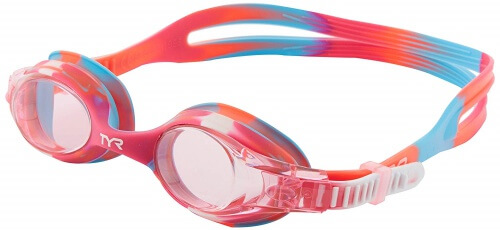 The Tie Dye Swimple Goggles are offered in six exciting neon tie-dye color combinations. They include a quick-release button for simple and easy placement and taking off of the face and will accommodate many facial types.
Expand to see more
The lenses are made of polycarbonate and are optical-grade, plus they provide UVA/UVB and anti-fog protection. These terrific goggles are perfect for recreational and professional swimmers because they have been tested for quality assurance. They are made of high-quality materials, and the gaskets are made of hypoallergenic silicone. For great swimming goggles that look great and feel super, try these Swimple Goggles.

Benefits
It is great to have eye goggles that have the quick-release button to take them off easily and put them on. It allows for less fuss in placing the goggles on the head and less tangling of the hair.

What We Like About It
The tie-dye color combinations are just fabulous on these swimming goggles! Kids will just love these and not know which to choose for themselves. They will look awesome on the beach or at the pool.
Pros
Has gaskets of hypoallergenic silicone
Tested for quality assurance
Made for recreational and professional swimmers
Includes a quick-release button
Lenses are polycarbonate and optical-grade
Cons
Some experienced fogging
Lenses have tinted the color of the goggles
7. POY With Free Protection Case
The POY Swim Goggles have a quick-release button to make them easy to put on and take off, plus they come with a one-year warranty. These include a protective case for storing and are available in six fabulous bright colors.
Expand to see more
The inner lens is treated with an anti-fogging substance, and the nose bridge is improved with a softer material and a larger space. These will not hurt the nose. There is no water leakage with these wonderful goggles because of the double-seal cushioned design. The mirrored lenses have UV400
sun protection
, and they are shatter-proof. Kids of all ages will love the comfort and design of these exciting swimming goggles.
Benefits
With a double-seal design, these goggles will not leak and cause problems while trying to swim or explore underwater. One of the biggest problems with swimming goggles is leakage, but that is not an issue with these.
What We Like About It
To keep your wonderful swimming goggles safe and protected, the manufacturer provides a hard case to put them in when not in use. this way kids will have a perfect case that fits the goggles well and keeps them from being crushed.
Pros
Mirrored lenses have UV400 sun protection
Comes with a one-year warranty
Lenses are shatter-proof
Has a quick-release button
Includes a protective case for storing
Cons
Some had water leakage
May pinch the nose
8. Aqua Sphere Moby Kid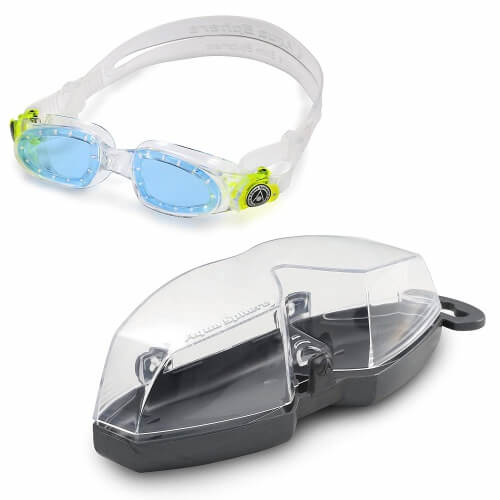 The Aqua Sphere Moby Dick Swim Goggles are high-quality goggles that are designed for the active child swimmer. These are one-size-fits-all, but they have an easy to adjust buckling clamp which will provide a custom fit.
Expand to see more
The unique buckle allows the strap to be pulled to the desired level of tension for a leak-free fit. This durable buckle also makes the goggles easy to put on and take off without a lot of fuss and hair tangling. The sturdy strap is split in the back allowing for a custom fit, so the goggles will not come off when you don't want them to. They are designed to stay in the middle orbital of the eye, for a perfect fit. With the durable Plexisol lenses these are scratch and shatter resistant. There are multiple color options and two different lenses to accommodate different lighting and weather conditions.

Benefits
The lenses have been treated with an anti-fog coating, so kids can always see clearly underwater. This allows them to swim and explore without any problems with viewing everything in the water.

What We Like About It
Because these goggles are latex-free and hypoallergenic, they will not cause irritations to the facial skin. Some children have allergies to latex, and these fabulous goggles do not pose that problem.
Pros
Includes an easy-adjust buckle system
Has a leak-free fit
Provides 100% UVA/UVB protection
Are latex free
Made with hypoallergenic materials
Cons
The nosepiece may be wide
Some kids experienced leaking
9. EVERSPORT Shatter-proof
From EVERSPORT, we feature their top-rated swimming goggles that are sold as a single pair or a set of two. They feature anti-fog coating and UV protection on the lenses, so kids can enjoy long distance viewing and a clear field underwater.
Expand to see more
The Arch Lens technology aids in this superb vision field as well. These come in a nice colored box for storage or gift-giving and include a one-year warranty. They are durable, strong, and impact-resistant and ensures no leakage of water because of the terrific fit. The adjustable straps make the fit secure and keep the hair from tangling in it. Gaskets of silicone create a perfect seal that is cushioned and comfortable. These swimming goggles include a quick-release clasp, so they can be put on or taken off with just one simple press.

Benefits
The Arch Lens technology allows clear and wide vision abilities underwater. This is perfect for exploring or swimming at the pool, lake, pond, or ocean.

What We Like About It
Buy one or buy a set of two of these awesome swimming goggles. They come in a great box for storing or giving as a gift. It is designed so lovely that there is no need to wrap them.
Pros
Features anti-fog coating and UV protection
Includes a quick-release clasp
Includes a one-year warranty
Has a clear and wide vision
Durable, strong, and impact-resistant
Cons
The clasp may break easily
Some kids had a foggy vision with these
10. Intex Reef Ryder Masks
Intex manufacturers these wonderful swimming goggles made of thermoplastic hypoallergenic rubber with a comfortable soft fit. The lenses are constructed of durable polycarbonate and allow a wide field of vision.
Expand to see more
Sold as one pair or a set of two, these fantastic goggles come in assorted colors, but the color is not a choice. They are perfect for ages eight-years-old and older with straps that are adjustable with a quick-release button. These will seal out water well and not leave red marks on the child's face from being too tight. Goggles that feature these quick-release buttons are much easier for kids to manipulate. Once the straps are adjusted for the kid's head size, then it is easy from then on to just use the button to put the goggles on and take them off.

Benefits
Sometimes eyewear leaves marks on the face from the suction being too tight on the child. These goggles will not do that but will still provide a water-tight seal for the best eye protection.

What We Like About It
Kids will experience a wider field of vision with these goggles because they are larger than most other brands. Exciting underwater exploring requires eyewear that allows kids to see everything very clearly.
Pros
Sold as one or two pairs
Has a comfortable soft fit
Includes a wide field of vision
Straps are adjustable with a quick-release button
Seals out water well
Cons
The band may break easily
Some said the view is foggy underwater
11. Swim Elite Fun Car Hardcase
These Kids' swim Goggles are perfect for ages two- to eight-years-old, and they come in several fabulous neon colors. Made of high-quality materials, kids will want to wear these goggles even in the bathtub.
Expand to see more
The frames are cushioned and constructed of comfortable silicone, plus the nose bridge is soft and flexible. These protect eyes from UV rays and chlorinated water and include an anti-fog coating. The straps are easily adjustable, and the lenses are impact resistant. With these wonderful swimming goggles a suction is created around the eyes that is soft and keeps water out well. The silicone material is odorless and hypoallergenic, plus these goggles come with a special hard case for storage and carrying. This fun case is brightly colored and in the shape of a cute car that kids will love to hold and tote.

Benefits
The suction of the silicon frames is soft and comfortable yet tight to prevent water from leaking into the eyes. The suction is so soft that it will not leave marks around the eyes like some other brands do.

What We Like About It
The adorable little car goggle case really makes these special! The case not only keeps the goggles safe from accidents and being crushed, but it gives the child an exciting way to carry them with them.
Pros
Frames are cushioned
Nose bridge is soft and flexible
Lenses are impact-resistant
Includes anti-fog coating
Includes a hard case for protection
Cons
May leak in the water
The fit was not great for some children
12. Frogglez COMFORTABLE Explorerz
The Frogglez Goggles are uniquely designed for children ages four-years-old and older. They have a patented neoprene strap which is super comfortable and won't pull on hair, which is a positive feature for most kids. The durable straps are constructed so they do not bother kids' ears.
Expand to see more
They lay on the head comfortably and there is a Velcro strap for easy adjusting. The Velcro allows children to get the perfect fit every time and usually without the help of an adult. The strong neoprene strap has such a unique design that the goggles don't have to be over the eyes the entire time. Kids can give their eyes a rest without completely removing the goggles. This fantastic item floats in the water so children do not have to try to find them when the day of fun is over. There are several different fabulous colors of lenses that can aid in multiple lighting conditions.

Benefits
Kids love these fantastic unique swim goggles because they are leak resistant and very comfortable. Their patented design allows them to be worn for long periods, and they will not tangle the hair.

What We Like About It
These great goggles have been independently tested and found to be free of lead, Phthalates, and formaldehyde. Parents can feel safe that these will not irritate the face of their child.
Pros
Will not tangle in hair
Are easily adjustable
Has a comfortable strap
Are leak-resistant
Offered in several colors
Cons
Must be air dried
May be too big for toddlers
Criteria Used in Evaluation of the Best Kids' Swimming Goggles
Top-rated and most-purchased items
Each product we feature on this page has been rated the highest by customers just like you and given the most positive feedback in the reviews. They have also received the most reviews online than any other products in this category. We strive to bring you only the best products online that manufacturers are making, and consumers are raving about. Our purpose is to make your shopping experience quick, easy, and enjoyable in only looking through the best products offered. You are ensured of purchasing only the best in this manner for yourself and your family.
Provides great underwater eye protection
With great eye suction and anti-fog innovation, these swimming goggles will give your child the best underwater protection they can get. They will not leak in water to affect your child's tender eyes and burn or irritate them. Because pools contain huge amounts of chlorine, it is best for children to wear goggles if they are diving under the water surface. The anti-fog protection will help them see better and farther than without eye goggles in any water conditions.
Made specifically for kids face sizes and eyes
Each pair of these water goggles is made in the sizes just for the small faces and features of children. The eyes are closer together than they would be for adult goggles, and the materials they are made of are softer and more flexible. The fit must be comfortable in order for kids to want to wear them and not have their face hurting from the suction. Some of the products have flexible or replaceable nose bridges to accommodate the growing features of kids' faces, so the goggles can last for several years of comfortable wear.
Appeals to kids with cool colors and styles
All of these swimming goggles come in really beautiful colors and one product is even in tie-dye color combinations. Many of them come with attached ear plugs and nose clips to make the swimming experience more enjoyable for children. A few of the offerings include a hard case for carrying and storing the swimming goggles with one of them being in the shape of a cute little car. The styles are very modern and the latest that manufacturers are producing to get kids excited about their underwater adventures and excursions.
FAQ
Frequently Asked Questions
Q: Do kids really need to wear swim goggles?
A: Yes, they do, especially if they swim in a public pool. Since swim goggles help kids see in the water, they can make them more comfortable and confident in the pool. Many swim goggles offer protection from the sun, so wearing goggles will keep their eyes from being damaged. Swim goggles will also protect against debris and bacteria in the pool. Pool water is disinfected with chlorine, but the PH balance must be right for this to be effective. This balance is hard to control in public pools often resulting in either high levels of chlorine or bacteria, so goggles will protect kids from red irritated eyes after a long day at the pool.
Q: How do I get a good fit from swimming goggles for my child?
A: It is always best for kids to try the goggles on first without the strap. Goggles either fit or they don't and trying to make a pair fit by continuously tightening the strap will result in fogged or leaky goggles, headaches, and a stretched or broken head strap. Put them up to the child's eyes gently but securely. If there is any suction created, then you probably have a good fit.
Q: What can I do to prevent goggle rash or red eye marks?
A: There are a few things that can be done to prevent this red, itchy rash around the eyes. Goggle rash is most often due to either bacteria or an allergic reaction to some sort of material. first, try to keep the silicone band around the eyepiece clean. This will help prevent bacteria from building up. Last, you can purchase goggles which are hypoallergenic. This is gentler on sensitive skin and will also keep germs in check. If your child does have a slight allergy and you know what it is, then you can purchase goggles that are latex-free or of medical-grade silicone in addition to being hypoallergenic.
Q: What do the different colored lenses mean?
A: In swim goggles, clear or light-colored lenses are best for swimming indoors or in overcast conditions where there isn't a lot of light to strain the eyes. Darker lenses are typically designed to reduce eye fatigue and are best suited for sunny days outdoors.
Q: My child wears prescription glasses, can they get googles to accommodate them?
A: Yes, you will need to purchase prescription specific swim goggles from a retailer or manufacturer, but they are not hard to find.
Q: How do I size my child for goggles?
A: The best way to size your child for any type of goggles is to measure the circumference of their head. Aside from youth, small, medium, and large, many companies will tell you the range of circumference that they should fit. They usually measure in centimeters but knowing the size of your child's head is the best place to start. Then you can decide on a style and start trying them on.