If your baby has noticed it's cold outside, you'll want to bundle them up for the brusque months ahead. Thermals and long john underwear are a great way to layer without children feeling too bulky with so much clothing on. Thermals are designed to keep heat in without adding heavy fabric and restricting styles into the mix. Kids can run, jump, and play to their heart's content while still being comfortable and staying warm. There are plenty of different options out there, varying in fabric make-up, color, and design. Whether you're looking for a two piece set or an all-in-one suit, we've got the goods for you. Check out our ten favorite thermal and long john pieces for 2019!
Our Picks of The Best Kids' Thermals & Long Johns Rated in 2019:
Rocky Girls Fleece Lined 2 Piece Set
Rocky Boy's Ultra Soft Fleece Lined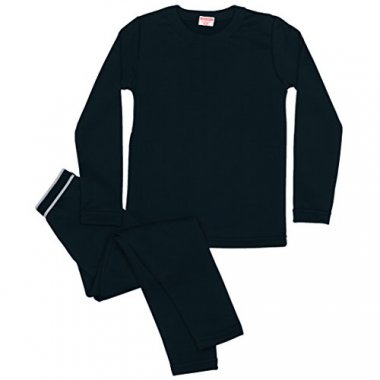 Fruit of the Loom Soft Waffle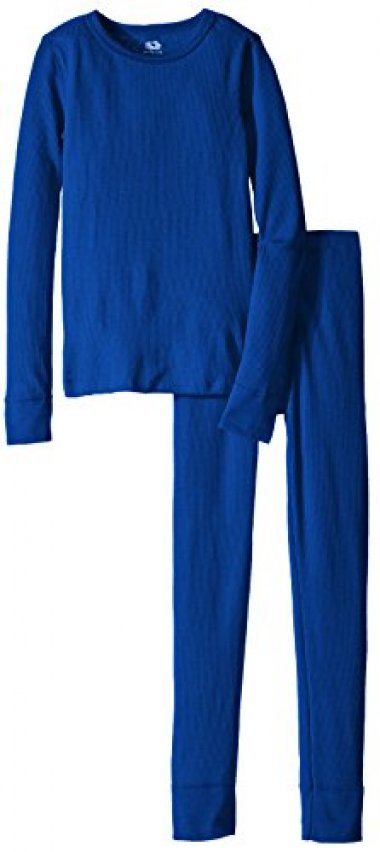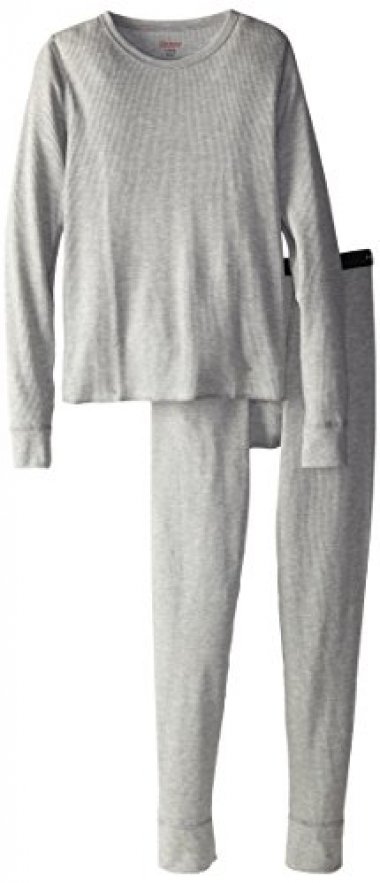 Fruit of the Loom Active Performance
32 DEGREES Heat Base Layer
Fruit of the Loom Big Girls' Waffle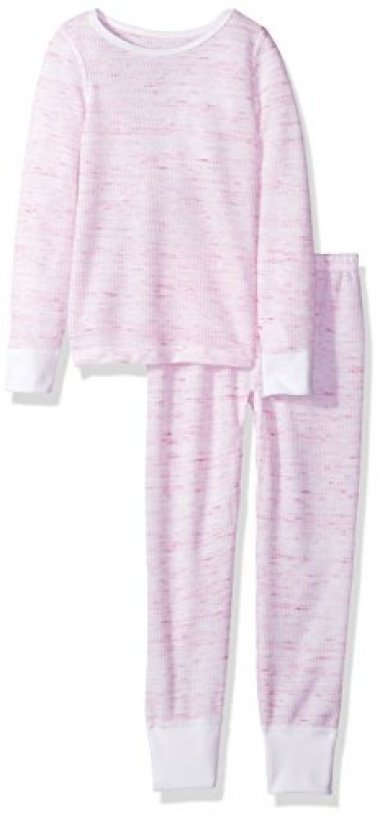 City Threads Unisex One Piece
Criteria Used in Evaluation of the Best Kids' Thermals and Long Johns
Good selection of sizes and colors offered
Plenty of sizes and colors are available in these choice items we list. Kids can pick their favorites or colors that match other clothes, underwear, jackets, or coats. The colors will not bleed or fade, and the sizes are true. They will not shrink after several washes. Some of the sets are full-cut while others are contoured for kids shapes. Most of the products are for boys, but girls can comfortably wear these too. The size would be the main concern when buying a boy's set for a girl. Sometimes girls prefer the boy's items because they may be stronger, thicker, or come in larger sizes than the girls' sizes.
Items are warm and comfortable
The best materials give the best feel, and these sets are created with some of the softest, most-comfortable fabrics that thermals and long johns can be made with. Cotton and polyester are the main fabrics of these sets for kids. These materials are flexible, warm, soft, and comfortable. Children can wear them under other clothes and outer garments for layering, or they can be worn alone indoors or outdoors for a light, full coverage.
Materials are durable, easy to clean, and long-lasting
Fabrics for long johns and thermals must be the most-durable for long, often wear, especially in the colder climates. Kids will wear these items for long periods, and they must be able to withstand the many activities that kids participate in. Most of these sets are made of cotton, polyester, fleece, and spandex materials. The stitching is strong and sturdy, too. They are easy to clean and will last a long time.
Selections are the best-rated, most-bought items
We only feature items that have been bought the most and rated the best, so you can choose from great items that others have purchased and loved. It is not easy to compose a list such as this because there are so many good products out there. We choose our picks as though we were shopping for them, just like you. This generates a great list that is perfect for the best decisions of this category.
FAQ
Frequently Asked Questions
Q: Size is the biggest concern for clothes for kids. What size should a parent buy for their child? One that is the regular clothes size, one bigger, or one smaller?
A: When purchasing these thermal and long john sets, buy the size that is the same size as the child's regular clothes for the best fit. If you are concerned about it being too small, then get a size larger, so the child has moving room. Also consider that the child is still growing, so a larger size will give them longer to wear the set.
Q: Can a girl wear the boys' sets and a boy wear the girls' sets? Some of the colors are not offered in the other sets.
A: Yes, girls can wear items for boys, but be careful about the sizes. Boys' sizes tend to run larger than girls' sizes. Also, the crotch pocket may be an issue for some girls, but this will be up to the parents who do the ordering for them.
Q: Are all of these full-length? Are there any that are short-sleeved or half-calf?
A: Yes, all the sets are full-length. None of them have short sleeves or half lengths on the legs. These are for cold weather, so full coverage is desired for this. The sleeves and legs can be rolled up or folded to get the look you want.
Q: What is the best advice for washing these thermals and long johns? Do they need special washing or drying care?
A: Most of the sets can be washed and dried in the machine. No special instructions are necessary, as these are comfort clothes that need minimal care. They will not even hold a crease if they are folded, so they are great for traveling.
Q: Can you order a different color top than the bottom or do they have to be the same color?
A: No, none of these sets come in different colors for tops and bottoms. You can make the set you want by purchasing more than one set and mixing them up as you like.
Q: Which ones would be the softest to wear, especially for sensitive skin?
A: The softest thermals and long johns are the ones that are fleece-lined and made mostly of polyester. The ones made of mostly cotton are soft to wear too, but the polyester is a bit softer to the skin. For sensitive skin, choose the ones that are not made with harmful dyes, such as the City Threads Long Johns. Makers will let you know if their products are specially made for kids with skin issues.
Q: Would these be too bulky to wear under regular clothes and under a jacket or coat?
A: No, these would not be bulky to wear for layering clothes. They are designed for that. The material is thin yet warm enough to allow for several layers underneath and on top.
Q: Kids will wear these for outdoor winter sports, so will they withstand that kind of wear and activity without tearing and ripping apart?
A: Yes, these sets are built for durability and much use by kids. They will last a long time, even under the most adverse conditions.