10 Best Laser Tag Toys for Kids in 2019
last updated
Sep 19, 2019
One of the most well-known, enjoyable games children play to even this day is tag. It is one of the healthiest games that your children can benefit from by promoting physical health and it helps develop their emotions as well. By playing tag it can also help foster a sense of camaraderie which is an excellent foundation to enhance your children's social interaction skills. From flashlight tag to freeze tag, there are many different variations of the beloved game that your children can play. One of the best and more modern approaches to the game is by using laser-embedded devices. That's why we thought of choosing the best 10 laser tag toys for your children in today's market. Your children will begin to design the rules of the game and watch those who will be conquering who.
In a Hurry? The test winner after 13 hrs of research
Kidzlane Infrared Mega Pack
Why is it better?
Set includes four blasters
Vestless design
Multiple firing modes and multiplayer mode
Fires up to 130 feet
In a
Hurry? Editors choice:
Test Winner: Kidzlane Infrared Mega Pack
12
Researched Sources
13
Hours Researching
13
Products Evaluated
Design
Entertainment Value
Social Development
By Default
10 Best Laser Tag Toys Reviewed
1

. Kidzlane Infrared Mega Pack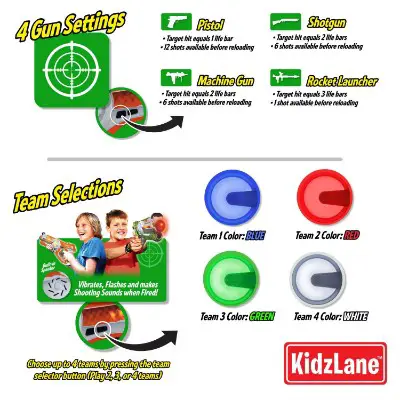 Set includes four blasters
Vestless design
Multiple firing modes and multiplayer mode
Fires up to 130 feet
The range of the tagger is sufficient for great indoor plays. Outdoors, it should be particularly interesting as staying out of range can definitely increase your chances of "survival".
Read more
Design
Like the other laser tag sets in our list, the Kidzlane Mega Pack provides realist shooting sound effects that closely mimic the different gun modes. When "hit" by an enemy, the blaster creates strong vibrations. When shooting the blaster, it emits a wonderful light up show. Reloading the Kidzlane requires pressing the butt of the blaster. Keeping updated with your life and available shots is made easy with integrated LED lights at the side of the stock. Kids will love playing with the Kidzlane Mega Pack as it gives them the opportunity to shoot enemies from as far as 130 feet away. Unfortunately, they will have to aim for a much smaller target – the Kidzlane blaster of their opponents – as its receiver sensor is built into the blaster.
Entertainment Value
If you're on the lookout for inexpensive children's laser tag toys, we propose buying the Kidzlane Laser Tag Game Set Mega Pack that already contains 4 uniquely designed, ultra-futuristic, and really cool-looking blasters available in blue, red, green, and white. It is for this unique color scheme that the tagging game can be done in teams or even as a free for all. The blasters can be programmed to shoot like a pistol, a submachine gun, a shotgun, or even a rocket. We do suggest to agree first on what firearm mode should be used in which particular gameplay. However, if it were a team versus team gameplay, then 4 players in each team can wield an entirely different firearm mod. The point man will get the pistol, the breacher with the shotgun, the machine gunner with the SMG, and the artilleryman the rocket.
Social Development
This mega pack of 4 blasters allows several players to engage in either a free for all or team vs. team play. These blasters will keep kids engaged for a long time with the lights, sounds and many game options available. Between firing a pistol, shotgun, submachine gun and rocket, kids and parents won't be getting bored any-time soon.
2

. Nerf Phoenix LTX Tagger
Includes two high quality blasters
Immersive lights and sounds
Cool, Nerf design and style
Multiple functions and modes
Requires AA batteries, will need to be replaced often
The interactive sounds and vibration functions of the Nerf Phoenix LTX Tagger provides excellent fun especially for kids who already have an array of Nerf guns and blasters.
Read more
Design
These blasters are made of durable plastic strong enough to withstand rough play. The batteries also last for weeks so kids can focus on playing instead of changing batteries. Most parents purchase rechargeable batteries to save money and ensure a constant supply of blaster fun.
Entertainment Value
Nerf has been one of the best names in kid's toys for decades, and this new product for laser tag performs at the highest possible levels. This set utilizes a vestless design, and the guns include variable functions and sound effects. Give them the high-quality design of Nerf, and get them playing laser tag with a blaster set that will surely draw their eye.
Social Development
Kids will have fun laser tagging each other for hours. They'll work on their hand-eye coordination as well as build bonds with family and friends who play with them. This set makes exercise fun for the whole family.
3

. Dynaster Toys Set and Carrying Case 2 Pack
High quality, vestless blaster system
Easy to expand games
Includes multiplayer modes and variable blaster settings
Fires accurately over 130 feet
Batteries will need to be replaced often
No need for a vest or badge with this kit, the blasters are the target. Each pack comes with two easy to carry blasters. Purchasing a second set of two allows for multiple people to join in on the fun in team play.
Read more
Design
Each blaster is set up to allow for a fun game of up to four teams. Players can partake in a free-for-all if team play undesired. The set also comes with a convenient carrying case that helps protect the blasters.
Entertainment Value
This laser tag set is perfect for parties or to take anywhere. The robust blaster set works with other sets so nobody is ever left out of the fun With 4 team settings, no group is too big to use this blaster. And with no chest pack, there are fewer parts to keep track of.
Social Development
The blasters work with multiple players for a fun-filled evening. With plenty of range and several team settings, even adults can have fun with this blaster set. Kids also get to work on their interpersonal skills while practicing good sportsmanship.
4

. Infrared Guns and Vests by ArmoGear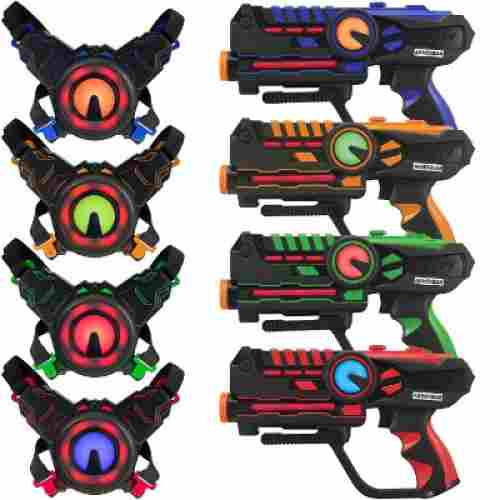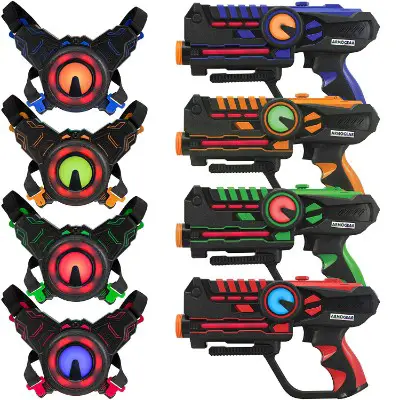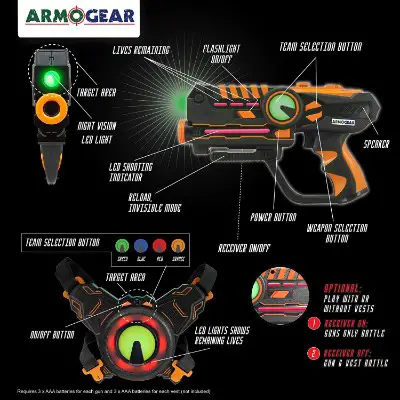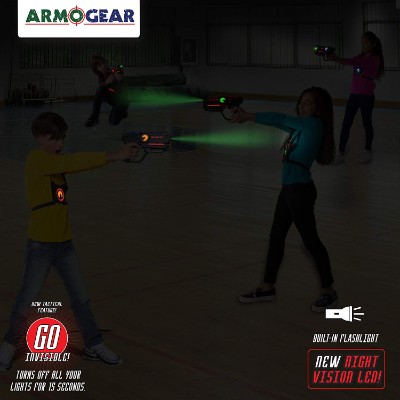 Classic laser tag set up
Includes a vast array of accessories and functions
Awesome, retro style
Fires accurately up to 150 feet
Included vests require their own batteries, as well as blasters
This product from ArmoGear is a great way to improve the laser tag game that you and your children play around the house.
Read more
Design
If you're looking to get into a classic game of laser tag with your children, this set from ArmoGear is a great option. This blaster set offers a wide array of functions, offering invisibility mode, night vision, and voice-guided directions. This set also offers an exceptional firing range, functioning accurately up to 150 feet.
Entertainment Value
The deeper immersion can actually make them better, make them push themselves to higher peaks of dexterity and athleticism. This premium quality blaster set will entertain you and your children for endless hours to come.
Social Development
This classic laser tag set offers a great number of unique and interesting functions, offering you and your child a more immersive experience when they play laser tag.
5

. Best Choice Products Blasters 4 Pack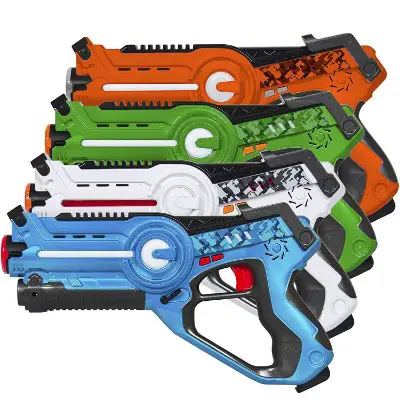 Awesome design and style, sure to please
Includes multiplayer modes
Several distinct blaster settings
Capable of accurately firing up to 130 feet
Batteries will need to be replaced often
Tag is one of the oldest and most popular games in the book, and this product from Best Choice is possibly the best update available for the classic.
Read more
Design
This four pack of toy blasters includes four blaster settings as well as magazine restrictions, giving them the best simulator of their favorite video game weapons.
Entertainment Value
This set will not only entertain them but also improve their athleticism and cardiovascular health. These highly accurate laser tag implements include HP indicators and can accurately fire over 130 feet distances, making them the most impressive laser tag blasters on the market.
Social Development
This product offers a wide variety of game choices to your child and you, giving you both endless hours of high-energy play.
6

. "Battle Box" 4 Pack Gun Set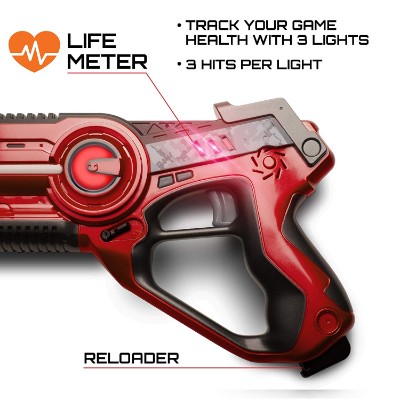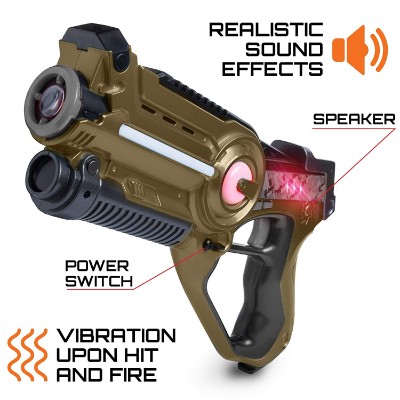 Four unique firing modes
Works without vests
Includes practice bot for improving accuracy
Fires up to 130 feet
Batteries will need to be replaced often
This product looks great and will make the process of getting a game of laser tag started much more simple.
Read more
Design
This design and style of this blaster set will almost certainly appeal to the tastes of your child, and the alternate color options provide ultimate assurance for you in picking the perfect blaster for everyone. The vestless design is convenient and helps simplify expansion to their laser tag games.
Entertainment Value
This product from Force 1 is quite possibly one of the coolest and most versatile laser tag sets on the market, offering four firing modes and up to 130 feet of accurate firing range.
Social Development
This set includes a bot for practice and solo play, allowing them to hone their skills in between games with the family and friends. These guns also function without vests, allowing for limitless increases in competitors with even more ease.
7

. Dynasty Toys Set and Carrying Case 4 Pack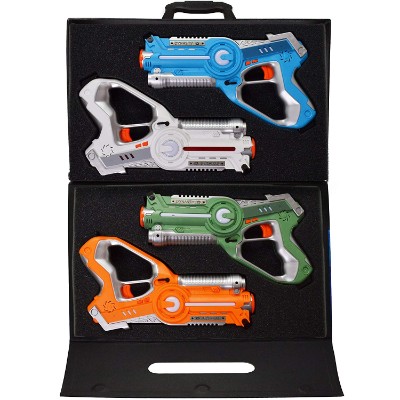 Pack includes four blasters
Vestless design for easy game expansion
Multiplayer modes, multiple firing modes
No limit to team sizes
Vestless designs can be less accurate than vest systems
The Legacy laser tag set is one ingenious solution to enjoy a classic game of tagging someone else. The integrated sensor on the blaster eliminates the need for a separate vest.
Read more
Design
The traditional way of playing laser tag is by wearing a vest or a similar gadget that your opponents will have to "hit" using their own light beams. Technically, you get 2 gadgets: one to shoot with and one to register the shot. Unfortunately, this arrangement or configuration can be bulky as the gadget being tagged will usually occupy more space. Simply Addictive Games has solved this issue by integrating the target device into the shooting gadget itself. There simply is no need for wearing a separate vest or sensor to "hit" as the Legacy Toys Laser Tag Set already comes fully built with the sensor within the frame of the ultra-futuristic look of its shooter.
Entertainment Value
The package comes with 4 differently colored blasters contained in one fine-looking storage and carrying case. Each blaster can be programmed for team play as well as dial in the different blast settings which typically includes a variety of stoppage power, range requirements, and reload times. You can play in teams of two or even as a free for all where everyone will simply be a target of everyone else. Tapping the butt of the blaster reloads it; you will also get a voice prompt saying that it's ready to fire. On the side of the colorful blaster is your health indicator which slowly diminishes with each "hit". Now, get the entire gang and decide whether to have a team event or one massive free for all. In either case, we can only guarantee pure and absolute fun for everyone.
Social Development
Ditch the old vest two vest systems and play with 4 friends instead of 2. This laser set is unique because the shot is registered into the toy which means the whole system is self-contained. The best part is that it allows for team play with the four included blasters. When it comes to playing laser tag, the more friends the merrier. Kids will exercise for hours while working on their dexterity and hand-eye coordination.
8

. ComTec Sets with Gun and Vest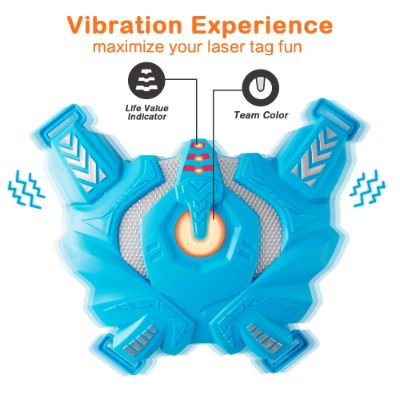 Great for all ages
Comes in a set of four while including vests
Features different laser options for your children to enjoy
Great family activty
A perfect way for your family to bond, this laser tag set is great for not just your children but for parents too! It can have up to four different players which can make any rainy day, sleepover or party go by in a flash. Your family will have endless hours of fun with this laser tag set. It even comes with vests as well.
Read more
Design
Multiple different styles to choose from you'll be able to switch between pistol, shotgun, submachine, and rocket. Having different possibilities during your laser tag game will make each game that much more entertaining for your children. It also has an incredible long shooting distance able to go u to 130 ft. Perfect for outdoor use! They also have been designed with an incredibly easy grip for your child to be able to handle so that even your younger children will be able to enjoy.
Entertainment Value
Having your own special vest with a built-in sensor is definitely help make your game all that much more exciting for your children. Your kids will be able to feel like they're in their own special laser tag arena at home. It's perfect for any active children. Parents also won't need to worry about any safety concerns as it's 100% safe.
Social Development
This laser tag set is recommended for children ages 3 and up. However, this particular set is not only designed just for kids but designed for parents to enjoy as well. It's the perfect gift for the whole family to enjoy. This is a great bonding tool. Laser tag will get your children talking, learning the power of teamwork, and their self-confidence will boost in a positive way when playing. It's a great tool to get your little one active and moving while also having fun.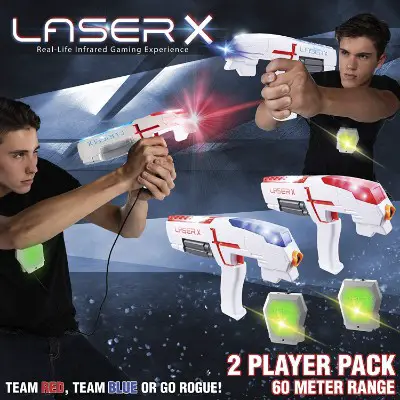 Super high-quality blaster design
Fires up to 200 feet accurately
Included vests make for more realistic gameplay
Interactive AI gives tips and feedback
Only includes two blasters
The blend of visual and auditory feedbacks provide very interesting gameplay experience to tag. Plus, the blasters themselves look really super cool.
Read more
Design
If you don't like an integrated sensor into the laser blaster and you prefer a more traditional laser tag game set complete with a wearable sensor, we recommend the Laser X 2-Player Laser Gaming Set. This game set is perfect for kids who would like to aim for the body of their opponents instead of the weapon they are holding. It's actually very easy to play. Simply slip on the sensor over your head so that it dangles right across your chest. You'll feel more like Iron Man with his miniaturized arc reactor on his chest, except that this will be the target of your opponent in the same way as what you will be aiming for in your opponent's chest up to distances as far as 200 feet away.
Entertainment Value
Each blaster and receiver vest keep you updated with your progress in terms of hits and shots fired. There's also an interactive voice coach that is designed to give you tips on how you can maximize your "kill" potential. Invaluable in-game feedback is also provided by the audio feature of the Laser X. For a more engaging and fulfilling experience disintegrating your opponents with high-intensity laser beams, you can easily plug in the accompanying headphones and you'd be treated to a whole new level of auditory sensations. Whether your child will be playing as part of a team or as a lone wolf in free for all game plays, you can bet the Laser X will bring an entirely new experience to the classic game of tag.
Social Development
Through rain or shine, kids and adults can play laser tag with this set. The whole family can play indoors if the weather is not very nice outside. Or everyone can play outside on a bright sunny day. Either way, playing laser tag with these bright blasters allows for hours of gameplay day or night.
10

. Best Choice Products Interactive Blaster Tag Set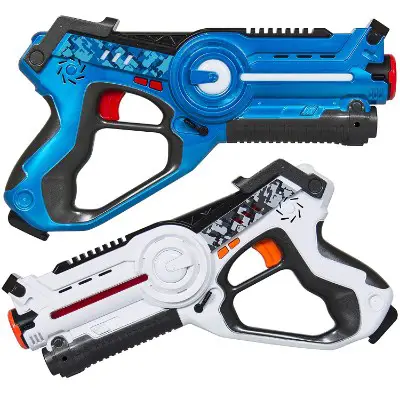 Features multiplayer team modes for use with additional sets
Customizable game settings let you adjust everything from ammo to health points
Infrared tracker built into guns registers strikes from 130 feet away
Meets safety standards with less than 1 mW of laser output
Recommended age: 3 years and Up
Guns must be manually turned off and back on to reset after a 'death'
Infrared target may have difficulty registering hits when playing in direct sunlight
This laser tag set is all about pick and play action and can make a perfect addition to any family function from game nights to birthday parties and can even spice up your next corporate retreat!
Read more
Design
Each gun features multiple weapon and ammo modes that can blast away varying amounts of life from their opponent. The trade-off for maximum firepower is reduced ammunition size so the more powerful the strike, the more often you will have to reload. Each gun contains an infrared target that registers and displays successful strikes via health meter. Three lighted bars are equivalent to 9 strikes. What really sets this gun set apart from similar models is the high level of customizations options available. Your child will be able to fine tune each game to their precise specifications from determining how many shots each blaster can produce between reloads, how many health points each light bar represents, and even switch between team and free-for-all modes. This ensures that each game will be completely unique!
Entertainment Value
Turning your front lawn or living room into a battle zone is something that every kid lives for. Nerf guns require too much ammunition and WAY too much hunting to find all of that ammo after the game is done. Video games eliminate the need for all those tiny foam darts but don't physically engage your child which is important in reducing the risk of childhood obesity and keeping your little one active. Laser tag is the ideal mesh of these two worlds, combining the ammo-less play of video games with the physicality of Nerf. Best Choice Products have created an entire line of laser tag products from multi-gun sets to 1 player targets. The Interactive 2 Blaster set with Multiplayer Mode is the perfect starter set to introduce your child to the world of laser tag.
Social Development
This laser tag set has been designed to be completely safe for all ages of players from toddlers to grandparents. It features an extremely low wattage of less than 1 mW of laser output which is just enough to trigger the built-in striking sensors while remaining completely harmless to both skin and eyes. Laser tag games can help encourage your child to remain active while stimulating muscle development. With a variety of play modes and customizable settings, this game can encourage your child's creativity and foster problem solving and critical thinking skills.
Criteria Used for Evaluation
Design
Form and function were two of the primary considerations in our search for the best laser tag sets to include in this project. Let's be honest. Gadgets that shoot high-intensity beams of light should really look cool, futuristic, out of this world, and simply amazing. Try to imagine a Browning 9 mm pistol that emits a beam of light instead of a bullet fired off its muzzle. Does it look cool? Absolutely not, right!? This is why we took into consideration the design of each gadget which helped us create our shortlist. Having this helps stimulate imaginative play in your children.
Many psychologists recommend toys that allow for some degree of fiction so that children can use their imaginations by filling in the gaps between what is real and what is fiction. That's why, as absurd as it sounds, we chose light-emitting guns that do not resemble any firearm in the real world.
While these two parameters, form and function, were the primary considerations in our search, we also looked at the developmental- and age-appropriateness of these toys. We made sure that the recommended age for the use of the product is consistent with the developmental levels of children of that particular age group.
Entertainment Value
As we said in the beginning of this article, there are many benefits of playing the game of tag, especially among children. Children and their respective families and friends can benefit a lot regardless of the type of tag game that is being played. In case you're wondering what these are, here are some of the wonderful benefits of playing laser tag or any other type of tag game.
For the most part, visual motor coordination is inherently greater in a game of laser tag than the classic tag game where you have to physically run after the target to tag him or her. In laser tagging, kids will have to aim at a very small section or area on their enemy's body such as the receiver sensor or the tagger itself. This requires precision targeting which is largely dependent on how well kids can coordinate their visual and motor skills.

Social Development
Whether it is played as a team effort or individually, laser tagging requires communication with other players. Kids must know how to interact with others especially in setting the rules of the game.
When shooting, kids are presented with a lot of challenges. They have to shoot their enemies without risking counterattack. They have to find better ways to conceal themselves and wait for the correct moment to spring into action. This requires strategic thinking and one that involves complex problem-solving processes.
Since a great majority of these kinds of games are best played in teams, children get to understand the value of working together with others in accomplishing an objective. Here, they get to cooperate and collaborate with other players.
Most Important Criteria
(According to our experts opinion)
Experts Opinion
Editors Opinion
Users Opinion
By Default

Parents, Did You Know?
Laser tag is a game that has been around for several years. These blasters on our list are not the same however from the blasters that parents grew up with. In today's market, many manufacturers are creating laser set toys that no longer include bulky set ups or heavy guns. These toys also help children know when they have successfully shot their target and if they are pulling the trigger in the correct way.
Parents, Did You Know?
These laser sets on our list are lightweight and very well-made. This is great for younger kids starting out because younger children tend to be a little rougher with their toys. Since they are little, it's not fun trying to shoot a laser if they can't hold a blaster steady. Having a lightweight blaster minimizes frustration in children and keeps headaches away from parents.
Other Factors to Consider
Weight
Laser tag is also a game that can be enjoyed by the whole family. Without the bulky vests, many companies have replaced vests with more blasters. This means more people can play, and the more enjoyable the experience. Most of the time laser sets come in pairs and children don't like to wait around until it's their turn to play. Usually, a set of four will let children play for hours without having to sit and wait impatiently for their turn.
Frequently Asked Questions
q:

Which is better, paintball or laser tag?

a:

Laser tag is better, especially for little kid parties. Laser tag is cleaner, safer and enjoyed by people of all ages. Paintballs are messy, can cause severe pain and can only be enjoyed by teens and adults. Laser tag can be played indoors and outdoors while paintballs tend to firm up and solidify during colder weather.
q:

What do kids gain from playing laser tag?

a:

Kids get to work on their social skills, learn good sportsmanship and exercise all at the same time. As kids grow up, they can play in laser tag arenas where it becomes more challenging tagging others. It also helps kids get out of their comfort zone and play against other people they don't know in a dark and scary, but fun and safe, environment.
Parents don't have to set up an obstacle course in their backyard, unless they want to. But as kids learn to play around trees and corners, they'll start to naturally want to include their own obstacles. This will give them an opportunity to explore their creativity and keep them mentally stimulated.
q:

How should we engage family members during the holiday seasons?

a:

Laser tag is a game that family members of all ages can enjoy. It will help keep guests away from their mobile devices and create wonderful holiday memories. When family members are stuck to their phones, there is no socialization taking place during Thanksgiving or Christmas. Most of us only get to see our family members once a year; let's create an enjoyable experience by recording a fun game of laser tag.
q:

Is laser tag a safe game? Are there any risks?

a:

Laser tag is one of the safer options for game play. This is a sport that requires no physical contact, and brief direct light exposure is not dangerous. If a kid is staring into a laser for long periods of time, then yes that is an eye safety issue. Another risk is a kid having a fit because they lost and end up throwing their blaster at the other kid. But that requires a timeout moment to correct the behavior.
q:

Is it true that the military uses laser tag to train their troops?

a:

Yes, the Marines use laser tag as a form of training. They play laser tag to help them learn how to work together in teams and successfully take down enemies. Kids playing laser tag can be considered an early introduction to military training.
q:

Is laser tag safe?

a:

Laser tag is an exceptionally safe improvement on the classic game of tag, and it actually encourages children to get more physically active and get away from television and mobile phones.
q:

Should I encourage them to play shoot one another?

a:

Children play games of this variety all the time, and while the implications may seem dire, it is a safe and constructive way for them to assimilate information about the harder aspects of life. Imaginative play almost always includes some play-death, you will notice them falling and croaking and pretending at death often among you and their peers. This shouldn't scare you, however, as it is a natural way for them get used to an idea that they can't avoid.
q:

Can I use these blasters?

a:

Oh yes. Some of these products are advertised for both adults and children, but they will work the same for you as they would work for your children in every case.
q:

What type of batteries do these blasters need?

a:

Check each product description, but most use either AA or AAA batteries.
q:

Which is better: vest or no vest?

a:

This depends on your personal requirements and taste. Vestless systems offer easier game expansion and require half the batteries of vest systems, but vest systems provide for a more accurate and immersive laser tag experience. If you want to get as many children involved as possible, go vestless. If you are looking for the most realistic game experience, go vested.