LEGO is one of the most iconic toy manufacturers in the world. In fact, we really cannot imagine a child growing up without even having been exposed to these wonderful building blocks at least once in his or her lifetime. Now, the famous toymaker is expanding their reach into the world of video gaming. If you have someone in your family who's into video games and LEGO at the same time, you'd definitely have to give him or her one of our 15 best LEGO video games.
Our Top 3 Picks
LEGO Indiana Jones

Our rating
Boosts Problem Solving Skills
Price:

See Here
LEGO Harry Potter: Years 5-7

Our rating
Enhances Critical Thinking Skills
Price:

See Here
LEGO Star Wars: The Complete Saga

Our rating
Creative Thinking Skills
Price:

See Here
Our 18 Best LEGO Video Games
LEGO Batman 3: Beyond Gotham – Xbox 360
LEGO Dimensions Starter Pack – Xbox 360
Lego Indiana Jones: The Original Adventures
LEGO Star Wars: Force Awakens Deluxe Edition
LEGO Batman 3: Beyond Gotham
Age Range: At least 10 years old
LEGO Harry Potter: Years 1-4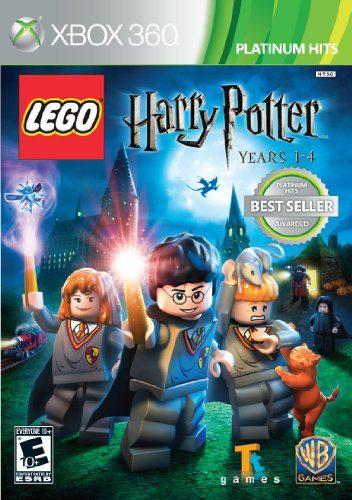 Age Range: At least 10 years old
Age Range: At least 10 years old
How We Chose the Top LEGO Video Games in Our List
Identifying the video game titles to include on our list was very easy. Why? Well, we just had to look for LEGO video games that are playable on any of the different gaming consoles and we're done. Unfortunately, it's never really that easy because there are many titles to choose from. The one factor that somehow made it easy was LEGO itself. First, the game must be designed specifically with LEGO characters and gameplay. When this was addressed, we now had to deal with the more difficult part: determining which among the numerous titles deserve a spot in our top 15.
As such, we relied heavily on consumer ratings. The higher the star ratings and the greater the number of positive reviews, the greater was the chance for a particular video game title to make it to our list. We were certain that you would be looking at the feedback and reviews of other gamers as well. We did not rely solely on the customer reviews, nonetheless. We also had to make a very objective assessment as to why such a game is considered by many to be one of the best. In a way, we attempted to validate the reviews of consumers by conducting our very own research into the actual playability and interactiveness of these titles.
Now, since LEGO is inherently tied to kids and toys, we wanted to make sure if the recommended age is really appropriate and what benefits can kids derive from playing such games.
Video Games, Childhood Obesity, and Our Roles as Parents
It is a fact that there is a growing incidence of childhood obesity. Some quarters are actually blaming the propensity of many of today's children to prefer playing video games than actually playing outdoors where they could run, jump, hop, and ride their bikes. The point that people are trying to make is that many children today are now glued in front of their TV or computer screens for significantly longer periods of time, severely limiting their physical activities.
While this is true, video gaming should not be taken as the sole reason for the lack of physical exercise among today's children. There are still a good number of top-rated children's video games that encourage players to actually move. For example, there are dance and sports games that require gamers to actually move with their limbs or even to dance to the tunes being played. These are excellent games to get our kids to actually start moving.
As parents, there's a lot of things we can do to strike a balance between the health needs of our kids and their need to play. Our role as parents is to provide them the guidance on what constitutes healthy video gaming.
Many experts recommend limiting the number of hours children can play video games. While there are no clear-cut guidelines on the exact number of hours that can be considered as "safe" for kids, a good rule of thumb is to always establish an agreement with your child. For example, you may agree that he or she can play video games but only up to a certain time or only after performing some task. This may look like bribery but it's one way of enforcing rules in your home. And since your child agreed to the arrangement, then he or she needs to learn to observe the agreement.
You can also try to examine the user menus of the games that your child is playing. Many developers provide parental controls for their games. You can try to discover these and try to change the settings yourself.
Video games have become addicting. True, these are very fun to play especially when shared with friends and family. However, if it is already severely affecting the other aspects of your life, then maybe it's time to consider seeking some form of professional help.
The Bottom Line
Kids and LEGOs are inseparable. Even when kids have already grown into adults, they would still be playing with LEGOs. It's no wonder then that our 15 best LEGO video games are well-loved by both children and adults alike.
You May Also Like
10 Best PS4 Games For Kids
10 Best Wii Games For Kids
10 Best Xbox One Games For Kids