Lincoln Logs, we do not have to define them because everyone knows what they are. For over 100 years, children have been enjoying the little, notched logs used to build miniature forts and cabins. These timeless toys were invented by John Lloyd Wright, the son of the award-winning architect Franklin Lloyd Wright. Mr. Wright invented Lincoln Logs while working in Japan with his father. The mold of the toy was based on the architecture of the Imperial Hotel in Tokyo which was designed by his father. The foundation of the hotel was made of interlocking logs which were meant to make the building earthquake proof.
Even after all these years, Lincoln Logs have changed very little. In the 1970s, there was an effort to make them from all plastic but the idea was quickly discarded, and they went back to being manufactured from real wood. The logs were also manufactured in China for a while, but as of 2014, the company came back to making them in the USA. There have been some plastic building accessories added like doors and windows, and you get plastic figurines included in some of the sets now but beyond that, they have pretty much stayed the same all these years.
Now parents can bring childhood memories into their home which they can share generations later with their children. Lincoln Logs have an enduring design which provides kids with hours of fun. They can build buildings, farms, a train depot for their toy trains or garages for tiny cars. The possibilities are endless. A set of Lincoln Logs are toys which can be used indoors or outdoors, and they will even hurt less if you step on one in the dark. Here is a list of some of our favorite sets and the most popular choices.
The Best Lincoln Logs and sets for Kids and Toddlers in 2018
Oak Creek Lodge – 137 Pieces
Horseshoe Hill Station – 83 Pieces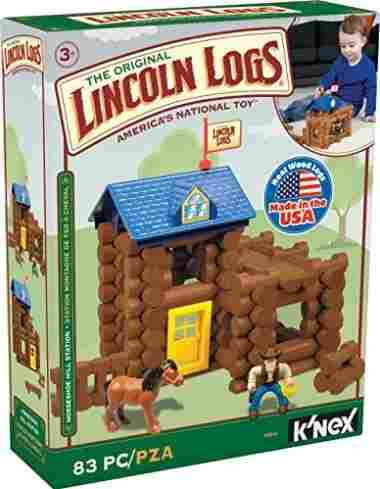 100th Anniversary Tin – 111 All-Wood Pieces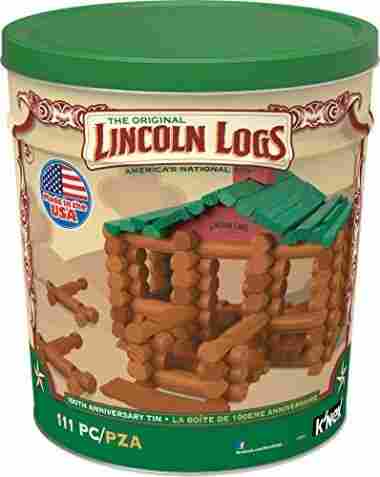 Lake Union Lodge Preschool Educational Toy
Collector's Edition Village 327 Piece Set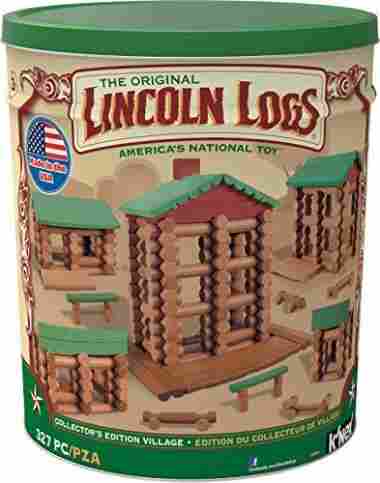 300 Piece Classic Wood Construction Set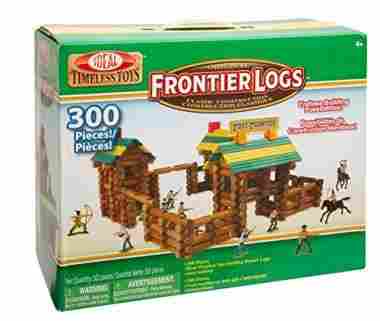 Little Prairie Farmhouse Building Set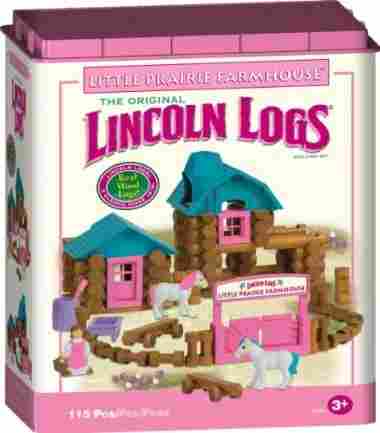 Centennial Edition Tin – 153 Pieces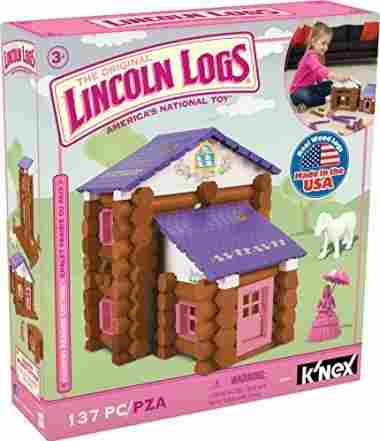 Ideal Frontier Logs Classic Wood Construction Set
Criteria Used In Evaluation of The Best Lincoln Logs and sets for Kids and Toddlers
Lincoln Logs are one of America's best toys, especially for large families. Kids will have fun building together and learning to work as a team, working with each other's strengths and weaknesses to create the perfect masterpiece.
Most of us remember building all kinds are elaborate architectural marvels that our parents would swoon over, only to knock it down and start over. Imagine the kids looking forlorn, watching out the window and watching the rain come down. You dump a box of Lincoln Logs out on the floor and the scene will change.
Kids love the challenge of seeing which one can build a better structure. Let the creativity begin. Lincoln Logs have stood the test of time, continuing to entertain kids of all ages for over 100 years. Parents and grandparents can share fond memories and play together to build new ones.
America's favorite logs were invented by John Lloyd Wright, whose father was famed architect Franklin Lloyd Wright. He grew up with an interest in architecture as well and designed these toys which would pass on the love of building to kids.
The original sets came with instructions to build Uncle Tom's Cabin and the cabin Abraham Lincoln was born in, and other sets featured pioneer style buildings. These could also foster a love of history, learning the stories behind what they were building.
Investment in Children's Development
Purchasing Lincoln Logs really is an investment in your children's development and education. Not only are they fun to play with, but they are beneficial as well. Lincoln Logs help children develop motor skills, analytical thinking, hand-eye coordination, and problem-solving.
They can teach kids how to follow instructions or let them exercise their imagination by striking out on their own project. Lincoln Logs also introduce kids to STEAM (science, technology, engineering, arts, and math).
Sturdy, Timeless Toy
There are so many reasons Lincoln Logs make the perfect toy for kids, besides being educational and inspirational. They are truly timeless, a sturdy toy you can buy and literally continue to play with for generations. Get numerous sets and add them all together, building the collection and the children's possibilities for things to create.
Lincoln Logs are fun for kids from 3 years old and up, and are not dangerous since they do not have sharp edges and are colored with non-toxic stain. They are even easier on bare feet if you step on them. The log sets are great gifts because you can buy a set and then keep adding to it as more holidays go by. Kids will love the hours of fun.
Play Indoors or Outside
Lincoln Logs can be played with indoors or outdoors and mixed with other toys like erector sets, tinker toys, a train depot for a train set, garages for matchbox cars or homes for cowboys and Indians. Kids can use them over and over, and for years and years. These classic toys have been entertaining children and stretching imaginations for over 100 years, with no sign of slowing down yet.
FAQ
Frequently Asked Questions
Q: What kind of wood do they use to make Lincoln Logs?
A: They used to be made of redwood when they first came out but redwood had splinters. Now they are made of maple. Maple is hypoallergenic, sturdy, and will last for generation after generation. Quality maple wood is also beautiful when finished properly.
Q: Are Lincoln Logs safe if the baby puts them in their mouth?
A: Not that we recommend chewing on them, but they are splinter-free so baby will not end up with slivers in their mouth. They are also colored with non-toxic stain so they are fairly safe.
Q: Are Lincoln Logs only made for boys?
A: We have found that boys and girls love building with them. If you are looking for a more feminine version there is the Little Prairie Farmhouse set which has lots of pink accessories and is designed for little girls.
Q: Were Lincoln Logs the original building toys?
A: No, there were already a variety of wood building blocks. Tinkertoys and Erector Sets were also introduced a few years before the Lincoln Logs.
Q: Do Lincoln Logs come in different sizes?
A: The diameter of the logs is all the same, but they come in different lengths with notches at certain spaces along each log.
Q: How can Lincoln Logs improve math skills?
A: Let kids build a structure and then measure it to see how long and wide it is. They can see how long an inch is, or if they are older they can learn how to calculate the area.