Pregnancy is a beautiful part of life, but with it comes a myriad of things that can sometimes be slightly less than glamorous. Unless, of course, you have the right products! Maternity pads are used for a variety of different reasons, whether it's to control a heavier-than-usual menstrual flow postpartum or to make incontinence a little more comfortable. Both of these issues require the highest quality, longest-lasting maternity pads, and we know it better than anyone… Quality does, indeed, make a huge difference! We care about your healing, rest, and recovery postpartum, and that's why it's important to know that someone has your back, like us! This ultimate list of the Top Ten contains all the pertinent information that you need to make your best and most informed decision on which maternity pads are right for you after your pregnancy. The healing process shouldn't be stressful, and neither should choosing the right tools to aid in it.
From pads with wings for extra-added side protection to thinner pads for comfort and even full-on panty protection for heavy days, we've got you covered — Literally. Every woman has different needs and finding the right product to suit them is easier than ever when all the work is taken out of the search for you. You'll also find all-natural products in this list as well as brands that have a reputation for the utmost excellence when it comes to feminine products, making your decision that much easier. Leave the stressing up to us while we do our part to make your mommyhood the best it can possibly be!
Our Top 3 Picks
Poise Maximum Absorbency

Our rating
Comfortable fit
Price:

See Here
Prevail Underwear

Our rating
Discreet design
Price:

See Here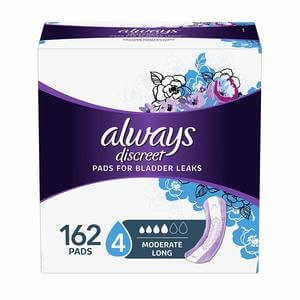 Always Discreet

Our rating
Economic package
Price:

See Here
Best Maternity Pads Reviewed
1. Poise Maximum Absorbency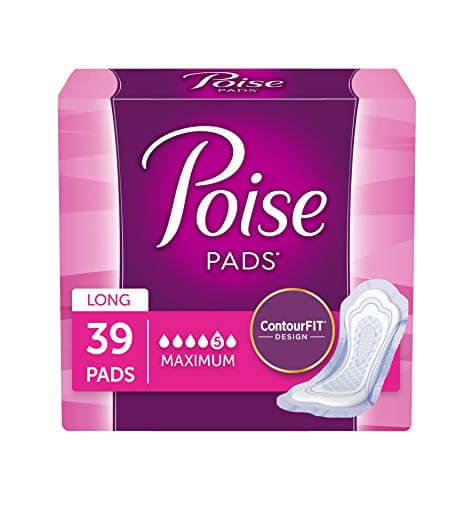 Every woman knows that unpredictable, "down-there" feeling, whether it's due to her period or the even of bladder leakage. It can be nerve-wracking, embarrassing, and stressful if you don't have anything to stop it.
Expand to see more
Poise Incontinence Pads are designed to do double-duty: To help with any bladder leakage that may occur as well as catching any menstrual flow that can often be unpredictable postpartum. They're designed to fit the natural curves of a women's body which make these pads such a solid choice after you've given birth; comfortability is a major asset when it comes to recovery. Not only do these pads fit perfectly along your contours, but they hold a lot and are designed to catch any sudden "streams". They come in several different absorbency levels, but you should find that maximum should be the perfect fit and size for your post-pregnancy needs.

Benefits

Poise promises up to 12-hour protection with their highly absorbent pads, which is higher than many other competitors. The front and back of these pads are also slightly wider, which means you're protected from both ends where there can often be uncomfortable leakage.

What We Like About It

Being pregnant is a beautiful thing and recovering from it means that you're a warrior of a new mom who just got through one of the worst of pains. These pads will make the process much easier while eliminating any worries you have of going out or getting back to your normal routine due to postpartum leaks.
Protection for a full 12 hours
Slightly wider design for leakage prevention
Comfortable fit
Masks odor and will keep you dry
The pads come in six different absorbency levels
2. Prevail Underwear
Occasionally, you need some serious full-on protection and that is absolutely nothing to be ashamed of. Luckily, there are maternity pads out there that allow you to have a normal life without the fear of sudden bladder leakage or menstrual overflow -- Prevail Maximum Absorbency Incontinence Underwear will take away any fears you have of being caught in public without leak control.
Expand to see more
This disposable underwear has an almost-futuristic design in the sense that it keeps you dry all day, has the ability to absorb maximum flow, and each size is designed specifically to fit your every contour with ease. Not only will this underwear stop leaks in its tracks, it's also breathable to allow for consistent air flow. The "Quick Wick" layer is what really sets this underwear apart from the rest, though! Not only does the thin inner layer absorb moisture quickly, but the outer layer feels like real fabric and hugs tightly to your body while pulling excess moisture away from it.

Benefits

Prevail has been voted the number one brand as far as healthcare and incontinence goes, which means you can rest assured that you're in the best hands possible with their products. These are so great after pregnancy because they're likely to catch just about any type of flow you have going on while helping you to feel as comfortable as possible.

What We Like About It

It's great to have full coverage, especially when dealing with an incontinence issue like so many women have postpartum. These Prevail Underwear provide the same benefits as pads with the extra-added comfort of all-around protection.
Full protection
Comfortable fit
Top-rated design for maximum absorption
Odor guard
They look just like underwear
The lining is very thin and can tear easily
3. Always Discreet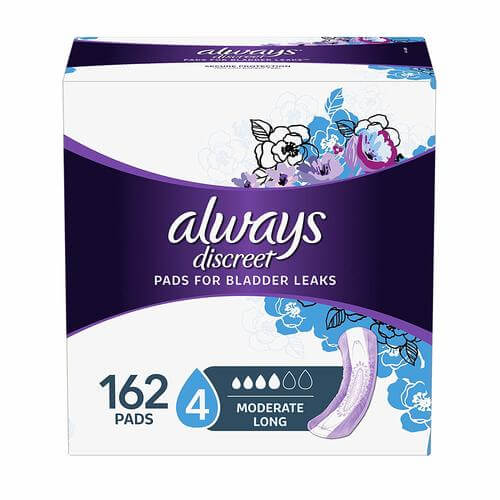 Any woman who has had a heavy flow has heard of the brand Always, and for good reason -- They work! The Always Discreet Incontinence Pads use an advanced technology process to turn liquids into a gel upon absorption, which means not only are you staying dry, but you're also staying comfortable.
Expand to see more
This is called a "RapidDry Core" and it means moisture is quickly sealed away, leaving you feeling absolutely nothing out of the ordinary. These pads are super thin which only adds to the comfort and would make a great choice for women who can't stand the thought of wearing any type of pad or incontinence underwear at all. They are called "discreet" for a reason!

Benefits

These pads can be up to four times as absorbent as your average menstrual pad or incontinence underwear, which puts them high in the ranking for the heavy flows or leakage often happens postpartum. The double-lock design helps keep any and all moisture in, allowing you to go about your daily life without worrying about constantly changing your maternity pad.

What We Like About It

The discrete nature of these pads is what really makes them fantastic for women recovering from their pregnancy and in need of extra protection. They'd be a great option for wearing around the house or for going out to run errands because you'll hardly even know they're there.

Quadruple the absorbency of normal pads
Thinner material means added comfort
Odor protection
You won't need to change it as often
Turns liquid into a gel
They are lightly scented which can be irritating to some
4. Always Discreet Underwear
Not only does Always make discreet pads, but they also make incontinence
underwear
as well! If your problem is a little bigger than just need a pad for the day, these underwear are an excellent option to prevent any potential leakage.
Expand to see more
They're designed in such a way that prevents them from being like "bulky adult diapers", which means they fit comfortably under your clothes and you might even forget that you're wearing them half the time. With all the same double-lock advancements that have been used in their pads, this disposable underwear features the same but with the added bonus that it provides you with full coverage. The sides hug your body and are extremely slim to allow for minimal discomfort while wearing. The elastic stretch bands go 360-degrees to allow for a proper and comfortable fit so you won't need to worry about anything sliding out of place or not fitting correctly.

Benefits

The leak guards in this incontinence underwear prevent anything from slipping out while the comfortable, cotton-like fit provides all the relief you need. It's great for serving a dual-purpose and will last you all day long.

What We Like About It

While many women are comfortable with just pads, this underwear, in particular, has a reputation for being great postpartum. They're feminine in design and just as comfortable as wearing a normal pair of cotton underwear which makes them a great thing to have while you're dealing with heavy post-pregnancy bleeding.

Double absorbency
Extremely comfortable fit
Thin, discreet material
Features leak-lock sides
Full elastic for a snug fit
Sizing might run a bit small
5. Rael 100% Organic Cotton
Rael is a brand that many might not be familiar with but should definitely know about, because their quality is often unmatched as far as organic menstrual products go. For the new moms who have a tendency to be super sensitive to any products with scents or chemicals, these pads can be an absolute dream.

Expand to see more
They're 100% organic cotton-based and provide a high rate of absorbency that's compatible with what you'd need postpartum. They're designed with a lock-in core as well as wings that help to prevent side leakage and really lock in any odors. If you're searching for a product that's hypoallergenic, provides strong leak protection, and won't irritate you in the slightest, Rael is the brand you're looking for.

Benefits
While these pads keep any type of leakage from getting out, they'll definitely allow air circulation in! They're breathable through the highly absorbent cotton material and provide comfort in what can often be a quite stuffy environment.

What We Like About It
The organic nature of these pads is wonderful for women who have increased sensitivities and need something that is hypoallergenic. These pads will prevent any type of irritation or harsh reaction to certain materials.

All-natural and organic
Comfortable fit with wings
Core leak protection
No harsh chemicals or scents
Good for women who are extra sensitive
They might be challenging to stick down on certain types of fabric
6. Tucks Medicated Cooling Pads
We've said two of the magic words that new moms want to hear after giving birth: Medicated and cooling! Anyone who has had a child knows how uncomfortable and irritating any type of pad or incontinence underwear can be in the weeks following. Tucks knows this as well, which is why they've created pads that provide relief, comfort, and a gentle way to soothe your lady parts while recovering postpartum.
Expand to see more
The pads are formulated with witch hazel and were originally intended for relief with hemorrhoids, but provide dual relief for women after giving birth. The witch hazel soothes the area while delivering immediate cooling relief. It's an all-natural way of dealing with those few rough weeks afterward when the thought of wearing pads might come with a sense of dread. Not with Tucks!

Benefits

These pads are raved about for use during the postpartum period, and for good reason. There's no risk for any type of chemical reaction since witch hazel is a natural substance, and they offer almost immediate relief when applied directly to the area that lasts for quite some time afterward.

What We Like About It

Witch hazel is a great all-natural relief alternative for many things, including the irritation and discomfort that many women experience after giving birth. By simply applying these to the affected area, many women report feeling almost immediate cooling relief.
No risk for chemical exposure
Comfortable to wear with other pads
Immediate relief
A cooling sensation upon applying
The perfect treatment for postpartum issues
The packages often aren't sealed very well
7. Always Maxi Overnight
It's great to have solid protection during the day, but what can you do at night? When you're tossing and turning and most likely exhausted, the last thing you want to do is have to worry about getting up in the middle of the night to change a pad.
Expand to see more
Even more so, when you wake up in the morning and feel that sudden "gush", running to the bathroom isn't the best way to spend your morning. Thus, the Always Maxi Overnight Pads with Wings! The number one thing you'll need to look for in a good overnight pad is the fact that it has wings because while you're laying down vertically, gravity will inevitably do its job to work against you. Having the much-needed addition of wings will prevent any potential leakage from making its way out of your pad and into less desirable places.

Benefits

Not only are wings a great perk of these pads, but you can literally see the various ridges and pockets where liquid will be absorbed before you even use them. Always has a reputation for being the best in leak control and it's due to the unique design of their pads to lock in moisture and hold it in place.

What We Like About It

The term "maxi" implies that these pads will be much thicker than your average thin pads, and for postpartum flow, that's a good thing. A thicker pad will allow for a solid absorption rate throughout the night with no chance of leaking or that uncomfortable wetness that can wake you up mid-sleep.

All-night leak control
The pads have wings for extra protection
Leakguard core allows ten hours of absorption
Wider back for increased coverage
They work within seconds
They can often be bulky because of the padding
8. Always Infinity
We're going to throw a new term your way: Flex Foam! That's what sets these Always Infinity Pads apart from the rest and what helps them to be so absorbent as well as comfortable. These were created in mind for women who are easily made uncomfortable with pads because of their awkward, often bulky structure.
Expand to see more
Those days can be put in the past with flex foam because Infinity pads are designed to fit comfortably and completely within proportion to the contours of your body. These pads are thinner, highly absorbent, lightweight, and extremely flexible. When you begin getting active again postpartum, these pads would be an excellent choice due to their ability to keep up with an active lifestyle. They provide full-on protection without being full-on bulky or visible, meaning you can wear them under normal clothing and not only will you barely feel them, but you won't see them either.

Benefits

For a lighter flow in the weeks following pregnancy, these pads provide superior protection with an equally superior performance. The addition of wings allows for that "just in case moment" which is both a comfort and a relief when you can't change your pad immediately.

What We Like About It

By using "MyFit" technology, Always has found a way to provide women with pads that fit them almost to a T. The chart is easy to use and offers a selection of pads that fit comfortably and to your exacting specifications as far as size and absorbency power.

Great for when new moms start getting active again
Super comfortable fit
Fairly high absorbency rate
Wings provide extra protection
Very flexible and relatively thin
You might need a higher level of absorbency for extremely heavy flows
9. Always Radiant
It's true, these pads might actually make you feel like the radiant woman you are! In reality, they'll definitely help to ease you into the cycle of recovery when it comes to your post-pregnancy body.
Expand to see more
They're incredibly thin to the point where you'd hardly believe they actually absorb anything (but they do!) and are probably some of the most comfortable pads you can get your hands on. These pads absorb a whopping eight times their own weight which is incredible for something so small, while also providing optimal comfort under any type of clothing.

Benefits

The MyFit and flex foam technology that goes into Always pads are what make them so efficient in liquid absorption. They're comfortable and lightweight which really make a difference when it comes to postpartum recovery.

What We Like About It

Thin padding is often not an option when it comes to maternity pads because of the rate and level of flow. Always is changing the game when it comes to this conception and doing so with a feminine flair and pads that you'll forget you're wearing.
Extremely thing for discreteness
They fit well regardless of absorbency level size
Flexible and easy to move in
Full coverage
8x absorbency rate
The plastic wings can be uncomfortable
10. Birchwood AER Witch Hazel
There's a reason witch hazel is so prominent in postpartum recovery, and that's because it genuinely works to reduce pain, irritation, and discomfort. These pre-moistened pads by Birchwood Laboratories aren't designed to be super absorbent or even used for catching menstrual flows or incontinence, but are used for pain management only.
Expand to see more
They're a great addition to existing pads since they're easy enough to slide into a pad or disposable underwear. The portable and small-sized pads are also great on the go when you need immediate relief because they allow for an easy way to apply witch hazel without any mess. Simply use the pads to apply witch hazel to problem areas and then go on with your day, reapplying as needed.

Benefits

Witch hazel is an all-natural alternative to medications and ointments that is mess-free and often provide fast relief. Witch hazel can often be added to existing maternity pads with these pre-soaked pads to provide you with all-day relief as well.

What We Like About It

These pads are so easy to just stick in your pocketbook and take with you on-the-go. They're easy to use and apply and while they won't help you stop the flow, they'll definitely help in the way of making the method of dealing way more comfortable.
They're versatile in application
Can be used on their own or with existing pads
Used for immediate relief
All-natural
Proven effective
Can't be used as maternity pads for absorption
Criteria Used In The Evaluation Of The Best Maternity Pads
There's nothing to be ashamed or embarrassed about when learning how to recover with your postpartum body, and while it may seem like something entirely new, the need to heavy maternity pads is not unusual in the least. What seems new to you is something that the most reputable of menstrual pad and incontinence underwear brands have been learning about for decades, and because of this, we can now offer you options that will make your recovery that much easier. Plenty of research factored into what's best for you based on your individual needs during this time, all of which we've done our best to address. Obviously, things such as brand reputability, design, functionality went into our decision, but what we really cared about was the nitty-gritty: How is it created to function while sleeping, standing, walking, etc.? How comfortable will it be over a few hours versus overnight? Does the pad thickness make a difference as far as absorption rate and do wings matter? What comfort does incontinence underwear provide when it comes to moisture lock technology? As you can see, we've had a lot of questions to answer!
Additional Factors To Consider
What Is Actually Happening?
It's so important to understand what's actually happening within your body while you're going through this very crucial recovery time after your pregnancy. It's your body's job to ensure your system, your uterus specifically, is flushed of anything you no longer need now that you've given birth. This can cause a significantly heavy menstrual flow which is completely normal but can be a bit annoying after nine months without it. The good news is that it won't last forever and with the addition of some of the top-notch maternity pads, you'll get through it comfortably and with ease. In addition, incontinence can often be a side-effect postpartum because of all the changes along with the fact that the entire area will be tender and sore. This isn't a reason to worry or stress, because the right pair of disposable underwear can make all the difference in how you deal!
Pads Vs. Incontinence Underwear
Incontinence underwear might be a strange choice when your problem is of the menstrual kind, but this is where you may need them the most. With the heavy rate of flow, especially overnight, disposable underwear can be such a life-saver when it comes to getting serious full coverage protection. Many women notice that they're much more comfortable knowing they're wearing something that is designed to absorb practically anything without any chance of leaks. You're also covered for 360-degrees all-around, which helps to put some new moms at ease. On the other hand, new moms who find pads to be very uncomfortable can find that pads, especially the thin ones, provide much more comfort than anything else. It's a common misconception that the thinness of the pad decreases the absorption rate, in fact, nowadays it's quite the opposite. We've included both on our list so that it's easier for you to narrow down what's right for you.
Does Company Brand Make A Difference?
Not in the least. While we have, of course, added brands here that are highly reputable and have a long-standing history, we've also included some that are lesser-heard of and offer amazing benefits. Many brands that use organic or all-natural materials haven't become very popular due to the drugstore brands that everyone knows, but it doesn't mean they're any less. In fact, we stand behind these brands because their products have such stellar approval ratings. The brand name can make a difference but when it comes down to it, we analyze the products themselves and not so much the brand that makes them.
How To Decide What's Right For You
No one can tell you what you'll be more comfortable with, but what we can tell you is this: Go with what feels right! If you used tampons or pads prior to your pregnancy, then stick with them. If you're concerned about all kinds of leakage and want to ensure that you're fully protected, at least overnight, try out incontinence underwear for an easy and disposable way to prevent leaking. It might seem daunting now, but ultimately, you're the only one who needs to be comfortable with the maternity pads that you use and you decide what works best for you and your body. We totally understand that any type of pad can be uncomfortable, but you can rest assured that any of the pads on our list will provide both comfort and relief from irritation if necessary. Whether you're looking for absorption level, full coverage, or relief from pain, we've got it here.
In Conclusion
Everything you're dealing with (or about to be) is all completely normal, so try not to stress over it too much! As we've said before, the process of pregnancy is a beautiful thing… Including everything that comes after it. Being a new mom is such a wonderful experience as well as a rewarding one and it can be made much easier and comfortable with the use of some good-quality products. If we've done our part as well as we think we have, you'll find maternity pads on here that will make your life postpartum a pleasant and enjoyable one. We've done the work so that you can experience being a mom and love every moment of it without needing to worry about what you've got going on elsewhere.
FAQ
Frequently Asked Questions
Q: How comfortable are these to wear under jeans, leggings, etc.?
A: Every woman's level of comfort varies and all depend on what they were used to prior to their pregnancy. Obviously, thinner pads will provide more comfort, while thicker ones might be better for overnight and heavy flows. Incontinence underwear can be a great compromise between the two for both comfort and absorption level, but ultimately, it's a personal choice.
Q: How often should I change these?
A: Depending on your flow, experts suggest changing your pad every three to four hours. You might notice that some pads allow you to extend that to anywhere from six to eight hours, but in order to avoid accidental leakage or discomfort, you'll find that changing after at least four hours is sufficient. This is excluding overnight pads, of course, which are designed to last a full eight hours based on your sleeping positions and amount of movement.
Q: Can they be used for both menstruation and incontinence?
A: Yes! Everything on this list can be interchangeable depending on what you're comfortable with. The only thing that can't be used to absorb moisture is the Birchwood Laboratories witch hazel pads, which are to be used in conjunction with pads as an option for pain management.
Q: Do they come in bulk?
A: Most of these maternity pads can be purchased in bulk and stored away for use throughout your postpartum weeks. This is beneficial and often provides you with a good bargain as well as eliminating the need to constantly re-order them.
Q: Are any of these reusable or environmentally-friendly?
A: None of these are reusable, but the Rael Organic pads are all-natural and free of harsh chemicals, dyes, or irritants such as scents. They're also extremely comfortable due to their cotton feel and won't cause any reactions since they're hypoallergenic.
Q: Will they easily fit into a pocket or purse?
A: Most of them will, yes. Aside from the incontinence underwear that can be worn all day and provide maximum protection, the pads are easy enough to slip into a pocket or purse discreetly. The thinner pads will be much easier to hide away, but they're all travel-sized.