10 Best Math Books for Kids Reviewed in 2019
last updated
Apr 21, 2019
Math is literally everywhere. From art to construction, we use the concepts taught to us in school as we move through our adult lives. Imagine for a moment how hard it would be to complete a task like grocery shopping or baking without math. Even the most reluctant learner isn't born hating math. At some point in their life, they either lost interest in the subject or had a negative experience. One great way to keep young children interested, or start their interest young is with books like the ones on this list. Since we know that keeping kids interested in math relies heavily on how fun it is, you could start with one of the storybooks versus a workbook. As long as the book focuses on math it can only help your child improve their relationship with the subject and, consequently, their own future.
In a Hurry? The test winner after 35 hrs of research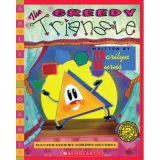 The Greedy Triangle (Scholastic Bookshelf)
Why is it better?
Fun characters
Teaches angles
Real life shape examples
Great moral
In a
Hurry? Editors choice: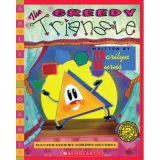 Test Winner: The Greedy Triangle (Scholastic Bookshelf)
25
Researched Sources
35
Hours Researching
15
Products Evaluated
Entertainment Value
Design
Educational Value
By Default
In depth review top 10
The Greedy Triangle (Scholastic Bookshelf)
Star Wars Workbook Kindergarten
Bedtime Math: The Truth Comes Out
School Zone Big Second Grade Workbook
Brain Quest Workbook: Grade 3
Bedtime Math: A Fun Excuse to Stay Up Late
Mastering Essential Math Skills Grades 4-5
School Zone Addition & Subtraction 1-2
Scholastic Pre-K Reading & Math Jumbo Workbook
The Grapes Of Math
Table of contents
Criteria Used for Evaluation
Other Factors to Consider
Frequently Asked Questions
Sources
10 Best Math Books Reviewed
1

. The Greedy Triangle (Scholastic Bookshelf)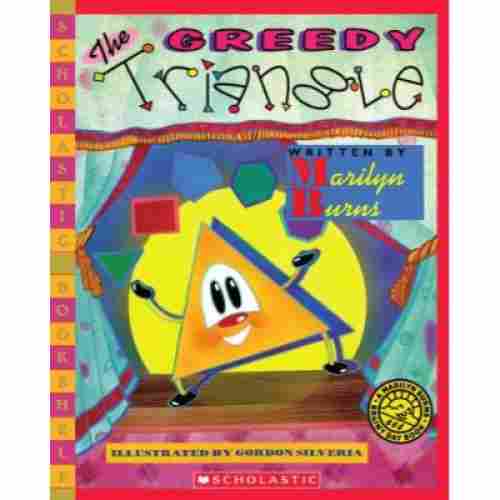 Fun characters
Teaches angles
Real life shape examples
Great moral
Some references may be too advanced for young readers
The word "greedy" may have negative connotations
Many books that introduce shapes to kids do so with only a limited amount of variety. You've likely noticed that these books only cover basic shapes such as; circle, square, rectangle, triangle, and star. We like that this book teaches about more complex shapes. It's a great way to build on a child's known shapes in an interesting way. Since the shapes in this book all start from one triangle, the transition via angles is a fantastic way to visually demonstrate geometrical differences.
Read more
Entertainment Value
One challenge that educators face is the need to make math concepts interesting. This can be especially difficult with young children. Author Marilyn Burns wrote The Greedy Triangle which introduces geometry in a fun, engaging way. The story stars a triangle who isn't satisfied with his shape (or life) and seeks out a shapeshifter to help him. Each visit to the shapeshifter changes him into a new shape with the addition of angles. Every time he changes the new shape is introduced with a real-life association (i.e. quadrilateral is the shape of a book).
Design
The author also gave each shape it's own feelings and preferences. This character development is a great way to make geometry approachable and memorable. As a bonus, the book has a great moral of self-acceptance.
Educational Value
Using the power of storytelling, this book is a great introduction to geometry. The learning is two-fold since the shapes themselves may be new to the reader and the angles that change them are geometric concepts on their own. All of this valuable information is made fun through great character development. Each shape has their own personality which also makes them memorable. The real-life associations will have your child pointing out advanced shapes right after reading.
2

. Star Wars Workbook Kindergarten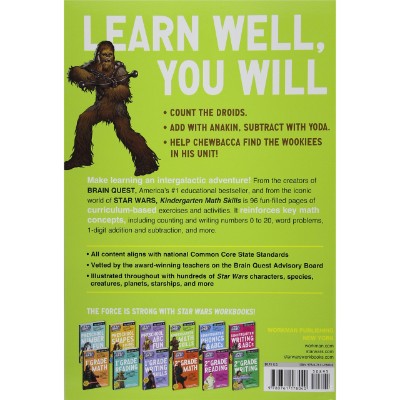 Part of a series
Creator has a great reputation
Common core standard
Lots of tracing number activities
Might be too easy for advanced kindergarteners
The creator, Workman publishing, has a terrific reputation. You may recognize other kid's books they've published such as the Brain Quest series and Fandex Family Field Guides. Their educational books are well known because they focus on unique ways to introduce information such as decks of flash cards and sticker fact books. We knew of their reputation when we found this series of books and were pleased to discover they fit in with their other titles.
Read more
Entertainment Value
Teaching young children requires that the material is fun. Fun is the absolute key to keeping their limited attention long enough for them to learn. This book is heavy on the fun factor. It includes characters that any young Star Wars fan will recognize.
Design
Since this book is up to the standards of Common Core, the activities are absolutely worth your kid's effort. It's fun enough to keep the interest of even the most reluctant of learners. While they are busy working through the book's math activities they will be learning. You can also keep the momentum going with other books in the series.
Educational Value
The fun in this kindergarten math book doesn't take away from its method of teaching math concepts. In fact, the creator made sure it met national Common Core standards. That means this book has the same educational value as official school materials. We think it'd make a great choice of math book for any kindergartener but would be especially helpful for those that are Star Wars fans and reluctant to sit through math exercises.
3

. Bedtime Math: The Truth Comes Out
Creates educational habit
Series of books and app to accompany
Variety of difficulty levels
Parents Magazine award-winning authors
Big jump in difficulty level of problems
Story problems may be difficult for young kids
We appreciate that the Bedtime Math series doesn't use grade levels for their problems. The author's goal in leaving them out is to make math learning more accessible. Since the natural inclination of children is to assume they should be at the same level as their classmates, labeling the problems with phrases is preferred. Instead it's best to encourage kids to attempt difficult problems as they become more confident in their ability to solve them.
Read more
Entertainment Value
Laura Overdeck is on a mission. To make math as exciting to children as dessert. That mission started with a book and has now grown to an entire non-profit organization. They help children connect math to their everyday lives in a fun way. Each book is meant to be read at night like a bedtime story. The goal is that your child would look forward to a fun, brain-building math problem as part of their bedtime routine.
Design
To ensure that kids didn't feel pressure while attempting the problems, they avoided using grade numbers for their levels. Instead, they use phrases such as "Wee Ones" to label the difficulty level. The problems are well thought out and challenging. Overall the entire series is a great choice for encouraging your child to be interested in math as a fun activity.
Educational Value
The Bedtime Math series teaches a variety of math skills through simple problems. Each problem is introduced daily in a fun way. The goal is to create a habit of math problem solving that your child will enjoy so much that they seek out opportunities to apply the skills in their everyday lives.
4

. School Zone Big Second Grade Workbook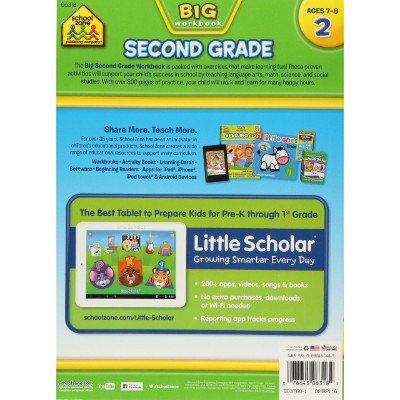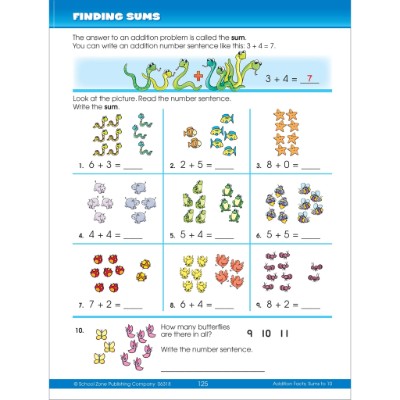 Fantastic brand reputation
Includes award certificate
Compatible with series of books, flashcards, and apps
Also includes reading lessons
No index for parents
Some material may be a review for second graders
We know that kids respond to positive reinforcement. The reinforcement is especially important while they're working on educational goals. When kids see that learning math is fun and benefits them in the short term via a reward, they're far more likely to engage with more educational material. That's why we especially appreciate the Second Grade Workbook includes an award certificate. It's placed at the end of the book and made to commemorate the accomplishment of finishing the entire workbook.
Read more
Entertainment Value
With over 300 pages, the Second Grade Workbook is a great educational tool. This book is part of a larger suite of educational products created by School Zone. The company was founded by a married couple who were lifelong educators. Their mission was to provide high-quality educational materials for teachers.
Design
They quickly realized that there was a huge need for home materials and began the product line with flashcards. This workbook is part of that line and includes both math and reading exercises for kids. Since the book uses handwritten problems it improves retention making it a great choice for summer material. Whether you use this to keep skills fresh or keep kids busy, it's a great workbook.
Educational Value
There are a couple of specific educational benefits that this book offers. The first is that since it is a workbook it encourages handwritten problem-solving. Experts agree that solving a problem by hand is a fantastic way to increase your ability to remember it. Another benefit is that this book has simple enough problems that keep kids engaged. As they work through each their confidence grows. That confidence is key for the more advanced math concepts that they'll be introduced to at school.
5

. Brain Quest Workbook: Grade 3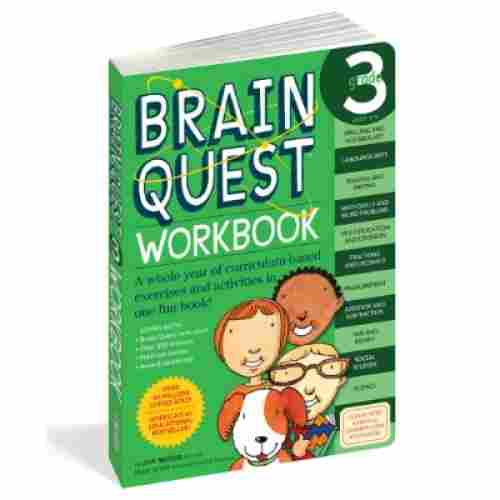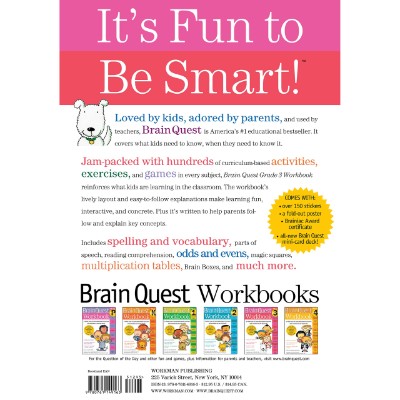 Jam-packed book with interactive exercises
Based on curriculum-based activities
Easy to follow explanations
Explanations for parents to help guide the process
Increases in the level of interest in Math
Concepts and exercises repeated throughout the book
Pages lack interactive questions
Getting kids excited about learning about math is hard. This makes it easy. It is easy to follow the book of interactive exercises about everything needed in the 3rd grade. The math section is right on the money and even includes information for the parents.
Read more
Entertainment Value
Just jammed packed with everything from exercises and games to activities that are curriculum based. This book is perfect for kids that are heading into the 3rd grade. It is about to reinforce objectives that they will be learning in the classroom. The workbook is laid out in a way that allows kids to be able to follow the explanations easily while making it fun to learn about math concepts.
Design
There are even written explanations for the parents to help explain and answer questions regarding the concepts. It is just what they need to help them prepare and master the skills needed to excel in the 3rd grade.
Educational Value
Using fun and interactive books is a great way to increase your child's level of interest in Math. Increasing the level of interest makes it easier for them to master the skills and actually want to learn more. It adds focus, problem-solving skills, and concepts that will help them master the skills of the 3rd grade.
6

. Bedtime Math: A Fun Excuse to Stay Up Late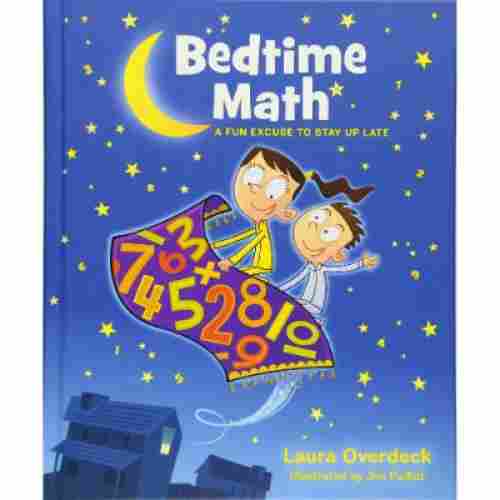 Bedtime story turned a learning experience
Makes math a fun part of everyday life
Provides over 100 math riddles
Includes three different levels of learning
Provides meaning riddles that context math concepts
The age range on concepts is really broad
Does not provide any parents tips
Whole family math fun is something that this book brings to bedtime. It provides different levels of learning for all the kids in the family or challenges learning math majors.
Read more
Entertainment Value
The mission of this book is to make every part of learning math fun. The mission has been completed! It takes a bedtime story and turns it into a learning opportunity. Many kids often complain that they are not good at math. This book can completely turn that around for them.
Design
It takes fun math problems and teaches kids how to tackle them with riddles. It includes three different levels of math challenges. This makes it fun for the whole family. It takes numbers of nightmares and turns them into number dream puzzles.
Educational Value
This book is a great way to provide kids with a meaningful context to be able to apply to mathematical concepts making it fun and easy for them. It takes numbers, fun, and concepts and brings it all together to allow them to excel in math skills.
7

. Mastering Essential Math Skills Grades 4-5
Includes teachers/parent guide as a separate book
Teaches math concepts in 20-minute lessons
Contains illustrated step by step guides
Short and easy lessons
Provides meaningful and knowledgeable math examples
Includes only a problem workbook and answer book
All instructions and guides are online or videos
Love the idea of teaching math in a short very easy to learn a lesson. Allows parents to help kids with math or teach them at home with nothing more needed than this book and online instructions.
Read more
Entertainment Value
Learning math in only 20 minutes a day is what this book can do for your children. It provides an illustrated guide for parents on how to successfully use the book to teach math to your children plus it also has pre-tests and tests to test their knowledge.
Design
It is a structured and guided process that gives parents all the skills and knowledge to be able to successfully teach their children math skills. There are lessons that are short and exciting making it is for them to master and maintain the math facts taught to them. If you are looking for a book to help your children with math or teaching them math in home schools this is just the perfect book.
Educational Value
Models math in interesting and knowledgeable guides that provide both parents and students everything that is needed to become a successful math student. The guides and lessons are short and easy to learn to make it fun and exciting to work through each one.
8

. School Zone Addition & Subtraction 1-2
Develops key skills needed for essential math concepts
Provides hundreds of math fun facts
Aligned with Common Core State Standards
Lesson placed in learning sequences
Promotes critical thinking skills
Promotes basic skills, essential math concepts
Thin book with only 64 pages
It provides a ton of engaging and easy to follow math problems to practice with. The creativity used on the pages to get the message delivered to the kid's answers. It uses things that you would have never thought would teach a math concept.
Read more
Entertainment Value
Developing key math skills that your child understands is key to their success throughout their academic career. Many kids find math stressful and have a hard time learning the concepts. This book takes learning addition and subtraction easy. It displays hundreds of fun math facts that make learning fast, fun, and clear. The step by step instructions makes it easy for them to follow the concepts plus give them a progressive set of objectives to aid in their success.
Design
Each workbook contains the Common Core State Standards on the bottom of the pages. They have planned out lessons that build on each other page after page. If you are looking to introduce or review essential math skills this is just the book you have been looking for.
Educational Value
Promoting critical thinking is a concept that needs to be thought to our children to ensure their success throughout life. Math concept books are a great way to promote critical thinking skills. This book is laid out in a manner that allows each concept to be built upon the concepts before that really natures that problem-solving skill.
9

. Scholastic Pre-K Reading & Math Jumbo Workbook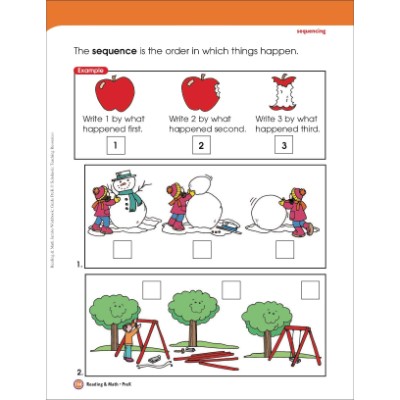 Includes lessons for multiple skills (i.e. handwriting)
Certificate of completion
Link to educational online games included
A large book (300 pages)
Some tear out pages are front/back
Instructions may be difficult
We know that achievements reinforce the behavior a child does in a positive way. When that behavior is completing an education related goal, the reinforcement is especially helpful. This books includes stickers and fun activities to reward the learning experience. We like that books including these built in rewards make it easy for parents to reinforce the excellent behavior without the need to come up with something externally. We also appreciate that this book rewards completion with an achievement certificate.
Read more
Entertainment Value
Scholastic has a fantastic reputation for creating educational children's books. For decades Scholastic has been the leader in children's book publishing. Their mission is to encourage the growth of children beginning with literacy. Working towards that goal, this workbook covers a variety of topics including; math, handwriting, and early reading skills.
Design
The book is designed to keep children's interest by including stickers, physical activities, and tear out pages. Once the book is completed there's an achievement certificate as a reward. We knew that these features combined with Scholastic's fantastic reputation meant this workbook deserved a spot on our list.
Educational Value
This workbook was created to improve the kindergarten readiness for preschool-aged kids. The book has 300 pages of activities in the subjects of early math and reading. Besides the educational benefits of completing these activities, the book encourages further learning by including fun features like stickers.
The author is an experienced educator
Teaches number grouping
Fantastic illustrations
Multiples riddles to solve (16)
Not a long book
Uses math terms that kids may not be familiar with
Throughout this book the author's placed riddles that the reader can solve. To help with figuring out the solution there are visual clues. We think this feature is a great way to make the math learning experience more interactive. The more engaging a learning activity is, then the more likely your child is going to remember it and request to do it again. We appreciate that the authors attempt to make this book more fun.
Read more
Entertainment Value
When we initially read an excerpt from this book we thought it was a cute rhyming book with a math theme. It turns out the book is so much more. It's true that the rhyming couplets make it fun to read. It is one of the best books on the entire list for reading in a group, mostly due to the rhyming.
Design
The main goal of the book is to teach kids that counting large numbers is simpler when you group them together. They're able to accomplish this because the story is so engaging. The Grapes of Math also uses riddles in the story that kids can solve. To help kids solve these riddles the creators added visual clues throughout the book. All features considered, the book is incredibly fun while also teaching math skills.
Educational Value
This book teaches how to count large numbers with grouping. It's a valuable skill for kids to learn since it's the foundation for multiplication. The format of the book is fun. It rhymes, has clues, and multiple riddles for kids to solve. It takes a fresh, exciting approach to teach math skills.
Criteria Used for Evaluation
Entertainment Value
Kids are naturally resistant to all things boring. If something is boring, they'll avoid it with all their power. Since our ultimate goal is to cultivate a positive relationship between the child and math, it makes sense to start with fun. Every children's math book on this list was chosen because it was written with fun in mind. That's also why we have a mix of formats--storybooks, hands-on activity books, math textbooks, and workbooks. You can literally choose a couple books off this list and have enough material to help your child learn while still enjoying the process. What makes a book fun? Most kids don't find textbook-style problem-solving fun.
Design
What makes a book fun? Most kids don't find textbook-style problem-solving fun. They enjoy brightly colored pictures and interactive experiences. What makes it fun for kids is also often what makes a book fun for parents. It's the chance to enjoy the story and activity while also being challenged. Clearly what is fun to a 5-year-old is not to a 99-year-old. Besides differences in age, each child is unique. They may not respond favorably to an activity simply because another kid their age did. With this in mind, we encourage you to review each book on this list with your child's unique personality in mind. We know that the best chance for them to learn is by first being entertained.
Educational Value
Math is such a crucial aspect of our society that at one time America declared the lack of students' math skills to be an emergency. In fact, in the 1980s, schools raised the math requirements that students needed to graduate. The decision was made to get us out of the emergency state we were in. The goal was to increase high school graduates' readiness for careers and/or higher learning. At the time, the country was seeing a huge increase in technological advances with a large number of jobs remaining open due to a lack of qualified candidates. As a solution to the country's high school students being behind others in the developed world, changes were made. Besides increasing the number of math credits needed, the education system also introduced minimum competency-based tests.
Most Important Criteria
(According to our experts opinion)
Experts Opinion
Editors Opinion
Users Opinion
By Default

Parents, did you know>?
In addition to the educational credits, a student would also have to pass a test with a sufficient score. This test represented the absolute minimum amount of math that a graduate would need to enter the job market. The change seemed to be successful since it was followed with average math literacy rates increasing.
Parents, did you know>?
One of the unfortunate negative results of the increase in requirements was that some students who find math difficult simply don't finish high school. Since careers in STEM fields are growing even more rapidly today than in the 1980s, it's easy to see why there is an increased focus on teaching preschool math
Parents, did you know>?
Your child's ability to earn a living in a changing economy can only be helped by improved skill in mathematics. Children are also more flexible to new learning both physiologically and psychologically while they're young versus in the teenage years. When you combine all these facts it's easy to see why we would dedicate an entire list to books that will help your child learn math.
Parents, did you know>?
Since math is applicable to real life, we chose books that truly do teach kids. What makes a book educational is a combination of things. We know that kids learn through play so you'll see some books on the list that use hands-on activities while others rely on imaginative stories. How much your child can learn from any of the books depends on the individual.
Parents, did you know>?
We encourage parents to create opportunities to practice the skills learned. This can be done simply by physically doing math problems with physical objects. Another way is by prompting them to ask questions that they can use math to answer. The best way to help kids retain the information they've learned is by using it frequently so talking about math daily is a great habit to have.
Other Factors to Consider
Frequently Asked Questions
q:
Can these books be used for homeschooling?
a:
Since curriculum materials vary, the answer is that it depends. Every book on this list can ABSOLUTELY be used as supplemental material. In fact, when researching the titles we noticed that many reviews were by homeschooling parents doing just that.
q:
How can I choose the right math level for my child?
a:
Provide material that covers a variety of math levels. Start with the math that is easy for your child as they build confidence and progress to more difficult books.
q:
How can we tell if these books are up to Common Core standard?
a:
Many of the books included on this list are Common Core-approved. We listed that point under "Pros."
q:
Once my child learns a math concept taught in a book, how can I help them retain the information?
a:
A great way to increase retention is to have a physical activity that uses the skill. You can also ask them questions after the book is done to prompt their use of the skill in everyday life.
q:
Does every book on this list need to be read front to back?
a:
That depends on the book. There are a couple of storybooks on this list that will only truly make sense if read in order. While others are more of a reference book like Mastering Essential Math Skills.
q:
How do we know if a book is written by a qualified educator?
a:
The author's information is included on each product page. We also made an effort to discuss their qualifications on this list. Keep in mind that there is more to being qualified than an occupation.