10 Best Newborn Baby Pacifiers & Soothers Reviewed in 2019
last updated
Aug 07, 2019
The first pacifier in medical literature appeared in the year 1473. That means soothers, binkies, dummies, or whatever else you'd like to call them have been on the scene for several centuries now. Pacifiers, while not recommended during the first month of breastfeeding, have been linked to a decrease in SIDS, and are a preferred alternative to children sucking on their fingers and thumbs in some households. Pacifiers are typically characterized by a soft nipple-like protrusion, a mouth guard that keeps baby from swallowing or choking on it, and a handle for ease of removal and travel. Soothers are soft (generally silicone, rubber, or plastic) and often calm babies. Below, we've gathered ten of the most popular options available on the current market. Enjoy!
In a Hurry? The test winner after 23 hrs of research
Philips Avent SCF190/01
Why is it better?
Constructed from hospital grade silicone
Made especially for babies ages 0 to 3 months old
One piece design is super safe
Helps calm and soothe newborns
No taste and smooth texture
In a
Hurry? Editors choice:
Test Winner: Philips Avent SCF190/01
32
Researched Sources
23
Hours Researching
14
Products Evaluated
Design
Brand
Materials
Effectiveness
By Default
10 Best Newborn Baby Pacifiers & Soothers Reviewed
1

. Philips Avent SCF190/01
Constructed from hospital grade silicone
Made especially for babies ages 0 to 3 months old
One piece design is super safe
Helps calm and soothe newborns
No taste and smooth texture
Does not feature a cut-out for baby's nose
Babies can get their finger stuck in the back of the nipple hole
One of the top chosen pacifiers selected by the hospital to distribute new babies. This pacifier helps soothe and calm many newborns. The shape of the nipple is unique as it fits comfortably in their mouths and does not inhibit normal development. The pacifier is constructed of durable and long lasting silicone. The silicone is hospital grade and does not have any taste or odor. This makes it more likely for newborns to take the pacifier without chances of rejection.
Read more
Design
We love that this pacifier has been selected by hospitals nationwide as the pacifier they distribute with their newborns. The simple design and long-lasting silicone construction are great for babies and parents. They are easy to clean and carry.
Brand
Philips Avent is an England-based company responsible for manufacturing many popular children's and baby items. They were found in 1984 and sell a multitude of family items such as breast pumps, baby bottles, sterilizers, and pacifiers.
Materials
The material is also super strong, has a smooth texture, and will resist becoming sticky after lots of use. This one-piece design is one of the best pacifiers that can be offered to newborns on the market.
Effectiveness
It is great for helping to calm newborns. This would be an excellent gift for any new or seasoned parent for their upcoming arrival.
2

. FCTRY Hipsterkid Mustachifier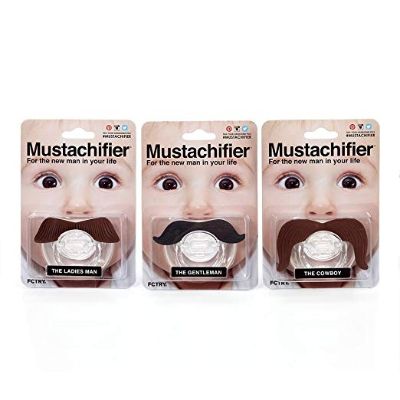 Designed for babies and toddlers
Constructed from 100% BPA free materials
Silicone nipple design with orthodontic features
Great ventilation holes
Supports shape their developing jaws
The front part is heavier and is hard for smaller babies to use
Does not come in factory packaging, just wrapped in a plastic bag
Get some fun laughs while soothing your baby with this pacifier. The mustache part of the pacifier is made from the highest grade TPE, which is the same rubbery material that is used to make baby teething devices. A dual-injection process has created a permanent bond between the mustache shield part and nipple making it impossible to come apart.
Read more
Design
The nipple has an orthodontic design that helps prevent any issues in the future with their teeth. It supports the shape of the jaw and flattens just like a mother's nipple when they suck. This extraordinarily cute and super soothing pacifier is always great for a few laughs from everyone.
Brand
FCTRY is a more contemporary name but still, many of their products are recognizable. They're a fun, sometimes irreverent group comprised of designers, artists, and writers. They often pair with other like-minded contractors and have some pretty cute kids' accessories, such as this mustache-binky and a portable gummy bear nightlight.
Materials
The design is super cute, but safety was not shorted to make this happen. It is completely safe and constructed from quality materials
Effectiveness
This. Is. So. Cute. We just laugh every time that we see babies using this pacifier. It is adorable and just makes you giggle every time you see them with it in their mouth.
3

. Ryan & Rose All-In-One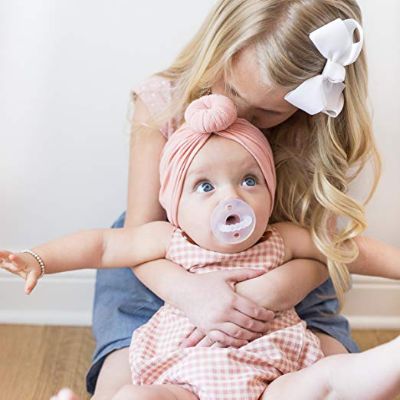 Chemical free
100% medical grade Silicone
Shape and feel of a mother's breast
Both pacifier and teething ring, all-in-one
Dishwasher safe
Too bulky for some babies (but it is meant for newborns and up)
The Stage 1 Cutie PAT by Ryan & Rose is truly a pacifier designed specifically for newborns. This little binky is made of 100% medical-grade silicone. It comes in seven different colors and three different stages, so if it's a fit for your child, you can just order the next size up as they grow out of their first pacifier, rather than having to shop brands and models all over again. It's FDA approved and US CPSIA compliant. If desired, you can easily attach it to a pacifier clip. And when your little one starts to teethe, simply flip it over for a safe, ribbed teething toy!
Read more
Design
The soft medical-grade silicone nipple imitates the shape and feel of mom's breast, helping baby to transition over to similar bottle heads.
Brand
Ryan & Rose is a boutique company with a small but well-crafted collection of baby items. They sell pacifiers, baby silverware sets (combination fork-and-spoons), luggage tags, and pacifier clips.
Materials
It's dishwasher safe, BPA/PVC/latex/phthalate-free, and both FDA approved and CPSIA compliant.
Effectiveness
If your family is struggling to transition baby from breast to bottle, this combination soother-and-teether might just be your saving grace.
4

. Tommee Tippee Closer To Nature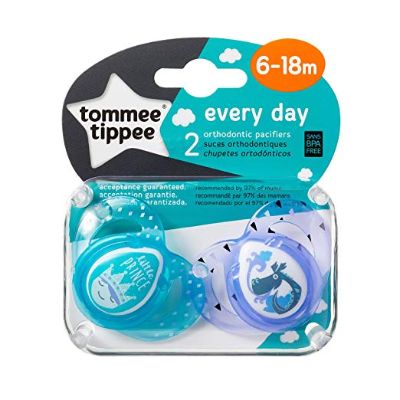 A newly designed collection that has been approved by babies
Features symmetrical designed orthodontic nipple
One nipple, many designed shields
Designed with the balance to make it easier to keep in
Nipple design is closer to bottle designed nipples
Pacifiers can lose color after multiple items of washing
Nipple part easier gets water in it
When you're a mom there is nothing better in the world than a calm and content baby. This pacifier has been designed with a symmetrical nipple that helps support development of baby's natural oral development. The collection has been newly designed and is approved by babies worldwide. The symmetrical nipple has been designed with a team of the orthodontist to ensure that design is more accepted by babies.
Read more
Design
When creating the nipple its shape was designed to be more like a bottle nipple. This makes it more familiar for babies that are bottle feed and gives them a better feeling.
Brand
Tommee Tippee is a collaborative company in that they always have an open call on their website for innovative thinkers to present them with ideas on how to make the lives of parents everywhere easier. They're a subsidiary of the Mayborn Group, a parent company that uses research to develop "baby-led" toys and products.
Materials
It has been constructed from BPA free materials. It is available in two different sizes to take parents from the newborn stage into toddler age. This pacifier will turn tears into smooth smiles.
Effectiveness
Closer to nature is a better way of staying calm and content babies. This pacifier is designed to help parents everywhere soothe their babies. The design has been created to resemble more of the bottle type of nipple.
Featured orthodontic designed nipple
Promotes healthily mouth and teeth development
Includes carrying and sterilization case
Narrow base design allows for closed mouth sucking
The shield is curved for great air ventilation
Large loop on shield makes it easy for babies to knock out
The material is sticky like, gets fuzz and hair stuck to is easily
The Chicco PhysioForma is a soft silicone pacifier that feels natural and comfortable for babies. They're designed to help actively support your child's breathing and the shape promotes healthy placement in the mouth so babies aren't straining themselves in any way. They are a Parent-Tested, Parent-Approved winner. Nine out of ten babies immediately accept this clever pacifier, thanks to the lateral curve and satin texture. They come in three colors and three sizes.
Read more
Design
Plus the design of the shield allows for better ventilation and helps reduce skin irritation around the mouth also lessening the gather of saliva. The design of this pacifier keeps babies happy and calm.
Brand
Chicco is an Italian manufacturer that delivers worldwide baby products such as toys, clothes, and necessary developmental accessories. They were established in 1958 and currently do business in over 120 countries.
Materials
The nipple has been designed with grooves, ridges, and an angled shape that gives babies a natural position to suck while removing the pressure from their palate.
Effectiveness
They do not think about the time period that they may be using them. These pacifiers make sure you don't have to go to a new design. It is wonderful to know that you can find a brand to trust that will get you through the tough years with a baby
6

. BIBS BPA-Free Natural Rubber Binky
Two pack of Bibs binkies
Holes in mouthguard allow breathability
Soft plastic nipple
Free of chemicals
Thirty seven total colors to choose from
The nipple is a little large, and not well-suited for babies being introduced late
Water can get inside the nipple during cleaning
Pacifiers a great help in teaching your child to self-soothe. This Bibs Pacifier is BPA-free, and made from soft plastic. Air holes in the mouth guard allow a constant airflow and reduce skin irritation during use. It contains no PVC or pthalates and can be purchased in three sizes: 0-6 months, 6-18 months, and 18-36 months. It's available in thirty-seven different color options, most of them inspired by vintage palettes and complimentary to natural wooden aesthetics, inspiring tranquility, and calm.
Read more
Designed
Moms of fussy babies have frequently reported that their children can latch onto Bibs' brand and keep it happily in their mouth throughout the day. Cute, comfortable, and effective, Bibs has designed a pacifier that both baby and mom are bound to love.
Brand
Bibs was established over forty years ago and continues to be one of the leading brands in baby gear. This set comes with two pacifiers for your baby
Materials
The soothers are chemical free and feature carefully ventilated mouth guards to ensure baby can breathe comfortably and there's no skin irritation after extended use.
Effectiveness
This pacifier is soft and easy to latch onto, allowing young children to self-soothe by satisfying their natural instinct to suck.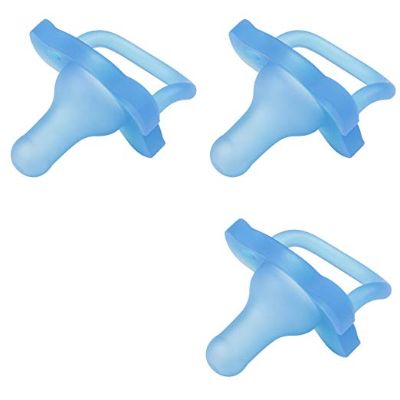 Dishwasher safe
BPA free
Medical grade silicone
The butterfly-shaped base for comfort and ventilation
Same shape as Dr. Brown's bottle heads
Materials used have a tendency to collect lint and hair; need regular washing
Dr. Brown's HappiPaci is one of the most reviewed pacifiers out there. The one-piece construction makes it easy to clean and safer for rough-handed babies. It's 100% silicone, both lightweight and durable, and also BPA-free. Throw it in the top rack of the dishwasher for easy cleaning. Kids will love the familiar nipple shape and soft colors and parents will love how low maintenance this pacifier really is!
Read more
Design
Is your baby a Dr. Brown baby? If you're using Dr. Brown bottles or bottles with a similarly designed top, this pacifier might be a huge help.
Brand
The nipple is fashioned just like the nipples on Dr. Brown's bottles, keeping baby calm and content even when there isn't any milk flow happening.
Materials
The 3-pack includes a trio of butterfly-shaped pacifiers, meant to comfortably hold shape away from the baby's face, all made of 100% medical grade silicone
Effectiveness
If your baby is already appeased by Dr. Brown's bottle service, there's a good chance they'll also love these. Consistency can work in your favor.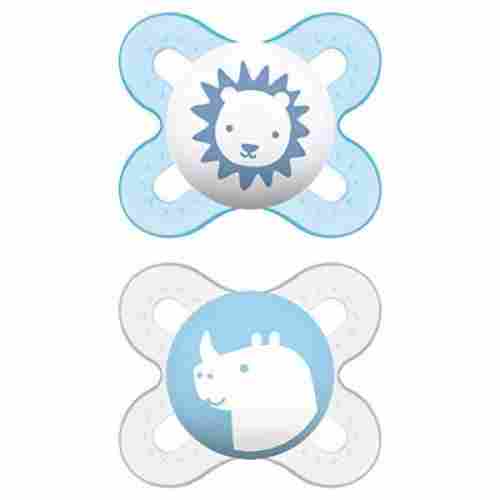 Developed with medical experts
BPA/BPS-free
MAM pacifiers accepted by 94% of babies in market research
Symmetrical design
Air holes built in to prevent skin irritation
Not dishwasher safe must be sterilized in the microwave
Equipped with a microwave-safe carrying case, the MAM pacifier can be sterilized in just three minutes. The pacifiers come with a darling little animal design (one seems to be a raccoon and the other a fox), and boasts a symmetrical design that is best for baby's oral development health, as it can never be inserted the wrong way, nor will it need parents to readjust it.
Read more
Design
A careful concave shape with air holes helps to keep baby's skin from becoming irritated by lack of oxygen, and little bumps on the interior keep the base from lying flush against your infant's skin, where drool can quickly build up and become trapped.
Brand
Since 1976, MAM has been focused on making day-to-day life easier for both kids and parents. They're committed to helping the development of all children while also working sustainably and responsibly.
Materials
A collaboration between MAM, parents, and medical experts has yielded a nipple that feels just like moms to newborns.
Effectiveness
It's designed with your infant's oral health and development in mind, as well as their comfort.
9

. NUK 100% Silicone Orthodontic
Features one-piece design
Nipple design promotes good oral development
Constructed from BPA free silicone
Shield features hearted shaped design for better breathing and faceless irritation
Scooped nipple design
Smooth, straight nipple design is hard for some babies to keep in their mouth
The material becomes sticky after lots of use and sterilizing, does not last long
These are the best for babies that are newborn to 3 months old. Each set comes with four different colored pacifiers making it easy to replace while you search for the one you misplaced. The one-piece construction is the safest for babies and is recommended as the best type by the American Academy of Pediatric
Read more
Design
This allows the tongue to still have movement plus the shield has a heart shape design that fits right under baby's nose which prevents irritation to the face. The nipple design and shield of this pacifier are sure to calm a crying baby time after time.
Brand
NUK and Gerber are working together to create a trusted collection of products for babies. They're committed to mixing science with style in a series of high quality and developmentally beneficial products. NUK was founded in 1956 and is backed by researchers, experts, and parents.
Materials
They are constructed of 100% silicone. The material used in this pacifier is the same that is used in other orthodontic devices.
Effectiveness
The design of this pacifier is one of the best for newborns. They calm while also ensuring they are not blocking their nasal breathing. Each one is constructed with a one-piece design that is easy to clean and is one of the safest on the market. Making sure that you are soothing your baby is important, but ensuring that you are providing them with one of the best products is even more important.
10

. The First Years GumDrop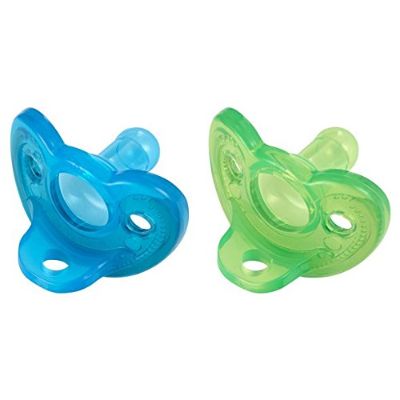 Constructed from latex-free silicone
Features one-piece structure design
Brightly colored and easy to spot
Face shield designed to promote healthy breathing
Created for babies under the age of three months old
Does make a squeaking sound when being sucked on
Constructed from materials that are on the harder side
One of the first pacifiers to be distributed in hospitals worldwide because of the innovative design of the one-piece structure. Plus is constructed from super durable silicone. Each pacifier has its pro and cons. This pacifier hits all the marks on the pros side. It features a one-piece design that also has a place to put the 'attackers' that allow you to connect them to their clothes is a total win for parents.
Read more
Design
The design of the face shield takes into careful consideration the shape of the baby's face making sure not to block their nose. It has been created for babies under the age of three months and is one of the perfect ways to introduce suck soothing to a baby.
Brand
New babies also mean new parents! First Years recognizes that there are challenges in everyday life with a little one. For over seventy years, they've been consulting both parents and research experts to find clever solutions to all those hurdles, both the expected and the unexpected.
Materials
The silicone that is has been created from is also latex-free making it great for little ones with possible allergies. Each pacifier is brightly colored making it easy to spot and offers a cute look
Effectiveness
When hospitals all over the world are giving these pacifiers to parents to help soothe their newborns you know there has to be something good about them.
Criteria Used for Evaluation
Design
The designs of the pacifiers vary from the way the nipple has been designed, what they have been constructed from, and even cute features or accessories. The best designs seem to be the simplest with the most contour to the mouth.

Brand
Babies like to put just about anything in their mouths--but parents know that some due diligence and discrepancy should go into that choice. Pacifiers are a necessary part of developing babies. There are hundreds of products and probably nearly as many brands out there all claiming to have the best of the best ready for your baby. So how do you sort through them? Well, one way to decipher is to consider which brands are the most trustworthy. Companies that have been in business for a long time and turn out generally satisfied customers will likely bring you a better quality product and more peace of mind.
Materials
Most pacifiers are made with 100% medical grade silicone. This ensures that the material your little one is sucking and teething on is safe, soft, and durable. Cheap products may break and pose choking hazards. And you never want your little one drooling all over something with harmful chemicals. That's why we vet our top picks to make sure they're safe and made from high-quality materials.

Effectiveness
Selecting the best pacifiers and soothers for parents can be a tough choice. That is where we come in to help. We have created this list with the best new baby pacifiers and soothers. The question you may ask yourself is: how do they determine what the best is?
We have a panel of research experts that review the market for information on pacifiers. They then work to determine what pacifiers offer the best designs and are most often accepted by newborns.
Most Important Criteria
(According to our experts opinion)
Experts Opinion
Editors Opinion
Users Opinion
By Default

Parents, Did You Know?
Researchers have been able to link a decreased risk in babies that use pacifiers with the risk of sudden infant death syndrome (SIDS). Many experts have been researching this for many years and it appears from their study that babies that suck may not go into a deep sleep. This makes it easier for them to wake up and makes them less vulnerable to SIDS.
Parents, Did You Know?
The link between the two now has the American Academy of Pediatrics suggesting that pacifiers be used for babies under the age of one, but at least one month old or until feeding schedules have been well established.
Other Factors to Consider
Emotional Development
When babies are born they are made to suck. They have the instinct to suck for nutrition, but often it goes beyond that and parents find that many babies will also suck to sooth. When babies are viewed in the womb they can be observed sucking their thumbs or fingers. Research has determined that the instinct is to help soothe and calm them.
Side Effects
Pacifiers are often used once they are born and offer many advantages. Some advantages to consider are:
Soothe a fussy baby: some babies are very happy when they are sucking on a pacifier offer temporary distractions when they are upset: pacifiers come in handy after shots or when they are upset
Help them fall asleep: when babies have a hard time settling down, pacifiers can help
Might help reduce SIDS: researchers say that sucking during bedtime or naptime may help reduce the risk for SIDS
Frequently Asked Questions
q:

How do you sterilize and clean pacifiers?

a:

Before using a pacifier and at regular intermissions, you should boil the pacifier in water for up to five minutes. When doing this avoids leaving the pacifier in the water more than the five minutes. This could cause water to enter the inside of the nipple. If water enters the nipple it can cause the nipple to flatten and cause ventilation issues.
q:

How often should I replace my baby's pacifier?

a:

For hygiene reasons a pacifier should be replaced at least every two months. When they start to teeth you should always replace the pacifier at the first sight of ANY damage or weakness.
q:

What is the difference between pacifier nipples made from silicone or latex?

a:

Latex is a softer more natural rubber. It is created from more eco-friendly materials and it much more flexible than silicone nipples. The major downfall of latex is after lots of use the material can break down and change. Plus when it is stored in a hot area for a period of time it can lose it shape. Silicone nipples are a type of plastic that does not change, but it isn't bite resistant and is even less resilient than latex.
q:

How long should I let my baby use a pacifier for?

a:

It is recommended that pacifiers should not be used after their first birthday, but there is no evidence to suggest that there will be any damage if the use of a pacifier continues to 3 years of age. After 36 months damaging effects can result from the use of a pacifier.
q:

Where can I buy the 10 products listed?

a:

All of these products are available on Amazon. If you simply click on either the picture or the link below, you'll be taken to the product's page. This page includes the ability to switch sizes and colors (if that's available), as well as all of the customer reviews and ratings at the bottom, in case you're interested in doing further research. Some of these pacifiers may additionally be available in stores or through other websites, but given Amazon's protective customer practices, prompt delivery, and the ability to schedule re-orders, we think Amazon is your most convenient option.
q:

Is it okay that my 3-month-old baby will only sleep when there is a pacifier in their mouth?

a:

Yes, it is okay that they will only sleep with the pacifier in. Lots of babies at this age have the need to suck and it helps soothe them as they sleep. They only disadvantage is many babies cannot place the pacifier back in their mouth so if it falls out it causes you to have to come to the rescue each time.