Breastfeeding is one of the best methods of getting the proper nutrients directly to your child. The American College of Obstetricians and Gynecologists and the American Academy of Pediatrics both highly recommend breastfeeding for that fact. The topic of whether to breastfeed or not is highly debatable and will make a huge impact on both you and your baby's lives.
So, now that you have made the decision to breastfeed your baby, you will need a nursing pillow for maximum comfort. A nursing or breastfeeding pillow is an amazing product to have by your side as you feed your baby so that your breastfeeding experience can go a bit smoother, as breastfeeding is often a little tricky. A breastfeeding or boppy pillow will ensure that your newborn's head and neck are properly propped and controlled as they latch.
Furthermore, breastfeeding pillows will allow you to take the weight of your baby of off your arms as you feed them. Although babies are tiny, they can become quite heavy while being held for a long period of time. For the fact that breastfeeding pillows allow for comfort, you will be able to relax as you have a unique bonding experience with your baby.
Our Top 3 Picks
Travel Friendly Nursing Pillow

Our rating
Includes Carry Bag
Price:

See Here
Boppy Nursing Pillow & Positioner

Our rating
80% Polyester, 20% Cotton
Price:

See Here
Meiz Pregnancy Maternity Pillow

Our rating
+Zipper Removable Cover
Price:

See Here
The Best Nursing Pillows for Breastfeeding Mothers in 2018
Leachco Cuddle-U Basic Nursing Pillow
Boppy Nursing Pillow and Positioner
Meiz U Shaped Body Pregnancy Maternity Pillow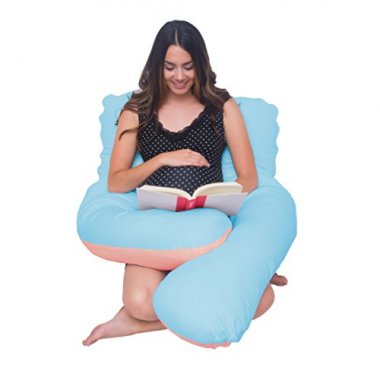 My Brest Friend Original Nursing Pillow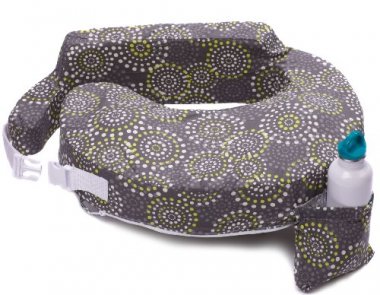 Dr. Brown's Gia Nursing Pillow
Luna Lullaby Bosom Baby Nursing Pillow
All American Collection Bamboo Nursing Pillow
NurSit Basic Nursing Pillow
Organic Cotton Baby Protective Pillow
Criteria Used in Evaluation of the Best Nursing Pillows & Baby Boppies
Ease of Use
Our recommendations above are considerably easy to use during everyday life. Each of our baby boppy pillows can fit moms and babies of all sizes which is important for the fact that we are all unique. On account of the fact that each of these nursing pillows is adaptable to people of all sizes, they are almost effortless to use on a daily basis. Furthermore, each of these pillows has great portability.
Compact and lightweight pillows are best for moms who may travel a lot as they can easily be carried around. Whether you are out and about or in your home, you will be able to use our recommended pillows with ease. For your convenience, it is always best to have a baby pillow that is not too bulky.
Comfort
Without comfort, a pillow is practically useless. Not only are our suggestions above composed of soft materials but they allow for numerous nursing positions so that you can choose what is best for you and your baby. These are very comforting seeing that they each provide amazing arm and back support. Many of our recommended pillows also provide shoulder and neck support to further relax you as our nurse your little one.
The padding in each pillow is sure to have an impact on your comfort levels somehow. Firm ones are fantastic for holding your baby in place, although many firm pillows seem to be a bit cumbersome or bulky.
Family Feeding
Our baby pillows for breastfeeding are adjustable and will suit anyone well. Maybe your partner or an older sibling would like to feed your baby with a bottle that contains your breast milk. These pillows are great for both breastfeeding and bottle feeding. Even bottle feeding allows for a lot of skin to skin contact which is great for the baby.
With the support of a quality nursing pillow, your partner or your baby's older sibling will be able to bond with the baby. Bonding with the baby is very important for all family members for the fact that a new baby is a huge adjustment for everyone. Additionally, because many of our pillows are adjustable, finding the perfect incline and position for bottle feeding is sure to be a breeze.
Cleaning
Breastfeeding, just like any other type of feeding can get messy. Between spit up, spilled milk and nipple creams, it is essential to have a pillow that is easy to clean. You and your baby will more than likely be spending a lot of time with this pillow especially during the newborn stage. Several of our baby pillows for breastfeeding above have removable slipcovers to aid you in the cleaning process. Removable covers are amazing for the fact that they protect the pillow and can be swapped out at any time with another one while it is being washed.
Even better, a few of our breastfeeding pillows are machine washable and dryable so that you can easily clean up messes right away. The only baby pillow on our list that requires spot cleaning is the Adjustable Boost Pillow by Leachco, however, the fabric is soft yet strong so that wiping up messes will be a breeze.
Pregnancy Use
Purchasing a comfortable baby pillow for breastfeeding during your last trimester of pregnancy is a good idea. Our pillows can greatly aid in helping you to have a restful night of sleep as sleeping can be very difficult with a growing baby bump. A nursing pillow can support your belly as you lay on your left or right side to get comfortable.
Moreover, with the help and recommendation of a doctor, a baby pillow for breastfeeding can be used to ensure your baby is in the correct position. Many of our pillows allow for amazing fetal positioning so that your baby will be in the correct position for birth.
Prevents Pain
You will find out that using a baby pillow for breastfeeding is very time-consuming. Especially in the first weeks, as your baby will constantly eat. If you don't have the proper support, you will be in a lot of pain. Our nursing pillows above provide arm, neck, neck and shoulder support.
Pain can easily lead to sleep deprivation, and if you have a newborn, you certainly want to avoid it. Furthermore, these pillows may also prevent any potential breast pain as they position your little one in the correct latch on position. This is spectacular as a great latch and proper positioning can help to increase your milk supply.
FAQ
Frequently Asked Questions
Q: Do I need a breastfeeding pillow in order to breastfeed?
A: No, you don't need a breastfeeding pillow in order to breastfeed your child. However, having a breastfeeding pillow will be very helpful and could possibly make your overall breastfeeding experience relaxing, as breastfeeding can be tricky and even a bit difficult. A breastfeeding pillow is very essential to have a great breastfeeding experience, however, you will still be able to breastfeed your baby without one.
Q: When do I exactly need a breastfeeding pillow?
A: It is best to have a breastfeeding pillow during the very early stages of your baby's life. It is undoubtedly helpful to have a breastfeeding pillow during the first four months of your baby's life on account of the fact that babies cannot control their head or neck movements that early, and a breastfeeding pillow will help them to prop their head and neck in order to properly latch. More than likely, you will need it everytime that you nurse your small baby.
Q: Can I use a breastfeeding pillow for anything else other than nursing my baby?
A: Yes, you can use a breastfeeding pillow of other things than nursing your little one. Breastfeeding pillows are great baby products to use during tummy time. Being wonderful to help with the transition from sitting supported to sitting without assistance, they are also great for safely cradling little ones who cannot sit up on their own yet. Additionally, you can also use the breastfeeding pillows listed above to feed bottle-fed babies.
Q: What fabrics are used to make the My Brest Friend Friend nursing pillows?
A: The My Brest Friend nursing pillows are made of soft recyclable foam. The breastfeeding pillows are wrapped in a machine washable cover so that you can easily clean up any milk spills. The awesome covers are made from 100 percent cotton for the original nursing pillow. The deluxe nursing pillow is made from 100 percent polyester.
Q: What are the main benefits for my baby if I use a breastfeeding pillow?
A: Your baby will feel relaxed during nursing sessions as all of our fantastic recommendations are composed of comfortable fabric. Our breastfeeding pillows ensure maximum safety as your baby will be positioned securely and snugly against you. Additionally, nursing pillows may reduce acid reflux amongst babies for the fact that many of them allow you to nurse at an incline or even an upright position.
Q: As a breastfeeding mother, how I can I benefit from a breastfeeding pillow?
A: For the fact that you can comfortably use our breastfeeding pillows whether you are in a sitting position or lying down, you will be able to enjoy your quality with your baby. Breastfeeding pillows can also help you to avoid a decrease in your milk supply as well as sore nipples with proper positioning. As a breastfeeding mother, you will discover many benefits as you and your kid continue to use your pillow together.
Q: Can I take the My Brest Friend Inflatable Pillow on an airplane?
A: Due to the small size and easy portability of the inflatable baby pillow for breastfeeding by My Brest Friend, you can easily pack it into your carry on luggage. This pillow is great for traveling with as it is is not heavy or bulky. However, it is always best to check with the particular airline that you will be flying on to see if your pillow is acceptable.