Explore! Rescue! Protect!, if you hear your little one chanting this mantra on a daily basis, chances are you have an Octonaut fan in your house. The hit TV show Octonauts was first released in 2010 and has since captured the hearts of children all over the world. The show revolves around a team of eight heroes who explore new worlds and carry out missions underwater. Each episode is highly educational and action-packed. If you're looking for a toy to fuel your child's love of the Octonauts, look no further. Our list of the best Octonaut toys and figures is composed of toys that developmentally appropriate and entertaining toys that will appeal to every superfan.
Our Top 3 Picks
Fisher-Price Octonauts

Our rating
8 Figure Pack
Price:

See Here
Fisher-Price Octonauts & Shellington

Our rating
Vehicle Works in Water
Price:

See Here
Fisher-Price Octonauts & Kwazii

Our rating
+Color-change Shark
Price:

See Here
Our Picks Of The Best Octonaut Toys for Kids
Fisher-Price Octo-Crew 8 Pack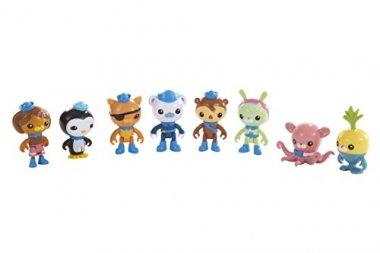 Fisher-Price Gup C & Shellington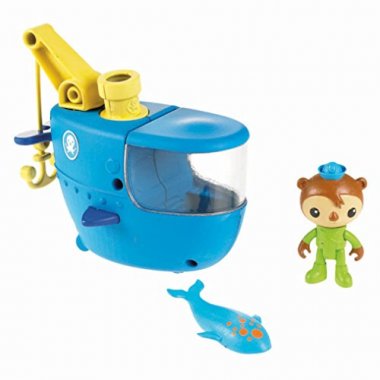 Fisher-Price Gup-E Vehicle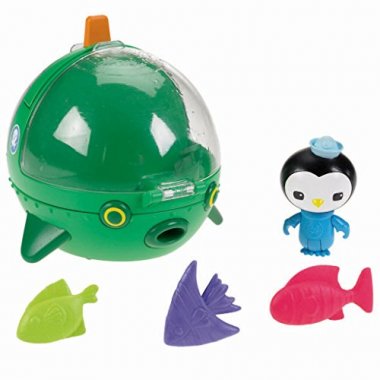 Fisher-Price 5-Pack The Vegimals
Fisher-Price Launch and Rescue Gup X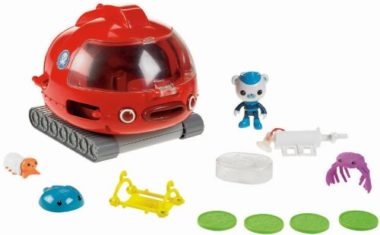 Fisher-Price Gup-S Polar Exploration
Fisher-Price Claw and Drill Gup-D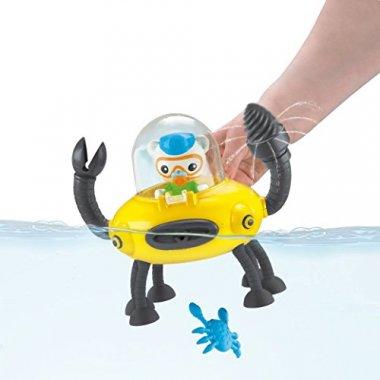 Fisher-Price Octopod Playset
Fisher-Price Launch and Explore Lab
Criteria Used in Evaluation of the Best Octonaut Toys & Figures for Kids
The Octonauts are a popular children's television show found on the BBC network. The series is based on an American-Canadian children's book by the same name. The show is about a brave underwater crew of eight animals who go on undersea adventures. Their base is the Octopod and that is where they store their aquatic vehicles (the Gups). The animals they encounter and locations are based on real-life marine habitats.
The toys on our list are all a part of the official Octopod collection. Other companies have attempted to recreate Octonaut toys, but we found the official products to be better in almost every respect. They are well-made and versatile. Many of them can be submerged underwater and wheeled around the house. Some of our sets such as Octopod Playlet, even make sounds and phrases that come from the TV show.
Toy sets including the Gup-E and D can be submerged underwater with no damage to the toy. They are safe for kids to use and engage kids to get creative during playtime. Kids have wonderfully wild imaginations, and the Octonauts focuses their creativity to pretend to save and protect their fellow Octonauts and marine life.
The Octonauts base of operations is a wonderful toy that includes two main characters and several tools to perform rescue operations. Kids can learn a little about marine life because the series was created with the help of marine biologists, Dr. Lara A. Ferry-Graham and Dr. Michael Graham. They also worked on the Finding Nemo, movie project.
FAQ
Frequently Asked Questions
Q: Should kids watch The Octonauts?
A: The Octonauts show is appropriate for kids 4 years old and above. Parents rate this show as a positive role-model series, with no violence or scary moments. It has positive messages and provides great educational scenarios. The series is perfect for children who are about to start pre-school because it encourages their curiosity about the world around them. Kids are introduced to many sea species and the show shares interesting facts about sea life.
Q: Why are Octonauts so popular?
A: The Octonauts light up kid's imagination and inspire their play-time activities. Children often laugh and interact with the characters. They enjoy learning fun facts about life in marine environments. The artwork was created by the award-winning design team, Meomi.
Q: Is Octonauts educational?
A: The Octonauts is a popular, fun and educational series. The show focuses on being fun and entertaining while teaching kids about sea life and protecting the environment.
Q: Are the Octonauts toys collectible items?
A: All toys are essentially collector's items. The longer a toy stays fresh and clean, the higher in value it will become. But at least more than a century needs to pass until the toy becomes valuable. At the moment, the Octonauts are a popular series on TV and their toys are highly sought after by parents whose kids are in love with the show. Parents love the quality of the toys and what they represent. The value of these items is starting to increase because the show is still popular and it is difficult to find these toys. Not all Octonauts merchandise is available in the U.S. There are a few items that are available online for purchase. Some of these items are on our current list of Best Octonaut Toys in 2019.
Q: Are the Octonauts toys good toys for kids?
A: Yes, the Octonauts toys are great for kids to play with. They emulate a popular kid's show, The Octonauts. The team spends their days rescuing sea creatures while learning about them and their habitats. The toys feature several functions and encourage kids to work on their sharing skills and communication skills.
Q: What are the benefits of kids playing with Octonaut sets?
A: The Octonauts teach the importance of working with teams and how to be a productive member of a community. Kids learn this because they watch how the characters on the show interact with each other and then copy what they see into their gameplay. Parents love how their kids' play pretend heroes and work with each other to accomplish the missions they created themselves.