Every moment in our babies' lives are precious and magical, but there's something extra special about that period between 4 to 6 months. This is the time when babies lose their "extrusion reflex," which is the reflex to push food out of the mouth. That pushing motion is done with the tongue, and the ability of the tongue to push food to the back of the mouth is the tell-tale sign that your baby is ready for solids. As a general rule, the American Academy of Pediatrics (AAP) recommends introducing iron-rich foods first, since a baby's natural iron stores begin to diminish at around 6 months. Rich iron sources include meats like turkey and chicken, and fruits and veggies such as bananas, peaches, pears, squash, apples, and sweet potatoes. Organic baby foods do a good job of providing these nutrients.
Along with the kinds of foods, it's essential to know how the food was grown and cultivated. Organic foods are best since they are not exposed to pesticides and other contaminants commonly found in non-organic foods. Exposure to such chemicals and contaminants are especially harmful to babies and children, resulting in neurodevelopmental damage and other health problems. In addition, the best organic baby foods are free from preservatives, artificial flavors, and colors. As you can see, choosing organic is the only way to be sure that you are feeding your baby clean, safe foods that lay the foundation for long-term physical and mental health. There are, however, a myriad of organic baby food choices out there, and it's hard to know which ones are appropriate at which stage in your baby's life. Don't stress, because we've gone ahead and compiled a list of 10 organic baby foods that both you and baby will love!
Our Top 3 Picks
Plum Organics Organic Baby Food

Our rating
No Artificial Flavors
Price:

See Here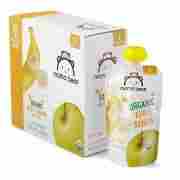 Mama Bear Organic Baby Food

Our rating
Gluten Free
Price:

See Here

Beech-Nut Just Pumpkin Baby Food

Our rating
Organic
Price:

See Here

The Best Organic Baby Foods Reviewed in 2018
Fruit and Veggie Variety Pack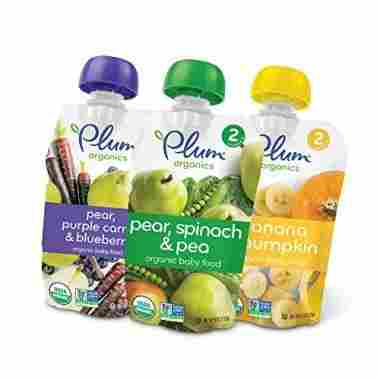 Mama Bear Pouch – Apple Banana
Beech-Nut Just Pumpkin Stage 1 Baby Food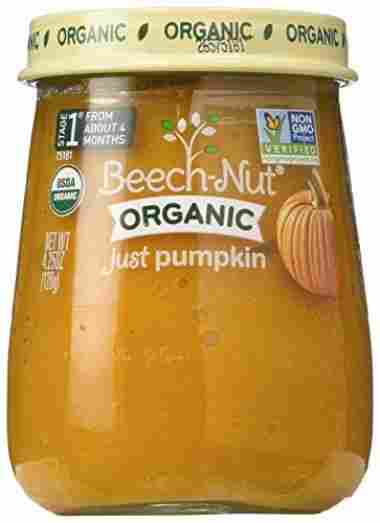 Happy Tot Stage 4 Super Foods Variety Pack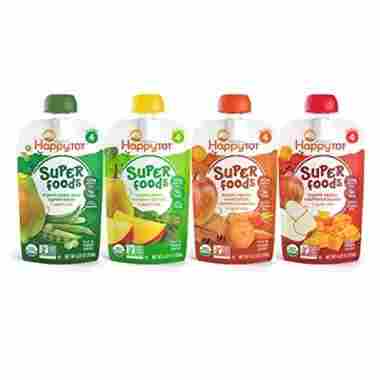 Happy Baby Superfood Puffs
Gerber Fruit & Veggie Variety Pack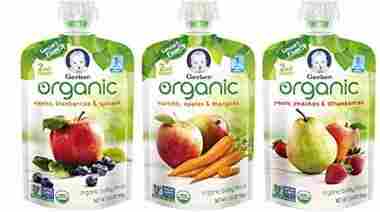 Gerber Baby Food Apples, Prunes and Oranges with Yogurt
Happy Baby Bananas, Beets & Blueberries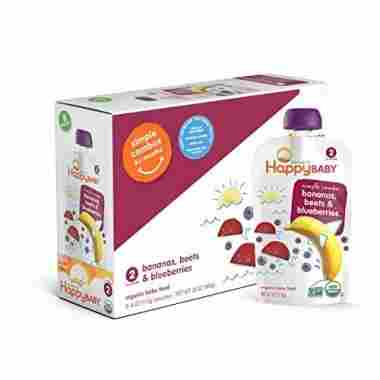 Criteria Used in Evaluation of the Best Organic Baby Food
USDA Organic Certification
This is the first and foremost criteria for any product that claims to be "organic." In the United States, organic food growers are governed by the regulations of the United States Department of Agriculture's National Organic Program (NOP). This program lays down official rules for how organic baby products must be cultivated and processed, including non-food items such as organic cotton and organic health and beauty items.
Their biggest concern is for crops and livestock, which must be free from a comprehensive list of pesticides and herbicides as stated in the USDA's database. While the USDA still allows a few synthetic pesticides and herbicides, the organics standards board is working towards a complete ban on all synthetic substances. In the meanwhile, food growers and producers must be approved by a USDA-accredited certifying agent who verifies that their products meet the NOP's stringent guidelines. That's why we recommend looking for this certification when you're selecting organic baby foods.
Overall Nutritional Value
While we all enjoy the taste and texture of solid foods, their main purpose is to fuel us with nutrients. This is particularly important in combination foods, which should provide growing babies with a wide selection of vitamins, minerals, and dietary fiber. But even simple Stage 1 foods should provide essential nutrients such as potassium, iron, protein, and calcium. Fruits and vegetables are the best sources for these nutrients, so our picks focused heavily on those food groups.
However, you can be sure that we didn't lose sight of how foods should look, smell and taste. First, high-quality organic baby foods should consist of real, whole foods that are gently processed with no artificial flavors or colors. That's the only way to preserve the entire spectrum of nutrients, as well as the full flavor of each ingredient. Second, baby foods should real food for babies, rather than bland, discolored mush that you wouldn't dream of putting in your own mouth. Finally, combination meals should be made from ingredients with compatible tastes. Otherwise, your baby's not likely to eat them, and there's no point to food if it doesn't get eaten.
BPA-Free Packaging
Pouches are pretty much the go-to method for baby foods, and we understand why. They travel well, and most of them give you the option of squeezing food into a bowl or onto a spoon. Most of them are easy to squeeze with small spouts, so most older babies are able to drink right from the pouch. For this list, we only chose companies that use BPA-free pouches, with some going so far as to make even the caps BPA-free. However, our primary concern is that the pouches are BPA-free since it's unlikely that the foods will come in contact with the caps. Even if the food does get on the caps, parents typically wipe that away before feeding or giving the pouch to their babies.
By the way, BPA-free pouches should be the norm, not the exception of organic baby foods. Companies began coating food containers and even plastic wrap with BPA in order to keep foods fresh for longer periods of time. However, organic foods are so fresh and pure that they are not expected to keep for more than two days, even in the fridge. They are expected to be eaten quickly in order to get the most flavor and nutrients from the food. Hence, the usage of BPA goes against the whole principle of organic products, which is why we do not support its use for organic baby foods.
FAQs
Frequently Asked Questions
Q: Shouldn't infant cereal be a baby's first solid food?
A: Past generations relied heavily on rice, of infant cereals, as a transition solid for babies. It makes sense since it's very soft, and can easily be mixed with water, breastmilk or baby formula. However, pediatricians in recent years have come to the conclusion that it's best to start a baby on whole fruits, vegetables, and meats. As long as they're finely pureed, without additives or preservatives, these foods offer far more nutritional value than infant cereals.
Proponents of rice cereal point out that many brands are fortified with iron, which babies initially receive from breast milk. As babies move onto solids, they need to get iron from food sources, so infant cereal does seem like a good choice. But there's no advantage in choosing infant cereal over anything else, according to the American Academy of Pediatrics (AAP). In fact, organic, unadulterated fruits and veggies provide the widest range of vitamins and minerals for healthy growth and development. They're also far tastier, and foster a preference for fruits and veggies that will stay with babies for the rest of their lives.
Q: Do I have to stick to specific foods at each stage?
A: Some parents are religious about which foods belong in each stage, and there's no real harm in sticking with those rules. Still, each baby is different in needs, preferences, and development. Some babies are ready for the complexities of Stage 3 foods at 6 months old, while others may need to stick with Stage 1 foods for most of the first year. While there are signs to help you decide your baby's readiness for certain foods, you should always consult your pediatrician in order to make an informed choice. Input from your child's doctor is particularly important for babies with pre-existing health conditions such as food allergies.
Q: Are glass jars safer than pouches and canisters?
A: There was a time when sterilized glass jars were safer than plastics, which were typically coated with harmful chemicals, notably bisphenol A, or BPA. However, all the plastic food pouches on our list are BPA-free. Some parents still get nervous when the caps are not BPA-free, but baby food pouches usually have small, sealed spouts. That makes it highly unlikely for any of the food to come in contact with the cap.
It should be stressed that BPA is particularly problematic when containers are heated. That's why baby foods should be gently heated in warm water while it's still in the BPA-free pouch. There are gentle, safe ways to microwave, but it should always be done in BPA-free containers. However, we've found that it's very difficult to heat baby food evenly in a microwave, which is why we recommend the warm water method over anything else.
Q: What's the best way to introduce solid foods to my baby?
A: There's frankly no one answer to this question, but many parents start with placing tiny, soft pieces of food on the high chair tray. Most babies will reach out and grasp the food with a little prompting. Other parents prefer spoon feeding by starting with just a couple of spoonfuls for the first few feedings, ideally after nursing or bottle-feeding. The food should be finely pureed to a watery consistency, which is exactly what you'll get with the Stage 1 foods on our list. We recommend using a soft-tipped plastic spoon to avoid injuring your baby's gums.
The foods on our list work perfectly for this method, especially the food pouches that allow you to squeeze directly onto the spoon. If you're using baby food in glass jars, put a small amount onto a dish or in a bowl. Dipping the spoon back into the jar after it's been in your baby's mouth results in bacteria transference, which will stay in the jar for however long you keep the food. Regardless of the packaging, you should use up opened baby foods within two days, since organic foods go bad much quicker than non-organic foods.
Q: Does it matter which food group I introduce first?
A: The general answer is no, although it's easiest to start with fruits since they're naturally sweet. They're also the easiest to puree down to a fine, liquid consistency. There seems to be a prevailing belief that a single veggie or grain should be introduced first in order to prevent the baby from developing a "sweet tooth." There has been no conclusive evidence to prove this, so we believe it's best to leave the decision up to each individual parent.
We recommend introducing a new food every few days so that your baby has time to get used to a specific food. Slow, gradual introductions also help you determine if your baby has any food allergies or digestive issues. Once your child is doing well on a variety of single foods, you can transition into simple combinations, like Happy Baby Organic Simple Combos.
Q: What foods should I absolutely avoid?
A: Parents get so excited about the things they can feed their babies, but it's just as important to know which foods to avoid. Your pediatrician is the best source of information for your specific baby's needs, but there are some basic foods that should not be given to babies during the first year. On top of our list is honey, especially the raw, organic variety. We recommend avoiding it in all forms, however, since it has been linked to botulism. You should avoid sweeteners for the first year, anyway, even natural ones like honey.
Some other foods that your baby should not have during the first year are shellfish, egg whites, wheat, and citrus fruits. Other foods like milk and peanut products are much more controversial. Peanut butter, for example, was long-believed to be the cause of peanut allergies when introduced during the baby years. However, recent research shows that early introduction of peanut butter may actually lower a child's risk for a peanut allergy. On the other hand, you may still want to avoid foods that you or other close family members are allergic to since food allergies tend to run in families. Your pediatrician can take all these factors into account, and give you a much more customized, comprehensive answer.