Pajamas are an important part of growing up. Who didn't like those warm Saturday mornings waking up all nice and cozy and watching cartoons while eating a huge bowl of cereal?! We know we miss those days!
A kid always has their favorite pajamas. On our list of the best pajamas and nightwear for kids and toddlers, there is bound to be a great selection and choice for any child of any style!
Check out our list and tell us what you think!
Best Pajamas and Nightwear for Kids & Toddlers in 2018
The Children's Place Short Sleeve Top and Pants Pajama Set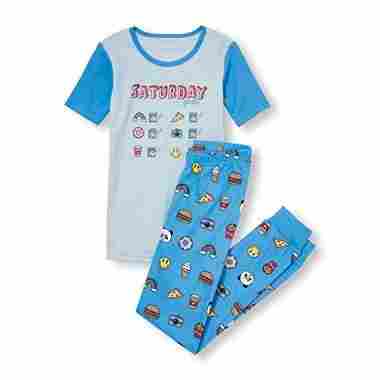 Leveret Boys Striped 2 Piece Pajama Set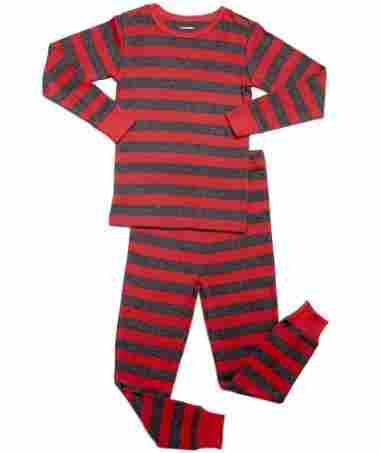 shelry Boys Alligator Pajamas Cartoon Sleepwear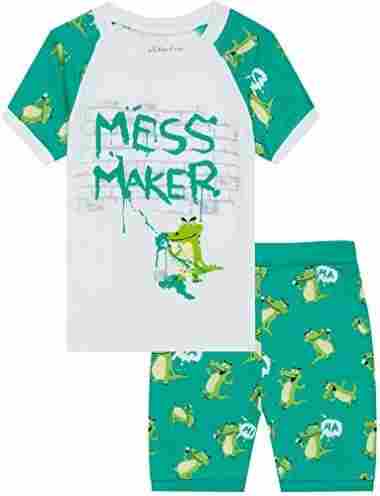 shelry Children Dolphin Pajamas Girls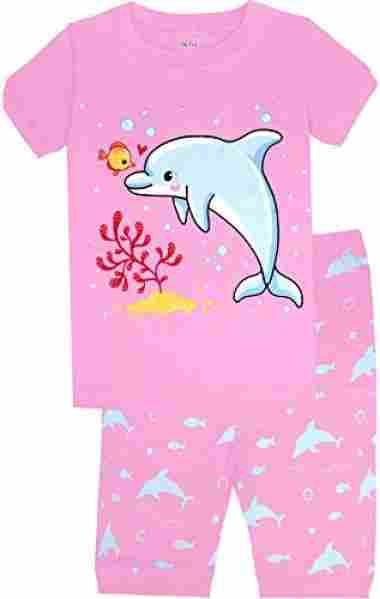 shelry Pajamas Halloween and Christmas Dinosaur Clothes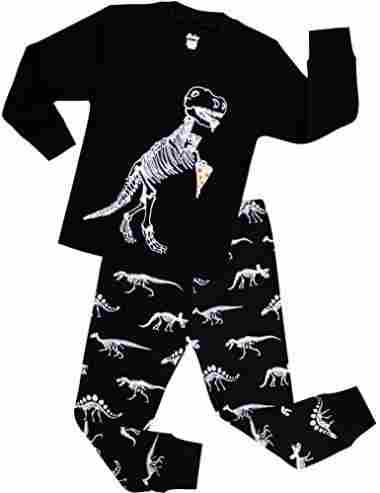 Hugbug Boys Dinosaurs Pajamas Set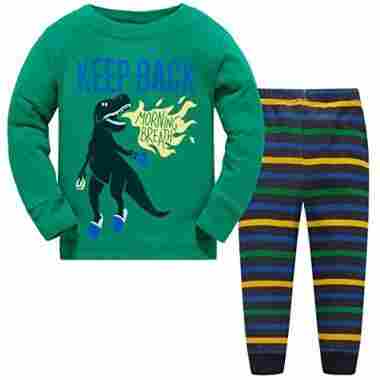 Simple Joys by Carter's 3-Pack Snug Fit Footless Cotton Pajamas
Vaenait baby 12M-7T Sleepwear Pajama 2pc Set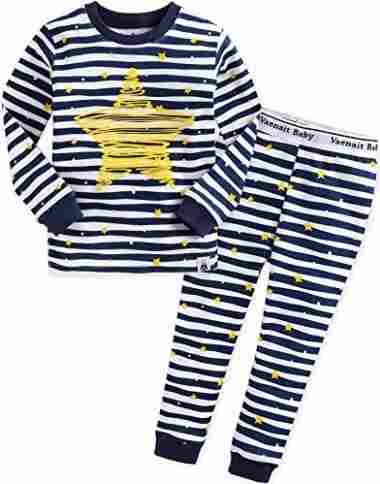 The Children's Place Little Boys Set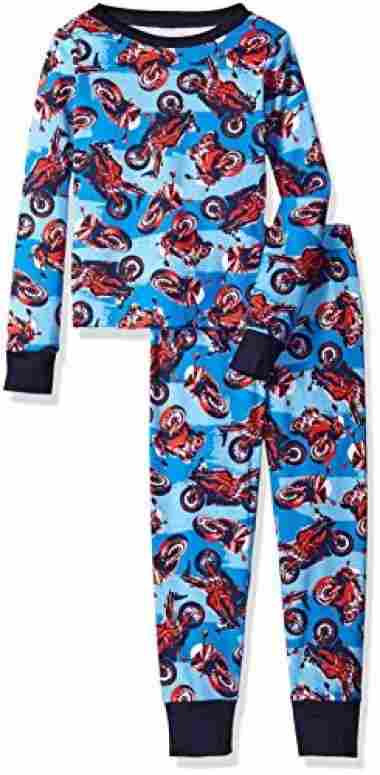 The Children's Place Long Sleeve One-Piece Pajamas
PHOEBE CAT Fire Truck Pajamas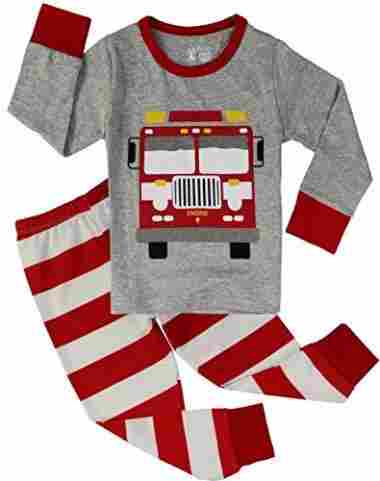 Gerber Little Girls' Toddler 2 Piece Cotton Pajama
Fruit of the Loom Big Boys' Soft Waffle Thermal Underwear Set
Babypajama Deer Pajamas Set 100% Cotton
Lazy One LazyOne Kid's Flapjack Onesies
Criteria Used in Evaluation of the Best Pajamas and Nightwear for Kids and Toddlers
Pajamas are an important part of your child's wardrobe since they spend at least one-third of the 24-hour day in them. There are lots of things to consider when picking out the perfect pair to keep your kiddo warm, covered and happy. You will want to take note of the fabrics, aesthetics, and fit.
When shopping in the stores, you can look for different colored tags. There are baby blue hang tags which means that the fabrics contain flame retardants and chemicals in the fabric. Bright yellow hang tags mean the fabric is 100% cotton, designed to keep to snug fit measurements put in to place by the Consumer Products Safety Commission.
You also want to pay attention to the care labels, which is usually the information you receive when shopping online as well. The material used for pajamas is important. Natural fibers are the best, preferably organic. The natural fibers allow the skin to breathe and help regulate body temperature. Natural, organic cotton is super soft on the skin. Wool is warm and is even a natural flame retardant.
Man-made fibers are probably not as good. You might want to avoid things like acrylic, rayon, modacrylic or polyester blends. They are man-made from things like petroleum and not as breathable. One benefit though is that they can include flame retardant if that is something that is important to you.
For aesthetics, you will be shopping for designs that fit your child's taste in color and decoration. Decide if you would prefer a two-piece outfit or one of the one-piece designs. If you choose a one-piece outfit it is nice to have a zipper that works easily and a snap flap at the top to keep the zipper in place and out of your child's way. If you prefer a two-piece outfit, you will want one with a top they can pull off or put on easily so they can feel good about dressing themselves. You also want bottoms with an elastic waistband that will stay in place, but not so tight that it is uncomfortable.
Some pajamas come with feet while most of the designs do not. Each has their own advantage. The feet pajamas will always make sure your child's feet stay warm at night. They also have rubber no-stick design so during the day they are safer and will keep their feet cleaner.
There are also lots of design themes to choose from. Are you looking for a boy or a girl? Are these pajamas special for Christmas or another day of the year? Does your child have a favorite color, a favorite animal or anything else they really like? These are all good questions to help you pick your child's favorite.
The fit is, of course, meaning that you have the right size. Pajamas should also fit snug to increase safety in case of fire and also to prevent suffocation. They are meant to be stretchy for comfort. Using all this information, it will be easy to find the perfect set of jammies to keep your little one comfy for a peaceful night's sleep.
FAQ
Frequently Asked Questions
Q: What does 190 GSM fabric mean?
A: The GSM actually refers to the weight of the fabric. The higher the number, the thicker the material will be.
Q: What is GOTS-certified for purity?
A: GOTS stands for the Global Organic Textile Standard and it is the leading textile processing standard for organic materials include ecological and social criteria.
Q: What is a picot edge trim details?
A: Edging for functional and ornamental purposes.
Q: Will the shelry outfit shrink once it is washed?
A: No, it does not shrink.
Q: In the Burt's Bees pajamas is the midnight rugby stripe white with black or with navy blue?
A: These stripes are white and dark blue.
Q: Are the Phoebe Cat pajamas treated with fire retardant?
A: No, they are not.