Ever since it started airing on Nickelodeon in August 2013, the PAW Patrol has been continuing to generate many adoring fans especially among pre-schoolers and even school age children who find the lovable characters to be very friendly representations of real-life heroes and professions that have helped make this world a much better, much safer place for everyone. Already on its fourth season, the PAW Patrol continues to capture the imagination of kids and the fascination of adults in the messages that they convey. It's no longer a secret why their toy line is also doing exceptionally well. Kids can now watch their favorite characters on TV and actually relive their adventures through actual play. With these 10 best PAW Patrol trucks in 2018, we can surely help expand the imaginative abilities of your kids.
Our Top 3 Picks
Rocky's Recycling Truck

Our rating
Teaches Recycling
Price:

See Here
Rubble's Digg'n Bulldozer

Our rating
Imaginative Play
Price:

See Here
Marshall's Fire Fightin' Truck

Our rating
Problem-Solving Skills
Price:

See Here
10 Best PAW Patrol Trucks in 2018
Paw Patrol – Rocky's Recycling Truck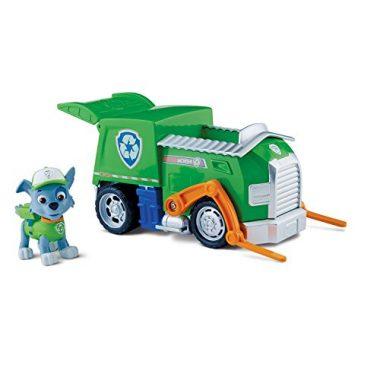 Age Range: 3 to 5 years old
Paw Patrol Marshall's Fire Fightin' Truck/Rescue Marshall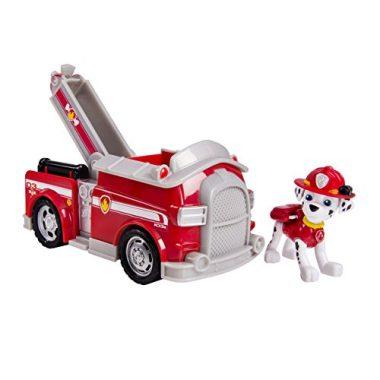 Age Range: 3 to 5 years old
Paw Patrol – Rubble's Digg'n Bulldozer
Age Range: 3 to 8 years old
Paw Patrol – Paw Terrain Vehicle
Age Range: 3 to 5 years old
Paw Patrol Chase's Spy Cruiser, Vehicle and Figure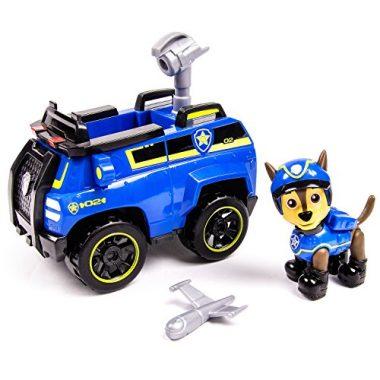 Age Range: 3 to 5 years old
Paw Patrol – Paw Patroller
Age Range: 3 to 5 years old
Paw Patrol Rescue Racers 3pk Vehicle Set
Age Range: 3 to 5 years old
Marshall Fire Truck Playhouse
Age Range: 3 to 8 years old
Paw Patrol Everest's Rescue Snowmobile, Vehicle and Figure
Age Range: 3 to 5 years old
Marshall's EMT Truck and Figure
Age Range: 3 to 5 years old
Criteria Used in Evaluation of the Best PAW Patrol Trucks
Educational
Parents everywhere have come to appreciate the Paw Patrol franchise for its focus on real-world careers that contribute to the community. By having each pup represent a different job or specialty, preschoolers can gain an even better understanding of the many important ways these roles keep our society safe. Playing with these Paw Patrol trucks will teach your preschooler the benefits of working in teams, and when they watch the characters work together on the TV show they will be more receptive to emulating these traits. Everyone needs a little help from their friends at some point, and with these ten Paw Patrol Trucks your preschooler will enjoy saving the day.
Simple Design
All children have specific developmental requirements when it comes to toys, but preschoolers have very unique guidelines that differ slightly from their older peers. At such a young age, preschoolers can get easily frustrated or overwhelmed by toys that have too many bells and whistles or complicated parts. This is why it's essential to find toys that are almost minimalistic in design, with only one or two extra features. All of the Paw Patrol Trucks on our list meet this requirement, and although the majority of them are designed specifically for ages 3-5, there are also a couple on our list that are suitable for children up to age 8. This gives you a bit more choices when making your decision.
Safety
Children at this age are particularly prone to swallowing and choking on small parts. When it comes to your preschooler's toys, this can turn into a serious issue. But by doing your research beforehand, you can easily avoid every parent's worst nightmare. Here, we have done all of the time-consuming research for you, so that you can choose the perfect Paw Patrol Truck with confidence. All of these trucks and figurines are big enough so that they cannot easily be put into your child's mouth, thereby avoiding any danger. Of course, it is still a good idea to always supervise your preschooler at all times while playing.
Fun Extra Features
Although preschoolers need simple toys with minimal frills, that doesn't mean they need to be boring. The key is to find toys that have uncomplicated features, like a single button that emits noise, or an attachment that moves from side-to-side, or up and down. These basic accents can bring a fun interactive element to their playtime and encourage their imaginations to run wild. Several of the Paw Patrol Trucks on our list feature these basic additions of light and sound or a simple moving part. While it's true that the toy choices for your preschooler are more limited, you can still find entertaining and rewarding toys that will satisfy your child's specific needs.
What Determined the Most Amazing PAW Patrol Trucks in Our List
Picking the right item to include in this particular shortlist is quite easy since we are only after a very specific type – or brand – of toy: PAW patrol toys. The usual question about the reliability and trustworthiness of the toy manufacturer has already been booted out the door for the simple reason that we only included those that are duly licensed by Spin Master Entertainment themselves, complete with the original and authentic PAW Patrol logo. Of course, we really cannot help but caution consumers against buying these types of toys from unreliable sources or from third-party agents that have dubious records. Because of the popularity of this brand, you can expect to get knockoffs from time to time. We can only guarantee that the toys listed herein are from the official company itself.
So, how did we choose the most amazing PAW patrol truck toy sets in our list? We depended in part on the individual product ratings, setting the cutoff score to 4.4 stars, and qualifying this with the general theme of the customer feedbacks. We used this metric to determine the top 20 of the lot which we then subjected to further evaluation to come up with our best 10. Individually, we looked for design integrity as well as the safety of the toy; although this was more of a formality since they all came from the same manufacturer. Regardless, we made sure we did not overlook any aspect of the usual stuff that we evaluate when it comes to choosing the right toys. Of particular importance, however, is how the toy will be played with or used by children. While we are definitely no longer kids, we still had to make sure that it does serve a particular developmental benefit to kids.
Pretend Play and Role Playing among Children
For many of us, we often equate role-playing with acting. And we are correct. However, in the eyes of children, they are not merely acting; they are essentially expressing their ideas and their emotions in a manner that is considered as play.
The importance of role play among children cannot be overlooked nor can it be denied. For starters, it fosters imagination. Children are able to convey their ideas more openly if presented in a role play. This is because it is often treated as a play, a game where many adults consider as not real. However, for children, this is the closest they can get to reality and thus, serves as the best method to express whatever it is they have in their minds.
Pretend play or role play also helps kids refine their social interaction skills. Even mimes have to somehow interact with other actors. Children who are engaged in pretend play have to communicate, cooperate, collaborate, and build mutually beneficial relationships with their peers. Of course, if we're talking about toddlers and preschoolers here, it will take some time before they warm up to the idea of cooperative endeavor.
A natural offshoot of kids' ability to form positive social relationships is a commensurate improvement in their sense of self-worth. If they are doing something great, it is but natural to hear other people praise them for such a great role play. This nurtures the ego which ultimately leads to the building of self-confidence. And whenever self-confidence is involved, a boost in self-esteem is never far behind.
Technically, it is okay to ask how role playing can help kids. And the answer is quite simple. It helps make their world smaller, more manageable for them to really become more active in shaping it.
The Bottom Line
The PAW Patrol is growing strong, particularly among its avid followers primarily for its do-good, all-positive messages. It's a great show and merchandise to teach kids about community life. Our 10 best PAW Patrol trucks in 2017 are not only instruments of positive values but are also tools of great developmental benefits.
FAQ
Frequently Asked Questions
Q: What makes these Paw Patrol Trucks better than the other ones out there?
A: We chose these Paw Patrol Trucks because of their basic shape, design, and ease of use. After noticing that some of the other Paw Patrol Trucks required batteries or had more complex shapes and extra small parts, we felt it was important to highlight the ones that met our criteria for safety while still being educational. We also like these because each one features a specific job or community service that can teach your child new things.
Q: Does every Paw Patrol Truck come with a figurine?
A: Yes, all of the Paw Patrol Trucks on our list include a figurine that matches the truck. As far as we know, all of the Paw Patrol vehicles on the market come with at least one matching figurine, but their size can differ from very small to the more standard size depending on whether you are purchasing one of the sets or a single toy. This is something to keep in mind when you are trying to decide between a set bundle or just one truck.
Q: Do any of these require batteries?
A: Most of the trucks on our list are completely manual and do not require batteries. However, the trucks that have additional sound and light effects do require batteries. To make things easier, the Paw Patroller and the Paw Patroller Bundle Set already come with the batteries included! Rocky's Lights and Sounds Recycling Truck does not come with the batteries included, so if you are interested in buying that one you will need to purchase them separately.
Q: Which ones will fit in the Paw Patroller?
A: The great thing about the Paw Patroller is that both the smaller Paw Patrol Racers and the larger standard size vehicles on our list can fit snugly inside! It's the perfect way for your preschooler to organize their collection, and it even has a display option when opened up, so your child can proudly show off the team. It is worth noting that when closed, the Paw Patroller can only hold up to three Paw Patrol Trucks.
Q: Why do only some of the Paw Patrol Trucks have sound and light effects?
A: By limiting the amount of light and sound effects to only a handful of choices, this ensures that you and your preschooler have a wider range of options when it comes to choosing a Paw Patrol Truck that suits your child's needs and stage of development. Not every child may appreciate loud or high-pitched sounds, and may even find them irritating. The Paw Patrol toy designers understand the need for variety when it comes to toys, and we wanted to present both options in our list.
Q: For the Paw Patroller, do I need to purchase the Paw Trucks separately?
A: If you are buying the single Paw Patroller and not the bundle set, then yes. This option only comes with a single Ryder figurine and his matching ATV truck, both of which are a smaller size. The 3-Pack Racer Bundle Set featured on our list does includes three smaller figurines, and it is important to note that these are not the same size as the standard Paw Patrol Truck figurines on our list. These you will need to purchase separately.