Kids nowadays have much less trouble being cooped up indoors for a day, but that doesn't mean that a big, bright new play set doesn't still have them running for the door. If your family frequents the local park and you can't seem to pry your little monkey off the bars come the end of the day, you might consider investing in a playground set of your own. There are lots of options that vary in size, style, and price points. You can have a playground in your very own backyard with a little research and some hardware. Some play sets are classic wooden structures with swings and slides. Others are thematic or feature miniature rock climbing walls. Cherry, oak, pine: with so many finishes to choose from, you can customize both the look and the purpose of your play set. Maybe your child wants a twisty slide, or maybe you'll need more than one swing for siblings to be able to play simultaneously. Having a structure in the backyard encourages children to get outside and be active, and will provide years and years of treasured family memories. With our collection of the top 10 playground sets on the market, you'll be fully equipped to make an informed decision based on your family's needs.
When it comes to figuring out an ideal playset for your family's needs, it is important to consider the recommended age range, the price, the materials used, and how much space it will take up. We compiled a list of the best playground sets for backyard use. Safety is our number one priority, and we made sure that every playground set on this list is certified safe by set standards and is confirmed by parent satisfaction. We decided to include different types of playsets as well, such as the smaller plastic sets for toddlers and younger children as well as massive two-story backyard swing sets that can hold up to 10 children at once. If you are thinking about setting up a backyard playground set, our list is bound to direct you to your child's new favorite activity!
Our Top 3 Picks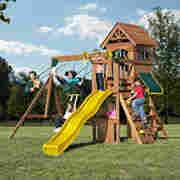 Swing-N-Slide Jamboree Fort

Our rating
Includes Telescope
Price:

See Here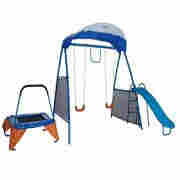 IRON KIDS Fitness Playground

Our rating
Develops Balance
Price:

See Here

Suncast Vista Outdoor Play Set

Our rating
7-foot Slide
Price:

See Here

Our Picks of The Best Playground Sets
Pioneer Peak Cedar Swing and Play Set with Timber Shield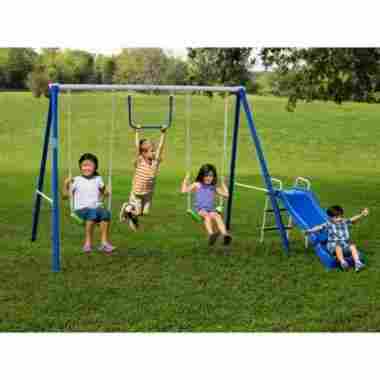 Swing N' Slide Outing Play and Swingsets with Wave Slide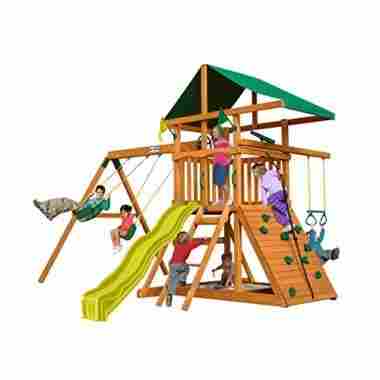 Monkey Bars Climbing Tower
Playhouse & Swing Extension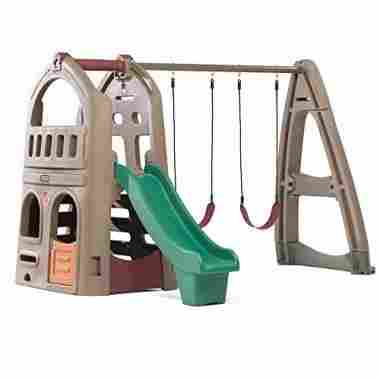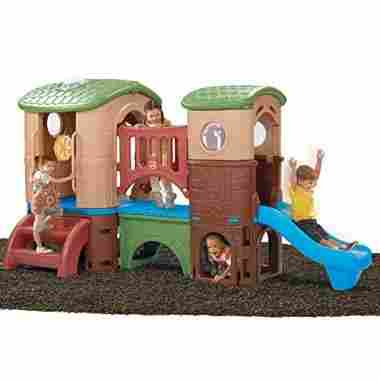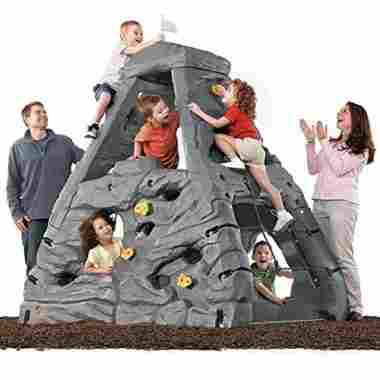 Lifetime Adventure Play set
Lifetime Monkey Bar Adventure Swing Set
Lifetime Dome Play Center
Criteria Used in Evaluation of the Best Playground Sets for Kids
Safety
We firmly believe that safety is the most important thing to consider when buying anything for your child. When it comes to playground sets, this is especially important as these structures include features such as swings that can be dangerous if not properly engineered and assembled. In selecting all the playground sets for this list, our researchers made sure to only include playsets that pass safety standards and that satisfy parents who have bought them. Important factors considered in assessing the safety of playground sets are spacing and design. For example, swing sets with multiple sets of swings should be spaced apart enough so that even if one child were to sway off course while swinging, it would not be close enough to collide with any structural bars nor the child on an adjacent swing. Another example of the importance of spacing in playground safety is that playground sets should be set up in an area with ample space surrounding the playset. If a child going down a slide lands anywhere between one and four feet away from the end of the slide, there should be an extra few feet of space to allow for extreme cases.
All of the playground sets included on our list are carefully designed with safety as a priority for the age range recommended by the manufacturer. Of course, there are different safety concerns for a smaller plastic playset for toddlers than there are for the big multi-child swing sets. The design is important to assess when evaluating playground sets. For example, if the swings on a playset have metal chains to hang from, it is usually a smart idea to include protective plastic tubing in the range where a child's hand will grip the chain. This design component is just an example of a safe playground set versus one with more risk of injury.
Durability
Durability is an important factor we considered in evaluating the best playground sets. Buying a playground set is a bigger investment than purchasing a new book or toy for your child. A playground set made with durable materials will not only ensure safety but will also help in lasting at least a few years. Most of the playground sets we included on our list are meant to be set up outside. Unless you have a canopy or overhang, it is important to consider durability so that your playground set will last in various weather conditions such as the intense sun, rain, or moisture. When choosing the ideal playground set for your family and space, you usually have the option of steel, wood, or plastic materials. Steel is a great option, but we find that a powder coating is important to protect it from the risk of rusting in moist climates. Wood is also a sturdy material for playgrounds if it is properly treated to prevent rot and other weather-related damage. All the wood playground sets we included on our list are cedar stained with some sort of added sealant for protection. A few of the smaller plastic playsets for toddlers are durable considering the small size of the structure, and most are intended for indoor or outdoor use.
Promotes Physical Activity
Whether it be the small plastic playsets for toddlers or the huge 10-function swing sets, the playground sets on our list all promote physical activity for their targeted age range of children. Childhood obesity is plaguing the United States and is only on the rise. A general lack of a nutritious diet is absolutely a major factor in this serious epidemic. However, the role of decreased physical activity on a collective level is contributing heavily to this health problem. Playground sets provide the incentive for children to want to go outside and play. They are a lot of fun and provide the opportunity for practicing physical movements that promote healthy bodies and the development of many important skills. For example, climbing ladders or rock climbing walls included in certain playground sets helps to build muscle strength in the upper and lower body muscle groups. Swinging on swings is a cardio exercise that burns calories while working out the legs, arms, and core. Ultimately, just being outside and on their feet is better for children than sitting inactive indoors, participating in screen-time activities such as video games and watching television.
FAQs
Frequently Asked Questions
Q: Are playground sets safe for children?
A: Yes, all the playground sets included on our list are safe for children as long as they fit into the age range specified by the manufacturer.
Q: Are playgrounds going to last the winter ok?
A: We cannot guarantee that a playground set will survive a winter without any weather-related damage. However, we did select playground sets that are made with weather-resistant materials such as wood with stains or steel with powder-coating in order to help protect against weather over time.
Q: Do these playground sets come assembled?
A: No. All the playground sets on our list require assembly ranging from two to multiple hour set-up time. There are services available to pay for assembly if you feel unequipped to assemble a backyard playground properly.
Q: Do I need to anchor my playground set to the ground?
A: It depends on the playground set you choose. Some playsets are heavy enough that they don't need anchors. However, others come with anchors as recommended for proper assembly by the manufacturer. You can always choose to anchor the playset of your choice even if it is not a necessity.
Q: Do these playground sets require parental supervision?
A: Ultimately it depends on how old your child is whether parental supervision is necessary. Many of the playground sets are safe for children to play on by themselves or with a group, as long as they are in a safe space such as your backyard or indoors.
Q: Can I set up my playground set inside my house?
A: A few of the playground sets on our list are suitable for indoor or outdoor use. It depends on the model and size.