If only you could keep an entire world of fun and imagination in your pocket.
Well, the good news is—you can! Chris Wiggs originated Polly Pocket in 1983, for his daughter Kate Wiggs. Using a powder compact, he created a tiny house for the tiny doll, and Bluebird Toys of Windon, England licensed them. They appeared on shelves in stores in 1989 and saw widespread popularity, partially in part due to Mattel's distribution deal with Bluebird Toys.
The original Polly Pocket sets were compacts that unfolded to reveal playsets and scenes for the pinky-sized dolls to play in. In 1998, Mattel gave Polly a makeover to make her look more realistic, and also sized her up. The next year, Mattel introduced "Fashion Polly" (and friends), who came in 3.75-inch figures with removable rubber clothes. In 2002, Mattel stopped manufacturing the smaller Polly playsets but continued her fashion line. The original Bluebird Toys sets are now valuable vintage collector's items.
Whether your little one is interested in the modern world of Polly or looking for a nostalgic throwback, we've got the most well-rated toys available on the market all rounded up here for you. Peruse the best Polly Pockets below and take your favorites home with you. She might be little, but she's a whole lot of fun!
The Best Polly Pockets Dolls and Sets Reviewed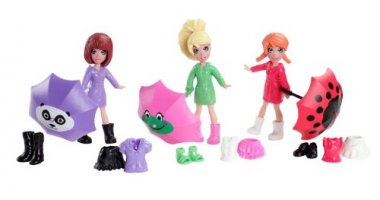 Big Pocket Flamingo Floatie
Adventure S.U.V. (Secret Utility Vehicle)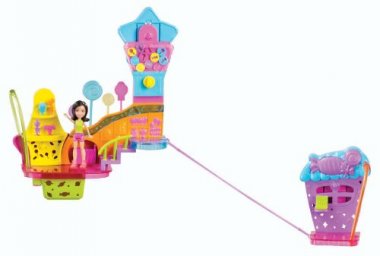 Big Pocket World Snow Globe
Criteria Used in Evaluation of the Best Polly Pocket Dolls and Sets on Our List
Polly Pockets are a '90s classic that are rightfully making their way back into the spotlight. Their small designs are fun and charming. They offer a variety of themed sets. They are considered "totally collectible." You can mix and match most accessories, connect some sets/collections, even mount certain ones on the wall.
Since Polly Pocket is rumored to be making a comeback this year we aimed to provide you with a list of products that can get your collection growing fast. The main component to growing a collection is acquiring many accessories. We wanted to focus on sets and collections that offered the most mix-and-match potential along with those that were highly rated. Another component is the doll variety. What good is it to have a collection with just the same doll? Though there are not a lot of Polly dolls available, we tried to provide you with the most variety possible while keeping quality in mind.
Polly Pocket dolls and sets are a fun, imaginative, carefree way to play! They encourage creativity and promote individuality. The sets/collections are interactive, and play is not restricted to just the floor! The wall-mounted sets help keep play areas clean and walkways toy-free. When it comes to Polly Pockets, the options really are endless. Playtime will always be full of adventure.
FAQ
Frequently Asked Questions
Q: When was Polly Pocket first released?
A: Polly Pocket was first released in 1989. They were first designed in 1983 By Chris Wiggs who is said to have designed them for his daughter.
Q: Does Bluebird still own Polly Pocket?
A: No. Mattel is now the owner of Polly Pocket. They took over in 1998. It was at this time that they started making height changes to the dolls.
Q: How many sets were originally created:
A: Originally, Bluebird created roughly 350 Polly Pocket sets. These are the sets that are now considered "valuable." These pieces have the original 1-inch sizing compared to the larger-sized dolls we see nowadays.
Q: When was the relaunch announced?
A: On February 12, 2018, it was announced that Polly Pocket would be relaunching later in the year along with a new upcoming Polly Pocket cartoon. In the years leading up to the relaunch, Polly Pocket has created an interactive website for their fans. Included on the site are links to games, videos and all things Polly World!
Q: Is Polly the only Polly Pocket doll?
A: No. Polly Pocket has many friends. In the newer set, you will find her most popular pals Lila, Lea, and Crissy. In older sets (during Bluebird's ownership) it was more common to have Polly with one of her friends in a set. Some of the featured friends included Emma, Gillian, and Tawny.
Q: Are my Polly Pocket dolls or sets worth anything?
A: Yes and no. It depends if your set was made before or after Mattel took over Bluebird. The original sets made when Bluebird owned Polly Pocket are considered the most collectible and valuable. If you are unsure when your doll was made, refer to the date that should be printed on the bottom of your doll. Do keep in mind, back when Bluebird was in business, they would often send out packs of replacement dolls. These dolls were not dated on the bottom, so it is harder to track down their origin.