The Best Polly Pocket Dolls and Sets
last updated
Sep 04, 2019
If only you could keep an entire world of fun and imagination in your pocket. Well, the good news is—you can!
Chris Wiggs originated Polly Pocket in 1983, for his daughter Kate Wiggs. Using a powder compact, he created a tiny house for the tiny doll, and Bluebird Toys of Windon, England licensed them. They appeared on shelves in stores in 1989 and saw widespread popularity, partially in part due to Mattel's distribution deal with Bluebird Toys.
In a Hurry? The test winner after 15 hrs of research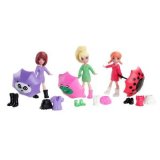 Rainy Day
Why is it better?
Colorful themed pieces
Mix and Match between dolls
Multiple accessories
Easy to dress
In a
Hurry? Editors choice: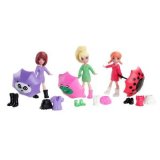 Test Winner: Rainy Day
17
Researched Sources
15
Hours Researching
13
Products Evaluated
Accessories
Entertainment Value
Educational Value
Brand
By Default
10 Best Polly Pocket Dolls & Sets Reviewed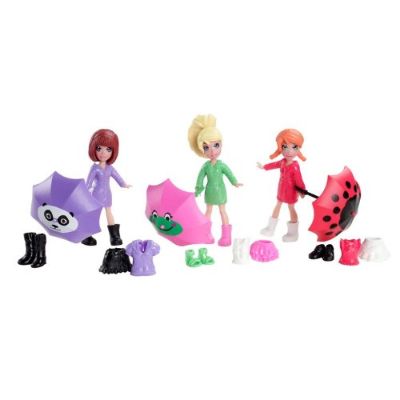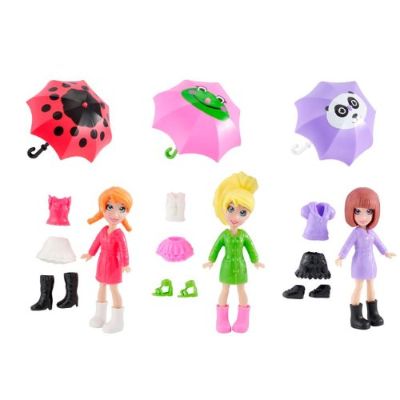 Colorful themed pieces
Mix and Match between dolls
Multiple accessories
Easy to dress
Dolls do not stand on own
Many pieces to keep track of
Stuck inside on a rainy day? You don't have to be alone. Bring the party inside with Polly and her friends! This set comes with three dolls, a Polly doll, and two friends.
Read more
Accessories
Each doll comes with her own raincoat, umbrella, and pair of rain boots. Each outfit is color-coordinated with the umbrellas. You will also find a cute little animal printed on the top of each umbrella.
Entertainment Value
Since this is sold as a set it comes with multiple items. You will not be disappointed. You can mix and match accessories to create more style options.
Educational Value
There is also a good variety of colors. It also promotes sharing among friends! Polly and her friends have more outfit options when you mix and match them together.
Brand
With multiple mixes and match options, this set promotes imagination and sharing. The bright color is sure to bring some sunshine to a rainy day.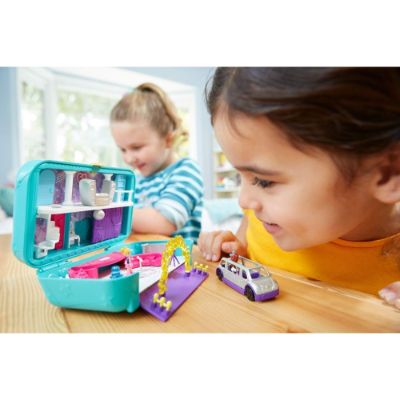 Five fun secret reveals
Includes mini Polly and mini Lila
Lots of accessories for the girls
Small enough to easily take on the go
Two-story miniature world
Set is top-heavy and falls pretty consistently
Polly and her friends are ready for a night on the town! With this groovy dance club, your little one can boogie on down with her pocket-sized gal pals. The case is shaped like a small makeup bag but opens to reveal a much larger Polly world! Polly and Lila are all dressed up and ready to bring the house down with their music and moves. Make sure you're ready to cheer!
Read more
Accessories
Got canned heat in your heels tonight? Bust out those killer moves on the dance floor! Polly and Lila come equipped with a guitar and a microphone. Ride up to the club in style in their stretch limo and don't forget to pose for the paparazzi! When Polly and Lila are tired they can rest their feet in the plush pink chair and seating area that folds out from under the stage.
Entertainment Value
Perform on the lower level stage, spin around on the disco-themed floor, or climb the stairs to the DJ booth. The disco ball turns the DJ turntables. The chocolate fountain makes the dance floor spin and the dolls stick to the floor as they twirl. There's plenty here to keep the party going all night!
Educational Value
Polly Pockets may seem like they open a small door but there's a whole world of imagination on the other side! Kids gain improved social skills through role-playing games as well as establishing a better sense of empathy and getting to explore their own creative sides! Imaginative play builds strong minds, big hearts, and bright smiles.
Brand
Polly Pocket first began in 1989. Since then, the company has branched out from mini-figures to small dolls with rubber outfits and lots of fun playsets. This case is a throwback to classic Polly Pocket designs with a whole miniature world that fits right in the palm of your hand!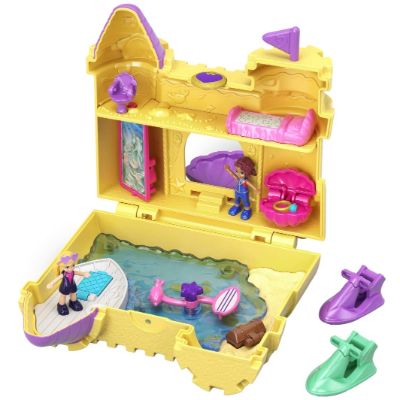 Pollystick technology means the dolls can stand anywhere
Two jetskis included
Includes mini Polly and mini Shani
Fun secret reveals throughout the case
Girls can surf with the spinning dolphin
Dolls are silicone/rubber, not hard plastic
Less durable than old cases
Though she is but little, she is fierce. --Shakespeare might have been a few centuries early with this one, but is there really any doubt that Polly fits the bill? She's shining as bright as ever in this adorable Sandcastle set. Send her and Shani to the beach to enjoy the sun and the beautiful waves. Just be sure to pack a good lunch and bring the sunscreen!
Read more
Accessories
Fold the purple shell entrance down and ta-da: you've got a slide that's perfectly built for the beachcombers! Polly and Shani can ride down straight into the sea on their jet skis. A set of cool stickers allows children to decorate their beachy wonderland as they please. And a whole host of fun secret reveals means hours of fun for everyone!
Entertainment Value
Pollystick technology allows the dolls to stick anywhere on the compact; just put a sticker down and stand the doll over it. The girls are ready to surf with the dolphins and steer their boat out to sea--but watch out for sharks! Eek! After a long day of sun and sand, they can kick back in the plush pink chair or spin it to reveal a hidden mermaid painting! What other secrets will they uncover?
Educational Value
Imaginative play allows children to create their own worlds where they can explore various personalities and form their own brilliant adventures. Polly's size makes her an exercise in motor skills as well and the various reveals in the compact are sure to stimulate young minds.
Brand
Like the original Polly Pocket Playsets, this case features lots of 'secrets' for children to discover. Polly Pocket's signature case designs usually included some kind of fun interactive features such as the spinning dolphin, flipping boat deck, and rideable surfboard in this set!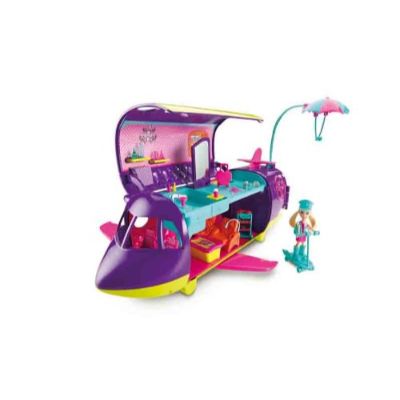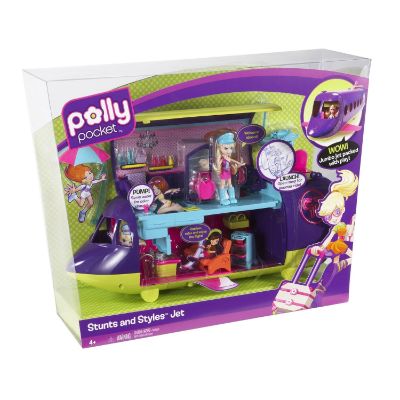 Working jacuzzi fills up with water
Polly's outfit changes color in the water
Two-story jet
Scooter ramp in the back
Set includes doll, parachute, wardrobe, scooter, and plane
Wings fall off easily on some units
Polly's ready to see the world from her classy Stunt N' Style Jet! A hot tub with a functional faucet reveals a color change in Polly's fashionable outfit.
Read more
Accessories
She can kick back and take a dip before she jumps out of the plane in her parachute for some skydiving adventures. The plane is two stories and comes with an additional scooter (which she can ride down the back ramp), one doll, and a travel-themed wardrobe.
Entertainment Value
The plane is large with multiple interactive features that will stimulate young imaginations and give children functions to test their dexterity and help them understand cause and effect.
Educational Value
Imaginative play will be extra-worldly and adventurous with this jet-setting kit.
Brand
This adorable plane has lots of features inside to keep children invested, and comes with its own Adventurista Polly, with a travel-ready wardrobe. Pick a country together, and teach your little one about the culture there with Polly along as your guide!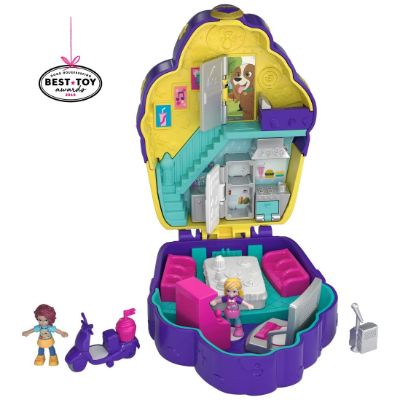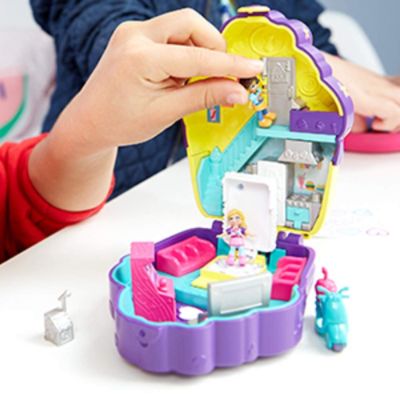 Includes two Polly Pocket dolls
Homage to the classic, vintage Polly Pocket sets
Includes stage, kitchen, and dining area
Polly really dances on the stage when you toggle the switch
Compact and easy to travel with
The clasp is not as durable as the old designs
Polly Pocket sounds almost as good as her cupcakes taste! This Cupcake Cafe is rolling with orders. Polly and Shani have to fill them, deliver them, and make it back in time for their big performance. Move the stage button side to side and watch Polly dance.
Read more
Accessories
Equipped with a kitchen to whip up sweets, and a stage to entertain their customers, this set is ready and waiting to give customers dinner and a show!
Entertainment Value
The stage folds out when you open the upstairs door, open the fridge door, and lift the cafe table.
Educational Value
Polly's friends are here to dine and cheer her on. Your little one can have lots of musical fun making songs and dances with Polly, and then working on their yummy dessert recipes together.
Brand
Polly's friends are here to dine and cheer her on. Your little one can have lots of musical fun making songs and dances with Polly, and then working on their yummy dessert recipes together.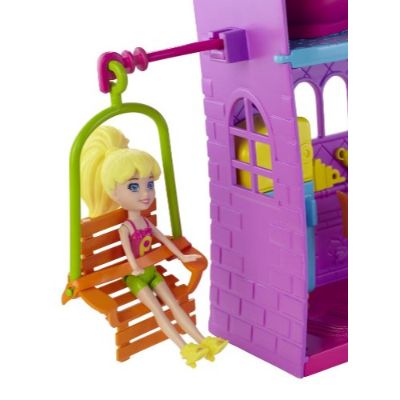 One Polly Pocket doll included
Fridge is stocked with snacks and a kitchen area is ready for dinnertime
Polly's cat curls right up with her at bedtime
Bubble bath is drawn and waiting
Functional swing attaches to the side of the house
It's a cute set, but it doesn't have the usual bells, whistles, and reveals some of the other kits do
Polly's home sweet home is an absolute dream. With a fizzy bubble bath waiting, and a fridge stocked full of yummy snacks, she's ready to unwind after a full day. When she's ready for bed, her kitten is waiting to keep her company throughout the night with lots of cuddles.
Read more
Accessories
The yellow door opens to allow her in and out, and the stairs unfold to allow her to go between stories. A swing connects to the side of the house so she can enjoy some time out in the yard when the weather is nice.
Entertainment Value
Call some friends to come over, or let Polly enjoy some peace and quiet. Home is where the heart is and Polly's got a pretty good place to call home.
Educational Value
It's like playing house--but much smaller. This set encourages little ones to creatively explore homelife. Imaginative play helps children with expression and communicative skills, as well as being just plain fun!
Brand
It's a great introductory toy to the world of Polly Pocket. It's simple but includes some of the basic features many of Polly Pocket playsets do, and feels close to the older sets, even with the new aesthetic.
7

. Big Pocket Flamingo Floatie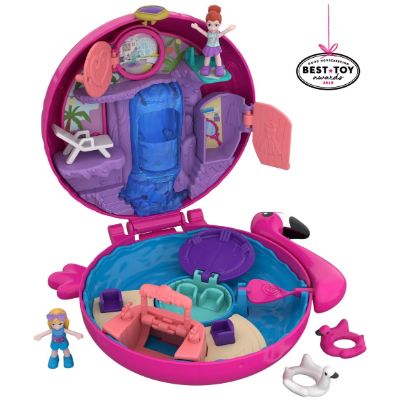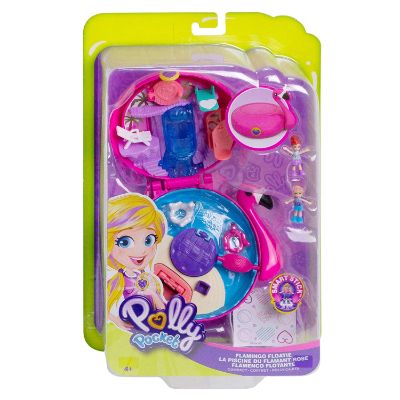 Attaches to wall for expanded play
Connects with other "Wall Party" pieces
Suction cups on each piece
Comes with three removable command strips for wall attachment
Easy assembly
Only goes on a wall
Has a harder time adhering to certain wall textures/paints
Take your adventure to new heights with the Polly Pet Park. This set is made for the wall and can be attached to other "Wall Party" sets!
Read more
Accessories
This set offers two levels of play that will keep your child busy. Included is a Lila doll and her dog. Her dog has all the accessories you would want for your own pup. The flowers and watering can make for a true "park" experience.
Entertainment Value
This playset can be attached to the wall, helping to get the small pieces off the floor.
Educational Value
This keeps the pieces contained and prevents them from being scattered all over the house. This set encourages children to think outside the box.
Brand
Once again, we see Polly's Stick 'n' Play set up used, which is a huge problem solver. Plus, this set stays up and out of the way by being attached to the wall.
8

. Adventure S.U.V. (Secret Utility Vehicle)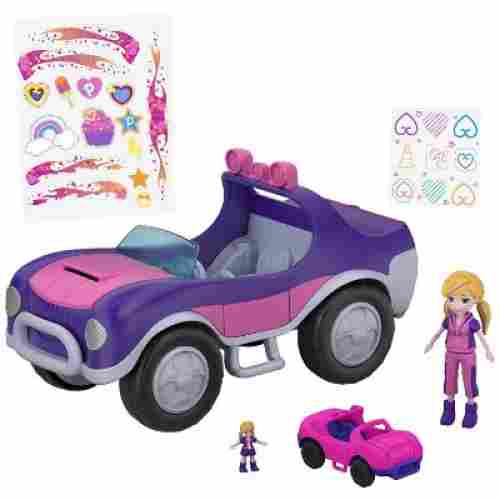 Fun, reusable stickers to decorate the car again and again
Working tires; push Polly around in her SUV
Tires leave little heart-print treads
Mini Polly Pocket and SUV included
Trunk opens for storage space and can house mini Polly
Polly sometimes has trouble sitting in the car with her rubber clothes, as they get in the way and force her to stand
When Polly's grandmother gave her the magic locket, she couldn't have known what she was in for--but we can promise you, it's a world of fun! The magic locket gives her the ability to shrink to pocket size, motivating the latest line of toys.
Read more
Accessories
This Adventure SUV (Secret Utility Vehicle) is sporty and features a little surprise. The pretty off-roader has trunk storage, heart-shaped tire treads, and a car wash playset to keep it sparkling clean.
Entertainment Value
This set includes the larger-sized Polly doll as well as the miniature one, so you're getting the best of both worlds. The car can fit up to four of Polly and her friends so they can take road trips and with two "special spot" stickers, you can make Polly stand wherever you lay the stickers down.
Educational Value
Little ones will love this awesome Secret Utility Vehicle. Equip them to go on daring adventures with Polly as she journeys out into the world. The narrative of Polly's grandmother's locket is a hit and allows little ones a framework to explore creatively.
Brand
Decorate the outside with the included removable stickers. And open the trunk to reveal the secret surprise: Polly's miniature version, with her own tiny car to roll out in.
9

. Big Pocket World Snow Globe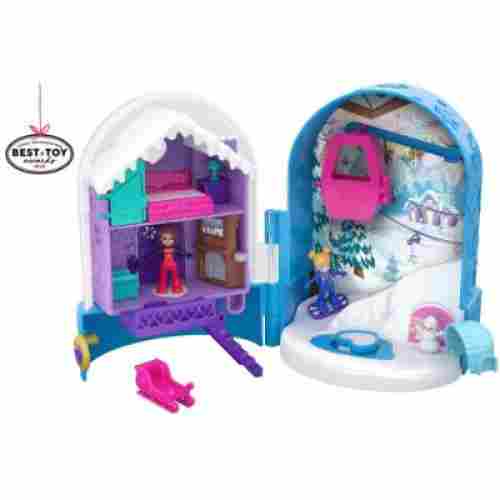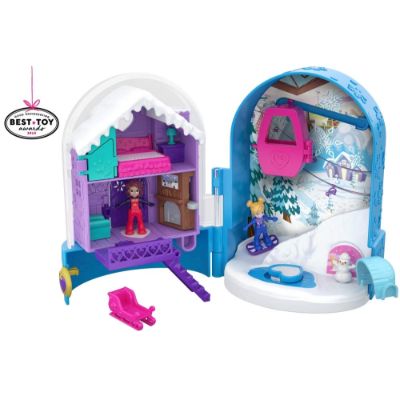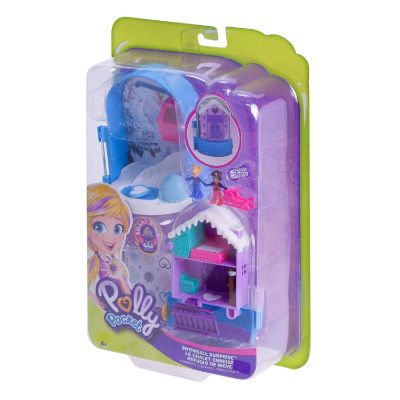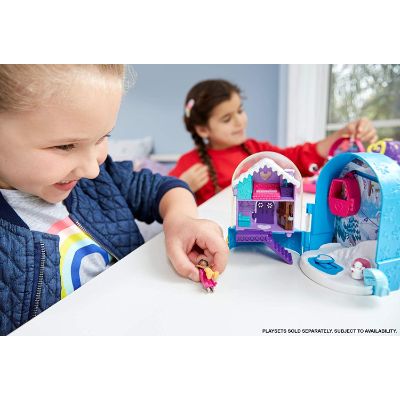 Two tiny Polly Pocket dolls: Polly and Shani
Polly and Shani really ski with your help
The door inside reveals fireplace and bathroom
Dolls can ride the ski lift
Set folds up and sits as a snow globe when the play is over
The quality of some of the pieces is low; the staircase falls out easily, etc.
Tiny pocket: the big world. Join Polly and her friend Shani as they head to the mountains for a ski trip! Polly and Shani can ride on the outdoor ski lift, as well as practice their moves down the hill. When they're ready to head inside, the ski resort is cozy and waiting.
Read more
Accessories
When everyone's done for the day, fold them up and shut the front latch and you have your own snow globe with all accessories compactly and neatly stored inside.
Entertainment Value
Doors reveal a fireplace and bathroom for the girls to wash up and warm up. Lift the outdoor igloo to find a darling little snowman. Turn him side to side to watch the girls really ski!
Educational Value
Doors reveal a fireplace and bathroom for the girls to wash up and warm up. Lift the outdoor igloo to find a darling little snowman. Turn him side to side to watch the girls really ski!
Brand
This set is full of fun features. The dolls actually fit into the ski lift, and with the snowman, you can get them to truly ski and skate. It's cute for display when it's not in use, as well. This is the perfect snowy surprise.
10

. Transformation Playset
Micro Polly and 3-inch Polly included
Micro Polly can submerge in a submarine aquarium
Also features helicopter pad, pool, and mini stage for Micro Polly
3-inch Polly has her own bed, closet, and skateboard
Micro Polly and her car store under the bed for easy access
Small Polly is a choking hazard, as are many of the accessories, so this is best geared towards children 3 and up
This Transformation Play Station is just loaded with adventure! Part of the Go Tiny! Series, it includes a 3-inch Polly doll, as well as a micro Polly doll. The bed lifts to launch micro Polly and her car out into the world.
Read more
Accessories
The larger Polly doll has her own skateboard for totally tubular action, and the closet can also store her little rubber clothes so you can dress her for success, no matter the mission.
Entertainment Value
She can also submerge in a mini-submarine, and take off in her go-copter, or let her rock out on her concert stage and then take a relaxing dip in the pool.
Educational Value
With so many fun surprises inside, children will be imagining adventures for hours. Creative play helps them to work on empathy, storytelling, and to understand social dynamics.
Brand
It's a versatile set. There are lots of little features and surprises included, and it blends the world of the old, miniature Polly Pocket, with the newer, larger line. Kids and parents alike may enjoy this together, as it mixes nostalgia and more modern toy lines.
Criteria Used for Evaluation
Most Important Criteria
(According to our experts opinion)
Experts Opinion
Editors Opinion
Users Opinion
By Default

Parents, Did You Know?
They are considered "totally collectible." You can mix and match most accessories, connect some sets/collections, even mount certain ones on the wall.
Parents, Did You Know?
Polly Pockets does have small accessories sometimes so it is advised for parents to look at the appropriate age range for your child upon purchasing to avoid any choking hazards.
Other Factors to Consider
Design
The original Polly Pocket sets were compacts that unfolded to reveal playsets and scenes for the pinky-sized dolls to play in. In 1998, Mattel gave Polly a makeover to make her look more realistic, and also sized her up. The next year, Mattel introduced "Fashion Polly" (and friends), who came in 3.75-inch figures with removable rubber clothes. In 2002, Mattel stopped manufacturing the smaller Polly playsets but continued her fashion line. The original Bluebird Toys sets are now valuable vintage collector's items.
Whether your little one is interested in the modern world of Polly or looking for a nostalgic throwback, we've got the most well-rated toys available on the market all rounded up here for you. Peruse the best Polly Pockets below and take your favorites home with you. She might be little, but she's a whole lot of fun!
Creativity
Between different sets and mix and match your child will be able to enjoy endless hours of fun and expressing their creativity by putting their favorite outfits on their Polly Pocket. Polly Pocket comes with many different options for your child to pick and choose which will also enhance their imaginative skills as well. The possibilities are endless!
Frequently Asked Questions
q:

When was Polly Pocket first released?

a:

Polly Pocket was first released in 1989. They were first designed in 1983 By Chris Wiggs who is said to have designed them for his daughter.
q:

Does Bluebird still own Polly Pocket?

a:

No. Mattel is now the owner of Polly Pocket. They took over in 1998. It was at this time that they started making height changes to the dolls.
q:

How many sets were originally created:

a:

Originally, Bluebird created roughly 350 Polly Pocket sets. These are the sets that are now considered "valuable." These pieces have the original 1-inch sizing compared to the larger-sized dolls we see nowadays.
q:

When was the relaunch announced?

a:

On February 12, 2018, it was announced that Polly Pocket would be relaunching later in the year along with a new upcoming Polly Pocket cartoon. In the years leading up to the relaunch, Polly Pocket has created an interactive website for their fans. Included in the site are links to games, videos and all things Polly World!
q:

Is Polly the only Polly Pocket doll?

a:

No. Polly Pocket has many friends. In the newer set, you will find her most popular pals Lila, Lea, and Crissy. In older sets (during Bluebird's ownership) it was more common to have Polly with one of her friends in a set. Some of the featured friends included Emma, Gillian, and Tawny.
q:

Are my Polly Pocket dolls or sets worth anything?

a:

Yes and no. It depends if your set was made before or after Mattel took over Bluebird. The original sets made when Bluebird owned Polly Pocket are considered the most collectible and valuable. If you are unsure when your doll was made, refer to the date that should be printed on the bottom of your doll. Do keep in mind, back when Bluebird was in business, they would often send out packs of replacement dolls. These dolls were not dated on the bottom, so it is harder to track down their origin.