10 Best Portable Cribs Reviewed in 2019
last updated
Oct 12, 2019
All babies need a crib, but the reality is that there is an endless list of choices you have when going to buy one. However, if you travel a lot with your child (or are planning to), a portable crib is likely your best option. These cribs are easy to fold down and travel with and will make your traveling experiences much more relaxing. In this guide, we are going to discuss the ten best portable cribs on the market today, along with other helpful information such as FAQs and usage tips to inform you on all you need to know about portable cribs. Whether you are traveling a short distance over to grandma's house, or are world travelers, you can benefit from a great portable crib.
In a Hurry? The test winner after 24 hrs of research
Big Oshi Angela
Why is it better?
Lightweight design makes it easy for traveling with, and it saves space since it folds completely flat
The sleek modern design is nice and will work with almost any nursery decor
5 color options
A mattress is included which is nice, one less thing you have to buy
Sturdy construction and safety features make you feel confident your baby will be safe
In a
Hurry? Editors choice:
Test Winner: Big Oshi Angela
26
Researched Sources
24
Hours Researching
20
Products Evaluated
Design
Materials
Ease of Use
Value
By Default
10 Best Portable Cribs Reviewed
Lightweight design makes it easy for traveling with, and it saves space since it folds completely flat
The sleek modern design is nice and will work with almost any nursery decor
5 color options
A mattress is included which is nice, one less thing you have to buy
Sturdy construction and safety features make you feel confident your baby will be safe
This portable crib from Big Oshi is the perfect crib for parents who don't have a lot of space. This crib is easily adjustable, as well as portable, and will make life a lot easier if say you live in a small apartment or know you will have to move a lot while your child still uses a crib.
Read more
This portable crib can be used when a baby weighs between 5 pounds and 35 pounds. It would look great in any nursery room due to the gender-neutral elegant style. A lovely baby shower gift for your loved ones.
Design
This crib comes in 5 classy colors and includes a 3 position mattress. Its lightweight design collapses in easily when moving, making it very convenient for traveling purposes. It features sturdy crib rails at front and back of the crib as well as wheels for moving that lock safely in place when using.
Materials
Made from high-quality pine wood from New Zealand, this durable Big Oshi crib comes with mattress included, which is incredibly helpful for parents who don't have the time to look for properly fitted pad once the baby arrives. It is made of safe, tested materials, just for the tiny sensitive sleepyheads.
Ease of Use
This crib features three height positions that you can place the mattress at. The mattress comes included with this crib and is easy to adjust to any of the heights. It is also incredibly secure and will not slip when in place. The guidelines are simple and the overall crib assembly isn't complicated at all.
Value
The price for this crib is slightly elevated and more than some of the other cribs on this list. However, since you are getting a sturdy crib made out of wood that is also easily portable, it is still a great value for the money and is easily a crib you could use for years and years with different children.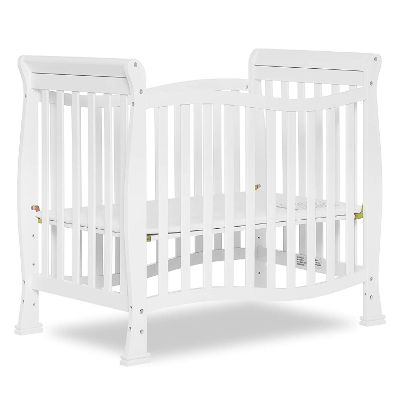 Solid construction and sleek design
5 color options
Can use as either a crib or a daybed easily
The small and lightweight design will make moving it much easier
Does not easily fold or collapse down, would have to disassemble if needed to make it flat
This mini crib from Dream on Me is just as stylish as it is practical. This small crib easily transforms into a daybed and can later be used as a headboard and footboard for a twin bed. This is a lightweight crib that you can easily travel with if needed and assemble into whichever type of bed you need.
Read more
The Dream on Me baby crib is quite charming and would greatly compliment any room with a neutral and clean design. No matter if you're having a girl or a boy, this portable crib would be a great sleeping companion.
Design
This elegant mini crib is suitable for children who weigh up to 34 pounds. The crib easily converts into a daybed and comes in 5 colors with 3 position mattress height system.
Materials
Tested to be free from lead and other toxic elements, this crib is made of solid pine. The materials are durable and the product includes all tools needed to assemble the crib.
Ease of Use
This lightweight crib is very versatile and can be used as a crib or daybed easily. The crib also features 3 different mattress height positions, giving you even more versatility.
Value
This is a moderately priced crib, it is not the cheapest or the most expensive. It is a sturdily constructed crib with several uses, so overall, it is still a great value for the money.
3

. Miclassic Easy Folding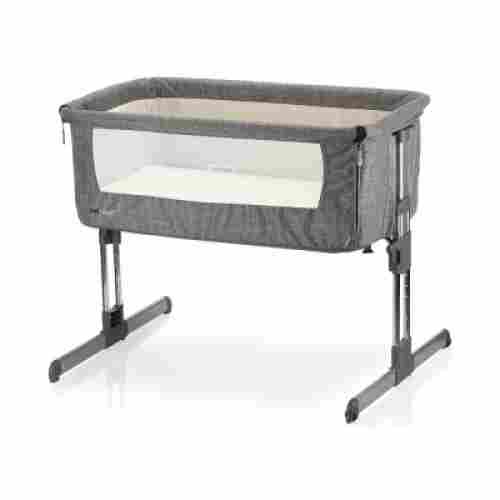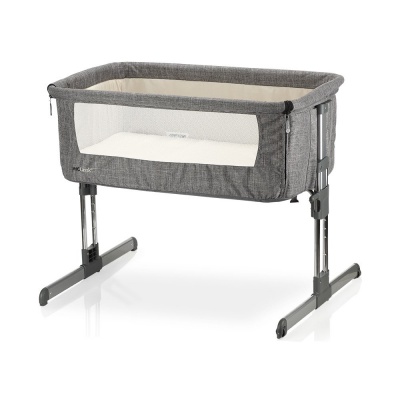 Lightweight design with sides that zipper makes it easy for travel
Zippered sides also in place of wooden slats which can be dangerous
Can use as a cosleeper or as a separate crib, which is convenient
2 color options
Easily adjustable to fit a variety of beds
On the smaller side of weight limits, you won't be able to use this crib for very long
If you are looking for a crib that is easily transportable and also easy to use next to your own bed, this crib from MiClassic will be perfect for you. Easy to fold, you can take this almost anywhere with ease, and set up safely so your child can be right there next to your bed.
Read more
This crib is made to use up against your own bed. It has 7 different height positions which will ensure it works with the majority of adult beds. It comes in 2 colors so you can choose your preferred style.
Design
This portable crib suitable for children up to 33 pounds/once they can pull themselves up. It has slidable legs to adjust it to adult beds or on one side if the baby needs to sleep up at an angle.
Materials
This durable crib can also be used as a regular crib when not using to cosleep with your child. Comes with mattress, sleeping board, and waterproof cover. The fabric is all machine washable.
Ease of Use
The front half of the crib easily folds down so it can press right up against your bed. This very convenient for parents who want to be close to their child but don't actually want to share a bed.
Value
This is a moderately priced crib, it is a bit more expensive than some other models on this list, but because of its unique features and how easy it is to travel with, it is still a great value for the money.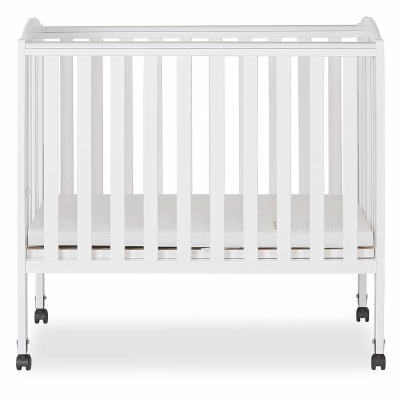 Travel and storage options with this crib are great- folds flat and has wheels
Rail system makes it easy for you to use as either a playpen or a crib
4 color options
The minimalist design ensures it will work with almost any decor
Only comes with 1" mattress pad, would have to purchase an additional mattress for better comfort
This is the second crib from Dream On Me on this list, and this one is fully portable for parents who need to be on the go. This crib will fold completely flat, making it much easier to move from place to place. With a bunch of safety features as well, this is a perfect crib for any child.
Read more
This is an excellent choice for a baby crib since it can be transferred with ease from one room to another and the design would look lovely no matter where you place it. The neutral style is truly eternal.
Design
A classy portable crib that folds completely flat for travel or storage. The US patented rail system allows you to use as a crib or as a playpen and the wheels on the bottom that locks in place when not used, for a safe and enjoyable sleeping experience.
Materials
This elegant Dream on Me crib includes a soft mattress pad made of safe, child-friendly materials. Made from solid pine, this sturdy and durable baby crib comes with all tools needed for assembly and will be a long lasting companion.
Ease of Use
This crib will fold completely flat, making it incredibly easy to move. If you are short on space you will greatly appreciate how small this can fold. This also makes it great for storage, should you want to keep it and use it for another child or give it to someone else down the line.
Value
This is another moderately priced crib. It isn't the cheapest or the most expensive on this list. It is a great crib that you will be able to keep in the family for years, so it is a great value for the money and an investment that will surely pay off.
5

. Davinci Alpha Mini Rocking, Natural
Portable crib with natural wood finish
Features three different mattress level positions
Included with the set is a waterproof one-inch crib pad
Constructed from sustainable pine wood from New Zealand
Meets all ATSM standards for safety
Maximum weight limit is lower than other portable cribs
Small in size, review dimensions
Traveling with a little one can be tough, but being able to bring along their own bed always helps. This is a traveling mini crib that is easy to take along anywhere. The crib has many features that many other larger cribs offer but in a smaller version plus they have added wheels to make it easy to transport even when packed up and ready to go on its next adventure.
Read more
Design
The Davinci Alpha Mini is a space-saving portable crib that is a great addition to anyone's baby gear. From the removable casters to the wonderful locking wheels it is easy to move from room to room or across the country. If the mini design does not affect the safety features or the comfort level. It has all the features of the big cribs but in a mini version.
Materials
This portable crib has been created from wood that has come from a New Zealand forest that contains pines and hardwoods. The wood used is a pinewood that is CARB II compliant and features aboard for the mattress that has been created from MDF.
Ease of Use
The mini crib is easy to use and perfect to use an alternative to bassinets and other newborn sleeping devices. Each position of the mattress can be adjusted for the different phases of their development. There are three different levels it can be adjusted to and it is easy to move the mattress when needed. Included with the mini crib is a one-inch waterproof pad. Other mattress solutions for added cushioning are available for purchase from the brand's assortment.
Value
Currently, this mobile crib is a value among its own league. It has many features that large cribs offer, but in the best small size and portable design. For the price and the quality materials that are used in the construction of the portable great is it a value.
Very portable, folds to just 6 inches makes storage easy as well
Comes in 3 colors
Sleek design will work in any nursery
Sturdy design and construction
Have to purchase the mattress separately
This next crib from Delta Children meets all the requirements a parent would want: the crib is portable, easy to fold and move, and has a great price. What more could you want? Complete with a sleek design that will compliment any nursery, this is a great option for any parent wanting a crib with this type of functionality.
Read more
This Delta Children product is another crib you'll be able to keep in the family for years to come, but you don't have to break the bank to make it happen! It is an investment you'll hardly regret.
Design
This portable crib comes as a charming lightweight design and folds flat for travel or storage purposes. It has a solid front and back rails included that don't move for additional safety.
Materials
The sturdy wooden construction of this Delta product is very durable and comes with 2 mattress position options and 1" mattress pad. It is tested to be free of lead and other toxic ingredients.
Ease of Use
This portable mini crib collapses to just 6" when fully folded flat. With their easy-to-fold design, you'll easily be able to collapse the crib down when you need to, either when traveling or when storing the crib away.
Value
This is one of the more affordable cribs on this list, but it is just as sturdy as others on this list. It is a great value for the money and can be used by parents even on a more limited budget.
7

. Babyletto Origami Mini with Wheels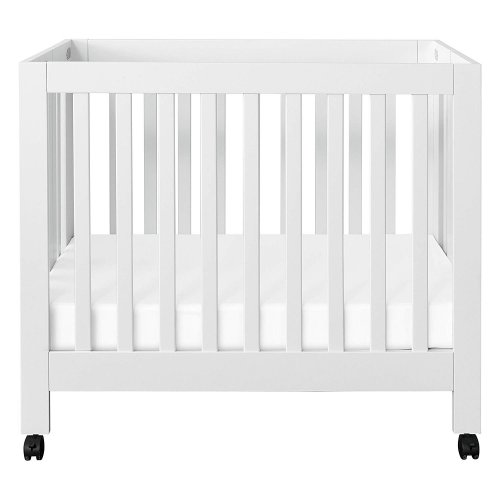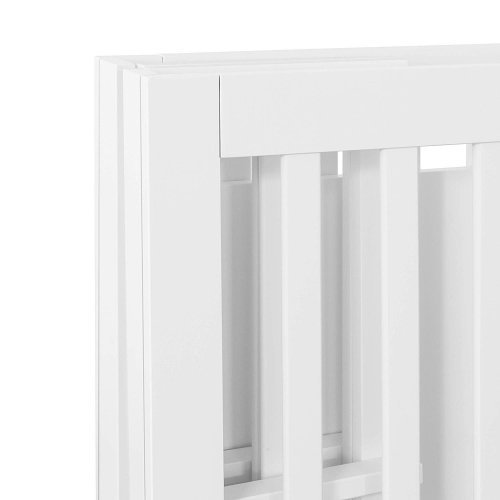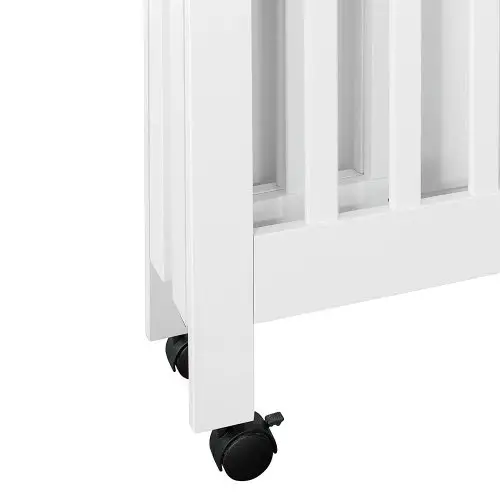 Portable mini crib with white finish
Use from newborn to 18 months
Portable mini crib with white finish
Use from newborn to 18 months
Features adjustable mattress levels
Constructed from pine wood from New Zealand
Safe and secure place for resting with solid mattress support
Hard to reach little one when mattress is at lower level
Assembly is difficult
When your baby is little a bassinet often works well, but what do you do when they get older and you want the same portability? There is this portable crib design that provides a safe sleeping environment for babies after the newborn stage, but can be also used during the newborn stage for napping around the house. It is suggested for ages newborn to 18 months old and goes anywhere that you want it to go and easily with the wonderful wheels that make this a super portable crib. It goes from one place to the next with a slight push.
Read more
Design
The design of this crib comes from a functional standpoint. It a crib, but with a mini smart design that offers a great alternative to a bassinet or when moving from a bassinet. It gives the little ones a safe place to rest and even features an adjustable level for the mattress. The mattress has two different levels it can be adjusted to and the support has been constructed from a solid material.
Materials
The construction of this mini portable crib has been completed from wood that has been harvested from sustainable wood that comes from New Zealand. All the materials used in the construction of the crib are non toxic plus do not contain any lead or phthalates. The mattress support has adjustments for two different levels has been made from an MDF that is complaint with TSCA and safe.
Ease of Use
When you are able to let your baby sleep wherever you go or in different rooms of the house during the day or night it gives you the availability to be more portable. This feature is great for large families, working parents, and in home businesses. The crib is very easy to move with the four casters that this design features. The casters allow the crib to be able to be moved with a slight push and then when you get the crib where it needs to be the casters lock in place for safety.
Value
Portable cribs vary in prices and style in the current market. This crib earns it value through the quality construction and portability that it has with the four casters. It provides a very safe and secure sleeping place for your little one through 18 months old and can replace standard bassinets.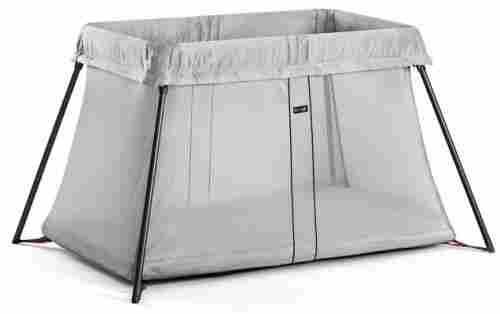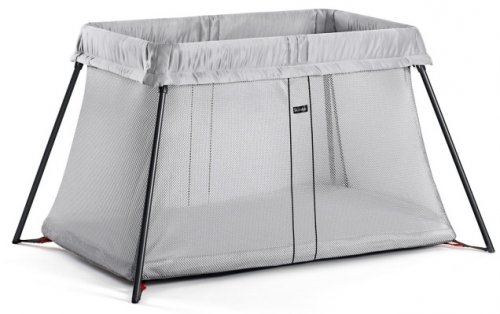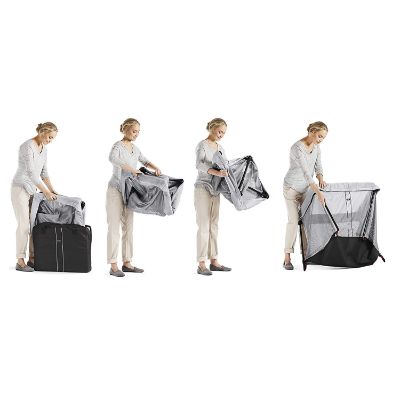 Incredibly easy to set up in just one move is very convenient
Machine washability is also a major plus
The sleek design is nice and fits any decor
7 color options
Easy to collapse and travel with
Expensive
Need to purchase sheet separately
BabyBjorn knows the baby industry inside and out, and their portable crib is no different. This is a great crib that is perfect for parents needing a lightweight crib that they can easily take with them on the go. Whether you are taking a quick trip to grandma's house or are traveling across the world, you can easily take this crib with you.
Read more
Another reputable brand that knows what babies need in order to stay calm and relaxed! This is an expensive crib, but it is incredibly well designed and uses the best quality materials.
Design
A cute little portable crib suitable to use with children up to three years of age. It weights 13 pounds total, making it very lightweight and portable. It sets up and folds in one easy step and also comes with a travel bag.
Materials
The sides of this crib are made of breathable mesh with soft mattress included. The material is removable and machine washable. The rigid base keeps the crib in place and the mattress hooks keep everything secure as well.
Ease of Use
This is one of the easiest cribs to set up and collapse. In just one movement this crib will be set up- no additional parts are needed! When you need to travel, it easily collapses and can be stored in a convenient travel bag.
Value
If you will be traveling a lot, this is worth the splurge since you will be having a helpful companion. It is a great value for the money and if you can afford it, it is a great option that you won't be disappointed with.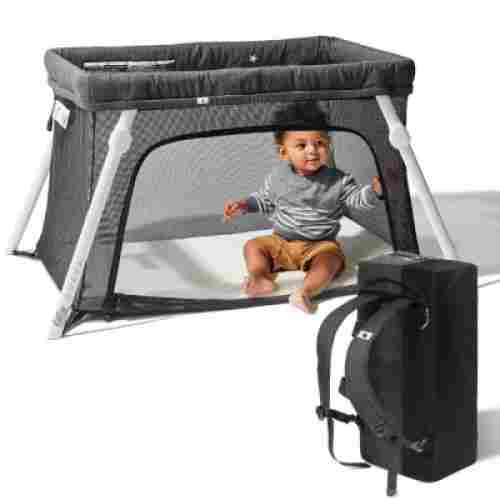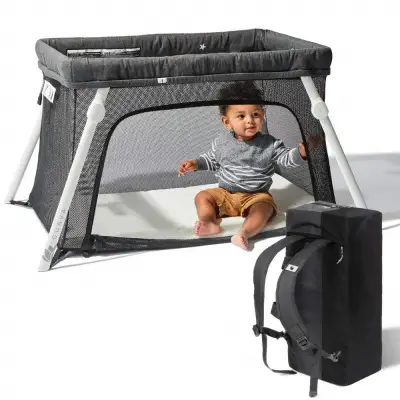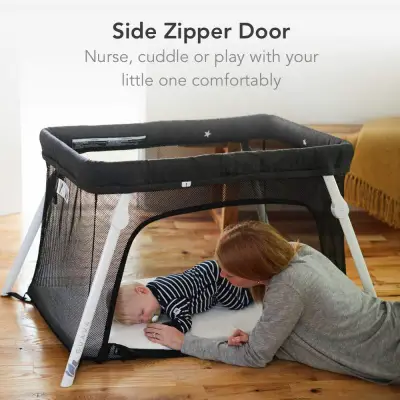 This is easily the most portable crib out there, and the convenient backpack makes it so easy to take it anywhere
Sleek design compliments any decor
Safety features and secure zip makes you feel safe leaving the child in the crib without fear of them getting out
Easy to clean and comes with the mattress you should use with it
Have to purchase mattress sheet separately
This next crib from Guava Family exemplifies what it means for a crib to be portable. This crib easily collapses and folds into a travel backpack, making it easier than ever to take it with you- wherever it is you are going! With multiple functions, this is a great crib that traveling parents are sure to love.
Read more
This crib is one of the most portable ones you will find, as it was designed with travel in mind. If you know you are going to travel a lot, this is a worthy investment that you will love.
Design
A portable crib that sets up in 15 seconds and collapses down into a convenient backpack. It comes with the crib, bag, and the mattress. A sleek modern design with secure zip closure.
Materials
Safe materials that are free from all toxic or harmful chemicals and ingredients. The sides are all breathable mesh for comfort and visibility and the fabric of the crib cover is machine washable.
Ease of Use
This crib sets up in 15 seconds or less and then easily collapses into a comfortable backpack that you can take with you anywhere. You won't find another crib that is as portable as this one.
Value
This is one of the more expensive products on this list, but it is a great product that is one of a kind, making it a great value for the money. It truly features an effortless system for portability.
10

. L.A. Baby Deluxe Folding Metal
Full metal frame portable crib comes completely assembled
Constructed from powder coat metal material
Easy cleanup and scratch-resistant material
Comes with a three-inch dense foam crib mattress
Easy to move and fully folds for portability
Bearings in the casters can come out
Does not come with a cover
Are you looking for a portable crib that is able to be fully assembled and it fully portabel when it is still assembled? Then this deluxe metal crib that folds up may be just the style that you are looking for. It features a folding position is ideal for easy storage and also gives it a level of portability works when bringing along a little one with you. The metal frame and construction of this style of portable crib gives the design a durable finish and provides a safe sleeping place for your little one everywhere you may go.
Read more
Design
The L.A. Baby Deluxe portable crib has been designed to be portable and durable. It features a metal frame that has been constructed from powder-coated finish material that is easy to wipe clean. It's also great for being able to resist scratching and wear leaving the crib to look new and neat for a longer period of time.
Materials
One of the best features of this portable crib is that it comes fully assembled and ready to be used. That means no surprises or special little tools that are needed to be able to get your little one off to bed. Each of the cribs features a metal nontoxic frame and a deluxe foam mattress that is included with the frame. The portable crib mattress has been constructed from dense thick foam that meets all the safety standards of the Federal Flammability.
Ease of Use
During transportation, the crib has a feature that keeps in the locked position and can also be used when the crib is open to adding to the floor safety features. The extra safety features are perfect for making sure your little one is getting a good night's sleep. Another safety feature is the stationary rail on each side. This means no moving parts on each side that could cause any issues.
Value
Portable cribs have a wide range of prices for the current products available on the market. This portable crib offers its value from the solid metal construction and the thick dense foam mattress that comes along with the frame. Many portable cribs do not have the level of comfort and stability that this crib is able to offer. The folding metal frame is a complete bonus in this category.
Criteria Used for Evaluation
Design
It is important that the products we select have good user ratings. If parents are unhappy with the crib they purchase, we want to know why. A poorly designed crib is the last thing you want to give to your child, so we take ratings into consideration when selecting our items. The overall design is an essential factor when you decide to buy any type of furniture. When we analyze the design, we don't just mean the looks. The whole structure, style, included components, accessories and their individual purpose are carefully observed in order to decide whether the product is well-made, eye-catching, sturdy and safe. Portable cribs can be passed on from one generation to another, so finding the perfect design that is worthy of your investment can save you a lot of time and energy.
Materials
We want only the best and safest products on our list. We like selecting items from manufacturers that we know understand the baby industry and are committed to high safety standards. With cribs, we love selecting brands like BabyBjorn and Graco, for example, because they are so well known and have a great reputation. Reputable brands tend to work with high-quality materials and choose only the safest and most durable components for their products. Therefore we made sure you are provided with the accurate information about the origin of the structure and the quality of the wood it was made of. After all, these items are made for the most sensitive members of the family so you want to be well aware about every detail before deciding to purchase one for your tiny sleepyhead.
Ease of Use
Finally, ease of use is important, especially with portable cribs. We want to select cribs that are not just easy to install but also easy to collapse store, and travel with. We try to only select items that we think will be easy for parents to use. After all, these items are meant to keep you company wherever you go. Since they are portable, they need to be lightweight yet sturdy, simple for assembly and disassembly purposes and big enough for the baby to be comfortable, yet not to big so the crib can't fit anywhere. By gathering information about this essential factor, we hope to provide parents enough content to fully understand the concept and idea behind each portable design and experience an effortless product usage system.
Value
Price is always a major determining factor. Parents have a wide range of budgets, but regardless, it is incredibly expensive to raise a child. Therefore, we try to select a range of items that include several affordable options so that any parent can afford them. This is especially important for larger ticket items such as a crib. They obviously cost more money than smaller items, but that doesn't necessarily mean you have to break the bank. Having a child is financially draining, since you already have to invest in diapers, supplements, strollers and other baby products. It is quite relieving to encounter products that won't damage your bank account, yet are well-made and sturdy enough to keep you baby safe. The ultimate true value of each individual product of this kind is the peace of mind you'll be getting when seeing your little one carelessly sleeping in its new sleep.
Most Important Criteria
(According to our experts opinion)
Experts Opinion
Editors Opinion
Users Opinion
By Default

Parents, Did You Know?
It's vital that you choose a nice and safe place to put your baby's portable crib. The location that you choose for the portable crib definitely plays an important role in the safety of the portable crib for your baby. One really important thing that you will need to consider when you are deciding where is the best place to put your baby's portable crib is if there is anything potentially hazardous near the portable crib that your baby may be able to reach. Sharp objects, candles, anything that your baby shouldn't put in their mouth, and anything else that could pose a risk to your baby if they were to manage to get a hold of it should be well away from the portable crib before you place your baby in it.
Parents, Did You Know?
It is important to remember that when you are using a portable crib for your baby, all the same rules that apply for regular sleep in their crib at home still apply. You should be sure that your baby's portable crib is completely free of any suffocation hazards. This means that there shouldn't be any pillows or stuffed animals or thick blankets in the portable crib with your baby. These things can be potentially dangerous for your baby. Instead, the only thing that should be in the portable crib with your baby when you put them to sleep is one light blanket and even that may not be necessary.
Other Factors to Consider

Fit
When buying any type of furniture and baby amenities, the size is very important since you want to item to fit your living and sleeping area. This products are meant to be portable so you are probably wondering if they can fit the trunk of your vehicle when disassembled. By comparing each crib and analyzing the dimensions, parents can get the bigger picture of the item and visualize whether it fits their nursery room, bedroom or the overall interior design. It is always more appealing to find a crib that will easily blend and fit your inner area, since you don't want a tacky or crowded finish once the assembly takes place. With so many versatile choices included on our list, we are quite certain you will find the right option for your home.
Safety
Portable cribs are made very safely to help protect your baby. There generally isn't anything to worry about when using one. As long as you follow some very simple safety guidelines, everything should be fine and you and your baby should be able to easily enjoy the benefits of their portable crib. However some manufactures take extra steps to ensure their products provide extra safety for the little ones and these helpful details are worth mentioning. We made sure to take this factor into consideration while making the list, in order to have the best items of each individual brand included for your shopping pleasure. Having a peaceful sleep meaning parents as well can rest assure that their babies are safe in their tiny sleeping areas.
Frequently Asked Questions
q:

Are portable cribs safe?

a:

Yes! Portable cribs are just as safe as any other type of crib, they just come with added functionality. What is most important when selecting a portable crib is that you learn how to properly install it and use it. It can sometimes be tricky to learn how to collapse these types of cribs, so be sure to take your time and learn the right way. Always make sure you are setting the crib up to the right way as well so you aren't accidentally endangering your child.
q:

How long should my child use a portable crib?

a:

This depends on the specific crib and what they recommend. Typically, babies stop using cribs once they are around 35 pounds. Always check what your specific crib says and follow their instructions. It is also important to see what the maximum height is for the child, as children who are too tall can hurt themselves by trying to climb over the edge of the crib.
q:

Can I travel on an airplane with a portable crib?

a:

It depends. Many of the mesh portable cribs easily collapse down small enough so that you could travel with them on a plane. In fact, the BabyBjorn, Graco Pack 'n Play, Guava Family come with travel bags that allow you to easily take the crib as a carry on the item with you! The wooden portable cribs will likely be much more difficult to travel on a plane with, as they are more portable in the sense that they collapse and can be stored easily and could easily move from house to house say during a move (vs. traveling every day to visit family, etc.).
q:

Is there a specific type of bedding you should use with portable cribs?

a:

Not necessarily. Rather, you need to get the specific bedding that is made for the specific crib that you purchase. You want to make absolutely sure that you purchase a mattress and sheet that are the right size so that the mattress doesn't slide around and the sheet doesn't come off. However, there is no real difference between portable cribs and regular cribs. The same rules apply.
q:

What are the advantages of a portable crib compared to a regular crib?

a:

Portable cribs aren't better just because they are easy to travel with. Portable cribs tend to be smaller in size in comparison to regular cribs, which make them great for parents who live in a small home or apartment. Some cribs aren't necessarily easy to travel with but are collapsible which make them easier to store. It is these additional features that make portable cribs a great option for parents short on space, or for those who know they will travel a lot.