10 Best Potty Training Seats for Kids Reviewed in 2019
last updated
Aug 19, 2019
When they've gotta' go, they've gotta' go—and eventually, they'll be ready to do it in the bathroom, on the toilet. Potty training usually begins between 18 months and 3 years of age, with boys often starting a little later than girls. Kids will be able to dictate to you when they're emotionally and physically ready to start imitating mom and dad. To initiate toilet training, you'll need a smaller seat for kids to practice with before they're big enough to use the same seat as mom and dad.
In a Hurry? The test winner after 29 hrs of research
Fisher Price The Perfect Ring
Why is it better?
Storage handle doubles as a backrest
Fits elongated toilet bowls
Comprehensive splash guard for larger boys
A great complement to stepping stool accessories
In a
Hurry? Editors choice:
Test Winner: Fisher Price The Perfect Ring
17
Researched Sources
29
Hours Researching
15
Products Evaluated
Design
Ease of Use
Value
By Default
10 Best Potty Training Seats
1

. Fisher Price The Perfect Ring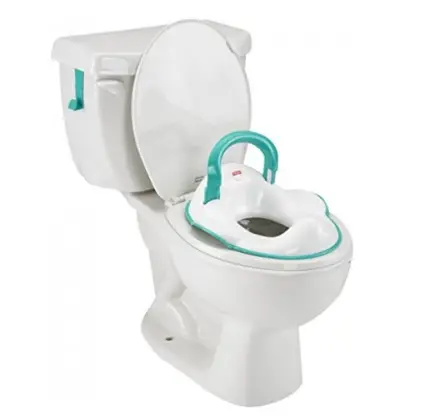 Storage handle doubles as a backrest
Fits elongated toilet bowls
Comprehensive splash guard for larger boys
A great complement to stepping stool accessories
Unfinished plastic on splash guard
The seat may not stay fully locked on
It has both a convenient handle for attachment and a convenient storage hook to place the seat on when done. It fits most non-padded adult toilet seats. There are grooved side handles that allow for your child to feel more secure in the seat while going -- no sense of imbalance or the fear they might slip off or in.
Read more
Design
Comes in one two-tone white and turquoise color, with easy non-frustration packaging. A splash guard for boys is integrated into the design, and can be a great complimentary item for the Fisher-Price stepping stool!
Ease of Use
This is an easy-to-clean item, unlike many more cumbersome seats on the market. The fact that it comes with a storage hook is a bonus. It can be hooked over the toilet commode for easy access and to be aired out after a wipe down. Having a splash guard is one of the more ingenious aspects that will help to keep both the training seat and the toilet seat dry and ready.
Value
The Fisher-Price Perfect Ring falls right in the middle of our training potty price range. This seat has the added benefit of being compact and easy to attach and detach from a regular toilet. It doesn't have many flashy features but it's reliable and that's what counts. You won't need extra space for it in the bathroom and it helps children become acquainted and comfortable with using the grown up potty.
Convenient handle for a hook
Integrated splash guard
Readjustable design that molds to various seats
Easy to clean
No grab-handles for comfort
Hanging attachment is fragile
Lightweight imported plastic. This toilet seat is covered by both US and EU safety and quality control standards. BPA-Free and easily adjusts to any toilet seat. Even if the training seat needs to used on a different toilet, the readjustment is a quick and easy process.
Read more
Design
The simple non-descript design won't distract your child while they're doing their "business", and allows it to fit the decor of any bathroom, thus avoiding a kiddie makeover!
Ease of Use
Baby Bjorn is known to produce infant products that are the quintessence of simplicity After meeting such incredibly high standards for production and design, the company continues to follow-up by means of direct blogs through their site and multiple offerings of complementary accessories that will be compatible with the training seat purchase; all with great customer service and an unbeatable price.
Value
The BabyBjorn toilet is currently the most expensive on our list. It's well-made, easy to install, and keeps the bathroom from suddenly looking like a Pre-K stall. Though it looks simple, it's mighty in the quality of its products, its safety ratings, and it's ability to get the job done!
3

. Gimars Upgrade Folding Large
Tire grip traction for stability
Aids in preventing the spread of germs and bacteria
Made of non-toxic polypropylene and silicone
Comes in four different colors with an owl design
The bottom portion of the seat is difficult to clean
The product comes in four colors, all with the same owl design. The silicone pad is both non-slip and non-abrasive to sensitive skin. The no-gap design allows it to fit snugly on any public toilet seat. It is foldable with a black satin storage bag that can be carried in a diaper bag or on a stroller. It is easy to wash with some warm soapy water or a wet wipe while out.
Read more
Design
Cute owl design that will resonate with kids, combined with durable non-skid traction that helps them feel secure and in the driver's seat.
Ease of use
Great item for parent's on the go and out in public. Even though, this is for older kids -- but, probably only a little further along in potty training -- it can give them the confidence they need to when using the toilet in an unfamiliar environment. This simple mat requires no adjustment, just throw it on as you would an ordinary seat cover; wipe and go, then put it back in the bag to finish errands while out.
Value
Not all potties are peewee-friendly but with the Gimars Upgrade, they can be! This portable training potty helps make foreign toilets a little more comfortable for children still getting used to the system. It's lightweight, folds up, and fits right in your purse or diaper bag so it's always handy when you need it. Potty training is a full-time gig; don't get caught with your pants down!
4

. Fisher-Price Custom Comfort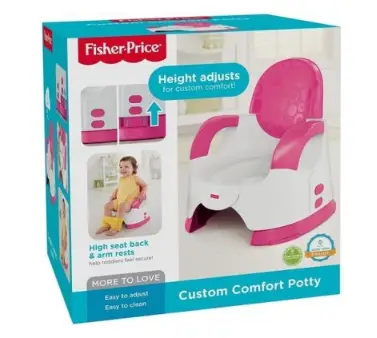 Non-skid base so won't slip on surfaces
Locking bowl securely stays in place
Armrests help to develop grip and arm strength
Adequate height adjustability
Bowl can be too small and cause overflowing
Beautiful pink bordered training seat with a white contrast background.
This model is designed specifically for girls, so it comes without a splash guard. There is a one-piece bowl that comes out for easy dumping and clean out.
Read more
Design
The high seat backing and armrests help your little girl feel more secure. It has two height positions that allow for a more custom fit as your child grows. The price is reasonable and has the convenient option of concealed packaging and shipping.
Ease of Use
This is a very comforting and comfortable high chair. Very often in some of these potty designs, a child can easily feel off-balance and sometimes tip over! This seat serves to make the training process as easy and stress-free as possible. The armrests also serve as a good gripping and lifting-off point.
Value
The Fisher-Price Custom Comfort is right around the average price for training toilets but has the additional bonus of a longer shelf-life. The height is adjustable, so kids won't outgrow it in a few months. It comes in two different designs, and the girls' training potty includes a splash guard. If you're not keen on sharing your own toilet with the little ones just yet, start them on this so there's no fighting over bathroom time or having to switch out accessories.
5

. Nickelodeon Paw Patrol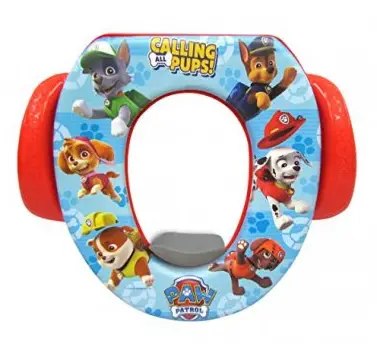 Constructed from strong and durable plastic
Easy to clean one-piece design
Comfortable seat with splash guard
Anti-slip material to ensure training seat stays secure
Included is a bonus hook to hang seat when not in use
Hanging loop is not well constructed
Not the best fit for elongated toilet seats
Potty training has been simplified (well as much as it can be.) Potty training is a task that we all want our little ones to achieve, but the idea of starting can sometimes seem daunting. This portable training seat is easy to use, easy to clean, and comfortable.
Read more
Design
It has a unique design that fits almost all toilet seats plus it is travel-friendly. The cleaning part is a breeze. Just simply run it under warm water and dry. It has been constructed by a family owned company that is always looking to make a parent's job easier. This is a simple seat that does a big job right.
Ease of Use
One-piece potty training seats are great when it comes to having to clean them. There is nothing to have to take apart or cracks that stuff can hide in. Just clean by running under warm water then dry or let hang to dry. It is that simple.
Value
This is one of the least expensive items on our list. It's cute but it's also durable and fits securely onto a standard toilet seat. This allows children to climb up without feeling wobbly. The adorable Paw Patrol design also entices children to want to use the grown up toilet and helps them to feel comfortable and confident throughout the potty training experience.
Small handle that doesn't get in the way
Comfortable non-slip material on seat
Allows kids to feel more grown-up
Gear for hanging and storage included
Doesn't fit all standard toilet seats
A universally designed seat, made of top materials, that will fit pretty much any toilet seat without fuss or problem. The ring fits directly into the groove of the adult sized toilet seat, and the seat adapter refuses to allow for any wiggle room.
Read more
Design
It's very lightweight with an unobtrusive handle that comes with the added hardware of a hook, screw and suction cup for hanging when done. It's ergonomically designed and won't scratch the surface of your regular toilet seat.
Ease of Use
This helps kids not to feel like using the toilet is such an alien experience -- separate from what adults do! This is made possible by properly and seamlessly integrated the adult bathroom experience with your child's. They no longer have to have a separate potty or a seat that raises them completely above the commode as many traditional potty seats do.
Value
The Lebogner Purple Ring is one of the easiest to install and uninstall. It's priced averagely when compared to similar products. It even includes gear to hang and store it so you don't have a large, clunky accessory floating around the bathroom, tripping sleepy adults and eating up valuable space.
7

. BABYBJORN Chair Green/White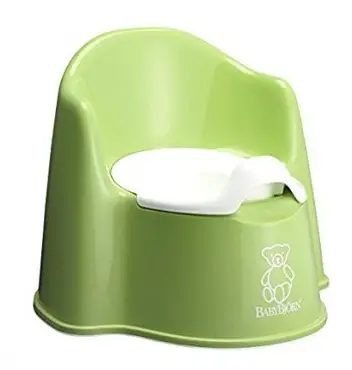 High backrest that won't bend or put off balance
Glove-like ergonomic seat
Solid plastic base
Single dancing bear decal
Compact and takes up little space
Too small for taller children
Clean and simplistic design by Baby Bjorn! You have seven colors and styles to choose from in this model. The high molded backrest is best for children just learning to potty train that needs to feel as relaxed and comfortable as possible.
Read more
Design
It's made of sturdy BPA-Free plastic with an easy to clean bowl that has a splash guard. The product specifications run at 14x13x14 inches. Easy to clean and clean design with little to distract your child while in the process of potty.
Ease of Use
Baby Bjorn gives a product that comes as is -- what you see is what you get! But, as parents, you're never just left completely in the woods to figure it all out on your own! They know that the simpler the design, the easier it is to stay focused on the task at hand, and for your child to never get too overwhelmed. As always, their customer service aims to please and goes above and beyond.
Value
The BabyBjorn Chair is just above the average training potty price by a few dollars. It's a solid contender if you're looking for a training potty that can sit adjacent to your normal toilet instead of having to attach on top of it. Simple but effective, the design's intent is optimal comfort and it achieves that via the high back and ergonomic seat.
8

. Summer Infant Step by Step
Comfortable cushion seat that detaches
Attached toilet paper roll
Convenient storage compartment in the base for wet wipes
Reasonably priced and easy to clean
The base can become unsteady when used as a footstool
This is a 3-in-1 potty training system! It has the base of a standard potty, but with a comfortable seat and back. The cushioned seat has a pink and purple floral design to uniquely appeal to girls!
Read more
Design
There is a toilet paper roll dispenser on the side of the base in order to mirror and instill proper bathroom etiquette. The age range given for the product is 18 months to five years, as a testament to the shelf-life of this potty based on the step system. The first stage maintains it as a basic potty; the second stage, allows the seat to be detached and fitted to a standard toilet bowl; the third stage, allows the base to be used as a step stool. The product specifications are 16x10x13 inches.
Ease of Use
Mostly it transitions through all stages of the potty experience for your child! One of the best benefits is the fact that the detachable seat also has a toilet paper roll that comes with it! So, your child can wipe while seated on a standard toilet without having to reach or drop a roll on the floor accidentally.
Value
The Summer Infant Step-by-Step is an upgrade from the usual training potties. This product sits right around the average price of its competitors but appears a little more suped up and thoughtfully designed. It can transition through all stages of potty training with you so you can purchase one product and be ready to go through the process' start to finish.
Training potty seat for standard toilet seats
Stays in place securely with a non-skid edge
Seat contours to the bottom for added security
Built-in feet at back for stand up storage
Features nursery fresheners for eliminating odors
Pee guard is not high enough
Only fits standard circle toilet seats
Keep calm and toilet trains all day long. Be able to calm your little ones fear with this sturdy training seat. It fits almost all standard toilet seats plus the contouring of the seat fits their bottom making them feel more secure.
Read more
Design
It also features easy to grip handles for add stability along with the non-skid edge that keeps the seat in place. There is a built-in pee guard and when it comes to storage there are little feet on the back of the seat that allows it to stand up. It is easy to clean plus for added freshness is a deodorizing disc. It eliminates odors with the power of baking soda. If pottying like a rock star is the next stage for your toddler then this seat can help.
Ease of Use
Potty training can be a messy and stinky job. This seat features a nursery freshener that is great for beating odors that are associated with potty training. It eliminates odors with the power of baking soda fresheners. These naturally neutralize smells and are super handy during this time.
Value
One of the least expensive options on the guide, the Munchkin Sturdy Green Seat is a great choice if you're working within a budget. It only fits certain toilet seats, so make sure you measure carefully, but it's a simple and straightforward design that works just fine and has the added benefit of handles. Easy to grip and sturdy, these can help children climb up and get comfortable.
10

. Summer Infant My Size Toilet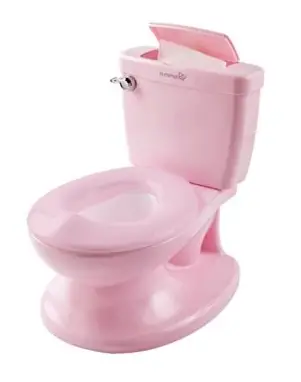 Realistic design
Flushing handle makes sounds
Removable pot
Lid flips up for easy cleaning
Storage compartment for wipes
Splash guard falls off extremely easily, adding extra hassle to the process
The Summer Infant My Size Potty features a realistic design with multiple features that encourage good toilet etiquette. The handle features a flushing sound, to normalize the step of flushing after finishing your business, and to reward little ones with a sound associated with the action.
Read more
Design
The lid flips up and removes easily to make the bowl hassle-free to clean. Simply open the top, pull out the removable bowl, and take it where you need to appropriately clean it. A built-in wipe compartment means little tushes will always be clean, and children will associate the tools at their disposal with the act itself. A clip-on splash guard helps prevent messes otherwise caused unintentionally by little boys. With such a detailed replica, little ones will feel all grown up and ready for business, just like mom and dad!
Ease of Use
This training toilet rewards good potty etiquette with realistic flushing noises and features a compartment to hold wipes, so children always have cleaning supplies handy to keep themselves and their area nice and tidy. It is available in both pink and white.
Value
Priced right around the median, the My Size Summer Infant Toilet is a sensible pick. This miniature toilet looks just like the real thing, helping children to feel grown up and confident, while assimilating them to what it will be like on the bigger potty. The splash guard isn't secure so watch for that, but otherwise it's a clean, classic option!
Criteria Used for Evaluation
Design
We looked very closely at the design of the potties to see that they offered ease of use for very young children. Of particular interest, we applied criteria to cover innovative features which have been designed in to encourage children to know how to use a toilet and what actions are expected. For example, a product which makes a flushing sound after being used is a great design feature to encourage children. We were impressed by designed in features which prevent splash when boys use these training potties. It was impressive to note designs which allowed for compartment space so young children can easily properly wipe clean. Products which include a sanitizing disc to maintain hygiene are impressive and this innovative feature is very important. For very young learners we noted contoured seats and handle grips for stability. Freestanding potties demonstrated support for stability through the designed inclusion of stabilizing feet so that potties stand firmly while being used.
Ease of Use
We looked closely at ease for learning how to use potties because this is an important milestone in the lives of young children, toilet training is very important. During our research, we focused on a favorite design for ease which works as a standalone potty with a movable seat. When the child has learned to use this potty, the seat can be removed, fitted to a standard toilet bowl so that a child can progress to stage two of training easily. At the same time, the first stage potty bowl now becomes a step up stool to help a child get up and on a standard adult size toilet system. A particularly impressive feature of including a toilet roll with the detachable seat to encourage children to practice and learn to wipe clean. We found that all these products are designed with none slip surfaces for children to sit comfortably and safely. Our research covered a wide choice of potties and this allowed us to come up with a great selection from which you can choose the best product for your child.
Value
For the value we looked at cost and performance, we wanted to see if price differences had an impact on the design and features for different potties. Basic potty designs are good and they invite a child to sit on a potty which is placed on the floor, many of these feature a designed in back-rest to give support and this feature does push up the price of the potty. Combination potties do climb in cost but they offer more features and staged toilet training, extra features including an attached toilet roll a compartment style design to allow children more space, a detachable seat so that when a child has managed stage one of learning, she/he can have the seat from the potty fitted to a real standard size toilet bowl. Our research methods have come up with a good selection of potties for boys and girls, basic models and more upmarket models offering more features for training.

Logic
Did you know that the modern toilet is a fairly recent phenomenon? Water closets, as they were initially called, were first invented in the late 16th century. But, they were experimental and only reserved for the wealthy. This remained the case until around the 1890s when modern plumbing systems became more widely available in cities and eventually nationwide in most civilized societies. Now, who's to say how long potty training has been around? Your guess is as good as mine, but statistics have shown that within the last 60 years there has been a sharp decline in the readiness of children to begin potty training in the initial stages of life. In the 1950s, children began potty training by the age of 11 months and had achieved continence and nocturnal dryness by the age of 2. In contrast, by the 1990s children had only begun training at 24 months and still experienced bedwetting up until the ages of 5 to 6 years. It has been pointed out that there is less encouragement now to begin potty training since the advent of disposable diapers and other convenient aids.
What we tended to look for in our research were items that were, and are, going to give parents the most convenience and their child that extra incentive to be more "grown-up" and advance as quickly as possible. Perhaps too much convenience is a bad thing? But, we see them as tools to be used in their proper places. Today's modern standards have parents concerned with things being not only efficient but quick and easy. Once it's done, sanitized, out of sight and out of mind until the next use. We've done well in searching some of the top-of-the-line manufacturers that both excel in this area and add extra value with follow-up blogs and customer service guarantees that last far beyond the life of products other sellers have to offer.
Most Important Criteria
(According to our experts opinion)
Experts Opinion
Editors Opinion
Users Opinion
By Default

Parents, Did you Know?
When choosing a first potty for your child consider the types of materials used for making the potty. Look for a potty which is made from strong molded plastics which will support a child's weight easily. If your child has skin allergies, check to ensure that the materials used for making the potty do not contain properties which can spark your child's allergy.
You want to see a tough durable potty which if dropped will not break or crack. it is worth putting in some time to go online, read buying-guide reviews for best potty choices and reviews from parents who have purchased particular potty models for children. Through doing this you will be in a better position to choose the perfect potty for your child.
Parents, Did you Know?
A quick tip to think about, look at the portability capability of a potty, ensure that it is easy to carry, that it has features which are in place to stop any human waste from slopping out while the potty is being carried. Some potties will feature a deep well to stop slopping accidents and others will feature a closable lid.
Other Factors to Consider
Materials
Our research covered materials and we looked closely at these because we wanted to see the use of materials which were strong and safe for making potties. A potty will get a lot of use from a child during training, it must support a child's weight, be durable for regular use, strong enough to not be damaged if dropped. We also looked for confirmation of the use of materials which will not corrode the potty when in regular contact with human waste. We were able to establish that brand potty makers do put in a lot of pre-research when designing a potty to ensure they offer a product which will perform and function to meet the needs of a young child going through potty training.
Frequently Asked Questions
q:

What is the purpose of the splash guard?

a:

The splash guard is incorporated into the potty as a unique feature for boys. Due to anatomical differences, when seated and going number one or number two, urination is going to occur. With boys, unlike girls, it's not going to go straight downward. The splash guard is there to redirect the stream and prevent spray from going on the floors or carpet, or even prevent the possibility of overflowing the bowl. Some splash guards are built-in, while some are removable. Always be sure to check that they are always finished. Sometimes the manufacturers make errors and leave the guard as a jagged plastic piece which is definitely hazardous!
q:

Is there any kind of harness equipment that can be used in potty training?

a:

While there might be, there is none that we know of! We know that by default many parents have relied on the "hover" method–holding their child up by the armpits while using a public toilet or any toilet that is standard-sized. The products we have offered utilize the standard-sized toilet itself, as is! We do this through a method of accommodation, almost like a booster seat is used in a restaurant. Check out those products for the most convenience. In the meantime, if you find out about any potty training harness equipment, let us know!
q:

At what age will my child be coordinated enough to wipe on his own?

a:

That would all depend on the size of your child and the age at which he or she has fully developed motor skills and hand-eye coordination. The best way children begin to learn is through imitation, so simply allow your child to witness some of your own hygiene habits as a beginning. As time progresses, show them how to do this on their own. As always, strong encouragement is suggested. Each child initiates and progresses at their own rate, but this can start as early as 24 months.
q:

Why aren't the toilet seat covers flushable and biodegradable?

a:

The product offering we made simply doesn't have that option. Now, this doesn't make it any less convenient or conscientious in the manufacturing process. While the company may not have made the decision because of costs in that area, does not take away from the validity of the product, or the fact that there are other aspects of the company that are more environmentally friendly. All of our products are guaranteed non-toxic and BPA-Free.
q:

Does the price match the quality of many of these items?

a:

Yes, all of the items we sell are reasonably priced and of high quality. Of course, this doesn't make them totally exempt from the old adage, "You get what you pay for! Every item on the market will have some sort of glitch or design flaw. This is just the price to be paid due to mass manufacturing. They all have a shelf-life, some longer, or shorter, than others. Therefore, we ask each customer to shop with discretion. In addition, we strive to present you with companies that tend to have a stellar customer-service record and ironclad guarantees.
q:

How sanitary are the bowl potties?

a:

They're no more sanitary than changing any diaper! Typically, it's recommended that you start off the training process with a bowl potty that has a base. This will help to orient your child's center of gravity and of course fit his or her body more easily. Then, as time goes on, they can graduate to the potty seat attachment to a standard toilet seat bowl. Of course, when dumping out waste take all of the necessary precautions and be sure to scrub the bowl thoroughly using both Clorox and Lysol Disinfectant.