Best Pregnancy Shoes Reviewed & Rated in 2019
last updated
Sep 03, 2019
Pregnancy means lots of growth, from our bellies, to our hearts, to our poor aching feet. Most expecting mothers know to invest in maternity clothes that will provide them comfort and functionality over the next nine months, but not everyone realizes exactly how much strain we put on our feet. Flexible, supportive shoes are an absolute essential. When considering your options for pregnancy shoes, remember the different purposes they'll have to serve in your life. If you'll be spending a fair amount of time around the house, consider one of our supportive loungewear options. If you'll be out and about, look into tennis shoes or sandals that will accommodate swollen feet, and offer arch support. Whatever you decide, we're here for your needs. Take a look through ten of the most accomplished shoes for pregnancy, curated by our very own research team.
In a Hurry? The test winner after 35 hrs of research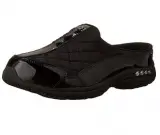 Easy Spirit Traveltime Mule
Why is it better?
Made of suede and rubber material
Is a breathable clog
Available in plenty of sizes and colors
Has a removable sock liner
Cushioning in the heels is great
In a
Hurry? Editors choice: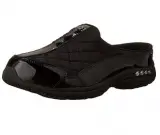 Test Winner: Easy Spirit Traveltime Mule
25
Researched Sources
35
Hours Researching
20
Products Evaluated
Design
Comfort
Support
By Default
10 Best Pregnancy Shoes Reviewed
1

. Easy Spirit Traveltime Mule
Made of suede and rubber material
Is a breathable clog
Available in plenty of sizes and colors
Has a removable sock liner
Cushioning in the heels is great
May not have much arch support
Trouble with sizing
Made of soft durable suede material, these Traveltime Mules have a rubber sole that absorbs the shock for a comfortable step every time. The cushioning is the heels is great according to customers reviews online.
Read more
Design
There is a removable sock liner and plenty of sizes in regular, wide, and extra-wide. Everyone should be able to find their perfect fit in these super comfortable shoes that just glide on. The most amazing thing about these shoes besides how easy they are to wear is the number of selections the manufacturer offers for color choice. There are over seventy solid and multi-colored choices to find the one you like best. You won't find this kind of selection in a shopping mall. The fabric on the upper portion of the shoe has a distinct fabulous design, and the footwear has a flexible outsole and a cushioned insole. These soothe the feet in a breathable clog that looks and feels like a tennis shoe.
Comfort
These mules are available in wide and extra-wide sizes for women who have wide or swollen feet from pregnancy. Regular sizes are also available for those that just want a nice comfortable shoe to slip on.
Support
Having over seventy choices of colors and color combinations for a shoe is unbelievable! These are extremely popular and the availability of color choices must be part of the reason.
Made of breathable leather material
Available in over 95 colors
Includes a removable foot insole
Comes with built-in support for the arch
Has Velcro closures
A few complaints about squeaking after months of use
Some said the Velcro comes undone for them easily
Designed like an old-fashioned Mary Jane shoe, these super comfortable shoes for women have an animal print design with a removable foot insole. The removable footbed permits the insertion of orthotics for foot problems.
Read more
Design
These have built-in support from the arches and long-lasting comfort from the form-fitting design of the shoe. Over ninety-five colors, color combinations, and beautiful patterns are available for this wonderful shoe. They include rocker outsoles that will naturally roll, thus reducing central metatarsal and heel pressure. This unique sole will also encourage a normal gait and proper posture. The extra depth of the shoe gives you a better fit with wiggle room, and the flat bottom for stability makes maximum floor contact. The closures on the top strap fasten on the upper side and with easy Velcro. These are made of breathable patent-leather material, and the rubber soles are cushioned flatforms. Every pair has small printed butterflies on the side of the shoes.
Comfort
Pregnancy women, especially in their last months of pregnancy, have difficulty tying shoelaces. These Paloma Flats will help greatly with this because the closure is a Velcro strip on top of the shoe.
Support
Being this is one of the top two shoes we list and they both have huge choices for the color selection, it must be the colors that are making these outstandingly popular with women. This one has over ninety-five selections for color choice.
3

. Tiosebon Athletic Shoes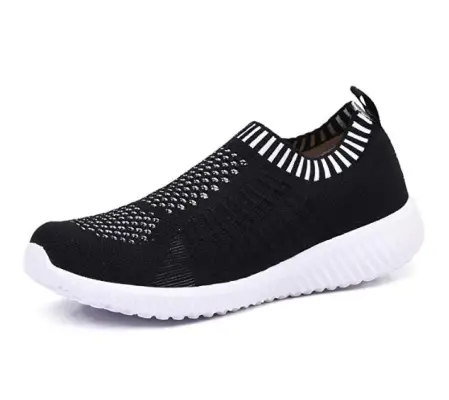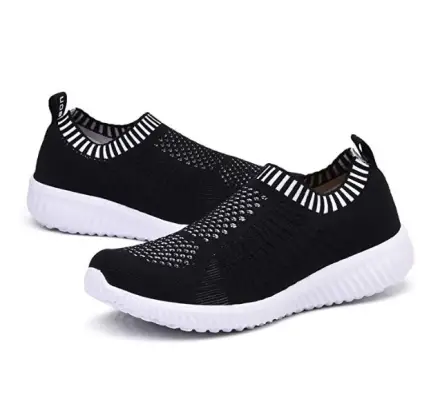 Has many ventilation holes for great airflow
Includes a thick durable rubber sole
Comes with an elastic edge around the ankle
Has a pull-tab on the back of the heel
Includes an insert for the arch of latex
Might be hard to put on
Elastic around the ankle rubbed for some women
Offered in over fifteen gorgeous bold colors, these mesh walking sneakers are great everyday shoes that coordinate perfectly with many outfits. They are also wonderful for exercising and workouts too.
Read more
Design
These great shoes include an insert for the arch of latex, and they have a sleek profile. They will absorb the shock of every step and are lightweight, breathable, durable, and comfortable. There is a pull-tab on the back of the heel for ease in putting them on and taking them off. These sneakers come with an elastic edge around the ankle for a snug fit and thick durable rubber soles. There are many ventilation holes for great airflow in and out of these shoes. Online customers could not stop raving about the fabulous comfort, superb design, great fit, and terrific style of these easy slip-on sneakers.
Comfort
The many colors available and the cute design of these sneakers make them so suitable for almost any kind of outfit you want to wear. Whether it is pants, jeans, a skirt, or shorts, these shoes will look perfect with them all.
Support
Slip-on anything, especially shoes, is just the thing you need when you are pregnant. Life at this time should be very easy and carefree particularly when putting on shoes. These are easy to put on slip-on sneakers.
4

. Kunsto Leather Casual Loafers
Includes durable stitching
Upper is made of genuine leather
Comfortable for wearing all day long
Will absorb moisture well
Outsoles will massage the foot as you walk
Complaints of the overall quality
Material may be thinner than expected
For comfortable wear all day long, pregnant women will really love these leather loafer shoes with the slip-on closure. The upper portion of the shoe is made of genuine leather, and the soles are very flexible.
Read more
Design
The outsoles are very fascinating to look at because they have many bumps on each sole. These make the shoes slip-resistant and non-marking on floor surfaces, but they have a much better purpose than that. Those little bumps on the bottom of the shoes will massage your feet as you walk. It sounds incredible, but it is true! Everyone online in the reviews commented on how comfortable these shoes were on their feet. If that is not comfy enough, the back of the heel can be folded in to make the shoe a mule for really simple dressing. Offered in over fifteen colors these lovely shoes are perfect for pregnant women to wear all day long. They will absorb moisture well because there is no lining inside the shoe. These have a cute design of a lace-up bow on the top and durable stitching.
Comfort
Even though these are slip-on originally, the manufacturer states that the back of the heel can be folded inward to make it like a mule-type shoe that simply slides on your foot. Either way, these are wonderfully comfortable shoes.
Support
The little rubber circles on the bottom of the soles not only look interesting they are very functional for massaging the foot as you walk. Even the few negative reviews these shoes received complimented on the comfort of them.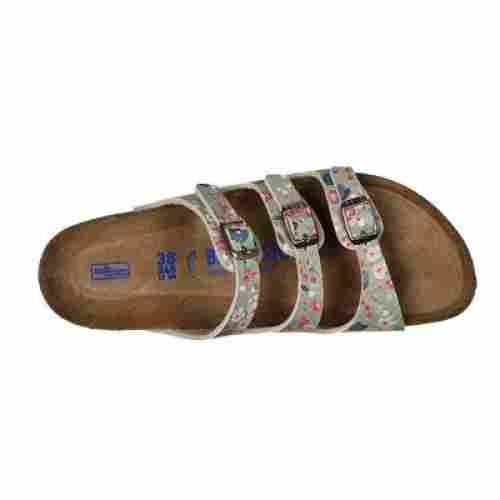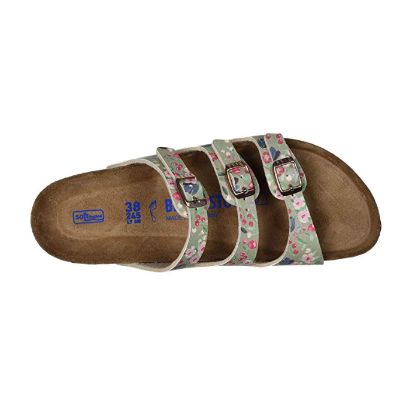 Available in a variety of sizes and colors
Straps can be adjusted as your feet grow
Footbed contours to your foot to provide superior support
Absorbs shock
Straps could be more durable
Birkenstock's triple strap sandal is the perfect combination of style, comfort, and security. Since 1991, the company has been making lightweight shoes that allow you to move around freely and comfortably. With a variety of sizes available, you will be able to find the perfect size to accommodate either a narrow or medium width foot.
Read more
Design
Composed of EVA the outsole absorbs shock, thus giving these shoes a high level of durability. With over fifteen different colors and patterns available you can easily pick out a pair for any outfit.
Comfort
The footbed is covered in a suede material that will provide your feet with a soft feeling when worn without socks. The adjustable straps allow you to continue to obtain a comfortable fit as your feet grow throughout your pregnancy journey.
Support
Along with the suede material, the footbed is padded with foam that will mold to your foot. The custom contoured footbed will cradle and support your feet with every step you take. The raised toe bar aids in circulation by encouraging your foot to perform its natural gripping motion. Your body weight will be distributed evenly via the deep heel cuts.
6

. Vionic Agile Kea Slip-on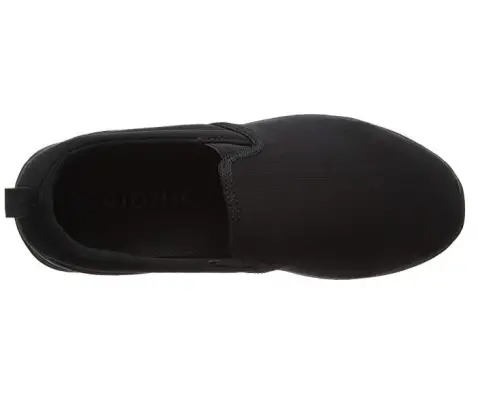 Made of synthetic and mesh materials
Has a long-lasting rubber soles
Flexible and firm support
Upper is breathable and lightweight
Doctor recommended
Complaints of not much arch support
Heels slipped out for a few people
Offered in ten cute colors and made of durable synthetic and mesh materials, these Agile Kea Slip-ons from Vionic are doctor recommended for the best foot comfort. They feature the technology of the Advanced Motion System (AMS) of Vionic and are flexible with firm support.
Read more
Design
These fabulous shoes include textile-covered EVA removable orthotic inserts and are just right for anytime you want to wear a comfortable shoe out. The upper is breathable, flexible, and lightweight and will feel so wonderful on your feet. Pregnancy takes a huge toll on a woman's body, so terrific supportive shoes like these must be worn to ease the foot, leg, hip, and backaches that are normally experienced.
Comfort
Using advanced technology in crafting these slip-ons, the manufacturer made these shoes to be lightweight, breathable, supportive and very comfortable for long-term wear.
Support
These great shoes have many uses for all of the activities in your life. Use them for everyday wear, work, exercising, workouts, or outings. They go with all sorts of outfits both casual and semi-formal.
Casual design makes them great for daily wear
Footbed is padded
Pull tab makes putting them on easier
Grooves on sole provide a high level of traction
Eliminate the struggle of bending down to tie your laces with these slip-on sneakers. While the Joomra Sneakers are equipped with a lace-up closure, they are only there to provide a more snug fit.
Read more
Design
The casual style of these sneakers make it easy for you to wear them for your daily errands and activities. They are available in several different solid colors, thus allowing you to pair them with several different outfits. The woven 3D grid pattern on the sides of the shoe allows your foot to breathe while also being aesthetically pleasing. The back pull-tab will make it easier for you to slide the shoes on over your heel. The low cut tongue gives the shoe a sleek silhouette.
Comfort
Your feet will remain comfortable on long days thanks to the padded footbed. The entire shoe is designed with a lightweight feel that will allow you to walk freely without the feeling of being weighed down. With the tongue being low cut you don't have to worry about it being uncomfortable on your ankles.
Support
The outsole is designed with grooves that will encourage natural motion while also providing a high level of traction on a variety of terrains. The padded footbed is just as much practical as it is comfortable. It provides support to your feet, legs, and body as you move throughout the day.
8

. Propet Travelfit Slide

Made of breathable mesh material
Has a flexible synthetic sole
Available in wide widths
Has a pull tab on the heel
Includes bungee laces that are adjustable
Wide widths were not big enough for some women
A few did not like the colors received
The Travelfit Slide Walking Shoe is offered in five basic colors to match most outfits and wardrobe styles. They are made of breathable mesh material for the upper shoe portion and have a flexible synthetic sole.
Read more
Design
Wide widths are offered in this fantastic shoe that just slips on the foot. There are no regular shoe laces or Velcro straps to fasten. These do come with bungee laces that are adjustable but not necessary to put the shoes on every time. Once these laces are set to your particular width you can just slip them on quickly and easily. There is a pull tab on the back of the heel to adjust the fit easily that way too.
Comfort
These shoes are available in wide widths which are perfect for women who are pregnant. Sometimes the feet will become swollen and uncomfortable in most regular shoes, but with these shoes, your feet will be comfortable.
Support
This is a splendid travel shoe that just slides on your foot much like a mule shoe. There are bungee laces on the top of the shoe, but once they are adjusted for your foot size, you just slip these on each time after that.
9

. Toms Seasonal Classics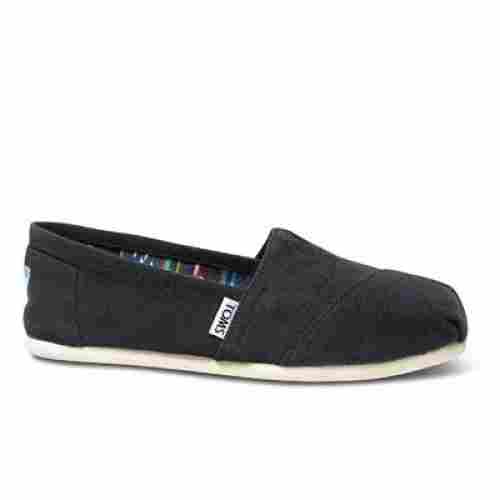 Fabric stretches
Available in a wide variety of colors and patterns
Suede footbed keeps feet comfortable
Company gives a new pair to a child in need
With every pair of Toms you purchase, the company gives a pair to a child in need. Now you can look great while also feeling great!
Read more
Design
With absolutely no laces, these shoes are designed entirely to slip on. The elastic "v" on the top of the shoe makes it easier for you to slide these shoes on and off. This closed-toe shoe is available in a wide variety of colors and fun designs that can be worn every day.
Comfort
The canvas material is designed to stretch, thus making them the perfect pregnancy shoe. You can continue to wear them as your feet grow and even when you're dealing with the swelling postpartum. The suede footbed and canvas material will keep your feet comfortable if you choose to wear these shoes without socks.
Support
The padded insoles support the arch and body of your foot. The lightweight design encourages you to move freely while also providing your entire body with support in order to prevent aches and pains later.
Criteria Used for Evaluation
Design
Walking becomes difficult during pregancy since feet get swollen, therefore wearing comfortable shoes becomes essential. Many changes happen to the body which put pressure on the feet, requiring the pregnant women to wear the right footwear.
These are all women shoes that were made for women, except for the one unisex shoe we highlight, which is the Telic Flip Flops. They can be worn by both sexes because they are not specific for foot form or shape. Even though these shoes are for feminine foot forms that are usually narrow and small, there are a few noted products here that are available in wide widths and larger toe boxes. These help those with foot problems that need a larger toe room for sensitive feet such as diabetes. They are very useful for pregnant women too because they will accommodate swollen achy feet that are tired.
Comfort
The right footwear provides the proper support, reducing foot pain and the chance of falling. These shoes have a wider base and are able to trap sweat. They look stylish and comfortable at the same time.
All of these footwear items are very comfortable and supportive of not only the foot muscles but also the rest of the body too. Aching back, leg, hip, knees, and ankles can obtain relief too from new shoes with added arch, sole, and heel support. The flexible materials the shoes are made of also add to the comfort level of the wearing experience. Products such as the Telic Flip Flops had rave reviews about the special material that felt so comfortably squishy when used. Other had memory foam inside or had the ability to be just slipped on without any effort. All of these features add up to terrific shoes that are greatly appreciated by pregnant women.
Support
Depending on the needs of the pregnant woman, she is able to choose from a range of shoes that can be worn every day on casual and formal outfits. The powerful cushioning provides optimal support to the feet of the women.
These are all easy shoes to put on and do not take great effort to do so. The majority of them simply slip on the feet like slippers and can be worn all day every day with great comfort on the go. They are all casual shoes that will go well with most casual outfits such as pants, jeans, shorts, dresses, and skirts. A few of them could be worn with more formal attire, but their general purpose is to make the feet feel supported and lessen body aches associated with pregnancy.
Most Important Criteria
(According to our experts opinion)
Experts Opinion
Editors Opinion
Users Opinion
By Default

Parents, Did you Know?
Since about 3/4 of pregnant women experience swollen feet, comfortable shoes are a must for every pregnant mother. Supportive shoes are meant for the later half of the pregnancy. The shoes will support women's feet on fun nights out with their partner or friends and on casual walks through the park.
Parents, Did you Know?
Slip-on shoes are easy to put on, compared to other types of shoes, after 8 months of pregnancy.
Other Factors to Consider

Brand
Each of these items is a top-rated product online that customers loved and also one of the most-reviewed items that received feedback from consumers. We put only the most-loved items on our pages of products for your shopping pleasure to make your hunting more enjoyable and easier. After searching through the manufacturer descriptions, customer comments both negative and positive, this is the best of the best in the most ideal shoes for pregnant women.
Frequently Asked Questions
q:

Do any of these shoes have to be tied?

a:

Yes, there is only one pair that has shoelaces to be tied each time you wear the shoes. They are the Orthofeet Athletic Sneakers. All of the other shoes are slip-on or sandals.
q:

Do any of these shoes need special care in washing or drying them?

a:

No, none of the manufacturers stated anything about cleaning any of these shoes. It would be best to spot clean them and check the packaging that comes with the shoes for any special instructions. The flip-flops and sandals featured could probably just be wiped with a damp cloth when they become soiled. The other sneaker-type shoes can most probably be machine-washed just like regular tennis shoes.
q:

Are these just regular shoes that can be worn after childbirth too?

a:

These are all just regular shoes that can be worn at any time in a woman's life. Plenty of women have foot and toe troubles or medical conditions that require extra comfortable shoes that give great support. All of these do just that.
q:

Can men wear any of these shoes or are they all for women?

a:

The Telic Flip Flops that we highlight here are unisex, so men can wear these too. They are not specific to the foot shape or width and will conform to the foot that wears them. All of the other shoes are specifically for women and their narrower feet, so men would most probably find these uncomfortable for the most part and too small.
q:

When is the best time to start wearing special shoes when you are pregnant?

a:

Whenever you feel like your feet need some help or you have really tired legs, it may be time to change your shoes to something with more support and comfort. This can be at any time of the pregnancy and even after the pregnancy. You may get used to the comfort level that some of these shoes can provide because they are all superior shoes that will pamper your feet. Wearing them after childbirth is great.
q:

Will these shoes still help me if I don't feel any pain or muscle ache relief from wearing them?

a:

This greatly depends on exactly what is hurting and where. If it is just the feet that hurt, then the shoes you choose should give you some relief. Maybe they will not cure all of the pains and aches, but they should help somewhat. For pregnancy body aches, different shoes should not be the only thing you try to help with that discomfort. Our feet do have a lot to do with the discomfort we feel in other parts of the body, but sometimes you need more than just a change of shoes. If you still feel pain after trying the new shoes, then it would best to consult a doctor about it.