10 Best Pregnancy Tests Reviewed in 2019
last updated
May 05, 2019
Taking a pregnancy test can be one of the most nerve-wracking experiences for a woman. No matter where you are in your family planning, the anxiety of not knowing can cause all kinds of stress. When you have such big news to uncover, you need a product that is reliable. The following ten at-home pregnancy tests are some of the most well-received on the market. Women all over have tried these items and praised their quality. With so many options, we think you can find something just right for your family.
In a Hurry? The test winner after 11 hrs of research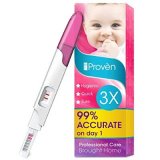 iProvèn
Why is it better?
99% accuracy rate when tested on the first or second day of expected period
3 tests per box
100 day money-back guarantee
Extremely easy to use
In a
Hurry? Editors choice: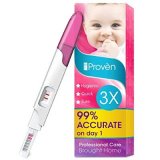 Test Winner: iProvèn
15
Researched Sources
11
Hours Researching
14
Products Evaluated
Accuracy
Ease of Use
Materials
By Default
In Depth Review Top 10
iProvèn
HealthyWiser Monitor & Track Fertility
AccuMed 25 Individually Wrapped
Docalon
Wondfo Combo 50 LH + 20 HCG
ClinicalGuard® HCG Strips
PREGMATE 90 Count
[email protected] HCG Strips 20 Pack
iProvèn 50 LH & 20 HCG
PREGMATE 100 LH + 20 HCG
Table of contents
Criteria Used for Evaluation
Other Factors to Consider
Frequently Asked Questions
Sources
10 Best Pregnancy Tests Reviewed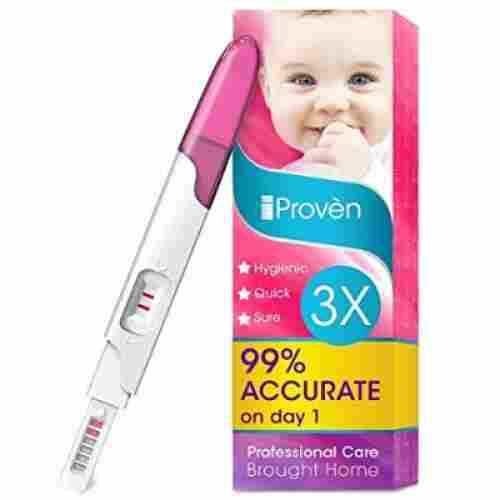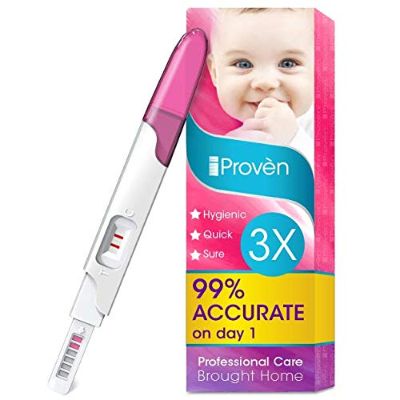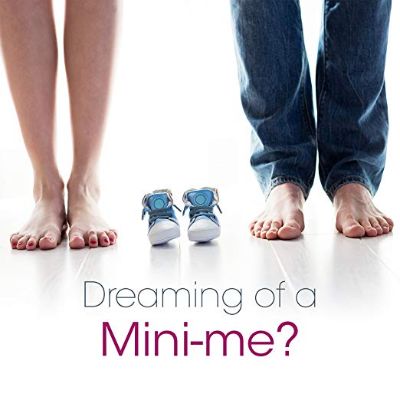 99% accuracy rate when tested on the first or second day of expected period
3 tests per box
100 day money-back guarantee
Extremely easy to use
Several people received damaged or non functioning items
The company offers a 100-day no-questions-asked money back guarantee, so contact them if you have any issues with your product. Rest easy over your purchase, and knowing that your results will be the best you can get!
Read more
Accuracy
The iProven Pregnancy Test means to bring you every comfort. It performs with a 99% accuracy rate when taken on the first or second day of your expected period. And since false positives and negatives are a worry for everyone, they include three tests in each box, allowing you to test, test, and test again to be triple-sure of your news.
Ease of Use
This test can be taken two ways; you can urinate onto it, or if that is difficult or uncomfortable for you, you can also collect your urine in a cup and dip the stick in that. With pretty strong accuracy in their results and several tests in each box, you don't have to live with the not knowing.
Materials
Pregnancy tests can be expensive. And just because you've been given an answer once doesn't mean you immediately stop worrying. The iProven pack allows women to test a few times to confirm their results and put their minds at ease.
2

. HealthyWiser Monitor & Track Fertility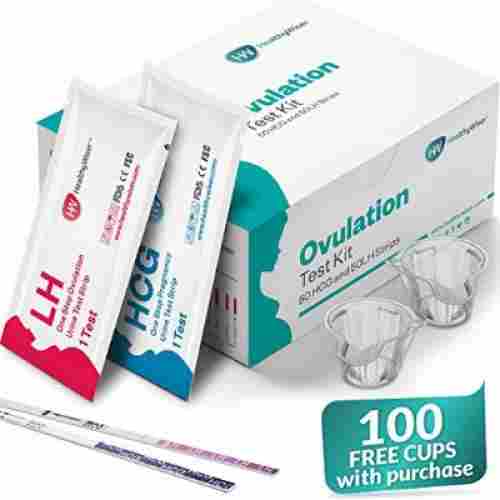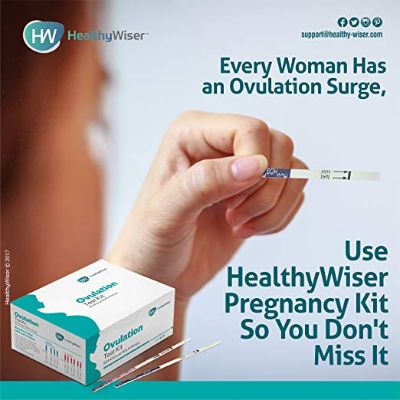 Includes 100 disposable cups
Comes with 50 ovulation and 50 pregnancy test strips
99.8% accuracy rating
FDA-approved
Easy to read results
You're getting much more than what you may need price-wise
You can admit it -- The most daunting thing about taking a pregnancy test (besides actually waiting for and finding out the results) is having to store urine in some kind of cup that you're going to be disposing of later on.
Read more
Accuracy
The big question is this: You're getting a lot, but how accurate is this kit? To be precise, all the strips are 99.8% accurate and also verified and approved by the FDA, which will put your mind at ease when choosing them
Ease of Use
These Test Kits from HealthyWiser come with a total of 100 disposable cups which might not seem like a big deal...Until you're getting ready to test and realize you have nothing to test in. The cups even have a little divot that's used to hold the pregnancy strips, making your life that much easier.
Materials
For less than $20, you also get 50 ovulation test strips and 50 pregnancy test strips which is crazy...Crazy generous, that is! This entire kit contains everything you'd need for months of ovulation and pregnancy testing, which is why it was rated so highly on our list. The addition of disposable cups is one less thing that you need to worry about which really puts this product over the top.
3

. AccuMed 25 Individually Wrapped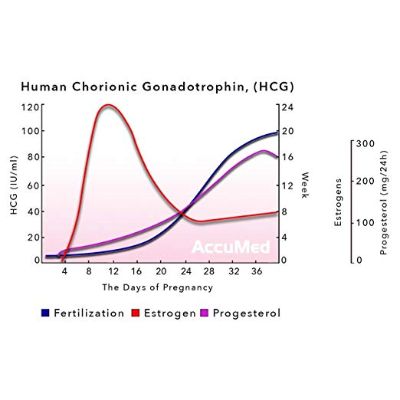 Over 99% accurate
Numerous strips for repeated testing
Three second dip time
Easy to read results
No early detection
If the test reads negative but pregnancy symptoms are still present, the test may not immediately be picking up hCG hormone
We love that accuracy comes with the speedy results of this test. Over 99% assuredness is hard to find with a speedy test strip -- until now.
Read more
Accuracy
With an easy three-step, five-minute test, potential mothers have results that are over 99% accurate with a test strip that fits in the palm of your hand. Two lines mean the hCG hormone is present, one line means it's absent, and no lines means an invalid test; thus the process could not be easier!
Ease of Use
Testing shouldn't be over complicated and neither should your testing strips. Three seconds is all it takes to test these AccuMed strips, and that's three seconds of simplicity that takes the test stress off of your mind.
Materials
Deciding on the right pregnancy test is up to you and you alone, and whether it's a test strip or a testing stick, the options are endless. AccuMed brings to the table a unique blend of accuracy and simplicity, for those who want a simple answer: yes or no.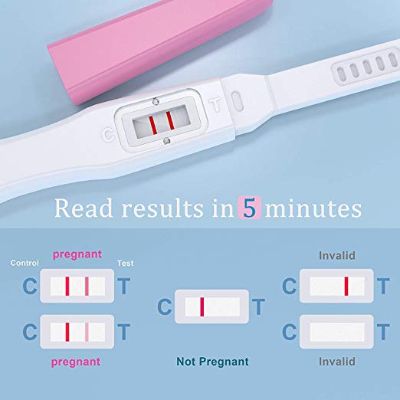 Detects hormones up to 6 days before expected period
FDA approved
Sold exclusively on Amazon for best value
Easy to read results
Easy to use testing kit
Some customers received non functioning tests or a different brand
When you're unsure about a pregnancy, the sooner you know, the better. Knowing as quickly as possible allows you to make all of the preparations you need as you move forward. Docalon can help with that.
Read more
Accuracy
With Docalon early results, you can rest easy knowing you're in good hands. Docalon detects all forms of pregnancy hormones commonly found in urine. With a 99% accuracy rating starting up to six days before your expected period, this easy-to-use stick can tell you what you need to know.
Ease of Use
You don't need to overpay for basic pregnancy tests at the drug store anymore. Docalon is just as efficient (if not moreso) and since it's exclusive to Amazon, the price point is a lot better, too.
Materials
FDA approved and exclusively sold on Amazon, each box contains two tests. As the pregnancy progresses, the number of hormones in your system increases, so for the most accurate result test twice a few days apart if you are unsure. Roughly 88% of women have traceable pregnancy hormones five days before their expected period. This number goes up to 97% four days before, over 98% three days before, and over 99% 1-2 days before. Reading your tests results is simple: one line means not pregnant, and two means you're expecting.
5

. Wondfo Combo 50 LH + 20 HCG
A significant amount of testing strips
Over 99% accuracy
Early detection -- up to four days before missed period
Small enough to travel with
Does not come in a stick form, therefore will need to be used with a urine cup
We like to save the mysteries for the novels we read. There shouldn't be any mystery in when you're trying to have a baby, so 2-in-1 ovulation and pregnancy test strips are something we definitely love.
Read more
Accuracy
Almost as important as knowing if you're pregnant, is knowing when you're able to get pregnant! Ovulation strips can play a vital role in starting your family, and Wondfo offers both ovulation and pregnancy tests that are 99% effective as well as FDA approved.
Ease of Use
Being able to test for pregnancy is one thing, but knowing exactly when to try beforehand is a simple step that allows you to skip the guessing game. Wondfo packages together test for LH (luteinizing hormone) and hCG so that you don't have to spend valuable time mapping out your hormones on your own.
Materials
This combo offers a 2-in-1 process that is super helpful to expecting parents-to-be while eliminating the stress that can sometimes occur when trying to figure out a woman's most fertile days. The test strips are small, discreet, and work within a matter of minutes to let you know your best chances of conceiving and if you were successful!
6

. ClinicalGuard® HCG Strips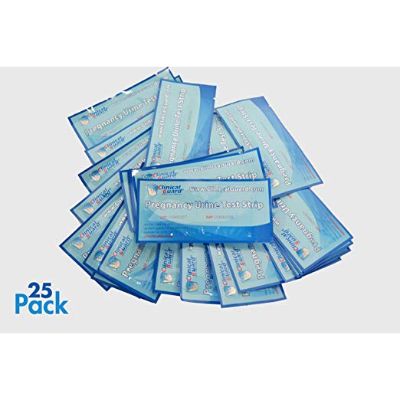 Super easy to use
25 mIU sensitivity
Strips only read a color in the test strip if the strip if there is a positive
Colors are easy to see and read
Small, portable strips allow for easy travel
Does not come in a stick form
No early detection
There's no reason testing for pregnancy should be complicated and stressful, and if we can help take some of that stress out of the equation, then we've done our job. Reading a test strip should be as easy as it is to take, and these test strips come with that promise.
Read more
Accuracy
The easy to read result strip really stands out against so many other pregnancy tests out there, and we like anything that calms the mind of expecting mothers. Rather than look for several different pink lines, we like the fact that if there is no baby -- there is no mark, period.
Ease of Use
It's just human nature to expect results and to expect them fast. Second to readiness would be ease of use, and ClinicalGuard has that covered in every aspect. Traditional pregnancy tests can sometimes be difficult to use, clunky and oversized, and lack a certain discreteness that many women look for when taking a pregnancy test.
Materials
These test strips lend themselves to be easily transported as well as easily read, with only two spaces on the strip -- one for a positive, and one for a control. If the test is negative, nothing will show up, which is a simpler display than most tests! Who really wants to keep up with counting lines, anyway?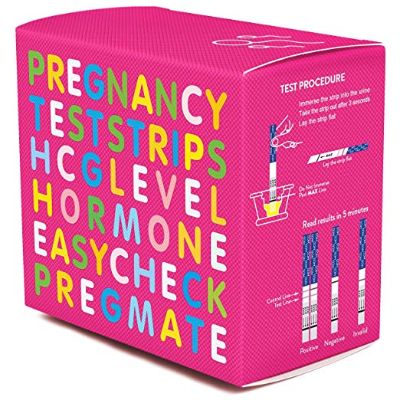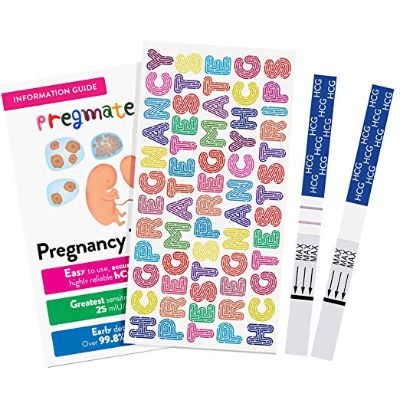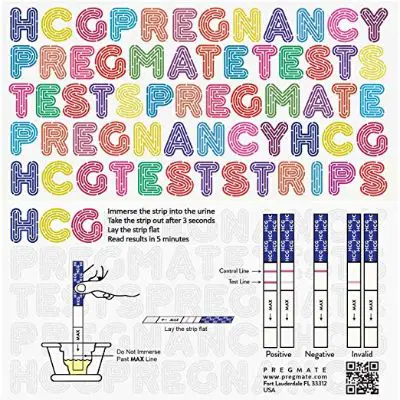 Easy to use, simply dip in urine for three seconds and the results will be ready in five minutes
Able to detect HCG levels at 25mIU/mL within five days of a missed period
Fully FDA-approved with 99 percent accurate results
Includes LH detecting ovulation test strips for those trying to conceive
Positive results on the pregnancy test strips may be lighter than other brands which can result in false negatives
Dipstick-style strips require the collection of urine rather than insertion into the urine stream
Lets set the scene. It's Friday night, your partner is off work and its date night. You've both decided to hold off on having children for a few years until you are more financially and emotionally stable but you've been having fluke periods lately that aren't regular. You don't want to take time or money out of your night to run to the pharmacy and buy an ovulation test so you decide to risk it. This isn't a situation you should have to contend with. Ovulation and pregnancy tests don't have to be an expense at the moment but rather they can be useful tools that aid you in planning for the future.
Read more
Accuracy
As you near the middle of your monthly cycle, your hormones, specifically the luteinizing hormone that occurs during ovulation, will spike dramatically. In an average 28-day cycle, this can be relatively easy to predict, usually occurring around the 14th day. However, very few women have regular cycles and ovulation can be affected by a plethora of factors. Everything from what you eat to how you feel can throw that number off by a few days and when you are trying to conceive...or doing your best not to, knowing what day you actually ovulate is essential to proper family planning. The only way to truly see your LH surge is to test every day.
Ease of Use
With the AccuMed Ovulation & Pregnancy Test Trip Combo kit, you can take back control over your love life. You are not alone, over 30 percent of women suffer from irregular periods that can make the best and safest times for sex unpredictable. With the 100 LH detecting strips in this kit, you will have the freedom to test every day without worrying about racking up costs or running out of strips. This can give you an accurate picture of what is actually going on inside your body rather than just shooting in the dark. Fifty pregnancy tests capable of detecting the smallest HCG levels that are FDA-approved can eliminate that two-week later fear...or give you the biggest moment of joy when you finally see that BFP!
Materials
This combination pack allows you to test for both ovulation prior to your period and conception both before and after your missed period, giving you more freedom when it comes to family planning!
Easy to use
Fast and efficient
Over 99% accurate
Can be stored discreetly
Senses even the smallest amounts of hCG
The test might be confusing if there's only a very faint second line
These test strips are essentially like going to a lab to have your result verified. They test for even the slightest presence of hCG which makes your results 10x more accurate. cy. First Response has your back, as well as your hormones!
Read more
Accuracy
You just dip, wait a few seconds, and if you see two lines instead of one, the test is positive. The results of these tests are also over 99% efficient so you know you're getting something that you can trust.
Ease of Use
Sometimes you just want something fast, quick, and easy. Stick pregnancy tests can be a little nerve-wracking and somewhat complicated in their bulk form. These test strips are simple and take no effort whatsoever to use, and they can also be easily slipped into a bag or discreetly placed in a cabinet, bathroom shelf, or drawer.
Materials
The non-invasive nature of having test strips is why many people prefer to test for pregnancy this way. If the presence of hCG is there at all, this test will show it -- No matter how faint the second line on the test might be.
9

. iProvèn 50 LH & 20 HCG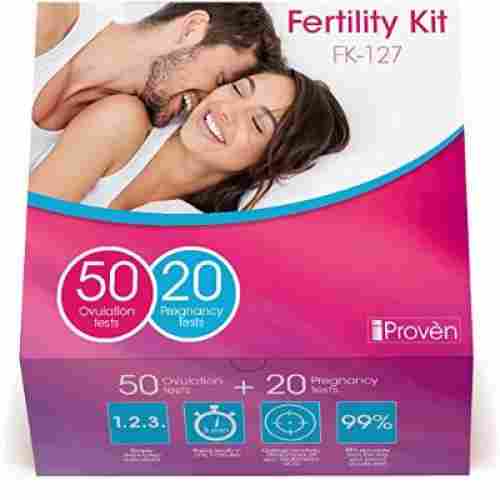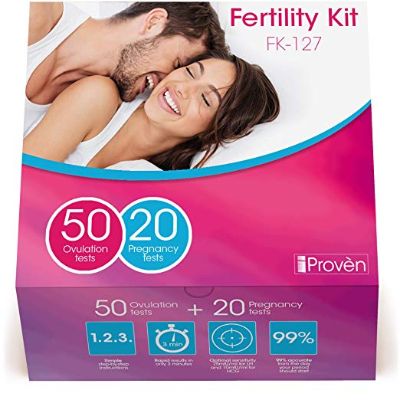 50 ovulation tests and 20 pregnancy test strips
Highly accurate
Easy to use
Simple to read
Ovulation strips will only appear positive when there's already a surge of hormones
This is a great value for what you're getting in addition to pregnancy test strips. This kid also includes ovulation tracker strips that help to accurately portray when you're ovulating and when you're most likely to conceive.
Read more
Accuracy
Both of the testing strips are highly effective and highly accurate and can be a wonderful tool to keep track of your ovulation days, as well as test for pregnancy when you're ready to do so. Sometimes having a two-in-one kit can help to ease your mind and reassure you that you'll always have a way of knowing when the best time is to try and start a family.
Ease of Use
Anything that comes in a kit automatically gives you comfort in the sense that you have everything you need ready and accessible. When having kids, accuracy and timing is the most important thing, and this kit will have you ready for both.
Materials
These test strips are easy to read and because they come in packs of 50 (ovulation strips) and 20 (pregnancy strips), there's really no chance of you running out. The more tests the better when you're trying to start a family!
10

. PREGMATE 100 LH + 20 HCG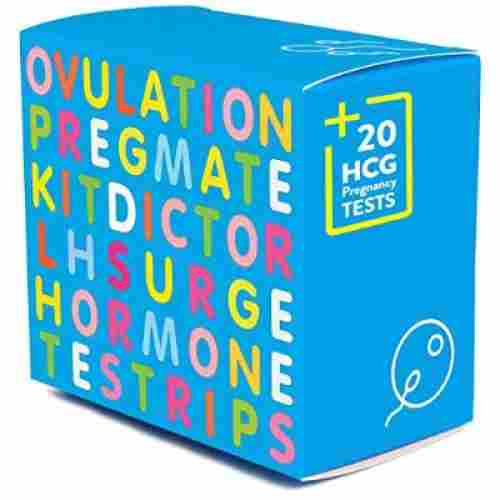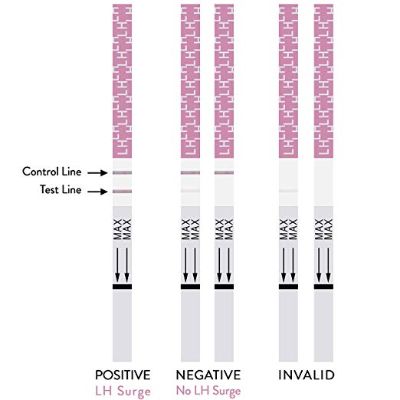 Comes with both ovulation and pregnancy test strips for a full fertility picture
Detects pregnancy at 25 mIU/mL
99.8 percent accuracy within five days of missed period
Tests are individually packaged and FDA-approved
The LH surge line on the ovulation tests can be difficult to read and may show false positives
The HCG line on the pregnancy tests may be lighter than other brands in the case of positive pregnancy
When you are trying to conceive, the last thing that you should worry about is whether or not you have enough testing strips...and whether you're going to have to take a second mortgage to buy more! Modern pregnancy tests come in all shapes, sizes, and interactivity-levels but much of those unnecessary frills are only being used to drive the cost of such tests up and don't help you detect your ovulation or pregnancy any sooner.
Read more
Accuracy
Even if you are blessed with a regular cycle and no major fertility issues, ovulation is still a bit of a guessing game. The idea that women always ovulate on day 14 of their cycle is a gross oversimplification. Many factors from undiagnosed hormonal imbalances to recent illnesses and medications to your mood can affect when your body releases that all-important egg. This can make ovulation nearly impossible to detect without proper LH-detecting tests. Pregnancy can also be more difficult to pick up on then you might think, especially since many of its earliest symptoms can mimic an oncoming period. HCG levels are the only guaranteed method to determine if you have actually conceived.
Ease of Use
The large quantity and ease of use of this ovulation and pregnancy test combo kit will allow you to test repeatedly for weeks without having to worry about ordering more, which is one less stress when you are concerned about being pregnant or trying to conceive.
Materials
The Pregmate Ovulation LH & Pregnancy HCG Test Strip Combo Pack gives you just what you need, simple answers at a reasonable price. This kit comes with 100 strips capable of determining whether or not you are ovulating by testing the level of the luteinizing hormone (LH) in your urine. That may seem like a lot of strips but, if you are struggling to conceive due to non-standard periods of PCOS, daily testing may be a necessity. Twenty pregnancy tests are also included and designed to detect surges in HCG, the pregnancy hormone, as early as five days before your missed period which can help remove a lot of the negative stress that comes with the dreaded two-week wait.
Criteria Used for Evaluation
Accuracy
You'll notice that most, if not all, of these tests, have accuracy results of over 97 percent, which leaves a slim margin for error. When errors do occur, they tend to result from an invalid test. This can also occur either by testing too soon or not waiting long enough for the test to absorb adequate amounts of hCG hormone.
Ease of Use
There are limitless options when it comes to taking a pregnancy test. They come in the form of a blood test, testing strips, and more traditionally, a pregnancy test stick. Testing should be easy, private, and comfortable, no excuses! All the mentioned testing strips show results in no more than five minutes, with no more than just a few seconds of urine exposure. The testing sticks were no exception, with similar dip times and even shorter wait time for positive or negative results.
Materials
Becoming pregnant is stressful enough, taking a test to find out if you are should never be. We've compiled the list of the top pregnancy tests to ease the minds of you and your family, and about starting one based on several criteria that we think is significant in any family planning. We want to make sure that not only are your pregnancy tests accurate and easy to use, but that the materials are high quality and functional as well!
Most Important Criteria
(According to our experts opinion)
Experts Opinion
Editors Opinion
Users Opinion
By Default

Other Factors to Consider

Value
Depending on whether you're just looking to have a few pregnancy tests around in case of emergency, or if you're intending to try to start a family, you might find some brands and packages are better suited to your needs. If you're looking to test regularly while trying to conceive, consider buying in bulk. If you're just trying to keep a few in stock, skip the larger packs and grab one of the smaller bundles, between one and three tests.
Frequently Asked Questions
q:

What is the sensitivity of these tests?

a:

Most tests come with an hCG sensitivity of 25mIU/ml, which should be detectable after, if not shortly before, your first missed period.
q:

Does it mean that there's a positive for ovulation if there's a red line, but it's not a dark red line? The package says it's negative if it is pink.

a:

The ovulation tests work by picking up the presence of LH in urine. This means that if there is any LH present in your urine stream, the test strips will turn color–however, the darker they are, the closer you are to a surge of LH (when it is more likely you will conceive). Therefore, the darker the line on the LH ovulation test strips, the better chance you and your partner have.
q:

Are the ovulation tests only good for 30 days?

a:

Each package of ovulation strips should have a date on them indicating when they are past the usage date. They are sealed and do not become active until initial opening and usage, but if you are concerned, the best option is to keep them fully sealed until you're ready to use.
q:

How accurate are these tests? Are false positives common?

a:

Most of these tests have an accuracy rating of over 99 percent. False positives are not common but do occur–a positive pregnancy test should always be followed up with a doctor to make sure. An invalid test can be due to insufficient saturation time, too short of a waiting time for results, or testing too early. Always follow the directions for each test for the most accurate results.
q:

Do the ovulation test for LH only show positive on the day you ovulate, or does it tell you when you are about to ovulate?

a:

The ovulation tests are indicators of your LH surge (when you are at the peak of ovulating). The strips will turn the appropriate color when you are nearing, as well as currently at, your LH peak. Within 24 to 36 hours, the indicators will be the most readable.