10 Best Puberty Books for Girls Reviewed in 2019
last updated
May 09, 2019
Puberty has a bad rep. We get why, but it doesn't need to be all doom and gloom when children are experiencing changes in their bodies. Many of these transformations can feel foreign and embarrassing to children, so it's important to equip them with the proper knowledge about what they're going through. Books are a wonderful resource which allows children the option of learning in private, or with a parent present. There are tons of great books out there about the specifics of puberty, all written for young girls. We've collected ten of the best titles out there. Some have workbook options, some are written with humor, and some are straightforward and factual. You know best the way in which your family wants to approach this, so peruse our top selections and hopefully, you'll find just what you're looking for.
In a Hurry? The test winner after 43 hrs of research
The Care and Keeping of You
Why is it better?
Helpful illustrations
Goes far beyond just menstruation information
Explains things in a positive way
The table of contents is helpful
Created by the American Girl group
In a
Hurry? Editors choice:
Test Winner: The Care and Keeping of You
35
Researched Sources
236
Reviews Considered
43
Hours Researching
14
Products Evaluated
Design
Value
Ease of Use
By Default
In Depth Review Top 10
The Care and Keeping of You
The Care and Keeping of You 2
The Period Book
What's Happening to My Body?
The Care and Keeping of You Journal
Period: A Girl's Guide
Growing up: It's a Girl Thing
Is This Normal
Ready, Set, Grow!
The Care and Keeping of You
Table of contents
Criteria Used for Evaluation
Expert Interviews & Opinions
Other Factors to Consider
Frequently Asked Questions
Sources
10 Best Puberty Books for Girls
1

. The Care and Keeping of You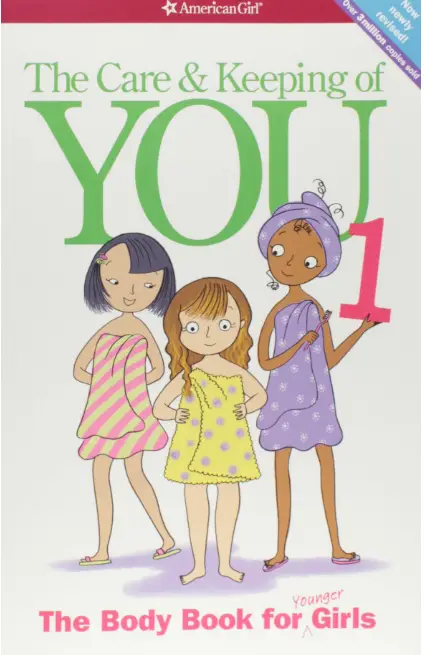 Helpful illustrations
Goes far beyond just menstruation information
Explains things in a positive way
The table of contents is helpful
Created by the American Girl group
Parents thought the book had too many "fluff" filler texts
For everything your preteen (or younger!) needs to know about puberty, the American Girl series is one of the best. Everything will be explained in a simple way without any inappropriate "whoops" moments.
Read more
Design
If your daughter is between the ages of eight and 12 and is just beginning to have questions about her body, then this book must be in your arsenal. It was created by the American Girl brand so you can rest assured that there's nothing in this book that will be explicit, overwhelming, or inappropriate. As far as body books go, this one does it right -- By easing into each subject matter slowly and with the utmost of care in wording, The Care and Keeping of You will help girls to understand what their bodies are going through. By starting off with just the basics about normal body changes, hygiene, and growth, this book won't overwhelm girls and will give them just enough information.
Value
With the use of helpful, hand-drawn illustrations, this body book provides all the necessary information that any girl would need to know when entering puberty. It'll explain things in a positive and uplifting way, encouraging girls to embrace what's to come rather than fear it.
Ease of Use
This book is separated into a table of contents which makes it easy to skip around a bit and only focus on sections that are relevant to your child's age. It's easy to find certain passages that are relatable at the current moment and you can always return to this book as time goes on.
2

. The Care and Keeping of You 2
Much longer and detailed book
Everything is divided into chapters
Includes a helpful Q&A section at the end
Illustrations are descriptive
Encourages girls to embrace change
It contains a lot of text and not as many illustrations
Just like the previous book, this will provide the same benefits -- But for older girls! It's perfect for both preteens and teenagers.
Read more
Design
From the same people who brought you the first book, this book is intended for older preteens and teenagers rather than younger kids. The Care and Keeping of You 2 provides a basis for preteens who are already in their first stage of puberty and need to know what to expect. The entire book has been redesigned to make it a bit more mature, descriptive, and more informative and in-depth. Your child will read about everything from her period, to how to use tampons and/or maxi pads, and all of the changes that happen between now and then. It's helpful to provide older girls the freedom of learning on their own but gives the two of you a chance to have an open and honest dialogue about what's being read.
Value
This book really goes into detail with what your child can expect during her period. The end of each chapter even includes a question and answer section that allows girls to read an overview that answers any lingering questions they might still have.
Ease of Use
The thorough nature of how each change is explained is something that we applaud. While the chapters of this book are slightly longer than many others, they're descriptive and don't leave any room for confusion.
It goes beyond a normal body book
Extremely helpful and informative
Includes real-life accounts from other girls
Discusses topics unrelated to periods but that are related to growing up
It'll help girls learn how to handle all the things that are changing
It's very heavy on sexual education which some parents might not be comfortable with
While this book does provide a much more in-depth look at puberty, it's honest and open. There won't be any questions left unanswered after reading this one.
Read more
Design
Sometimes, a girl just needs a little reassurance and how-to when it comes to getting her period. It's initially disturbing, somewhat messy, and a little bit scary if you don't know what to expect. All of these feelings and many more are perfectly understandable and okay to have, and that's exactly what this book will teach girls. Not only does it reassure them that this is natural and normal, but it also provides helpful lessons in how to deal with it. With so many tips and advice, there's no way that your child will be nervous and worried after she reads through this book.
Value
This body book features real stories from contributors who have gone through puberty as well. This will only reassure your child and add to her relief and comfort while letting her know that she's not the only one to go through this major life change.
Ease of Use
The one thing any of us look for the most in an uncomfortable situation is a comfort. This book will serve as a guide not just about your period, but about things such as bras and sizing, new feelings, shaving, and it even touches on sexual harassment, which is a scary but important issue to discuss.
4

. What's Happening to My Body?
Very detailed and in-depth
Each chapter is devoted to a separate aspect of puberty
Discusses birth control
Details reproduction and everything that comes with it
Excellent for teenagers
Parents can find this book overwhelming and too explicitly detailed
Includes information that's not necessarily "must know" for kids under the age of 15
Anatomy is important and that's a pretty big emphasis in this book. It's appropriate for older preteens and teenagers and includes helpful information that will make understanding their bodies much easier.
Read more
Design
Similar to when boys go through puberty, girls go through it just the same way and have plenty of other changes to deal with. This book was created for preteens over the age of 12 as well as teenagers who are still struggling to understand what's happening to their bodies. Getting your period isn't always a happy experience but this book sheds a unique light on it, offering helpful advice as well as an explanation for why it's a good thing. Girls will also find additional information about reproduction, boy's bodies, sexual organs, how their menstrual cycle works, growth spurts, etc. There are entire chapters in this book dedicated to the process of puberty and absolutely nothing has been left out in this comprehensive guide. While it does jump right into sexual reproduction with an in-depth explanation of how babies are created and born, this is often the type of detailed description that teenagers need to fully understand their bodies as well as the opposite sex.
Value
The one area of this book that sets it apart from others is in the chapter about getting your period. This book specifically mentions the option of birth control which, while some parents might disagree, is a wonderful and modern addition to a body book in today's age.
Ease of Use
The boldness of this puberty book truly stands out with no holds barred. It's much more descriptive and in-depth than other books but provides a look into puberty that's honest and real.
5

. The Care and Keeping of You Journal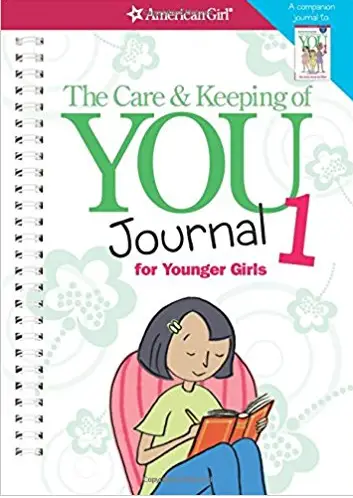 Creative way of presenting information
Can be an excellent gift for girls who are just beginning to go through puberty
A great addition to The Care and Keeping of You books
Allows your child to keep a physical record and account of everything she experiences
It's helpful for her to write down things
Good for keeping track of her periods
Some kids don't take it seriously and are uninterested
Journaling is a wonderful way to express emotions and it can be a brilliant outlet for girls during puberty. Not to mention, they'll have a blast with all the quizzes and fun "about me" sections they can fill out in this personal book!
Read more
Design
Not every puberty book has to come in the form of some type of guide or reference. Occasionally, young girls can find help in a place of creativity and expression which is why The Care and Keeping of You Journal is an excellent gift for girls who are just beginning to go through puberty. This book is a wonderful addition to The Care and Keeping of You books that American Girl has created and will allow your child to keep a physical record and account of everything she experiences. It's helpful for her to write down things such as her mood changes, body changes, as well as keeping track of her periods to help map out her cycle every month. This journal isn't just there to keep track of body changes, however. It also serves as a written account for all the things going on in your child's life, as well as her friend circle, hobbies, likes and dislikes, favorites, etc. This journal is literally all about her and her life, in addition to allowing her to keep track of all the changes that come along the way.
Value
A journal such as this is a great thing to be able to look back on years from now. Once your child has gotten through the initial stages of puberty, she'll be able to pull this book out and re-read it knowing that she got through the toughest part and has become strong and confident.
Ease of Use
This book has quizzes! Puberty and growing up don't have to be scary, especially when you have a journal that's all about you and your life. This is a fun way to tackle growing up head-on and will boost your child's overall well-being.
6

. Period: A Girl's Guide
Includes a detachable parent's guide
Discusses puberty in a simple, straightforward way
Doesn't go into detail about other adult topics
Great even for young girls
Includes some information for parents about guys' bodies as well
Not very in-depth explanations;
you'll need to field questions or have additional resources handy
Doesn't give a full scope of all of the feminine product options available to young girls
Equipped with a parent guide that you can remove before handing over the kid's copy, and also featuring a few pages in the back of the book for girls to track the first year of their period, this book isn't just cute infographics and general information.
Read more
Design
It's a solid guide that discusses menstruation and the changes that will occur in a young girl's body, without boiling over into other sensitive topics that parents might not yet be ready to discuss. The parent's guide includes topics such as how to talk about menstruation, at what age you can start sharing knowledge, who brings the topic up, what guys are enduring throughout puberty, and creating a personal rite-of-passage to help make this unsettling part of a girl's life a little more bearable. Given how specific and gentle this guide is, it's great for young audiences who are beginning to approach these physical and emotional changes in the years to come.
Value
Being prepared is half the battle in any significant event, and puberty is no different. By equipping young girls with knowledge about what they're going through, they are more likely to be able to face it with calm, poise, and, understanding.
Ease of Use
We know that some adult topics (read: sex) may be a little delicate to approach, and you might wish to do that in your own way. A lot of books about puberty don't give you the ability to do that, as they broach the topic themselves, but this guide is really mainly focused on the changed in her body and a very basic breakdown of what menstruation is and means for her.
7

. Growing up: It's a Girl Thing
No extra filler text
Detailed enough to get the point across
Girls can read it independently
There's nothing inappropriate
The conversational style makes things casual
It's somewhat outdated
Some parents thought there wasn't enough information on puberty as a whole
Nothing but the facts here! This book is slightly shorter than the others but it serves as a good beginning and basic guide to growing up.
Read more
Design
This book is exactly what it says it is: straight and to the point. There's nothing censored here and it'll provide only the information that your child absolutely needs when it comes to learning about her period and her body. It's not a detailed guide for reproduction or how to handle anything regarding the opposite sex but it does provide a solid understanding of how a girls' body works and what to expect. Everything from bras, periods, to "inside" and "outside" sexual organs are covered which is helpful for young kids as well as preteens. For a good base knowledge of puberty and what your body goes through, this would be helpful for any preteen girl who needs a little extra information to be fully comfortable.
Value
The text is pretty straight-shooting when it comes to explaining what changes about your body and how it does so. Girls will find valuable information and be able to read it on their own without becoming overwhelmed.
Ease of Use
The conversational aspect of this book is what makes it pretty unique in the vast world of body books. It comes across as casual and takes some of the pressure off of learning about puberty in a medical or formal way.
Answers real-life questions
Written by the editors of the American Girl series
It's helpful for girls who have learned about puberty already
It can alleviate some of the stress that parents feel
Each question has been asked by a reader
It's not a guide so much as a Q&A book
This is the perfect accompaniment to any of the other The Care and Keeping of You books. In all likelihood, it'll probably answer questions that your child didn't even know she had.
Read more
Design
This is a truly spectacular addition to the American Girl book series The Care and Keeping of You because it will surely answer any remaining questions your child has about her body and the puberty process. This book would be an excellent purchase in addition to one of the other two books (one for older girls and one for younger) because it'll help steer them in the right direction as far as fully understanding and comprehending what is happening to their bodies. The editors have taken the time to sit down and explain the answers to questions that many girls have, some of which may not have been answered in the previous books. This book, as a whole, is the answer that many parents have been waiting for with The Care and Keeping of You books because it includes information the first two might have missed. It answers real-life questions that actual readers have sent in and, chances are, your child has one or more of these same questions.
Value
This book would perfectly suit a girl who has just learned about puberty and is still confused or slightly overwhelmed. Rather than deal with the embarrassment that comes along with asking these questions, she'll be able to read them for herself and have answers immediately.
Ease of Use
With much praise from parents, this book has helped to alleviate some of the pressure that falls on your shoulders. It can be challenging as well as overwhelming trying to explain and remember everything about something you've gone through years ago, and this book is here to help.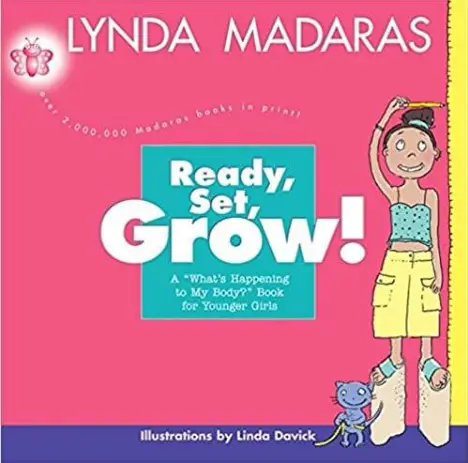 The book itself is fun to look at
Every change a girl goes through is in this book
A thorough explanation of a girls' reproductive organs
Great for young girls who aren't quite preteens yet
Fairly innocent and very age-appropriate
Some parents thought the book brought up unnecessary issues
Don't get the idea from the "younger girls" title -- This book doesn't censor anything. Rather, it only provides need-to-know information that won't scare or overwhelm girls who aren't quite preteens yet.
Read more
Design
If your child is not yet a preteen but has already noticed her body beginning to change, you might be panicking. Fear not! Lynda Madaras has penned this brilliant book for just that reason. It was created for girls between the ages of eight and 11, just before they hit their preteen ages. It'll describe exactly what they're experiencing as well as are feeling without being overly descriptive in a way that many books often are when discussing puberty. This book is so much fun because it was designed in a way that's friendly, girly, and entertaining to read. Every single change that a girl can expect to go through has been detailed in this book and, while there's nothing super specific to reproduction, it serves as a solid basis for understanding puberty from a girls' point of view.
Value
From head to toe, this body book has covered everything and explained it in a way so that girls as young as eight can understand it. They'll have an in-depth explanation of how all of their parts work, change, and grow.
Ease of Use
This book is just as much fun to read as it is to look through. The author has done a stellar job in presenting a topic that can be uncomfortable and scary and turned it into something positive and uplifting.
10

. The Care and Keeping of You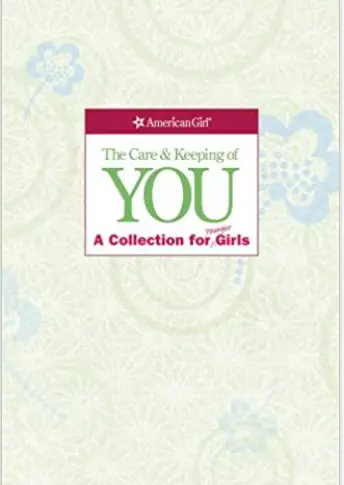 Includes both "The Care and Keeping of You" books
Also features two companion journals
Handles both physical changes and emotional ones
Beautiful, fun illustrations
Straightforward, factual delivery
One customer received a used journal with pencil markings in it
No one says that learning about puberty has to be a lecture-based experience. The Care and Keeping of You Collection is a great way to make sure that your child feels involved in the process.
Read more
Design
This set includes both the first and second "Care and Keeping of You" books (recommended for girls ages eight and up), along with two companion journals so your child can follow along and work through things for herself as she absorbs new, scary, and exciting information. This collection also includes a personal calendar to keep track of important daily events. These books contain knowledge about both the physical and emotional changes young girls experience. The body book is illustrated and fun to read, and the feelings journal allows girls room to process as they learn. Topics covered include menstruation, bodily changes, bras, nutrition, hair care, and more.
Value
American Girl is at it again with this phenomenal collection of books regarding physical and emotional changes that accompany puberty. These books are a wonderful way to open communication between adults and children, while also giving girls their own private space to express themselves in the accompanying journals.
Ease of Use
This set provides a lot of information and also a convenient place for children to process that. It's a great example of interactive education.
Criteria Used for Evaluation
Design
Additionally, we had to ensure that these body books didn't cross the line in any way. Since it is a mature topic, many books offer wildly descriptive text as well as pictures to accompany it. While diagrams are fine, some imagery might be a bit overwhelming to girls who are just learning about the changes their bodies are going through, therefore, we had to seek a balance. Each of these books has a rather thorough description of who it's intended for and that should help parents, based on their own discretion, to decide what's right for their child. We've found that the "look inside" feature of every single one of these books has proven to be more than helpful when it comes to what to expect inside them. In fact, we've made sure to include only books that have this feature so that you aren't stuck with the material that is much too mature or not adequate for your little one. It is worthy to note that most of these books if not all of them do include diagrams of reproductive organs. Some describe both genders while others only detail what girls can expect, but it is something to be aware of when choosing a puberty book. It can even be helpful to mentally prepare your child for what she will see in these books as well; if she can hear it from you first and have a thorough understanding of what it is, exactly, that she'll be reading about, then she'll be much more comfortable overall. There's really no easy way to go about telling your child that she's growing up and becoming a woman but with the help of these books, it can be far less awkward and uncomfortable to do so.
Value
You've decided it's time to have "the talk" with your little girl. We won't deny it either, it's a challenging thing to do. Questions will arise such as how do you initiate it? How will she react? Will she understand? While we can't help you determine how your child will react, we can help you to prepare for it in the best way possible. We've done our research not only on the best puberty books that your child can read but also on talking to kids about puberty in general. It was important for us to know what the experts said about initiating a life-changing discussion such as this because the only way we can help you is to know the facts for ourselves. By the time a girl reaches the age of eight, chances are that she's already wondering things about her own body. This doesn't necessarily mean that she knows about her period or what she's about to go through, but questions will come up about body parts and what their purpose is. Some parents think this is too young to talk to their child about puberty, but the fact is, you never really know when your daughter will experience it for the first time. It's better to be safe rather than sorry and better she should be prepared.
Ease of Use
Because of this age factor, we had to consider books that were suitable for children that young. Additionally, we had to look into books that were suitable for preteens as well, because inevitably, more questions will come up when girls start feeling these changes for themselves. Since getting your period is such a major topic of puberty, many of these books are centered around that as well as all the questions that come along with menstruation. The best thing you can do as a parent is to support your child and encourage them to be as open as possible so that they don't feel embarrassed or ashamed. The more they know that you're on their side, the more they can be open and accepting when it comes to all of these changes, and the more comfortable they'll feel going to you when they have a problem.
Most Important Criteria
(According to our experts opinion)
Experts Opinion
Editors Opinion
Users Opinion
By Default

Parents, Did you Know?
Emotional and physical changes that are associated with the onset of puberty can be challenging for young girls. This collection of books address the confusion and anxiety girls experience at this stage of their lives and help make their transition smoother.
Parents, Did you Know?
Some of the topics covered by these books include physical body changes, bullying, mood swings, boyfriends, periods and others. Most of them include diagrams to illustrate the concepts which may be new to 7 to 13-year-old girls.
Other Factors to Consider

Social Development
Lastly, we had to consider the fact that girls would have to have a base knowledge of reproduction and all of the puberty changes that boys go through as well. It's due to this reason that you'll find some books on here that cater to both genders and give fairly detailed descriptions of each. As long as there's an open line of communication between you and your child, you can let the book do most of the talking -- You'll be there to answer questions, help explain things in such a way that she'll understand, and to hear her out when she has her own thoughts and opinions. The book should serve as a guide and a conversation starter, but also as a way for her to explore puberty on her own and read more about it as she's ready. You'll also find a personal journal on this list, which is extremely helpful and encouraging when she does start experiencing changes. Being able to write down and record all the things you're experiencing serves as an emotional release as well as a confidence-booster, two things that your child will definitely need.
Frequently Asked Questions
q:

How should I approach my daughter when presenting her with a book such as this one?

a:

In the most sensitive way possible. It's an awkward discussion no matter what, but as long as you're sure of yourself and approach with confidence, and open mind, and gentle words, the dialogue should go smoothly. It's best by explaining to her that she's growing up and as such, she'll be going through something called puberty which every grown-up woman she knows has already gone through. Explain that it's a process but it's an easy one and you'll be with her the entire way through.
q:

Are these books very overwhelming if girls read them on their own?

a:

They can be. If your child has no clue about puberty and doesn't know what it is or what to expect, it's best that you go through these books with her, at least initially. If she already has a base of knowledge from school or a previous talk, then she would probably be fine reading these on her own as long as she knows you're there to answer any questions that may arise.
q:

How graphic are these?

a:

These books are no more graphic than they need to be. You'll find diagrams in most of them or sketches at best, but nothing that resembles anything wildly inappropriate. These diagrams are there so girls can relate and fully understand and are no different than what she would see in her school classroom.
q:

Is it necessary for a parent to read through these books before giving them to a child, or is all the information appropriate?

a:

That's up to you! While it's best to know what your child will be reading and looking at before actually giving her the book, there's nothing in here that should drastically shock her. However, to be on the safe side, it's worth a gander beforehand.
q:

Are there any other materials that could accompany these books such as educational shows?

a:

These books were created to stand on their own. If you want to offer your child other materials then it can't hurt, but we've evaluated these books based on what they offer your child as far as education and comfort go, and have deemed them to be enough of an educational source.
q:

Are they good for teens as well?

a:

Of course! Everyone can benefit from learning about their bodies and teenage girls are no exception. If you have a teenager who is just going through puberty or still as questions about her body or her period, by all means, use these books. Just because we put an age range on them does not mean that they're restricted to those ages -- You're free to use them for whoever needs them in your family. In fact, we encourage it!