Robots are all around us. They're in our phones, on our Netflix, helping to navigate our cars. And while we've all watched dozens of movies about robot takeovers, we can't deny that they're a useful and necessary part of our everyday lives now. The robotics field is a large one with lots of caveats and special interests. If you have a young mastermind on your hands, why not get them started on their new hobby? Kids find robots fascinating. And while we certainly can't be handing them advanced machines, there are a great many robotic toys specifically designed for little ones who are just taking an interest in the subject. From advanced algorithms down to basic mechanics, robots and machines are a great tool in teaching children about cause and effect and careful design.
These robots sing, they dance, they rock 'em and sock 'em – they do it all. There are products suitable for the young and the older, for aficionados and amateur hobbyists alike. These designs span a breadth of sleek, futuristic bodies, but also more retro tributes to the cruder, boxier bots of yesteryear. So gather Elroy and Judy and Jane–and Rosie, too, and transport yourself straight to the future with these incredible robotic toys.
Our Top 3 Picks
Deluxe Eco Robotics

Our rating
Problem Solving Skills
Price:

See Here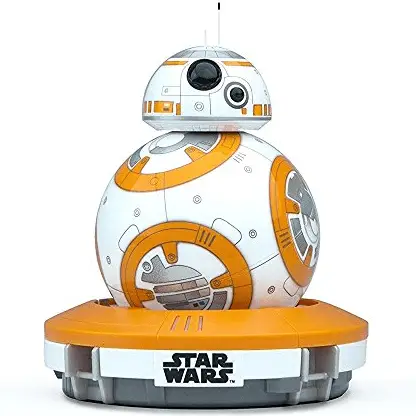 Sphero Star Wars Droid

Our rating
Reacts to Voice
Price:

See Here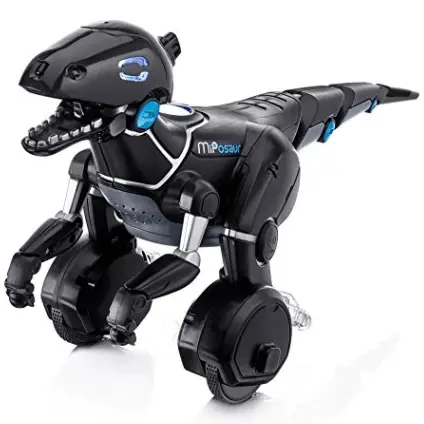 WowWee Miposaur

Our rating
Gesture Command
Price:

See Here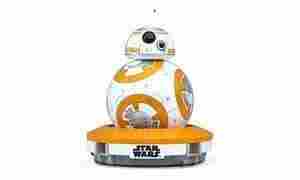 Our Picks Of The Best Robot Toys For Kids:
Sphero Star Wars BB-8 Droid
Age Range: At least 8 years old
Mattel Games ROCK 'EM SOCK 'EM
Age Range: 8 to 15 years old
WolVol Remote Control Robot Police Toy
Age Range: 8 to 15 years old
Age Range: 6 to 18 years old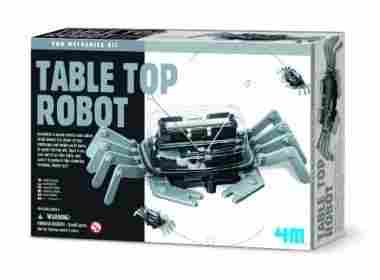 Age Range: 8 to 15 years old
Fisher-Price Think & Learn Teach 'n Tag Movi
Age Range: 8 to 13 years old
DYNASTY TOYS Robot Spider Bug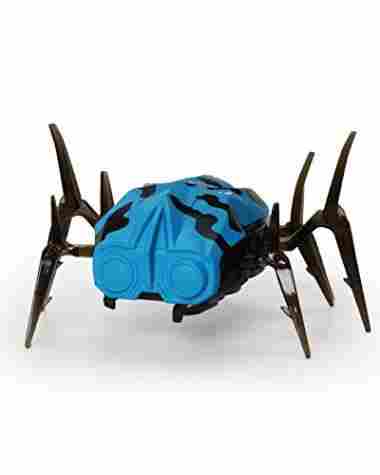 Age Range: 10 to 15 years old
Age Range: 8 to 15 years old
Age Range: At least 8 years old
Toysery Electronic Walking Dancing
Age Range: 3 to 7 years old
Wonder Workshop Dash Robot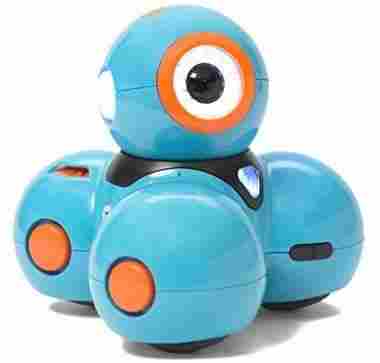 Age Range: At least 8 years old
Ozobot 2.0 Bit Starter Pack, the Smart Robot Toy
Age Range: 6 to 5 years old
LEGO Creator Robo Explorer Robot Toy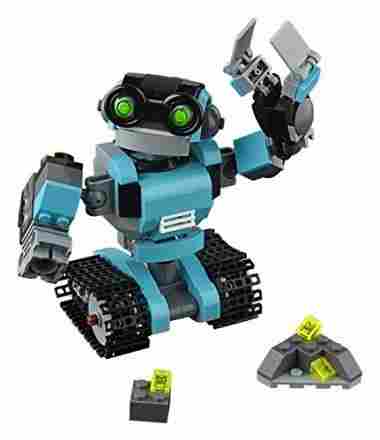 Age Range: At least 5 years old
WowWee Chippies Robot Toy Dog
Age Range: 5 to 10 years old
Criteria Used to Evaluate The Best Robot Toys for Kids
When searching for a toy for your child, it's perfectly normal to wish for it to be the perfect blend of educational and enjoyable. These robots are the prime examples of such as a toy. Below, we've outlined the categories that we looked at while compiling this list.
Age
Toys for a four-year-old will most likely not interest a twelve-year-old, and so on. However, robotics is one of those things that can interest children of all ages. There are simpler kits available that can suit younger children and more complex kits that can suit older children. As older children are able to voice out their opinions, younger children need to be watched to garner their opinion on whether they enjoy a toy or not. Most, if not all, the robot toys on our list are sure to make your child enjoy playing with and learning with their robot toy.
Purpose
All children are different. They have different likes and dislikes, as well as strengths and weaknesses. Robot toy kits are a perfect way to see if your child as any desire for construction, electronic, locomotive, or anything to do with engineering. If they do, these toys can continue to grow with your child. If they don't, then they can move onto other toys.
Ease of Use
Though a complex kit will keep an older child busy, it won't be the same for a younger child. However, all kits should be complex enough to ensure that your child does not get bored of it easily. They should be toys that garner their attention and don't let go.
Versatility
Robots are known to encourage imaginative play and foster creativity. Your child can make up wild stories in their head while playing with their robots. This will keep them engaged and entertained while stimulating their brains.
Value
Robots, even those for kids, can be pricey. The key is to have a budget and find a toy that suits your child's need in said budget. There are various kits in the market at drastically different price points. By knowing your child's interests, as well as where you wish to encourage more activeness in, you'll know the perfect robot to get your child.
How we chose the Top 15 Robots
Choosing the top 15 robot toys in our list was never easy. While robots are fully mechanized, our team of researchers had to focus more on the developmental appropriateness of these toys. It is not enough that they light up, move, and have a few fancy stuff. What is more important is the kind of developmental skill that children will be able to harness using the toy robot. This sense of developmental appropriateness is necessary to help us make sure that children will be able to derive something truly amazing from playing with these types of toys.
Additionally, we had to take a closer look at the quality workmanship of the robot. If it has very small components, we had to make sure that the intended age group is appropriate so that it won't create any safety concerns along the way. If the product was awarded a particular recognition, then this was also considered in the final tally. Of course, we also had to read what other parents are saying. This is very important because one cannot simply trust companies to be truthful about their products.
With these, we were able to shortlist 15 of the top robot toys we are strongly positive you and your kid will love.
Robots and Children's Development
Robots are an important part of today's highly industrialized societies. In fact, many companies in today's manufacturing industries such as those in the automotive and aerospace sector are relying on robots to perform a variety of functions that are highly repetitive they can be programmed to perform such operations several millions of times without ever tiring. Compared to human workers who may be limited by their ability to focus and concentrate on the task at hand, robots can be programmed with absolute efficiency and accuracy that errors can be effectively reduced to near zero levels. More importantly, robots don't get sick nor will ever complain of too much humidity or the boss making unexpected demands. Once programmed, robots can keep on doing things they have been programmed to perform indefinitely.
Because of the overriding importance of robots in today's technology-driven economy, the advances in robotics have trickled down to toys and other playthings. In fact, many of today's toys have some form of a programmable component that makes them robots.
Children can immensely benefit from these robot toys. For example, young children who are exposed to robot toys that play music, lights, and sound effects can have their sensory skills enhanced. Playing lights together with music or nursery rhymes can help young children expand their vocabulary and develop their language and communication skills at the same time. Pushing on the different interactive buttons can also help young children develop their sense of proprioception and spatial intelligence. This also helps enhance the young child's sensorimotor skills, visual motor coordination, gross motor, and fine motor skills. Again, everything actually depends on the features that are built-in into the robot toy.
There are also robot building kits much like Lego building and construction play sets. These robot kits for kids allow children to experiment with different configurations of building blocks. These allow children to explore the different ways in which the blocks or components can be assembled to create something new. This lays the foundation for counterfactual reasoning as well as for divergent problem-solving. Compared to convergent problem solving where a particular problem only warrants a single solution, children operating on the principle of divergent thinking are able to think well outside the box. This simply means that given any scenario or problem, they can think of a thousand and one different ways to solve the problem. This is particularly helpful in enhancing children's ability to think logically and critically. It also lays the foundation for their predictive abilities. With divergent thinking, children are able to make more accurate predictions of what might happen should they choose a particular course of action instead of another one. This can also lay the bases for the development and enhancement of their use of the scientific process.
Robotic toys that allow children to perform a certain task can also help children understand the basic processes involved in these tasks. For example, a robotic arm that can be programmed to grasp and hold objects can teach children about the principles of hydraulics as the necessary element for moving different parts and allowing them to act in unison. This also helps teach children about how the human hand can actually perform the same task performed by the robotic arm.
There are also robot toys that can represent the child's world in a safer non-threatening way. This is especially helpful among toddlers and preschoolers who may still have a very limited understanding of how the real world operates. When miniature robot toys for toddlers are used, they are often played as a representation of their own world.
Of course, robot toys can be excellent instruments or tools of make-believe or pretend play. This can help in the enhancement of children's imaginative and creative thinking while at the same time help facilitate the development of social skills. More important is the value of such playthings in the enhancement of kids' sense of self-confidence which can then lead to the formation of a healthier self-concept and sense of self-worth.
The Bottom Line
Kids robots are one of the most popular gifts for the Holiday season as well as during children's birthdays and special occasions. However, it is very important to choose only those robots that are developmentally appropriate for the age group of your child so you can feel safe and confident that your kid's optimum growth and development in ensured to the fullest. It is for this reason that we are optimistic you will find our list of the top 15 robot toys for kids to be highly invaluable.
FAQ
Frequently Asked Questions
Q: Where Can I Buy These Robots Toys for My Kids?
A: Most of these are available to buy on Amazon, along with a number of other online and physical stores. The best store to buy them from depends on your budget.
Q: Why Aren't All of These Remote Controlled?
A: Though most of these are able to be controlled by a remote, some of them are not. The reason behind this is simply because that is how the manufacturer made them. Some of these are meant for children of a younger age who would not be able to use a remote control.
Q: Can All of These Robots Be Used on Carpeted Floors?
A: Some of these run fantastically on carpeted floors. However, some of them prefer smoother finishes such as hardwood or laminate floors. To make sure which types of floor a robot suits, reviews and product descriptions of the individual products are the best places to look.
Q: Do All the Robots Come with Phone Applications?
A: Not all of the robots on our list, have corresponding applications. However, we've tried to point on which robots have applications under each product heading.
Q: Are These Robots Waterproof?
A: Some of these robots are waterproof, like the Sphero Star Wars BB-8 drone. Others are not so waterproof. The way thing to do when trying to find this out is to read product reviews and other questions/answers to find the answer.
Q: Are These Robot Toys Educational?
A: In traditional educational senses, no. However, these robots are excellent at teaching your children coding, programming, building, imaginative play, and brain stimulation. Hence, making them a newer, more fun way of learning.
You May Also Like
Best Remote Control Cars For Kids
Best Ride-On Electric Cars For Kids