Science kits and toys help children understand how things work in real life. These toys teach kids about the scientific process and problem-solving techniques while at the same time help stimulate their logic and critical thinking skills. By allowing children to explore, science toys can help improve cognitive abilities including memory, spatial intelligence, and reasoning. More importantly, these kinds of toys help them better understand and appreciate everything in the real world.
Our Top 3 Picks
Break Open 4 Geodes

Our rating
Premium Quality
Price:

See Here
EuroGraphics Illustrated Periodic Table

Our rating
Double Laminate
Price:

See Here
Toysmith Euler's Disk

Our rating
Holographic Foil
Price:

See Here
NATIONAL GEOGRAPHIC – Break Open 4 Geodes
Periodic Table Chart Educational Poster
Lights Electronics Discovery Kit
Magic Science Kit for Wizards Only
Magic School Bus Chemistry Lab
Electronics Discovery Kit
Big Bag Of Science +70 Activities
Thames & Kosmos Physics Workshop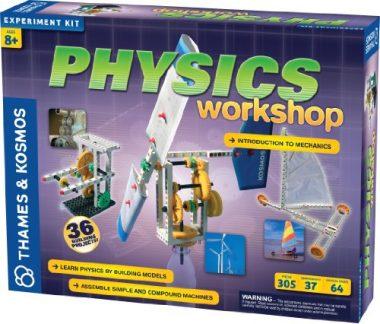 Rock & Mineral Collection
Science Club Microscope and Activity Journal
Children Activity Solar Balloon
Scientific Explorer Disgusting Science Kit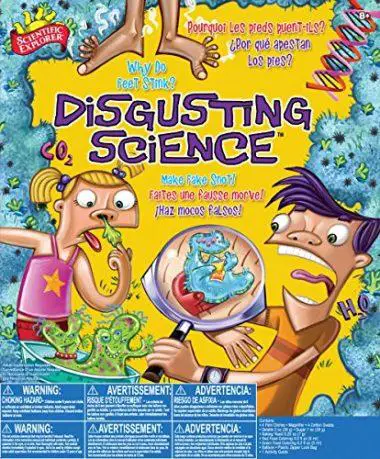 Criteria Used to Evaluate The Best Science Toys for Kid
Choosing Our Picks
We believe in the power of play. It's proven fact that play is how children learn. We started with a set of educational toys. For a toy to be considered educational it has to not only demonstrate a scientific concept, it has to also explain that concept. The demonstration part needs to be engaging enough to keep their attention. Since they have short attention spans, an engaging demonstration is the first step to learning. Then the toy must follow with an explanation of the science behind the play. The absolute best of this list tie in aspects of a child's everyday life. The ultimate goal of educational play sessions is not just that they are introduced to scientific concepts but that they realize science is all around us. They key to making that connection is fun.
While narrowing our initial list down to these 15 toys, we considered a few aspects of each. Those include; features, manufacturer reputation, durability, and how entertaining it would be to the suggested age group.
Why Scientific Toys?
Science is everywhere, it's our entire existence and every aspect within it. Since it's so broad a topic there are many, MANY areas to explore and ultimately careers. Since it's such an integral part of our lives as humans, introducing children early has positive effects on their ability to learn.
Children are natural scientists. They explore, experiment, and discover constantly from the moment they can move. It's our goal to provide toy suggestions that will allow you to encourage that natural scientist to keep learning.
This are our list of 15 best science toys for kids. We're pretty sure you would agree to at least one of our top picks.
Choosing Our Picks

We believe we are also scientists as we employed a very systematic and organized approach in our identification of the top 15 science toys for kids this 2018. We have taken into consideration a host of factors including the scientific discipline to which the toy can be particularly useful, the manufacturer's reputation, the overall educational and scientific features of the toy, and, of course, feedback from parents like you who only want the best for their kids.
We are optimistic that you will also agree with at least one of the products in our top 15 list. If not, at the very least we are able to provide you with an insight on what science toy you might want to consider for your child.
Big Benefits Of Science
Science is one of the most exciting subjects one can ever learn from school. It is one of the major branches of knowledge that is focused mainly on the objective assessment, analysis, interpretation, and experimentation of the different things of the natural and physical world including the behavior and structure of these things. To put it simply, science pervades every aspect of human existence. Without it, life will be a little less systematic and organized.
It should be understood that these toys are not designed to replace formal instruction in school but rather serve as an adjunct to learning. Science toys augment learning obtained from school. These reinforce the different concepts and principles by providing children with a more fun and enjoyable way to learn fundamental scientific concepts. These toys help children appreciate science as a very fun and enjoyable activity.
FAQ
Frequently Asked Questions
Q: Do you need helium to make the Solar Balloon work?
A: No. To make the balloon expand, it only needs warmer air outside than in. The included instructions describe exactly how to use it. No helium is necessary.
Q: How many slides come with the Educational Insights Microscope?
A: The microscope comes with 4 prepared slides and 7 ones that are blank. It's also compatible with additional Learning Resources brand slides sets that are sold separately.
Q: What supplies do you need to do the experiments in the Be Amazing Toys Big Bag of Science?
A: The included book lists 70 experiments. There are several items included in the kit to be used. Still each experiment has a short list of additional items you would need. Many of them are things you could find in most houses.
Q: Does the Magic School Bus – Chemistry Lab include a list of experiments that can be used for lesson planning?
A: It includes one card that is a master list of the experiments. Then each experiment has its own card with the instructions on one side and a scientific explanation on the other. That way as the child is learning from both the information presented and completing the activity. If you'd like to use this kit to plan lessons, the master list card would be helpful.
Q: Are the markers used with Ozobot 2.0 Bit sold separately?
A: The markers used to create pathways for the robot to travel are not included in the package. You can use any red, black, blue, and green markers with it. We suggest those that have a chisel tip to create a wider line.