10 Best Science Toys for Your Kids in 2019
last updated
Sep 04, 2019
For children, learning is a part of life. They're curious and thirsty for knowledge. While reading and math are sometimes the main focus for your child's education, science is just as important. Science allows children to gain a better understanding of the world.
As they explore the world around them, they will discover the names of plants, animals, and objects. They will learn to be considerate of the environment. Instead of making you spend hours searching the Internet for the perfect science experiment or toy for your child. We created a list of the 10 best science toys that will stimulate your child's development and provide them with tons of fun.
In a Hurry? The test winner after 17 hrs of research
Lights Electronics Discovery Set
Why is it better?
Can be combined with other sets
Pieces are clearly labeled
Multiple ways to play
Durable components
In a
Hurry? Editors choice:
Test Winner: Lights Electronics Discovery Set
26
Researched Sources
17
Hours Researching
14
Products Evaluated
Design
Educational Value
Ease of Use
By Default
10 Best Science Toys Reviewed
1

. Lights Electronics Discovery Set
Can be combined with other sets
Pieces are clearly labeled
Multiple ways to play
Durable components
Younger kids may require adult assistance
Lights? Check. Music? Check. Getting to build your very own circuit board? Check and check!
Read more
Design
There is absolutely no downside to Elenco's Snap Circuits Light Electronics Discovery Set. Not only does it give your child a real hands-on, no soldering required, experience building electronics but it also connects with your smartphone, mp3 player, voice, or even touch to create dazzling light shows in tune with their favorite music! There's also an option to design your own board. It's no surprise to us that this unique toy has earned multiple awards.
Educational Value
With over 500 projects this set has enough to keep your kid buys (and learning) for a while. Snap Circuits teaches the science of electricity through small projects.
Ease of Use
Since each project builds on previous skills, it keeps kids challenged and engaged. Each completed circuit really works, which motivates kids to keep playing.
2

. SmartLab Toys Squishy Human Body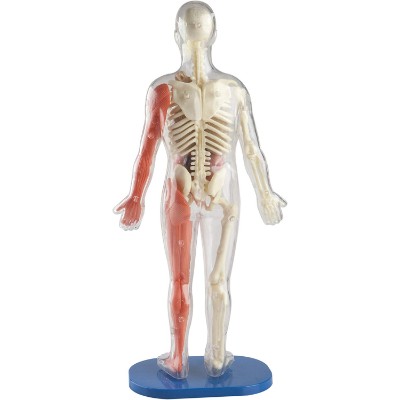 Encourages learning
Increases hand-eye coordination and fine motor skills
Includes 9 organs, 12 bones, and two tools
Body Organizer sheet makes it easy to keep track of pieces
The organs are "sticky", thus causing them to collect hair and dust easily
The SmartLab Squishy Human Body toy gives your child an up-close look at the inner workings of the human body.
Read more
Design
This 12-inch plastic model of the human body includes nine squishy organs that can be removed for a closer look. Along with the organs, your child can use the included tweezers and forceps to explore the 12 plastic bones and muscles. As your child takes parts out of the body they can lay them on the body organizer sheet to easily keep track of them.
Educational Value
The 24- page book included in the set will increase your child's knowledge of anatomy as it contains a variety of information and facts on the body.
Ease of Use
The multiple tools included and the size of the model make this a great toy for several children to enjoy at once. Trying to picture organs inside the body can be hard for a child. Use this toy model as a visual aid to reinforce what your child is learning in school. Your child will increase their hand-eye coordination and fine motor skills as they use the tweezers and forceps to easily grab body parts.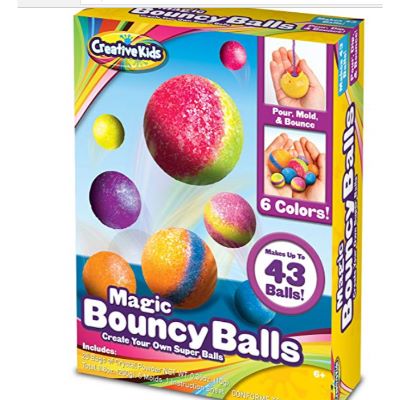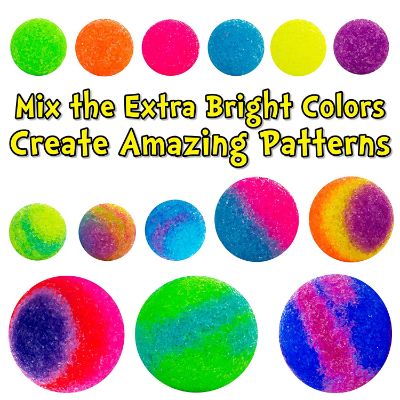 Includes 5 re-usable molds
Non-Toxic materials
Simple instructions
Recommended for children age 3 and up
Some reviewers report that the bouncy balls dry out over time
A great way to get your child involved with science is by getting your child to learn the inner workings of a bouncy ball. With this how to create your own magic bouncy ball kit your child will learn what it takes to create their very own. This individual kit comes with 43 different shades of the rainbow that your child can choose from. This kit also includes over various color crystal powders, molds and very easy to follow instructions.
Read more
Design
Magic Bouncy balls are a great way for your little one to enjoy creating their own masterpiece. By learning to design and create their own ball your child will be able to learn the inner workings of how they are made. All of the ingredients with this kit are 100% safe for your child to use. They are also all non-toxic. This makes your own kit is a great project for rainy days or birthday activity.
Educational value
This is a great way for your child to learn and understand how something is created. By having your child make their own creation it's also perfect for your little one to work on their fine motor skills. When following the easy step-by-step instructions your child will be able to work on understanding their directional skills as well. This is a great way to get your child to stay hands-on and become creative. If your child is doing this project in a group, it will also help teach your child about teamwork and getting along with others. This project will even help your child's socialization skills as well as it will help enhance their vocabulary.
Ease of use
This science kit comes with easy step by step instructions for your little one to follow along. It shouldn't require parental supervision but if needed of course parents can help as well. Your child will be able to choose whatever color magic bouncy ball they prefer as well as their own crystal powder. This kit is a hit for anyone who is looking for a great gift for any young science enthusiast.
4

. Scientific Explorer - My First Mind Blowing Science Kit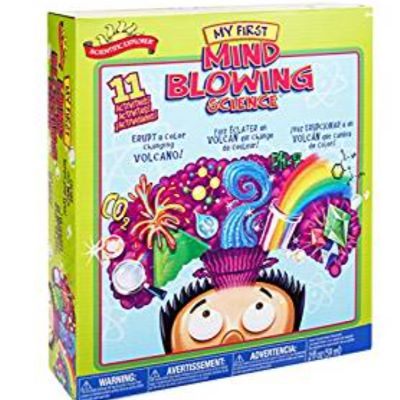 Promotes STEM learning concepts
Includes materials
Recommended for children age 6 years or older
Explores chemical reactions and other basic science principles
Only a small amount of the required materials are included so projects are not repeatable
This kit by Scientific Explorers is a great way for your child to explore the scientific world. This kit comes with 20 different chemical reaction activities that your child will love to learn about. This is a great way for your little one to get interested in the STEM world and using their brain.
Read more
Design
This kit comes with chemicals which include citric acid, baking soda, and red cabbage powder. It also comes with plastic cups, sticks, pipette and measuring scoops. It even comes with an activity guide where your child will be able to choose which chemical reaction activity they'll want to create. It is however designed and recommended that children ages 6 and up are to use this kit with parental supervision as well due to the chemicals that are being used.
Educational value
Science kits are extremely beneficial for your children. They help represent STEM-related activities. They are incredibly messy but your little one will be able to enjoy seeing how certain chemicals react to one another. Your child will be able to understand
Ease of use
This kit comes with easy to follow step by step instructions. It is recommended that parents supervise depending on the activity that their child is doing.
5

. Grow 'n' Glow Terrarium
Enough materials for 2 growth cycles
Kid safe materials
All items included
Organic seeds
Amount of plant growth may vary
Plants have short life-span
For children who would like to learn how the ecosystem works, the Grow 'n Glow Terrarium is an interesting science toy to start with.
Read more
Design
It allows kids to build their very own miniaturized ecosystem as the terrarium toy already comes with everything that your kid will ever need. This kind of toy also comes with glow-in-the-dark decals to help turn your kid's terrarium into a spectacular nighttime piece.
Educational Value
Enchant your child with the ability to create their own forest in a bottle while they learn about botany! Fast growing seeds ensure that your child won't have to wait long to enjoy this ecosystem in a bottle.
Ease of Use
Easily customizable, this toy makes a great add-on for homeschoolers or as a side project for any child that combines art and science into the perfect STEAM activity.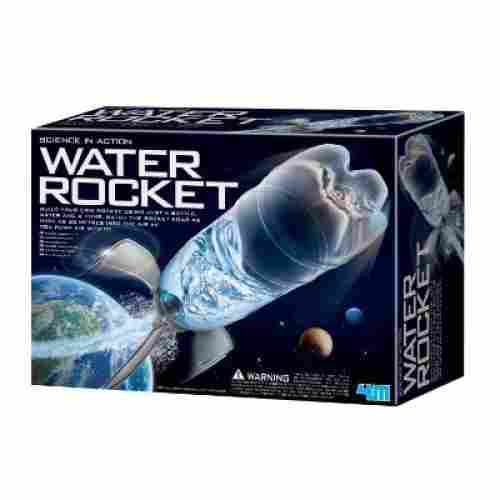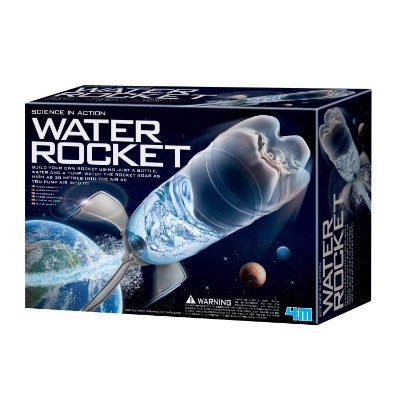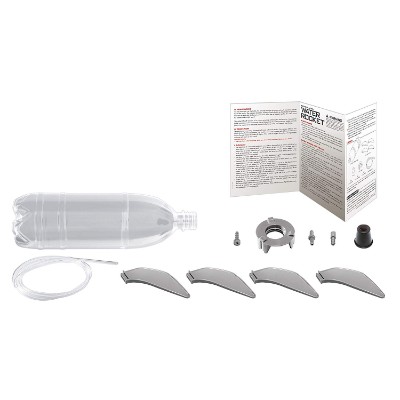 Instructions are easy to follow
Encourages Social Play
Fosters a love of engineering, science, and technology
Educational
With the Water Rocket Set, your child can build and launch their very own rocket.
Read more
Design
This toy has everything your little one needs to transform an ordinary plastic water bottle into a rocket. However, you will need a bicycle pump to get the rocket to fly. A plastic bottle, bung connector, pump connector, plastic extension pipe, fin support and four fins are included in this set.
Educational Value
Building the rocket will foster a love of engineering and science in your child as well as increase their knowledge of technology. You won't have to worry about the fun ending due to batteries dying as this rocket is solely powered by water and air pressure. Increase your child's social skills and take this toy to the park. Once other children see your little one launching the rocket they are sure to rush over to join in on the excitement. The instructions even include a couple of paragraphs that explain the science behind the launching so your child will be learning while having fun.
Ease of Use
While the process may seem a little intimidating, the included instructions make building this rocket super easy for children over the age of ten. Once the rocket is constructed, your child can begin pumping air into the bottle. The combination of water and air pressure will send this rocket flying over 30 feet into the air.
7

. Magic School Bus Chemistry Lab
Each experiment ingredient is non-toxic
Recognizable characters
Large amount of experiments (51)
Encourages observation with journal
Some plastic parts are fragile
Additional ingredients necessary (household items)
For kids who would like to experiment even with ordinary household stuff to check whether a chemical reaction will occur or not, the Chemistry Lab science toy from The Magic School Bus can provide the necessary direction and guidance to make such experiments safe.
Read more
Design
The set comes with 51 experiment cards that come in full-color illustration. This $27.99 set also comes with all the different lab tools your kid will ever need to perform an experiment.
Educational Value
Chock full of the educational fun that makes the Magic Schoolbus a time-honored favorite of kids and parents alike, this chemistry set is stuffed to bus roof with experiments that are certain to delight your own young scientist! With over 50 different experiments that explore chemistry, creative thinking, and the scientific process this is the science set that keeps on giving.
Ease of Use
The experiment cards are easy to understand, so if you have the ingredients on hand your child will have no problem experimenting.
8

. Insect Lore Butterfly Growing Set Toy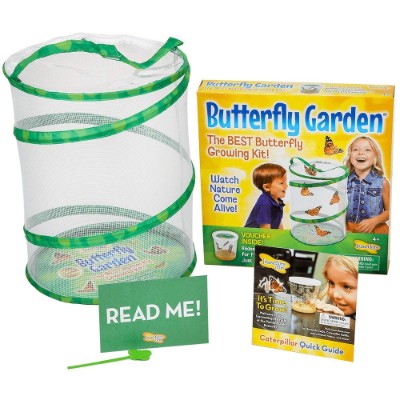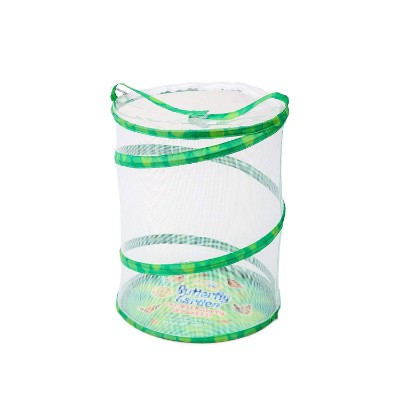 Explore the life cycle of butterflies
Freed butterflies often return to where they were released
The toy is collapsible and reusable for future butterfly broods
Easy to follow instructions
Caterpillars are shipped separately and require a separate shipping cost
Butterfly release requires cool temperatures, hot weather is not ideal for this toy
One of nature's most spectacular transformations occurs when a caterpillar metamorphizes into a butterfly and with Insect Lore's Butterfly Growing Set your child will be able to witness this miracle first hand.
Read more
Design
Butterflies are some of the most beautiful, fascinating creatures in nature and this toy allows your child to become a part of a fascinating life cycle for these insects.
Educational Value
The caterpillars come with their own food source but your kid will be able to get hands-on while feeding the butterflies that they become. Follow along with the caterpillar's life cycle from tiny babies to fascinating chrysalides, to beautiful butterflies.
Ease of Use
The pop-up mesh habitat is easy to use, collapsible, and reusable.
9

. Science Club Microscope and Activity Journal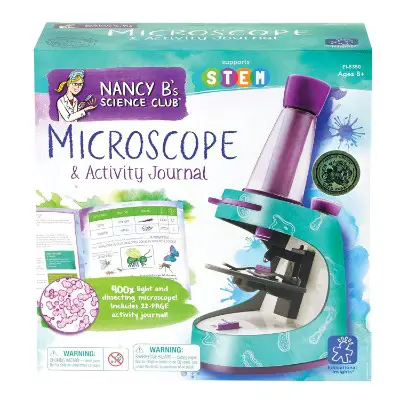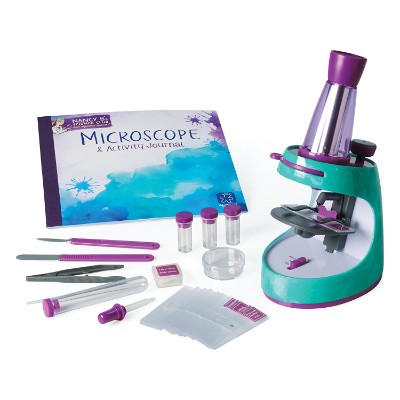 Designed by a Scientist
Blank slides for exploration
High magnification amount
Additional tools included
Light magnification suitable for young kids
Scope cannot be lifted to place other objects under
Many of the most wonderful things in life are not seen by the naked eye.
Read more
Design
With the Nancy B's Science Club Microscope and Activity Journal, your kids can now enjoy looking and appreciating truly microscopic objects and living things. The set already comes with an ocular that can magnify objects by as much as 400 times and a low power objective of about 30 times. Also included are a 26-piece lab science tool set and an activity journal.
Educational Value
This microscope encourages early scientific exploration through open ended play. Use the prepared slides to explore items your kid will recognize like human skin cells. Like a real scientist, your kid is encouraged to record their discoveries. No additional items necessary, even a journal is included.
Ease of Use
The slides can easily be grasped and placed on the microscope by children as young as eight and as old as eleven.
10

. Primary Science Lab Set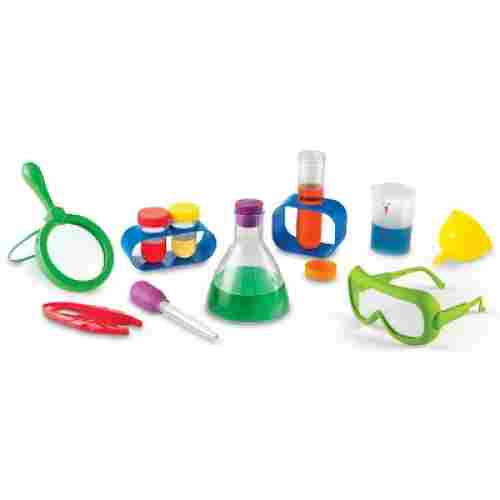 Also great for pretend play
Journal can be reused
Kid safe for independent play
Award winning toy
Materials for experiments not included
Experiment cards are fragile, we suggest laminating
Great for introducing preschoolers and beginning school age children on the wonders of science experiments, the Primary Science Lab Set is something that all kids need to have.
Read more
Design
The set comes with realistic replicas in toy form of common laboratory tools such as test tubes, flasks, funnels, and goggles, just to name a few.
Educational Value
All of the products are safe and they do a good job at stimulating preschoolers' curiosity, sense of discovery, exploration, and experimentation. This should help prepare them for higher science concepts.
Ease of Use
While many science toys are for older children, this is perfect for ages 3 - 6. The tools are perfectly designed for use by young scientists.
Criteria Used for Evaluation
Design
It should be understood that these toys are not designed to replace formal instruction in school but rather serve as an adjunct to learning. Science toys augment learning obtained from school. These reinforce the different concepts and principles by providing children with a more fun and enjoyable way to learn fundamental scientific concepts. These toys help children appreciate science as a very fun and enjoyable activity.
Educational Value
For a toy to be considered educational, it has to not only demonstrate a scientific concept, but it has to also explain that concept. The demonstration part needs to be engaging enough to keep children's attention. Since they have short attention spans, an engaging demonstration is the first step to learning.
Then, the toy must follow with an explanation of the science behind the demonstration. The absolute best of this list tie in aspects of a child's everyday life. The ultimate goal of educational play sessions is not just that they are introduced to scientific concepts but that they realize science is all around us. That is key to making the connection is fun.
Ease of Use
Your child, like all children, is a natural scientist. They are driven to explore, create, experiment, and discover from the moment they are born. It is our goal to provide you with suggestions of toys that will help you foster that innate curiosity and help nurture as your child grows. With that goal in mind we found science toys that were easy to use by the target age range. While some of the kits do require additional supplies, all of the needed items are easy to find.
Most Important Criteria
(According to our experts opinion)
Experts Opinion
Editors Opinion
Users Opinion
By Default

Parents Did You Know
Science is one of the most exciting subjects one can ever learn in school. It is one of the major branches of knowledge that is focused mainly on the objective assessment, analysis, interpretation, and experimentation of the different things of the natural and physical world including the behavior and structure of these things. To put it simply, science pervades every aspect of human existence.
Parents Did You Know
Let your child get messy when experimenting as it provides them with a more hands on experience thus increasing their learning.
Other Factors to Consider

Value
We believe we are also scientists as we employed a very systematic and organized approach to our identification of the top 10 science toys for kids in 2019. For the overall value of easy item listed, we have taken into consideration a host of factors including the scientific discipline to which the toy can be particularly useful, the manufacturer's reputation, the overall educational and scientific features of the toy, and, of course, feedback from parents like you who only want the best for their kids.
Frequently Asked Questions
q:

What is STEM or STEAM?

a:

STEM lessons and toys refer to a method of teaching revolving around Science, Technology, Engineering, and Mathematics. STEAM refers to the same method while also incorporating the Arts as well.
q:

Why is STEM important for my child?

a:

Studies have found that introducing STEM learning at a young age helps children develop critical thinking skills and lays the foundation for innovation at later stages of their lives.
q:

Are educational toys really going to help?

a:

Absolutely! Children learn more quickly than adults because they retain everything they're exposed to and educational toys help introduce complex concepts in ways that are entertaining and fun.
q:

How do I know I'm choosing the right science toy?

a:

Choosing the best toy for your child really comes down to two things: what will your child enjoy and what will stimulate them? Children are the most motivated when working with something that they enjoy and this motivation can carry on through all other aspects of their lives.
q:

How can I help support my child's love of learning?

a:

Encourage questioning! Asking "how" and "why" will help drive your child to solve challenges in their lives and in the world around them.
q:

What are some other science-related extracurricular options I can explore with my child?

a:

Depending on where you live, there are several country-wide groups that encourage science and exploration such as the Science Olympiad, the FIRST Robotics, and the FIRST Jr. LEGO League are just a few.
q:

What are some career paths that STEM learning might mean for my child?

a:

STEM-based careers are as broad and varied as the children who explore them but by introducing your child to these fundamentals concepts early on, they have a better chance to lead the field as industrial engineers, software developers, medical scientists, chemists, economists, and the list goes on!