10 Best Scissors for Kids Reviewed & Rated in 2019
last updated
Jun 18, 2019
When the time finally comes for your little one to begin learning how to use scissors, it can be a frightening time for us as parents. Not only are you worried that they might cut or hurt themselves but also what else might they discover they can cut? Many a tablecloth or a haircut has been destroyed by a toddler with scissors. Despite our reservations, learning to properly utilize this important tool is essential to your child's development in many ways. Most doctors and studies agree that children can begin learning how to use scissors around the age of 2. Supervision is essential, of course, but simply giving your little one a pair of child-safe scissors and some scrap paper can help encourage their creativity and imagination. Your child will delight in the opportunity to shower you with buckets of homemade confetti!
In a Hurry? The test winner after 39 hrs of research
Maped 4.75 Assorted Colors
Why is it better?
Made of safe plastic, durable - hard to break
Variety of colors available
Blunt-edged tip and no sharp edge on blades
Can be used by left- or right-handed kids
Can cut Play Dough (doctor recommended for toddlers)
In a
Hurry? Editors choice:
Test Winner: Maped 4.75 Assorted Colors
20
Researched Sources
39
Hours Researching
16
Products Evaluated
Brand
Safety
Educational Value
Age Range
By Default
10 Best Scissors for Kids Reviewed
1

. Maped 4.75 Assorted Colors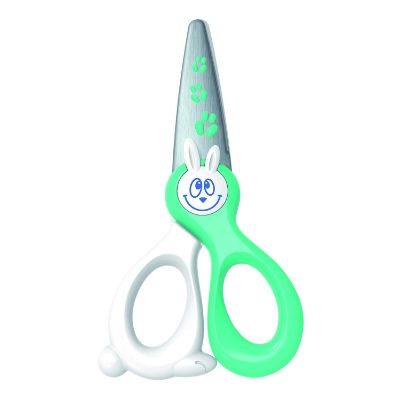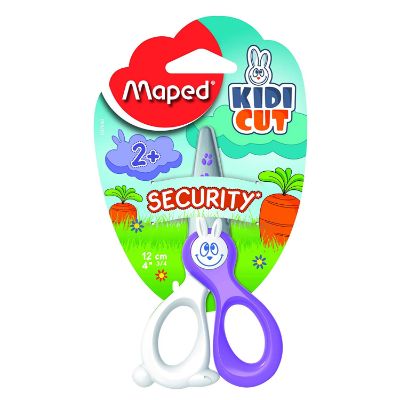 Made of safe plastic, durable - hard to break
Variety of colors available
Blunt-edged tip and no sharp edge on blades
Can be used by left- or right-handed kids
Can cut Play Dough (doctor recommended for toddlers)
Design and various colors make it hard to tell where fingers and thumb should go
Will not cut folded paper or construction paper
These cute safety scissors made by Maped with the bunny picture in the middle of the blades are the perfect first scissors for your little one. They will cut only paper (and Play Dough) and not their tiny fingers or skin. Clothing is also safe and they do not conduct electricity like regular scissors because the blades are made of plastic. Being that safety is the top priority for very small children, especially when handling tools of any kind, these high-quality
Read more
Brand
Kidicut Safety scissors are a great first choice for your child's arts and craft projects. Nothing could be more fun and simple than cutting paper to develop those fine motor skills at such an early age.
Safety
It has been doctor recommended that scissors such as these can be used to cut Play Dough as well to exercise tiny hand muscles and the imagination. Parents do not have to worry about accidents because the scissors only cut paper and are blunt-tipped.
Eductional Value
Mapes Safety Kidicut Scissors should be your child's first pair of scissors. They will exercise their hand-eye coordination and finger dexterity, as well as other motor skills. The simple task of cutting paper also introduces a child to the world of arts and crafts, thus expanding his or her creative mind.
Age Range
Besides the fact that the Kidcut scissors are considered one of the safest on the market, they come in assorted colors and are suitable for very small children as young as 2 years old.
Can cut left- or right-handed
Variety of colors available
Finger and thumb holes easy to distinguish
Stainless steel, durable, long-lasting
Easy to use (child can put two or three fingers in finger hole)
Sharp point - not for very young children - safety hazard
Can be difficult to use for large hands or autistic children
The trusted name of Crayola features these pointed tip scissors for the older child that can use them responsibly. The stainless steel blades will cut almost anything that a child needs to cut and they can accommodate left- or right-handed kids. The finger and thumb holes are easy to distinguish from one another with the clever design. It features a self-adjusting tension when cutting and the scissors are durable and long-lasting.
Read more
Brand
These scissors are great because they can be used with the left or right hand to cut and the finger holes are clearly recognizable as to which are for the thumb and fingers.
Safety
They are a standard in classrooms for children that are old enough to not need safety scissors. The pointed tip Crayola scissors are the next step up from the safety set when your child is ready to cut other items or thicker paper.
Educational Value
Crayola lives up to its good name with these pointed tip scissors for older children. When safety scissors are no longer needed these will do nicely for all of your child's arts and crafts. Because they cut almost anything, the imagination can run wild with things to create and make, thus empowering your little one to dive into the world of creativity. Recommended by schools, these are standard scissors are widely used and accepted for kids.
Age Range
This particular model is listed by schools as a trusted brand for children. With a variety of colors to choose from, your child will love these Crayola scissors for their art and craft needs.
Blunt end tip for safety
Easy to handle and grip
Added comfort grip in finger and thumb holes
Easily distinguishable finger and thumb holes
Cuts almost anything a child would need to cut
Not for toddlers because these cut more than paper
Only comes in blue - no color choice
With almost the same handle design as Crayola's pointed tip scissors, these from Sparco are much safer with a blunt tip. For young children that are too mature for safety scissors, yet ready to cut other materials besides paper, these fit the bill. Sparco's blunt-end scissors are for the three-year-old to an eight-year-old group who need more flexibility in their cutting activities.
Read more
Brand
The finger and thumb holes are not only clearly distinguishable by the size and shape, but they also have a comfortable special grip.
Safety
More freedom in activities allows more opportunities to expand the mind and also the fine motor skills that develop in craft-making. With these scissors, your child will be able to cut fabrics and thicker paper like construction paper, so the possibilities are endless for the imagination.
Educational Value
With more flexibility in the tool comes more dexterity and coordination for the user. Precise cuts can be made easier with these durable, quality scissors and they are easy for small hands to grasp and manipulate.
Age Range
Sparco's blunt-end scissors for children aged 3 to 8 are the next pair they should have when they are mature enough to cut more than just paper.
4

. Westcott School Caddy Anti-Microbial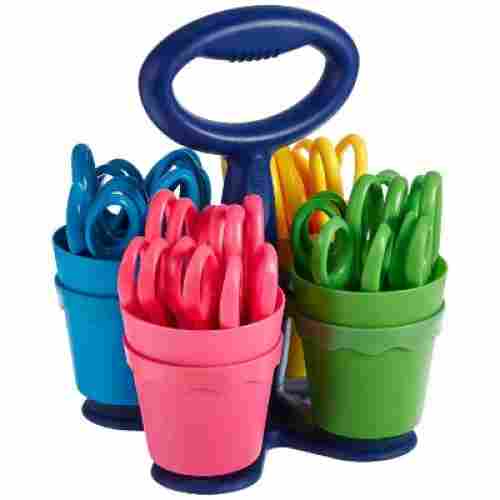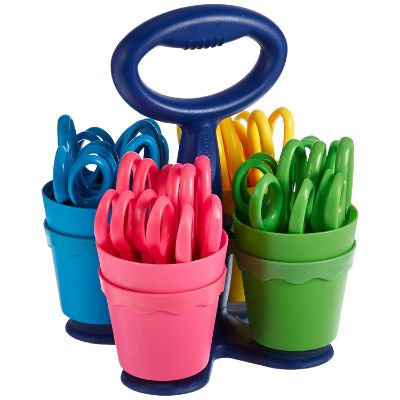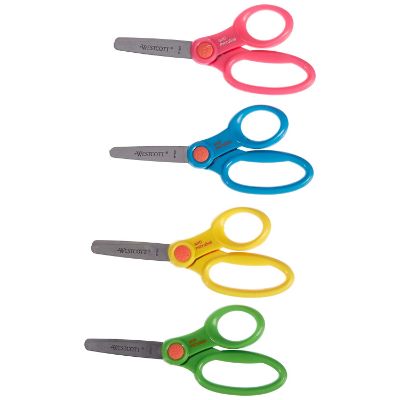 The base of the caddy rotates
Caddy & scissors are made with antimicrobial protection
The wide grip handle makes the caddy easy to carry
The cups can be removed from the caddy
Some of the scissors may be stiff when you first use them
The Westcott school scissor caddy and scissor set will keep your classroom organized. The caddy comes with four cups in the colors of yellow, blue, pink, and green. The cups can be removed from the caddy, which makes it easier for you to distribute the scissors to children working in groups.
Read more
Brand
The blades of the scissors are made of stainless steel and won't corrode. The wide grip handle on the caddy makes it easy to carry. The base of the handle rotates which makes it easy to reach all of the scissors. The wide handles on the scissors reduce finger fatigue and allow your child to have more control as they're cutting.
Safety
The cups and the scissors are made with antimicrobial protection which will prevent odors and bacteria from growing on both.
Educational Value
There are 24 scissors included in this set with 6 scissors for each color. Children will increase their knowledge of color awareness and their organizational skills as they put their scissor back in the correlating cup.
Age Range
It's no secret that children carry germs. The antimicrobial protection will keep bacteria from growing on these scissors, so multiple children can use them over and over.
5

. Stanley Guppy 5-Inch Blunt Tip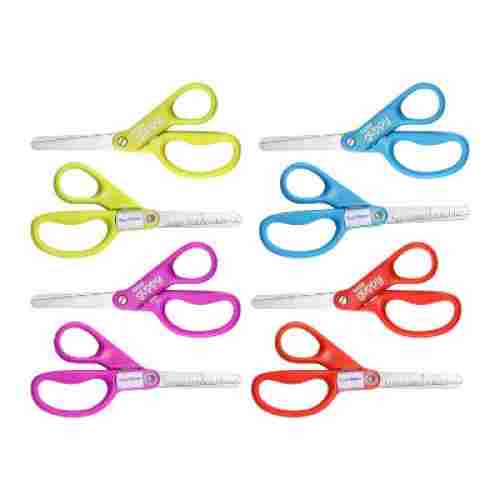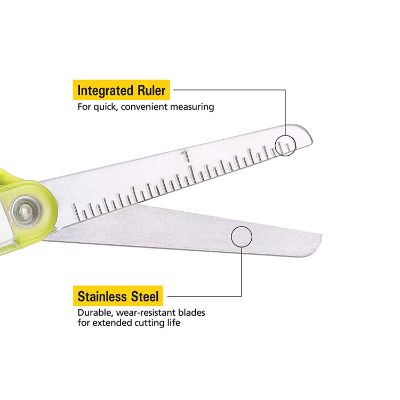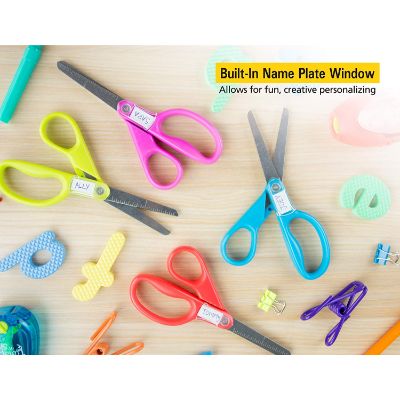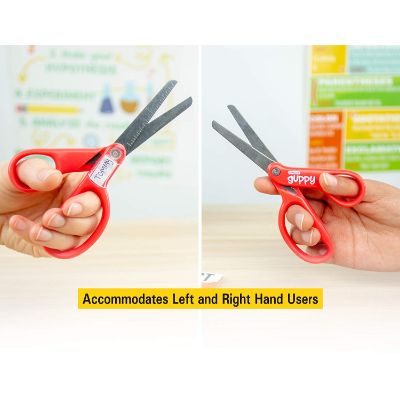 Designed with a nameplate window
Blades have an etched on a ruler
The finger loops are made with a non-slip material
Blunt tip prevents accidental cuts
Won't cut through more than one sheet of paper at a time
Children four and over can get crafty with the Stanley Guppy Scissors. This eight-pack comes with two scissors in the following colors; pink, blue, orange, and green. The stainless steel blades are durable and will last for countless school projects.
Read more
Brand
The scissors are designed with a nameplate window so you can easily customize and keep track of your child's supplies.
Safety
The angle of the blade and the blunt tip make these scissors kid-safe and will prevent accidental cuts on the skin. They can easily be wiped clean if things get messy.
Educational Value
The blades are equipped with an etched on ruler which allows your child to measure while cutting. The finger loops are made with a non-slip surface to allow your child to have better control while cutting without causing fatigue in their fingers.
Age Range
The nameplate window makes it easier for teachers and children to keep track of their scissors. The non-slip lining in the finger loops is a great added safety measure as it will prevent your child's fingers from slipping out and cutting themselves.
6

. Lefty's Blunt Tip True Left Handed
Molded silicone handles for a comfortable left-handed grip
Stainless steel blades are easy to clean and durable
Large finger holes make holding and manipulating the scissors easier
Suitable for children 5 years and older
The scissors can be very stiff and may take some time or lubrication to loosen up
Sharper than typical training scissors, adult supervision is highly recommended
Did you know that almost 10 percent of the population is left-handed? That means 1 in every 10 kids will end up as a leftie and when classroom populations often reach over 20 children in number, that can leave up to two or three children left in the dust. Everything is designed for right-handed use, from pencil sharpeners to the desks themselves. Nowhere is this more prevalent and noticeable than with scissors.
Read more
Brand
Boasted as one of the best "true" pairs of left-handed scissors, Lefty's utilize a soft silicone handle with wide finger holes to make holding and cutting more comfortable. The 5 ½ inch tools use 2-inch-long blades that are blunted at the tip to provide a long, safe cutting surface.
Safety
The blades are made of a highly durable stainless steel that wipes clean and is resistant to dulling. One for home and one for school makes this two-pack the perfect purchase!
Educational Value
Many right-handed tools can conform to work identically for lefties but scissors alone, due to their unique shape and design, just don't work well with the opposite hand. If your little one is struggling with their cutting skills, perhaps it is because they need a pair of Lefty's Blunt Tip True Left-Handed Scissors! If your child is one of the few, the proud, the left-handed, encourage their unique skills by providing them with tools they need to succeed!
Age Range
This two-pack is perfect for both school and home and features a wide-handled, left-handed design ideal for little hands and fingers.
7

. Melissa & Doug Child-Safe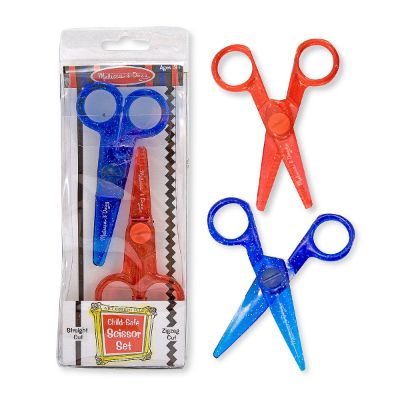 Won't cut hair, skin, or clothing
Set includes two scissors that can easily be used by right and left-handed children
They glittery design will appeal to children
Comes with a storage case
Scissors don't cut construction paper well
It won't matter if your child is a lefty or a righty as the Melissa and Doug child-safe scissors are designed to be easy to use for both.. You won't have to worry about them reaching for your scissors when they have a fun glittery pair nearby. These scissors cut paper but won't cut hair, skin, or clothing.
Read more
Brand
They are great starter scissors and will work perfectly as you teach your child to cut straight lines. Once your child has mastered the straight line, then we recommend moving on to scissors with steel blades.
Safety
This set includes two safety scissors. Both the red and blue scissor have a glittery design that will appeal to children
Educational Value
The scissors are lightweight which make it easy for young children to hold them. They will improve their fine motor skills as they grasp the scissors. The scissors come in a resealable plastic pouch. The pouch will keep both scissors organized in one place when your child is not using them.
Age Range
The glittery design will have your child constantly reaching for these scissors which are perfectly fine since they don't cut hair, skin, or clothing.
8

. ALEX Discover Ready Set Cut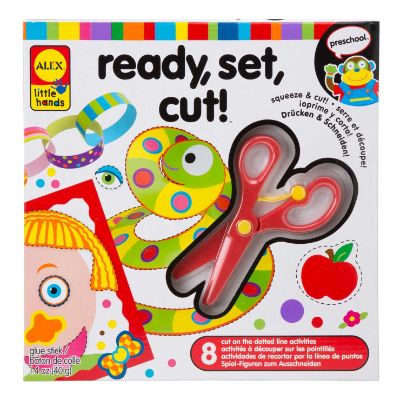 Includes easy-squeeze scissors that are blunted for safety
Eight unique cutting activities help your child practice their cutting skills
Easy-to-see dotted line builds fine-motor skills through cutting circles and spirals
Suitable for children 4 years and older
Plastic-edged scissors can be difficult for little ones to manipulate and cut
Curving lines and spirals may be too difficult for some children to master
It's time for your preschooler to learn how to use scissors! Got the scissors? Check. Got the kiddo? Check. Got the…..what are we going to cut? Whether you are a homeschooler or not there will come a time when the abstract confetti of your child's first lessons in cutting become...frustrating. You may tire of constantly vacuuming up, and still later finding more, all of the teeny tiny pieces that they leave behind.
Read more
Brand
ALEX brand safety scissors are completely child safe. They have been specially designed to conform to small fingers and hands to enhance fine-motor control. The scissors feature a hard plastic exterior that safely prevents your little one's fingers and skin from reaching the sharp interior.
Safety
A spring-loaded set of handles automatically pops the blades open after each cut, bolstering your child's independence and preventing frustration. Following along with the instructions for each of the included craft projects can also instill lessons of patience and a sense of satisfaction once their work is complete.
Educational Value
Perhaps your little one has grown bored of straight lines and yearns for a bigger challenge. Help bolster those fine-motor skills with the Alex Discover Ready, Set, Cut! This box set includes a pair of Alex brand safety scissors along with several cut-and-build activities.
Age Range
Your little one will delight in learning how to cut spiral and circle shapes that then transform into everything from finger puppets to masks! Inspire their creativity and their cutting prowess with this adorable set!
9

. Maped Koopy Spring-Assisted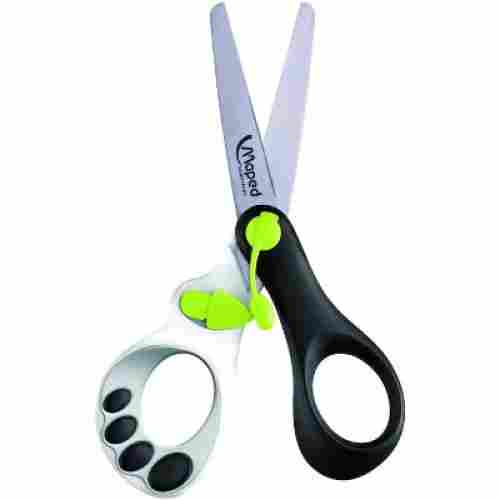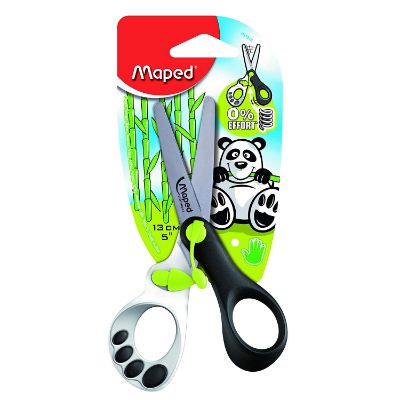 Spring-loaded handles provide cutting assistance for beginners
Utilize blunt-tip blades made of brushed stainless steel
Disable the spring to allow for non-assisted cutting
Designed for both right- and left-handed use
Finger holes are smaller than similar training scissors and may cause them to be held/used incorrectly
The connection point between blades can be flimsy and may crack or break through normal use
One of the biggest frustrations with children's scissors, or really anything designed for kids, is how quickly your little one will outgrow it. Those $50 sneakers may not fit a week later. Same for the $100 boutique dress. Scissors tend to stand the test of time a bit better than things like clothing or shoes but eventually, your little one will be able to transition past the need for spring assistance and move on to normal functionality. Save yourself, and your child, some time and money with the Maped Koopy Spring-Assisted scissors.
Read more
Brand
These cutting tools are designed to grow with your child, providing a smooth spring movement that pops the blades back open with minimal effort. Once they are ready to progress, simply flip the arrow switch located in the middle of the scissors to disable the spring and allow the blades to open and close like normal.
Safety
The blades are made of brushed stainless steel that will not rust or tarnish, allowing this tool to stay with your little one until it is inevitably lost or their fingers outgrow the handle!
Educational Value
Recommended by therapists, these scissors use a unique color and texture system to help your little one easily determine where their thumb and fingers should go. The spring assistance can be turned on or off as needed, making these perfect for everyone from beginners to adults with limited mobility. The strong self-opening function of these blades can help bolster fine-motor-skill development and muscle tone, especially in early learners and special-needs children. Learning to properly hold and manipulate these scissors can be a stepping stone toward handwriting and drawing skills.
Age Range
These scissors come highly recommended by occupational therapists to help assist children with fine-motor-skill delays or other special needs.
10

. School Smart Loop Yellow
Special loop design eliminates the finger and thumb holes
Blades reopen on their own automatically
Classroom-tested
Great for autistic children
Can be used by left- or right-handed children (or adults)
May be too big to handle for toddlers
Has sharp edges - a safety hazard for very small children
For those children that have disabilities or just a hard time operating scissors functionally, School Smart has developed these Loop Scissors for that special needs child. Autistic kids and individuals that need help with independent learning will benefit greatly with this tool. Classroom-tested, these loop scissors open automatically when released for easy cutting. The special design allows cutting without having to place fingers and thumb in certain holes to use.
Read more
Brand
Either grab the loop scissors from the sides with one hand or with two hands to use. Even though these are not designed like regular scissors, they still aid in motor skills and creative abilities.
Safety
The finger and thumb holes of scissors can be a huge problem for anyone, especially children just learning how to use this valuable tool. Sometimes it is hard to tell just where the thumb goers and where the fingers go, so with this pair there is no need to guess. Just pick it up and use.
Educational Value
The Loop Scissors are a must for anyone that has trouble using regular scissors that have finger and thumb holes. The special design allows even the most handicapped child (or adult) to be able to cut paper and other items without frustration. Easy to use and easy to handle, these scissors will help develop the skills that regular scissors do like hand-eye coordination and muscle dexterity in the hands.
Age Range
This is a product that surely answers a need for those with disabilities or trouble using regular scissors. Because the blades re-open on their own, the Loop Scissors can be handled and manipulated by almost any child (or adult) that cannot perform this task.
Criteria Used for Evaluation
Most Important Criteria
(According to our experts opinion)
Experts Opinion
Editors Opinion
Users Opinion
By Default

Parents, Did You Know?
We feature a left-handed scissors here from Westcott, plus others listed state that their products can be used by either preferred hand. Although left-handed items are not as readily available as right-handed things in stores, they can be obtained with just a little searching. It will pay off greatly in the end when your child is happily cutting away to make his or her arts and crafts.
Parents, Did You Know?
Ensuring that children have the tools appropriate for their age allows for maximum flexibility in creations of the mind and safety from harmful items that could bring on lasting fears. Safety scissors are manufactured with toddlers in mind, so they can begin to use scissors but not be harmed in doing so.
Other Factors to Consider
Creativity
Many skills can be obtained and exercised with just a simple pair of scissors. In being able to cut out paper shapes and letters, children can make almost any project or model that comes to mind. When school projects are assigned, scissors will be a necessity, so having their own pair will give them that added independence in creating things.

Physical Development
Manipulating a pair of scissors takes finger and hand dexterity, muscle strength, and hand-eye coordination. These motor skills are refined without the child ever knowing how much he or she is learning and doing creatively. Precise cuts come with practice and a good pair of scissors that are appropriate for the correct age.
Frequently Asked Questions
q:

Are the Kidicut Safety Scissors for left- or right-handed children?

a:

These scissors can be used by either left- or right-handed children. Some reviewers reported that their child had some difficulty using them with the left hand, but overall, they are useful as either.
q:

Do the Kidicut Safety Scissors really just cut paper and nothing else?

a:

Yes, they really do just cut paper. When tried on other objects such as clothing, hair, and bedding and they did not cut. The edges are not sharp at all.
q:

Do the left-handed scissors by Lefty's really cut things as easy as right-handed scissors?

a:

Yes, these left-handed scissors cut just like regular right-handed scissors. The handles are just positioned for the left hand rather than the right hand.
q:

Can a right-handed child cut with the left-handed scissors? I have right- and left-handed children.

a:

Typically with scissors, the user must favor the hand the tool is intended for. Some people can use either left or right tools, so it is really up to the individual. The scissors listed here are specific in stating if they are for left or right, but sometimes they can accommodate both. It just depends on the scissors and the child's dexterity.