When the time finally comes for your little one to begin learning how to use scissors, it can be a frightening time for us as parents. Not only are you worried that they might cut or hurt themselves but also what ELSE might they discover they can cut? Many a tablecloth or a haircut has been destroyed by a toddler with scissors. Despite our reservations, learning to properly utilize this important tool is essential to your child's development in many ways. Most doctors and studies agree that children can begin learning how to use scissors around the age of 2. Supervision is essential, of course, but simply giving your little one a pair of child-safe scissors and some scrap paper can help encourage their creativity and imagination. Your child will delight in the opportunity to shower you with buckets of homemade confetti!
Beyond the obvious need for your child to learn how to cut prior to entering kindergarten, there is also a strong connection between scissor skills and the appropriate development of fine-motor control. In specific, the opening and closing motion of cutting can help strengthen your little one's grip and build their hand muscles. These muscles groups are essential in order for them to learn how to properly grip crayons and pencils as they grow.
Finding the right pair of scissors for your child can help alleviate a lot of concerns. You can feel more confident and comfortable knowing that your little one cannot hurt themselves while they practice and enhance those needed fine-motor skills. We hope that one of our Top 10 Best Scissors for Kids will be the right fit for your child to enjoy their newfound freedom…while also giving you the peace of mind knowing that they are protected from harm.
Our Top 3 Picks
Maped Kidicut Safety Scissors

Our rating
Won't Cut Skin
Price:

See Here
School Smart Loop Scissors

Our rating
For Physical Disabilities
Price:

See Here
Crayola "Pointed Tip" Scissors

Our rating
Sharp Tip Scissors
Price:

See Here
Our Picks Of The Best Scissors for Kids
Maped 4.75 Assorted Colors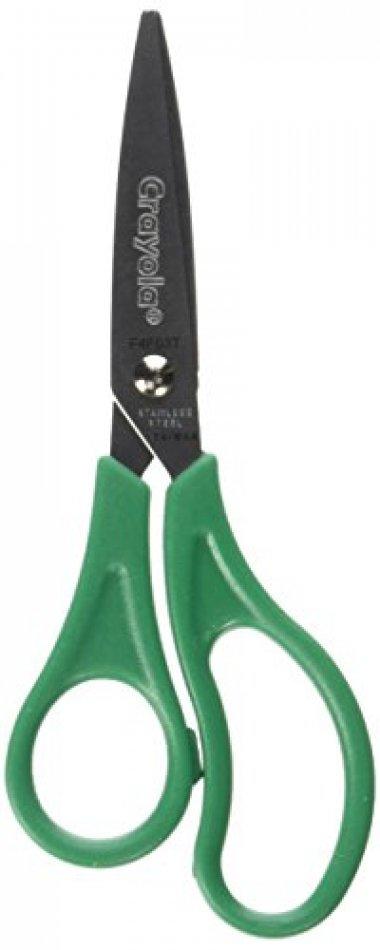 Westcott School Caddy Anti-Microbial
Melissa & Doug Child-Safe
Stanley Guppy 5-Inch Blunt Tip
ALEX Discover Ready Set Cut
Lefty's Blunt Tip True Left Handed
Maped Koopy Spring-Assisted
Criteria Used in Evaluation of the Best Scissors for Kids
Safety
Because scissors are one of the first tools that your child will use throughout his or her life, safety, in the beginning, is crucial. Accidents in childhood can leave a lasting scar on the mind and impair a child's abilities when confronting similar situations. Safety scissors are in existence for this reason and for the physical protection of your child. With scissors that are blunt-ended and made of plastic, children can explore and mimic the actions of adults in cutting paper for projects and activities. Even kids at the young age of 3 years old have the creativeness and dexterity to cut paper and make projects. Children's scissors allow this growth at any age.
Skills Developed With Use of Product
Many skills can be obtained and exercised with just a simple pair of scissors. In being able to cut out paper shapes and letters, children can make almost any project or model that comes to mind. When school projects are assigned, scissors will be a necessity, so having their own pair will give them that added independence in creating things. Manipulating a pair of scissors takes finger and hand dexterity, muscle strength, and hand-eye coordination. These motor skills are refined without the child ever knowing how much he or she is learning and doing creatively. Precise cuts come with practice and a good pair of scissors that are appropriate for the correct age.
Age Appropriateness
Ensuring that children have the tools appropriate for their age allows for maximum flexibility in creations of the mind and safety from harmful items that could bring on lasting fears. Safety scissors are manufactured with toddlers in mind, so they can begin to use scissors but not be harmed in doing so. Blunt-end, stainless-steel scissors are used next when the child grows out of plastic safety scissors. With these, he or she can cut just about anything a child would need to in order to make school projects and home creations. The next step for the older child is the pointed-tip scissors that have no safety mechanisms attached. By this age, the child should have learned with the use of the other much safer scissors how to handle scissors properly and carefully. When available, the appropriate age has been listed next to the products reviewed.
Right-Handed or Left-Handed
It is important to provide your child with the correct tools for his or her activities. Left-handed children cannot use right-handed scissors very well if at all, and this will cause frustration and hesitation to do any sort of actions that involve cutting. This goes for right-handers using left-handed tools as well. It seems simple and unimportant but it is extremely important for the person who cannot operate the tool if it not the correct one. We feature a left-handed scissors here from Westcott, plus others listed state that their products can be used by either preferred hand. Although left-handed items are not as readily available as right-handed things in stores, they can be obtained with just a little searching. It will pay off greatly in the end when your child is happily cutting away to make his or her arts and crafts.
FAQ
Frequently Asked Questions
Q: Are the Kidicut Safety Scissors for left- or right-handed children?
A: These scissors can be used by either left- or right-handed children. Some reviewers reported that their child had some difficulty using them with the left hand, but overall, they are useful as either.
Q: Do the Kidicut Safety Scissors really just cut paper and nothing else?
A: Yes, they really do just cut paper. When tried on other objects such as clothing, hair, and bedding and they did not cut. The edges are not sharp at all.
Q: Do the left-handed scissors by Lefty's really cut things as easy as right-handed scissors?
A: Yes, these left-handed scissors cut just like regular right-handed scissors. The handles are just positioned for the left hand rather than the right hand.
Q: Can a right-handed child cut with the left-handed scissors? I have right- and left-handed children.
A: Typically with scissors, the user must favor the hand the tool is intended for. Some people can use either left or right tools, so it is really up to the individual. The scissors listed here are specific in stating if they are for left or right, but sometimes they can accommodate both. It just depends on the scissors and the child's dexterity.