Toddlers seem to take to sensory toys very well and the bonus part for the caretakers is they are very engaging and the kids are able to learn from the experience, too. They really seem to get a kick out of being able to create sounds, feel different textures on their hands and fingers, and being able to stimulate their sensory system in so many different ways.
Sensory toys are also needed as aids for children with sensory processing disorders. Often children that have been diagnosed with a form of autism really benefit from these types of toys. They are not only entertaining for them, but they provide a type of therapy for them. We have picked the Best Sensory Toys for Toddlers that are available and provided details on each of the items.
Our Top 3 Picks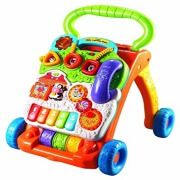 VTech Sit-to-Stand Learning Walker

Our rating
Frustration Free
Price:

See Here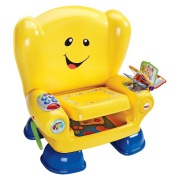 Fisher-Price Laugh & Learn Chair

Our rating
50+ Songs
Price:

See Here
First 100 Words Board book

Our rating
100 photographs
Price:

See Here
Sit-to-Stand Learning Walker
Age Range: 9 months to 3 years old
First 100 Words Board Book
Age Range: 1 to 3 years old
Musical Rhymes Book by VTech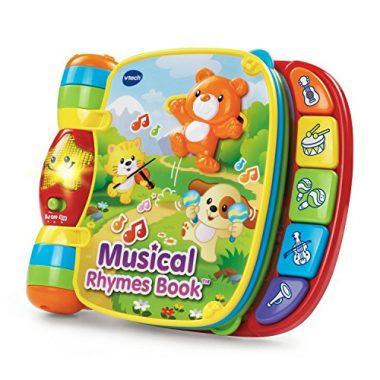 Age Range: 6 months to 3 years old
Age Range: 2 to 4 years old
Laugh & Learn Singin Soccer Ball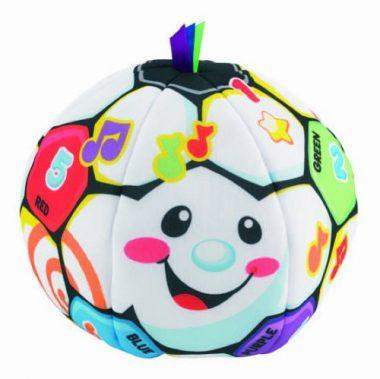 Age Range: 6 months to 3 years old
Turn and Learn Driver by VTech
Age Range: 6 months to 3 years old
Age Range: 9 months to 3 years old
3-in-1 Learning Zebra Scooter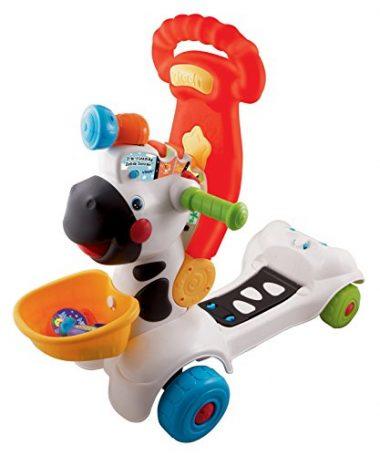 Age Range: 18 months to 3 years old
Manhattan Toy Winkel Rattle and Sensory & Teether Toy
Age Range: 6 months to 3 years old
Criteria Used to Evaluate The Best Sensory Toys for Toddlers
Functional
Toddler Specific Toys
These toys are specifically for the toddler or infant that desires to work on building the abilities of the five senses, plus balance and movement. The age range is wide from newborn to approximately 5 years old. This will vary with each individual child because every child has their own learning and physical capabilities level. These toys should make kids aware of the basics, such as colors, shapes, sounds, and textures. These skills are provided at the toddler age level, and many of the products will grow with the child as he or she ages. Starting your child with these items at a younger age than is recommended is a wonderful way to get them ahead of their peers and moving quickly through the skills they will need in their early school years.
Promotes Multiple Skills and Abilities
Many talents are promoted and exercised with these toys that develop the senses. We mention in the pros and benefits section what the child will gain by using each toy. Basically, all of the toys will encourage fine- and gross-motor skills, creativity, finger dexterity, cognitive abilities, hand-eye coordination, balance, movement, problem-solving, and verbal and listening skills. Each product will exercise one or a few of the senses in the least, plus give opportunities to build other mental talents. These are all also wonderful play things for autistic individuals of any age. The toys will keep their brains and hands busy with many textures, shapes, colors, and designs to intrigue and delight.
Have the Best Ratings and Reviews
While there are thousands of sensory toys on the market today, they are not all the greatest or the best-accepted by parents and buyers. We have researched and chosen the finest of these items that parents loved and kids enjoyed playing with, based on their many reviews. These sensory items were overwhelming chosen because they excel in the features that parents are looking for, just like you. We also choose the toys that have the most reviews to obtain a true opinionated picture of each product. This ensures that many people before you have bought the item, reviewed it, and most of them really loved the toy.
Safe and Quality-Made Products
Many of the items listed are backed by warranties or guarantees from the manufacturers ensuring parents of their great quality and safety for their kids. Some of them have been tested for quality, while others have won several toy awards for excellence. We choose only products that please parents for these qualities because we know you want the very best items for your child. Many of the plastic toys are BPA-, lead-, PVC-, and/or Phthalates-free to make them harmless to your children. The one wooden toy that we highlight is made from high-quality beech wood to give your child the best wood product. All of the items come fully assembled so there should be no loose screws or rough edges sticking out to harm toddlers. They have all been professionally assembled by the manufacturer.
What Determined The Top Sensory Toys in Our List
Many think that cheap sensory toys have poor quality and are relatively unsafe. That is why, as much as possible, they would rather pay for more quality ones. However, our research showed us that cheap sensory toys need not automatically mean mediocre quality or a haphazard construction. We have seen some reputable toymakers designing inexpensive products but with the same signature quality workmanship and safety profile that these companies have been known for. As such, one of the inherent things we had to look for in our search of the top 14 sensory play things is the quality and safety of the play thing's design. We then factored the list price and determine if it can be considered an excellent buy with superb value for your money.
We then considered the different developmental tasks that can be achieved by young children, particularly toddlers, when using these products. Because toddlers are already expanding their exploratory activities, it is essential for us to identify which of the child's senses can be developed further or significantly enhanced by the different features of a particular product. Also, we had to make sure that what the toymaker says about the product's developmental benefits are accurate. This is also a measure of the company's dedication and commitment to provide children with developmentally appropriate products. They can only do this if they know by heart what children really need at any given age.
We also took into great consideration the comments and feedback as well as reviews from customers and parents who have bought these products. These provided us with invaluable insight into the experiences of parents and their respective children playing with such toys. At the minimum, we were able to determine whether the product comes as highly recommended or not.
Products with awards or recognitions from reputable toy and child development organizations were also considered. We believe that it takes a particularly clever, ingenious design to merit one of these awards.
Such is the process that our researchers had to undertake to provide you with the best sensory toys for toddlers. It was particularly challenging but we were able to accomplish it anyway.
A Brief Look at Sensory Development among Kids
A number of parents are rather confused about sensory development among kids especially when taken in the light of their motor development. While we are not child psychologists, we can nevertheless say with absolute confidence that sensory development is all about the ability of the brain to receive information from the environment using the body's sensory organs.
Sensory information obtained from playing is ultimately sent to the brain for processing. This provides the necessary building blocks for the formation and development of ideas. Over time, these ideas form what we now call memories. So, when children play, they use these processed information to feed their imagination.
When we talk about sensory development, we talk about how well children use their senses to gather information. That is why toys that are naturally colorful, in high contrast, and in different patterns can help improve our kids' visual development. Music, melodies, and any other form of sound are important in auditory development. The different textures–smooth, rough, silky, slippery, and others–can be excellent tools for developing children's tactile understanding. Giving them different scents or aromas as well as flavors and tastes can also help in the development of their olfactory and gustatory skills, respectively. When taken together, these sensory experiences provide the backbone for their cognitive development. This is why sensory toys are important in children's optimum development.
The Bottom Line
For any holiday, birthday or special event, give your toddler any one of our top 14 best sensory toys and help facilitate the continuous development of their cognitive skills as well as imaginative abilities. You will be glad to know that your kid's optimum development can be guaranteed by these play things.
FAQ
Frequently Asked Questions
Q: What are the appropriate ages for these toys?
A: We try to list the correct ages for each toy in the summary and pros section for easy referencing when it was given by the manufacturer. Regardless of the ages suggested, it is best for parents to determine which toys best suit their child's mental and physical activity level. Some children may be ahead or behind the recommended ages, so please know that these are just guidelines. A general age range for all of these toys would be from newborn to approximately 5 years old.
Q: Are any of these for traveling and away from home?
A: For great travel or on-the-go items, we feature the 100 Words Board Book, Singin Soccer Ball, Winkel Rattle, Take Along Music Toy, Bendy Ball, Nut and Bolts, and the Peg Board Shape Puzzle. These will all keep little hands and minds busy during times of boredom and moments of inactivity.
Q: Which toys do not have any removable or loose pieces or parts?
A: For the toys that do not have any loose pieces to keep up with or put away, try these items: Singin Soccer Ball, Winkel Rattle, Take Along Music Toy, Bendy Ball, Sit-to-Stand Walker, and the Zebra Scooter among others. These still have plenty to do on them, but without the hassle of losing pieces and kids being hurt with things they can detach.
Q: Are any of the sensory toys just for girls or boys?
A: No, all of these toys are for both boys and girls alike. There is no preference by either sex for any of these items. Girls even like to play with the Nuts and Bolts toy of various colors and shapes. Also, these toys are for right-handed or left-handed children because either can successfully use all of the products.
Q: Are these items suitable for autistic kids? If so, which ones are best?
A: Yes, all of these sensory toys are great for kids and even adults with autism. The best ones would highly depend on the individual's likes and dislikes because the toys are all so different from one another. If your child favors colors and shapes, then the Nuts and Bolts item, Peg Board Shape Puzzle, or the Winkel Rattle toy would be the best options. The toys that make sounds, phrases, and music are listed below if that type would excite your autistic child.
Q: Which toys require batteries, tools, or anything extra to put them together or operate them?
A: All of the toys come fully assembled unless they are assembly toys, such as the Nuts and Bolts and the Peg Board Shape Puzzle, so no tools are required for any of them. Batteries, however, are required for such toys as the Turn and Learn Driver, Zebra Scooter, and the Take Along Music Toy. Some of these do come with the needed batteries, but some of them do not. Display batteries may come with the toy, but fresh batteries will be needed for operation.
Q: Which sensory toys listed make noise or music?
A: The toys that make music or sounds include the Sit-to-Stand Walker, Singin Soccer Ball, Turn and Learn Driver, Vtech Activity Cube, Winkel Rattle, and the Zebra Scooter. Some of these have up to ninety sounds and phrases for kids to repeat and learn through repetition of using the toy.
Q: Which items are the easiest to clean and keep clean?
A: The items that would be easiest to keep clean and to clean are the 100 Words Board Book, Bowling Game, Bendy Ball, Garden Activity Cube, Peg Board Shape Puzzle, and the Nuts and Bolts Toy. They would all need minimal cleaning if at all, and it would be easy just to wipe most of them with a damp towel and mild soap and water.
You May Also Like
15 Best Ride-On Toys For Toddlers
13 Top rated Educational Toys For Toddlers
15 Best Pull Toys For Toddlers
16 Best Toy Cars For Toddlers