Sensory development is a very important aspect of growing up. This is why toys that provide a variety of sensory experiences for the young child are deemed very important in their development. This Christmas, you can bring a smile to a child's life by giving him or her the best sensory toy you could ever find. Let our top 10 sensory toys for toddlers be your guide in choosing the best.
Sit-to-Stand Learning Walker
Age Range: 9 months to 3 years old
Laugh & Learn Smart Stages Chair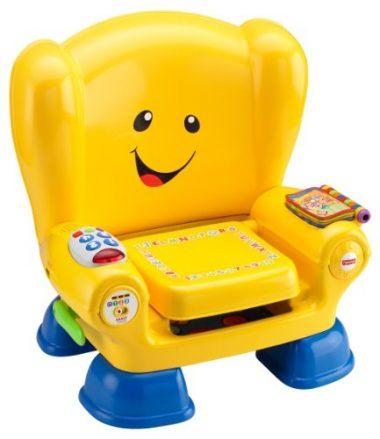 Age Range: 1 to 3 years old
First 100 Words Board Book
Age Range: 1 to 3 years old
Musical Rhymes Book by VTech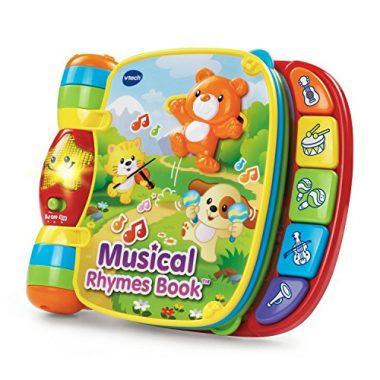 Age Range: 6 months to 3 years old
Monster Plush Bowling Game
Age Range: 2 to 4 years old
Laugh & Learn Singin Soccer Ball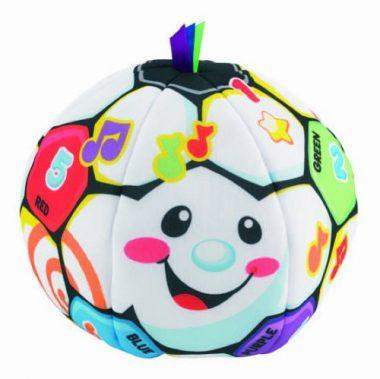 Age Range: 6 months to 3 years old
Turn and Learn Driver by VTech
Age Range: 6 months to 3 years old
Sort & Discover Activity Cube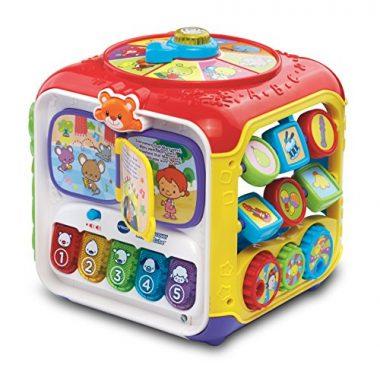 Age Range: 9 months to 3 years old
3-in-1 Learning Zebra Scooter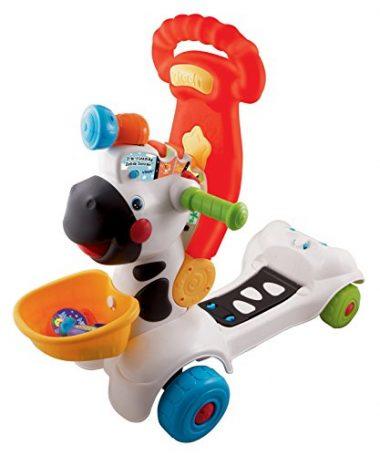 Age Range: 18 months to 3 years old
Age Range: 6 months to 3 years old
Criteria Used to Evaluate The Best Sensory Toys for Toddlers
Functional
Unlike most toys on the market, the sensory toys, these toys go far beyond imaginative play. All kids need assistance as they learn how to use their senses. These toys are extremely helpful as they help in stimulating a variety of senses. Despite what most people may believe, sensory does not revolve around touching different textures only. It's important that sensory stimulation toys include more options than solely touching and feeling.
The sensory toys on our list help with auditory sensory stimulation for the fact that kids can hear a variety of sounds and melodies. The toys also aid in visual stimulation due to the bright colors, constructing patterns and vibrant lights that they are equipped with to keep the interest of kids. Furthermore, the toys aid in kinesthetic learning, or tactile sensory in which the toys requires kids to carry out physical activities such as walking, riding on the scooter, flipping book pages and more activities that encourage physical engagement.
Moreover, in addition to stimulating different sensories, the toys promote balance, motor skills, developing language skills and hand-eye coordination. All of the toys on our list of best sensory toys for babies and toddlers introduce lifelong concepts such as learning about how things work, numbers, colors, letters and small words.
Durability
When selecting sensory toys for kids, it's important to choose toys that are not only educational, but durable. Each of the toys listed above are durably made to ensure an enjoyable learning experience for kids and that they will hold up against rough play and frequent use. These toys will last for years to come as your child grows and to pass down to younger kids.
 Safety
It is important to choose safe toys for kids, in addition to educational and durability factors. These toys are very safe as none of them contain sharp edges which could injure kids. None of the sensory toys on our list have pieces such as ribbon, yarn or buttons that can easily come off putting your kid in potential danger.
The sensory toys above are all age-appropriate which is an important factor when deciding on what toys to buy for your kid. Toys that aren't age appropriate can lead to serious injuries if a child isn't developmentally and physically ready for it.
What Determined The Top Sensory Toys in Our List
Many think that cheap sensory toys have poor quality and are relatively unsafe. That is why, as much as possible, they would rather pay for more expensive ones. However, our research showed us that cheap sensory toys need not automatically mean mediocre quality or a haphazard construction. We have seen some reputable toymakers designing inexpensive products but with the same signature quality workmanship and safety profile that these companies have been known for. As such, one of the inherent things we had to look for in our search of the top 10 sensory playthings is the quality and safety of the plaything's design. We then factored the list price and determine if it can be considered an excellent buy with superb value for your money.
We then considered the different developmental tasks that can be achieved by young children, particularly toddlers, when using these products. Because toddlers are already expanding their exploratory activities, it is essential for us to identify which of the child's senses can be developed further or significantly enhanced by the different features of a particular product. Also, we had to make sure that what the toymaker says about the product's developmental benefits are accurate. This is also a measure of the company's dedication and commitment to provide children with developmentally appropriate products. They can only do this if they know by heart what children really need at any given age.
We also took into great consideration the comments and feedback as well as reviews from customers and parents who have bought these products. These provided us with invaluable insight into the experiences of parents and their respective children playing with such toys. At the minimum, we were able to determine whether the product comes as highly recommended or not.
Products with awards or recognitions from reputable toy and child development organizations were also considered. We believe that it takes a particularly clever, ingenious design to merit one of these awards.
Such is the process that our researchers had to undertake to provide you with the best sensory toys for toddlers. It was particularly challenging but we were able to accomplish it anyway.
A Brief Look at Sensory Development among Kids
A number of parents are rather confused about sensory development among kids especially when taken in the light of their motor development. While we are not child psychologists, we can nevertheless say with absolute confidence that sensory development is all about the ability of the brain to receive information from the environment using the body's sensory organs.
Sensory information obtained from playing is ultimately sent to the brain for processing. This provides the necessary building blocks for the formation and development of ideas. Over time, these ideas form what we now call memories. So, when children play, they use these processed information to feed their imagination.
When we talk about sensory development, we talk about how well children use their senses to gather information. That is why toys that are naturally colorful, in high contrast, and in different patterns can help improve our kids' visual development. Music, melodies, and any other form of sound are important in auditory development. The different textures – smooth, rough, silky, slippery, and others – can be excellent tools for developing children's tactile understanding. Giving them different scents or aromas as well as flavors and tastes can also help in the development of their olfactory and gustatory skills, respectively. When taken together, these sensory experiences provide the backbone for their cognitive development. This is why sensory toys are important in children's optimum development.
The Bottom Line
This Christmas, give you toddler any one of our top 10 best sensory toys and help facilitate the continuous development of their cognitive skills as well as imaginative abilities. You will be glad to know that your kid's optimum development can be guaranteed by these playthings.
FAQ
Frequently Asked Questions
Q: Are batteries included in the toys?
A: Yes, for all of the sensory toys on our list above that require batteries, they are included with the exception of Laugh & Learn Smart Stages Chair by Fisher-Price. Your kid can start learning as they play immediately due to this fact. However, many manufacturers state that the batteries included are for demo purposes only, so that are prone to drain quickly. It's good to consider having extra batteries on hand, so that your kid can fully enjoy their toy.
Q: Does any of the toys have a Spanish language feature?
A: No. None of the toys have dual language functionality as they are only in English. This is a great thing, however, as the majority of kid's first language is English, and these toys can help to develop language skills. If a kid's first language is Spanish, these toys can help them to learn common words in the English language such as the name of colors and numbers, as well as classic nursery rhymes.
Q: Does the Laugh & Learn Smart Stages Chair by Fisher-Price have a weight limit?
A: Yes, manufacturer lists a weight limit and age limit. Fisher-Price recommends this fun seat for kids aged 12 months (1 year) to 36 months (3 years). The weight limit is 55 lbs, so if your kid is older than 3 years but weighs less than 55 lbs, it's up to you as a parent to determine if the seat is safe. It's very important to follow the recommended guidelines that the manufacturer puts into place to ensure the safety and well being of your kid.
Q: Does the book detach from the Sort & Discover Activity Cube by Vtech?
A: No. For the fact that this product already comes assembled from the factory, there's no way to take it apart. It has one page that turns open, but it doesn't detach. This is great so that it will stay complete as a whole and kids won't lose any educational pieces by removing them.
Q: Does the flashlight and compass on the 3-in-1 Learning Zebra Scooter by VTech actually work?
A: They work great when used with the Zebra but if not, there are merely ornaments that are great for imaginative play. The flashlight doesn't have real lights and sits on top of the Zebra's head. It can easily be interchanged with the compass or another accessory such as the walkie-talkie. The compass does work when activated by the kid, as it coming with a functioning needle inside.
Q: Can the Laugh & Learn Singin Soccer Ball by Fisher-Price be deflated?
A: No, this is a plush toy that can't be deflated or inflated. It's made of soft, durable fabric that isn't prone to rips or small punctures, much like an inflatable ball is. Moreover, due to the soft material, the risk of getting hurt is much lower than the risk that standard, inflatable balls carry.
You May Also Like
15 Best Ride-On Toys For Toddlers
13 Top rated Educational Toys For Toddlers
15 Best Pull Toys For Toddlers
16 Best Toy Cars For Toddlers