Here at Borncute, it's not just toys that are important to us — It's all things kid, preteen, teen, and parenting that are super important to us. When you go on a family vacation or take your kids on various sporting adventures, such as skiing, their safety is just as important to us which is why we've compiled a list of the top ski goggles for your little one. Finding an adequate and appropriate pair of goggles can be challenging because of two things: The size and fit as well as the clarity and ability to see through them. Not every pair of ski goggles is made alike and that's something we found out very quickly while conducting our research.
When it comes to scouting the slopes, your child needs to be protected from harmful sun rays that can interfere with their vision and cause glares, they need to have properly fitted goggles that won't allow any moisture in and, of course, their goggles need to be comfortable enough to wear outside all day. It's with these three things in mind that we've gone ahead and sought out goggles that will provide the most safety, comfortability, and functionality for your little one while they're making their way down the bunny slope. Whether they're catching big air or simply practicing their skills on the sidelines, you can be sure they'll be protected in every way possible.

Our Top 3 Picks
Bolle Volt Vermillion

Our rating
Anti-scratch glass
Price:

See Here
Bolle Mojo

Our rating
Flow Tech venting
Price:

See Here
OutdoorMaster OTG

Our rating
Great price
Price:

See Here
10 Best Ski Goggles for Kids Reviewed
1. Bolle Volt Vermillion
These Bolle Volt Children Ski Goggles offer many of the same features as adult goggles, only in a smaller size and there is no lack of technology. They are durably designed to fit children ages six years and older. A double lens creates a thermal barrier between the cold air outside and the moisture generated by activity, so condensation doesn't form and become a distraction in the field of vision.
Expand to see more
The inner lens features a special anti-fog layer which helps scatter water molecules, so they don't build up on the lens. The outer lenses are protected by a carbo-glass barrier which resists scratches and helps maintain a clear field of vision which means a safer experience for youngsters. A flow tech venting system helps regulate pressure between the lenses helping to eliminate humidity which is made possible by a breathable insert which stays in place. The pink lens even allows for good vision in low light situations, but other colors are available. These Bolle children's ski goggles feature a thick durable strap to help ensure a secure fit and keep them in place.

Benefits
These goggles have incorporated a ton of technology into their design. This technology prevents moisture from creeping in and forming condensation that would impede vision while allowing little faces to breath. The lens features protection which blocks one hundred percent of harmful UVA and UVB rays up to 400 nanometers while the foam backing offers a comfortable fit every time.

What We Like About It
We absolutely love that these goggles are helmet compatible because we want youngsters to be safe out on the slopes. Bolle Volt Children Ski Goggles are compatible with Bolle helmets and other brand helmets as well, although some brands may fit better than others.
100% UVA/UVB protection
Flow Tech Venting System
Double lenses create thermal barrier
Breathable insert
2. Bolle Mojo
With lens names like "Lemon", "Citrus", and "Vermillion", how could you say no to these ski goggles? The sun is a major problem when it comes to skiing due to the reflection off the
snow
, so having goggles with several different options (six, to be exact) of eye glare protection is key.
Expand to see more
They're anti-fog and ventilated and adhere to your face with foam padding that offers comfort as well as a snug fit.

Benefits
The notable thing about these goggles is that Bolle values lens care. While they still look sleek and minimal, the lenses won't fog up or get scratched easily which is pretty important when skiing down a slope.

What We Like About It
When people look for ski goggles, many times they're looking for fit and style over eye protection. These goggles will protect your eyesight with six different tinted lenses to pick from, all surpassing what you'd normally expect from this price range for goggles.
Anti-fog
Won't scratch easily
Various lens options
Comfortable fit
Foam padding allows snugness
The shape of the goggles are not compatible with everyone's face shape
3. OutdoorMaster OTG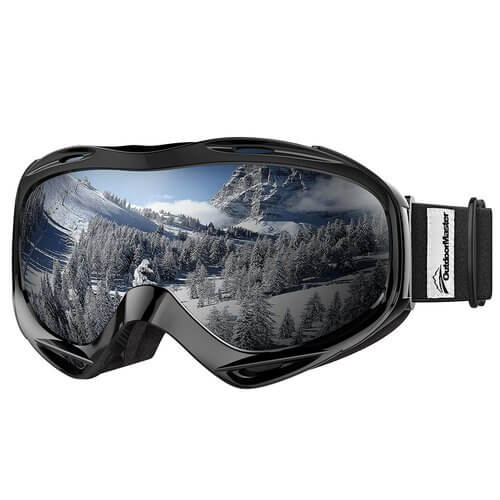 So what do you do when you wear glasses and need goggles for an outdoor sport? Check out the OutdoorMaster OTG Ski Goggles -- Not only are they superior in quality, but they're actually designed for people who already wear glasses.
Expand to see more
They provide a comfortable fit over them while still giving you all the features you'd normally look for, such as anti-fog lenses, excellent range of sight, and
UV protection
. They have a wraparound strap that's specifically designed to go over most helmets, and they offer a one-year warranty with purchase.
Benefits
If you're looking for comfort and design, these goggles should be in the running. They're simple yet made for serious skiers and feature comfortability that's virtually unmatched, especially if you're looking for a pair of goggles that will incorporate your glasses rather than force you to choose between the two.
What We Like About It
The inclusive design that features an OTG (over-the-glasses) feature is really what caught our attention. Kids need glasses to navigate which can often cause a problem when they're involved in outdoor sports, which is why these glasses stand out.
Designed to go over glasses
Extra long headband allows fitting for most helmet sizes
Excellent lens clarity
UV protection
They still have the tendency to fog up if not fitted properly
Not good for skiing while it's snowing
4. COOLOO Anti-Glare Lenses
We have to tip our hats off to the COOLOO Ski Goggles. Not only can you use them for skiing, but they can be adapted to use for any outdoor sport. The features are endless, so we're just going to tell it to you straight: They're anti-glare, come in various colors for daytime and nighttime use, offer excellent UV protection, fight wind resistance, are lightweight, and include a tiny slit on either side for proper ventilation.
Expand to see more
Not only will you have 100% protection from the elements, but these glasses are also made with safe, non-toxic materials. They provide a comfortable fit due to fitted foam padding and allow kids to see long distances due to the wide-range lenses.

Benefits
These goggles offer everything and the fact that they can be used for more than one sport in virtually any type of environment (within reason) makes them the top of the line. They offer protection, comfort, and versatility in spades.

What We Like About It
For kids who are new to winter sports, or any sports requiring eye protection, wearing a big set of goggles can be intimidating. This pair offers comfort but also a slew of other features that make wearing them a little bit easier and less overwhelming.


Anti-glare for day and night
Wide lens view
Comfortable fit
UV protection
The sides are ventilated
The foam padding comes off easily
Can fog up in poor weather conditions
5. Scott Sports Agent Mini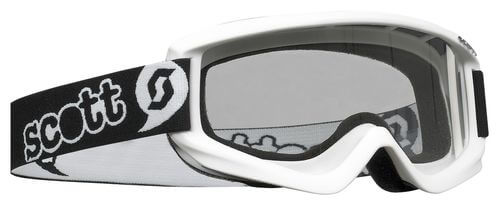 When dealing with young kids, simple is best. These goggles are designed for kids ages three to six and for good reason -- They're not a daunting pair of goggles at all. They're super affordable, come in a range of five different colors, and provide your little one with a secure fit.
Expand to see more
Scott Sports has a long-standing history and they offer goggles that are hypoallergenic and comfortable for kids who are not yet familiar with eye safety in sports. These are a great start pair of goggles for any
outdoor activity
.
Benefits
These goggles provide a precise fit and are great for beginners. They fit snugly around ones face and sit comfortably on the eyes. The foam has special moisture management and also does a great job of keeping the elements out.
What We Like About It
Many times when you find goggles that are designed for a younger age group, they'll be crazy-priced and offer many features you don't necessarily need. These are a great simple option for eye protection, sun-shielding, and a comfortable fit.
Simple design
Five different colors to choose from
Comfortable fit
Designed specifically for younger kids
Hypoallergenic
They'll definitely be a tight fit on kids older than six
6. Odoland Double Lens Anti-fog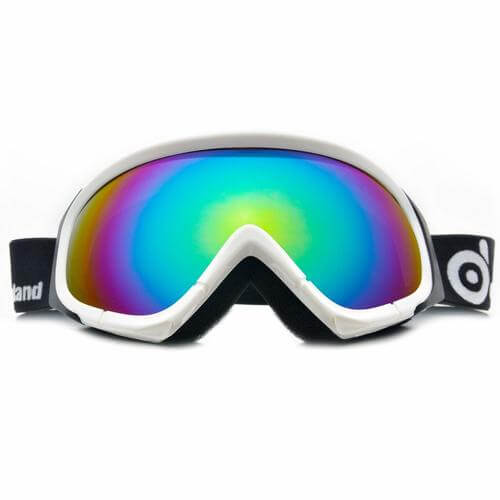 For older kids, preteens, and teenagers, the Odoland Snow Ski Goggles are a great choice if you're still looking for something simple. As you can see, these glasses offer a wide range of sight while still protecting a kid's eyes from the sun and ensure a proper fit with strategically-placed foam padding.
Expand to see more
They have an anti-fog coating which of course is important when skiing, as well as UV 400 protection, adjustable straps, and superior clarity.

Benefits
These are the kind of goggles that will grow with your kids. The wide lenses allow for various face shapes while the adjustable straps cater to nearly any size helmet.

What We Like About It
For an affordable pair of goggles that will ensure your older teens are comfortable and protected properly, these goggles are a great option. They're simple, yet give all the same amazing features at an equally amazing price.
Anti-fog coating
Adjustable strap system
Wide-range lenses
UV protection
Comfortable foam padding
The tint film has a tendency to peel off easily
7. Smith Optics Sidekick
Smith Optics Sidekick Youth Snow Goggles are engineered specifically with children in mind, but they don't have to go without all the great features in adult goggles. These goggles feature a cylindrical shape dual thermal lens and an inner lens which has been treated with anti-fog to ensure youngsters have a clear field of vision. These two features allow children to get out in the snow and go until their heart's content.
Expand to see more
The RC36 lenses stand for Rose Copper and thirty six percent light transmission so they work well on cloudy and full sun days. There is also an option for a clear dual polycarbonate lens. Little eyes stay protected while the thick dual-slide strap adjusts to provide a snug, comfortable fit so young skiers won't be tempted to take them off. These ski goggles come in a range of vibrant colors and character straps, so kids feel like a million bucks wearing them.

Benefits
These goggles come with two optional lenses, both of which offer one hundred percent protection from the sun's harmful rays and are impact resistant, so kids can play safely in multiple conditions. A single layer of hypoallergenic face foam to helps seal out cold air and offer extra protection during falls. These goggles also come with a manufacturer's lifetime warranty.

What We Like About It
We always want kids to be safe, so it is fabulous that these goggles are helmet compatible. Also noteworthy is the face hypoallergenic face foam on these goggles which shouldn't irritate sensitive skin and will also prevent goggle rash.
Impact resistant lens
Dual-slide adjustable strap
Cylindrical shape lens
100% UVA/UVB protection
Hypoallergenic face foam
Runs big for smaller kids
No vents
8. Scott Sports Agent Mini
Scotts Sports Agent Mini Youth Goggles are lightweight, durable ski goggles designed for children ages three to six years old. They are great introduction to safety gear and can be used for skiing, snowboarding, riding all-terrain vehicles or just plain playing in the snow. The lenses are clear, and they come with an anti-fog coating, so children can always see what's in front of them.
Expand to see more
They are lined with a single density comfortable foam to help seal out the elements and protect those precious eyes without obstructing the field of vision. The special foam also helps wick away moisture and provides added protection for falls. A wide adjustable strap ensures a snug, secure fit every time and multiple color options are available to suit every taste.

Benefits

These are great goggles for beginners because they are designed to fit small children and can be used safely for various activities. The hypoallergenic foam around the eye shield has special moisture management properties to help them perform better while offering a precise fit. It also prevents irritation and goggle rash even on sensitive skin.

What We Like About It

One great feature is the adjustable strap which can fit over a helmet and has a silicone lining to help it stay exactly where you put it. The hypoallergenic foam is super soft giving these youth goggles a lightweight comfortable fit and a good seal.


Hypoallergenic foam
Fits small children
Adjustable non-slip strap
Lightweight
Clear lens
Non-eyeglass compatible
9. SMI Anti Fog Frame ATV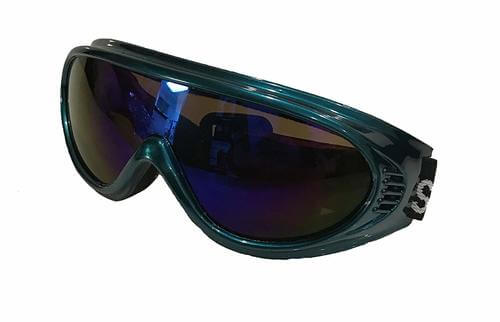 Even the youngest little shredders need eye protection when they are out tubing, sledding or playing in the snow. These one size fits all multi-purpose goggles fit younger children with a look that is cool as a cucumber. They offer a molded frame which is flexible and conforms to little faces for a comfortable fit every time.
Expand to see more
These goggles are also vented so little faces can breathe. The tinted lenses look super cool and offer protection from the sun's glare. They come in a few different colors to suit many styles and each color frame has a different tinted lens with anti-fog coating. Whichever color you choose, youngsters will be comfortable and able to see clearly for all day play.

Benefits
This one size fits all model and the adjustable strap helps ensure a snug fit on even smaller children. The dual density face foam gives them a comfortable fit and reduces skin irritation. They also absorb shock if little ones happen to take a tumble, so they won't shatter. These light weight goggles offer optimum performance in multiple conditions.

What We Like About it
Our motto is always safety first, especially when it comes to kiddos. So, we love that these lenses are shatter resistant and that they offer four hundred percent protection from all the sun's harmful rays. We also love that these goggles work well with most helmets and have dual density foam to seal out dust and debris.
One size fits all
Tinted lens
400% UVA/UVB protection
Vented
10. Spy Optic Targa Mini
If you are looking for a high-quality product with a lot of features, then these little goggles pack a punch. Flexible polyurethane frames are shatter resistant and conform to an almost custom fit. Cylindrical polycarbonate dual lenses feature anti-scratch protection and anti-fog coating, so youngsters see clearly in multiple conditions, even during heavy activity.
Expand to see more
The dual lenses and fleece lined foam offer an added layer of protection for young faces while a patented scoop ventilation system allows children to breath while increasing the anti-fog protection. The adjustable silicone-ribbed strap offers a secure fit and stays where you put it. Ergonomic Isotron face foam seals out the elements while offering additional
comfort and protection
. These goggles come in various colors to suit most tastes and even the lens color can be chosen to for the most relevant conditions.
Benefits
These goggles are made specifically for small faces and since they are flexible they conform well. The dual lens system offers extra eye protection and an unobstructed field of view, so youngsters can always see what's in front of them. The Isotron face foam is lined with cozy, moisture-wicking fleece to keep little faces dry and comfortable all day.
What We Like About It
High-quality goggles that are compatible with most
helmets
and the polycarbonate lenses are shatter resistant. The fact that the lenses offer one hundred percent protection from the sun's harmful rays and the manufacturer offers a limited lifetime warranty.
Dual Lenses
Patented scoop ventilation
Shatter resistant
100% UVA/UVB protection
Non-eyeglass compatible
Too big for toddlers
Criteria Used To Evaluate The Best Ski Goggles for Kids
You can't send your kids up a mountain with just any 'ol ski goggles, can you? No way! Our Top Ten list wasn't just picked at random and there was some serious research that went into knowing what was best for which age range and activity level. Since ski and/or snowboarding trips are so popular with families, this is a topic many parents struggle with because you can always read the reviews, but when it comes down to it, how do you know if something is right for your child personally? Even more so, how did we know which goggles would be beneficial to every child? Well, we're about to tell you exactly how the process went and what it took to compile this ultimate list.
For Starters, Why Do You Wear Ski Goggles?
The Snow
For anyone who is an avid skier or snowboarder, this question might seem silly and lack some common sense, but it's a legitimate question for those who are new to winter sports and might be unfamiliar with what's required. Ski goggles aren't a piece of equipment that's considered optional unless somehow you're not going down a slope at a relatively high velocity. In order to understand this, we must first take into consideration the elements in which your family is participating in. Of course, there will be snow… And hopefully lots of it! What you might not anticipate is that not only might it be snowing when you get to your skiing or snowboarding location, but the snow spray that flies up when participating in one of these activities often goes unaccounted for. Therefore, not only are your eyes and much of your face is protected by goggles during inclement weather, but they're also being protected from castoff from skies and snowboards. This can prevent any type of vision interference or uncomfortable, stinging cold on your face. It's so important for kids especially to have goggles because if they happen to fall into the snow, they'll never have to worry about getting snow in their face or eyes.
Clear Line Of Sight
Additionally, it can be challenging to see when you're dealing with winter weather. Snowflakes have a bad habit of sticking to eyebrows, eyelashes, etc., and let's be honest — No winter sports athlete has time for that! Goggles prevent anything getting in the way of your line of sight and can be wiped off easily, they also regulate the temperature inside so that your face remains warm, clear, and dry. There's nothing worse than getting ready to ski and having to take off your goggles and readjust because they've either fogged up or gotten some kind of moisture inside. It's annoying to adults and can be incredibly frustrating and slightly nerve-wracking for kids.
Increased Contrast
You'll also notice one recurring theme with all of the goggles we've included on this list: Tinted lenses. This isn't just to add a cool, chic look to goggles (however we'll admit, it does make them look way more awesome), it actually helps to increase contrast when you're looking at a snowy, bright white landscape. It can be difficult to differentiate between various courses without lenses that have been darkened because you're already seeing so much white scenery that reflects light back, meaning you'll see nothing but bright hues and no contrast whatsoever. A tinted lens will help your child see more clearly, thus improving their safety as well as helping them focus in order to see where they're going and what might be in their way.
Are These Goggles Designed To Last?
We don't create a list like this without first verifying that each product has been designed with high-quality materials that are safe for kids. Keeping that in mind, these goggles have been proven to last well for kids who are beginner skiers and snowboarders. There are several on here that reference teenagers and adults and can be used as an option for the more experienced winter sports participant, but overall, these should be viewed as goggles that are great for any beginner. As your child gets older and gains more experience on the slopes, you might want to consider getting goggles that are professional-grade and intended for years upon years of use. However, for a child just starting out, these goggles will provide them with all the protection and clarity they need when dealing with snowy weather.
Another option is to invest in more than one pair of ski goggles. Compared to other, more extravagant brands, many of these goggles are very affordable and it can't hurt to try out more than one for your child. Each skier or snowboarder will always have their preference as far as what's more comfortable which means you could end up with a solid, everyday pair of ski goggles, and one that can easily be used as a backup option. These lists aren't just created to find that one, perfect product, they're created for a process of trial and error and to give you the best options out there to choose from. We do all the work so that your child can have the best!
FAQ
Frequently Asked Questions
Q: Would these goggles be good for toddlers
A: That's a great question and one that should be taken into careful consideration when picking out the right fit for your child. Many of the goggles on our list have specific age ranges and yes, some of them are appropriate for toddlers.
Q: How do I know which lens coating is best?
A: Several of these goggles come with varying lens tint options, but that only means that they vary in color and hue. Most of them vary from light to dark tints, and the choice is completely personal and up to you and your child. Some kids might find a lighter, more warm-toned tint to be best, while others might appreciate a darker, cool-toned tint instead.
Q: How long will these last?
A: That depends on how often your child uses them, how well they're taken care of, and how they're stored. There are many factors that come to keeping sports equipment in good shape, and our suggestion is to store it in a place with a neutral temperature, clean them after each use, and dry them completely before putting them away for the longest-lasting pair of ski goggles.
Q: Are they effective when it's snowing as well?
A: Ski goggles are designed to be weatherproof which means yes, they'll be fine to use when it's snowing out. The only problem you might find with some goggles is that due to the extreme change in temperature and humidity level, goggles might fog up more quickly.
Q: Are they adjustable?
A: Yes! Especially when it comes to kids goggles, having the ability to adjust the straps is so important.
Q: Will I be able to return these if they're not a good fit?
A: Every manufacturer is different as far as their return policies; for that, you'd need to write or call the company and find out if their policy allows returns for improper fitting. We don't see why it'd be an issue, though — Most companies will take products back no problem or send you out a new, properly fitting pair.