Summertime is here, and it is time for fun water sports that will keep the kids cool. Snorkeling, diving, swimming, and body boarding all require some basic equipment to enjoy them to the best extent. We feature here the best-rated snorkeling gear for kids, such as snorkeling masks, fins/flippers, and waterproof bags to hold the equipment while traveling or for storage.
The basics that are needed for snorkeling fun are the mask, snorkel, and some fins/flippers. All of the masks listed have the snorkel included, except the Speedo Dive Mask, so just a set of fins/flippers would need to be purchased separately. The fins/flippers are not necessary for snorkeling, but they do make the experience more enjoyable with the added speed and agility to swimming. Children as young as three-years-old can begin the fundamental exercises in snorkeling, but this greatly depends on the individual child. Those that like water and watersports will take to it right away, while others may not like it at all.
It is wise to buy a basic snorkeling mask and try it with your child in the bathtub to see how they react. We highlight some products that are just the mask, mask and snorkel, and others that are the whole set of mask, snorkel, fins, and carrying bag. These are all the top-rated, mostly-purchased items of this category online. Here are our choices for the best snorkeling gear items for kids in 2018.

Our Picks of The Best Snorkeling Gear for Kids in 2018
Anti-Fog, Hypoallergenic Silicone Facial Lining Snorkeling Mask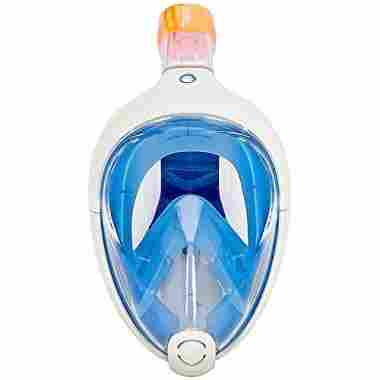 Såk Gear DrySåk Waterproof
cozia design Adjustable Flippers
Panoramic View Full Face Snorkel Mask and Open Heel Snorkel Fins
Wildhorn Topside Compact Travel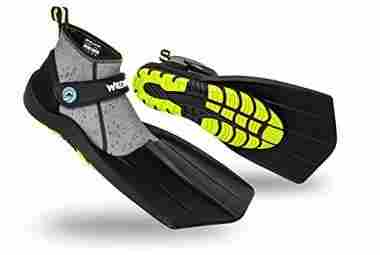 Phantom Aquatics Panoramic
Greatever Foldable 180 Panoramic
Speedo Junior Recreation Dive
DIVELUX Original Full Face
Usnork Anti-Fog and Anti-Leak
Criteria Used in Evaluation of the Best Snorkeling Gear for Kids
All items are appropriate for the size and use by kids
Each of these products is the correct size for kids to use with ease. The masks fit their face size and the fins/flippers are the right sizes for children's feet. The bright, sometimes neon colors will appeal to kids also. Sizing charts are available in the online descriptions of each product by the manufacturer. These do vary with each item, so check each carefully before purchasing.
All are quality-made products that are durable and long-lasting
These are all durable snorkeling masks, fins/flippers, and bags for long-lasting water sports fun. Most of the companies do offer a guarantee on their products to ensure your satisfaction. Because these items will take much abuse in the water and during traveling, they are constructed of high-quality materials that will not disappoint the buyer.
Each product is a top-rated, most frequently-purchased item
We choose only the best-rated, mostly-bought items online to feature on our site. This ensures that you are looking at only the finest products offered by manufacturers. You lead a busy life and don't have time to search through the multitude of items in this category that are inferior. We do this work for you, so your shopping experience is enjoyable, fast, and productive.
Featured products are safe and usable in a variety of water activities
Kids will be safe utilizing these items, while they enjoy the water activities. By using the instructions with the products when they arrive, children can learn the basics of how to use the equipment wisely. They should practice the skills before they go into the water on the beach or pool. These items can be used for many water sports including swimming, snorkeling, body boarding, and diving. Let them explore the many different activities where snorkeling masks and fins can be used.
FAQ
Frequently Asked Questions
Q: How do find out which size to buy for the masks?
A: Sizing a mask is easy and done by taking a simple measurement. With the mouth closed measure the space from the nose bridge (between the eyes) and the chin bottom. This is a general size measurement, as the various masks have different size increments. With this measurement, you will be able to judge which size you need from the ones they offer. For less than 3.9" choose size XS; for less than 4 ¾" chose S/M; for more than 4 ¾" choose size ML; for measurements longer than 5 1/8" chose size L/XL.
Q: Can glasses be worn with these full-face masks?
A: No, glasses cannot be worn with these masks because the arms of the glasses would break the seal along the contours of the face. The mask does not go to the ears making wearing glasses with these impossible. However, you can wear contact lenses just fine.
Q: Is there any special care for the snorkel masks?
A: One thing to watch out for is avoiding sun exposure for the masks and snorkels. Clean by hand with a mild liquid soap and air dry. Do not put in dishwasher or clothes washer. Other than these guidelines, these items are fairly care-free and easy to manage.
Q: Are these masks for deep surfaces or just surface swimming?
A: Most of the snorkeling masks are for surface swimming and snorkeling. If they are suitable for deep surfaces, the snorkeling tube will be longer, and the description will indicate that the mask is for deep surfaces.
Q: Are there different models of snorkeling masks or fins for boys and girls?
A: No, these are all suitable for both boys and girls or various ages and sizes.
Q: How soon can small kids start this watersport?
A: This is a personal decision that parents should make based on the individual child's skills and abilities. Some kids at the age of three can comfortably wear the equipment and enjoy using it, while others at this age do not like having the mask on their face and are not interested in snorkeling yet. The best thing to do is to try them with the equipment gradually to see how they progress with it.
Q: What should beginners look for in a snorkeling mask?
A: A mask for a beginner should be the right size for the face and have a short tube for surface snorkeling. If there is a choice of color, then let them get the one they like. This will enhance the experience. Make sure the mask fits snugly on the face without pinching it. It should not be uncomfortable. Keep hair away from the contact places of the mask with the face. Beginner masks do not have to be expensive and full of features to be enjoyable and a good piece of equipment.
Q: What equipment is needed for snorkeling?
A: The basic equipment to start kids off with would be a snorkeling mask and a short pair of fins/flippers. If they like the sport and enjoy using these pieces of sports equipment, then you could purchase fine socks for comfort and even a body suit if they are swimming in colder waters. For serious enthusiast, equipment can always be upgraded for enhanced features and better capabilities, such as longer tubes in the snorkeling mask.