Best Star Wars Toys & Gifts in 2019
last updated
Mar 31, 2019
Well, you should know the rest and if you don't your children do! Your family might be familiar with some of these old school characters like R2-D2, Princess Leia, Luke Skywalker, Han Solo and of course Chewie. Or maybe your family is a bit more fond of following the prequels with Anakin Skywalker, Obi-Wan and Padme. Or maybe they're die-hard Yoda fans and talk like this, they do. Whether it's the classics or the recent releases almost every parent and family is familiar with Star Wars. No matter who or where your favorites fall on the Star Wars movie timeline, we've got your top-rated, highest in demand toys and games from Endor to Tatooine. Whether your part of the Resistance or not your child will love any of our toys below! May the force be with you and yours in all of your playtime adventures.
In a Hurry? The test winner after 14 hrs of research
Chewbacca Electronic Mask
Why is it better?
Constructed of durable plastic
Easy to clean
Comes with set of instructions
Has different sound levels
Has adjustable straps
In a
Hurry? Editors choice:
Test Winner: Chewbacca Electronic Mask
18
Researched Sources
267
Reviews Considered
14
Hours Researching
19
Products Evaluated
Design
Effectiveness
Value
By Default
In depth review top 10
Chewbacca Electronic Mask
LEGO Darth Vader Building Kit
Hasbro R2D2 Bop It Game
LEGO BB-8 75187 Building Kit
Hot Wheels Spaceships
Sphero BB-8 Droid
Chewbacca Pillow Buddy
Disney Store 10 Deluxe Figurine Set
Hasbro BB-8 Operation Game
Anakin Skywalker Lightsaber Flashlight
Table of contents
Criteria Used for Evaluation
Other Factors to Consider
Frequently Asked Questions
Sources
10 Best Star Wars Toys & Gifts Reviewed
1

. Chewbacca Electronic Mask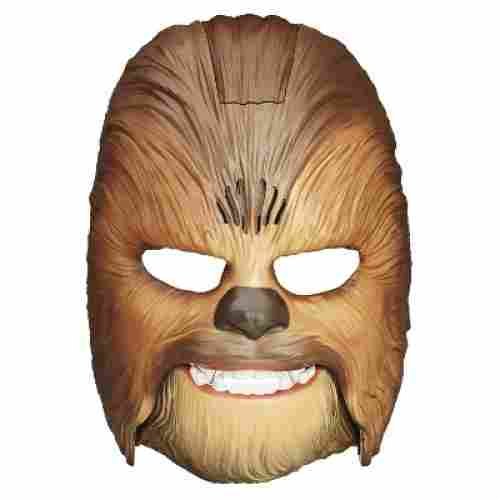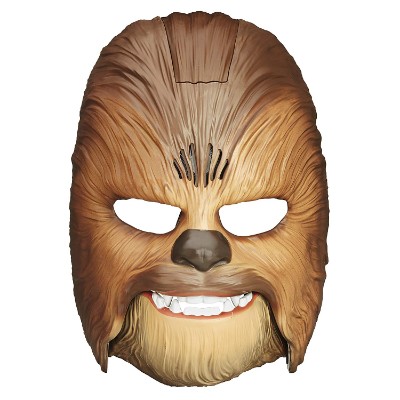 Constructed of durable plastic
Easy to clean
Comes with set of instructions
Has different sound levels
Has adjustable straps
May not fit all face sizes
Mask must fit adequately to operate sounds
One of the most lovable characters of the Star Wars franchise is Chewbacca, whom Han Solo fondly calls Chewie. He happens to be the epitome of what a best friend should be: ever-supportive, loyal, and will defend our hero through thick and thin. It is perhaps for this very same reason that many kids consider the Star Wars The Force Awakens Chewbacca Electronic Mask as their chance to take on the role of this venerable character.
Read more
Design
What makes this mask really fantastic is that it comes with built-in miniature animatronics, complete with a roar that is guaranteed to echo across the Universe. Built in amazing physical detail, the Chewbacca Electronic Mask produces high quality sound, recreating the symphonic balance of our Wookie warrior's temper and the Millennium Falcon co-pilot's big-hearted nature. The Chewie mask comes with fully adjustable straps to optimize comfort fit while kids go about roaring through the Galaxy and beyond.
Effectiveness
Not only does this mask resemble Chewbacca in a scarily real way, it's also hilarious. Whether you're purchasing this mask as a joke, a Halloween costume, or just because your kids love Chewbacca, it's frighteningly realistic. Between his deep growls and furry-looking face, kids will have a serious laugh with it -- But so will adults!
Value
The Chewbacca Electronic Mask's superb attention to detail and supremely realistic roaring sound effects make it an amazing prop for children's role playing activities, enhancing the various cognitive abilities of kids in the process.
2

. LEGO Darth Vader Building Kit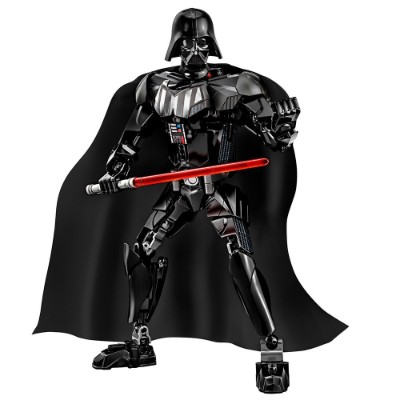 Entices role playing for children
Helps develop problem solving skills
Has movable, posable limbs when complete
Sturdy and durable construction for rough play
Mainly for older children because of the many small parts
Lighted saber does not really light up
While he may is always equated with evil, belonging to the Dark Side, we cannot help but admire Darth Vader's highly enigmatic personality. Among the many characters of the diabolical Galactic Empire, no one has ever captured the imagination and fascination of sci-fi fanatics and loyal Star Wars followers as well as any other individual who may have seen any of the films from the franchise than Darth Vader.
Read more
Design
ven kids love this all-black dark knight with his signature red light saber and the iconic mask that has adorned many merchandise ever since the film's release in the late 70s. That's why if you give these kids the LEGO Star Wars Darth Vader Building Kit you will surely earn their admiration as well. The Darth Vader model comes with a total of 160 building bricks complete with the different paraphernalia, armored suit, accessories, red light saber, and a black fabric cape that kids will need to morph their own Lord of the Dark Side. Once finished, Darth Vader stands 11 inches and should be quite a spectacle to behold especially if your child will try to determine the most appropriate pose for our dark lord. The limbs are all poseable so your kid can actually create fantastic poses to relive certain scenes in the first installment of the film franchise.
Effectiveness
The Darth Vadar Building Kit invites role playing and enhances problem solving skills for older children in the 9 to 14 year-old range. Once assembled, this model will entertain for hours on end any Star Wars fan with its moveable and posable limbs and accessories. The kit includes a black armored suit, black cape, and a lighted saber for the imagination to recreate many scenes from the Star Wars episodes. When this LEGO set is fully assembled, your child will have a great model to display in many realistic poses.
Value
Building bricks are exceptional at developing problem solving abilities among children. With the LEGO Darth Vader Kit, your kid can also enhance his or her role playing and imaginative abilities.
3

. Hasbro R2D2 Bop It Game
Increases agility, focus, and attention to detail
Can be played alone or with family and friends
Fun Star Wars twist on a classic game
R2-D2 sounds
Voiced by C-3PO
Two volume levels for you to choose between
Smaller than some customers expected
Put down the phones and the remote and bring your family together for an intergalactic twist on this classic group game. Hasbro has reimagined the pop culture icon that is Bop It. Now you can bop it, twist it, pull it, and pass it with R2-D2! C-3PO instructs players on which function they're meant to perform.
Read more
Design
The game can be played solo, or with friends. There's no limit to how many players can be involved since everyone gets a turn. Participants stand or sit in a circle and take turns bopping, twisting, and pulling various levers on R2-D2 in time with C-3PO's instructions. When they're prompted, they pass it, and the game speeds up. This continues until someone either misses a command or executes the wrong instruction. The product requires two AAA batteries and has two volume levels, so you can adjust how noisy the fun gets. R2-D2 even cheers fans on in his signature droid language!
Effectiveness
This game tests your family's reflexes. Children and adults alike must practice careful focus and listening, while executing their commands in a timely manner. If you're too slow or perform the wrong instruction, the game is over and it's back to level one.
Value
Single-player and multi-player modes make this a versatile purchase. Kids can fly solo or play in groups; they're free to enjoy the game no matter what.
4

. LEGO BB-8 75187 Building Kit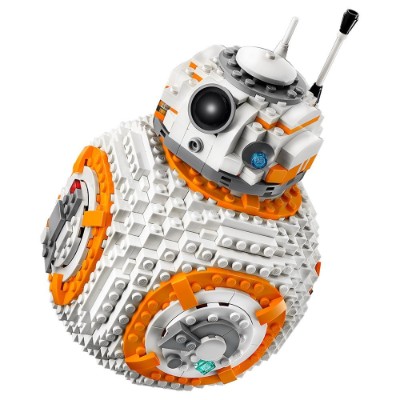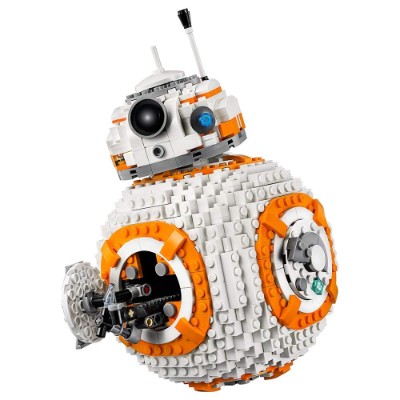 Comes with stand
Boosts fine motor skills
Boosts creativity skills
Open and closes hatch
Doesn't roll like the character in the movie does
Much like the fan favoriteR2-D2, this trusty droid is known as BB-8. He's part of the new Star Wars films that your child will immediately recognize from his funny antics in the movies. What better way than to give your child the gift of being able to build their own BB-8.
Read more
Design
This droid is extremely detailed making it roughly an exact replica from the droid in the movie. It turns and opens and closes much like the droid features in the films. It does come with a display stand which will be perfect to be placed on anywhere in the house your child desires.
Effectiveness
What a great toy for a kid that loves building and Star Wars. The blocks that come in this set create a challenge that everyone loves. From opening the packaging to sorting the blocks to putting the final piece together to create the figure. That is a great building block set that features an interactive design that has a rotating head and opening hatch. The stand that comes along with it makes it a great show piece once completed.
Value
We love this product because it's perfect for any lego lover and perfect to help boost any creativity in your child and the design is extremely realistic.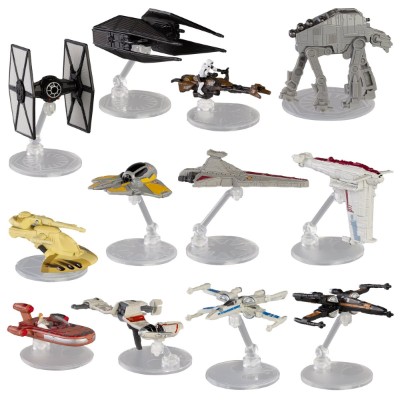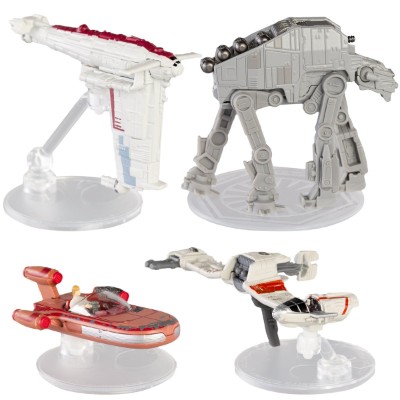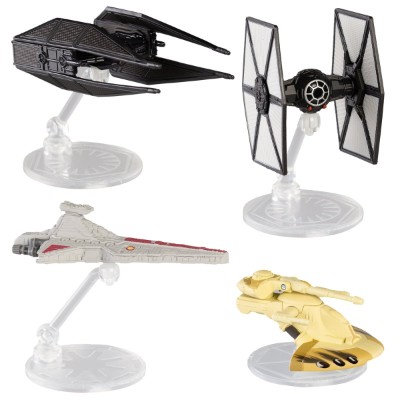 High quality, durable
Die-cast metal replicas
Compatible with other Hot Wheels Star Wars sets
12 different ships included
Detailed painting and molds
Several customers received the wrong assortment of pieces in their order
Race your pods, X-Wing Starfighters, and the Millennium Falcon with this awesome twelve pack from Hot Wheels. All spaceships are made from Hot Wheels' signature high-quality die-cast metal. All models are crafted with careful details to imitate their movie counterparts. In this multipack, you'll get three Partisan X-Wing Fighters, Poe's X-Wing Fighter, a U-Wing Fighter, The Ghost, a Mandalorian Talon Fighter, the Millennium Falcon, a Slave I, Tie Fighter, First Order Tie Fighter, and the Tie Advanced X1.
Read more
Design
The ships are compatible with other Hot Wheels Star Wars sets, including the specially sized figurines and fighter pilots to fly all your favorite pieces. Each piece comes individually packaged and includes a flight stand for display and simulated flight, and each stand has a symbol so even amateur Star Wars enthusiasts can tell the good guys and the bad guys apart. The pack is recommended for ages four and up.
Effectiveness
Hot Wheels allow children the freedom of creative play while also making construction and building-centric toys fun and easy to operate. Race your spaceships across the galaxy with compatible tracks and Star Wars sets. Kids will have fun creating awesome space adventures for themselves and their friends.
Value
Crossing fandoms can exponentially raise kids' excitement. Hot Wheels meets Star Wars in this varied set of classic spaceships modeled after the books and movies.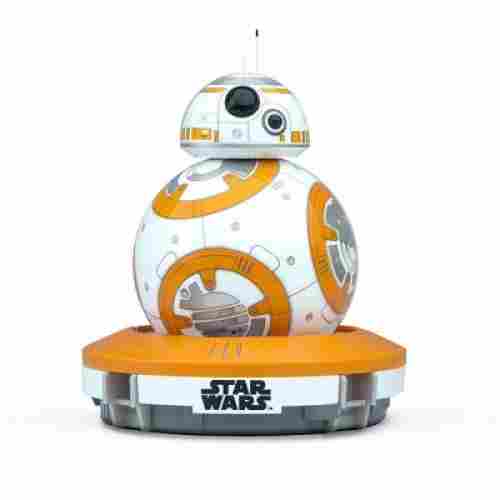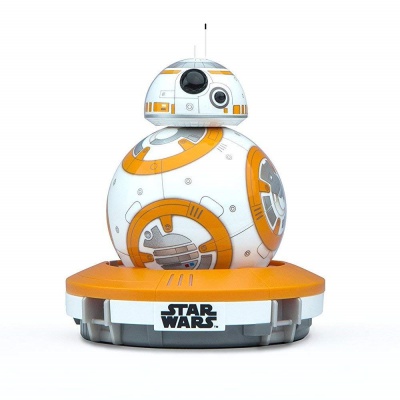 Has robust and waterproof body
Great companion toy for any age
Very cute model
Has a downloadable app for sounds and commands
Easy set up and quick start
Only works for iOS devices
Head falls off when toy bumps into things
In the first 6 films of the franchise, a lot of people fell in love with R2D2, the trusted droid of first, Anakin Skywalker, and then Luke Skywalker. In the 7th film of Star Wars, The Force Awakens, the entire galaxy was introduced to BB-8, another droid but with a very different mechanism for moving around.
Read more
Design
Instead of having tracked legs for mobility, the entire torso of BB-8 moves like a ball, enabling it to seamlessly move across any terrain. It's no wonder that there's a new darling in the Star Wars Universe. With the Sphero Star Wars BB-8 Droid your kids can now have their very own BB-8 in remarkable detail. Best of all, this is not just any toy that your kid will be playing with or will be displaying in his or her cabinet. This is a toy that will provide you endless fun. To obtain BB-8's full functionality you will have to download the corresponding app on your iOS or Android device, install it, and use it to command and control BB-8. Drive BB-8 around like a remote control car or set it to go on "patrol" so it will start scouring the rest of your room or even your house. Or, you can record a message and have this played directly on your device.
There are quite a few issues, though. Some feel that the promotional video of Sphero's BB-8 is severely misleading. Some are made to believe that BB-8 has an adaptive AI personality, meaning it will continuously learn its surroundings, enabling it to adapt so it can solve obstacles. Unfortunately, BB-8 does bump into things. And when it does, it simply wobbles and "looks" for another path. Perhaps this is what Sphero had in mind when it said BB-8 has an adaptive personality. Another gripe is the published holographic capabilities of the Sphero BB-8. Instead of the messages projected by BB-8 itself, the messages are played on your device where you have installed the app. BB-8 is also able to respond to verbal commands just like Siri. Unfortunately, for now, it only works for iOS devices. Nevertheless, looking at the brighter side of things, BB-8 is definitely a revolutionary toy that kids and adults alike are sure to enjoy. We're pretty sure Sphero will be coming up with the much needed updates to fix these bugs.
Effectiveness
Manipulated by an app, this extraordinary toy is a child's commanding dream. By taking charge of the BB-8, your child can control it by voice command to scout around and exhibit expressions which will delight. Without the voice commands, the BB-8 will explore its surroundings on its own and change course when it runs into obstacles. This super cute Star Wars Droid will surely become a great companion toy for children of all ages!
Value
The remarkable detailing of BB-8 coupled with its exceptional programming, despite a few setbacks, make it one of the best Star Wars toys to have.
7

. Chewbacca Pillow Buddy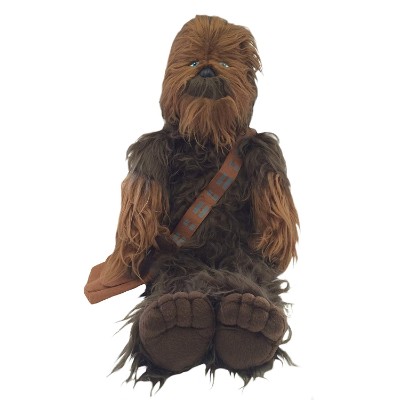 Safe for even very young children (age 2 and older)
Constructed of soft, plush, non abrasive fabric
Provides security and comfort as a huggable companion
No small parts that can come off
Really good size toy (over 2 feet tall)
Repeated turning of the head can cause the stitching to come undone
Bag that Chewbacca carries can be considered made of hard materials by some
It may not really be the kind of toy you're looking for but the Star Wars Chewbacca Pillow Buddy can provide lasting comfort for any child, thanks to its soft and plush design. The Chewie Pillow Buddy is made of quality polyester giving it a certain smoothness that will never irritate the skin.
Read more
Design
So, even if your kids will be hugging Chewie all night long, they will never wake up to itchy, blotchy, or even reddish skin. It can also double as a security pillow especially for children who may have to spend several nights away from the comforts of their respective beds. With Chewie providing the comfort that kids need, sleep comes a lot faster and easier, too.
Effectiveness
Sometimes just having something from your favorite movie is a comfort and this pillow buddy Chewbacca might be the toy to provide that comfort to your child. It's super soft and cuddly and very much like we'd imagine Chewbacca to be, it's also furry and plushie! It will make a great addition to any child's room and will turn into a friend they can go to when they're in need of serious cuddle time before bed.
Value
The Chewbacca Pillow Buddy is the perfect companion for any kids either for play or for naptime purposes.
8

. Disney Store 10 Deluxe Figurine Set
Figurines have wonderful detailed features
Great value for the price
Has more figures in the set than other popular sets
Can be used for cake decorations or displays in child's room
Figures are somewhat small - only 4 inches tall
Not really action figures because all characters have a base
Thinking of helping your kid set up his or her own diorama of a favorite scene from the film The Force Awakens? If that's the case, we strongly suggest getting the Official Disney Star Wars The Force Awakens 10 Deluxe Figurine Playset. You get 10 of the most iconic characters in the film in their amazing poses. You'll love KyloRen's striking stance or even Rey's proud stand.
Read more
Design
There's even Captain Phasma with her cape beautifully hanging on one shoulder while the ever-reliable Chewbacca is ready with his bowcaster. You also have a Stormtrooper with its ready-to-fire stance, Poe Dameron's confident look, General Leia Organa's regal posture, Finn and BB-8's not-so-ordinary pose, and Han Solo's signature "I'm-gonna-save-the-universe-again" look. The figurines come with remarkable detail with the tallest being 4 inches in height. It's the perfect play set for reliving many of the action scenes in the movie. And once done, you can always build a diorama of sorts.
Effectiveness
This 10 piece figurine set of the main Star Wars characters can really make your child's imagination come to life as he/she recreates their favorite scenes from the Star Wars films. Providing hours of play with make believe situations which can entertain children of ages from three years and older. These figurines can also be used for displays in children's rooms and anywhere that you would need these characters to stand freely as they each have a base for stability. A wonderful value as a Star Wars set!
Value
The exceptional details put into each character of the The Force Awakens Deluxe Figurine Set is simply amazing.
9

. Hasbro BB-8 Operation Game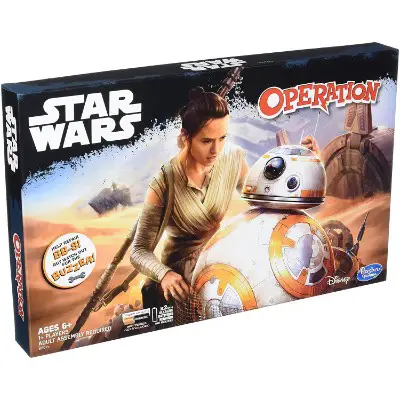 Same gameplay as the traditional operation version
Fully detailed with BB-8's body
Unique tribute to Star Wars fans
Will eventually be a collector's item
Batteries are not included and need to be given with the gift
There's no reason for why you can't have your cake and eat it too! This Star Wars collector's edition of the popular game Operation is perfect for lovers of both Star Wars and board games. Hilariously enough, the "operation" isn't on a human being at all; instead, your kids will be doing their best to not accidentally BUZZ while taking out all of BB-8's robotic parts.
Read more
Design
The setup is exactly the same and your kids will have an absolute blast attempting to wiggle BB-8's gears out of his tiny robot body without that inevitable jump-scare that comes with bumping metal to metal. Operation is a great game for the entire family and this will undoubtedly jazz up your game nights! This game is a classic and will forever be a collector's item on your shelf. Leave it to BB-8 to end up next on the operating table -- True Star Wars fans unite, quick, it's a mad rush to save him after he was rescued on Jakku!
Effectiveness
This game comes with all of the traditional features that made Operation so much fun in the first place. With the fun twist of Star Wars, it's more fun and laughs than actual competition and skill -- Which makes it the perfect board game to bring out on game nights or for after-school fun.
Value
Star Wars Operation makes for a great gift to a child of any age. Kids and adults alike will get a serious kick out of this game and it's perfect for any holiday, you can't go wrong with a classic that's still so popular today.
10

. Anakin Skywalker Lightsaber Flashlight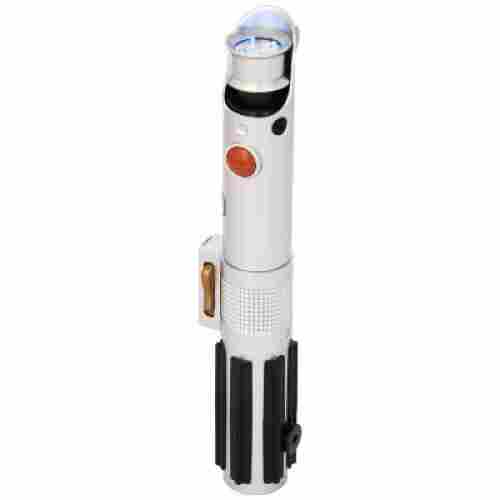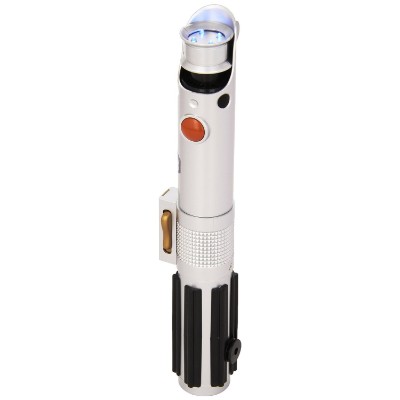 Lit with safe LED lights
Entices role playing activities
Can be used for costume and make believe playing
Inexpensive toys of good quality
Has sound effects too
Does not have the lightsaber component like other toys
Does not project much light
Whether you're a Jedi apprentice or a Sith follower, you will definitely need a working lightsaber to defeat your opponents. In many role playing activities of kids, the lightsaber is often in the form of sticks which kids have to make believe as powerful sabers.
Read more
Design
Now, they don't have to strain their imaginations as the Star Wars Lightsaber Flashlight is here complete with the signature electrifying sound effects of the lightsaber. However, since the Lightsaber Flashlight doesn't have the tubular "lightsaber" component like in other products, your kid will still have to use his or her imagination in projecting the likeness of the lightsaber. With blue LED lights and a darkened room, this should come really easy.
Effectiveness
Although this lightsaber does not in fact produce light as it would with real lights in it, the Star Wars Lightsaber was built with the safety of smaller children in mind. It does produce light in more darker situations with its blue LED lights, which will enthrall smaller children in their role playing. The sound effects increase the excitement of the toy, plus it is lightweight for active use. This durable Star Wars Lightsaber will make a great addition to the collection of Star Wars fans anywhere.
Value
It's a great prop for pretend play and role playing activities as well as in costume parties.
Criteria Used for Evaluation
Design
Most of the items on our list were chosen very carefully. We wanted every child to be able to enjoy these characters so most of our items can be used by children of the ages of three and older. Of course, some toys on our list do have smaller removable parts and are appropriately marked for much older children due to choking hazards. Children of the ages four and older can utilize and enjoy almost any of the toys listed above. It's extremely important for parents to make sure however that they are purchasing a toy that is suitable and age appropriate for their child because of hazards with small parts. Smaller children cannot put together these small figures on their own and would not be able to enjoy these specific toys as much because they will need help playing with the toys each time.

Effectiveness
The endurance of toys is very important, especially with the action figure toys since they can be used in a role-playing atmosphere for children. These toys will take great abuse with repeated use and rough handling by boys and girls of any age. Toys chosen for this review are all made of durable materials and will be able to withstand a lot of rough and tumble play for many many hours of enjoyment and years. Most of the items on our list are made of plastic which can be easily cleaned or in the case of the Chewbacca pillow with it's soft fur material, can be easily machine washed.
Value
Details of the figures and each playset on our list were also considered when reviewing these items. It's extremely important for the quality of the play if the toys are real to life of the characters that your children see in the movies that they enjoy and want to reenact scenes from or create their own storylines as well. Your child will get excited to see and play with their favorite characters from any of the Star Wars films. The more the toys look like the real characters, the more intense the playing can be with the toys that your child owns, increasing the value in child play and imaginative play.
Most Important Criteria
(According to our experts opinion)
Experts Opinion
Editors Opinion
Users Opinion
By Default

Parents, Did you Know?
That Star Wars is an american franchise that is an epic space opera that was created and centered around George Lucas. It all started in 1977 and is focused around the Skywalker family.
Parents, Did you Know?
That playing with Star Wars toys is a great way to expand the creative play of your kids. When playing with open ended toys it allows their minds to explore the world around them and create the own scenes.
Other Factors to Consider
Support
The manufacturers of these Star Wars toys were realistic and true. The pictures presented on the toys on each website were accurate and overall consumers were satisfied with their purchases. All of these toys provide great value for the cost of the items. Any Star War fans will be delighted to have any of these toys as part of their collection.

Logic
When choosing which toys from Star Wars would be considered the best for this year, we had to look at every obstacle and benefit that these types of play sets offered. Particularly in terms of development and growth of children of any age group. All toys, we believe, are built for the purpose of optimizing your child's development. When identifying feature in each toy it's also important to research the positive changes in a growing child as well as providing invaluable input in our search the customer feedbacks. We also took into consideration satisfaction ratings that somehow gave us an idea of how well-received these products are in today's market.
It is one thing to have to rely on product descriptions and all the marketing information that comes along with toy but it's entirely different considering what others think of the toy itself regardless of how subjective these comments can be.
We also had to consider safety extremely carefully considering that we were essentially focusing on items specifically designed for children. From the way the toys are built right down to the very materials that were used we took everything about the toy, and it's features into consideration to make sure that it was 100% safe for your child to enjoy.
Star Wars toys are excellent toys for encouraging your children to use their imagination through pretend play. Essentially you are given your children the right tools to improve their cognitive, language, social and self-control skills. With these 10 toys above on our list you will find one that is perfect for them, you might even come across their favorite character.
Frequently Asked Questions
q:
Does the Chewbacca Mask fit over eyeglasses when worn?
a:
No, it will not fit over eyeglasses. The mask is specially fitted to accommodate smaller faces because of the chin mechanism that operates the roaring sounds it makes. Because of this form-fitting, the inside section will not allow eyeglasses to be worn with it.
q:
Does the saber in the Darth Vader Building Set really light up?
a:
No, the saber does not light up as you would think because of the package wording.
q:
How long does it take to assemble the Darth Vader Building Set?
a:
It takes about one hour for a child of 7 years or older to assemble properly.
q:
Does the BB-8 Droid work on carpets?
a:
This depends on the carpet type. If it is a plush-type carpet, then the toy will move very slowly. However, the promoters do state that it can move even on carpets.
q:
I purchased the BB-8 Droid and downloaded the app to my phone. I do not hear the sounds when the toy is in use, but they seem to come from the phone. Do the sounds come from the toy or the downloaded app on the phone?
a:
Unfortunately and disappointedly the sounds for the toy come from the phone. This means that if the phone and the toy are not in close proximity to each other, then the full excitement of the sound mechanism cannot be enjoyed.
q:
Is the Chewbacca Pillow Buddy safe for children under the age of 3 years old?
a:
Yes it is safe for young children because there are no removable parts and the toy is soft and made of plush material. Makes a very good companion huggy friend.