Eighty percent of women in the United States have stretch marks; they're natural, and pretty difficult to avoid. Stretch marks occur when skin is expanding faster than the body can lay down the nutrients to build normal, smooth skin. Stretch marks are not an inherent sign of poor health, and many women love their tiger stripes. But if you just don't like the way they look, there are measures you can take. Most stretch mark creams simply moisturize the skin, and aren't proven to actually treat or remove them. Creams with retinol or retinoid in them have the data to back up their claims of success, but aren't healthy for pregnant mothers to use, so choose wisely and read the ingredients when you're browsing. Below, we've compiled the most popular options, and laid out the pros and cons for you to make your research just a little bit easier. Enjoy!
10 Best Stretch Mark Creams Reviewed
1. Bio-Oil Multi-Use
This formula is clinically proven and dermatologist-recommended when it comes to treating scars and stretch marks. It helps to smooth over the appearance of uneven skin tone, as well as dry and aging skin.
Expand to see more
Non-greasy, it's carefully crafted to moisturize without clogging your pores. Bio-Oil is hypoallergenic and ideal for every skin type. It's the #1 selling scar and stretch mark product in 18 countries and has won 224 skincare awards. Once a scar's surface is healed, simply apply this cream topically. This formula is retinol-free, and thus safe to use during pregnancy as a preventative measure, as well as post-pregnancy when you're looking to reduce stretch marks. It's easily absorbed and guaranteed not to agitate even the most sensitive skin. Calendula oil helps promote cell regeneration, lavender oil calms and soothes the skin, rosemary invigorates, conditions, and soothes skin while providing mild antiseptic properties, and chamomile oil works as an anti-inflammatory.

Benefits
This formula is multi-purpose. It can be used as a measure to prevent new stretch marks or moisturize and soothe old ones, and it helps to reduce the uneven skin tones often caused by scarring.

What We Like About It
It's a highly natural solution. The ingredients are chiefly natural oils with healing properties, so it smells nice, doesn't contain weird chemicals, and feels amazing on the skin without being greasy, heavy, or clogging any pores.
Pros
Helps to heal uneven skin tones
Moisturizes and soothes skin
Dermatologist recommended
Helps to fade scars
Winner of over 224 skincare awards
Cons
Recent customers claim a change in the consistency and scent; check Target's website for the same brand if you're concerned
2. LilyAna Naturals Retinol
Improving skin texture, uneven tone, and overall appearance, this terrific moisturizing cream from Lilyana will not leave any oily residue behind. It can be used morning and night and has a pleasant light scent from green tea and Aloe Vera.
Expand to see more
Other wonderful ingredients include jojoba oil, shea butter, vitamin, sunflower seed oil, horsetail extract, organic dandelion extract, and wild geranium extract. This product has not been tested on animals and does not have any parabens or artificial fragrances added in. it will fade stretch marks and absorb quickly without a sticky or heavy feel to the skin. This fabulous cream will restore, improve, and repair the life back to your skin and will not cause breakouts, pimples, or blackheads or clog pores. It is also gluten-free.

Benefits
This cream is so gentle yet effective that it can be used in the day and night to give your skin all of the best ingredients. It will work twice as fast this way to prevent and fade stretch marks.

What We Like About It
Plenty of natural ingredients went into this cream formula to help nourish the skin. Most of them are organic or plant materials to improve the texture and appearance of your tummy.

Pros
Has several organic ingredients
Does not leave an oily residue behind
Absorbs quickly without a sticky or heavy feel
Has a pleasant light scent
Is not tested on animals and is gluten-free
Cons
Some did not see any results from using this cream
Because of the container you cannot tell when you are low on product
3. Mommy Knows Best Vanishing Formula
Mommy Knows Best is a pregnancy-safe cream that the company claims is clinically proven to reduce the appearance and depth of stretch marks. The formula is retinol-free, so safe for your baby, and also better for your skin, as retinol often prompts
irritation and dryness
.
Expand to see more
This body butter swaps out retinol for high-quality essential oils and vitamins that seep into your pores and revitalize skin from deep levels. It absorbs quickly, tones and tightens, and fades existing scars and dark marks in addition to stretch marks. Premium ingredients mean smooth, supple skin. Vitamin E, jojoba, cocoa, shea, and mango butter work with other natural, organic ingredients to give you a safe, pleasant experience each and every time you lather up. Most users saw visible results within the first month of using it; some reviewers even provided before and after pictures in their Amazon reviews if you're curious.

Benefits
This cream, at the very least, will be HIGHLY moisturizing and smell delicious. All of the ingredients are certified organic, and it's retinol-free, so safe to use while baby is kicking away. It promises reduced visibility of stretch marks, and similar scars and discoloration.

What We Like About It
At worst, it's a nice lotion. Plenty of users claimed they saw significant improvement with use, and even those who didn't still said that it smelled nice and made their skin feel moisturized and silky soft.
Pros
Organic ingredients
Non-greasy and absorbs quickly
Revitalizes skins from the pores up
Retinol-free
Tones and tightens
Cons
Creams are not scientifically proven to reduce or prevent stretch marks; some users saw no improvements or results
4. Bella B Tummy Honey Butter
Bella B Tummy Honey Butter is an oil-based thick formula that will sink deep into the layers of skin and not leave it greasy or sticky on the skin. It does not contain water or petroleum but will prevent stretch marks because it keeps skin very elastic.
Expand to see more
This fabulous product soothes tummies that are itchy with the anti-itch ingredients including shea and cocoa butter. It has a natural mild cocoa butter scent and can be used two a day for the best results. Some of the natural ingredients include jojoba seed oil, beeswax, vitamins E and D, avocado, almond, sesame, and olive oils plus Aloe Vera gel. The extracts of eleven other flowers and fruits are used in this item too to maximize the overall health of the skin. Because stretch marks are tears in the skin, this butter gives your skin its best elasticity, so the skin will stretch and not tear.

Benefits
This butter can be used twice a day for the best results in helping your skin. As your skin stretches, you must add moisturizers and softeners to help prevent tearing.

What We Like About It
The list of natural ingredients in this wonderful skin butter is incredible! Many flower and fruit extracts were used in the creation of this product to bring you something that is effective and pure.
Pros
Prevents stretch marks
Soothes tummies that are itchy
Will sink into the layers of skin
Has a natural mild cocoa butter scent
Can be used twice a day for best results
Cons
Some buyers said it left their skin sticky and greasy
A few developed rashes after use
5. Earth Mama Body Butter
From Earth Mama, we highlight this terrific body butter for your stretch marks that comes in a pump dispenser. It eases dry skin and comforts itchy stretching skin, plus will not irritate morning sickness with the scent.
Expand to see more
This fabulous butter contains naturally hydrating essential organic oils, organic herbs, and shea butter that ease stretch mark appearances. It calms the stretching of skin in the areas of the thighs, breasts, hips, and belly. Some of the other natural ingredients include raspberry, borage, calendula, jojoba, orange, oats, sunflower seed oil, Aloe Vera, and olive fruit oil.

Benefits
This wonderful butter comes in a lotion form that is dispensed in a pump bottle. The remaining supply stays untouched each time you use it, unlike the tub containers of buttercreams.

What We Like About It
This is a special blend of mostly organic fruit and flower ingredients that are not supposed to upset the user, even with morning sickness. It does have a mostly orange odor because that is one of the more powerfully scented ingredients.
Pros
Calms the stretching of the skin
Has a natural light scent
Comes in a pump dispenser
Does not irritate morning sickness with the scent
Eases dry skin and comforts itchy stretching skin
Cons
Product was a thin lotion and not butter-like
The smell of the orange ingredient bothered a few
6. Mama Mio The Tummy Rub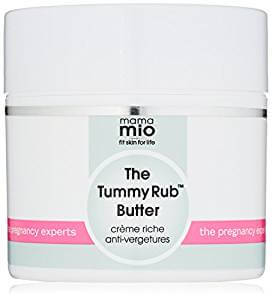 The Mama Mio company was established in 2004 and was one of the originators of skincare for pregnant women. The founders are four mothers who created the products in search of efficient, high-quality products for themselves when they were pregnant with their own children.
Expand to see more
This rub butter is great to use twice a day on all areas from the bust to the thighs, as it gives maximum protection to prevent itchy skin and stretch marks. It is safe to use during nursing and pregnancy and is an omega-packed super-elasticity base of shea butter and a mixture of organic oils. A few of the organic natural ingredients are coconut oil to build skin elasticity and strength, avocado oil to soothe and hydrate skin, and shea butter to provide the protective barrier to build elasticity and keep in the skin's moisture. This product is cruelty-free, plus free from phthalates, PEGs, xenoestrogens, colorants, petroleum, and parabens.

Benefits
Perfect to use before, during, and after pregnancy, this fabulous rub butter states that it is great to use during nursing as well. This would be important, especially for those mothers that breastfeed their babies.

What We Like About It
This is a product for women made by women, so it has plenty of heart involved in the making of it. The founders are all women who began the company as a search for a product for themselves while they were pregnant.
Pros
Great to use twice a day in all body areas
Safe to use during nursing and pregnancy
Is omega-packed and super-elastic
The founders are the product creators
Product is free from harmful ingredients and chemicals
Cons
Some said it does not smooth on very well
A few complaints about the amount for the price paid
7. Eraorganics Organic Scar Treatment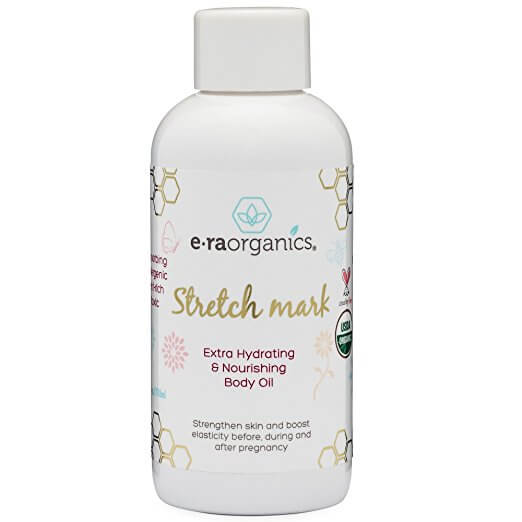 Rich in the essential vitamins of B, C, D, E, and K in addition to Omega 3 and 6 fatty acids, this terrific cream repairs, nourishes, and moisturizes your skin. Use it at all stages of
pregnancy
and afterward too because it is made with organic ingredients that are USDA certified.
Expand to see more
It naturally prevents and reduces stretch marks from pregnancy and makes the skin supple, stronger, and healthy. This outstanding cream from Eraorganics will help your skin expand while you are pregnant and recovering after childbirth. Use it on all parts affected during pregnancy including breasts, thighs, hips, and tummy. It will give a boost to any damaged dry skin and is a cruelty-free product. This fabulous cream will strengthen the fibers of the skin, improve elasticity, and give skin a warm healthy glow by reducing visible stretch marks and scars. It contains no hidden toxins, parabens, petrolatum, or mineral oil. The organic and natural ingredients include apricot seed oil, borage oil, rosehip seed oil, extra virgin olive oil, orange oil, and sunflower seed oil. Because of the natural oils in this formula, it will penetrate the skin quicker than other stretch mark products.

Benefits
This wonderful cream does not contain any hidden harmful ingredients to hurt your body or skin. It is also cruelty-free because the manufacturers did not use animals to test or produce this item.

What We Like About It
To prevent stretch marks during pregnancy, this is one of the best creams on the market. It is so full of vitamins and essential organic oils that you will feel the difference on your skin from other products.
Pros
Repairs, nourishes, and moisturizes your skin
Will help your skin expand while you are pregnant
Makes the skin supple, stronger, and healthy
Use on all parts affected during pregnancy
Great to give a boost to any damaged dry skin
Cons
The scent bothered a few people
It did not prevent stretch marks for some women
8. Intensive Treatment Butter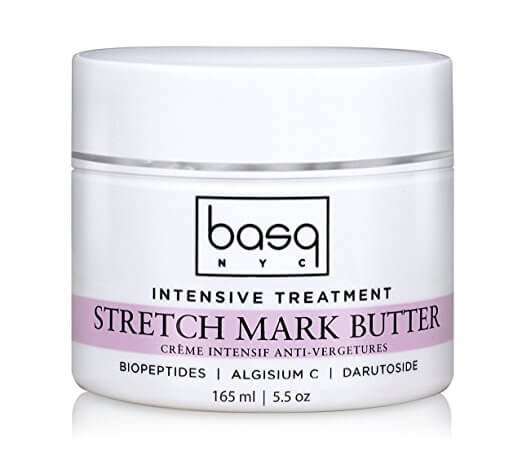 Clinically proven to be effective in treating stretch marks, this wonderful butter will repair and prevent these marks on your skin. It uses extracts and peptides to increase collagen renewal to make skin stronger.
Expand to see more
Stronger skin can rebound and stretch when needed. It is a celebrity favorite product and editor pick of Fit Pregnancy and Parents Expecting for over ten years. This fabulous cream has a rich blend of jojoba and shea butter in addition to rich omega oils that will stop itching and nourish the skin. It is free of phthalates, mineral oil, sulfates, clary sage oil, caffeine, artificial colors, and rosemary oil, and parabens and has been clinically tested for skin allergies. This great cream includes the plant blend of Darutoside that builds collagen to make skin strong.
Algisium C and Biopeptides stop the damage before stretch marks appear and soothe itchy skin. It also has shea butter for the prevention of stretch marks and skin-building strength.

Benefits
Free from a lot of harmful ingredients, this terrific stretch mark butter is great for the health of your whole body. As you rub it in, the body will absorb the rich minerals and none of the harmful toxins that are in some other brands.

What We Like About It
This fantastic butter has been tested for skin allergies to prove that the ingredients will not cause skin irritations. You can use this cream every day and not develop any skin irritants.
Pros
Uses extracts and peptides to increase collagen renewal
Is a celebrity favorite product and editor pick
Has a rich blend of jojoba and Shea butter
Clinically tested for skin allergies
Includes many natural ingredients for optimal skin health
9. Mustela Prevention Cream
From Mustela, we highlight their wonderful prevention cream for stretch marks. It is best applied thinly each morning and night from the beginning to the end of your pregnancy. It prevents the appearance of unsightly stretch marks in expectant mothers and even works well for hydrating the baby's skin and keeping it soft.
Expand to see more
This is a special formula that is fast-absorbing and non-greasy that you will love to put on each day. It is safe to use even during breastfeeding because it is hypoallergenic and free from phenoxyethanol, phthalates, and parabens. This terrific prevention cream is formulated to decrease the risk of allergies, plus it was tested under the guidance of pediatric, gynecological, and dermatological doctors. It includes shea butter for nourishment and moisture and avocado to leave skin comfortable and smooth.

Benefits
Everyday creams like these for stretch marks should be non-greasy and absorb fast. No one wants to have skin that never dries from such products. This one will dry quickly and absorb well into the skin fast.

What We Like About It
This fantastic cream for stretch marks can be used from the first month of pregnancy all the way to childbirth and beyond. You can use it while breastfeeding and even on the baby.
Pros
Works well on babies and mothers
Safe to use even during breastfeeding
Includes Shea butter and avocado
Free from harmful chemicals
Tested under the guidance of doctors
Cons
The smell was a complaint of some women
It may be greasy
10. COS Naturals Natural Organic
From COS Naturals, we feature this terrific product of theirs that will fade the unsightly scars and stretch marks on the skin. It reduces inflammation from skin stress and includes organic and natural ingredients with vitamins B. C, E, and hyaluronic acid.
Expand to see more
This exciting product moisturizes and hydrates the skin and can be used by men or women. Use it for scaring of the skin due to sudden changes in growth from puberty, pregnancy, muscle building, and weight gain. This remarkable cream can be used daily and does not contain alcohol or parabens. It is FDA approved and is manufactured in a GMP-certified facility and no animal testing was done for its production.
Benefits
This is an FDA approved product, and it is manufactured in a facility that was GMP-certified. This means you get the best quality product that has the thumbs up from the authorities of such products.
What We Like About It
The manufacturer states that this cream can be used by, anyone, even men and
teenagers
. There are many times the body changes in size from puberty to adulthood, and this cream can be used during any of those times.
Pros
Reduces inflammation from skin stress
Includes organic and natural ingredients
Moisturizes and hydrates the skin
Can be used by men or women
Does not contain alcohol or parabens
Cons
Was not thick enough for a couple of people
No results happened with some buyers
Criteria Used In Evaluation of the Best Stretch Mark Creams 
Top-rated and most-purchased items
Each item listed here is a top-rated product that was chosen because it had the most reviews online and the highest ratings among online customers who were overwhelmingly satisfied with their purchase. These are the best in this category analyzed for your shopping experience. We search through the reviews, feedback, and product descriptions to bring you all of the details of each product, plus what is best and worst about it as well. We hope to save you time with our concise, well-informed paragraphs loaded with information just for you.
Used specifically for stretch marks due to pregnancy
These creams were specially made for the stretch marks caused by pregnancy. Women's bodies begin expanding in the bust, hips, thighs, and belly early in the pregnancy and continue on until childbirth. All throughout this experience, the skin is stretching at a very fast rate to keep up with the growth. These creams will rejuvenate the skin in these areas to help prevent these marks from happening. They are made with natural ingredients that will restore, soften, and supply the skin with what it needs at this particular time in your life.
Easy to use and effective
Whether they are in a tub-like container or a pump-like bottle, each cream we feature is easy to rub into the skin wherever the skin needs to expand. They are most effective if use starts before stretch marks occur, thus preventing them from happening. If the skin has the elements it needs to stretch, then the marks will not appear. If the marks are already seen in the skin, then by using these creams, it will prevent them from becoming worse, prevent others from happening, and possibly decrease the visibility of the ones that are already there.
Can be used and is safe to use before, during, and after pregnancy
Anyone can use these stretch mark creams, even if they are not pregnant. Water retention from periods or just weight gain in anyone can cause stretch marks in the skin. These creams can be used for any of those times or just to prevent stretch marks from happening. Use these when you are trying to get pregnant or have just learned that you are pregnant for preventive care of the skin. It will then be able to handle the stressful stretching required in the months of pregnancy. Use them all during the pregnancy to keep the skin in shape and from tearing. After pregnancy, these can still be used to make any marks fade and to tone the skin as your body regains its shape and form.
FAQ
Frequently Asked Questions
Q: Which products are in a container where the cream must be taken out using the fingers? This is quite messy, and I want to avoid contaminating the supply.
A: The creams in a tub-like container are Mommy Knows Best, Bella B, Basq NYC Intensive Treatment, and Mama Mio. The others are in a pump-type container where a small portion can be put in the hand for use.
Q: Do these all have a scent or smell to them?
A: Yes, even the ones with no scents added have a slight natural scent of aloe vera or cocoa butter. The smells are all-natural and should be pleasing to the nose. They are natural ingredients to enrich the skin and make it respond better to the changes from pregnancy.
Q: Do any of these go on dry or non-greasy?
A: Most of them say they are non-greasy, but some oiliness should be expected because they do have natural oils and butter in them that would apply to the skin as a bit oily or creamy. If they are rubbed in well and not much is used, then greasiness should not be a problem for the skin.
Q: What body areas can these creams be used on?
A: The recommended areas by manufacturers are the bust, hips, thighs, and tummy areas for pregnancy. Applications of these creams can begin before any signs of stretch marks occur to avoid them. Once they appear, then the cream will be used for making the marks not as noticeable. Preventive care is best before the tearing of the skin happens.
Q: What causes stretch marks?
A: Stretch marks are the tearing of the skin that is trying to stretch but growth or expanding is happening faster than the skin can stretch. The results are stretch marks, which is the skin layer just under the outer layer that has torn.
Q: How long should these be used?
A: You can use stretch mark cream for as long as you have the threat of the marks occurring. If you become pregnant or are just trying to become pregnant, you can use the cream then to prevent the skin from tearing in your months of pregnancy. Preventive care will condition the skin with the natural supplements it needs so stretch marks will not appear. As the body sections become larger, the skin will be able to stretch along with it.