10 Best Swim Diapers Reviewed & Rated in 2019
last updated
Aug 15, 2019
When summer comes along, we all want a good and enjoyable way to cool off, relax, and have a little fun. That's true for parents too! We don't want to have to forgo the pools and the beach just because we have a little one, and we don't want to leave our little ones out either! However, when it comes to kids that aren't quite yet potty trained, pools and other bodies of water can be tricky. The last thing any of us want is to cause a full-blown pool evacuation. How embarrassing and inconvenient that would be! Fortunately, there are these awesome things called swim diapers specifically for babies and young kids to use in the pool.
In a Hurry? The test winner after 27 hrs of research
Wegreeco Baby Swim Diapers
Why is it better?
Lock snaps provide a secure fit
Designed to keep solids inside the diaper
Includes three reusable diapers
Easy to put on and take off.
In a
Hurry? Editors choice:
Test Winner: Wegreeco Baby Swim Diapers
250
Reviews Considered
27
Hours Researching
10
Products Evaluated
Design
Protection
Style
Materials
By Default
In Depth Review Top 10
Wegreeco Baby Swim Diapers
Babyganics Color Changing
Huggies Little Swimmers
Babygoal Swim Diapers
Beau & Belle Littles Nageuret
Alvababy swim diapers
Pampers Splashers Jumbo
Alva Baby Reuseable
i play Ultimate Reusable
AppleCheeks Washable
Table of contents
Criteria Used for Evaluation
Expert Interviews & Opinions
Other Factors to Consider
Frequently Asked Questions
Sources
10 Best Swim Diapers Reviewed
1

. Wegreeco Baby Swim Diapers
Lock snaps provide a secure fit
Designed to keep solids inside the diaper
Includes three reusable diapers
Easy to put on and take off.
Pool water may get trapped inside.
Save money by purchasing Wegreecos reusable swim diapers.
Read more
Design
The lock snaps on the sides of the diaper will allow you to obtain a secure and snug fit when putting them on your baby. They are lightweight and will not hinder your child's movement. Furthermore, they are designed to not swell or sag in the water.
Protection
Each of these diapers have the ability to withold solids while your little one swimming. The soft elastic bands on the waist and leg openings will prevent chaffing.
Style
With your purchase, you will receive three diapers. Each of the diapers are styled with different colors, characters, and patterns. At check out, you can choose between several different themed styles. Babies who weigh between 10 and forty pounds will be able to wear these brightly colored diapers as they are available in a small or large size.
Materials
Each of these diapers are 100% polyester, thus making it easy for you to put them on your baby while also providing a comfortable fit for your child. The outer layer is waterproof, thus giving them the durability to survive countless swimming sessions.
2

. Babyganics Color Changing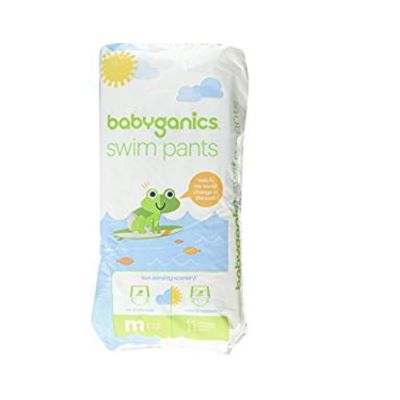 Sustainable core prevents swelling and sagging
The disposable design is exceptionally easy
Safety features help protect your child from the sun
Snug fit helps to hold in all solids
Designed to be comfortable for your baby
Can't be reused
The fit is not adjustable
These diapers snag the top spot of disposable swim diapers to make it on the list! They have some cool features that set them apart from all other swim diapers and do their job very well. They are designed as one-use items and are not washable so you can simply throw them away when you're done instead of bothering with washing them!
Read more
Design
They come in multiple sizes to best accommodate your baby and fit snugly to prevent any solids from leaking out. The swim diaper covers are protected from the potentially dangerous UV rays from the sun.
Protection
This particular swim diaper has one really cool and unique safety feature, too! It has a cute frog design on the front of the diaper which actually begins to change color when exposed to the sun. It will slowly change color in the sun and when the baby has been in the sun for a certain period of time, the frog will become brown rather than the green color that it starts out as. This is an indication that it is time to check your baby's diaper and that it is time to reapply sunscreen to protect your baby from the potentially dangerous UV rays of the sun.
Style
They are also designed with a sustainable core that won't sag or well up in the water. They are pull-up style to put them on, but then they have pull-away sides that allow for easy changes, especially when they are soiled and you need to avoid a mess when pulling the swim diaper off of your baby.
Materials
If you prefer a disposable swim diaper over a reusable one, this can definitely be a great choice and is well worth your consideration. They are pretty effective, affordable, and the unique safety features can be a great draw for many people!
3

. Huggies Little Swimmers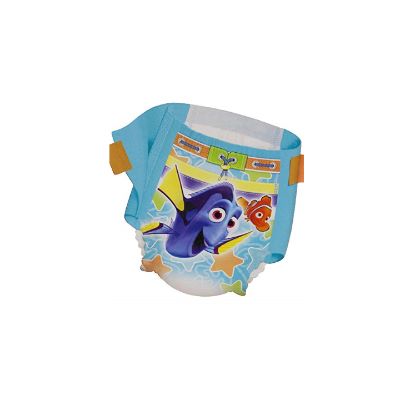 Effectively designed to hold in solid waste
Can be thrown away for convenience
Colorful designs and popular characters make kids happy
Stretchy material provides an excellent fit
Most expensive disposable swim diapers on the list
From another very big name in diapers, Huggies comes these great Little Swimmers disposable swim diapers. They are designed with comfort and functionality in mind. The stretchy sides help to achieve a good and snug fit.
Read more
Design
They are designed to pull up onto your child just like pants, but then can be removed easily with the rip-away seems on the sides just like a regular disposable diaper.
Protection
Leak guards on the legs of the diapers help to prevent the leaking of any solid waste from the diaper into the water. They have cute and colorful designs and feature popular characters that are sure to be well-loved by children.
Style
If you plan on doing a lot of swimming with your little one, these may not be the ideal swim diapers for you because of the cost. However, if you just plan on swimming a few times throughout the summer, they can really be a great choice with some cool features if you prefer to go with disposable swim diapers. These Huggies Little Swimmers are the priciest disposable swim diapers on the list, but they do work very well and provide the unique feature of holding in a small amount of urine prior to entering the water. For this reason, they certainly have a good value.
Materials
Something that sets these swim diapers apart from other ones is that they actually do contain some absorbency. Most swim diapers, both cloth and disposable, are not designed to absorb at all, but these diapers have a small amount of a special absorbent material. They won't work as a regular diaper, but they are effective to hold in some urine if your child happens to pee prior to entering the pool. The great thing about this is that even with the absorbent material, this diaper won't swell up or sag in the water of the pool, lake, beach, or any other water you may take your little one along in.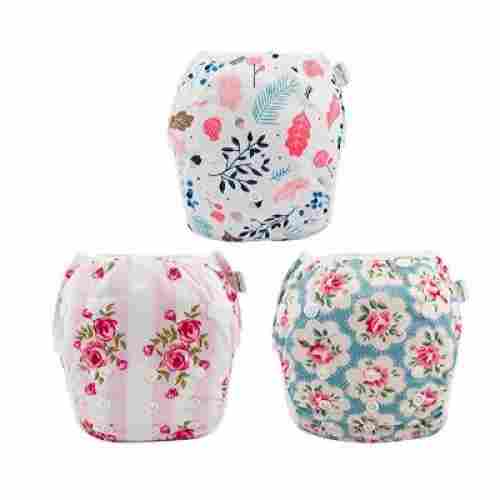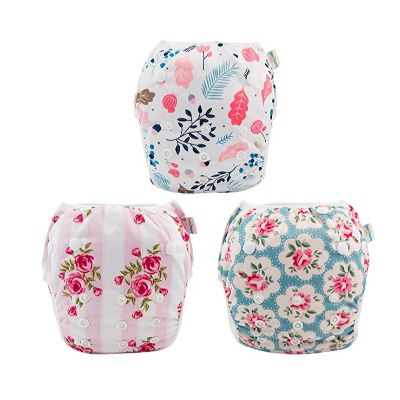 Durable enough to be used for a year
Easy to clean
Available in a variety of adorable designs
Composed without the use of harmful chemicals
With the Babygoal Swim diapers, your little one can be the most adorable swimmer at the pool, lake, or beach.
Read more
Design
When designing these diapers Babygoal decided on leaving out an inner absorbing layer. Without the inner layer, the diapers will remain lightweight instead of getting weighed down by soaking up the water your child is swimming in. The lack of an absorbing layer only allows these diapers to hold solids.
Protection
You won't have to worry about this diaper causing chaffing as the elastic on the waist and legs provides a comfortable fit. These diapers are free of BPA, lead, latex, dioxins and other harmful chemicals. Not only are they safe for your child's skin but they are also environmentally friendly.
Style
These diapers are available in over fifteen different colorful designs and patterns. Whether you choose a diaper with animals or food, your child will be the talk of the day.
Materials
The outer layer of these diapers is composed of waterproof polyester. The inner layer is a polyester mesh, thus making it easy for you to clean the diaper. The high-quality materials allow you to use these diapers for up to one year.
5

. Beau & Belle Littles Nageuret
Designed to be exceptionally comfortable for your child
Holds solid waste in very well preventing leaks
Cute patterns make for a great swimsuit
Easy to wash and reuse over and over
Fits well for small babies up through big toddlers
Your purchase goes to help a charity for children
Can be bulky on smaller babies
Pricier
The Nageuret Reusable Swim Diaper is an impressively well-designed and very high-quality. It is an attractively designed diaper that works very well. Its outer shell is made of PUL which is a waterproof fabric and does a great job at holding solids in the diaper to prevent embarrassing pool evacuations. It comes in multiple cute designs so that it can easily be used as the bottom of a child's swimsuit or it can be used underneath a different swimsuit if you prefer.
Read more
Design
Beau & Belle Littles is a small family-owned company in Colorado, and one of the coolest things about their company is that they have made the decision to give back. Each year, Beau & Belle Littles donates 5% of their sales to an organization called Compassion International which does a variety of things in order to help children in need.
Protection
The inside of the swim diaper is made of an extra soft polyester mesh fabric that keeps your little one nice and comfy and also helps to make messes easier to clean up. It features a multitude of snaps that allow it to grow with your baby and give an ideal fit for your little one as well. It is designed to be one-
Style
There is no doubt that this is an excellent choice for a swim diaper. It is made well and will last a long time. Even though it is a little pricier than a lot of other options, it is still an economical choice because it will last so long. This is especially true if you plan on being in the water with your little one a lot. It even has the benefit of contributing to charity when you purchase it!
Materials
This is one of the priciest swim diapers on our list but it makes sense that it would cost a little more than some of the other options. It is made of exceptionally high-quality materials and has an excellent design that allows it to be used from the time your baby is very little all the way up until potty training in most cases. It really is a good swim diaper with good value to it.
Affordable
Designed with adjustable snaps
Keeps solids in
Comfortable and easy to clean
With the Alvababy swim diapers, you can enjoy playing in the water with your baby without stressing about them having an accident.
Read more
Design
These adorable diapers are designed to fit babies of all shapes and sizes. The 3x3 adjustable snaps make it easy for you to get the perfect size. Designed to only hold solids, your little one is free to move about in these lightweight diapers.
Protection
The elastic legs and waist allow you to easily put these diapers on your baby as well as take them off. The snug fit will prevent leaks by keeping all solids inside the diaper.
Style
When purchasing you can choose between eleven different color options to best suite your child's taste. All of the diapers come in a pack of two, thus allowing you to have a back up on hand.
Materials
The outer layer is composed of 100% polyester with PUL, which makes these diapers waterproof. Their sensitive skin will be comfortable inside the diaper as the inner layer is composed of a breathable polyester mesh. The poly material makes cleaning these diapers after every outing a stress-free process.
7

. Pampers Splashers Jumbo
The double leg cuffs provide extra protection against leaks
Can be thrown away for extra easy use
Are designed to be very comfortable for your child
Work effectively to hold in solid waste
Come from a very well-trusted brand
Can't be reused
Not adjustable
These come from one of the biggest names in diapers – Pampers. So, you really don't need to worry about the important things like quality and safety. They are well made and effective swim diapers that can be thrown out after use. They are incredibly well-designed and fit very snugly, although they are not adjustable.
Read more
Design
They slip on like underwear, but they are designed to easily pull apart at the sides just like regular diapers do which can be very helpful and useful if the swim diaper does become soiled. These are the most inexpensive diapers on the list, and still work amazingly well and even come from a highly-trusted diaper brand. They are quality diapers at a great price with a wonderful value.
Protection
They hold solid waste in, even while in the water, but they are smartly designed so that they do not hold in water causing them to swell up or sag. They won't hold in water when your baby is not in the water. They are also very nice and trim which is great for fitting them well under your child's swimsuit.
Style
These well-designed diapers feature double leg cuffs which is a very useful and helpful feature that most of the other diapers do not have. The really cool thing about these diapers having these double leg cuffs is that it provides a second layer of protection to prevent solids from escaping the diapers and making an embarrassing mess in the pool or other bodies of water.
Materials
There is no doubt that these disposable swim diapers are a great purchase with an excellent value to them. They are of good quality, fit well, hold in solids well, and have some great features to make them easier to use. They even have the double leg cuffs for added security. If you prefer a disposable swim diaper or if you don't plan on getting your little one in the water very often and need an affordable solution, this could very well be the perfect swim diaper option for your family.
Designed to fit newborns all the way up to preschoolers
Made to be very comfortable for your child
Effectively holds in solids
Is very inexpensive
Comes in cute prints and designs
May hold water in when out of the pool
Here are some impressive swim diapers. These great swim diapers from the popular cloth diaper brand, Alva Baby. They are lightweight, easy to use, easily adjustable, and effective. The outer layer of a waterproof material known as PUL keeps solids inside and the inner layer of mesh makes clean up easier and keeps your little one nice and comfortable.
Read more
Design
This swim diaper from Alva Baby is ingeniously designed in a one-size-fits-all style. Thanks to its stretchy leg and waist elastics in addition to its multiple snap positions that are fully adjustable, this diaper can be worn by practically any sized child that is not yet fully potty trained.
Protection
This can definitely be a wonderful choice of swim diaper for any family! They are very affordable and still
work great and are super cute, so they are especially a good choice for anyone looking for a great deal on an awesome product!
Style
Its special design and multiple snap positions allow this single swim diaper to snugly fit onto a child from just 10 pounds all the way up to 40 pounds.
Materials
The lightweight design keeps your child able to move more freely through the water and helps them to more easily learn how to swim. The stretchy elastics around the waist and legs provide a better fit and are bound in a soft lyrca to keep your baby as comfortable as possible while wearing the swim diaper.
9

. i play Ultimate Reusable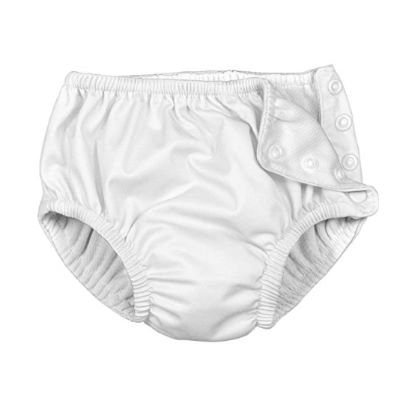 Absorbent layer holds urine in when outside of the water
Wicking liner helps to prevent diaper rashes
Leg and waist elastic prevents leaks
Designed to be exceptionally comfortable
Sizes are available for newborns all the way up to children in size 4T
The washable and reusable design is better for the environment
In the top spot on our list is the i play Reusable Swim Diaper. This is an extremely popular brand of reusable swim diapers and is very well-loved. Made of three different layers, it is multi-functional and very effective at doing its job.
Read more
Design
This particular swim diaper is very unique in its 3-layer design. Each one of the three different layers serves its own unique purpose. The outermost layer of the diaper is the waterproof layer which is absolutely essential at keeping in those dirty messes that would be both highly inconvenient and downright unsanitary to leak into the water. The innermost layer of the diaper which sits against your little one's skin is made of a wicking material that helps to pull moisture away from your baby's skin to help them be more comfortable and to help prevent rashes from occurring.
Protection
The middle layer of this 3-layer diaper is the really unique part. It is actually a thin absorbent layer which most other swim diapers do not have. This thin absorbent layer is to help prevent any messes while the baby is not in the water. For example, if your little one pees on the way to the pool, this layer will absorb it so that it does not get all over the place.
Style
The elastic around the legs and waist of this diaper help to hold all messes in very well and avoid any poo getting into the pool. It even has some useful snaps on one side of the diaper to make it a bit easier to get the swim diaper off of your child, especially if the swim diaper is soiled
Materials
The Iplay reusable swim diaper is an amazing choice for any family planning to bring a child that is not fully potty trained into the pool or to the beach. It is very affordable, absolutely adorable, impressively useful, and reusable. You really can't go wrong with this diaper! It can be used as swimsuit bottoms or it can be used underneath your child's swimsuit. It comes in a large variety of different colors and sizes to fit the preferences and needs of anyone. It is, of course, machine washable and made of 100% polyester.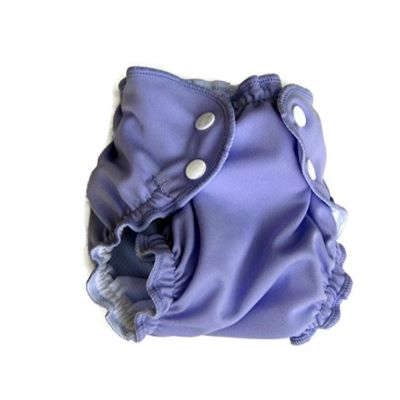 Highly adjustable for the best fit possible
Designed to both look and feel great
Effectively holds in solids with 2 layers and elastics
Sizes available to fit almost any child that hasn't been fully potty trained
Comes from a highly-trusted cloth diaper brand
Can be washed and reused repetitively
More expensive than other options
This is an extraordinarily adorable swim diaper from a highly-trusted cloth diaper brand, AppleCheeks. It is designed in a very stylish way and it closes using snaps on each side of the diaper. It is well-designed to keep all solids from escaping the diaper to protect from embarrassing accidents in the pool or other bodies of water. It comes in a variety of fun prints and colors and is available in 2 different sizes.
Read more
Design
If you are after a higher-end cloth swim diaper, this is certainly the diaper for you. It is very effective as well as stylish. You don't have to question the quality of this swim diaper because it comes from a well-trusted and known brand of cloth diapers. Even with the higher cost, it can still be an economical choice since it is reusable.
Protection
It is special because it has 2 separate rows of snaps to help ensure the best fit possible. The top row of snaps allows you to adjust the diaper for the best possible fit around their waist, while the bottom row of snaps, which is independent of the top row of snaps, controls how snugly the diaper fits around the child's thighs. Since all babies are shaped differently, this can be a really helpful way to ensure the best possible fit of your specific child. Getting a good, snug fit helps to ensure that the diaper does its job properly and keeps all solids within the diaper.
Style
Size 1 fits babies that are 7 pounds all the way up to 20 pounds, and size 2 overlaps that slightly starting at 18 pounds and going all the way up to 35 pounds. This allows it to fit most newborns as well as most older toddlers.
Materials
Its two different layers made of 100% polyester allow water to freely move through the diaper while catching any solids that try to pass through. This is great because it prevents water from getting stuck within the swim diaper and weighing the child down. It is very comfortable for your little one, too!
Criteria Used for Evaluation
Design
Swim diapers are the type of product that you have to be able to really rely on when you need them. If they don't work when you need them to, it could leave you in a very embarrassing and inconvenient situation. That is why we paid extra attention to the designs and functionality of the swim diapers we evaluated and made sure to only include swim diapers that really work and do their job well.
Protection
When it comes to our children, safety is extremely important. So, the products we buy for our children need to be safe for them. We should never have to question the safety of a product that we buy for our children. We looked through tons of different swim diapers when making our list and made sure that all of them are designed in a way and with materials that are completely safe for your little one because we know how important it is to you to keep them nice and safe.
Style
This probably won't be your number one concern, but it is certainly still relevant. In addition to a good working product, you also want something that looks really great too. There is nothing cuter than a baby in an adorable swim diaper! We chose a variety of different swim diapers with different colors, prints, and styles. That way, everyone will have a great option for them and their little one!
Materials
It's important to know that the materials that your baby is wearing is 100% safe to swim with. Parents are going to want to make sure that their baby is UV protected and made of friendly, non toxic materials to ensure that your baby will be protected at all costs. Many of the swimsuits on our list are made with comfortable materialis for your little one to enjoy their water play on those hot summer days without feeling irritated.
Most Important Criteria
(According to our experts opinion)
Experts Opinion
Editors Opinion
Users Opinion
By Default

Parents, Did You Know?
You can read the information, specs, and features of a product from the manufacturer all day, but the best way to get a real, honest view of what a product is actually like is to look at user reviews of the product.
Parents, Did You Know?
We consider this one of the most important aspects of our evaluation process because we want to tell you exactly what you have to expect from a product once you actually have it and use it. The best way to find that out is to see what the real people that have already purchased and used the product think of it.
Other Factors to Consider
Price Range
There is no questioning the importance of the cost of any product that you are going to purchase. You need to consider what your budget is and choose a product that works well for your family price-wise without sacrificing function and style because what is really even more important than just the price tag of a product, is the value of the product. We chose all high-value products that fit well within a variety of budgets so that there would be a great swim diaper for any family on our list.

Comfort
Swim diapers are an item that sits directly against some of the most delicate and sensitive parts of your baby for sometimes extended periods of time. The last thing we want is for them to be uncomfortable for your child to wear. You need something that doesn't just work well, but feels good for your child, too. Since we understand the importance of keeping your little one comfy, we looked at the comfort of each swim diaper before we put together our list of the best swim diapers.
Frequently Asked Questions