Swimming is one of the best exercises for kids and adults alike. It can provide a host of health and social benefits that everyone can take full advantage of. That's why it is important to teach kids how to swim as early as possible so that they can reap all of the benefits of swimming early in their lives. Unfortunately, learning how to swim can have its risks. That is why it is important to take it one step at a time. And the very first step is to teach children how to be confident on water. To do this, you will need a flotation device that will help them get used to the feel of floating and cruising on water. With the 8 best swim vests for toddlers in 2018, we can safely say that you'll be on the right track towards helping your tot feel more confident about having fun in the water.
Our Top 3 Picks
Speedo Kids Classic Swim Vest

Our rating
Sun Protection
Price:

See Here
O'Neill Wake Waterski Vest

Our rating
Safety Belt Between Legs
Price:

See Here
Apple Daisy Float Suit

Our rating
0 Sunblock
Price:

See Here
Our Picks Of The Top Toddler Swim Vests:
Begin to Swim Classic Swim Vest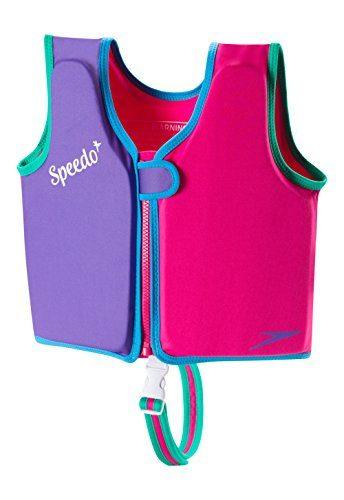 Begin to Swim Neoprene Vest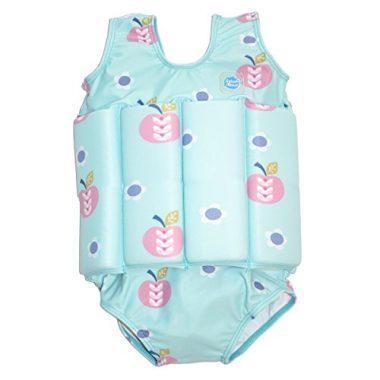 Water Skeeter Life Jacket
Puddle Jumper Life Jacket
Otter Wings Floaties and Swim Shirt
Criteria Used to Evaluate The Best Swim Vests & Jackets
Large bodies of water can be intimidating for little ones. Let's be honest, large bodies of water can be off putting for many adults as well. Fear of drowning is a pretty common phobia so it is important to introduce your little one to water safety as early as possible. An early development of swimming and floating skills as well as early exposure to swimming in pools, lakes, and even wading in the ocean is of the utmost importance for equipping your little one with the exposure to water, necessary for building survival skills, instincts, and an official know how to handle yourself in the water. These items provide a sense of comfort and added peace of mind as they are the best of 2018 water safety devices. Some provide some aesthetically pleasing features perfect to appeal to your little one!
Generally, these swim vests are not appealing to kids as they can feel tight and suffocating to the body. While safety is your number one priority, that only works if your child is willing to cooperate,  the comfort and style these safety devices provide will benefit both parent and child. We all know how sensitive, and dare I say dramatic, little one's can be especially when it comes to their comfort. As well as the importance of your little's safety is their comfort these safety devices provide ample comfort and mobility. There are several options that provide strapless options that eliminate the distinct possibility of chafing. If you absolutely desire the peace of mind that comes with knowing your little one is strapped in securely, there are options that come with fully adjustable straps so you can adjust to your child's comfort. The great thing about the devices on this list is they were chosen based on the same concerns everyone prioritizes as important when purchasing a product for a child You want to make sure you provide them with the highest quality and most durable products. Finding products that fully satisfy your long list of criteria can be a challenge. These amazing items provide safety, comfort, and durability while your little one is learning to face the water.
There are many different styles of swimming, all that work different muscles and provide physical development in a healthy and active manner. With longtime exposure to water your children will develop and gain of sense of confidence and well being while also making fun and long lasting memories.Confidence is such an important quality when facing something as vast as the possibilities that come with water. There are so many sensations to feel and things to explore. The water can be an amazing learning tool for your little one. Developing skills, physical strength, and the ability to confidently glide through the water.
During the summer you're looking for a way to keep your kids cool. They're also out of school and in need of some structure.  Swimming is an ideal way to burn off some energy and create long lasting and happy childhood memories. There are so many bodies of water all over the world. Starting as small as pools and as large as the ocean having ample exposure to this and the safety techniques that can be utilized to provide your child with a greater safety strategy. In contrast to being a common phobia, swimming is such a favorite pastime for many people. It's a great way to explore and adventure all while you have the safety backed by these devices
What Determined The Best Toddlers' Swim Vests in Our List
There were quite a few considerations when we took on this challenge. Of particular importance was the product's primary function of keeping your toddler afloat. This was very important since any problem in this function can significantly undermine all other qualities of the product. It simply won't matter anymore if it looks cool and fun. If it cannot keep your young child afloat, then what is the use of wearing one? If kids will still sink or can barely stay afloat in these devices, then there is a very high chance that they will develop fear instead of confidence treading in water. We wouldn't want that now, would we?
Once only those products that are guaranteed and certified to be excellent at keeping children afloat have been shortlisted, we then examined each one for their other characteristics. One of these was the level of comfort it provides to kids. Most kids don't like the idea of having a very bulky piece of vest wrapped around their torso even though we can help explain to them that it is for their own safety. As such, the products we chose were determined to provide the best in optimum comfort being a wearable device. It was also crucial to check for the ease of putting it on. However, it should also not easily come off as this will pose a significant threat to kids in the water. Other safety features were also considered.
The construction of the infant swim vest was also considered. Because these wearable devices will be subjected to exposure from the sun's ultraviolet rays, it was imperative that the materials used in its construction had some degree of sun protection. Some cheaply made products suffer from cracking because of the intense heat of the sun. This can severely degrade its overall integrity and hence, pose a threat to child safety especially in the water.
We also needed a way to validate our initial assessment. So we looked at existing customer satisfaction ratings for these shortlisted products to help determine which among these will make the final cut. We set the cutoff score to 4.0 stars so anything below it was automatically removed from the final list. Adding to this screening parameter was the reputation of the swim vest manufacturer. We only included those with unquestionable history in designing and making quality and safe swim vests.
Tips to Helping Your Child Feel More Confident Swimming
Swimming can bring a lot of benefits especially for kids. This is especially true for those who may have problems in mobility since the buoyant force of water will help lessen the effect of impact forces on the musculoskeletal system. That is why it is recommended that kids be taught how to swim, not only to let them reap the benefits of swimming, but also to help lessen the risk of drowning. Unfortunately, it takes time before children can really learn to swim with confidence. Here are some tips to build confidence in your child swimming.
Start young. There are now babies born in water environments. It is thus, recommended that babies as early as 2 months old should already be exposed to the joys of swimming.
Always make swimming a family bonding time. Young kids, especially babies and toddlers, will always have fear whenever they go in the water. One way to solve this is by showing that you, too, are confident swimming in these waters. Make sure that when you do swim, you're going to do so as a family.
Make a point of swimming on a more regular basis. Don't wait for summer to come before you head to the pool. There are indoor swimming pools that provide excellent all-weather swimming opportunities. Remember that, to build confidence, your kid must be able to do this on a frequent and regular basis.
Introduce a fun element to the swimming activities. Get some toys that you can use while your kids are building their confidence levels in the water. Additionally, it is better to let kids decide when they want to get in the water rather than you enrolling them in a class even before they are ready for it.
Choose the correct buoyancy aid. The reason why we had this article is because floatation devices are very helpful tools in building the confidence of young would-be swimmers. By the time kids are ready, you can easily remove these buoyancy aids.
The Bottom Line
Swimming is a great activity for the whole family. However, you need to prepare your child to really enjoy his or her time in the water. The 8 best swim vests for toddlers in 2018 should give you an idea of which kids flotation device will work best for your little one.
FAQ
Frequently Asked Questions
Q: What is the age/weight range for these products?
A: The ages range from 1-6 and the average weight for these products is around 30 pounds.
Q: Do these products have removable parts?
A: Some of these devices do feature removable floats or the ability to add more, this is great for little one's who are working on their confidence in the water.
Q: Is it possible to pick a color/design specified to my child?
A: Most of these water aids come in a variety of color combinations. In addition, some feature child friendly and aesthetically pleasing patterns.
Q: Will these devices ride up or will my child slip out?
A: Most of these devices are designed with your child's comfort in mind just as important as safety. There are  options with and without straps to provide a comfy and snug fit, without much harm to your little one's precious skin.
Q: Do these devices provide safety in all bodies of water?
A: There are a few devices here that are designed for extreme conditions. Some on this list are here merely, to provide support as an aid for swimming. It is never recommended, by any safety provider, that your child be left unattended in any body of water.
Q: Will these help a child who is unable to swim?
A: As not all on this list provide ample flotation,  all are excellent choices in providing a flotation aid. Some of these products are not recommended for children who have never gone in the water, there are some on here that will help encourage confidence in the water and the ability to be safely exposed to the fundamentals of swimming.
You May Also Like
10 Best Swimming Pools For Kids
16 Best Water Toys For Kids
15 Best Beach Toys For Kids
10 Top Sunscreens For Kids
5 Best Slip and Slide Inflatable Water Slides