Swimming is one of the best exercises for kids and adults alike. It can provide a host of health and social benefits that everyone can take full advantage of. That's why it is important to teach kids how to swim as early as possible so that they can reap all of the benefits of swimming early in their lives. Unfortunately, learning how to swim can have its risks. That is why it is important to take it one step at a time. And the very first step is to teach children how to be confident on water. To do this, you will need a flotation device that will help them get used to the feel of floating and cruising on water. With the 8 best swim vests for toddlers in 2018, we can safely say that you'll be on the right track towards helping your tot feel more confident about having fun in the water.
Our Top 3 Picks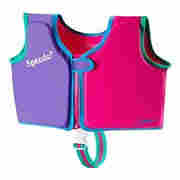 Speedo Kids Classic Swim Vest

Our rating
Sun Protection
Price:

See Here

O'Neill Wake Waterski Vest

Our rating
Safety Belt Between Legs
Price:

See Here

Apple Daisy Float Suit

Our rating
0 Sunblock
Price:

See Here

Stearns Child Classic Series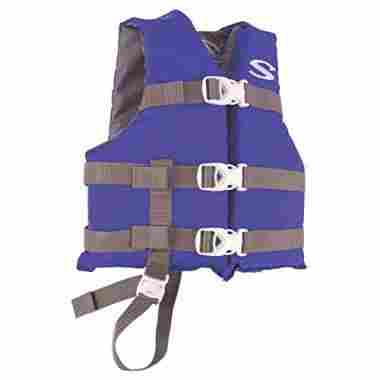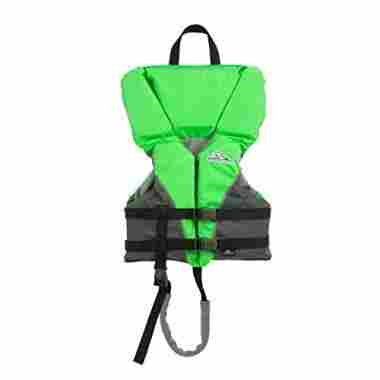 Dinosaur Swim Life Jacket
Begin to Swim Classic Swim Vest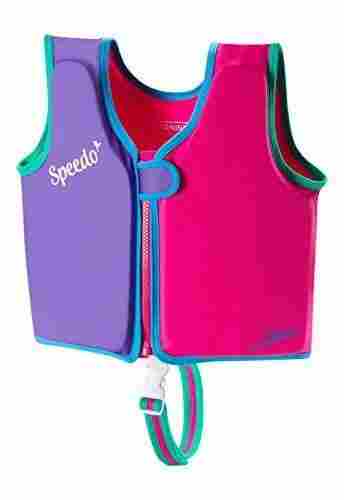 Begin to Swim Neoprene Vest
Stearns Infant Classic Series Vest, Red
Dinosaur Water Buddies Life Vest
Puddle Jumper Life Jacket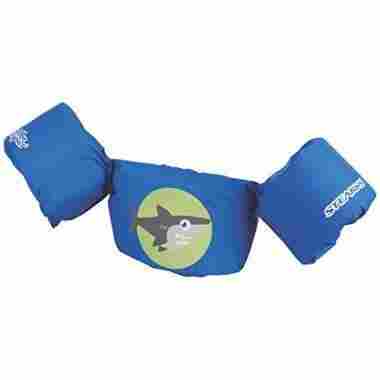 Onyx General Purpose Blue/Black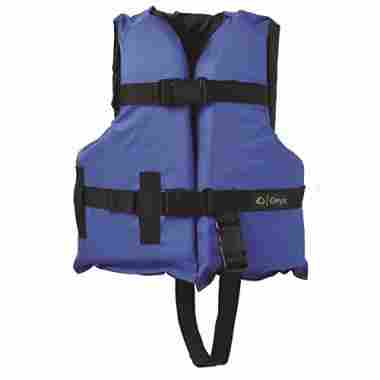 Criteria Used to Evaluate The Best Swim Vests & Jackets
Large bodies of water can be intimidating for little ones, and a fear of drowning is commonplace but understandable fear. Introducing your child to the water as early as possible can help them become comfortable and peaceful with water and it will help to develop skills in swimming. The items on the list help to provide a sense of peace and comfort to your child as they learn to interact with water while also maintaining safety as the number one priority.
These swim vests were chosen to be both comfortable and appealing to children. Some swim vests can feel very tight and suffocating, and others can irritate the delicate skin of children. Swim vests that allowed a child to move their arms and body freely to prevent any possible damage to their development and keep the child breathable were chosen. Children also like things that are eye-catching, fun, bright and beautiful so we chose swim vests with colorful designs and fun prints that will make any child want to wear them every time they interact with various bodies of water.
For any parent, safety will always be the number one concern. The swim vests were chosen for their ability to provide optimum floatation while in the water and other safety features included. One particular safety feature that stood out is the safety straps of the swim vests. The swim vests with multiple safety straps were more likely to be chosen instead of swim vests with only one safety strap. In addition to multiple safety straps, safety straps that were adjustable and had quick release buckles were chosen. Other safety features such as a grab strap for parents to grab hold of their child and built-in head/neck supports were considered too.
Lastly, other options we determined are needed in choosing swim vests included miscellaneous features such as built-in sunblock, cleaning and drying, multiple sizing, certifications and even the zippers. Swim vests with built-in sunblock provide broad spectrum to protect from UVA and UVB rays, but it doesn't mean you should skip traditional sunscreen. For cleaning, the swim vests on our list only require a wipe down and air dry on their own. Swim vests with adjustable sizing or provided space for the child to grow into were chosen.
Majority of the swim vests on our list are certified by the United States Coast Guard (USCG) and a few have certifications from professional swim and water sports organizations. The zippers were carefully examined to determine if they provided a full coverage zip and would stay in place while the child was active in the water.
Tips to Helping Your Child Feel More Confident Swimming
Swimming can bring a lot of benefits especially for kids. This is especially true for those who may have problems in mobility since the buoyant force of water will help lessen the effect of impact forces on the musculoskeletal system. That is why it is recommended that kids be taught how to swim, not only to let them reap the benefits of swimming, but also to help lessen the risk of drowning. Unfortunately, it takes time before children can really learn to swim with confidence. Here are some tips to build confidence in your child swimming.
Start young. There are now babies born in water environments. It is thus, recommended that babies as early as 2 months old should already be exposed to the joys of swimming.
Always make swimming a family bonding time. Young kids, especially babies and toddlers, will always have fear whenever they go in the water. One way to solve this is by showing that you, too, are confident swimming in these waters. Make sure that when you do swim, you're going to do so as a family.
Make a point of swimming on a more regular basis. Don't wait for summer to come before you head to the pool. There are indoor swimming pools that provide excellent all-weather swimming opportunities. Remember that, to build confidence, your kid must be able to do this on a frequent and regular basis.
Introduce a fun element to the swimming activities. Get some toys that you can use while your kids are building their confidence levels in the water. Additionally, it is better to let kids decide when they want to get in the water rather than you enrolling them in a class even before they are ready for it.
Choose the correct buoyancy aid. The reason why we had this article is because floatation devices are very helpful tools in building the confidence of young would-be swimmers. By the time kids are ready, you can easily remove these buoyancy aids.
FAQ
Frequently Asked Questions
Q: What is the age/weight range for these swim vests?
A: The ages for the swim vests on this list range from infant to kindergarten ages. The most common ages these swim vests focus on, however, are from a year old to three years old. The sizing of the swim vests start at 30 pounds and end at 50 pounds, but the majority of the swim vests have adjustable sizing.
Q: Do these swim vests have removable parts?
A: Yes, some of the swim vests have the function to remove floats or add more, and that can help a child with their comfort level, safety level, and confidence level while in the water. None of the removable parts negatively affects the swim vests or child.
Q: Is it possible to pick a color/design specified to my child?
A: Yes! The swim vests come with various options for colors and designs. Some of the swim vests have one design but multiple colors to choose from and the other swim vests have various designs with numerous colors.
Q: Will these swim vests easily slip off my child?
A: No. The swim vests on our list have multiple safety straps to help keep your child secured and there are some that come with shoulder straps to hold the swim vest in place so it will not ride up. The swim vests that have floaties are designed to keep the floaties from slipping up and down the arms.
Q: Do these swim vests provide safety for all water bodies?
A: The swim vests on our list were constructed for all bodies of water (lake, beach, pool, etc.) and water activities. There are a some that focus on kayaking, boating or pool activities but still used in all water activities. Most have United States Coast Guard (USCG) certification and will work in any body of water.
Q: Can the swim vests be worn by a child who can't swim?
A: Most of the swim vests on the list provide floatation, but there is some that focus on beginners' swim. Children who have water experience are the best fit for these swim vests, but children with no water experience can still use them. As always, the parent should provide optimum water safety for their child regardless of the swim vest.
You May Also Like
10 Best Swimming Pools For Kids
16 Best Water Toys For Kids
15 Best Beach Toys For Kids
10 Top Sunscreens For Kids
5 Best Slip and Slide Inflatable Water Slides