It's that time of year again… Spooky season! Every year it comes around and every year, we're sure that your teenager ends up in a rut trying to decide what it is they want to dress up as. With so many different options out there — some good and some that are just okay — it's hard to decide on what will truly make Halloween night the best it can be. Whether they're heading out to a party, attending a costume contest, going trick or treating, or even just dressing up to hand out candy, the costume you choose is always important. The one thing that seems to be common amongst most teens is that no one wants to dress up as something that someone else might be, because there's nothing more embarrassing than bumping into someone with the same exact costume as you. Not only is it awkward, but it brings about a sense of unoriginality… Something that you definitely don't want to feel on Halloween night!
In order to make sure your teen is dressed to the nines for their creepy day or night out, we've taken it upon ourselves to seek out the best, highest-quality, and most extravagant costumes out there. Anything from terrifying to silly and all that's in-between, we've got it covered. Whether it's a favorite character your teen is after or something a bit more eerie and scare-inducing, we've searched high and low for that one of a kind costume that is sure to make their evening that much more fun. With a little bit of face paint and maybe even a wig, there's no stopping them once they get their hands on one of these brilliant designs. We're breaking away from the trends, throwing out the days of dressing up as a witch, vampire, or mummy and bringing to you the hottest new trends and choices for the 2018 Halloween season. Standy by and prepare your spooks for some of the greatest costumes out there right now!
10 Best Teen Halloween Costumes Reviewed
1. Rubie's Women's Wizard Of Oz Dorothy
Was that a witch on a broomstick that we just saw? Just kidding, this is Dorothy we're talking about! Not only is this costume adorable for any age, but it's also pretty dang accurate to Judy Garland from the Wizard of Oz movie.
Expand to see more
"I'll get you my pretty, and your little dog, too!" You had to know that was coming, right? Dorothy is a tried and true classic that will never go out of style as far as dressing up goes, whether it's for Halloween or any other holiday. Not only is this costume very easy to pull off, but it requires minimal makeup or fussing in order to look great and genuine. Not to mention, everyone will know who you're meant to be! This costume by Rubie's features all the details that are found on Judy Garland's traditional costume from the Wizard of Oz movie, including that trademark blue and white checkerboard design as well as the classic white blouse underneath. This costume even includes Dorothy's trademark hair ties which really bring this whole outfit together and scream authenticity.

Benefits
You can't get much more innocent than Dorothy and she's a beloved character for fans of the movie as well as the original storybooks about the land of Oz. It's an easy costume that features plenty of detail and never gets boring, not to mention, it's great for any age.

What We Like About It
Although it seems like a simple costume, many costume companies don't often get the details right or put out cheap imitations of what it should be. Rubie's has taken the care to create an outfit that's authentic and looks the part and they even have options for the rest of the characters, too!
Pros
Authentic and comparable to the movie
Includes hair ties and basic outfit
Comfortable and breathable material
Sizing is fairly accurate
It's a classic costume
Cons
Does not include Toto, the basket, or the ruby slippers
2. Star Wars Deluxe Princess Leia
Once upon a time in a land far, far away... There was a Princess Leia costume. And your child totally rocked it, because girl power is important and Princess Leia has it in spades.
Expand to see more
Surprise surprise, this one is by Rubie's once again! They really are one of the leading contenders in online costume purchasing and have an excellent reputation, which is why they're always a welcome addition to our list. This Princess Leia costume is an officially licensed Star Wars costume, which means your child can count on it to be just about as authentic as it gets. Everything down to the material used is accurate as it's portrayed in the movie, complete with a flawless, white flowing dress and boots that look as though they were worn by Princess Leia herself. This costume was designed with comfort in mind especially since preteens are known for being hyper (especially on Halloween!) and allows for a fit of stretch in the fitting as well. The belt accentuates the detail in this costume and adds to the overall realistic look.
Benefits
For
fans of Star Wars
, this costume can't be beaten. There are plenty of choices for Princess Leia out there, but none of them is as true a classic as this outfit.
What We Like About It
The bit of stretch in the fabric used when creating this costume is a great touch that was added by Rubie's. Even if the sizing is a tad off, it still allows for a great fit due to the bit of leniency in material flexibility.
Pros
Comfortable fit
The costume is breathable and lightweight
Accurate to the movie
Sizing is on point
Includes all the basics
3. HEYMA T-Rex Inflatable
If this isn't something that walked out of a Jurassic Park film then we're not really sure what is. All we suggest is that you don't wear this on a super windy day, lest you want to see how the dinosaurs rolled rather than how they roamed.
Expand to see more
There's no way you haven't seen these T-Rex costumes around festivals or parades and if you haven't, then... Surprise! T-Rex has been taking the world by storm with these insane inflatable costumes and it seems that everyone wants to know where they can get their hands on them. This version by HEYMA is great for preteens and teens because it's easy to operate, features a see-through panel so that you don't walk into people in the process of eating them for dinner, and is fairly durable and won't rip very easily. If your child has a
love for dinosaurs
, then this will allow them to be the king of the prehistoric era in the silliest and most fun way possible. It features a mini air blower to provide enough air power to keep this costume inflated for hours as well as proper ventilation so it doesn't get too stuffy inside. We have to warn you though, this dinosaur towers over a whopping seven feet -- It might not be historically accurate, but that's pretty tall!
Benefits
This is a super popular costume right now and we can almost guarantee that your child will definitely be the hit of whatever party or festival he or she attends. Not only is it a great, original idea for a costume, but it's also hilarious!
What We Like About It
While this T-Rex might look like a pain to set up, it's really quite simple. Once the inflation device is set in place, nothing else needs to be done -- Your child will be good to go for the night!
Pros
It's fun and hilarious
Easy to operate and keep inflated
Towers at a height of seven feet
The fan blower is small and easily turned on and off
It's breathable and not too stuffy
Cons
There are no batteries included and the power pack needs to be purchased separately
4. California Costumes Howling at the Moon
We're sure your child will be howling in approval at his or her very first sighting of this costume. Whether or not it's werewolf-approved, we don't know -- However, it's best to try it out on Halloween night under the light of a full moon.
Expand to see more
Supernatural fiction is becoming more and more popular these days ever since the Twilight movies and the modern TV adaptation of the classic Teen Wolf. It's partially due to that, that we're finding a surge in supernatural Halloween costumes coming back which is what Halloween was all about at one point. This Howling at the Moon costume by California Costumes Toys is a great example of a traditional costume, taken up a notch. The best part about this costume is that it's insanely easy and nothing extra is required to make it look realistic. The costume is simply attached to the werewolf mask and features a plaid shirt with an appropriately hairy chest, because if you know anything about werewolves, you know they're not ones for shaving. Any type of pants can be worn with this costume as well as any type of shoes and if you do want to take it up a notch, a bit of fake blood is always a welcome addition. It's the perfect way to give a terrifying nod to the supernatural world and allow your child to be something creepy and a bit wild.

Benefits
This costume is about as simple as it gets without sacrificing quality in the slightest. It leaves a bit of room for creativity as well, allowing your child to pair it with whatever outfit choices they want.

What We Like About It
The fact that the entire top half of the costume is one fluid piece makes for an easy-on, easy-off approach, which is great when you're in a time crunch. It also cuts down on the frustration that most costumes produce when it comes time to looking perfect before walking out the door.
Pros
The costume comes in one piece
It's easy to take on and off
Can be paired with any type of bottoms
Authentic and decently scary
Allows for some creative freedom
Cons
The mask might be a bit wrinkled upon unboxing but can be remedied with a hairdryer set on "low"
5. California Costumes Girls Mad Hatter
You're late, you're late, for a very important date! It's called Halloween and we're sure your child is about to make a simply (teacup) smashing appearance with this modernized Mad Hatter costume.
Expand to see more
Everyone's favorite character from Alice in Wonderland, whether you're a fan of the old or the new, is the Mad Hatter. This costume has taken the idea of a silly, slightly crazy rabbit and turned it into something inspired by the modern-day movie, making it chic, fun, and playful. The colors in this costume alone are enough to make a statement and it's just exaggerated enough to make it obvious what it is your child is dressing up as. Looks aside, this costume is insanely comfortable since it features leggings, an oversized skirt, and a breathable short-sleeve top. It's a fun way for kids to dress up as their favorite character from a movie that captivated the hearts of many fans. It's also a nice nod to girl's costumes since the mad hatter is generally always portrayed as being a male character.

Benefits
The coolest thing about this outfit has to be its coordinating colors as well as the adorable mini top hat that comes with it. It's perfect for kids who love a bit of playfulness about their costumes and are silly and fun when it comes to dressing up.

What We Like About It
This costume didn't sacrifice anything when it came to designing something that's as comfortable as it is fashion-forward. No details have been lost although this costume is probably among one of the more comfortable options and that's something we really love.
Pros
It's a comfortable costume overall
Playful and fun
The colors are bright and vibrant
It's a nice variation on a traditional character
Features a classic Mad Hatter look
Cons
It does not come with the Mad Hatter's shoes
6. California Costumes Mysterious Mummy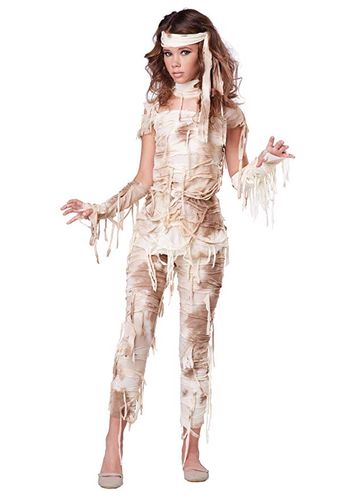 Get ready to be wrapped up in this idea: An updated, truly creepy mummy costume that's comfortable and features accurate sizing. It's such a scary good concept that it'll have you just tearing at the seams to get your hands on it... Do we get a drumroll for that one?
Expand to see more
We know what your idea of a traditional mummy costume is, but now we're going to show you ours! With the recent premiere of The Mummy Returns, it seems like there's been a surge in bringing back the traditional Egyptian-born costume idea of being a mummy. While many people remember days of being wrapped in toilet paper or random strips of fabric, we're bringing you the new and improved version of this eerie costume. It's been reimagined and turned into something much more modern, featuring a head strip that ties in the back, a velcro bandage choker, a stretchy shirt covered in fabric, and pants that are covered in fabric and designed with elastic to be as comfortable as possible. This costume has officially been turned into something that's cool and inventive rather than dated and traditional. We guess you can say the days of mummified costumes are in the past!

Benefits
It's the details that really make this costume rock. You wouldn't think that something such as a mummy would make such an impression, but with gloves that feature old, stained bandages and pants and a shirt that is just as appropriately aged, this costume really takes "mummy" to a whole new level.

What We Like About It
The re-imagining of this costume is truly creative and that's something we love to see when it comes to preteens and teens. Every costume needs a bit of updating now and then and this one is easy to wear, comfortable, and can totally be dressed up with the right makeup and hairstyle.
Pros
It's a great updated version of an old-school costume
Looks realistic
Features great details that help to sell its realism
Comfortable
Allows for a flexible fit
Cons
Buyers should be aware that the gloves are two different lengths
7. Rubie's Five Nights at Freddy's Foxy
We don't know what's scarier: The actual Five Nights at Freddy's video game or that this costume is so eerily realistic. Either way, it's bound to be a hit with your little teen and their spooky tendencies.
Expand to see more
In a world full of video games with a community that's growing more and more every day, there's no way that you haven't heard of Five Nights at Freddy's. It's a popular game amongst preteens and teens, therefore, of course, it's something that everyone is trying to dress up as this year. One of the characters in this horror game is a character by the name of Foxy who is intended to be scary, which is why we were pleased to see that this is a costume designed by Rubie's, which is already known for their excellent costume quality. This costume features all of Foxy's traditional attributes, even down to his creepy hook of a right arm. The costume itself is durable yet fairly lightweight which is important since it is a full-body costume. The mask is large to echo the characteristics of Five Nights at Freddy's characters but isn't obnoxiously heavy or stuffy like many tend to be.

Benefits
This is a great, trendy option if your child is looking to be something scary this year for Halloween. It's fun to see how costumes grow and evolve and now that video games are taking center stage, it's nice to see some variety in them as well.

What We Like About It
For being a full-body costume, this outfit is surprisingly comfortable for teens. Not only is it easy to put on and wear, but it'll likely keep them warm in the event that you get a chilly Halloween night... Which will only add to the creep factor!
Pros
Comfortable and breathable
Features accurate Foxy details
Easy to put on and remains in place
The mask isn't too heavy
Great option for a "scary" costume
Cons
Some thought the costume was a bit cheaply made
The hook is made out of fabric rather than plastic
8. Disguise Girls Uma
Uma is a fan favorite when it comes to the Descendents 2 movie and this costume truly does her character justice. Besides, who doesn't want to be a totally chic pirate for Halloween?
Expand to see more
If you have
fans of Disney
in your house, then you'll probably already know how popular the Disney Descendents movies are with preteens. Uma is a likable character in the series and her costume is somewhat a work of art, as they all are. In fact, Uma is often a favorite character of many who loved the second movie in the series which makes this costume all the more successful. These movies are fun, engaging, and all about magical, colorful characters who have special powers... Sounds like a good setting for Halloween to us! This costume is pretty complete as far as details go; it comes with Uma's classic dress, vest, belt, and even her trademark pirate hat. All of the color details are there when it comes to realism and truly looks like the outfit that she sported for the popular movie. Disney isn't known for having unoriginal character or ideas, which is why any costume from these movies is bound to be a hit.
Benefits
This costume allows kids to dress up as their favorite characters while still having a bit of creativity to make the costume their own. Disguise provides you with the basics but it's up to your child to bring it to life!
What We Like About It
Uma was certainly a fan favorite and we were thrilled to find that this costume has all the details that are immediately recalled from the movie. It definitely has us awaiting the chance of a third movie and anxiously anticipating a return to the Isle of the Lost.
Pros
Highly detailed costume
The colors are on point
Sizing is accurate
Includes all the basics for the costume
Great option for a pirate costume in general
Cons
The hat can be a bit flimsy
9. Spirit Halloween Connor Assassin's Creed
Assassin's Creed fans unite! Your child can now be everyone's favorite video game character. With the reputation of Spirit Halloween behind it, we can't imagine this costume not being as cool as the character it represents.
Expand to see more
We couldn't complete this list without including one more video game-inspired option in here and this one has quite the reputation. Assassin's Creed has become popular amongst kids of all ages and definitely has a following when it comes to RPG and action games. Connor, the main character, is transported back in time where he needs to take on the role of an assassin, and this is where his, and the player's, story begins. The game itself is captivating with an intense storyline which is why so many kids have a strong affinity for it and its characters. This costume is very accurate when it comes to representing everyone's favorite main character and features all the details that are seen in the games. Everything from the hood emblem down to the shiny silver buttons on the front of the cloak is both period-accurate as well as authentic to the design of the character. It's the perfect option for preteens and teens who follow the games and want something unique rather than a traditional costume.

Benefits
Naturally, you'd think that all of this garb would be heavy and challenging to walk around in. Surprisingly, it's quite the opposite -- This material is high-quality and very breathable, allowing kids to spend plenty of time wearing this costume without feeling uncomfortable or hot.

What We Like About It
It's all the extras that put this costume over the top, such as the belt with the traditional Assassin's Creed logo on it as well as the white hood with the silver emblem stamped on the front.
Pros
Very accurate to the character
Lightweight and breathable
The sizing is accurate and easy to follow
Designed by Spirit Halloween so the quality is high
Great for older teens
Cons
Does not include the pants or the boots
10. Forum Novelties Victorian Ghost
Welcome to Spookville, this is your annual dose of Halloween creepiness, spooks, and all things eerie. At least, that's what this costume says to us, anyway! Who would have thought the Victorian Era would become a Halloween theme? And a cool one, at that.
Expand to see more
What's the scariest thing you can think of on Halloween? Ghosts, of course! This costume by Forum Novelties is a beautiful imagining of a ghost from the Victorian Era. It's very unique and will definitely be a costume that not many of your child's friends are wearing. The best part is that this costume is comfortable and doesn't have too many pieces to play around with -- It's simple a dress and a hat, simple! While it's easy to put on, the details are what make it so special. If you look closely, you'll notice that there are actually skulls in the lace overlay of this dress as well as a velvet exterior lining on the bodice, two details that really bring this costume to life... So to speak, anyway. The collar, as well as the hat both, feature traditional Victorian designs that are true to the historical accuracy of the time period and help to convey a feeling of spookiness when this costume is brought together with a bit of makeup and a ghostly moan.

Benefits
For a two-piece costume, this outfit definitely isn't what we'd expect. It's high-quality and features details that you'd normally find on costumes that are at least twice the price.

What We Like About It
It's unique! You don't find many Victorian Era-ghosts wandering around on Halloween night and this is one costume that's not likely to be competing with any other. It also allows your preteen or teen to get as creative as they want in their face makeup and choice of shoes.
Pros
Historically accurate
Highly detailed
Only comes in two pieces
Comfortable and not too heavy
Unique
Cons
The sizing might run a bit small
Criteria Used in Evaluating the Best Halloween Costumes for Teens
Since your teenage years are really the last ones you have where you can actually get away with trick or treating, we thought it was important to provide you with some great options for your teenager. These costumes were evaluated based on several key factors that allowed us to rate, review, and scrutinize a variety of choices before ending up with then excellent options. When it came to finding costumes for teens, we had to first decide what was appropriate and what wasn't. In today's day and age, there are plenty of outfits out there that can be misconstrued as inappropriate, offensive, or just not playful in the least, so those were the first to be eliminated. Once those were out of the way, we moved on to the next critique — quality. A costume had to be designed in such a way that it would hold up to things such as a party, walking, running, and even jumping around and/or dancing. These costumes all had to be made well enough that they could withstand high physical activity as is seen by teens, especially on Halloween night. Everything from the material to the details had to be top-notch and made to last for more than one night and definitely through more than one dance… And potential jump-scare. Finally, we realized that it was also important to stick with what was trending right now. We had to take a hard look at what types of games, movies, and interests teens have nowadays and factor that into what became our final list of choices before deciding on a solid ten that teens would love.
Additional Factors to Consider: Allowing for Creative Freedom
Halloween is so much more than an Americanized creepy holiday designed for horror movies, parties, and candy. When it comes to teens, it can be a way for them to express themselves in ways that they can't on any other ordinary day. Before the days when cosplay was a popular idea, Halloween was really the only opportunity teens had to get creative and put together their own costumes, choose wigs, and work on a masterpiece of makeup before going out to show it all off. Today, that passion for creativity is still alive and well and is what makes the holiday so much fun. Whether their destination is going door to door, a party, or staying home on candy duty for the night, your teen should always have the chance to dress up as something or someone different, if only for one night. It helps to boost their confidence as well as their artistic ability and will make them feel good when they can show off what they've done to their friends.
The Social Aspect of Halloween
It's not uncommon for teens to attend Halloween parties, at which they'll, of course, need a costume! Parties, whether they're supervised at a friend's house or put on by their school, are an important way to socialize, create new friends, and building on existing friendships. Halloween allows everyone to come out of their shell a bit more and be who they are outside of school or the confines of normal society. It's a night full of fun and free-spirited nature (within reason) and can really help to broaden your teens' social horizon and encourage them to get out there and mingle. This is all made ten times better if they have an awesome costume to do it all in!
Teens Aren't Too Young to Trick or Treat
If it were up to us, we wouldn't put an age limit on trick or treating. However, society dictates that once you're past your teenage years, trick or treating is officially a kid's activity. This is even more reason to encourage your teens to dress up and get out there! This is also an excellent bonding activity if they have younger siblings. With all of the safe trick or treating that can be found in most towns, it's still very much the way most people with younger kids celebrate the holiday. Also, it's not just candy they'll be collecting… Exercise is also a great benefit of trick or treating! Kids and teens are often so excited about the thought of coming home with a bag full of yummy candy that they don't realize when they've already burned through 300 calories, just by simply walking around. If you think about it, one hour of walking is two days of recommended exercise… That makes a difference!
Some Halloween Safety Tips
While Halloween safety isn't something that many teens think of when they head out for the night, it's important to discuss this with them before they walk out the door. You can never be too careful and nothing is as it seems, especially on Halloween night. For starters, if they're going to be walking around in the dark, a safety reflector or safety reflector tape is always a good thing to have on-hand. It doesn't even need to interfere with their costume; simply by attaching tape to the backs, bottoms, or tops of shoes is enough to reflect light back. These reflectors can even be added to bags and backpacks if they don't come with them already.
Always go out in groups. No one should ever go trick or treating, or walking around alone, at night. It's also a good idea for at least one person in the group to have some type of communication device just in case of emergencies.
Never leave drinks or food unattended at a party. Regardless of whether it's at a friend's house or at school, it's never a good idea to turn your back on something you're going to be eating or drinking. If necessary, ask a friend to watch your plate or cup while you run to the bathroom, talk to a friend, walk around, etc.
Always tell someone where you'll be and don't deviate from the plan. If the plan ends up changing, make sure to contact a parent or guardian to let them know so that someone is aware of your whereabouts at all times.
Never eat candy from an unknown source. Even if you've inspected it, you can never trust food that comes from a person or place that you don't know. It's better to be safe than sorry and throwing out a piece of candy is much better than risking finding something foreign inside.
Most importantly, remain alert and vigilant at all times. Avoid walking into and through dark areas, cutting down dimly-lit alleys, and going anywhere by yourself. It's important that safety is the number one concern on Halloween and once that's ensured, the fun can begin!
FAQ
Frequently Asked Questions
Q: Where can I get extra pieces for this costume such as a button or emblem?
A: For something like that, it's best to check with the manufacturer's website, in this case, Amazon. Send the brand a message and request extras — We're sure it shouldn't be an issue.
Q: Where can I find what type of material these costumes are made out of?
A: That can be found on the product page under the "detail" section. All materials used should be listed as well as exact measurements.
Q: Do any of these come with express shipping?
A: The shipping options are available for your choosing just prior to checking out. Before purchase, the site will prompt you to decide on your chosen method of shipping before you check out.
Q: How does sizing work?
A: Each brand offers their own sizing and measurements which can often be easily found by scrolling through the pictures on the product page. It's good to pay close attention to these details, because some costumes may run small while others run a bit larger.
Q: Can these be machine-washed?
A: While we wouldn't recommend it, some of them can be washed on the low setting in order to avoid ripping or tears. It's best to spot-clean costumes, however, it only to preserve their integrity and ensure a longer life for them.
Q: Can it be sent back if I get the wrong size?
A: Yes, they are returnable. Each brand has their own return policy but Amazon will accept returns if the sizing is off in order to either send you a different size or work out a refund with the manufacturer.