When babies start teething somewhere around 4 to 6 months they start putting just about anything in their mouths to chew on. It is something that they seek out to get some relief from their sore gums. Most often babies will start with chewing on their hands and fingers, which can cause them to become red and sore. The last thing you want is a baby with sore gums and sore hands. Teething toys are a great way to help keep their hands out of their mouth and soothe those sore gums. There are tons of teethers on the market, but not all are safe. We have created a list of the best teething toys for babies. These teething toys are safe and will give your babies some much-needed relief.
Our Top 3 Picks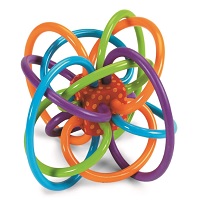 Manhattan Toy Winkel

Our rating
Sensory Teether Toy
Price:

See Here
Ike & Leo Teething Toy

Our rating
Reduces Discomfort
Price:

See Here
Baby Elefun BPA Free Silicone

Our rating
Gum Massaging Textures
Price:

See Here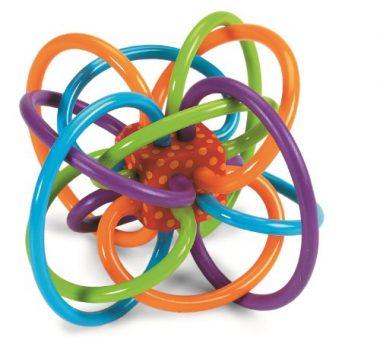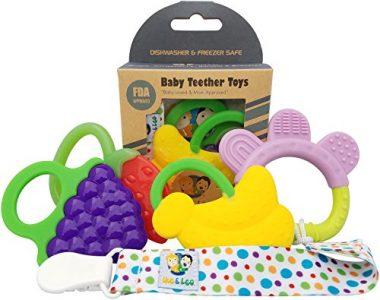 Baby Elefun BPA Free Silicone
The First Years Star Blanket
Vulli So Pure Sophie Giraffe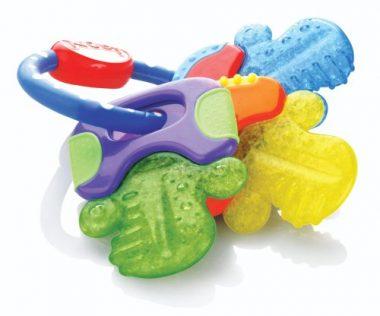 Ashtonbee Silicone 5 Pack
Comotomo Silicone- Orange
Criteria Used in Evaluation of the Best Teething Toys for Babies
When it came to finding the proper relief for those babies who are teething, there are many significant health factors that we considered. For example, we understand that teeth lie in our mouth, which ultimately is the route to our digestion and our immune systems. This basically means, anything we put in our mouths will eventually find its way into our bloodstream. Having this knowledge, has become pertinent over recent years to help combine efficiency and safety with what items and food we give our children. For toys, parents want to make sure that what their baby chews or eats won't cause them any bodily harm in the future. Some products on our list do contain a few unavoidable toxins, so its recommended that you do this extra research on your own and pay close attention to each product individually. However, that being said we've taken extra care to ensure these toys are some of the safest toys that your baby can chew on.
In order to know how to help ease our children's pain, parents must first understand the process that their body is changing and developing. Although, few remember, teething is a process we have experienced. Yes, it can be painful and may cause other disruptive symptoms like loss of appetite and your baby may even spike a fever.
The first set of teeth, which is also known as milk teeth, plays an essential role in the development of your children's mouths, speech and smile. These specific teeth start popping through on average around the time your baby turns 6 months. However, they can appear as early as 3 months or also as late as 1 year. These teeth have two major roles: the first is to mark and prep the eruption areas for permanent teeth to make way. The second is to maintain the arch length, to ensure healthy speech development.
We encourage parents to do their own extensive research since many teething toys out there do still contain some trace levels of BPA. Even some of the cooling gels and agents used on some products to aid in relief may leak after extensive use or improper treatment. It can be a lengthy process, but your child's health is always worth it. Also, as part of our evaluation and suggestion to parents, don't look for a quick and easy–or cheap–fixes! The more you do this, the more likely you are to get a product with toxins, or a product that peels and is a choking hazard. Even something like food- and medical-grade silicone can be deceptive.
Some research suggests simply some TLC as a form of relief to trade off extensive use of teethers. Simply holding your child, speaking to them, rocking them when fussy, or the gentle pressure of your finger in their mouth and on their gums can be more than enough in conjunction with the teething toys. By far it will make this first transition much simpler and smoother.
Basic Research
Teething is a very common and at times misunderstood phase of development in a child…in much the same ways that growing pains are! Past remedies and treatments for teething ranged from parents putting whiskey on their child's gums to allowing them to chew on a leather strap or a cured piece of meat! In the '70s and '80s, there was the advent of Anbesol and children's Tylenol to do the trick!
Luckily, we have evolved more as a society and tend to avoid giving our children toxins as we did in the past!  As with many things that have come to light, we can now see teething as an integral learning phase for both parents and children. Not only do teething toys help to alleviate gum pain, but the pressure also aids in strengthening the incoming teeth….this is one of the reasons that it is so vital to finding a teething toy which can also reach the back molars as well as the front teeth coming in!
It is even shown that teething toys and pacifiers have been helpful in speech and auditory development. This all has to do with the movement and placement of the infant's tongue. What a child has in his or her mouth effects what sounds they are able to perceive–discerning each vowel and consonant that comes in more distinctively than older children and adults.
What Determined the Most Popular on Our List
Choosing the most popular teething toy for babies is quite easy. Just look at the number of positive reviews and you should already have an idea of its popularity. Unfortunately, this is not the only thing that you need to consider. Our team of researchers also had to consider the overall safety of the materials used in the design and manufacture of the teething toy. The use of harmful chemicals in the finishing of the product is a big no-no for us. Additionally, we had to look at the overall quality of the teething toy as well as the trustworthiness of the teething toy manufacturer. More importantly, we believe, the best teething toy should be able to provide the necessary sensory and psychomotor development that babies need.
These factors have been carefully considered in each of the 10 teething toys we have included on our list which is why we are confident that you will also agree with our selections.
A Look at Your Baby's Teeth
You can look at your baby's teething as the process by which his or her very first deciduous teeth break through his or her gums. This usually occurs by the time your baby reaches 6 months old, although it is not uncommon to see babies as young as 3 months and as old as 1 year to have their very first primary, deciduous, baby, or milk tooth. What can be expected is that by 3 years of age, your baby would have already erupted 20 milk or baby teeth. During the first eruption, your baby's first tooth will most likely appear on the lower front of his or her gums. One to two months later, you can expect the upper front teeth.
You may wonder why we need to have baby teeth only to have them replaced by more permanent ones. Well, it's all about developing the oral cavity of your baby. You see, it is your baby's milk teeth that will maintain the arch length of his or her jaw. This is crucial because it is in these same places where their permanent teeth will develop. Milk teeth serve to guide the eruption pathway of your baby's permanent teeth. It also helps in the formation and development of the jaw bones and muscles.
But, did you know that the most important role milk teeth have to play in your baby's development is that they serve in the development of his or her speech as well as help improve his or her smile? We, as adults, are often so conscious about the appearance of our teeth. Among children, this can have a significant impact as well. Moreover, their nutrition may be affected if they don't have their milk teeth as they will have problems chewing and grinding some of their food.
Now, why do we need a teething toy? Well, remember the baby teeth will be breaking out of the gums which can lead to inflammation, causing soreness, swelling, and even some pain. Teething toys serve to relieve the pressure off your baby's gums. This helps them feel a lot better during the whole teething process. And since we are talking about babies, it is often a lot better to use a teething toy that can also help develop their other senses as well as psychomotor skills. This way, we are tending to the overall development of our babies.
Still thinking of the best teething toy to give as a present to someone you know? You can use our list of the 10 most popular. You will never go wrong.
Contaminant-Free
This is our first criteria for anything that goes in a baby's mouth. Having said that, "contaminant-free" can mean different things, depending on standards and regulations from various consumer safety agencies within, and outside of the United States. We've tried to be as helpful as possible by stating each product's non-contaminants policy, but we did make sure to select baby products that are BPA-free. Most of our picks are also free of contaminants like phthalates, PVC, lead, and latex. Some even go so far as to avoid petroleum, which is admirable. However, being completely free of any and all toxins is virtually impossible.
In all honesty, deciding what is safest for your baby requires speaking with your pediatrician. He or she can make recommendations based on your baby's unique medical and developmental needs. Babies with certain conditions, for example, may need to avoid very specific contaminants, and perhaps even certain shapes and textures that can pose physical hazards. Your pediatrician may also recommend specific cleaning and sterilization methods, such as boiling in hot water and air drying, rather than using the dishwasher.
Construction
It's best not to underestimate your baby's strength, even at just a few months old. Early teethers may have fragile gums, but they can still gnaw through weak, poorly made toys. We want to assure you that we've chosen teethers with proven durability, thanks to innovative construction methods and durable materials. Solid constructions can come from numerous processes, such as individual knotting for beads, one-piece construction for loops and beads, or the usage of premium-grade silicone.
Premium-grade silicone, i.e., 100 percent medical- or food-grade silicone is particularly important for water-filled teethers since these are meant to be extra-soft for very young, sensitive gums. However, water can leak from the unit if the material doesn't hold up time and time again. That's why we made sure to only select teething toys made from the highest-grade materials. The combination of premium materials and sound manufacturing techniques is the key to making safe, effective products for all your baby's teething needs.
Versatility
Teething is arguably the most unpredictable process in a baby's development. Some babies are born with one or two teeth, others don't have teeth even by the first year. There's also no way to predict how long it will take your baby to have a full set of teeth from the time the first ones come in. That means your baby can go through many different stages of teething over a long period of time. Hence, versatility–specifically, adaptability–was one of our primary criteria when we looked at baby teethers and teething toys.
Versatility can be seen in many features, such as beads of different shapes, different grades of thickness and flexibility, and varying textures such as ridges and nubs. Our teether picks encompass one or more of these features to give babies a well-rounded chewing experience that will grow with them, even into the toddler years. Some of our picks are also appropriate for children with oral motor disorders or developmental disorders like autism. However, they should only be used for these purposes upon recommendation from a licensed pediatric specialist.
FAQ
Frequently Asked Questions
Q: Are these toys safe to put in the fridge or freezer?
A: Yes and no. It is not recommended to use these toys in the freezer as extreme temperatures can compromise the integrity of the toy's structure. They can, however, be put into the refrigerator to provide your little one with a cooling and calming sensation that can help to reduce inflammation and gum irritation.
Q: How can I effectively wash these toys without causing them damage?
A: Extreme temperatures, as mentioned above, can cause damaging effects. There are some products that state they are designed to withstand that kind of heat. If you find yours is not one of them, or just don't care to take that kind of risk, you can rinse them in warm soapy water. Let them soak for a few minutes. Scrub in a circular motion as this action can help to agitate and lift bacteria from the toy's surface. Finish with a rinse and let them sit to air dry. Be sure the toy is completely dry because moisture creates a perfect environment for lingering bacteria to regrow.
Q: I've noticed my baby drooling more excessively with a teether, is this normal? Can I prevent this?
A: Babies drool, this is unavoidable. If you find with these toys, your baby is drooling more excessively than before, it's because the extra stimulation causes more salivation. Keeping a burp rag or extra cloth on hand will help you with the clean-up. Consider also switching toys out regularly as this can help minimize drooling. Differing textures will provide stimulation to different areas of the mouth and gums, helping to break the amount of occurring salivation.
Q: Does my child receive any long-term benefits from the use of these toys?
A: In an unexpected light, these toys can help babies and toddlers gain a basic understanding of the concept of cause and effect. They experience pain and discomfort and are given a solution to solve their problem. This creates a pathway in their brain to reinforce their understanding of finding a solution. These toys help children learn very early on about problem-solving.
Q: Are these toys safe to use with other teething aids like gels?
A: This choice is entirely up to you as a parent or guardian; teething gels don't alter or affect a toy's effectiveness. If you are already open to using teething gels, then you can apply a small amount to the surface of the toy or even directly to the gums. However, if you are concerned about your baby's exposure to harsh or toxic chemicals, you may want to avoid teething gels altogether as some do contain ingredients, which while proven to relieve pain and swelling, can also cause damaging effects to the liver and kidneys.
Q: Is silicone better or more effective than plastic?
A: There is so much controversy around the use of plastic these days. In recent years, we've seen how its chemical make-up has had some undesirable effects on our health, not to mention our planet. We highly recommend using silicone-based toys as they are FDA-approved, better for the environment and may be safer and less harsh for your baby's delicate, growing body.
Q: Is a solid teether better than a gel-filled toy?
A: Both solid and gel-filled toys provide their own lists of benefits, so choosing between the two is easier than you think. Consider your baby's developmental level. To determine which is best for your little one, consider at which stage of teething they are currently experiencing. For example, your baby, aged 3 months, may experience increased tenderness as their teeth are brand new and still breaking through the gum's surface. A solid teething toy may apply too much pressure to your baby's delicate gums. Additionally, consider how experienced your baby is with chewing or gumming as new objects in the mouth can be a little off-putting or frightening, a softer or gel-filled toy will be less abrasive. If your baby is a little older and has already been exposed to some solids, then a firmer toy is likely to be more effective.
Q: Are silicone teethers safer than plastic?
A: As a general rule, we would advise going with silicone, although there are other FDA-approved thermo polymers that can be made perfectly safe. The benefit to silicone is that it's extremely durable and flexible at the same time. It's also freezer-friendly and chills quickly. The safest, highest grade of silicone is medical-grade, like Bebe By Me's cookie teethers. However, 100 percent food-grade silicone has been approved by the FDA as being safe, especially when it's free from contaminants like BPA, phthalates, and PVC.
This is another area where your pediatrician's input may be needed. Depending on your baby's overall health, he or she may recommend medical-grade silicone, which has the advantage of being the same silicone used in hospitals. Your pediatrician may also recommend specific sterilizing techniques since germ control is just as important as the grade of material.
Q: Would any of these teethers work for older kids?
A: Quite a few of these teethers do work wonders for older kids with oral motor problems. They've even been known to calm down children with the developmental disorder when they act out at home or in public. Of course, you should always get your doctor or therapist's approval beforehand. Kids with autism, for example, may need a really thick, meaty chew to calm them down when they're at peak frustration levels. In such cases, it's nice to have different chewing levels to fit your child's needs.