As your toddler is hitting the age-2 mark, it is time to start letting them sleep on a pillow. But the question is, "What kind of pillow do I buy my toddler?" Adult pillows just do not work for toddlers. They are disproportionate to their bodies. Toddlers need something that is smaller, allowing them to sleep longer, provide great support for their posture, and is safe. There are specialty pillows on the market that have been created with all these points in mind. So how do you select the best pillow for your toddler? We have researched some of the best and most popular pillows on the market and then created this list, which details the top 10 toddler pillows on the market and why they made our list.  With all this information, you can be informed and ready to make your decision with ease.

These are our Top 10 Best Pillows for Toddlers.  
Our Top 3 Picks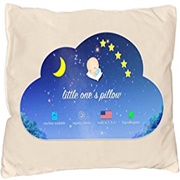 Little One's Pillow

Our rating
Organic Cotton Shell
Price:

See Here
Little Sleepy Head Pillow

Our rating
Hypoallergenic Cotton
Price:

See Here
Dreamtown Kids Toddler Pillow

Our rating
Poly/Cotton Blend
Price:

See Here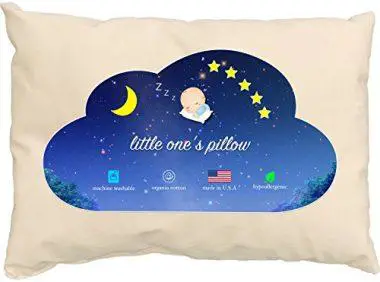 Little Sleepy Head Pillow
Dreamtown Pillow With Pillowcase
TODDLER PILLOW in White & Print
Calla Toddler Pillow Soft Organic Cotton
Toddler Pillow with Pillowcase
Clevamama ClevaFoam Pillow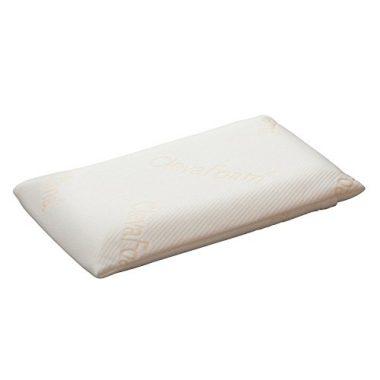 Zack & Ali Toddler Pillow
Criteria Used in Evaluation of the Best Toddler Pillows
When reviewing pillows for this top 10 list, we like to keep three key factors in mind. Of those three factors, safety is of the highest priority and concern. Above all else, we want children and parents to feel both safe and secure when purchasing or sleeping with these pillows. Comfort is right below safety on our priorities list, but comfort is still a high and weighing factor in this top 10 list. If a pillow isn't comfortable, is it really a pillow? We don't think so, and that's why every single toddler pillow on this list scores high in comfort and support. We want your child to sleep seamlessly through the night, with no troubles or late-night aches. And, finally, the last factor that goes into our evaluations is durability. Pillows should not only be comfortable but durable enough to maintain their shape and comfort throughout the years. All the toddler pillows on this list will last your child far beyond toddlerhood with maintained shape, comfort, and support. For a more in-depth discussion of these three key factors, please read the segments below.
Safety
As previously stated, safety is a very high concern for us, especially when sleep gear is involved. The last thing a parent wants to think about when putting their child to bed is the possible dangers. All the toddler pillows on this list are the pediatrician-recommended size of 19 x 13 inches, perfect for a wonderful night's sleep. This size not only means the pillow is sized perfectly for toddlers, but it also means that there's no excess fabric or pillow posing a suffocation threat. Most of the pillows on this list are also hypoallergenic for those sensitive tots.
Comfort
A pillow is not a pillow unless it's comfortable and supportive. For this top 10 list, we only chose pillows that score wonderfully high in comfort for our sleeping angels. To avoid neck pain, back pain, and future damage to the spinal cord, only the softest and supportive pillows were placed on this list. Now, comfort is different for every person. Some of the pillows on this list are memory foam, while others are a blend of polyester and cotton, and others are pure cotton. We included these different materials and levels of support to meet the needs of all toddlers. Because all children are different, they deserve a pillow especially made for them.
Durability
Right up there with comfort, is durability. Durability in a pillow sense means how well that pillow can keep its shape, how long it keeps its shape, and how long it lasts overall. We don't want you to pay for a pillow that goes flat within a month, so all the pillows on this list have high shape durability. With proper care and washing, all the pillows on this list should keep your little's head supported and cozy for years to come. Ideally, a good toddler pillow should last your little one from infancy past toddlerhood. And we expect all these pillows to do exactly that!
What Determined the Top Pillows on Our List
It's not easy to come up with a shortlist of the top toddler pillows simply because there are so many of them and each one has its own strength and weaknesses. Some are cheap. Some are expensive. Some are filled with feathers while others are filled with synthetic fill or other filling material. There are also those that provide excellent guarantees while others boast of medical approval. The point is that each toddler pillow can come with its unique advantages and disadvantages. And this is what our team of researchers had to scrutinize to bring you our list of the top 10 toddler pillows in 2019.
Scrutinizing each toddler pillow means looking at the level of comfort it provides to young children. We also had to look at the materials used to ensure that it doesn't contain any chemical that might be harmful to young kids particularly the presence of allergens. We had to look at the ease of cleaning and maintenance as well as other product features that may play a role in your decision to buy one. Our team also had to make a meta-analysis of the different consumer reviews of these products. Lastly, the overall trustworthiness and credibility of the toddler pillow maker were also examined.
Overall, we believe we did a really good job of bringing to you the top 10 toddler pillows available in the market today.
Toddlers and Pillows
Experts agree that pillows are not advisable among very young infants especially those who are below 18 months old. The reason for this is quite simple. Young infants still don't have the necessary psychomotor skills to correct their sleeping position in the event that they turn on their tummies and suffocate. It is the risk of suffocation as well as Sudden Infant Death Syndrome that is a major cause of concern and why pillows are not advised for use among young infants. In fact, the Consumer Product Safety Commission reported that there were nearly 700 deaths among infants no older than 12 months of age from 1992 to 2010. While this figure may seem small, two-thirds of these deaths were attributed to the use of pillows as well as thick quilts which, unfortunately, overcrowded baby's sleeping space. This provided the impetus for the government and child safety advocates to intensify their campaign against the use of pillows among young infants to help prevent SIDS.
So, when can our kids start using pillows? Experts say that there is no clear-cut age as to when children can start using pillows. It is generally regarded however that young children up to 3 to 4 years old do not necessarily need pillows. However, if you choose to give your kids a pillow, it often coincides with his or her transition from crib to bed. Some children may have their own beds at a much younger age while others may still require a crib depending on their growth and development patterns. Nevertheless, the general rule is that young children can start using pillows right when they have graduated from their cribs and into their own beds.
There are also other cues you can observe to tell you that it's time for your toddler to use a toddler pillow. For example, if your child is having difficulty sleeping because he or she needs to prop his or her head, then that would be a sign he or she needs a toddler pillow. If your toddler always rests his or her head on his or her favorite stuffed toy or even on a rolled blanket, then that is a sign you need to buy him or her a toddler pillow. If he or she feels a lot more comfortable resting his or her head on a throw pillow on your couch or even in your bed, then maybe you should start considering giving him or her a toddler pillow. You can also look at the shoulders of your baby. If the shoulders are wider than his or her head, then it's usually more comfortable for your kid to sleep with a pillow.
But, here's the catch. The pillow they should use should not be just any other pillow. You cannot just hand him or her your own pillow so that you can economize. The anatomy of the neck and shoulders of young children are quite different from that of adults. If you give toddlers an adult pillow, you are essentially putting a strain on these structures because adult pillows are not designed to accommodate the head, neck, and shoulders of a growing toddler.
Now, it is equally important to get a toddler pillow that is made of hypoallergenic material especially if you know that your toddler has asthma or allergies. It is often advisable to buy a toddler pillow that is made of organic materials as these are effective in repelling dust mites. Toddler pillows made of organic materials are also known to be effective against certain microorganisms and are free of any toxins or any substance that can initiate an allergic reaction. Good examples of organic pillow fill materials include kapok, natural late, buckwheat, and a combination of milkweed or syriaca and goose down. As much as possible, steer clear of synthetic materials like polyester fibers and polyurethane foam. Organic fillers are naturally more expensive, though.
It is also advisable to strike a balance between support and comfort, meaning between the firm and soft, respectively. Here's a tip. If you press on the toddler pillow and it doesn't return to its original shape, then that pillow is too soft. Too soft a pillow can increase the risk of suffocation while sleeping. If, however, upon pressing on the pillow and it is as stiff as a rock, then perhaps it is too firm and your child's comfort will definitely suffer.
You may also want to look at the thread count of the pillow cover you are considering. Here's a general guideline-–the higher the thread count, the softer the fabric will feel, and the more comfortable it will be for your toddler. And since we're already talking about the pillow cover, you might want to look for a material that is also made of organic fibers.
Lastly, although not really a big deal, you may want to look at the washing instructions. We are talking about toddlers here who are one of the greatest explorers in the world. That means they will be exploring every nook and cranny of your home. So, it's usually a good idea to make sure that both the toddler pillow and pillow cover are machine washable.
With our list of the top 10 toddler pillows and our comprehensive guide on toddler pillows, we are positive you feel more empowered to make the right decision. After all, it's not only the comfortable sleep of your toddler we are after; it's his or her full growth and development as well.
FAQs
Frequently Asked Questions
Q: What exactly are toddler pillows?
A: Toddler pillows are pillows specifically designed for children between the ages of 8 months to 2 years old. Children this young cannot sleep with adult-sized pillows because they run the risk of suffocation and smothering. Because adult pillows are so large and thereby pose a risk to young toddlers and babies, toddler pillows were designed. Typically, toddler pillows are a half to a third the size of adult pillows.
Q: When does my child transition from newborn to toddler pillows?
A: This can be a tricky answer, only because each child is different and each parent is different. Honestly, when you feel most comfortable with your child sleeping with pillows is when the transition should happen. If by 2 years you haven't started incorporating pillows into their bedtime, then you should consider starting.
Q: Should I buy hypoallergenic pillows?
A: If your child is highly sensitive to most fabrics, then hypoallergenic is the probably the safest route to go. Always test out new products with your child in small doses, though, just to be certain they won't have any adverse reactions.
Q: Are there dangers to buying hypoallergenic fabrics?
A: While hypoallergenic fabrics are meant for sensitive children and toddlers, they sometimes have the adverse effect. To gauge if hypoallergenic materials are right for your children, see how they handle small quantities of hypoallergenic fabric. You can give them a small swatch of hypoallergenic fabric and see if they have any adverse reaction. If no spots or irritation occurs, then you are good to go. If you do notice red spots or irritation, then it's probably best to not purchase hypoallergenic products.
Q: How large should a toddler pillow be?
A: Ideally, you are looking for anything between 17 x 11 inches and 19 x 13 inches, but the latter is the recommended size by most pediatricians.
Q: Do toddler pillows come in different sizes?
A: Toddler pillows are generally 19 X 13 inches, as recommend by pediatricians. The reduced size prevents suffocation risks from excess fabric and fluff.
Q: What's the difference between foam and filled pillows?
A: Foam pillows, typically memory foam, are one continuous piece of engineered foam for support and comfort. They usually have a soft, downy like covering to help protect the pillow itself and to help provide even more comfort to the sleeper. Regular pillows, on the other hand, are filled with some kind of fluff, usually a mix of cotton and polyester, and rely on this mixture as the main component of support. While memory foam pillows don't bunch up or cluster like regular pillows do, it's extremely difficult to fluff or unflatten a memory foam pillow.
Q: Are foam pillows more comfortable than regular pillows?
A: Honestly, comfort is all up to the individual. While some find foam pillows more comfortable, some find them extremely hot and lacking in support. Heat-sensitive toddlers or toddlers who require a lot of neck support might not like foam pillows. But, as previously stated, all babies and toddlers are different. So, what might work for one child, might not work for another.
Q: How can I keep my toddler's pillow from going flat?
A: When a pillow goes flat, it loses a lot of its cushion and support. To combat this issue, routinely turn the pillow to prevent from losing all that comfy, squishy goodness. Also, to maintain its shape, fluff the pillows routinely also. This will prevent all the filling from collecting on one side or bunching up.
Q: How can I properly clean a toddler's pillow?
A: Usually, the covering or casing of a pillow can be machine washed on a gentle setting. Unless the casing tag states otherwise, machine washing is very effective. However, the pillow itself is a different story. Machine washing a pillow will cluster up the filling, making it lumpy. Some can handle a machine washing and drying, but always check the label before attempting to clean your pillows.