10 Best Toy Cars for Toddlers & Babies in 2019
last updated
Oct 22, 2019
Is your little one already feeling a need for speed? There's no need to wait until they are sixteen to give them their first car, at least not a pretend one. Both babies and toddlers love to play with toy cars and we love for kids to play with them. As your little one grasp and push their cars across the floor they will be improving their fine motor skills. They will strengthen their muscles and hand-eye coordination as they move across the floor to retrieve them. The toy cars will encourage your child to use their imagination and engage in pretend play. They will begin to make real-world connections as they realize their toys look like the objects they see when going for a ride. Making real-world connections helps stimulate your child's cognitive development. You can even use their toys to come up with fun games!
In a Hurry? The test winner after 21 hrs of research
WolVol Push and Go Friction
Why is it better?
Three pack of quality cars
Each car comes with a driver
Wind-up action; no more push-play
Durable plastic material
Bright, well-executed paint jobs
In a
Hurry? Editors choice:
Test Winner: WolVol Push and Go Friction
13
Researched Sources
21
Hours Researching
15
Products Evaluated
Entertainment Value
Materials
Physical Development
By Default
10 Best Toy Cars for Toddlers and Babies Reviewed
1

. WolVol Push and Go Friction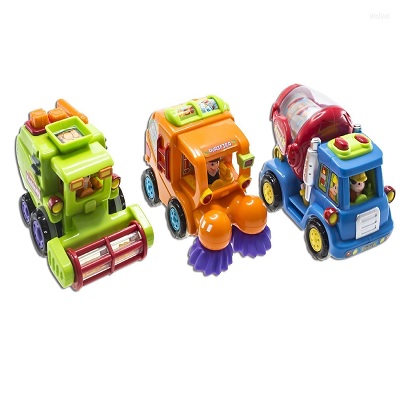 Three pack of quality cars
Each car comes with a driver
Wind-up action; no more push-play
Durable plastic material
Bright, well-executed paint jobs
Product does not run efficiently on carpeted floors
Push and Go cars have an extra special place in the hearts of most children. These cars operate much like a wind-up toy: pull them back to get them ready and then when you release them, they zoom onto the track all on their own! With three adorable little cars that each have their own special mission and driver, kids will go crazy over this set.
Read more
Entertainment Value
If push-action vehicles just aren't cutting it for your family anymore, this is a sturdy upgrade. The cars roll on their own without complicated assembly or even a need for batteries. Simply pull the cars back to wind them up, then release them to watch them zoom off into the distance. They work best on hardwood floors, can withstand careless toddler fingers, and appeal to young children from ages 10 months to 8 years, according to customer reviews.
Materials
Brightly painted and made from durable plastic materials, this three pack of friction-powered cars will provide your child with hours of fun. The set includes a street sweeper truck, cement mixing truck, and harvester truck. All three include a miniature driver, which is a darling addition but unfortunately not removable.
Physical Development
These cars allow some freedom and introduce children to the idea of toys engineered with simple scientific principles. Each vehicle can drive on its own for a few feet if the user simply rolls it backwards to build friction and momentum, and then sets it loose.
2

. VTech Pull & Learn Car Carrier
Encourages pretend play
Stimulates learning of numbers, colors, and animals
Comes with 3 cars & 3 characters
Little People figures can fit inside the cars
Pull string could be longer
Get your kids up and moving alongside their favorite car with this pull-along toy. VTech has created a great, innovative interface. You can stack all the cars and characters onto the main carrier or use them on their own. Plus, children can work on their numbers, colors, and animals while they play!
Read more
Entertainment Value
When the tiny cars are not inside the carrier, they can even be hooked together for added fun. As your little one plays with the car carrier they can press the buttons on the CB radio like a real trucker. The buttons will introduce your child to colors, numbers, and animals. The bright lights and sounds are sure to keep your little driver entertained.
Materials
The removable CB radio encourages pretend play, which is crucial in your child's development. If you own any of the little people figurines, they can join in on the fun as they fit inside each car. The pull feature is great for children who are in the process of learning how to walk.
Physical Development
The lights, sounds, extra cars, and characters are all features of this car that your child is going to love. The buttons on the removable CB radio will teach them numbers, colors, and animals so they can learn while they play.
3

. Fisher-Price Smart Stages Crawl Around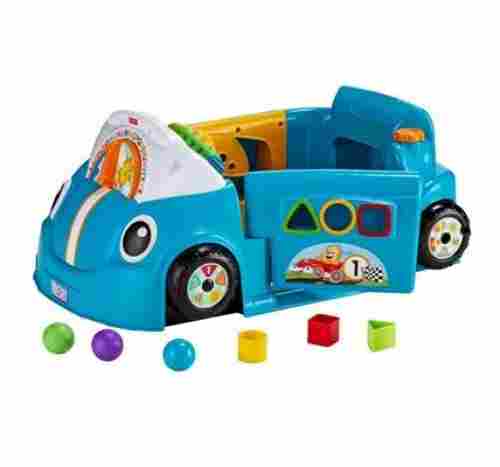 Over 75 songs and sayings
Light up dashboard
Fun balls and blocks for added activities
Kids can comfortably sit in the car or move it around
Three different learning stages
Multiple users found defective volume controls on their unit
Buckle up! Your little one can make a day of driving around the house in the Fisher-Price Smart Stages Crawl Around Car. As a Laugh and Learn toy, it's equipped with lots of interactive features for your child to enjoy. And the design is tailored to provide age-appropriate fun and learning for children from six months to three years of age!
Read more
Entertainment Value
With over 75 sing-along songs and phrases, kids won't get bored of this anytime soon. An interactive dashboard lights up and makes sounds that stimulate young senses and keeps curious little hands, eyes, and minds busy. There are three modes of play and the car can be used as a stationary setup or kids can crawl, stand, pull up, and move around inside of it! The car comes with several accessories that help to improve children's categorical and counting skills throughout their creative adventures.
Materials
This car is big enough for toddlers to take "onto the town" (aka around the yard and house). It measures at 29.8 in x 9 x 16 inches and weighs roughly nine pounds so you can count on it being durable and holding up against excited hands and feet. The package includes the car itself as well as three colorful balls, a ramp for them to slide down, and three blocks that are different shapes and fit inside the cubbies in the car door.
Physical Development
Kids will enjoy enhanced motor skills and dexterity, increased muscular strength, fun imaginative play, and so much more. The blocks and their matching cubby holes help children to better understand shapes and categories. The balls can be used for counting as well as hand-eye coordination. And with lots of tunes, phrases, and pretty lights, kids will be stimulated throughout their playtime. The three learning stages of this Fisher-Price winner are the "Explore" stage which encourages first words and sounds, the "Encourage" stage which gives baby simple prompts and questions, and the "Pretend" stage which allows children to engage in role-playing.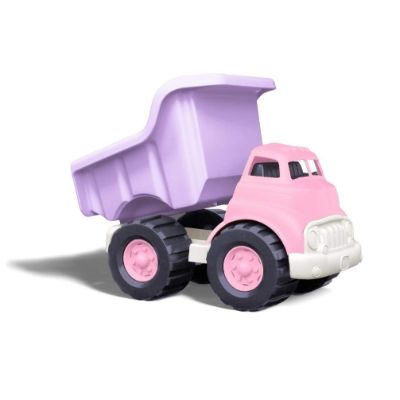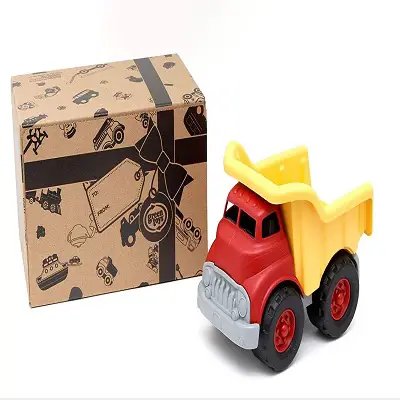 Eco-Friendly/ BPA free, made in the USA
Aids in Development
Great teaching tool for the importance of recycling
Easy to Clean
The truck can be noisy on hard surfaces
Made from 100% recycled plastic the Green Toys Dump Truck is an eco-friendly fun toy for your tot. This dump truck has a workable dumper that is great for sandboxes, hauling rocks across the yard, and even learning about the importance of keeping our planet clean. Your child can even roll their truck through the house. When purchasing you can choose between three different color schemes to fit your child's taste.
Read more
Entertainment Value
The giant plastic wheels make it easy for your child to roll this truck over a variety of terrains. You don't have to worry about limiting your little one's adventures because this truck can easily be cleaned. After a long day hauling and dumping simply wipe it with soap and water or toss it in the dishwasher. With this dump truck your child is free to let their imagination run wild and haul anything they can fit in the back.
Materials
We only get one planet earth, which is why we are thrilled that this toy is made from 100% recycled plastic. The variety of color options available for this truck makes it easy for you to pick out one that your child will love.
Physical Development
This eco-friendly truck encourages the development and growth of both gross and fine motor skills while also helping to expand your child's imagination, creativity, and confidence!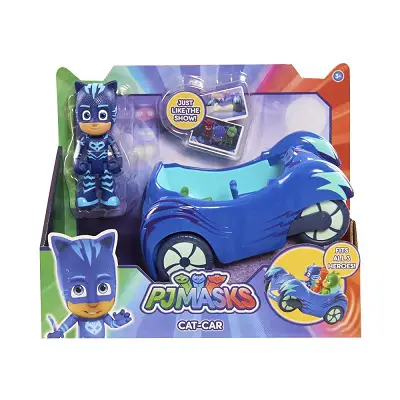 Three-inch poseable action figure
Comes with super vehicle
Compatible with other cars and headquarters scene
Accurate depiction of your kid's favorite PJ Masks characters
The car is push-play and does not make a noise like some other PJ Masks vehicles
Jump into the fray with your little one's favorite PJ Masks character and their very own action car! These adorable sets include one poseable figure in the likeness of the hit television series' characters and a push-play car they can fit into. The sets are compatible with other PJ Masks toys and encourage fabulous creative play!
Read more
Entertainment Value
Each set in this particular line includes the hero and their car, so browse for Owlette and Gekko to complete the squad. Join the fun and pounce out crime with your Catboy and Catmobile set, made for ages three and up.
Materials
"Race into the night, to save the day!" This PJ Masks figurine is fully articulated and comes with his own Catmobile. The figurine is roughly three inches tall and compatible with the other cars in this series as well as with the PJ Masks headquarters playset.
Physical Development
Creative play helps children build narratives, empathize with characters, and engage their imaginations. These figurines and cars are all sized to be compatible with each other and the headquarters playset, giving your child plenty of room to explore in the PJ Masks world.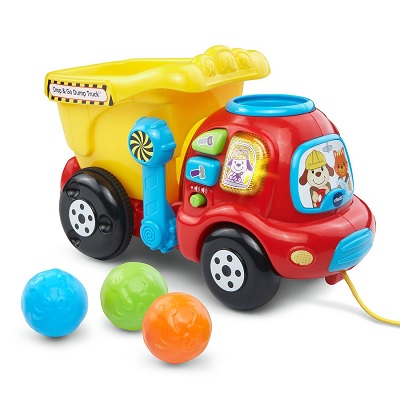 Improves motor skills
Increases child's knowledge of numbers as the truck counts
Push & Pull feature aids in bone development as it encourages your child to move
Includes truck sounds to further increase pretend play.
The string should include a knob so little hands could grasp it better.
VTech's Pull-Along Dump Truck creates ample opportunity for learning and sensory stimulation. Drop the colorful rocks into the top of the truck and watch them roll into the bed. Kids can count along with their toy, and once all boulders are in the truck bed, they can pull it around the house and watch the debris bounce about in the back. Push the buttons on the side for added fun with construction site sounds!
Read more
Entertainment Value
The buttons on the side of the truck encourage your child to press them so they can hear fun melodies and phrases. The preloaded phrases will help teach your child numbers and colors. Children between the ages of 6 months and three years will love watching the rocks rumble in the bucket as they make their truck move.
Materials
With the VTech Drop and Go Dump Truck your child decide how they want to play. This truck is designed as a push and pull along toy. Three color "rocks" are included with the truck. Don't worry, the rocks are actually plastic balls. They are big enough to fit in your child's hands so you won't have to worry about them choking. Your little one can drop the rocks into the truck and watch them fall into the bucket. As your child pushes or pulls the truck the balls will rumble in the back.
Physical Development
This is a fun learning experience for very young children. They learn a little about dump trucks, improve gross motor skills, and learn fine motor skills. Pulling on the toy helps develop leg and arm muscles. Lifting the dump bucket allows the 'rocks' to roll out, helping to develop arm and finger muscles. Older kids can use their imagination and create short scenarios.
7

. Melissa & Doug Pull-Back Set
The fabric of the cars are soft & lightweight
Comes with four cars
The Detachable velcro makes these cars easy to clean
The Colorful Designs appeal to your child's sensory development
It may be difficult for your child to pull back the vehicle on their own in the beginning.
The highly trusted brand Melissa and Doug are at it again. Their K's Kids Pull-Back vehicle set is loved by babies and toddlers everywhere. We know that parenting keeps you busy, and the last thing we want you to have to do is to spend hours on cleaning. The velcro strap makes cleaning these cars hassle-free.
Read more
Entertainment Value
This set includes four soft lightweight vehicles, a car, police car, fire truck, and a school bus. To make the cars travel, simply pull back and let go. Your child will have a blast chasing after the vehicle to retrieve it. The speed is perfect as you won't have to worry about them shooting into your walls after you let go. The cloth part of the vehicles attaches to the wheels via a velcro strap. When you're ready to clean them simply undo the velcro and toss them in the laundry.
Materials
Composed of a lightweight fabric, your little one will easily be able to grasp and carry each car. The kid-friendly character faces on each car, the passengers inside, and the animal drivers will stimulate your child's imagination and have them excited to play.
Physical Development
With each car being brightly colored, your child's color awareness will increase. Pulling back on the cars will develop their fine motor skills while retrieving them will keep your child active.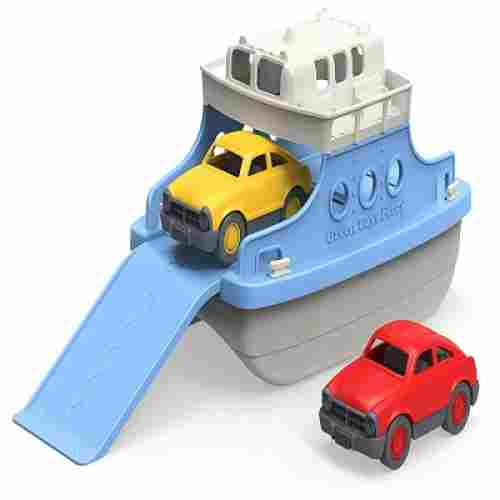 You'll get joyful smiles at bath time instead of crying when your child discovers this boat in the tub.
Cars are colorful and sturdy and can be played with outside.
There is room inside the boat for little people or other toys.
Encourages imaginative storytelling. Where is the ferry going next?
Nice nautical detail on the boat.
When the ramp is pulled out in the water, it can pull the water in so the boat sinks.
There's disagreement as to whether the cars sink or swim.
All aboard! Bath time doesn't need to be stressful. Kids will look forward to playing with this darling ferry and the cars trying to cross the big tub of water. The toys are safe to play with, in or out of the water and the ramp even detaches from the boat so it can sail safely without any of the cars rolling out. And since it's a Green Toy pick, you can feel good about your purchase, as their toys are all manufactured from 100% recycled materials.
Read more
Entertainment Value
Along with the floatable ferry boat, you will receive 2 mini cars that fit on the lower deck of the ferry. The ferry's unique design will prevent it from rolling over in the water. When purchasing you can choose between a blue and white or green and white ferry boat. All Aboard!
Materials
It's made of environmentally-friendly materials. The fact that it can be used during bath time is something that will help facilitate fun, imaginative, and interactive play.
Physical Development
While this set is geared towards bathtime, feel free to take it to the pool, lake, or beach. Actually, the durability of the plastic material makes this a great toy to be played with anywhere. The slide-out ramp and open design of the boat give your child the opportunity to add their favorite action figures onto the ferry. Their imagination will be working hard as they set sail!
9

. Melissa & Doug Nesting & Sorting
Buildings are colorful and have a coating on them to resist damage from liquids
Buildings sit next to or on top of each other so there is no snap in place action to worry about.
Garages can be rebuilt and rearranged at will.
The cars are numbered and are made of wood. So cute and vintage.
Kids have fun matching colors and numbers, then counting the cars on the backs of the garages.
The cardboard garages may not hold up well with rough and tumble boys.
Number 7 garage should be the largest to communicate the idea that "7" is larger than "1".
Kids can work matching skills, as well as increase recognition of colors and numbers with this handy set. The object of the game is to match up the colored and numbered cars with their appropriate ports. But no one says those are the only rules; kids can choose all kinds of creative adventures for these little wooden buggies!
Read more
Entertainment Value
Match colors and numbers, count cars on the back of the garage, or play hide the car and have your child find it. So many possibilities!
Materials
The Melissa and Doug cars set comes with seven wooden cars and garages. Each car is a different color and is designed with a number on the front. The garages are designed to match the car with the corresponding number. As the numbers increase the size of the cars and garages decrease so that your child can make one tall tower. Both the cars and garages are lightweight and can easily be grasped by tiny fingers.
Physical Development
You can teach your toddler about colors, numbers, counting, and building with this unique garage set from Melissa & Doug. The little wooden cars alone are worth it just because they are so cute and engaging. Add in the garages, and this set becomes extraordinary. Add in the exercise of muscles to increase gross and fine motor skills, and the set is complete.
10

. Green Toys Scooper Vehicle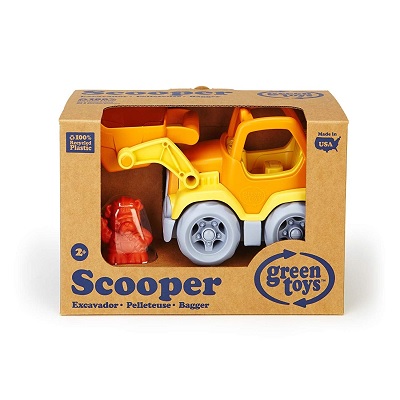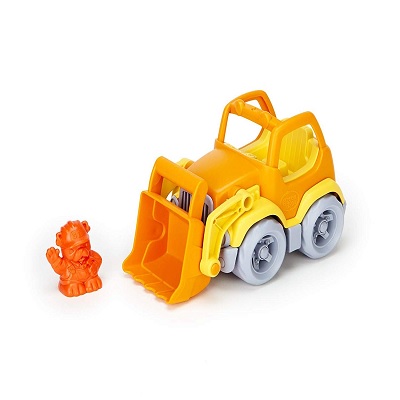 Just the right size for small toddler hands.
Fits nicely in diaper bag to take to the park or beach.
Kids build muscle by pushing the truck around on the floor.
Can be incorporated into cooking by chopping veggies and putting in the scooper.
Stands up well to being played with and is dishwasher safe.
Parents think the scoop should be a bit bigger and easier to use.
May be too small and too basic for some kids.
This scoop-action vehicle is ready to help tidy up the imaginary construction site. With a functional mechanism, kids can actually scoop up small objects into their truck and drive them to a new space to be deposited. The car comes with a sweet little Puppy Project Manager to oversee that everything is in order.
Read more
Entertainment Value
Spending most of your summer days in the sandbox? Be sure to take the Green Toys Scooper vehicle with you on your next trip out to the sandbox. Made from 100% recycled plastic there's no scooping job this truck can't handle. Completely free of BPA, PVC, phthalates you can relax while you're child scoops away. Included with your purchase is a construction dog who fits perfectly behind the wheel of the truck.
Materials
After this truck's busy day of scooping, toss it in the dishwasher for a good cleaning. The recycled plastic makes this truck highly durable. The bright colors of the truck will not only appeal to their sensory development but also get them excited for play time. Carpet, tile, sand or gravel the wheels on this truck can handle them all.
Physical Development
The toy is perfect for beach and sandbox play and can help stimulate imaginative and creative pretend play. This also helps in the enhancement of your kid's gross and fine motor skills as well as his or her problem solving skills.
Criteria Used for Evaluation
Entertainment Value
Toy cars can also help toddlers develop their understanding of the world around them. Many of these products have features that are similar to the real ones. Some have blinking lights and realistic sounds as well as other interactive features that help facilitate the learning of the alphabet, numbers, shapes, and colors.
You can teach colors and speaking their names. The same with numbers. Point to the numbers and say the number and ask your child to repeat them back. Continue this with the names of buildings like a garage, car wash, and so on. Play games and hold conversations with your child, using the words that he has learned. Repetition enhances learning, so the more you repeat, the better your kid will learn and develop.
For additional stimulation and learning, get toys for your child that can be taken outside to play with the cars and construction vehicles in the sand, for instance. Playing in the sand provides new feelings of touch. The rough sand, it's weight, and it's warmth are all sensory inputs that your child can enjoy.
Play in the pool with the ferry boat. That toy combines the cars with the boat and is loads of fun to play with in the water. The water builds muscle and playing with the boat in the water creates scenarios for imaginative fun, problem-solving, and storytelling.
Materials
Safety is of utmost importance. We make sure that all toys on our lists are safe for the age group it is meant for and that it doesn't have tiny parts for kids under 3 years of age. We look for toys made with nontoxic plastic and colors. And if it supports a green earth by being made of recycled products, all the better.
The safety of a product is dependent upon the manufacturer so our list contains toys made by reputable companies which produce safe and beneficial toys for kids. We have companies on our list that have been in business for many years, and who have built their reputations on the safety and usefulness of their toys.
Physical Development
In the toddler years, kids are sponges. There is so much sensory input that, for an adult, it might be overwhelming. But for a little child, their minds and bodies seem just primed to take in all of the sights, sounds, smells, and textures they can find. They grow so fast that it's mind-boggling.
Besides sensory information, these little ones are very active and their muscles grow and strengthen just by playing. Playing is their work, and it's really fun for them, and for adults to watch.
Giving children toy cars to play with helps develop physical attributes such as gross- and fine-muscle development, eye-hand coordination, grasping, standing, and vocal development. Add building blocks to playtime with cars, and kids can imagine and create so much more. They get more to play with and get even stronger, using different sets of muscles.
Kids play and learn self-control, how to share their cars, learn how their world is ordered, become exposed to opposites like stop/go, open/close, and up/down, for instance. By around 2 years of age, you may see them putting their cars in some kind of order by colors or by what they are used for. Kids learn to count their cars and are helped along when the cars are numbered or ordered by color or some other attribute.
Most Important Criteria
(According to our experts opinion)
Experts Opinion
Editors Opinion
Users Opinion
By Default

Parents, Did You Know?
You can go on by teaching colors and speaking their names. The same with numbers. Point to the numbers and say the number and ask your child to repeat them back. Continue this with the names of buildings like a garage, car wash, and so on. Play games and hold conversations with your child, using the words that he has learned. Repetition enhances learning, so the more you repeat, the better your kid will learn and develop.
Parents, Did You Know?
We research each toy to make sure that they support the improvement of cognition, logic, and reasoning ability. Do kids pick up on the concepts of opposite meanings, colors, cause and effect, and a sense of a timeline? Does the toy help a child to count and learn about numbers being bigger or smaller, more or less? We try to get as many toys as possible with all desirable benefits as we can. Some toys don't, and that's ok because other toys will have the missing features.
Parents, Did You Know?
By age 18 months, toddlers are ready to bring their gross-motor skills to the next level while at the same time reinforcing their mastery of fine-motor skills. They already have excellent control of their hands and fingers, making it perfect for holding baby car toys. Pulling on their toy cars can help strengthen their leg muscles while at the same time help develop coordination and balance.
Other Factors to Consider

Logic
Kids grow up in their cognitive development, learning about sequences of events, learning by imitation, colors, sharing, size (ie: bigger vs. smaller), etc. In later toddler years, your child will start learning words, identifying what an object is: car, block, spoon, pot, train, truck, and so on. Thus, a child's imagination and creative mind begin growing, until, eventually, they start drawing pictures, telling stories, making objects with their blocks, and so on.
During later toddler years, children start imitating their parents' speech. They learn sounds, then words. You can use your child's play with cars to teach vocabulary. Teach your kids the parts of the car, like, wheels, door, trunk, horn, window, etc.
Frequently Asked Questions
q:

How do I know if my son is ready for a certain car toy?

a:

It seems all kids love cars, boys especially. Girls like them too, some especially when they have people figures inside of them. You have to know your child, and you need to do your research. Take advice from experts. When your son is starting to grasp objects, he may be ready for an age-appropriate toy car. There are numerous articles online. You should also be able to just try a little car or grouping of cars and see if he is interested. If not, put it away and try again in a few months. You can't really do this wrong. Just make sure there are no small pieces that could present a choking hazard.
q:

How can I find out if there is a lead in my child's toy?

a:

Lead poisoning is a serious condition and should be treated right away. Lead sometimes is found in dust, soil, or paint, though the problem of lead in paint has been known about for many years and mostly eliminated. But many toys are made in other countries, so they may still be a problem.

If you have concerns about your child's toy having lead in it, your best bet is to call your local health department for information. There are home test kits out there, but at this time, they are considered unreliable.
q:

My child has a ridiculous number of toys, including lots and lots of cars. He seems a bit overwhelmed by all of them, but he got them all as gifts. He often has trouble choosing. What should I do?

a:

A delicate situation, I imagine, as you don't want to offend the gift givers. But you have to ask yourself if this is detrimental to your child, and it sounds like it may be. Maybe you can start by putting some of the toys away for the time being. Keep your child's choices limited. Then ask questions and encourage him to make a decision. You can use this as an opportunity to teach decision-making–even if your child is young, have him make the choice. Explain to the gift givers what is happening and tell them you will rotate all the toy choices from time to time so nothing is wasted. Most people will understand.
q:

What do you mean by learning "opposites?"

a:

This is something playing with cars is really helpful with. Toddlers, as they grow, start learning concepts like how to solve a problem, names of objects, and what it means to drive. One such concept is learning about simple opposites. Some opposites they learn playing with cars are stop vs. go, forward vs. reverse, up vs. down, fast vs. slow, and so on. They learn by doing.
q:

I would like to interact and play with my little boy more. How can I use cars to do that?

a:

Cars are wonderful for playing with your child. Help him make up games in which you chase each other or race your cars. Or take turns driving the car. Teach vocabulary, counting, colors, and sounds that are part of the car's make up. Use ramps, garages, and car wash buildings to make up stories.

You can do even more by combining the cars with blocks. Help him build the ramps and buildings and create a whole neighborhood for the cars. Ask your child questions to help him bring out his creativity. The possibilities are endless.