Role playing is one of the most important types of play that all children have to experience. This type of play introduces them to a lot of common activities of daily living. One such activity is cleaning the house with the use of a vacuum. While your kid may not really have to operate the real thing, we're pretty certain they will love role playing with the 10 best toy vacuum for kids in 2018 that we are going to share with you. When the right time comes, they'll already be helping you vacuum your home.
Our Top 3 Picks
Dirt Devil Junior

Our rating
Very Real Lights
Price:

See Here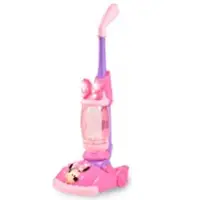 Minnie Bowtique

Our rating
Bow that Twinkles
Price:

See Here
Dyson Toy Vacumm

Our rating
Turns and Twists
Price:

See Here
550 Electrolux Vacuum Cleaner
Play Circle Neat Home Playset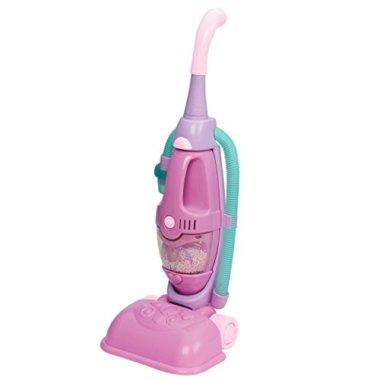 Brilliant Basics Corn Popper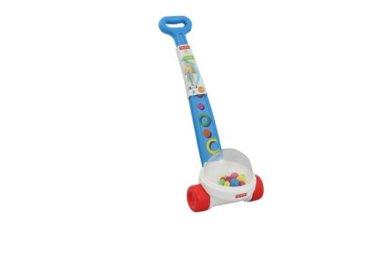 Green Plastic Toy Vacuum Cleaner
My Lightup Vacuum Cleaner
My First Kenmore Detachable Hand Vacuum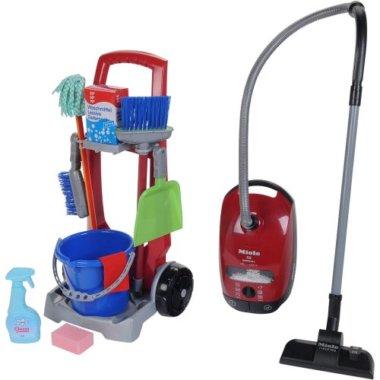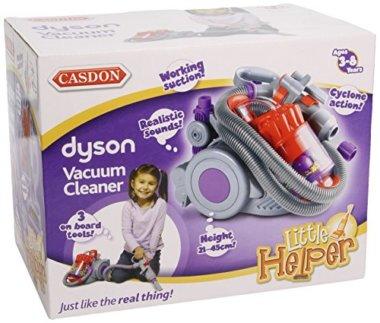 Dyson Ball With Real Suction
Age Range: 3 to 9 years old
Dirt Devil Junior Upright
Age Range: 3 to 7 years old
Criteria Used to Evaluate The Best Kids Vacuums
Before you purchase any product, it's important to consider certain aspects of it to make sure that it is safe for your child. While making this list, we constructed a criterion that would help us decide the best products for your child. Though we cannot claim to know every single product in the market, we believe that we did enough research to get a broad range of products.
Safety Level
The utmost important part of the criteria is to know the safety level of a toy before you purchase it and give it to your child. The toy vacuums should be suitable for the age of the child for whom you are purchasing it for. The play vacuum should have as fewer smaller parts included as is possible, as those can be choking hazards for younger kids. The toy vacuums that include beads and blocks are generally better suited for older children.
The kids vacuum should be constructed of non-toxic and durable materials. They should be battery powered to prevent the risk of electrocution. They must also have cords that are manageable to reduce the risk of strangulation.
These are only a few of the points that should be looked at when purchasing a toy vacuum for your child, regardless of their age.
Attractive Features and Design Aesthetics
If a toy does not attract the attention of your child, chances are that they won't want to play with very often. Aspects such as LED lights, vibrant colors, balls, and bows (for example), can be quite attractive to younger kids. These aspects will attract your child to start playing with it, but features like wide song ranges, swirling balls, clear chambers, indicator lights, and realistic sounds will keep them engaged.
It's also important to read parents reviews on each of the products. They are the most likely to be honest about a product and how their child felt towards it. Though this does not mean that your child will feel the same, it will allow you to have a general census.
Why Are Toy Vacuums Great for Your Child?
Toy vacuums can be a great playtime activity. They help your child to grow their sensory skills. Aside from that, toy vacuums can be great for children with sensory processing disorders. Since these kids usually have auditory defensiveness, which means that they are hypersensitive to sudden and loud noises, vacuums are generally not their favorite machines. This hypersensitivity extends to the range of everyday objects, such as the bark of dogs, flushing toilets, loud laughter, sirens, and hairdryers.
The sound of toy vacuums isn't one that younger children love. But as they get used to these toy vacuums, they'll begin to get used to the sound. Aside from that, toy vacuums are great for encouraging imaginative play, which is great for social, mental, and physical development.
Through roleplaying while using a toy vacuum, children have the opportunity to improve their motor skills. They can learn about cause and effect. they can develop social skills through sharing their toys and picking up new phrases.
How We Chose the Top Kids' Vacuum in Our List
In the course of our research, we had to keep reminding ourselves that we are looking for children's toys and not the real household appliance that has clearly made our lives a lot more convenient. Unfortunately, most of the kids vacuum that we have seen are all so realistic that they don't leave something to the child's imagination anymore. We were always reminded by our resident child psychologist to make sure the products we chose are those that can stimulate children to use their imagination or somehow use their own thinking in the actual use of such roleplaying or make believe toys. This was the very first parameter that we had to look for. The product that we had chosen must be able to provide some form of mental stimulation among kids.
Since we're already looking at the developmental benefits of these toys, we also examined other areas of child development that can be impacted by these kids vacuum. The different features on the product were identified and then carefully analyzed as to their full developmental benefits. Closely related to this is the appropriateness of the toy to the child's developmental age. For instance, you simply cannot give a kids vacuum that really works to a young tot, there are play vacuum for toddlers designed with this specific age group in mind.
We also looked at the overall safety of these toys as we don't want to endanger our kids, especially the young ones. If the product runs on rechargeable batteries, it was imperative that these were UL tested and certified. There must also be no removable small parts that can become choking hazards especially for younger children.
The company's status in the toy industry was also considered. We know only the trustworthy manufacturers can be relied upon to provide us with consistently high quality and safe toys for our kids.
Why You Should Encourage Your Child to Role Play
There are many reasons why role playing can be very beneficial to children. If you're wondering how role playing can help your child, then read on.
Role playing is all about learning through play. It is both fun and educational for your child. It is fun primarily because kids are able to use their creativity in defining the different roles that they would like to play. For instance, in vacuuming the house, while they may see you how you vacuum your home, they may want to put a little fun to it by adding some music and dance to their play. For them, vacuuming is a fun activity. For us, it's household chore.
For the most part, role playing is educational as it helps provide for the more effective development of language and communication skills on the part of your child. They also learn to explore and experiment with a variety of things which are essentially the hallmarks of a well-functioning cognition. They also learn about how certain things work. For example, in our list, we have included some with cyclone action allowing children to get an idea of how things work in the real world.
Obviously, there are other benefits of role playing among children. The important thing to understand is that they are simply acting out the things that they see in their world and combine these with how they want them to play out in their minds.
The Bottom Line
Cleaning the house is one important task that everyone needs to learn. While these vacuums are merely toys, they are nonetheless very important tools in introducing children to the concept of house cleaning and to give them the instrument for make believe play.
FAQ
Frequently Asked Questions
Q: Where Can I Get These Products?
A: All the products on this list can be purchased from Amazon. However, some of the prices may be cheaper elsewhere. In order to find the best prices, you should research stores online and in stores.
Q: Why Are the Products Listed Only for Children Over the Age Of 3?
A: The age range is mostly concerned with the weight of a product. Also, some of the product include small balls which may be a choking hazard for younger kids. For younger children, it's recommended that they were supervised while they are playing.
Q: How Can I Ensure That I Receive the Best Products?
A: Though we can never claim to know the exact quality of every item in the market, we have thoroughly researched each item on this list to ensure that it meets the standards. All the products on this list have a multitude of positive reviews across the market.
Q: Why Do the Prices Vary So Much?
A: The price is solely based on the brand and the provider. Some products on this list are pricier than others as they are manufactured by bigger and more expensive brands. The quality is said to be higher, however, the rest of the items on the list are affordable but still offer you great quality.
Q: How Young of a Child Can I Give a Vacuum To?
A: There are no specific age requirements as each child is different. The children who are taller than average at a younger age might be able to play with this before others. However, we did include some that were ideal for those children that are still learning to walk. The simpler the vacuum, the more ideal it'll be for a younger child.
Q: What do I do if the accessories get lost?
A: Most of these items that come with additional 'accessories' can be attached or stored onto the actual body of the vacuum. Some of them do contain smaller colorful balls that are more likely to get lost. You can purchase similar sized balls from other stores, or you can use household items as a replacement.