Choosing the right kind of toys for a 2 year old girl means you have to fully understand their developmental needs. From their psychomotor needs to their cognitive, language, and communication skills, and to their personal, social, and emotional development, the toys that you are going to choose and eventually give as gifts or presents should address these developmental milestones either by developing them or enhancing them further.
Unfortunately, choosing the most appropriate toy for two year old princesses may be a little daunting as there is literally an ocean of toys out there all claiming to be developmentally- and age- appropriate for little princesses. You don't have to worry because we are here to help you choose.
Monster Bowling Set

Our rating
Weighted Bottoms
Price:

See Here
LeapFrog Picnic Basket

Our rating
Ages 6-36 Months
Price:

See Here
Green Toys Car

Our rating
100% recycled plastic
Price:

See Here
 20 Best Toys & Gift Ideas for 2 Year Old Girls
Monster Plush Bowling Game by Melissa & Doug 
If you love bowling then your 2 year old princess will surely love the Monster Plush Bowling Game. The 6 bowling pins are colorful monsters that are nevertheless friendly-looking. They will remind you of the different monsters on the Muppets or even on Sesame Street. The bowling ball is also a beastly creation, but nonetheless fun to bowl around. The set comes with a convenient carrying case.
Benefits – What makes this toy so beneficial for your child is its versatility and potential for imaginative playtime. With the fun monster characters, your child can pretend the monsters are anything and everything! Not only does this expand their imagination, but playing with the super soft monsters develops their tactile senses and gross motor skills. By setting them up and knocking them down, feeling the different textures of their fur, your child will engage a wide array of senses while having the time of their life.
What We Like about It – The plush monster characters mean there's no danger of your 2 year old hurting herself. It's great for enhancing gross motor skills and your kid's hand-eye coordination, focus, and concentration.
Pros
Soft textured materials.
Carrying case included.
Enhances the imagination.
Develops gross motor skills.
Strong hand-made stitching.
Cons
Not easily used on carpeted floors.
Bowling pins are not stabilized.
LeapFrog Shapes and Sharing Picnic Basket by LeapFrog

One of the things that 2 year olds must be able to slowly learn is to share things with other kids. This can be done through cooperative play. For little girls, they can play with the Shapes and Sharing Picnic Basket so they'll explore the different colors and shapes of the play food items that come with the set. It also includes plastic dinnerware, cutlery, and other accessories. Opening the lid will play classical instrumental music as well as sound effects.
Benefits – Another great toy for imaginative play, but what really makes this toy amazing is its share ability. Invite children over for a fun play date and watch your child learn how to share, communicate, and interact with their peers in a fun, imaginative space. Co-operative toys like this are great for shy children, or children who have trouble coming out of their shell because it gives them a safe and familiar space to interact with others.
What We Like about It – It's a great way to introduce the concept of picnics to small kids. It also helps reinforce hand-eye coordination and motor skills especially in holding the different utensils. The learning basket can also be an excellent tool for stimulating sensory development in kids.
Pros
Develops fine motor skills.
Enhances the imagination.
Easy storage and clean-up.
Interactive music and effects.
Cons
The product is not BPA free.
Barbie Tough Trike by Fisher-Price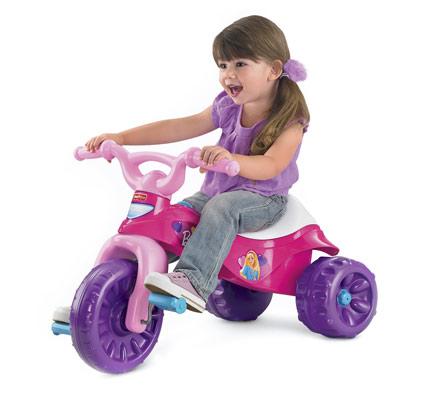 Little girls aged 2 years old are considered little explorers like Dora. You can help them explore their surroundings better with the Barbie Tough Trike. With a wide rear wheelbase, your two year old girl will have no problems cruising around the neighborhood in this purple and pink trike. She can literally take the trike anywhere for optimum off-road fun.
Benefits – The perfect starter bike for little girls across the board! What makes the Barbie Tough Trike so beneficially for little ones is how safe and stable the bike is. Thanks to its rough tread tires and wide steering wheel, your child will have a blast with their first trike. The whole toy is designed to engage your child's muscles, making them exercises all while having fun and learning.
What We Like about It – The sturdy frame and wide wheelbase means it is safe for little girls to ride on. It's also good for strengthening leg muscles while at the same time encouraging physical activity. Great for balance and coordination, too.
Pros
Bright pastel colors.
Stable for most terrains
Foot pedals are extra wide.
Extra storage compartments.
Cons
(Hey! Want To See More Like This? Check Out: 15 Best Ride On Toys For Toddlers)
Doc McStuffins Talk and Trace Clipboard Toy by VTech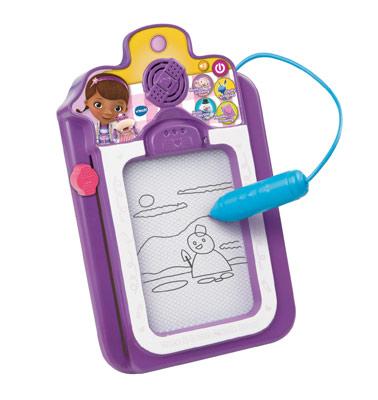 It's a talking clipboard that allows kids to doodle and learn the different strokes of making letters and numbers. This is what the doc McStuffins Talk and Trace Clipboard is. It plays more than 30 melodies and sound effects. It includes detachable stencils to help kids learn the alphabet, numbers, and different healthy drawings. The magnetic drawing board allows for ease of doodling and erasing.
Benefits – What's very beneficial for your child's development is the ability to free draw on the Doc McStuffins Talk and Trace Clipboard. The practice of drawing exercises your child' creativity and imagination without buying a lot of supplies. Rather than buying sketch paper and drawing pencils, your child can learn to draw all with the Talk and Trace!
What We Like about It – It promotes imaginative play while encouraging 2 year old girls to learn letters and numbers as well as early concepts in health. It also enhances motor skills particularly in writing and drawing.
Pros
3 changeable stencils.
Stimulates creative ability.
Develops fine motor skills.
Enhances the imagination.
Develops auditory abilities.
Cons
Demo batteries included only.
My First Dollhouse by Fisher-Price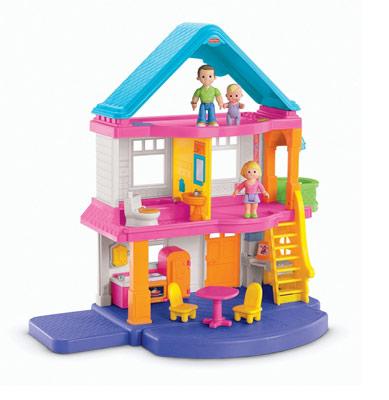 If you talk about little girls, there's only one type of girl toy that is deemed the perfect gift – dolls. And whenever there is doll involved, a doll house is not far behind. For your three year old, it's important to choose the best doll house. The My First Dollhouse is one colorful make-believe house for small Dad, Mom, and baby figurines. The 3-level house comes complete with a living and dining room, a bedroom and a bathroom, and a nursery in the attic.
Benefits – Dollhouses are the classic go-to for little kids. What makes the simple design so effective is its ability to breed imagination and creativity at young ages. The greatest benefit of this toy is its simplicity, making your child's imagination soar with all the fun situations and adventures your child can think up for the pretend family.
What We Like about It – It's the type of toy to help 2 year old girls make sense of their own home. It allows for imaginative and pretend play particularly in role-playing the different characters of the dollhouse.
Pros
Very sturdy built.
Promotes pretend play.
Develops fine motor skills.
Enhances the imagination.
Cons
Size might be too small for some kids.
Teach My Toddler Learning Kit by Teach My Toys

You don't have to wait for another year or so before you teach your two year old girl about the alphabet, colors, shapes, and numbers. With the Teach My Toddler Learning Kit, you can now encourage her to master these basics of language development. The set already includes 4 board books, 55 flash cards, 4 learning posters, and 7 puzzles.
Benefits – This is one of the best toys for early learning in young children. What we find beneficial about the Teach My Toddler Learning Kit is how quickly your child will develop with this toy. By playing with the Learning Kit for 20 minutes a day, your child improves their motor skills, memory, education, and hand-eye coordination!
What We Like about It – The gift set is ideal for promoting spatial intelligence, fine motor skills, numerical skills, hand-eye coordination, and language development. The learning kit can also be used as a teaching aid in schools.
Pros
Easy to carry storage case.
Enhances cognitive abilities.
Teaches numbers, shapes and colors.
Develops language, numerical and spatial skills.
Cons
Flash cards can easily rip.
Sit-to-Stand Learning Walker by VTech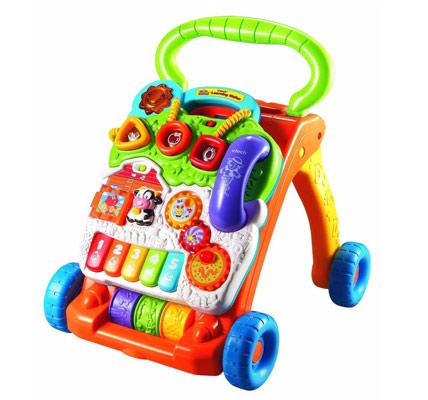 While your 2 year old girl can already run, it may still be wise to let her push the Sit-to-Standing Learning Walker as a mobile activity center. This colorful walker from VTech comes with 5 large piano keys, shape sorters, light-up buttons, and spinning rollers, among other features. The piano plays more than 70 fun child friendly music and melodies while the make-believe telephone set can make for imaginative play more fun. You can see more like this in our great post on the best baby walkers here.
Benefits – The benefits of this toddler toy are obvious. Not only does your child learn to walk, but they also learn their shapes, colors, and sounds with this inventive walker.  And it's because of this toys multiple uses that your child will gain so much for this walker. A toy shouldn't stop at just teaching your child one skill, but branch out to maximize the child's potential for engaging and beneficial playtime.
What We Like about It – The walker encourages imagination and make-believe play which can become the basis of more complex problem solving skills. It also helps stimulate further brain development through tactile, visual, and auditory stimulation. Also great for enhancing motor skills.
Pros
Develops musical ability.
Promotes walking activity.
Highly interactive features.
Teaches colors and shapes.
Cons
Could be too heavy to push for some.
Baby Stella Nurturing First Baby Doll by Manhattan Toy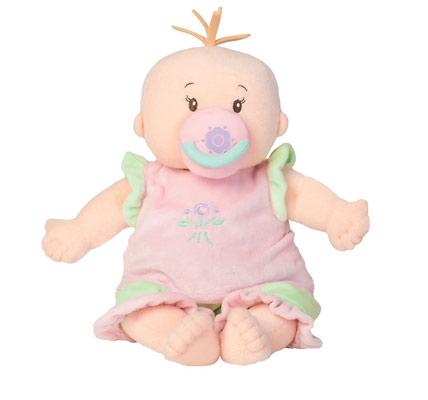 With the Baby Stella Nurturing First Baby Doll, any two year old girl can now make-believe that she is caring for her own little baby. The doll is made of ultra-soft materials and comes with a 2-piece outfit, a pacifier, and a cloth diaper, all of which can be removed for optimum make-believe play.
Benefits – What makes this toy so beneficial is the simplistic design. Because this doll is so cute and soft, your child will be automatically drawn to the Baby Stella and immediately begin imaginative playtime with her. She's great her playtime, and bedtime too! And since she's made entirely of soft fabrics, she's easy to clean on a gentle cycle with a gentle cleaning solution.
What We Like about It – The doll is super soft that it can actually double as a sleeping aid for kids. The dress-up doll can teach young children about dressing and grooming while enhancing their motor skills.
Pros
Very soft texture.
Machine washable.
Teaches caring and kindness.
Diverse selection of ethnicities.
Tested by three safety international standards.
Cons
Clothing can be hard to put on the doll.
My First RC Go Go Baja Buggy by Kid Galaxy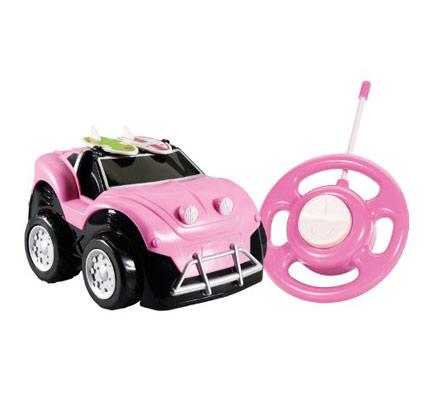 Who said that RC cars are just for boys? With the pink My First RC Go Go Baja Buggy your 2 year old girl can now drive her very own radio controlled car. The pink controller is shaped like a steering wheel while the buggy comes complete with 2 surfboards on the roof. The buggy can be controlled to move forwards, backwards, and go for a spin.
Benefits – A soft, squeezable toy car?! Say no more! The biggest fear with anything toy car is the hardness of it's plastic and acrylic damaging either your house or child. The My First RC Go Go Buggy takes care of that issue with it's innovative design for a soft and squishy outside. Kids have just as much fun, but keep themselves and their surroundings safer.
What We Like about It – RC toys help develop hand-eye coordination as well as spatial intelligence. This is particularly true when steering the Baja Buggy. It can help promote imaginative play as well as develop motor skills.
Pros
Winner of "Oppenheim Platinum Best Toy Award" for the most innovative, engaging new toy of the year.
Simplistic controls specially designed for tiny hands and developing minds.
Helps children develop their fine motor skills with a remote control 'steering wheel' and buttons.
The toy car itself is squeezable and free of sharp/hard edges
Excellent for indoor and outdoor playtime.
Cons
The batteries have a short life.
Range on the remote control varies
Pink Whisper Ride Buggy by Step2

If you would like to take your two year old girl for a stroll around the neighborhood, let her ride the Pink Whisper Ride Buggy. This ride-on toy has ultra-quiet wheels so neighbors won't be disturbed. It also features a horn for honking other motorists. The sleek design comes with a storage space under the hood and comes complete with cup holders and a seat belt.
Benefits – What makes this toy from Step2 amazing and beneficial for your child is how it incorporates parents into playtime. Because it's a stroller alternative, parent and child can interact in an imaginative play space together and bond of this toy. The parent-friendly aspect also crosses over into the cup holders and the foldable handle. Though this toy is a bit bulky, it's super lightweight and travels well.
What We Like about It – While you will be the one pushing this buggy, the joy it gives your child is simply priceless. It is excellent for imaginative and make-believe play as you and your little princess take a ride down the streets of the neighborhood.
Pros
Handle easily foldable.
Extra storage included.
Indoor or outdoor usage.
Smooth and quiet wheels.
Includes seatbelt for safety.
Cons
Might not be strong enough for heavier kids.
Crown Princess Castle Girls Outdoor Tent by POCO DIVO

Have a kid feeling like a princess? Then give her the Crown Princess Castle Girls Outdoor Tent. The tent is easy to assemble and comes with a convenient carrying bag. It is made of 100 percent polyester and high grade durable plastic for the tent poles. Cleaning is as easy as wiping with a cloth dampened with mild soap and water.
Benefits – What makes this toy great is its ability to be played with both indoors and out. Show your child the importance of the great outdoors with this stylish tent, or exercise their imagination with a pretend camping session inside. No matter how your child chooses to play with this toy, they will always have fun!
What We Like about It – It's great for outdoor parties or even inside your kid's playroom. It makes for great imaginative play and, when played with other kids, can help develop social skills.
Pros
Stimulates creativity.
Indoor or outdoor usage.
Enhances the imagination.
Encourages physical activity.
Easily foldable and carrying bag included.
Cons
Can easily deteriorate due to rough play.
First Builders Big Building Bag by Mega Bloks

With large blocks to play with, your two year old girl can literally build a variety of structures with the First Builders Big Building Bag. The set comes with 80 large and colorful Mega Bloks in purple, pink, white, and blue. It also includes a wheelbase great for building cars and other vehicles. The building blocks can be stored conveniently in sturdy and highly reusable plastic bag.
Benefits – Building blocks are usually seen as a toy strictly for little boys, but little girls get as much enjoyment out of them as anyone! What is so beneficial about these building blocks is how they're compatible with the rest of the mega blocks world. Don't let your daughter be limited to only this set of blocks when the entirety of mega blocks can be played with! Watch their imagination soar with this amazing set of mega blocks!
What We Like about It – Building toys are excellent for developing creativity, imagination, and divergent problem solving skills. The Mega Bloks also help promote mastery of hand-eye coordination, fine motor skills, and kids' spatial intelligence.
Pros
Storage bag included.
Teaches building skills.
Stimulates creative ability.
Develops fine motor skills.
Encourages the imagination.
Cons
Problems with blocks snapping together easily.
Pink Race Car by Green Toys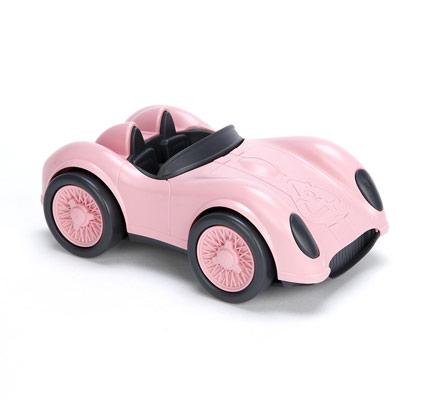 It's pink. It's stylish. It's sexy. And, it's green. Not the color green, though. The Pink Race Car is made of 100 percent recycled plastic making it a green toy race car. It does not have any mechanical parts nor batteries to make it run. It's all about playing with the hands and tons of imagination.
Benefits – Although this toy is pretty basic, we actually feel that simplicity is the Pink Race Car's greatest benefit! This super cute toy car engages your child's imagination and makes them think critically about their playtime. There's no bells and whistles, just your child's imagination and creativity channeling all their fun!
What We Like about It – The absence of any metal and mechanical components means your child will have to use her imagination to play with this car. It also helps develop her motor skills further as she needs to hold the car and "drive" it to wherever she wants it to go.
Pros
Develops fine motor skills.
Comes in two other colors.
Encourages the imagination.
Safe, toxic-free, recycled plastic.
Cons
Size might be too small for some.
Laugh and Learn My Pretty Learning Purse by Fisher-Price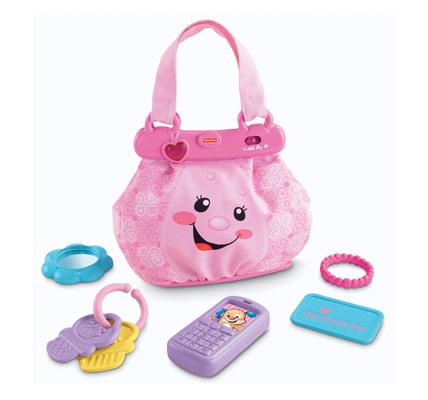 Having a two year old girl walk with you with her very own pink purse should be a very interesting sight to behold. With the Laugh and Learn My Pretty Learning Purse, you can add a twist to an ordinary-looking purse as it already comes with 3 different modes of play. Kids can also learn the alphabet and numbers. It includes a toy cellphone, credit card, a vanity mirror, a bracelet, and a pair of keys.
Benefits – The Laugh and Learn Pretty Learning Purse is a teacher in a bag! Your child can carry this amazing bag anywhere and learn while having fun. Whether they're out on a playdate or at home, your child can learn and engage their brain with this early learning toy.
What We Like about It – It's a talking bag. It teaches kids about numbers, colors, manners, greetings, opposites, and, of course, letters. It is one great way to enhance your kid's imagination and creativity.
Pros
Includes fun, adult-like accessories.
Teaches colors, shapes and sounds.
Encourages life skills and social skills.
Highly interactive features and effects.
Cons
Purse handle could be too small for some.
Musical Rainbow Tea Set by LeapFrog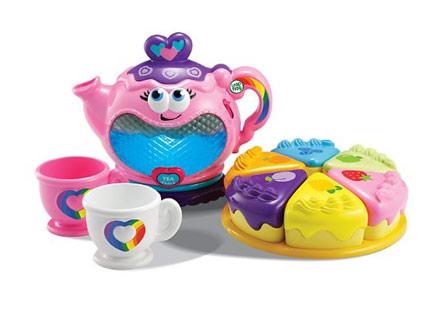 Having a tea party is one of the traditions that kids of today must learn to perform. With the Musical Rainbow Tea Set, 2 year old girls can now practice how to host a tea party. The set comes with a colorful and happy-looking tea pot, 2 tea cups, and 6 slices of a colorful cake. All pieces are interactive and play 7 fun melodies about tea time. It also plays more than 50 learning sounds and phrases.
Benefits – We love how children can learn polite social skills from this innovative toy! Children will benefit greatly from this toy as it teaches them polite conversation, manners, and how to share with others. This toy will not only get your child ready to play with others but also converse with those older than themselves.
What We Like about It – The tea set helps teach kids about the manners of tea time while also encouraging mastery of colors and numbers. It can also provide for an additional sensory experience with different light and sound effects.
Pros
Encourages pretend play.
Highly interactive sing-along music.
Teaches colors, numbers and sounds.
Encourages social skills and interaction.
Cons
Reported to not have an off switch.
Princess Castle Kids Play Tent by Kiddey

Let your little girl live in her very own princess castle. With a size that is big enough to accommodate any 2 year old girl, the Princess Castle Kids Play Tent is perfect for your kid's playroom. The tent is made of 100 percent polyester fabric and comes with 4 ground pegs should the tent be used outdoors. It has mesh windows for added comfort and security against insects.
Benefits – Like the previous tent on this list, this toy is amazing for its versatility in indoor and outdoor playtime. Show your child the importance of the great outdoors with this stylish tent, or exercise their imagination with a pretend camping session inside. No matter how your child chooses to play with this toy, they will always have fun!
What We Like about It – It's great for make-believe play. This can enhance your kid's imagination while at the same time boosting her confidence in having her very own "castle".
Pros
For both outdoor and indoor play.
The four sturdy poles make this tent safe and easy to set up
The spacious interior makes this tent perfect for play
Comes with a glow in the dark stars for those fun camping nights in the dark.
A mesh window allows for nice air circulation
Cons
Set up isn't as simple as a pop up tent, so adult assembly is required.
Instructions aren't very clear.
Little Bakers Kitchen by Step2

Kitchen playsets are great toys for stimulating make-believe play. Little Bakers Kitchen is one of those play sets that many parents have found very appealing to two year old girls. It comes in a 2-tone finish of purple and pink and comes with 2 electric stoves, a microwave oven, a ref, an oven, and a kitchen sink with faucet. It also comes with a pull-out fruit and vegetable basket. What makes it great is the realistic sounds it creates when pretending to cook on the stove.
Benefits – A pretend kitchen is one of those classic toys you just can't beat. What makes this toy so beneficial to your child's creativity is its ability for your child to engage in 'responsible' play. The kitchen gives parents the options to teach children about kitchen and cooking safety without risking burns or other injuries.
What We Like about It – It's a great way to stimulate creativity and imagination. It also helps teach kids about kitchen organization and management. When played with other kids, it can teach cooperation and teamwork.
Pros
Excellent for the little baker in training
Makes kitchen sounds to immerse your child
Special frying pan and a boiling pot are lid activated to create noise
Comes with 30 pieces such as plates and food so your child can throw a huge dinner
Cons
The kitchen itself is a bulky and hard to transport or move around.
Food Groups by Melissa & Doug

It's quite difficult to get young children to eat a well-balanced diet. With the Food Groups toy, they will be exposed to the 5 major food groups so that they will be encouraged to eat the real ones. The set comes in 4 wooden trays complete with food items that represent the different food groups.
Benefits – These toys are great for the imagination and building creativity within children. Because the toys are simply wooden blocks posed as fun foods, children aren't limited by design or features. Kids can pretend they're doing anything with the food. Maybe they play restaurant with friends, maybe they put on a pretend dinner for their stuffed animals, or a maybe they pretend to be a world-renowned chef.  With a toy this simplistic, the possibilities are endless.
What We Like about It – It's a unique way to entice kids to eat a balanced meal. The different food items can also help expand their vocabulary and help in the development of their language and communication skills.
Pros
Teaches healthy eating.
Built from sturdy wood.
Encourages pretend play.
Wooden storage crates included.
Can be used with kitchen playsets.
Cons
Spin and Learn Color Flashlight by VTech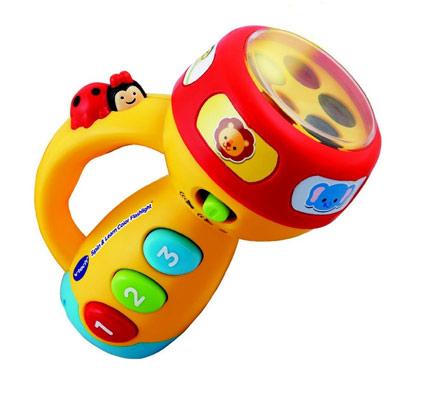 What if came across a flashlight that sings and teaches your kid about numbers, colors, and animals, would you not want to give it to your 2 year old girl? This is exactly what the Spin and Learn Color Flashlight does. Well, its' not actually a flashlight in the real sense but it does help children a lot. It comes with 5 different light colors and over 50 songs, sounds, music, and fun phrases. It's a colorful light projector that talks and sings.
Benefits – This chunky flashlight teaches your child everything they need to know about colors and lights with just a flip of the switch. The colorful lights help your child understand and learn their colors while also engaging their hand in the process. The main benefit to this toy, however, is the interactive games that teach your child about animals, sounds, and numbers!
What We Like about It – The toy flashlight is excellent for enhancing visual and auditory development of kids. It also helps them learn different songs and melodies to further expand their language and communication skills.
Pros
Enhances fine motor skills.
Encourages language skills.
Highly interactive music and effects.
Teaches animals, colors and numbers.
Easy to carry and includes auto shut-off.
Cons
Might be too over-stimulating for some kids.
Foldable Doll Stroller with Hood by Precious Toys
Strollers are baby's primary mode of transportation. You can teach 2 year old girls about the value of baby strollers by giving them their very own stroller. The Foldable Doll Stroller with Hood is a miniaturized version of the real deal. It features a sturdy frame, a foldable hood, a basket carriage, and a seat belt for your kid's favorite doll. Check out our awesome list of baby doll strollers here.
Benefits – Another classic for any child, the Doll Stroller is perfect for both imaginative play and the development of fine motor skills. The Foldable Doll Stroller puts your child in this imaginative, pretend space, all while engaging their minds in the act of strolling. Simply turning the stroller and pushing the stroller through the house engages your child's mind concurrently with their hands. By doing so, your child is exercising and developing critical motor skills all while playing.
What We Like about It – It helps promote imaginative play while helping kids enhance their coordination, balance, and gross motor skills. Pretend play helps the development of more complex problem solving and critical thinking skills.
Pros
Extra storage included.
Easily foldable for storage.
Very stable and strong built.
Enhances gross motor skills.
Great addition for pretend play.
Cons
Stroller might be too small for some.
Criteria For Evaluation
When choosing toys for this list, we took into consideration three key aspects that we feel are pivotal to the safe development of little girls. Our top priority is the safety of a toy. All of the toys on this list are parent approved and feature a multitude of safety options to ensure safe yet engaging playtime. We also take into consideration the educational/ developmental value of a toy. We want our children to reach their potential, and toys that incorporate key learning concepts help achieve this goal in a fun, entertaining way. And finally, we feel that manufacturers that make an effort to use only sustainable resources deserve some recognition. When producing toys for your little ones, sustainable companies ensure that your children's children have toys to play with as well with environmentally friendly practices. Each section, Safety, Education, and Sustainability, has been broken down below for your convenience and to show you just exactly what we look for when selecting our toys.
Safety
When judging the overall safety of a toy we look for durable products free of harmful additives, like BPA, and how the product rated with other parents. Because safety is the top priority for parents, we felt that it should be our top priority also.
Durable: For a toy to be truly safe, they need to be durable. If a toy can't handle more than a few rounds of rough playtime without breaking then it's a major health hazard. This is especially true for plastic toys that could break off into smaller, sharp pieces.
Non-Toxic: There's a reason children's toys, and most products now, are lead-free. Lead exposure has been linked to severe brain damage in children, so all of our toys on the list are approved by the US Consumer Product Safety Commission (CPSC) as suitable for children. Most of our products are also BPA free or have minimal traces of BPA. Because less research has been conducted on the effects of BPA exposure on children, the risks are not yet fully known.
Automatic Shut Off: This feature comes in a number of battery operated toys for the sake of parental stress and preservation of a child's senses. Sometimes, toys make too loud of sounds or overstimulate the child. Automatic shut-off allows the parent to immediately power down the toy to calm the child and remove the over stimulus. It also comes in handy for quick and easy nap time.
Education: School is far off for our little ones, so buying educational toys to help streamline their intellectual development is a must. We want school and learning to be as fun and rewarding as possible for your child. So when selecting toys for the developing mind of a two-year-old, we take into consideration some key factors.
Verbal: Toys that speak to your child or engage their verbal abilities strength their vocabulary and ability to communicate with their peers. Verbal education toys are best for children who develop a little slower than others. This is because toys that speak to your child give them practice with speech in a safe environment where the child and parent are in total control of the situation.
Auditory: Toys that sing to your child or engage their sense of hearing improves your child's comprehension abilities. Examples of this would be toys that play classical music or make animal sounds. Toys like this aid children who have trouble speaking with others. It's not that they don't know how to speak, they just don't know how to listen. Auditory toys will give your child the critical thinking tools to understand the sounds around them and make sense of their meaning.
Motor: Toys that move around or engage or child's movement exercise their fine motor skills. For example, stacking toys, motorized toy cars, or sports, engage your child's body during playtime by making the child move or think about their movements. By engaging your child's brain in this fashion, they refine their movements and begin to develop more complex motions.
Sustainability
What exactly is sustainability in relation to children's toys? We define sustainability has the conscious effort by a person or company to use environmentally friendly materials that pose little impact on the planet. Typically, these companies' value the preservation of educational playtime in tandem with a healthy Earth. Here are some key factors we look for when gauging the sustainability of certain products:
Materials: For a material or materials to be sustainable, the organic matter that goes into producing the toy must not be at risk of over farming/ extinction. For example, when a toy claims that they only used sustainable wood for their products, that means the forest where the wood was collected is not under threat of annihilation. If the product claims reclaimed or recycled materials were used for production of the toys, then that means no new materials were taken out of the environment.
Impact: Typically, we favor reclaimed/recycled products because they have less impact on the earth. Recycled simply means that the toy was produced with the broken down materials of a similar product. This requires no new materials to be used for the environment, and the production is less intensive on both the earth and population. Therefore, the toys made with recycled products have the least impact or the smallest 'footprint' on the world.
Values: We believe that companies striving for a cleaner world hold our core values and beliefs in mind. It's important to instill the values of sustainability and clean living on your child early so that they can make educated decisions when they are older. What better way to achieve that goal then having children play with fun, engaging toys created with the purpose of a better world in mind?
How We Shortlisted the Most Popular Products
We have partnered with some of the industry's renowned child development experts to fully understand what kinds of toys will work best for a 2 year old girl. This is important because we also want to contribute to your aim of giving your children all the developmental stimulation they need to reach their full potential. Additionally, we looked closely at the manufacturing practices of toy makers to see if they have the appropriate licenses and have complied with federal regulations related to the safety of the materials used into the design and manufacture of the toys. Lastly, we had to read carefully the different reviews and feedbacks from parents as well as other consumers of these toys, taking note of any issues that they may have encountered.
These are the things that we had to look for in the toys that we have listed in our 20 most outstanding and most popular toys for two year old princesses. We hope that you will also agree to what we have shortlisted.
Your 2 Year Old Little Princess and Her Development
One of the characteristic developmental milestones of 2 year olds is their interest in how things really work. While this is not yet as fully developed as the curiosity of a 3 year old, two year old girls nevertheless already display an interest in why certain things happen. You will notice that they are now beginning to be very persistent about asking the why question. The never-ending stream of questions that begin with why can be annoying but this is something that you should be able to answer as it is their way of trying to make sense of their world. It is this curiosity in the things and events around them that makes 2 year old girls little explorers. As such, any gift or plaything that is new to them or that represents the larger world will be very helpful. Small world plays like playing with doll houses or toy farms will be very appealing.
However curious, little tots will not have the attention span to be interested in a particular object for so long. They get easily bored and gets distracted rather easily, too. As such, it is important to provide toys that can capture the 2 year old girl's attention and keep her interested for as long as possible.
Two year old girls also need to expand their vocabulary and develop their language and communication skills. That is why toys about the alphabet, fun phrases, musical toys, numbers, and other toys that allow them to learn new words are often taken as highly beneficial. Improving their vocabulary can help improve their ability to communicate what they want or what they have in mind. This can help reduce the incidence of temper tantrums that are often the result of frustrations when kids cannot express what they are thinking. The wider their vocabulary, the greater is their ability to voice what they want, and the lesser is the incidence of the 2 year old girl throwing a tantrum.
Little princesses at 2 years old will already exhibit good balance such as the ability to jump on two feet; although it is not uncommon to see 2 year olds able to hop on one feet while maintaining balance. They can now participate in more active playtime activities like riding a scooter, a trike, or even a balance bike as well as playing ball games. It is important for us parents to support 2 year old girls as they try to learn the limits of their physical abilities. This can help them feel more confident about themselves.
Choosing the right toys for 2 year old girls should not really be difficult. With our list of the 20 best toys, you now can make the correct choice for your very own little princess.
FAQs
Frequently Asked Questions
Q: How is a one year old different from a two-year-old mentally? How does this affect the types of toys they will enjoy?
A: A two-year-old can understand more complex concepts such as time and begins to understand verbal communication. Because of these complex processes going on in their heads, toys that speak to your child are optimal for developing their speaking and comprehension abilities.
Q: My daughter wants to play with boy toys. Will this affect her development?
A: No, a little girl playing with toys that a boy would typically play will not adversely affect her development. If your daughter wants to play with action figures or more masculine toys, then let her. There has been no research stating the practice is harmful, but there has been research that suggests allowing your child to make decisions like what toy they want to play with initiates positive growth.
Q: Are girl toys any different than boy toys?
A: From a developmental standpoint, girls and boys toys are very much the same. Aesthetically the difference is striking, but besides that, it's up to the individual child. Some research has shown that boys aren't as emotionally developed as girls, so you might want to consider purchasing toys that help your son understand emotions. Dolls are actually very good for this purpose. Because dolls are typically for imaginative play, children act out domestic scenes with them. This allows the child to act out certain emotions and learn healthy responses to these emotions.
Q: What safety features do I need to consider when buying battery operated toys?
A: The greatest concern with battery operated toys is ensuring that the child cannot access the batteries. Due to the levels of sulfuric acid within batteries, breaking one or ingesting one will cause serious damage to your child. All battery operated toys should be childproof and durable enough for rough play. Before purchasing a battery operated toy, be sure that the only way to access the batteries is with a screwdriver. This ensures that young children cannot reach the batteries.
Q: What does BPA free mean?
A: BPA free means that a product is free of the plastic additive Bisphenol-A. This additive has been linked to infertility in both men and women if the BPA levels are of a substantive level. Because of this danger, it's best to limit your child's and your own exposure to BPA.
Q: Should I purchase toys from sustainable companies/manufactures?
A: Whenever you have the option, you should most definitely buy toys from sustainable manufactures. This ensures that environmentally conscience complains stay in business and keeps potentially dangerous materials away from our children. Sustainable toy manufacturers are BPA free and only use materials that are safe for both the world and our children. So if the option is presented to you, please help sustainable manufactures and make a difference!
Q: What types of toys are best for intellectual stimulation?
A: The best toys for intellectual stimulation for two year olds are toys that engage their vocabulary and critical thinking skills. For instance, toys that speak to your child or ask them questions help both their speaking ability and their ability to understand the conversational thinking. If you can, look for toys that ask your child open-ended questions with no definitive answer. This will give your child the opportunity to think critically about what they're being asked and help develop their evaluative skills.
Q: At what age should I purchase educational toys geared towards school?
A: It's never too young to start thinking about your child's education and brain development. The sooner you can start your child on educational toys the better. The ideal starting point is four to six months for educational toys. This is because the child begins to develop memories and begins to understand the world around them. By exposing them to educational toys sooner, you give them a headstart on their development.
Q: My daughter loses interest in her toys fast. What types of toys would best keep her attention?  
A: As a child gets older, their needs from a toy changes. If you want to keep your child interested in their toys for longer you might consider investing in toys that will grow with your child. Toys that offer some type of developmental function usually grow with your daughter by providing them with fun and engaging play suited for their growing brains. Leapfrog is a company that specializes in educational toys that not only stimulate your child but grows with the child by offering age-specific functions in their toys.
Q: What toys would be best for an autistic child's growth?
A: Each child is different, and the same is true for autistic children. While one autistic child might love a particular toy, another might abhor the toy in question. To truly gauge which toys will be best for your child and their unique way of thinking you must study your child. Do they react well to sounds? Lights? Movement? A combination thereof? Are they overstimulated easily? Once you've identified what your child gravitates towards and how to react towards certain stimuli you can then decide what toys fit them best. In most cases, and usually for high-functioning autistics, toys that perform a single task work best. If a toy lights up, makes sounds, and moves all at once, the child might become overstimulated. This is simply a generalization, and by no means can suffice for properly understanding your child's specific needs. The generalization is meant to be a starting point or somewhere you can grow from for ideas and inspiration.
Q: When is it time to 'retire' my child's toys?
A: If there is nothing physically wrong with the toy and it poses no threat to your child, I recommend letting your child play with it till they decided they've outgrown it. If the toy is broken and therefore dangerous to the child, remove it from the child's reach as soon as possible. They will probably pitch a fit and cry for a good while, but safety comes first. And, ultimately, every toy a child plays with should be safe and remain safe for years to come.
Q: How do I clean my child's many different toys properly?
A: Kids love having a horde of all different types of toys. From stuffed animals to dolls to dress up clothes, children need a variety of play to stimulate their growing imagination. But this can make cleanup difficult on the parents. Whenever you purchase a new toy for your child be sure to keep the cleaning instructions in a secure place for reference. If the cleaning instructions aren't available to you, look online or on the website for further instruction. If you still can't find a straight answer on how to properly clean something, use these tips as a guideline.
For plastic/ acrylic based toys, a gentle cleaning solution mixed with warm water is best to lift up grime and dirt. If the toy is just caked in filth from a mud bath extravaganza, dip an old toothbrush in the cleaning solution and rub away with circular motions to loosen the dirt.
For cloth based toys like stuffed animals or dress up clothes always look at the tag attached to the toy. The tag should inform the buyer of all the proper care instructions like washing. If the tag has no information on washing, a good hand wash in lukewarm or warm water with a sulfate free cleanser does the trick.
Other Age Ranges
1 Years Old
3 Years Old
4 Years Old
5 Years Old
6 Years Old
7 Years Old
8 Years Old
9 Years Old
10 Years Old
11 Years Old
12 Years Old