10 Best Transformers Toys & Action Figures for Kids in 2019
last updated
Aug 05, 2019
Kids love robots–-especially ones from outer space! On the big screen, everyone is familiar with Autobots from the Transformers movie franchise. We've watched them fight for planet Earth and because the first Transformers movie was released in 2007 and the last one was released in 2017, there is a decade's worth of fans that span generations.
Along with movies, came a new line of transformers toys, clothing, activities, and games for everyone in the family to enjoy. Transformers have a bigger following nowadays than ever; it seems that almost every kid has their own favorite character. Whether your child wants to defend the world from the Decepticons with the Rescue Bots or they can want to control their favorite Autobot in a super-fun video game, there's an option for everyone.
In a Hurry? The test winner after 16 hrs of research
Rescue Bots Blades
Why is it better?
Two modes of play: helicopter and robot
Appropriate for preschoolers
Rescue hook attachment enhances imaginative play
Survive rough play
In a
Hurry? Editors choice:
Test Winner: Rescue Bots Blades
16
Researched Sources
16
Hours Researching
15
Products Evaluated
Educational Value
Entertainment Value
Materials
Effectiveness
By Default
10 Best Transformers Toys Reviewed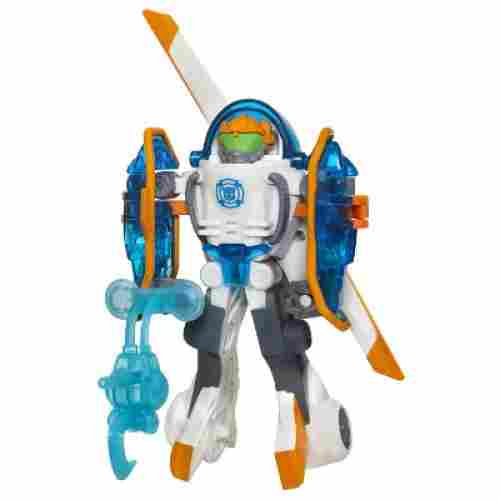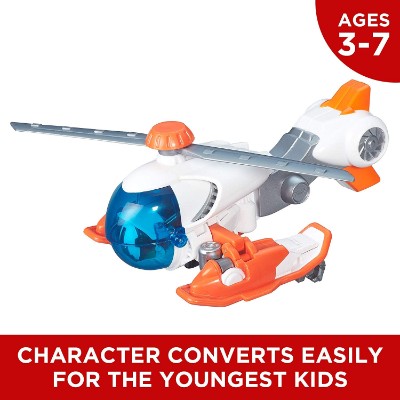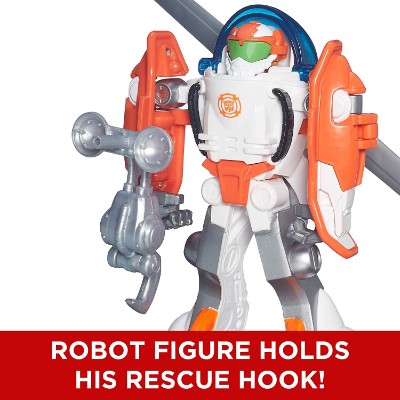 Two modes of play: helicopter and robot
Appropriate for preschoolers
Rescue hook attachment enhances imaginative play
Survive rough play
Transformation isn't very exciting
This sturdy, adorable little bot is designed for younger children to be able to enjoy. Easy transformation makes it accessible to kids as small as three years of age.
Read more
Educational Value
Kids will develop their motor skills, dexterity, and logic skills as they transform this bot into a helicopter and back.
Entertainment Value
It's Blades to the rescue! Kids will enjoy zooming onto the scene with their favorite Transformer bot. A hook accessory allows them to haul obstacles out of the way or perform important rescues.
Materials
Little hands aren't always graceful or delicate, but that won't be a problem here. This toy's design can withstand rough play.
Effectiveness
Your child will be able to race along with the transformers rescue team and stop those bad guys. It is a great way for your child to enhance their pretend play skills as well as their creative skills. Being able to act out scenes from their favorite movie or create a new scenario is a great way for your child to fall in love with their favorite characters well. It's also a great way for your child to spend endless hours of fun creatively. It's also recommended for children ages 3 and up.
2

. Age of Extinction Generations Leader Class Optimus Prime Figure
Difficult to transform but fun to figure out!
Joint articulation is good giving a wide range of motion.
Very stylish chrome detailing makes it visually appealing.
Great range of motion and is very well packaged
Can be expensive if not using a promo or coupon.
Can be hard to transform for some, especially younger children.
When the first of the Transformers movies was released in 2007, everybody wanted to know how the movie producers will be creating the undisputed leader and most revered character of the Autobots. Optimus Prime's strong moral character, sound decision-making skills, superb leadership abilities, and brilliant military tactical thinking resonates throughout the ages as the characteristics of what a true leader should be. That is why many kids who grew up watching the original Transformers in the 80s have Optimus Prime to thank for some of their leadership qualities.
Read more
Educational Value
If you understand the qualities of Optimus Prime, then this is the best tool to teach your kids about the concepts of justice, equality, freedom, and peace. You can also join them in their pretend play if you're a fan of Transformers, too.
Entertainment Value
Kids and adults alike admire Optimus' strong sense of justice and honor and his unwavering faith in the protection of life, the safeguarding of freedoms for all species, and the successful and peaceful coexistence between humans and other life forms. These are the same traits that we can only wish from our world leaders.
Materials
With the Transformers Age of Extinction Generations Leader Class Optimus Prime action figure, kids can really pretend to be the fearless and just leader of the Autobots. The action figure can transform into its semi-truck mode or vice versa in 18 steps. It is for this reason that we strongly don't recommend this for very young children as they may find the transformation process too complex. Optimus Prime comes with his legendary Sword of Judgment as well as his iconic Vector Shield first seen in the Revenge of the Fallen after Jetfire sacrificed himself to save Optimus and unite his cybernetic parts with those of Optimus.
Effectiveness
Optimus Prime is a wonderful role model for your child to look up to. This character from transformers teaches your child right from wrong in a positive way. It's a great way for your child to also learn right from wrong as well. Your child will also be able to enhance their hand-eye coordination skills by being able to convert this action hero as well.
3

. Age of Extinction Generations Deluxe Class Autobot Drift Figure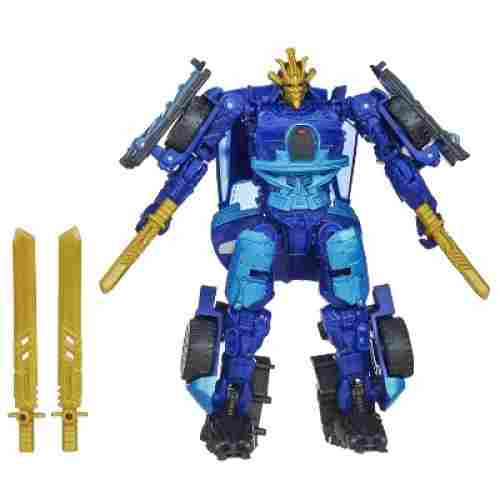 Has a lot of play potential and ways of posing so is entertaining to most.
Is able to store all swords so it prevents how easy it is to lose the items.
Great options for collectors or older kids who will not break the toy but rather appreciate it.
Made of good quality materials so is very durable and has a long life.
Difficult for younger children to transform and enjoy.
Smaller size than previous models of this auto bot.
We would have loved if Drift could transform into all 3 modes as depicted in the movie. Nevertheless, the styling of the Veyron is something that is really marvelous.
Read more
Educational Value
These transformers action figures are something that should stir the imagination of kids everywhere. This is especially true if they also get the other characters in the AOE film. The samurai Drift changes into the Bugatti Veyron Drift in 16 steps making it slightly easier to configure compared to the other Transformers in our list that typically require 18 steps. Nevertheless, Drift is not intended for young kids because of the complex nature of its transformation.
Entertainment Value
In the movie Age of Extinction, the Autobot Drift was an instant hit with its cool Samurai look and his ability to transform into a speed demon 2013 Bugatti Veyron Grand Sport Vitesse and a fancy helicopter. Yes. In the movie, Drift transformed into not two but three modes – a cybernetic samurai mode, a sports car mode, and a helicopter form.
Unfortunately, don't expect the Transformers Age of Extinction Generations Deluxe Class Autobot Drift Figure to convert into all 3 modes depicted in the movie. While that would really make any child's day, perhaps the toy manufacturers deemed the two most popular modes of Drift as more important.
Materials
Although difficult to transform for younger children, this bot is a hit for older kids and adult collectors alike. The material is quality material that withstands the rigors of play, has an appealing appearance so as a collectors novelty, it will stand out in the pack, and is affordable to those who are used to the high price of quality toys. Overall, this transformer toy is a great selection for adults looking for a new model to the collection and for older kids who enjoy transforming these amazing auto bots!
Effectiveness
Your child will love all the features that this Autobot action figure from transformers has to offer. Your child will be able to convert, attack and do many more things with him as well. He features a sword in each hand and he's great for your child to spend endless hours of fun with.
4

. Playskool B1013 Heroes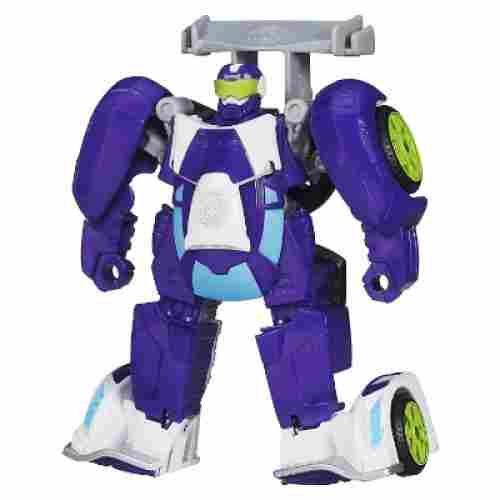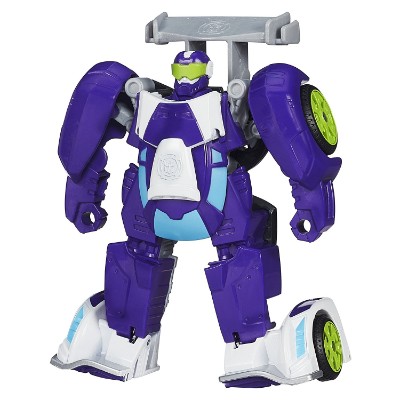 Transforms easily
Durable
Stimulates imagination
Increases fine motor skills & independence
The simplicity of the conversion is not challenging for older children
The sleek design of this sports car makes Blurr look super cool in both forms.
Read more
Educational Value
His small size makes him the perfect size to fit in the hands of children between the ages of 3-7. As your child grips and transforms Blurr they will be increasing their fine motor skills. The one-step conversion will increase their independence as they won't need any help when playing.
Entertainment Value
If your child is a fan of the rescue bot show, they're going to love this rescue bot Blurr action figure. This transformer looks super cool as a sports car and as an Autobot.
Materials
Pressing the spoiler allows this robot to transform with one easy step. When in car form, Blurr can cruise fastly over carpet, hardwood floors, or even concrete. Composed of plastic, this transformer is built to withstand years of imaginative play.
Effectiveness
Unlike some of our autobots, this transformer action figure is 2 in 1. It converts incredibly fast making this the ideal toy for your child to enjoy. Having your child be able to convert their toy will be able to enhance your child's fine motor skills and their hand-eye coordination skills as well.
5

. KRE-O Bumblebee Construction Set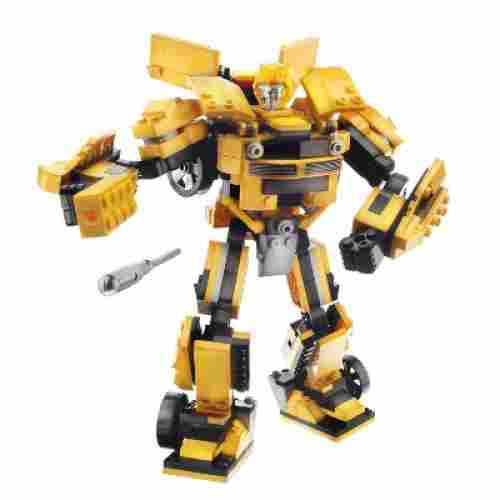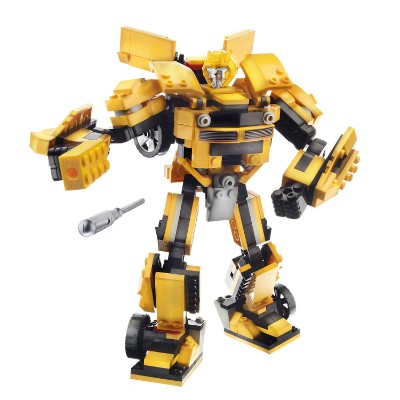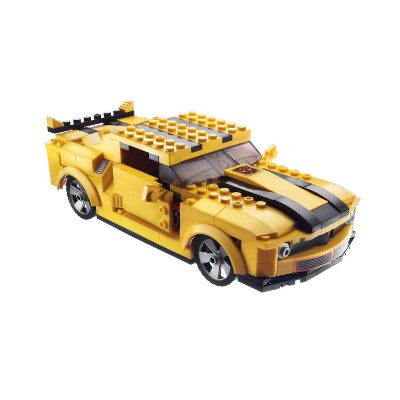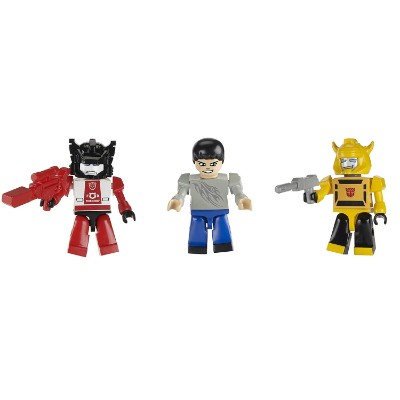 Includes minifigures
Children can build either the car or transformer
Instructions are easy to understand
Pieces stay together
Some are upset that the car does not transform into the robot
Even though the lego character doesn't transform, your child still has the option to build their favorite version of bumblebee transformer toy. Both versions are equally fun as they both have the ability to launch a rocket.
Read more
Educational Value
Children ages 7-14 will have no problem understanding the building instructions. The pieces easily go together and stay together. As your child builds they will be increasing their fine motor skills and hand-eye coordination. Your child will feel a sense of accomplishment once they finish building the car or robot. When your child is done building all of the pieces can be kept inside the Kre-O container for easy storage.
Entertainment Value
The Kre-O Bumblebee Construction Set gives your child the opportunity to build their favorite transformer. Your child can use the 335 pieces to build the yellow sports car version of Bumblebee or the transformers version. Included in the set are three mini-figures; a driver, Bumblebee, and red alert.
Materials
When bumblebee transformer toy is built as the Autobot, his wings can be turned into a glider for the minifigures to ride on. Two minifigures can inside the sports car at once. Both the car and transformer have the ability to launch a rocket at their enemy. The joints of the minifigures are articulated, thus allowing them to be able to handle any adventure your child puts them in.
Effectiveness
Building their own toy will not only instill self-confidence in your child in a positive way but they will be able to build their toy however they want. Your child will be able to create an all-new transformer where they will be able to use their imagination as well and create a whole new storyline.
6

. Rescue Bots Heroes Medix Doc-Bot Figure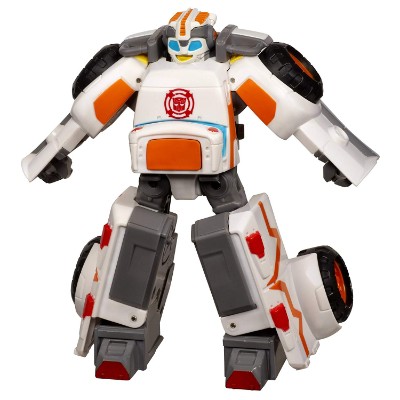 Great for young children because of ease of use and how sturdy the toy is.
Simple transformation that even the simplest of minds can conceive.
Only bot that has a button that begins transformation.
Sturdy enough to hold up to its name.
Size on packaging is misleading.
Hardest bot to find
Being a part of the Rescue Bots is a pretty big job, but someone has to play the role of the medic in the instance that a bot gets hurt. The Medix the Doc-Bot turns into an ambulance with the press of a button, ready to rush to the scene and heal the rest of the Autobots.
Read more
Educational Value
Medix is a great transformers toy to help young children explore their imagination pretending to be Sawyer Storm driving the ambulance. Its one-touch conversion mechanism is also ideal for young children.
Entertainment Value
We're betting that this will soon be one of your child's favorite Rescue Bot transformers toys since he or she will have the ability to heal bots up and send them back into battle! This Bot offers the best of both worlds since he can fix up bots as well as fight for them and comes in the style of traditional Autobots from the television series, which makes this Bot unique as well as classic. No child can go forth into an Autobot battle without having a good Medic on their side ready to heal and lend support, and this is a great addition to the Rescue Bots team!
Materials
This is a great bot for young kids. The durability of this toy makes it a great selection for younger ones and the ease of transforming also makes it appealing to all ages. This hard-to-find bot is a great selection for those looking to add to their bot collection or for parents looking for an entertaining bot for their children as a present or introductions to Transformers.
Effectiveness
A rescue bot is a great way for your child to learn about ambulances and other helpful rescue bots. Parents will be able to bond with their child over their favorite transformer which is a great way for your child to enhance their social skills.
7

. Age of Extinction Generations Voyager Class Galvatron Figure
Well-built, sturdy and made of quality materials.
Very detailed configuration with 17-step transformation.
Customers loved this bot, regarding it as "one of the best."
17-step transformation is easy to understand
Paint job is not as detailed as it could be.
The backpack included can be a bit of a hassle and unneeded.
This Decepticon is a must have for any collector and Transformers fan. The ease of transformation makes it fun to play with and when you are collecting transformers, the Decepticons are a must have.
Read more
Educational Value
The universe is defined in opposites: dark vs. light, big vs. small, tall vs. short, and good vs. evil. In this series, since we're talking about the Transformers, it is important to also provide a share of the Decepticons as they are also Transformers just like the Autobots.
Entertainment Value
Whether it is Megatron or Galvatron, the name itself already implies trouble. In the Age of Extinction film, Galvatron is depicted to be the creation of humans after getting some of the data and raw materials from the then-destroyed Megatron. It would seem that the whole idea was flawed right from the beginning as it was revealed that Megatron now fully controls Galvatron.
However, in the original storyline, Megatron is just one of the evil incarnates of Galvatron which the Transformers universe hints as being a member of the elite Unicrons or even an ancient warlord that predates the Transformers.
Materials
We don't mean to condone the character of Galvatron for including him in our list. But what's the point of playing with the Transformers if you don't have bad guys being defeated by the good guys? Galvatron transforms into a mean-looking, heavy-rumbling semi-truck in just 17 steps. It should be very interesting to see how your kid will pit Galvatron against Optimus Prime to relive the fight in the AOE film.
Effectiveness
Easily changeable this 2 in 1 transformer toy can be converted in 17 simple steps. Your child will be able to figure out how to convert this transformer easily on their own. It's a great way for your child to build and work with their hands effectively.
8

. Age of Extinction Generations Voyager Hound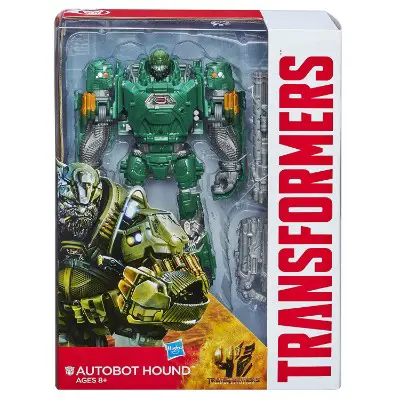 Includes six weapons
Freestanding & fully articulated
Weapons go together to make one big weapon
Perfect paint job
The lack of a big belly and mercenary bag does not make this toy movie accurate.
The variety of weapons included with these transformers action figures make it worth every penny. They can be stored and used in both modes and they can be combined to create one big weapon.
Read more
Educational Value
This heavily armored combat vehicle can roll into any firefight without taking a hit. When it's time for him to fight, your child can easily convert him from the combat vehicle and into his robot form.
Entertainment Value
No mission is too dangerous for the Transformers Hound action figure. With the strength of ten soldiers packed into one action figure, this one transformer toy is what your child needs in their collection. Equipped with six different weapons, he is more than prepared to save the day. All of the weapons can be used in both vehicle and robot mode.
Materials
Not only can this action figure stand freely on his own but his joints are fully articulated and can be posed in a variety of positions. All of the guns can be combined to create one massive weapon. The perfect paint job makes it possible for this toy to double as a collector's item.
Effectiveness
Changes in 14 steps this is a great way for your child to enhance their hand-eye coordination skills as well as their fine motor skills. Working with their hands and being able to convert with a toy that has many different functions is a great way for your child to spend endless hours of fun with.
9

. Transformers Devastation - PlayStation 4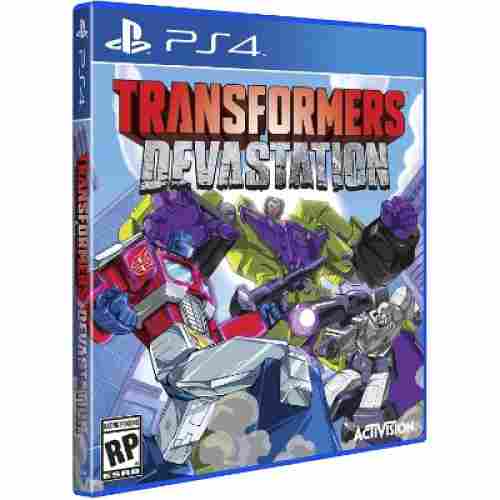 Inspired by the comic book art
High-quality for faster gameplay
Players have full control over their characters
Can play as five main Autobots
Fun story with options for attack combos
No multiplayer capability
Might be too young for kids under 12
We've seen Transformers toys in the form of clothing, action figures, and personal items, and we love that now kids can actually play their favorite characters! Video Games are an awesome addition to game night and this is full of family fun.
Read more
Educational Value
Boom! Crash! Autobots, attack! If you have a gamer on your hands, Transformers Devastation is a game that should be on your shelf. Game developer PlatinumGames took the classic look of the Transformers from the original comic books and make them into a video game for PlayStation 4, and it's full of action, adventure, and, well, Autobots!
This game allows players to genuinely feel like they're apart of the Earth-shattering action by allowing kids to play as five different characters: Optimus Prime, Bumblebee, Sideswipe, Wheeljack, and Grimlock. No matter which characters your child chooses they'll have a blast destroying Decepticons and fighting for planet Earth with instant robot-to-vehicle attacks, slam downs, counterattacks, and an endless amount of combo moves.
Entertainment Value
This game may be inspired by the comics but it has all the quality of a modern PlayStation 4 game. It's easy enough for kids to play while still having classic comic book graphics that will entertain adults watching as well!
Materials
This game will be a hit for adults to watch as well, with original voice actors Peter Cullen as Optimus Prime, Dan Gilvezan, and Frank Welker as Megatron and Soundwave reprising their roles for this action-packed game. The comic-like graphics will draw kids in and have them hooked on this game that'll be tons of fun for the entire family to watch and play.
Effectiveness
This game will help your child's imagination by bringing the Transformers world to them. This game is required for parents to pay attention to the age recommendation before purchasing for mild violence content. The storyline that the game consists of is incredibly easy to follow along providing a perfect rainy day activity for your child to enjoy.
10

. Age of Extinction Generations Leader Class Grimlock Figure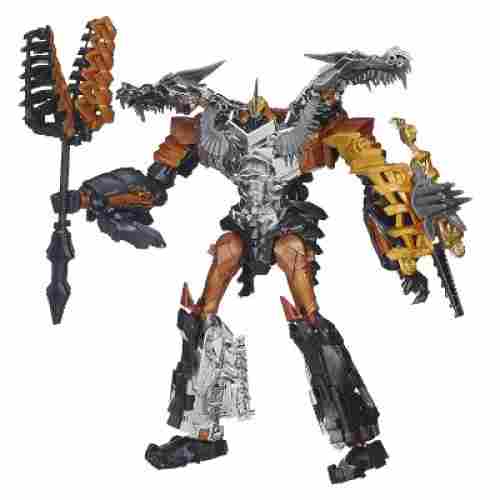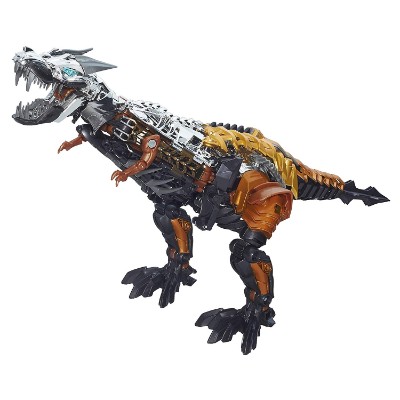 In robot mode, figure has full range of motion and all limbs are able to move well.
Customers loved this transformer over most of the others because of ease of usability.
People loved the low price for a great product
The weaponry included was found to be very entertaining for individuals
Dino mode does not have full range of motion
Some had a hard time figuring out how to originally transform since the directions included were not accurate on this phase.
The very outspoken and power-mongering leader of the Dinobots, a group of prehistoric dinosaurs that turn into robots and first seen in the big screen in the Age of Extinction installment of the Transformers movie series, Grimlock has always been voted as one of the favorites of fans to return in a sequel. He should have figured in the third installment of the franchise, instead of Devastator, but the movie plot didn't call for a rampaging dinosaur just yet. As such, Grimlock and the Dinobots were finally revealed in the Age of Extinction where they were released from being Lockdown's captives by the resurgent Optimus Prime. After a grueling battle on who should lead the bots, Optimus Prime prevailed, riding Grimlock into the crowded streets of Hong Kong.
Read more
Educational Value
Grimlock's realistic T-rex features make it an ideal tool in teaching kids about dinosaurs, particularly the undisputed king of them all. Collecting them all should be a great display piece.
Entertainment Value
With the Transformers Age of Extinction Generations Leader Class Grimlock Figure, your kid can do battle with the KSI Decepticons as well as Lockdown and protect the Seed from falling into wrong hands. The robot figure transforms in 18 rather complex steps that's why it is not really recommended for very young children as they can get easily frustrated with its transformation.
The Tyrannosaurus rex Grimlock wields his mighty Dragontooth Mace to defeat the bad guys together with the rest of the Dinobots, the pteranodon Strafe, the triceratops Slug, the velociraptor Slash, the apatosaur Slog, the stegosaur Snarl, and the spinosaur Scorn. Of course, you'd have to buy these other 6 to complete the Dinobot collection of your kid.
Materials
This leader-class series transformer is a new age Grimlock figure that is easy to transform and regarded for its size, usability, and entertainment. Children of all ages would enjoy this toy but it is recommended for older children at least 8. Made of quality material and sure to entertain just about anyone, this transformer is a great choice.
Effectiveness
Grimlock comes with many different accessories. All of the transformer toys are compatible with one another which makes having transformer toys perfect for your little one to enjoy as they'll be able to act out their favorite scenarios.
Criteria Used for Evaluation
Educational Value
For our list, we always take into consideration the educational benefit of the toy as well as the entertainment. We want to provide a product for your family that will be beneficial to your children. We learned the background of each Autobot and the roles they play in the movies. Of course, there are certain characters that do not have the most appealing qualities in these movies like Megatron, but a few of our favorite heroes like Optimus Prime or Bumblebee, demonstrate courage, strength, teamwork and good moral qualities that we would like for children to notice and pick up on.
Entertainment Value
One of the biggest factors that we considered for our top picks is the entertainment provided by the toy. We wanted to make sure that the toy was attractive and appealed to not just children but collectors as well. We took into consideration how the overall fun and excitement of the toy is, if it has a lot of entertainment value and if it was personally fun for us to play with.
Materials
We also considered the quality of materials that are used to make each toy and how durable they are. The reliability and life of the toys plays a big factor in our choices for our top list. We don't want to pick toys that won't last long, we want parents and children to be satisfied with these characters for a long time so choosing a durable toy is a must.

Effectiveness
Transformers toys are a great way for your child to explore their imagination. Through pretend play with these transformers toys your child will be able to act out their favorite scenes of the hit show and movies.
Having a favorite transformer toy is also a great way for your child to enhance their social skills as they will want to tell you all about them and even their favorite scenes that might include that special character. Your little one will be able to express their creativity, self-confidence and other cognitive skills as well. It is a great way for your little one to spend endless hours of fun with in an effective way.
Most Important Criteria
(According to our experts opinion)
Experts Opinion
Editors Opinion
Users Opinion
By Default

Parents, Did You Know?
One of the most important things we take into consideration when adding products to our list is customer reviews. We research what previous customers truly think of each product on our list. We spend hours reading reviews, listening to customers' experiences and read every detail of each product before we make our final decision. This is the most important part due to the fact that a lot of information can also be inaccurate, but something that is usually always true is customers' overall satisfaction with each product.
Parents, Did You Know?
Since we are presenting gift items for kids for Christmas, other holidays, birthdays and other special celebrations, we need to take into consideration the Transformers that kids today are familiar with. This means focusing more on the Transformers characters that they have seen in the four Transformers movies of the new millennium. Additionally, we also considered Transformers characters that they often watch in children's animated TV shows. We are sure they will recognize these transformable robots.
Other Factors to Consider
Emotional Development
You may not agree, but child experts say that there is clearly more than meets the eye every time children play with some action figure.
The mere fact that they have to follow the sequential steps necessary to transform the robot into its vehicle mode and vice versa can help enhance children's problem-solving skills as well as enhance their ability to follow instructions.
They will also understand the idea of consequences as a result of not following the recommended steps. This can have a bearing in their lives as adults as they will plan for a lot of different activities that require a series of steps, the completion of which is dependent on the step immediately preceding it.
Creativity
A more important benefit of playing with Transformers toys, however, is in the encouragement of children to use their imaginations either in reliving the scenes of the movies and TV shows that they have seen or in writing their own story line for the different characters. Either way, these kinds of toys can help enhance a child's cognitive abilities as he or she will have to process different pieces of information coming from a variety of sources. These are then translated into more meaningful constructs depending on how the child views his or her world in relation to the Transformers characters he or she is playing with.
When played with friends, these toys can also enhance the social interaction skills of kids especially when they simulate battles between Autobots and Decepticons. While it is perfectly alright to play with these toys by himself or herself, role-playing is best accomplished with other characters. This helps define the roles which children will be playing. When they grow up, they will always refer to these situations to help them identify the roles they are going to play in society.
Frequently Asked Questions
q:

How old should my child be in order to play with these Transformer toys?

a:

Each toy comes with a special rating that addresses the appropriate age for each one. Final discretion is of course up to the parents and/or caretakers of the child, as they can deem what is and isn't too mature for young children.
q:

Do Transformers have too much violence for a 5-year-old kid?

a:

There is a lot of violence in Transformers movies, mostly between robots. The movies may be too graphic for them to watch as they become progressively more involved, while the classic television show may be perfect for them because of the kid-friendly approach.
q:

How will I know which one is best for my child?

a:

On this list, we've included something for everyone. If your child is a fan of soldier toys, we've supplied options for both retro-looking toys as well as the modern-day movie-inspired toys. The PlayStation 4 game may be a bit mature and better-suited for kids ages 12 and older.
q:

I have a 3 year old who always plays with his older sibling's Transformer toys. Would these be good for him?

a:

Some of these action figures have smaller pieces that can very easily become a choking hazard for a child under the age of 4. The Medix Doc Bot does not come with accessories like the others, however, and might be a suitable toy for your 3 year old.

Adult supervision is recommended for any toy that can be put in a child's mouth, but having his own superhero figures may prevent him from taking his siblings'!
q:

The quality of some Transformers products look cheap and easily broken–are there any that are more brittle than the others?

a:

As with any toy, rough play will always bring about broken toys faster than play that is careful and gentle. All of the products we've listed are the highest quality and from the licensed Transformers brand, which makes them good quality and better to give to younger kids as well as kids of older ages. They'd all be great options for kids ages 4 and up.
q:

Would these be good for group play? My child has a lot of friends and they love to play together.

a:

Yes! Any of these transformer toys would be great for group play, especially if your child's friends have Transformer toys as well. The more the merrier!