One toy that we can guarantee will bring a smile to any kid this coming Christmas season is the Transformers series of mega-transforming robots from the mythical cybernetic planet of Cybertron. We are even pretty sure that these Christmas gifts will not only a big hit to children all over the world but also to adults who grew up to the Transformers fame begun in 1984. Like LEGO, Transformers has a very strong cult following especially among collectors of Japanese-made robots. We are thus, very proud to bring you the top 10 Transformers toys that anyone in your family will surely go crazy for this coming holiday season.
Transformers Age of Extinction 1-Step Bumblebee Figure
Age Range: At least 5 years old
Transformers Age of Extinction Generations Leader Class Grimlock Figure
Age Range: At least 8 years old
Transformers Rescue Bots Heroes Medix Doc-Bot Figure
Age Range: 3 to 6 years old
Transformers Age of Extinction Generations Leader Class Optimus Prime Figure
Age Range: At least 8 years old
Transformers Age of Extinction Generations Deluxe Class Autobot Drift Figure
Age Range: At least 8 years old
Transformers Age of Extinction Generations Voyager Class Galvatron Figure
Age Range: At least 8 years old
Transformers Generations Combiner Wars Voyager Class Sky Lynx
Age Range: At least 8 years old
Transformers Prime Weaponizer Optimus Prime Figure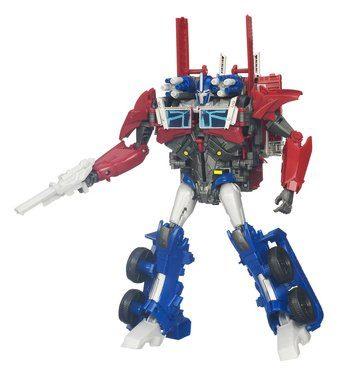 Age Range: At least 5 years old
TRANSFORMERS Generations Combiner Wars – MEGATRON Figure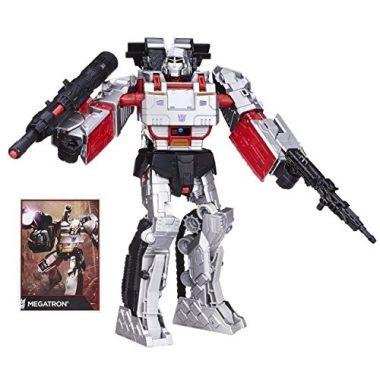 Age Range: At least 8 years old
Transformers Age of Extinction Generations Class Lockdown Figure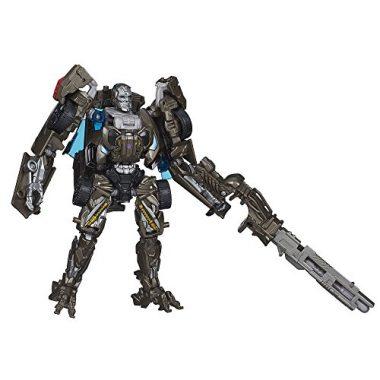 Age Range: At least 8 years old
Criteria Used to Evaluate the Best Transformers Toys for Kids
We use a variety of criteria from entertainment value, educational value and quality of the toy to make our lists. We thoroughly inspect and read reviews, experiences and details about each toy on our list and take all of these factors into consideration when making our lists. We like to think that our toy picks will satisfy your childrens thirst for entertainment as well as expand the minds of anybody who picks them up. Our goal is for you to grow, and have fun in the process.
Entertainment Value
One of the biggest factors that goes into consideration of our toy picks is the entertainment value provided by the toy. It has to be an attractive toy that will appeal to the minds of many. We take into consideration how fun the toy is, if it has a lot of entertainment value and if it was personally fun for us to play with.
Educational Value
For most of our lists, we take into consideration entertainment value as well. We want to provide a product that will not only be entertaining but will also be beneficial in the means of expanding the minds of our future generations. For the transformers page, we enjoyed understanding the background of each figure and learning the roles they play in the movies. There are certain transformers that do not have the most appealing qualities in the movies, and then there are some, like Optimus Prime, that demonstrate courage, strength, and good moral qualities that we would like for kids to notice and pick up on.
Quality of the toy
We also factor in the quality of materials used to produce the toy and how durable they are. The reliability and life of the toys plays a big factor in our choices. We do not want to pick toys that will not last for our customers, we want them to be satisfied for a long time so choosing a durable toy is integral.
Customer Feedback
This is one of the most important factors we take into considerations. We like to know what previous customers truly think of the product. We read reviews, listen to experiences and read the details of each product before we make our choice. This is the most important due to the fact that a lot of information can be inaccurate, but something that is usually very true is the customer's experience and satisfaction.
What Determined The Top 10 Transformers in Our List
Choosing between Optimus Prime and Megatron is easy, or even between Starscream and Bumblebee, was never easy. It all boils down to who you are really rooting for: the do-gooder Autobots or the villainous Decepticons? Unfortunately, doing so is like choosing between good and evil. We believe that the Decepticons are not necessarily evil since all they really wanted is to rebuild their home planet, Cybertron, for themselves of course. But the point is that since it is more of a moral question if we highlight the good vs. bad line of thinking, we must come up with a different strategy to look for which Transformers we need to include in our list.
And then it dawned upon us that since we are presenting gift items for kids for Christmas, then we need to take into consideration the Transformers that kids today are familiar with. This means focusing more on the Transformers characters that they have seen in the 4 Transformers movies of the new millennium. Additionally, we also considered Transformers characters that they often watch in children's animated TV shows. We are sure they will recognize these transformable robots.
We then looked at the positive responses from customers who have already purchased these items for their respective kids. It is imperative that we understand what other parents are saying so we can also share their thoughts with you.
Why Playing with Transformer Robots is Good for Your Kids
You may not agree but child experts say that there is clearly more than meets the eye every time children play with an Autobot or Decepticon action figure.
The mere fact that they have to follow the sequential steps necessary to transform the robot into its vehicle mode and vice versa can help enhance children's problem solving skills as well as enhance their ability to follow instructions. They will also understand the idea of consequences as a result of not following the recommended steps. This can have a bearing in their lives as adults as they will be planning for a lot of different activities that require a series of steps, the completion of which is dependent on the step immediately preceding it.
A more important benefit of playing with Transformers toys, however, is in the encouragement of children to use their imagination either in reliving the scenes of the movies and TV shows that they have seen or in writing their own story line for the different characters. Either way, these kinds of toys can help enhance a child's cognitive abilities as he or she will have to process different pieces of information coming from a variety of sources. These are then translated into more meaningful constructs depending on how the child views his or her world in relation to the Transformers characters he or she is playing with.
When played with friends, these toys can also enhance the social interaction skills of kids especially when they simulate battles between Autobots and Decepticons. While it is perfectly alright to play with these toys by himself or herself, role playing is best accomplished with other characters. This helps define the roles which children will be playing. When they grow up, they will always refer to these situations to help them identify the roles they are going to play in society.
The Bottom Line
This Christmas one of the best gifts you can give any child is a Transformers toy. With our list of top 10 Transformers, you now have the opportunity to really brighten a child's Christmas day.
FAQ
Frequently Asked Questions
Q: How complicated is the transformation process of these toys?
A: Most of these transformers are simple to transform. They all come with a set of directions that are detailed in explanation of the process and are easy for anyone to understand. Some of the toys can be more difficult than others, but for the most part they are nothing that you will not be able to figure out.
Q: How big are these items?
A: Most are medium in size, ranging from 6 inches to over a foot high depending on the figure you get. They are plenty big enough to play around with but not too heavy or so big that they are hard to be mobile with. From a collectors point of view, they are perfect in size for a cabinet-collection.
Q: Do these items come with weaponry?
A: Yes. Most that come with weaponry come with a convenient way of storage or the weapons detach so they are not in the way.  These models are replicas of the movie figures so if the figure had a weapon in the movie you can be sure it will have the same weapon on the figure. Most figures weapons configure into part of the vehicle when the transformers is changed. Some, in the Combiner Wars Series, combine with other figures to make a bigger figure so if you have these be sure not to lose them if they are detachable!
Q: Is there both Decepticons and Auto Bots available?
A: Yes. There is a variety of each available to complete your collection. They all vary in availability, price, and size but there is a wide range available from both sides.
Q: Are these meant for small children?
A:Most are good choices for children 3 and up but some are more appropriate for older children due to choking hazards. Some figures include small parts that can fall off and be a danger for very young children. All of the figure come with an age range and we recommend referring to that when determining which toy is appropriate for your situation.
Q: What are combiners and are they available?
A: The combiners are a set of transformers that all connect in particular ways with eachother to form bigger and bigger figures. They are available but less available than the other figures. They are a little more complicated to configure but they are also more pleasing once complete because of the size and difficulty. We have a couple on the list, and the others could be found close by on our site.
You May Also Like