If your child is old enough for sleepovers, or if you are a family with regular guests, you may already be familiar with the Tetris game that is sleeping arrangements. Sleeping bags and pillows are always a classic option. But there's another solution that's far more compact, easy to clean up, and doesn't make much fuss. We're talking, of course, about the trundle bed.
Trundle beds are bed frames with a separate flat below that rolls out for storage or extra bedding. The word "trundle" technically refers to the lower, additional bed, but here we're using it to describe the whole set, as it doesn't make much sense to purchase a trundle if you don't have a compatible frame. This style of bed is great for kids who constantly have friends over, or as a manner of extra storage. Trundles come in various sizes but usually run in the same ballpark as a twin or full bed, if you need a reference point. They're certainly big enough for children to cuddle up in!
Here are our top 10 trundle picks. We've focused on bed frames that cover a gambit of styles, while still being made to last, and, above all, are safe for young users. We hope the family enjoys these market-best options. Sweet dreams!
Best Trundle Beds for Kids & Toddlers Reviewed
Coaster Fine Furniture La Salle Twin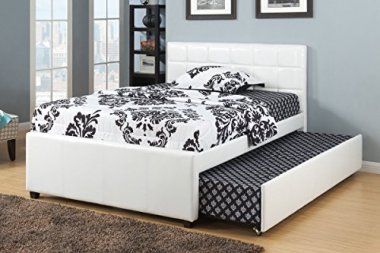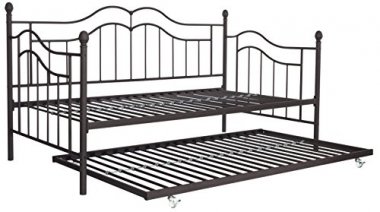 Discovery World Furniture Mission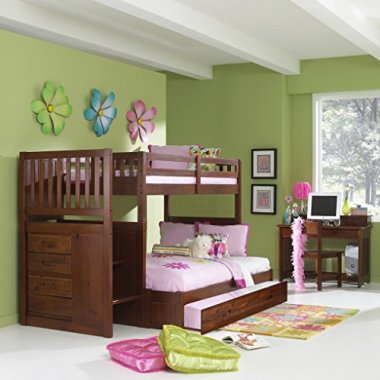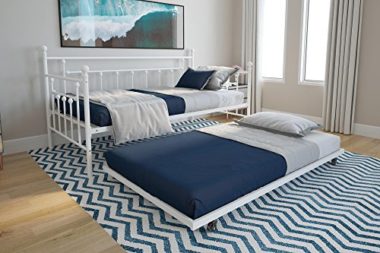 Discovery World Furniture Twin
Max & Lily Solid Wood Full-Size
Broyhill Kids Marco Island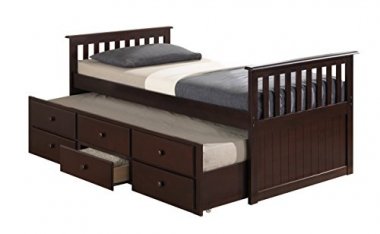 Criteria Used in Evaluation of the Best Trundle Beds for Kids and Toddlers
It is of crucial importance to you to create a safe and constructive environment for your child to develop within the home. Their room is a space that they will use for the duration of their stay with you, and an important place for them in constructing a positive identity.
They need the ability to move in their space and to fill it with artifacts of their own choosing, but they will also want a place for friends when the occasion allows for it. This can make organization difficult to you as a parent, make it hard for you to provide a vibrant and positive home for your child while still allowing them the necessary room to be creative and constructive on their own within it.
Trundle beds allow you to double up on existing sleep space, they give you two beds in the space of one and avoid the sort of vertical space limitations and risks associated with bunk beds. This efficient design can help you assist them in their process of development, helping them to fill their bedroom with their own toys and activity areas while still allowing them the opportunity to bring friends into the mix.
Developmental Benefits
From day one, your baby is a social being. They benefit from the experience of contact with other humans, beginning with smiles and gurgles at the sight of familiar faces and ending with their capacity to stand up for themselves when not around you. You want your child to have peers, to have partners and competitors throughout their process of self-discovery, but you will have to find a good space for these new friends to sleep when they come to visit.
Trundle beds actually provide a sense of proximity between sleeping friends, giving them their own space while keeping them close as they work through these first and most important interactions. Bunk beds are a valid option, and some of these trundle beds are bunk combinations that actually provide sleeping space for three or four. Give them the sleeping space to invite all of their closest new companions, and then roll the extra bed away after the sleepover and give them the whole room to play with again.
Safety
When choosing our top picks for this list, we were very careful in choosing modern and well-guarded bunk and trundle bed options. There are mixed opinions out there concerning the benefits and consequences of buying a bunk bed for your children, but most of the concerns around bunk beds are safety concerns for smaller children. Some of these beds involve staircases as opposed to ladders for traversing between the top bunk and the floor, and all of them employ guard rails on every side of the top bunk.
These modern improvements on the bunk beds that you remember from childhood remove the vast majority of the safety risk involved in purchasing bunk beds for your children. That being said, bunk beds will still require a bit more discernment on your part when it comes to how large a child should be before being allowed to reach the top bunk.
Most of these beds suggest that children under the age of 6 shouldn't be allowed on the top bunks, so that's probably a good benchmark for you and your children. But always use your own judgment about the maturity of the child in question, and easily arbitrate disputes over who will sleep on the top bunk using this empirical method.
Design
These trundle bed and bunk bed combination sets are all great for a parent who is combating space constraints, giving them more room for play in their bedroom while they're up, and giving them an easily available crash spot for when they finally come down. These beds were chosen because they are perfect for large or expanding families because they help keep the children closer during their visits.
Trundle beds are an exceptional improvement on any bed in a family home, but the addition of a trundle with storage drawers onto a top bunk make for an exponentially more open bedroom for your children. These modern masterpieces will give you the freedom to put desks or art areas into what would have once been dresser space, making every room that they are used in more attractive and feasible for fun!
Then, there is the obvious benefit that we have yet to even discuss here: forts. Kids love to build them, and your pillows and sheets would hold testament to that if they could speak. For the bunk bed options included in this list, you can handle this inevitability in a way that your kids will love: hang sheets around bunks to form castle walls, make pillow battlements on the top bunk, and let them hold down the fort in these awesome bunk bed trundle combinations.
For the budding adolescent, however, bunk beds might be quickly going out of vogue. In this list, there are several bunk bed options that are convertible to separate beds, handling this change without the need for an additional bed purchase.
But in other cases, your child may be looking for all the maturity of a conventional adult bed, but deep down you know that they will want the extra sleeping space for their friends when they come over. The trundle bed options on this list are custom cut to that need in your life, giving them a mature and attractive sleeping option that will still allow for their childhood to shine through at family gatherings and sleepovers.
Conclusions
If you have multiple children, or just have a child who loves to bring friends home, making the best use of your sleeping spaces is a must. There are several great options available to the discerning customer, and this list has been formulated in the hopes of helping you find the best option for your child and your home. With these products, provide your children with the sort of comfort and safety that you can appreciate, and the sort of freedom of movement and creativity that they can appreciate.
FAQ
Frequently Asked Questions
Q: Can I use these beds too?
A: Check the weight capacities on each item, but if you are under 200 pounds, you can sleep on these beds just as easily as your kids.
Q: How thick of a trundle mattress can I use for these beds?
A: This varies from product to product; some roll-out trundles can support up to 10-inch mattresses, while the more compact options only fit around 6-inch mattresses. You will want to designate these thinner mattresses to the smallest of your guests.
Q: Which rooms are best for these pieces of furniture?
A: Some of these beds, the bunks, in particular, are going to be more specifically appropriate for bedrooms and guest rooms, but the daybed hybrids can easily fit into public spaces. Use your discretion, though; some bunk and trundle combinations can fit into large playrooms and living rooms that are more predominantly kid-oriented.
Q: How old/young should they be to sleep on a bunk bed?
A: This is dependant upon your discretion and the design of the bunk bed itself. Some of these beds have safer stepping systems wrapped around the structure of the beds, allowing smaller children to traverse the space between the floor and top bunk with relative safety. Ladder systems aren't inordinately dangerous in and of themselves, but the products typically do suggest buying for children over the age of 6. The weight capacity for the top bunks on these beds is typically around 200 pounds, meaning it will work for most children right on through adolescence.
Q: How heavy is this package going to be?
A: Check the individual item descriptions, but most range between 100 and 200 pounds in total. Some products do state that the set may come in separate packages, meaning the set might not arrive on the same day in some cases.