10 Best Wii Games for Kids in 2019
last updated
Sep 09, 2019
One of the best things about the Nintendo Wii versus the other major home gaming consoles on the market today is that is geared specifically toward children and family-friendly titles. There are more E rated games on Wii than any other system. This can make purchasing a game that is appropriate for your little one and with less violence than more mainstream games a lot easier.
Whether you want to give your kiddo something to do over the winter or want to bring a new level of family play into your home, the Nintendo Wii has something for everyone. We have gathered a selection of some of the most popular Wii games from across the internet in a variety of different genres to fit every gaming style. We hope that one of our 10 Best Wii Games for Kids will be the highlight of your next family game night!
In a Hurry? The test winner after 12 hrs of research
Just Dance 2018
Why is it better?
Includes Top 40 songs of the year
Access for three months to other popular streaming songs for free
Play solo or with a group
Five new dances using two-handed choreography
World Dance Floor allows you to compete with other dancers around the globe
In a
Hurry? Editors choice:
Test Winner: Just Dance 2018
13
Researched Sources
12
Hours Researching
16
Products Evaluated
Educational Value
Entertainment Value
Social Development
Creativity
By Default
10 Best Wii Games for Kids Reviewed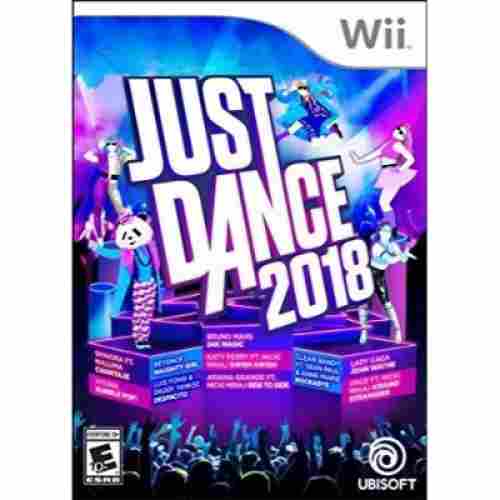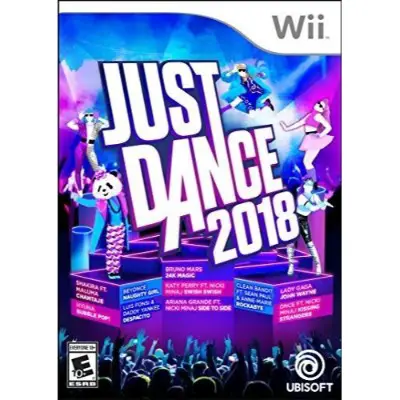 Includes Top 40 songs of the year
Access for three months to other popular streaming songs for free
Play solo or with a group
Five new dances using two-handed choreography
World Dance Floor allows you to compete with other dancers around the globe
The dampened choreography in comparison to earlier versions
It's a great way to get kids and adults alike up and moving. It can be played alone or with up to five others, and helps gets hearts racing and blood pumping in a fun, musical fashion.
Read more
Educational Value
Video games have a bad rep for encouraging inactivity. But the Just Dance series lays a base for competitive, active dancing. Using your Wii remote, the game senses whether you are, in fact, executing the moves performed by the characters onscreen accurately and in tempo.
Entertainment Value
Choose from a wide array of popular songs from the past year, including top hits by artists such as Ed Sheeran, Bruno Mars, Katy Perry, Beyoncé, Ariana Grande, Selena Gomez, and Lady Gaga. The reimagined World Dance Floor allows you to participate in the biggest online dance party ever, competing to win in-game rewards.
Social Development
Dancing is a great way to celebrate and challenge your body while enjoying your favorite tunes. The Just Dance 2018 game adds a competitive edge, for those who like higher stakes, or can be played on solo mode if you simply want to get some cardio in.
Creativity
Just Dance is a great way for your child to step into the dancing world. They'll be able to stay active and express themselves through the power of dance. Your child will be able to battle others or do a solo and learn the moves to their favorite songs. This game comes with over 40 songs that your child will be able to choose from. Dancing is also a wonderful way to destress and let any kind of energy out.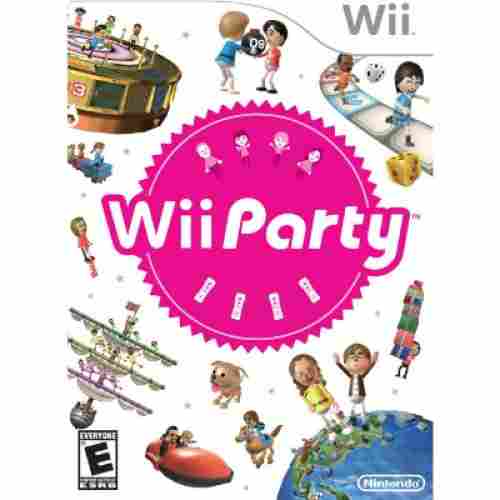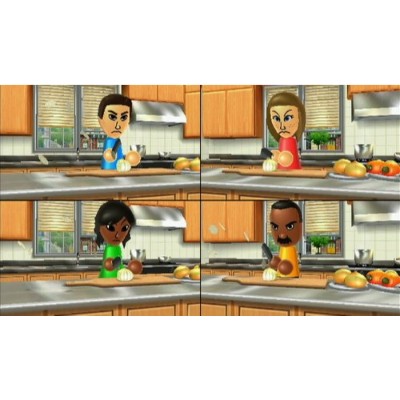 Competitive and Cooperative play
Over 80 games
1-4 players for group play
13 different game modes
Some of the party games featured may not appeal to all kids
The Wii Party is a very unique way to host children's, even grownups', parties. There will never be a dull moment playing this game at any party.
Read more
Educational Value
Wii Party is a great way to get a birthday party or any celebration off to a fun and exciting start. There are 13 game modes with classics like Hide-and-Seek or Spoons and 70 mini-game modes for additional fun. Kids cooperate to play Balance the Boat or compete at Board Game Island. Since Wii games require physical activity to play the Wii Party is a great way to get them up and having fun, burning energy and interacting with each other as well as the game.
Entertainment Value
The Wii Party ensures that any child's party will be filled with fun activities. The Wii Party is also a great way to play some time-honored party games such as hide and seek. With the Wii party, kids can also get creative creating their own games to keep the party guest entertained. Also with this fun-filled video game, every day could be a party since the activities can make for an interactive experience no matter what the occasion.
Social Development
Up to 4 kids can play at one time, and a Wii controller is necessary for each player, so round up as many as you can for group play.
Creativity
Wii Party is a game regarding sports. With multiple activities, your child will be able to act out each sport and activity that the game has selected for them. It's a game perfect for the whole family as there are over 70 different mini-games that your child will be able to explore. This is a great way for your child to be active while also having fun and exploring the different sports activities that they typically might not enjoy. It's a great game for any rainy day if you're looking for an option to keep your kids busy and moving.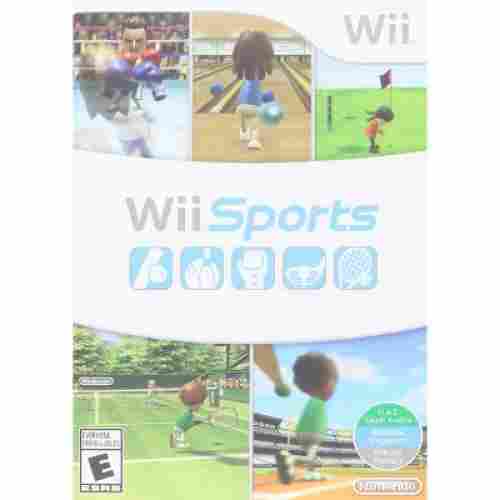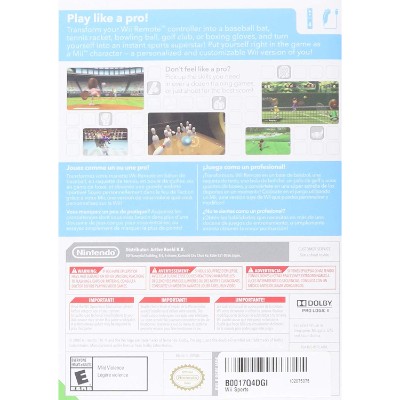 5 different sporting events in full form
Different skill levels to challenge a player
More than one player can play
Classic version of game included with Wii Console when purchased.
Some actual features of the sports not included for example stealing a base in baseball isn't possible
Wii sports provides hours of fun and exercise for kids of all ages. This could also be a good way to hit a few balls before heading off to work. No special shoes, gloves, or sunblock necessary.
Read more
Educational Value
Wii Sports is a great game to introduce kids to 5 different sports. It should also teach them about precision and timing as well as help enhance their reflexes.
Entertainment Value
Wii Sports is a great way to get kids interested in physical games and exercise without joining a gym or buying expensive equipment. Kids get active with Wii's boxing, bowling, baseball, tennis and golf games. This is a baseball game that will never get rained out, and tennis players will never need to gather up balls. Boxers get punched in the face but only the icon takes the hit in the game, so bloody noses are avoided. Kids learn that hitting the golf ball hard makes it go far but only being accurate will keep it on the green.
Social Development
A great way to get kids up and moving while having fun with a video game that requires movement. Wii responds accurately thus rewarding stronger efforts with longer hits, better serves, and fewer gutter balls. Wii Sports is an excellent introduction to playing sports for little kids without risking the discouragement of scrapes and bruising. This is a good way for kids to stay active even in bad weather or allergy season. Up to 4 players can participate in most games.
Creativity
Wii sports is another game on our top ten list that will let your child explore 5 different sports. It's great for your child to express themselves with and they'll be able to interact and act out the motions. This game is a motion and interactive gameplay getting your child up and moving.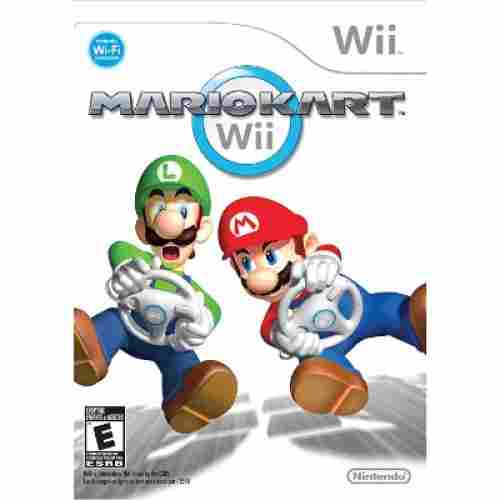 Car racing action in a kid friendly way
Plays up to 4 individuals at a one time
4 different modes of play that feature different forms of racing
Features characters from Super Mario Bros, such a Luigi, Mario, Toad, Princess, and Donkey Kong Jr.
No mini-games included.
Game tends to work better with Wii Wheel sold separately
Racecar drivers have excellent reflexes and physical strength as they need to withstand high G-forces. While this game doesn't provide such experience, it nevertheless makes up for it by providing a more interactive and fun way to bond with family or friends.
Read more
Educational Value
The high speeds and banking turns, teach kids about velocity and demand quick reflexes mentally and physically. All their favorites will be there including Mario, Luigi, Princess Peach, Toad, Bowser, and Boom Boom.
Entertainment Value
A good car race is always fun, and Wii's Mario's Kart is no exception. This game is a thrilling ride. Using the Wii Wheel allows kids a more realistic experience in the kart race, but the standard Wii remote control will work with this game, too and can be used to drive any character's kart.
Social Development
What could be more fun than classic Mario Brothers characters on the speedway with your child behind the wheel? They can choose which character to be and play against as many as three friends. This is fast fun and the kind of competition they can enjoy over and over again.
Creativity
Mario Kart is a racing game. You'll be able to choose your character, type of car, and your favorite road map. Each map is different, and your child will be able to explore endless options. Mario Kart is a great multiplayer game that your little one will enjoy.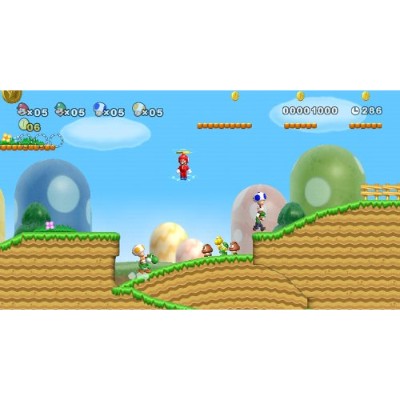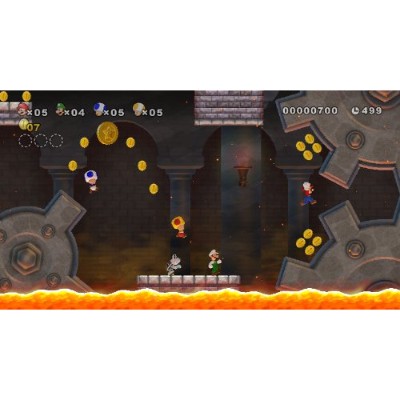 Up to 4 players
9 Worlds
8 increasingly difficult levels
3 bonus games
Characters tend to to crash into one another in multiplayer mode
If you were born in the late 70s to the 80s we are pretty sure you can still remember the iconic jingle that keeps on playing while Mario or Luigi are running and jumping over obstacles to try and save Princess Peach Toadstool from the clutches of the evil Bowser and help bring peace to the Mushroom Kingdom. We are also sure that you can still remember the classic tune every time either Luigi or Mario loses life so you will reset the game again.
Read more
Educational Value
Super Mario Brothers is a blast from the past and here those beloved characters get an update. Kids will love going on this challenging adventure with Mario and his brother Luigi. The game is good wholesome fun that will also challenge a child as they go through the various levels. An opportunity for today's parents to give their child a type of video game they themselves loved to play.
Entertainment Value
Now, you can relive those memories with the Super Mario Bros. game coded specifically for the Wii. Gone are the days when you have to suffer endlessly pressing on those buttons of the Nintendo control pads. In its place, your kid will now get to use his or her entire body to really save the day.
Social Development
The good thing about this game is that up to 4 kids can play at the same time – two will play either Mario or Luigi and the other two will be playing as the henchmen, or should we say the hench-Kuppas, of Bowser. What's also included in this game is the propeller suit which should allow your kid to shoot his or her playable character high up into the skies over the Mushroom Kingdom. To do this, your kid will simply shake the Wii remote or even the Nunchuk and he or she will be soaring like a bird. Now if only that were real we are definitely positive that kids will go crazy with this feature. And oh, did we mention that Mario can now transform, not into a Super Mario, but a Penguin Mario?
Creativity
Much like the classic Mario games, this game will let your child explore the Mario world. Your child will be able to follow this storyline and battle some classic characters. Mario is a great way for your child to also explore the power of teamwork. Most games are multiplayer or single player which your child will be able to choose how they want to play. It's also a great way for your child to explore their imagination.
6

. LEGO Batman 2: DC Super Heroes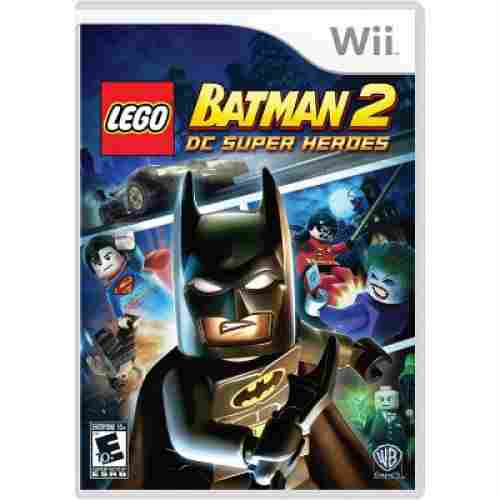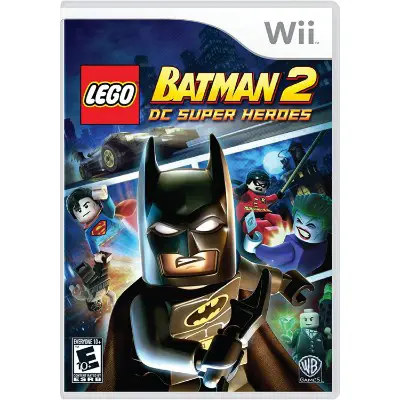 Different characters to build and choose from
Different settings to choose from featuring Gotham and Metropolis
15 levels of play + 1 Bonus level
Up to 2 players can play simultaneously
Player can get stuck on earlier levels due to difficulty in advancement
The game features a new storyline which pits the heroes and villains of two great cities – Gotham and Metropolis. This should be an interesting game to play especially for kids who are fans of DC characters.
Read more
Educational Value
There are 15 levels of challenging play, and a bonus level! For big Batman fans take a look at our Best Batman Toys for Kids article.
Entertainment Value
LEGO BATMAN2: DC Super Heroes is the latest adventure for the Dynamic Duo of Gotham City, and if your child is a fan, this is the gift for them! Players enter the DC universe and can take on the villains as any of the heroes from Batman, Robin, Superman, Wonder Woman or Green Lantern. They fight Lex Luthor and Joker using all of the classic gadgets and weapons, flying the Batwing or driving the Batmobile, wearing the power suit and blasting villains with the Hazard Cannon. Superman can use his Heat Vision and powerful breath.
Social Development
For Batman fans, speeding through Gotham and Metropolis in pursuit of arch enemies is a huge thrill for kids. Whether they are Batman, Superman, Wonder Woman or another hero, this is big fun in the DC universe with all the most famous weapons at their fingertips. Great for 2 players or 1.
Creativity
Who doesn't love superheroes? This Lego set game will let your little one build and enter a LEGO world as their favorite superhero. Your child will be able to explore how to build characters and Gotham city. This game can also have up to two players which is great for families of multiples.
7

. Sonic Sega All Stars Racing
Up to 2 players can play
3 Different modes of play
Car racing action that is kid friendly
Different Sega characters to choose from
Some players feel the tracks aren't as good as in other versions
An old favorite, Sonic the Hedgehog on a race course with 20 familiar Sega characters, is bound to be a good time. There's just the right amount of chaos to make this competition completely engaging. For extra fun and excitement, 4 players can get online and play another 4 competitors.
Read more
Educational Value
It's racing and mayhem both in one game. It should be instrumental in helping kids master their targeting precision and accuracy. Driving reflexes can also be enhanced.
Entertainment Value
Sonic & Sega All-Stars Racing features Sonic the Hedgehog, one of Sega's best-loved game characters in a wild ride around new race courses. There's a crowded pack of 20 competitors on the road as kids speed through rainforests, around castles, and into cities. They launch the Banana Blitz of monkey balls to defeat rivals, use int Invincible Super Sonic to get ahead all while dodging traps along the way.
Social Development
There are 3 game modes and room for 4 players at once. Online play can include 8 players.
Creativity
An old classic Sonic the Hedgehog meets the racing world. There are three different modes that your child will be able to choose from. Having different options that your child will be able to pick and choose will let your child be able to express and choose their own storyline and game setting that they want. Each time will be different which is a great way for your child to express themselves and learn what their gaming style is.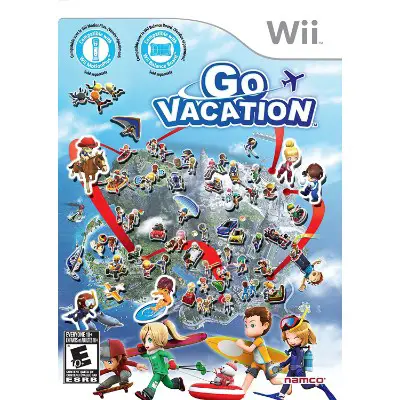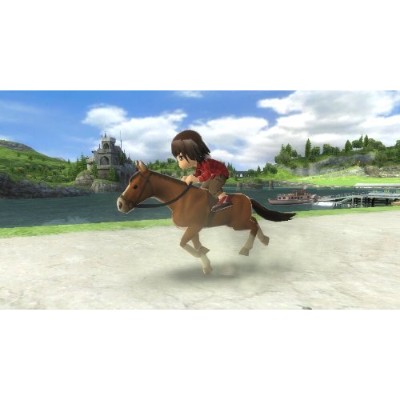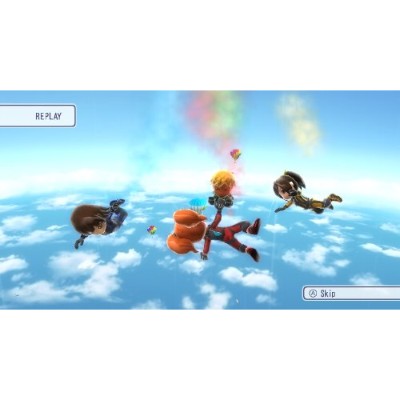 100 various ways to play
Supports up to 4 players at once
Numerous activities to explore & create in game
Players can do different things simultaneously
Wii Remote works with game but other accessories sold separately operate game better.
A whole new place to explore without packing a bag or leaving the house. Kawawii is a good way for kids to escape and have fun by themselves or with friends.
Read more
Educational Value
Like all vacations, it is important to take snapshots as mementos. Go Vacation does just that. Up to 4 individuals can play simultaneously and each one can do his or her own thing on Kawawii. While the ordinary Wii remote will do just fine in controlling the different actions in the game, it is highly recommended to use the Wii MotionPlus, a Wii Balance Board, or even the Wii Zapper for more immersive play.
Entertainment Value
Thinking of having a family vacation on a beautiful tropical island but you don't want to leave the comfort of your home? Now you can with Wii's Go Vacation. This video game puts players in an imaginary island named Kawawii, where different adventures are just waiting to be discovered. The whole idea is for your kid or your entire family to go on a vacation in this island, build your own villas, drive in your own car, or even do anything you wish on Kawawii. Go skydiving, whitewater rafting, horseback riding, deep sea fishing, surf fishing, or even surfing and diving. Ride jet skis and explore the island's coast. Take the horse and discover the wonders of the jungle. Whatever your child can think of about having a great time, he or she can effectively simulate that in the Go Vacation. He or she can even have his or her pet dog tag along in the fun.
Social Development
Go Vacation provides endless opportunities for exploration and adventure on this island paradise. Kids can use their imagination to build huts and houses or simply enjoy sports and driving around Kawawii. This can be your child's own private garden of fun, or they can choose to share with friends and family.
Creativity
Go Vacation lets your child explore the world. Your child will be able to explore and even create different activities making it like your child is creating their own game. This game includes over 100 different activities and different ways that your child will be able to play providing endless hours of entertainment for your child to enjoy.
9

. Super Smash Bros. Brawl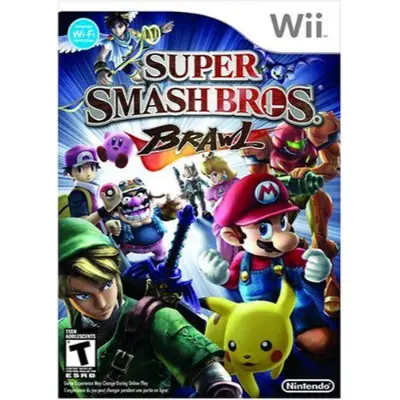 Can be played by up to 4 players in multiplayer mode
Features different Nintendo characters in crossover event
41 stages of play and skill
Classic mode feature included
Not appropriate for kids under the age of 8 years old due to violence factor.
It's very rare to see some of our favorite video game characters in just a single game. It's like pitting DC and Marvel in one fantastic game. And, since it has multiplayer functionality, this is great for enhancing the bonds of friendship for your kids.
Read more
Educational Value
The Super Smash Bros. Brawl is largely regarded as the very first video game to allow players to customize or even construct their very own innovative and original stages. The game features 39 playable characters in 41 different stages.
Entertainment Value
First released in 1999, Super Smash Bros. proved to be an instant hit among Nintendo fans as it provided the platform upon which they could pit different characters from the different game franchises of Nintendo against each other. It was one of the best crossover game series that saw Mario from Super Mario Bros, Pikachu from Pokemon, Link from The Legend of Zelda, Fox McCloud from Star Fox, Kirby from the Kirby series, and Samus Aran from Metroid being played all at the same time in a single game franchise. Its third installment, the Brawl, Super Smash Bros. has even added third-party game characters like Sonic the Hedgehog from SEGA, Diddy Kong, Kid Icarus' Pit, Wario, and Solid Snake from Metal Gear of Konami.
Social Development
The Mario Brothers are back and this time they brought along some other well-known favorites. Super Smash Bros. Brawl also features beloved characters such as Pikachu from Pokemon, Kirby and numerous others in a crossover extravaganza. The game actually allows a child to choose which characters will go up against each other. This gives the child a chance to create their own unique game and to make decisions about how it would look.
Creativity
Super Smash Brothers is a fighting game. It's important for parents to remember this game is NOT recommended for children under the age of 8 due to the violence that the game can consist of. Your child who is playing this game, however, will be able to choose and design their favorite character, fighting world and who they want to battle. They can have up to four players which will make the game all that more fun. It's also a way for your child to have self-confidence in a positive way as well as learning cause and effect.
10

. Angry Birds Star Wars
Twenty-five hours of gameplay
Twenty new levels for Wii console
Beloved Star Wars and Angry Birds characters meet-up
Can play in a competitive or cooperative mode
Bonus content available to be unlocked
Too difficult for young players
The Pigtroopers are attacking, and it's up to you to stop them and save the galaxy. From Endor to the Death Star, this reimagining of the Star Wars meets Angry Birds universe is a fun romp around the world for all players. Choose between competitive mode, which allows two to four players to compete amongst themselves, or cooperative mode, which puts two players side by side working together to level up.
Read more
Educational Value
There are solo levels as well as multiplayer levels, which leaves a fair amount of game to be discovered and enjoyed, bother alone and with your children's favorite gaming partners.
Entertainment Value
Speaking of levels--there are twenty new platforms specifically designed for the console, resulting in over 25 hours of gameplay and the ability to unlock hidden items. "A long time ago, in a galaxy, far, far away…" Well, you know the rest.
Social Development
The cooperative and competitive mode allows your child the chance to work on their social skills and team-building abilities, while also improving hand-eye coordination and problem-solving.
Creativity
Angry Birds: Star Wars edition is a great game for your child if they love sci-fi. Your child will be able to learn about problem-solving with all the different characters that this game consists of. It has over 20 different levels of gameplay that your child will be able to explore on their own and enjoy.
Criteria Used for Evaluation
Educational Value
Some games are designed to educate in or out of the classroom. Most of them require some problem-solving abilities, and higher levels of play will improve these skills. Sometimes a game just makes learning more invisible and less stressful, so kids are more likely to accept a lesson that seems like a game. Again, if it isn't fun, it probably won't get used, so we've chosen educational games that are also enjoyable.
When children adopt new roles and act out stories involving other characters, their imaginations are triggered. We thought this was a good quality to encourage to inspire further creativity in their lives and interactions with others. Learning skills like driving a race kart or a car and fighting evil with weapons that don't even exist require a lot of creative juice so, these too were qualities we looked for.
Entertainment Value
When the Wii was first introduced, it gained a lot of notoriety for its unique playing style. The system introduced the Wii remote and Nunchuk as its primary controllers which utilize not only button presses like the more traditional PS3 and XBox 360 but also incorporate motion. It was the first console to break away from the idea that we sit to play video games and instead used its revolutionary motion-tracking system to get players back on their feet. This type of "action gaming" would become the trend that would eventually pave the way for the Sony Move system, the XBox Kinect system, and even the VR-style games that we know today.
The more active a game, the better it is for a child's health. Since Nintendo's Wii system requires players to move to make things happen on the screen, playing these games often can help kids develop their balance and timing. Even more importantly some games can aid in maintaining a child's healthy weight and improve their hand-eye coordination. Kids like to run around and burn off energy once in a while, and the Wii can take advantage of this instinct by offering an exercise that masquerades a play.
Our top picks brought together as many of these features as possible in order to maximize the quality of play for your kids. Nintendo's Wii system allows children a more immersive interaction with games than in previous and some current game systems. From sports to dance to interaction with cartoon-style characters, we wanted to ensure that playtime is fun, active and exciting for anyone who picks up a console.

Social Development
The Nintendo Wii system combines video games with physical activity for creative fun and adventure. We chose games that promote physical involvement, social interaction, and imagination. Some include learning or demand coordination, and many help sharpen cognitive skills. All games require a good attention span, and if they weren't fun, then no one would play them so this definitely figured into our selections. Recognizable characters and activities that can involve the entire family were also considered.
What is really amazing about the Wii system is that it allows for a multiplayer experience. This can enrich their social interaction abilities and pave the way for healthier social relationships. If the child plays these Wii games together with his or her family, then family relationships are not only enhanced but are also strengthened.
Creativity
Most parents don't think that there is any kind of educational benefit when it comes to video games. However, that isn't the case at all. Video games can help your child express their creativity whether it's designing a world, character or watching the progress of the storyline of each game as well. It's a great way for your child to enhance their imagination and explore different worlds and storylines that they normally wouldn't.
Most Important Criteria
(According to our experts opinion)
Experts Opinion
Editors Opinion
Users Opinion
By Default

Parents, Did You Know?
There has been some controversy as to whether computer or video games are good or bad for kids. There are those who say that sitting in front of a TV and game console all day long can lead to significant loss of motor development. Some would even say that it can contribute to the development of obesity.
But if you are going to look at the design of the Nintendo Wii system, it addresses specifically this concern. It actually encourages children to become more actively involved in the gameplay. This is made possible by the system's unique motion-sensitive inputs such that players will have to really move parts of their bodies to interact with these games. This helps provide kids the necessary stimulation for their psychomotor development. This is especially true in games that involve whole-body movements such as dance and sports.
Parents, Did You Know?
Additionally, there are also games that can help children enhance their problem-solving skills as well as imagination and creativity. They learn to harness their planning and strategic thinking skills not to mention their ability to predict the consequences of certain actions.
Other Factors to Consider

Physical Development
The more active a game, the better it is for a child's health. Since Nintendo's Wii system requires players to move to make things happen on the screen, playing these games often can help kids develop their balance and timing. Even more importantly some games can aid in maintaining a child's healthy weight and improve their hand-eye coordination. Kids like to run around and burn off energy once in a while, and the Wii can take advantage of this instinct by offering an exercise that masquerades a play.
Movement helps improve memory and, at different stages of development, causes connections to be made in a child's brain. Receiving and understanding instructions and then acting upon them is a necessary part of life, and Wii games help build on this. In order to improve in the game, kids need to observe and respond with increasing speed and skill. Wii has given them an opportunity to test themselves and appreciate their improvement as they grow. This helps build self-esteem and an interest in both competitive and personal play. Playtime is often more enjoyable when it involves competition or camaraderie so if a game allows for multiple players that makes it potentially more beneficial and possibly more interesting for players.
Age Range
It's important especially for video games that parents pay attention to the age appropriateness of each game. Video games all have a different rating, some rated g for everyone, pg for parental guidance, and teen. Mainly this is for either mature or mild violence content that a game could contain. It's important for parents to research or watch a clip of the game before purchasing so that they can ensure that your child will be safe while playing.
Frequently Asked Questions
q:

Do these games encourage our children to play more video games?

a:

Yes and no. Like many questions related to gaming, there is no easy answer to this question. Wii games are designed to appeal to a large market of gamers and especially children, so there is a large likelihood that playing one game that they enjoy will encourage your child to want to play more games that they enjoy. This, however, can be a good thing as many games for this console encourage multiplayer cooperation which can help your child build meaningful relationships and friendships over time.
q:

How do we keep our kids from ignoring other people and playing games alone?

a:

Some games are better to play with at least one opponent. You can choose this kind of game and allow kids to play only when they have a friend or family member to play against.
q:

Why should we choose Wii and its games over another system?

a:

Wii has the largest library of motion-based games. If you enjoy using sports or dance games, then it only makes sense to include the children's games as well. In fact, Wii focuses on family-oriented games, and many of them encourage physical play which is always a big plus for kids who tend to be inactive.
q:

Why not just encourage kids to go outside and play with a ball?

a:

Outside is a great place to play and if fresh air and sunshine are available, so much the better. But a lot of kids can't play outside in the dark or when the weather is bad. Sometimes you need to know exactly where your children are and what they're doing.
q:

Why do we need a Wii Party instead of just playing music?

a:

Music is great, but sometimes kids just stand around and listen to it. Wii Party is a great way to get kids interacting and having fun. Games get people to let their guard down and relate to each other more easily.
q:

What happens when my kids outgrow the system?

a:

They won't. The Wii system can continue your child's education throughout their life, and there are lots of games that you might enjoy, too. Endless Ocean: Blue World takes you under the sea, there are Active Worlds that allow you to visit historical sights or build a city. New games become available all the time.
q:

How do I know which video games are fit for my child to play?

a:

The Nintendo Wii helps to take the guesswork out of this concern for parents. However, if there is still doubt, all video games now come with a code as to who is the ideal audience for that particular video game. Understanding this rating system is important and is something a parent can learn online.
q:

Is there research into the benefits that Nintendo Wi provides kids?

a:

Yes, as a matter of fact, there has been some research conducted on the benefits of the Nintendo Wii games. Researchers have actually determined that playing interactively with Nintendo Wii can make exercise fun and even help fight childhood obesity. There are also research studies into the fact that maybe interactive video games such as the Wii system that require movement could be used as a therapeutic tool to help strengthen certain muscles in the body.
q:

Are these games appropriate for my child or do they contain a lot of violence?

a:

Among the current consoles on the market, the Nintendo Wii is well-known for having a diverse library that is geared toward family and children gamers. While this doesn't eliminate the system from having any violent games available, it does make it easy to find titles that are better suited for your little one. We always recommend following the ESRB rating system when it comes to purchasing a game that you may be unfamiliar with and avoid Mature-rated titles altogether.
q:

How does the motion control work?

a:

The Wii remote straps to your wrist (so that it won't go flying if you get a little overenthusiastic in your games), and then the receiving box (or your console) reads signals from the remote. This remote is different from its predecessors in that it transfers signals in three dimensions, meaning it captures the various movement you do. If you want to play a game with more intricate or complex motion analysis, you can purchase the Wii Plus accessory, an extension of the normal motion-sensing remote.