10 Best Youth Football Cleats & Shoes Reviewed in 2019
last updated
Aug 15, 2019
While your tikes are working hard for those touchdowns, they deserve the support of proper football equipment. A helmet is always a must, as is padding to help cushion some of those falls and collisions. But equally as important, as they dash across the field, is their footwear. Good cleats don't just help boost athletic performance; they also help keep your child safe while they play. Football cleats are typically designed with a higher ankle to provide important support. Check out our favorite brands and models right here!
In a Hurry? The test winner after 57 hrs of research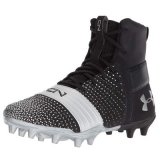 Under Armour MC Jr.
Why is it better?
Lightweight
4 color options available
Breathable, including mesh open-holed tongue
4D Foam molds to fit foot
Secondary cleats allow for increased speed
In a
Hurry? Editors choice: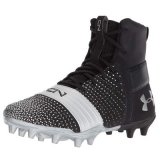 Test Winner: Under Armour MC Jr.
27
Researched Sources
57
Hours Researching
20
Products Evaluated
Materials
Protection
Style
By Default
10 Best Youth Football Cleats & Shoes Reviewed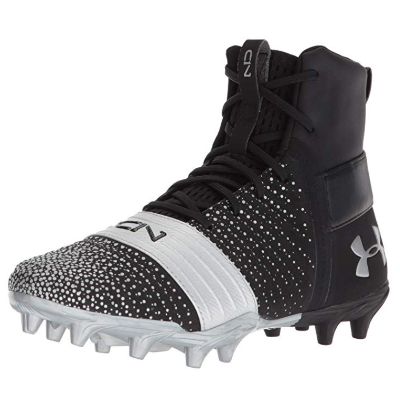 Lightweight
4 color options available
Breathable, including mesh open-holed tongue
4D Foam molds to fit foot
Secondary cleats allow for increased speed
The Under Armour MC Jr features molded synthetic upper wraps for a lightweight fit that is still snug and precise.
Read more
Materials
The 4D foam footbed is a pretty stellar selling point in our books. Cleats that are too loose can not only feel uncomfortable but cause considerable injury during gameplay. And cleats that don't have enough traction and grip can make quick drills seem precarious, or lead to lots of slipping.
Protection
An open-holed mesh tongue allows breathability and ventilation while the foot-forming 4D foam footbed curves to fit your child's foot exactly for a locked in, cozy feeling. It's made of textile and synthetic materials, including a synthetic sole, and is available in four different colors. Secondary cleats lining the bottom sole add an extra bite, allowing children to accelerate suddenly and make sharp turns and cuts across the field without losing their footing. These cleats will allow your child a secure, supportive fit without making their feet feel clammy or uncomfortable.
Style
Football combines many different skills into one game. The sport can be brutal on your body, but these cleats help to ensure that your child is equipped to run their fastest, drill their best plays and patterns, and feel good throughout all of their practices and games.
Wide base adds stability and assists in traction on grass fields
Mid-cut design provides ankle support
Padded composition protects smaller feet from the rigors of football
The water-resistant outer shell is easy to clean and keeps them comfortable
No color options other than black
If they are going to spend a lot of their time on the field on the line of scrimmage, these sturdy cleats from Zephz may work perfectly for your child.
Read more
Materials
These cleats provide a thick barrier between the feet and ankle of your child and the sometimes dangerous football field, helping them keep their mind on their job on the field instead of on the stomping and kicking feet of their teammates and competitors. The wide sole base makes this set of shoes helpful to younger players who are making their first attempts at getting on the field, and the lace-up design will allow them to get a perfect fit for the game.
Protection
With a design that provides ankle protection as well as solid traction on the field, these padded and shelled shoes will protect their feet as well as they block and tackle. The configuration of the cleats on these shoes provide a wide area of support for them as they plant and push their way across the football field, and the moisture-resistant outer shell will keep their feet dry and comfortable.
Style
The mid-cut design will provide support to your child's ankles, thus giving you the reassurance you need that their body will be in good shape as they play. With these being EE width shoes, children with wide feet will feel super comfortable in them.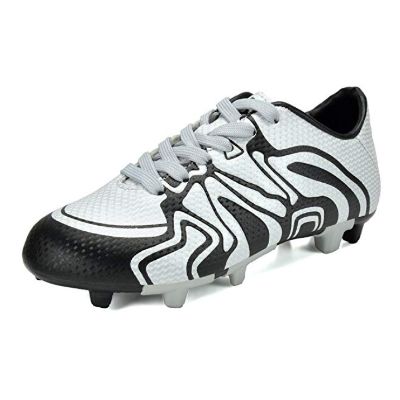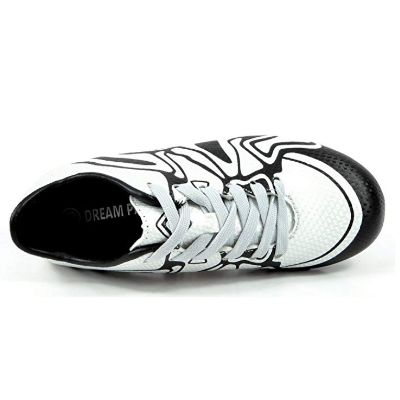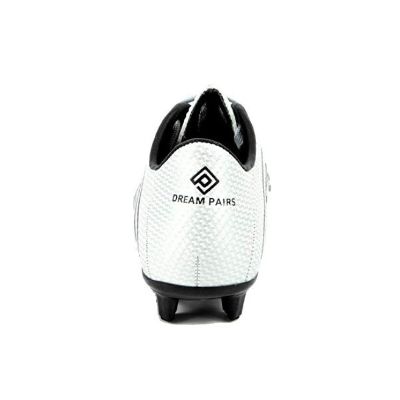 A lightweight, synthetic material that will resist moisture and abrasions
Six options in color, perfect for any of your athletes
Comfortable fit, made for action
Rubber cleats with a rotational arrangement for optimum traction
Not designed to provide ankle protection or support
Agility may not be everything when it comes to sports, but the ability to accelerate and decelerate at will on the field can be easily argued to be the most important aspect of athleticism in football and soccer. This product is perfect for the speedster in your family, giving them lightweight footwear for any field.
Read more
Materials
These boots are designed to be moisture resistant and lightweight, making them more comfortable and more functional over extended periods of play on grassy surfaces. Dependable and lightweight cleats are useful for them across various sports platforms, giving them the traction and protection that they need for success on the field.
Protection
With these kid-oriented cleats from Dream Pairs, give your young speed demon the most adaptable and lightweight footwear that your money can buy. This pair of cleats will serve them well across any grassy arena, making this product perfect for them for football season, as well as capture the flag in the park on summer days.
Style
Shoes that aren't designed to wick away moisture will slip and cause abrasions and blisters on their feet, and cleats that are too heavy will hinder them in those crucial moments contesting possession of the ball.
Equipped with an antimicrobial lining
Spikes provide a high level of traction on real or artificial grass
Mesh top provides support to your child's ankle
Bright color patterns are stylish & make it easy for you to spot your child
Some reviewers feel the mesh is too tight on their ankle
With the Wetike High Top cleats being designed in a variety of bright colors, you will easily be able to spot your child on the field during any of their matches.
Read more
Materials
It's no secret that athletes sweat. With the antimicrobial lining on the inside of the shoe, you can worry less about the smell inside your child's cleats. The antimicrobial lining prevents the growth of odor-causing bacteria. These cleats are great for football players of all ages and positions as they are designed to be lightweight. Your child won't feel weighed down as they run no matter if they are the quarter back or running back.
Protection
The top of the shoe is designed with a mesh material that will protect your child's ankle by hugging it like a sock. Running on artificial grass or a real field won't be a problem as the hollow spikes and 3D rib design provide the wearer with a high level of traction and superior grip as they run. Say goodbye to aching feet! The cushion inside the shoe will allow your child to be comfortable for long periods of time.
Style
When purchasing you can choose between four different color patterns to match your child's taste. The orange, green, pink, and blue are all vibrant and can easily be seen from the stands. The sleek design will have your child looking like a professional football player.
5

. Adidas Unisex Freak Mid MD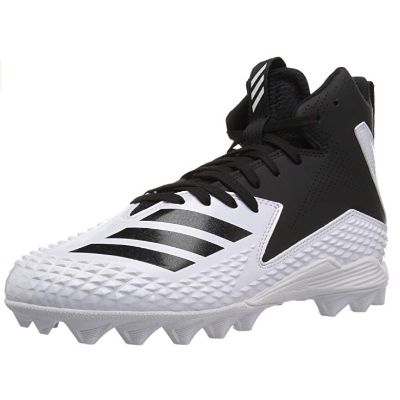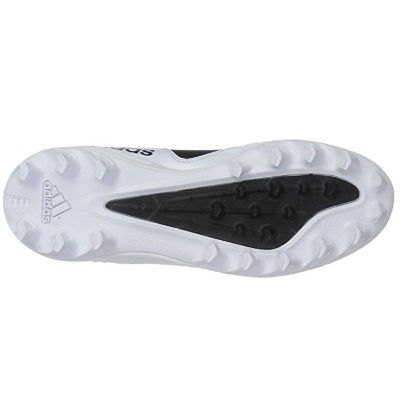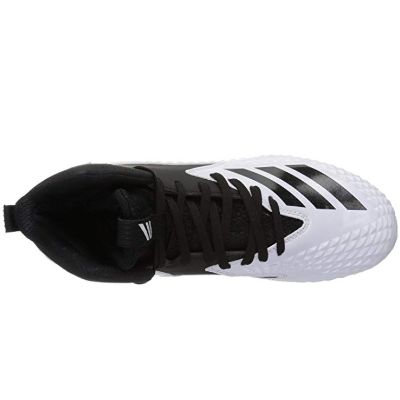 Lightweight
Easy to get on and off
Enhanced ankle support
Synthetic soles
Comfortable bit
These only come in one basic design/color
The Adidas Freak Mid MD is something of an up-and-comer. It features a blend of textile and synthetic materials, including a synthetic sole.
Read more
Materials
Equipped with optimum ankle support, this cleat knows exactly what function it serves when it comes to football. These are easy to get off an on (something of a rarity with cleats, and doubly troubling when you have fidgety little ones determined not to make it out the door in time).
Protection
The Adidas Freak Mid MD is a happy mix of high-quality features. It's supportive and stable, yet not so stiff that it's impossible to get on and off between uses. Your kids will love how secure their foot feels without all the usual stiffness.
Style
The shaft measures as a high top from the arch, and the design is simple and sleek. Kids love this cleat almost as much as adults! These are a simple, solid cleat. They'll provide additional ankle support (which is especially important in football). As a cherry on top, they're a lot easier to slip in and out of than many of their competitors.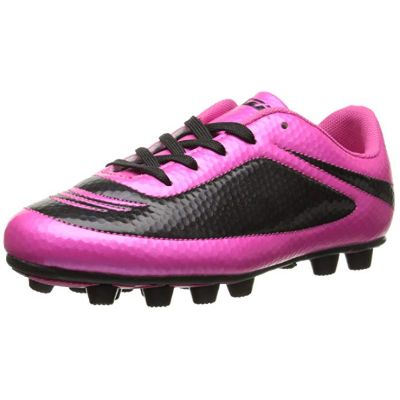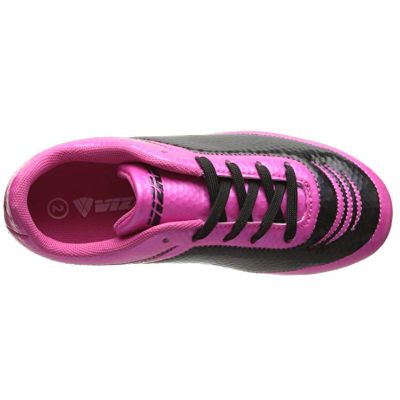 Five distinct and unisex color options
Offered in sizes that will fit toddlers or adolescent athletes alike
Rubber, a synthetic outer shell designed to keep out moisture
Sturdy cleat pattern will provide superior traction on grass fields
Might be too heavy for some soccer players
If you have a young livewire in your home, sports are a beneficial diversion that will help them burn through all that energy in a constructive fashion.
Read more
Materials
This product offers a wide range of colors and an even wider range of sizes, making it a perfect option for you if you need footwear for several sizes. The synthetic outer shell will protect their feet from the afflictions of abrasion and moisture, and the rubber cleats will give them ultimate traction. If you have a home full of young athletes, this product will make the process of putting shoes on their feet much more simple.
Protection
The durability of these cleats will allow your child to wear them for several football seasons. With the laces going all the way up to the top of the shoe, your child can tighten them to provide a secure fit.
Style
With this set of cleats from Vizari Infinity, you can get even the tiniest of your children onto the field, or purchase a set that will fit even your twelve-year-old athletes. This product comes with five choices in color, and a durable design that will survive the seasons to come.
7

. Under Armour Highlight RM Jr.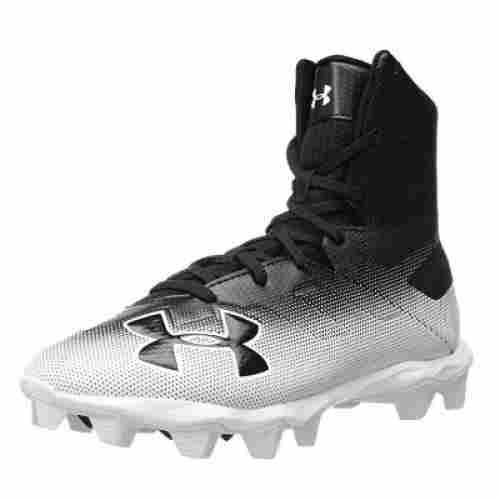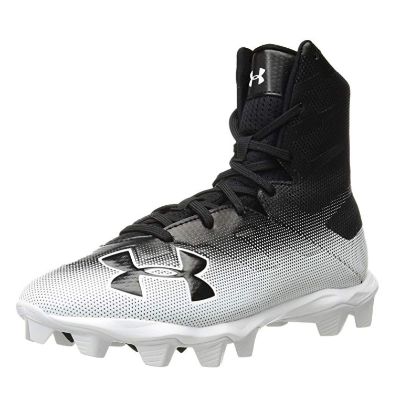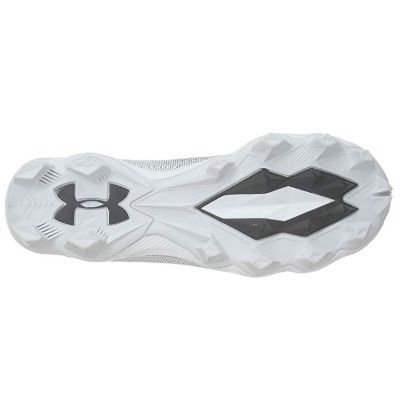 Die-cut EVA sockliner
TPU ankle cage enhances stability
Textile collar provides secure, snug fit and extra ankle support
Lightweight
Well ventilated
Narrow fit
Difficult to get on and off
Weak ankles can be cumbersome for any lifestyle but an athlete with weak ankles runs an even greater risk of serious injury. The Under Armour Highlight RM Jr. is a shoe built to help prevent these exact accidents.
Read more
Materials
The textile collar of the shoe along with the external TPU ankle cage provides solid, strong support while still allowing children to run comfortably in their shoes. And the synthetic upper segment of the shoe is designed with performance in mind. Altogether, the shoe is here for stability's sake but remains lightweight and breathable. The open-holed mesh tongue specifically promotes ventilation as children run and sweat. Extended eyerow cut-outs help in putting on and removing the shoe, lending some flexibility. And a die-cut EVA sock liner creates comfort, cushion, and durability beneath the foot.
Protection
You aren't the only support system intact for your child. The Under Armour Highlight RM Jr. is here to provide your child's feet with the perfect balance of stability and flexibility. Help protect against rolled ankles with this heavy-duty cleat.
Style
There are eight total color combinations, making this a fun and versatile cleat for all ages. This shoe has a few measures in place to make sure they provide a stable base for your child. Football requires a great deal of quick, sharp movements and lots of running on slippery surfaces. The Under Armour Highlight RM Jr. guards against injury in the face of the sport's many challenges.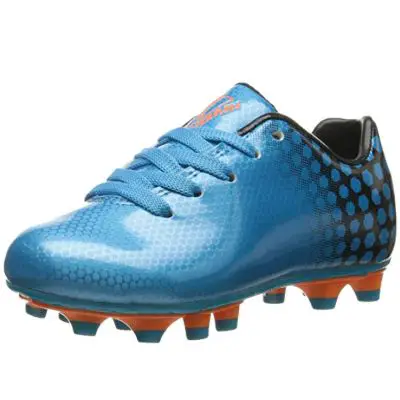 Lightweight, durable design
The synthetic outer shell is easy to clean off after they've finished playing
Comfortable fit and a wide range of size options, great for any athlete up to age 12
Cleat configuration designed for speed and maneuverability
Only available in blue and orange color configurations, not a wide range of color options
Designed as an accessory for the most agile of young athletes, this product from Vizari is perfect for you if you have a young speed demon in the home.
Read more
Materials
With a lightweight, moisture-resistant design, give them a pair of shoes that they'll hardly be able to notice as they cut and sprint across the field. Then wash away the grass stains and mud with ease, the outer shell of these cleats is perfect for a quick hose-off after the game.
Protection
Give them the maneuverability they'll need for success in the sport of their choice, and give yourself an easier cleanup job after they've finished. This product comes in exceptionally small sizes, making it a perfect first set of cleats for your toddler, or a valid contender for your pre-teen athletes as well. The cleats are configured for maximum traction and durability, all managed while maintaining a low total weight for the shoes themselves.
Style
If you have a budding young athlete in the home, or even just a high-energy toddler who wants to get out on the field themselves, this product from Vizari is a great option for you and your child. Give them the capacity to juke and cut to best of their abilities, and wash away the grass and mud from their feet with relative ease when they've finished.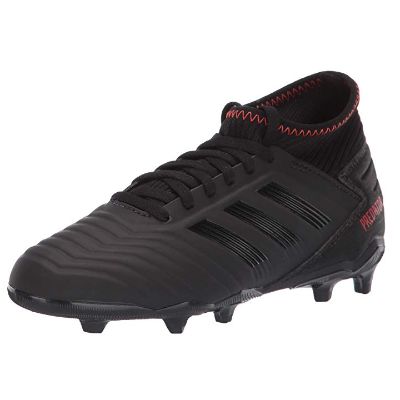 Mesh collar protects your child's ankle
Grippy texture and tough spikes provide a high level of traction
Available in a variety of sizes and colors
Lace closure provides a secure fit.
With the Adidas Predator cleats, your child can control the field!
Read more
Materials
The mesh collar provides your child's foot with a high level of breathability. The lace closure allows children of all ages to tie their shoes tightly thus ensuring they will stay on during the toughest matches.
Protection
The mesh collar is designed with an elastic band that will fit securely around your child's ankle. The tight fit gives your child more stability as they run down the field. With the tough spikes on the bottom of the cleat, your child's chances of slipping are slim to none.
Style
Designed with an overall sleek look these cleats are available in several different colors. Each color features the classic three stripes that Adidas is known for. These cleats are available in sizes for children ages four through twelve. The grippy texture on the toe of the cleats will give your child more traction when handling the ball.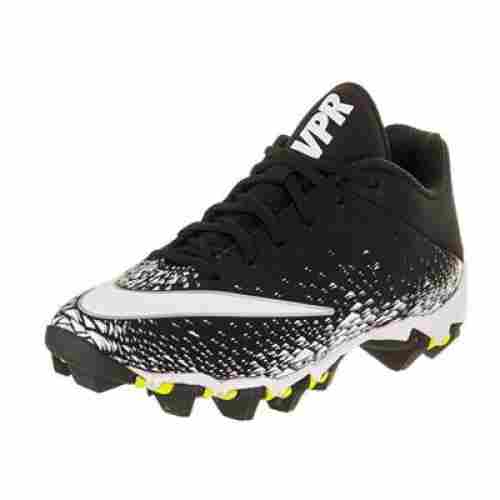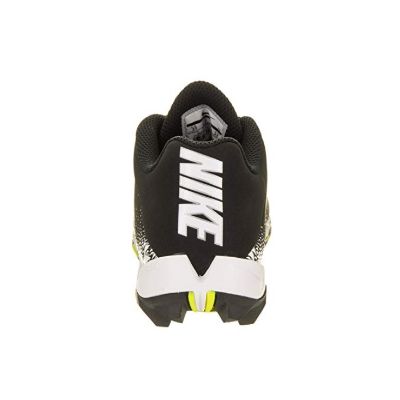 The synthetic design is sturdy and lightweight
Breathable fabric for increased comfort and secure fit
Aggressive cleat configuration will allow for strong plants and sharp cuts
The full-length midsole is universal and responsive
Does not provide quite the level of ankle protection that your young athlete might need, especially if they are a lineman.
Prepare your child for the big leagues with the Nike Vapor Shark 2 cleats. Pair these cleats with your child's skills and they are sure to be the most valuable player on the field.
Read more
Materials
Designed with a molded foam insole and a Phylon midsole, your child's feet will experience a luxurious level of comfort. The breathable fabric on the inside of the shoe will keep your child's feet cool and dry no matter how hard they play. The lightweight materials will not hinder your child's movement or speed, thus allowing them to perform at their best.
Protection
The staff at Nike made these shoes specifically with your child in mind. They are made to withstand the rigors of football. While they do not offer the same level of protection that a cleat with a mesh collar offers, they are highly durable. The spikes will provide your child with traction whether they are running or standing on the field. The full-length sole will cushion your child's entire foot, thus keeping them comfortable and protected during those long hectic games.
Style
Sticking to the classic Nike style, these cleats are equipped with the swoosh symbol right on the front of the shoe. Nike fans of all ages will love the sleek and stylish look. Not to mention these cleats are available in two different color options. Each color option is available in several different sizes, thus allowing you to pick out the pair best suited for your little athlete.
Criteria Used for Evaluation
Materials
The materials chosen for footwear matter and the components used in these shoes are of the same quality as those used for adult and professional athletes everywhere. The shoes in this list are durable and breathable, made for exhaustive use on the field of their choice. From shelled exteriors that provide collision and moisture protection to breathable mesh components that help wick away sweat and ensure stable footing, this list is designed to fit their needs on the field.
Protection
It is of paramount importance to you as a parent to ensure that you've made the right decision for athletic footwear. Notwithstanding the immediate traction and speed reductions your child will suffer from a pair of sneakers or tennis shoes on a grass field, there are additional dangers to their health and development that make foregoing the purchase of high-quality cleats a risk that you can't afford. The footwear selected for this article is qualified to help them fight their way through the trenches of the various sports they may be interested in, with football obviously offering the highest amount of wear and tear available to their equipment. The footwear found in this article is designed to handle all the rigors of football, making all of these items a valid contender for soccer, baseball, lacrosse, and other field sports that may interest your child in the future.
With proper ankle support, they won't face as much risk of rolling or tweaking that most important of foundational joints. They'll have all the stability for planting and juking that they'll need in high-contact environments. It can be easy to discount the amount of comfort provided by a layer of protection among the kicking feet of scuffling and tackling athletes, it can be easy to forget how easy it is to roll an ankle in the fray. But the products we've selected in this list are either designed for a high-speed running back or forward, who will mostly avoid all the stresses of the trenches, or with high-ankle supports for a young lineman in football. With the variety of products offered in this list, one of the products should certainly fit the needs of your young athlete, whatever they may be.
Style
Around the time that your child encounters recreational and academic athletics, they also are interfacing with a strange new world of social interactions that you can't necessarily help them navigate. They are making new friends and competitors, all of whom will be of crucial importance in the development of their teamwork and team-building skills in the future. And with all social occasions and interactions, personal style decisions are important and fantastic to exercise in the field of sport. The products offered in this list vary from toddler-friendly cleats to professional-grade athletic wear designed for grown athletes, all made to fit adolescent achievers of greatness. From Adidas to Under Armour, this list provides you with the top-notch products that your young athlete might see their favorite athlete wearing while at play.
These small bits of personal flair and freedom can mean the world to your child: giving them a symbolic banner to raise in the arena of their choice. They can employ their favorite color into the footwear they use for a football team, or take on the team colors in show of support for the common cause. They can adopt more casual styles of footwear for lighter involvement, or they can reach for the pinnacle of performance capabilities when it comes to their choice in athletic footwear. These decisions may seem small in the rush and hustle of adult life, but you can remember the sort of importance that style and design had to you as a child when it came to your clothing and personal items. Shoes are an obvious and easily interchangeable aspect of style for any modern human, and these shoes have been chosen with functionality and style in mind for the sake of your child.
Most Important Criteria
(According to our experts opinion)
Experts Opinion
Editors Opinion
Users Opinion
By Default

Parents, Did You Know?
ontact sports like American football and soccer can be especially contact-heavy at times, making it necessary to acquire the most resilient and efficient equipment that you can possibly acquire for your children as they move forward. They will grow to be much faster themselves, testing their own personal limits, as well as those of the equipment that you have provided for them in these endeavors.
Parents, Did You Know?
It's pre-imminent to find them a pair of good, light set of cleats that provide ankle support while still allowing them the sort of freedom of movement they'll need to have success on the field. With a discerning eye, you can purchase a proper set of cleats for them that they'll be more than willing to use across several sports. From football to soccer, from baseball to lacrosse, these shoes are selected for their utility to you and your child across the various arcades of their athletic development.
Parents, Did You Know?
They will need proper protection from the dangers associated with their favorite contact or outdoor sports. They will need light and stable footwear to carry them across the various platforms of imagination and cognitive development that are offered by the world of sport. There are numerous pieces of protective athletic wear that your child will accumulate over the course of their athletic career, but none are more practically universal than the sort offered in this comprehensive review of the best gear for your young athlete.
Other Factors to Consider
Durability
If your child is interested in one sport, odds are they will be interested in three or more sports in the coming months and years. As they learn and get better at these new games, they develop new relationships and networks of competitors and allies. With these new networks of friends, your child will soon be involved in sporting endeavors that will fill your calendar. Rest assured, for most of these endeavors, they will need proper protective footwear.
This is where our list comes in: The items described in this list will not only work for your child for soccer or for football, but they will be the perfect addition to any capture-the-flag game at the park or any obstacle course shenanigans at summer camp. The traction, ankle support, and lightweight design attributable to the products offered in this list will be perfect for any athletics occasion for your child, formal or improvised. The products offered here provide a wide range of uses for you and your young athlete, serving them nobly over the years as they grow.
Frequently Asked Questions
q:

Can I use these for more than one sport?

a:

Absolutely, these cleats are custom cut to fit the needs of young football players, but they will work well during any outdoor excursions that interest your child.
q:

When should I buy a high top, when should I buy the low top?

a:

High-top cleats are designed specifically to improve ankle support and protection, making them a better choice for linemen or heavier football players. The low-top options are aimed more at the improvement of their acceleration and deceleration and are a better fit for the more agile young athlete in your home.
q:

Are these items unisex?

a:

Almost entirely, yes. Some of these products are only offered in black or white color schemes, but other products offer a wide and vibrant range of color schemes that will work for young girls who are interested in football or field hockey.
q:

What are my size options?

a:

Check the individual products for their offered and available size options. Some of these products are specifically sized for toddlers and children, while others are downscaled versions of adult cleats. The variance in size options varies quite a bit from product to product.
q:

What are some other activities that they can use these cleats for?

a:

These cleats are primarily designed for either football or for soccer, but they will work well for your child for any outdoor sport that interests them. Whether for baseball, lacrosse, field hockey, capture the flag, or hide and seek, a good pair of outdoor cleats will be a go-to for them in their athletic future.
q:

What's the difference between football cleats and soccer cleats?

a:

While cleats all serve the same purpose in giving a player stability and grip as they run, not all cleats are made equal. Functionally speaking, the structure is different: Football cleats have a toe cleat, meant to help them move straight forward, and soccer cleats have removable aluminum cleat caps to improve traction and are created with a raised pattern on the bottom for the same reason. Football cleats come in three cuts: high-, middle-, and low-top shoes. Depending on which position they run, players prefer different cuts for different reasons. Soccer cleats only come in low-cut due to soccer's high demand for both agility and versatility. Even the materials utilized are different, with football cleats typically produced with weightier, steadier materials while soccer cleats are lighter. You can technically cross-pollinate between the two if you don't have another option, but we'd advise buying the cleat most specifically suited for your sport to avoid injury and allow you to play at optimum performance levels. Crossing baseball and football cleats is an even riskier offense, with the material on football cleats being rubbery and malleable. Baseball cleats, meanwhile, are comprised of tiny solid metal spikes on the bottom of the athletic shoe.
q:

Which cuts are specifically made for different positions?

a:

Linemen prefer high-tops due to all of the lateral movement required of them. Defensive backs, running backs, wide receivers, and quarterbacks tend to opt for the mid-cut shoe due to its simultaneous support and maneuverability. Defensive backs sometimes lean towards the low-cut, as they are meant to provide speed above all else.