Coed Baby Shower Ideas – 2023 Edition!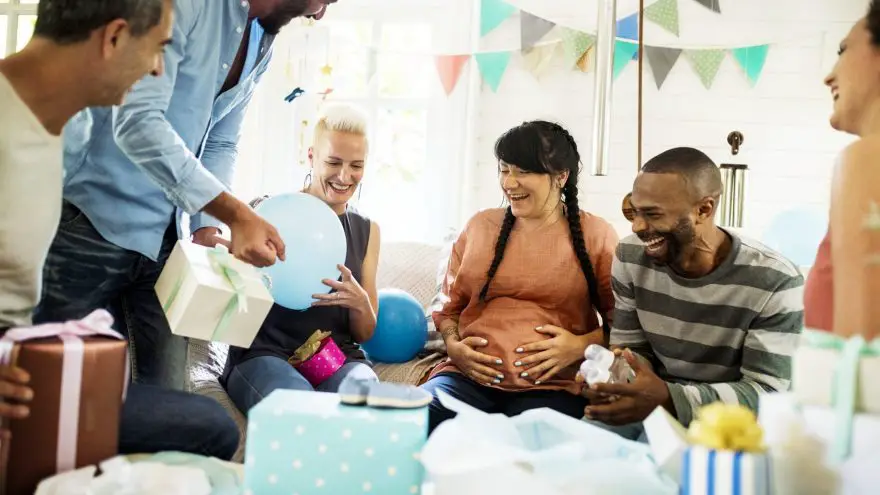 Before the baby comes, you deserve to have a celebration. A baby shower is just one way to celebrate your baby and is a popular way to not just have a party but also prepare for the baby to come. Filled with family and friends, everyone gathers together to spoil you and baby with baby shower gifts, eat delicious food, and make some predictions! Traditionally, a baby shower is thrown for the mother to be and attendees include mostly women – her mother, mother-in-law, sisters, and close friends. While there is nothing wrong with a more traditional shower, more and more couples are opting for a coed baby shower! 
Are you considering a coed shower? Do you need more information on what exactly a coed shower is? Here is everything you need to know, including some top coed baby shower ideas! 
What is a Jack and Jill Baby Shower?
A coed shower, otherwise known as a Jack and Jill baby shower, is simply a baby shower that is open to both men and women! In this instance, it isn't just the mom that gets to celebrate the baby, the father gets to join in the celebration as well.
Guest wise, the list expands to include both the mother's family and friends and the father's family and friends. Men and women are all invited to come and celebrate! More and more couples are making this choice, as it is a great way for them to both get excited for the baby and get to celebrate with all of their family and friends. 
This is also a great option if you are having a baby and a lot of your close friends are in that stage of life as well. It is great to connect with other couples and other parents (or parents to be) and understand that you have a great network of support as you bring your baby into the world!
Does that sound exciting to you? If so, you should definitely consider throwing a coed baby shower. And better yet, it is really not any more difficult or time consuming to throw a coed shower compared to a traditional shower. 
How do I Host a Coed Baby Shower?
Like we said, hosting a coed baby shower is not any more difficult than throwing a traditional shower. Instead, there are some different things to keep in mind to ensure that the shower will be enjoyed by both the male and female guests.
Similar to any other party you might throw, you want to consider your entire guest list. No big deal!
Here are some things to keep in mind when hosting a coed baby shower:
✓ Make sure the couple is on board: If you are planning a baby shower for someone else, make sure they are okay with having a coed shower! You might think it is a great idea but it is best to make sure the couple wants it as well. 
✓ Balance the guest list: The goal should be a pretty even split between men and women, and people who are close to both the father and the mother. If your guest list is majority women and just a handful of men, that is not a true coed shower!
✓ Pick a more neutral design: After all, this is a shower for both men and women. If you aren't sure what a good idea or theme is for baby shower decorations, check out our suggestions below!
✓ Expand the gift registry: The majority of typical registry items are for both the baby and the mom. While that is okay (and important) it is a good idea to add in some items for dad! This will ensure he will have some gifts to open as well and will help him to get excited for the baby to come. 
✓ Plan some games: Games are typically a part of a baby shower anyway so this is not surprising. Games are great! Make sure the coed baby shower games will be fun for both men and women. We'll share some top coed games below! 
Popular Coed Baby Shower Games
As you plan your coed baby shower (or plan a shower for a close friend or family member) you should select a few games that all of the shower guests can play. By throwing a coed shower you need to think about games that will be fun for men and women. This also allows you to pick games designed for couples to play!
This can make it easier as it gives you even more options. If you are unsure about which games to pick, here are some ideas:
Baby Bottle Chug: This is always a fun one! Best of all, you can adapt this based on your guests. If most of your guests drink alcohol, you can use something like beer or hard seltzer for this. If not, stick with something like juice or soda!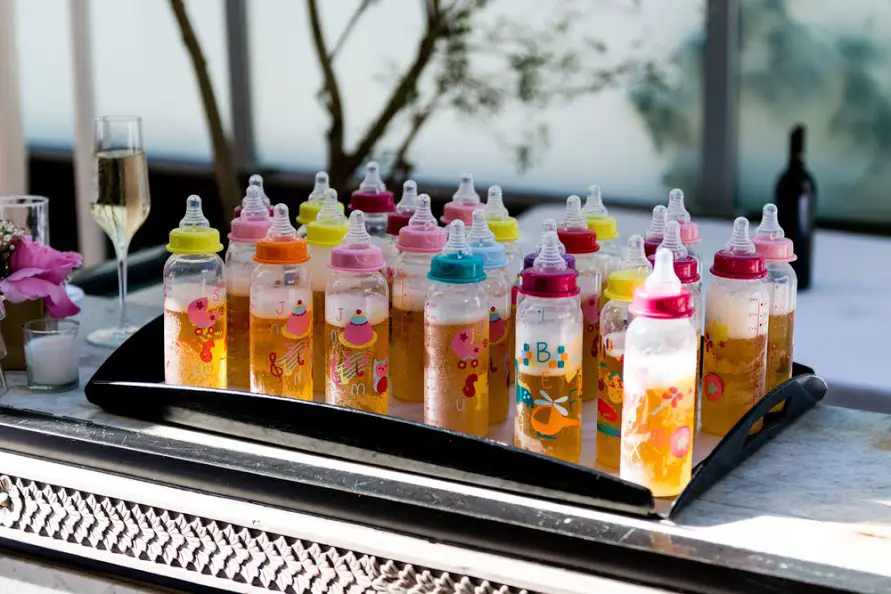 Each person playing will get a baby bottle filled with the beverage of your choosing. The game is simple. Whoever finishes their bottle first, wins! This is an easy, quick game that everyone is sure to enjoy.
Quiz Time: A quiz game is a great gender-neutral game that all of your guests will enjoy. You can keep this simple with people raising their hands, or you can take it further by giving each guest two paddles to hold up- one representing mom, one representing dad.
For each question you ask, guests hold up the paddle they think is correct. Questions can range from who do you think the baby will look more like, to who has gained more weight during the pregnancy (that one always gets a laugh), to questions about the parents when they were children like who was better behaved.
Guess Who: A classic game that is a lot of fun, but that does require some planning in advance! For this game, make sure that every guest comes to the shower with their own baby picture. All of the pictures will get placed on a big board and all the guests get to guess who is who!
This is a lot of fun, and hey, who doesn't like looking at cute baby pictures?
Blind-Folded Baby Food: Another classic game that works great at a coed baby shower.
Get a bunch of different types of baby food and have willing participants put on a blindfold, taste the food, and guess what the flavor is!
Diaper Decorating: If you have an artistic group of guests, a fun game to play is to have each guest (or each couple) decorate a diaper to give to the parents-to-be. This can be turned into a contest easily in a few ways.
The easiest is to simply have the parents pick their favorite diaper. Or, have them try and guess who decorated each one!
The end result either way is a collection of fun diapers and memories that the parents can keep to remember the shower and all of their guests.
Top Coed Baby Shower Ideas
Now that you know what you need to do and what type of games to play, it's time to pick a theme! Your theme will help you decide everything, including the decor (obviously) as well as the invitations, food, and even the games you will play. 
Here are our top coed baby shower theme ideas:
1. A Baby is Brewing
Perfect for the parents who love beer! While the mom to be certainly isn't drinking her favorite brew right now, that doesn't have to stop everyone else. For a laid back theme perfect for guests who love meeting up at the local brewery, you can't go wrong with this. Decor can be beer-themed, as can the coed baby shower invitations.\
For the food? In addition to beer (that is obvious), you can also keep this casual, similar to what you would serve at a relaxed backyard gathering. Burgers, hotdogs, potato chips, you get the idea!
2. Luau
This is perfect for a summertime baby shower. A luau theme is a great, relaxed theme that isn't too over the top and doesn't scream baby shower. Perfect for the couple that wants to celebrate their baby but doesn't need baby bottle decor all over the place to prove it!
Host this event outside if possible for a true luau feel! Pineapples are a must for decor, and consider serving lots of fresh fruit and serve up something like teriyaki chicken to eat!
3. Host a Baby-Q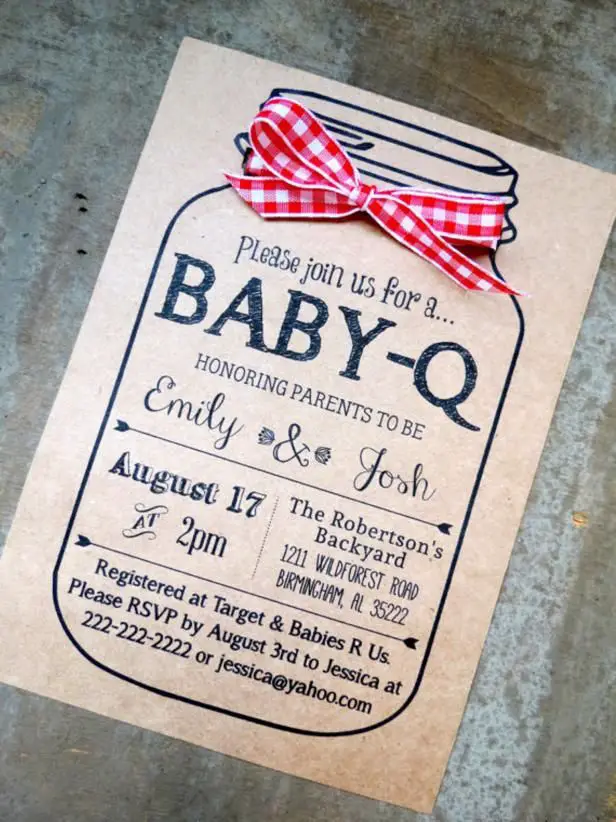 Get it? It isn't a barbeque, it's a baby-q! This cute play on words gives you a really flexible theme. You can either add in a lot of baby-themed decor, or you can keep this incredibly casual and just host a standard BBQ! If you've got great outdoor space, this is the perfect relaxed theme that everyone will enjoy.
4. Nautical
This is a great theme for a boy baby shower that is still perfect for a coed shower. Lots of blue and gold, anchors, and ships! If you want a full theme but want it to still be appropriate for a coed shower, this is a great option. 
5. Tailgate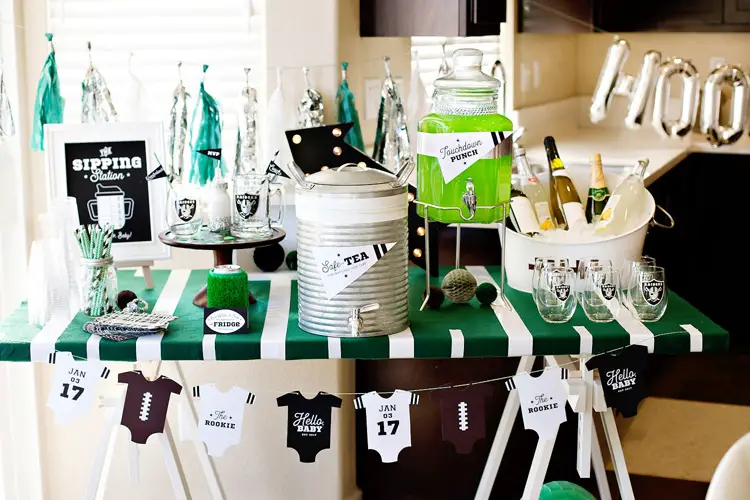 For football lovers, a tailgate theme is the perfect coed shower theme! Decor? Go with the colors of their favorite football team! Food? Typical tailgate food! This is a fun theme for any time of year, but especially in the fall during football season. We just recommend not planning the shower during a football game! 
Wrapping Up
Throwing a coed baby shower is a great way to get the entire family excited and ready for a new addition to the family! This way, both mom and dad get excited, and everyone gets to share in the celebration! By keeping the theme neutral, adjusting your shower games, and expanding the registry gifts, you can easily throw a coed baby shower that is sure to be a hit!
What are your thoughts on coed showers? Do you like the idea of a less traditional shower with men and women involved, or do you think a baby shower should just be mama's time to shine? Let us know!
Sources:
Parents.com
Planningforkeeps.com
Thebump.com
Beau-coup.com