10 Best Custom Action Figures & Personalized Action Figures
last updated
May 28, 2019
Action figures are fun toys for all ages of girls and boys that are fond of certain characters such as superheroes or cartoon characters. Most of them come preassembled and decorated in the form for which they are popular. Manufacturers have created some special action figure items that can be customized with do-it-yourself (DIY) kits to be creative and artistic in a unique and fun way. We feature the best of these wonderful models in this buying guide that customers like the most and would purchase again. We organize them in ranking of design, logic, age range, and entertainment value to show how they measure up against each other. Some of them are simple kits that just require assembly, while others are more involved with paint, decals, and tools. Explore your child's creative side and try out one or two for fun!
In a Hurry? The test winner after 29 hrs of research
Bandai Hobby Master Grade Tallgeese
Why is it better?
Glue is not required for assembly
Pieces snap together easily
Painting is not required when finished
Is a solid model that will hold together well
Can be posed into many angles and positions
In a
Hurry? Editors choice:
Test Winner: Bandai Hobby Master Grade Tallgeese
27
Researched Sources
29
Hours Researching
16
Products Evaluated
Logic
Design
Entertainment Value
Age Range
By Default
In Depth Review Top 10
Bandai Hobby Master Grade Tallgeese
Funko POP D.I.Y Pop Male
Bandai Super Saiyan 3 Son Goku D
Perfect Cell "Dragonball" Bandai S.H.
Funko POP D.I.Y Pop Female
Bandai Hobby BAN209428
Build Your Own Space Robot
Bloco Toys Robot Invasion
Spherewerx Create Your Own Comic Book
SpruKits Pokemon Xerneas
Table of contents
Criteria Used for Evaluation
Other Factors to Consider
Frequently Asked Questions
Sources
10 Best Custom Action Figures & Personalized Action Figures
1

. Bandai Hobby Master Grade Tallgeese
Glue is not required for assembly
Pieces snap together easily
Painting is not required when finished
Is a solid model that will hold together well
Can be posed into many angles and positions
Some had problems with connectors
Might not stand up steady and firm
Glue is not required for assembly for the Master Grade Tallgeese model of a mobile suit in white Gundam Wing. It can be posed into many angles and positions and is a solid model that will hold together well according to buyers.
Read more
The pieces snap together easily, and painting is not required when finished. The plastic is colored appropriately for the completed model that comes with an instruction booklet, tetron sticker, transfer decal, foil sticker, and thirteen runners. Designed for ages fifteen and up, this building model stands 6.6 inches and has beam sabers, decals, and different right and left hands. The helmet is removable, while the back, skirt armor has new thrusters. Its dober gun is redesigned with new recoil motion, plus the rear boosters have a gimmick that is operational. Gundam Wing collectors will love assembling this model to expand their sets.
Logic
Difficult model kits, such as this one, really test the mental capacities of problem-solving, cognitive thinking, classification, organizing, and critical thinking abilities in the person.
Design
With no painting or gluing required to make this model, it just easily snaps together in the finished painted form. It comes with many stickers to add the minute details of the costume and the facial expression.
Entertainment value
For those that like and collect the Gundam Wing figures, this Master Grade Tallgeese is a wanted part of their collections. It is fun to work with the pieces to make the model and enjoyable after to display it with the others.
Age range
Older kids that are at least fifteen will appreciate this model the most, as it is not an easy kit to do. Even those with some experience in putting these sophisticated toys together said it took them many hours to get it right.
2

. Funko POP D.I.Y Pop Male
Wonderful gift for a relative or friend
Fabric or modeling clay makes hair
Use Apoxie Sculpt, acrylic paints, or permanent markers
It comes in the popular Funko POP box
Washable markers to clean and redo
Damaged boxes received
Some buyers got females instead of males
This is one action figure item that is great for adults and kids because you can make it into any design you want. This male Funko POP makes a wonderful gift for a relative or friend, as you can make it look like them or a favored character.
Read more
Made of vinyl material, it comes in the popular Funko POP box, which is good if you are giving it as a gift. Buyers have used a number of things to decorate their figures such as glitter, Apoxie Sculpt, acrylic paint, and permanent markers. Hair can be made from fabric or modeling clay, and you can use fingers for sculpting which is better than sculpting tools. Use a gloss paint to make your figure appear as the ones you purchase and finish with a gloss coating for protection.
Logic
Let the creativity begin! This blank slate of a figure is the perfect way to express those artistic ideas and creative juices. Even choosing what to decorate it with is an expressive choice and how it will be used.
Design
It is a plain solid white figure that is 3 ¾ inches in height to be made into a superhero, idol, movie personality, or a figment of your imagination. It is accepting of many types of additions and coloring, so get creative.
Entertainment value
Just as many adults are purchasing these for collections and gifts as kids are using them for craft ideas and playing. There are just loads of ways to decorate it and make it into a desirable character.
Age range
Kids can use washable markers and then clean the toy to redo the coloration over and over. This Male Funko POP is great for those aged eight and older and can be an activity or a gift.
3

. Bandai Super Saiyan 3 Son Goku D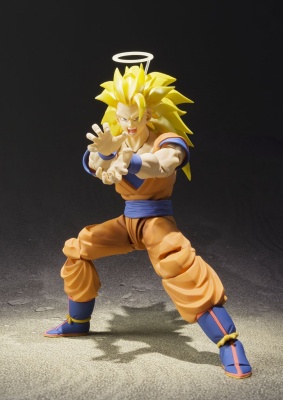 Has the official distribution logo of Bluefin
Blends detailed sculpts and high articulation
Simple to assembly even for novices
No painting or gluing required
Poseable with the different extra parts
Plenty of pieces
Parts can come off easily
This Super Saiyan Goku model is around six inches in height and has the official distribution logo of Bluefin. Good for those fifteen and older in age, this intricate model blends detailed sculpts and high articulation together for a terrific look.
Read more
A technique of layering colored plastic is used to create a joint system that appears natural. It blends the outfit folds, seam lines, and muscle contours together. Simple to assembly even for novices, it is poseable with the different extra parts as an action figure with moveable joints. This item includes a sticker and six runners, so no painting or gluing is required. It comes with a facial expression of powering up, two Kamehameha effect types withstand, and various hand parts for different poses of martial art.
Logic
Being able to follow directions and put forth some creativity of your own is not a small task. Having critical thinking abilities and imagination to appreciate and create this model is very important.
Design
There is no need for glue or paint when you assemble this action figure kit. It has everything needed for a complete replica of the popular character. All you need is the skill, patience, and time to make it perfect.
Entertainment value
For those who love and collect the Bandai Hobby action figures, this one is a must. Putting them together is a wonderful activity, but then being able to change the hands for martial arts poses is exciting too.
Age range
These Bandai Hobby figures are not for the squeamish or the very young because they have plenty of small pieces and are highly detailed. Those fifteen and older are the best candidates for enjoying this model of Super Saiyan Goku.
4

. Perfect Cell "Dragonball" Bandai S.H.
Features interchangeable parts
Includes runners, a manual, and a sticker
Has the logo official logo of Bluefin
Safety tested for quality
Has two parts of the face for swapping
Can be a delicate model
Lots of pieces
This is another well-defined excellent Bandai Hobby figure that is so fun to assembly and then so terrific to handle with switching out parts for various poses.
Read more
Just like the rest of these intricate models, this one is best for those fifteen and older because of the complexity of the build, multitude of small pieces, and detailed instructions. Safety tested for quality, this item stands six inches high and has two parts of the face for changing. The accessories help fans recreate the battle of Gohan and Cell that is so familiar. The distinctive patterns of the body of this incredible product are made using the technology of under-layers. It uses molding that looks natural with detailed designs to create the stunning appearance of this fantastic figure.
Logic
It may seem easy to put together a model such as this one, that is until you try to do it. They are for older kids for a reason because it takes some good critical thinking and problem-solving abilities to master the build.
Design
This figure of Cell comes with a wrist that is interchangeable, an expression of anger, Kamehameha stand and effect. It includes seven runners, an instruction manual, and a sticker and has the logo official logo of Bluefin on the model.
Entertainment value
There are several modes of enjoyment for this action figure you put together yourself. First, you must assemble it, then change out the parts for various poses. Finally, there is the displaying and admiring your creation.
Age range
Fifteen-year-olds to adults are the ideal ages for assembling and appreciating this Bandai model. It takes much patience, dexterity, and willingness to follow instructions to get this figure exactly right.
5

. Funko POP D.I.Y Pop Female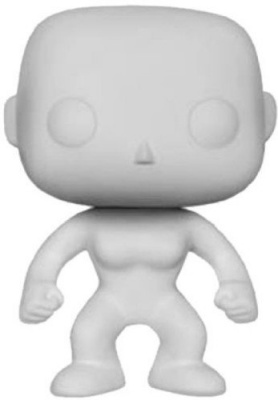 Give as a gift to others
Use Apoxie to make hair, features, or clothing
Clothes and hair can be purchased
Permanent and acrylic markers work well
Heads can come off for modeling
Does not come with anything to decorate it
Is not flexible
Just like the male Funko POP figure listed above, this female character is a plain figure in white that is 3 ¾ inches high. Great for ages eight and above, it is made of vinyl material and is acceptable to a blend of different decorative accessories.
Read more
You design it yourself or give as a gift for others to decorate it. Use Apoxie to make hair, other features, or clothing. Clothes and hair can also be purchased to put on the model. Permanent markers work well for facial expressions as do acrylic markers, and regular paint is good too. Those that have experience with these DIY dolls say that it is easier to work on them with the heads off. To get the heads off temporarily, soak the figure in boiling water for a minute or so. This loosens the holding glue and allows the head to come off. Put the heads back on with super glue after painting and sculpting the model.
Logic
The imagination can run wild with all kinds of choices of how you want your Funko POP figure to look. Will you choose a familiar face, a popular personality, or make up a character of your very own?
Design
A plain blank doll is just like a piece of blank paper to an artistic person. There are endless possibilities for materials, paints, markers, decorations, and accessories to use for a distinct result.
Entertainment value
Creating the design of the character is just as much fun as having and looking at the finished project. Both kids and adults like to make these into creative and desirable personalities that look remarkable.
Age range
These little Funko models are terrific for younger kids of the age eight and older. If they use the washable paints, then they can make these over and over after washing them.
6

. Bandai Hobby BAN209428
Has the Bluefin official logo on the figure
Has a mixture of poses possible
Does not need paint or glue
Snaps together easily
Joints move well
Does not include the pictured stand
Stickers can be tedious to do
The Bandai Hobby building kits are amazing with the minute details and coloration as is evident with this character of Kid Buu. This superb character is good for displaying the fight scene with Super Saiyan 3 Son Goku.
Read more
The model includes two modes kinds of wrists, effects, and face parts and has the Bluefin official logo on the figure. It comes with an instruction manual, sticker, and runners and stands four inches tall. It takes about two hours to put it together says buyers and does not need any paint or glue to finish it. This building kit snaps together easily and has a mixture of poses possible as the joints move very well.
Logic
It takes some steady hands, and precision moves to be able to get the parts together just so. You will need your organization and planning abilities combined with the critical thinking talents to do well with this model.
Design
It is just short of amazing how these characters of Bandai Hobby are created. They are so detailed on the small figure that it is just incredible how they create this in miniature.
Entertainment value
Since it is an action figure, this model will move at all the joints and stand in various poses for display. The fun does not end when the building stops since it can be enjoyed for its form and design.
Age range
For those aged fifteen and up, it is a challenging product that takes great patience and fine motor abilities to assemble the many small pieces to form the perfect personality.
7

. Build Your Own Space Robot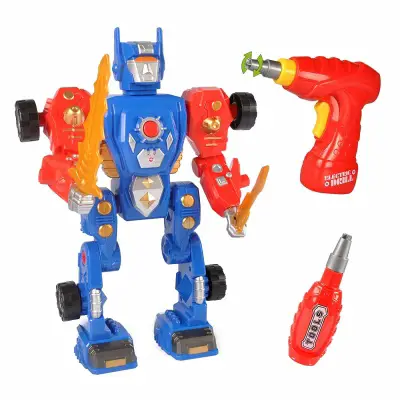 Includes the tools for assembly
Non-toxic and tested for safety
Kids can build it by themselves
Makes fighting sounds and lights up
Is poseable in different situations
Some said it became broken soon after assembly
Arrived damaged in the box for a few people
Use the included tools to assemble the parts of this Space Robot transform Toy that comes with 31 parts to the robot, plus screws, tires, a drill, screwdriver, and swords.
Read more
Ideal for ages three and up, this is a robot in bright and bold colors that you put together and take apart. It needs batteries for the drill tool that are not included and is poseable in different situations. Good for adults and kids to do together, this toy is so easy to do that young kids can even do it by themselves. Tested for safety and non-toxic, the assembled robot makes fighting sounds that are realistic, and it even lights up.
Logic
Even little kids have the critical thinking skills and problem-solving talents to handle this DIY model of a robot. They will learn how to use the included tools to make their own toy.
Design
The large, plastic, non-toxic pieces of this robot action model can be taken apart and then put back together for assembly fun for kids. It is made with toddlers in mind because the pieces and hardware are large and simple.
Entertainment value
It is hard to say which activity children like the most. The assembly and dismantling are very enjoyable, but so it the playing with the robot and his swords afterward. The light and the sounds make it so much more fun!
Age range
Toddlers will beam with delight when they see this colorful large robot action figure. The little tools are just the right size for their small hands and safe to use for assembling the model.
8

. Bloco Toys Robot Invasion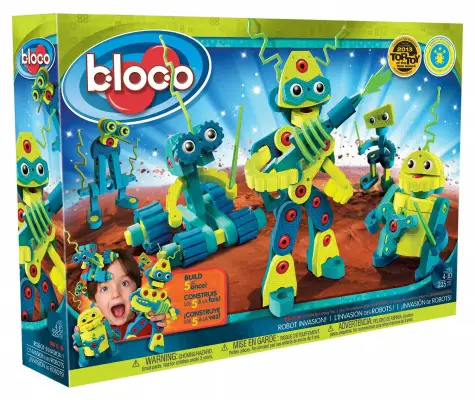 Pieces can be rotated for various angles
Directions are illustrated and clear
Free of phthalate, lead, and BPA
Washable and soft to touch
Nice large size for creative play
Plenty of small pieces to get lost
Can be too difficult for toddlers to do alone
This set of five interesting and comical robots is a splash of color hues guaranteed to excite any child. just the photos alone will captivate kids and make them want to join in the fun or creating and building.
Read more
They can be rotated for various angles to make other spontaneous creations as well. there are endless possibilities for this model set that develops spatial intelligence and problem-solving talents. Free of phthalate, lead, and BPA, these outlandish creatures are washable, soft to touch, and safe for interactive play. All decked out in bright blue, yellow, green, and red, the robots are squishy soft even when stepped on by parents accidentally. Each model is about ten inches tall, so they are a nice large size for continuous play.
Logic
This model kit is a good way to teach children about following written directions. They will see that if they follow the pattern, they will have the desired result. This takes problem-solving and critical thinking abilities to do well.
Design
There are 225 colorful parts that include connectors and foam pieces along with an instruction sheet. The soft foam pieces must be punched out and then assembled using the connectors.
Entertainment value
Most model sets are made and then the fun is over. This is not true of this colorful set of robot friends that can be taken apart and reworked many times into other personalities that the child dreams up.
Age range
The directions are illustrated, clear, and ideal for kids of four to ten years in age. The pieces are large and simple enough for this age range to independently work alone to make the various characters.
9

. Spherewerx Create Your Own Comic Book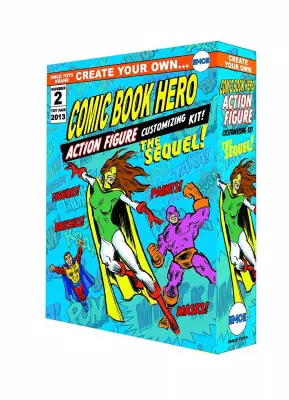 Customize to the desire of the child
Figures that are male and female
Has three different characters
Includes decals, paint, and brushes
Figures stand about four inches high
Parts can break easily
Hard to get paint in some of the small spots
Whatever you desire in the appearance of a superhero, you can make it real with this excellent customizing kit. It includes both male and female models that can be designed to the desire of the child or adult.
Read more
You get one male body, one female body, and a superhuman body of a male. Accessories include two capes, hands of two pairs, and five various heads. This incredible set comes with instructions, decals, water-based paint in six colors, and two brushes for the paint. Best for kids fourteen-years-old and older, these figures stand about four inches high and look great on display.
Logic
Creativity and imagination abilities will get the freedom to go for the limit with this self-expression kit. Using just the basic supplies of paint and decals, kids can design their own hero figures using just their own mental capacities.
Design
With three figures to decorate and characterize, users will have plenty of options with the provided accessories. Even the paint, brushes, and decals are included for plenty of choices to create.
Entertainment value
Who would not like to make their own superhero? This is a terrific way to spend some hours as an older child. just trying to decide on the colors and design will be exciting enough, but then kids get to display their artwork too.
Age range
Children younger than fourteen will most likely not take this model kit very seriously and will have a problem with the miniature figures and paint supplies. It takes the skill set of this age level to do a great job with the details and instructions.
10

. SpruKits Pokemon Xerneas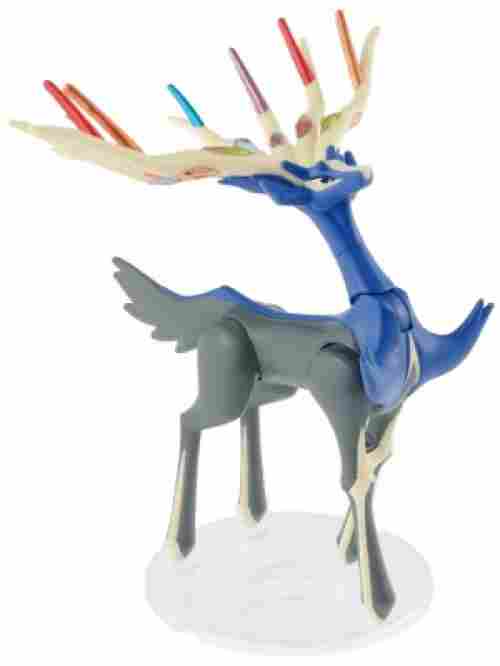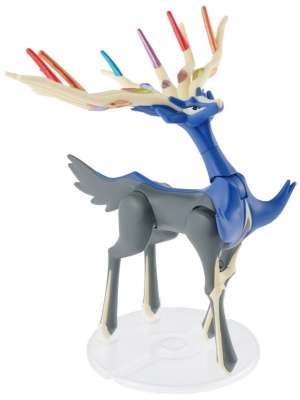 Made in bright and vivid colors
Does not require glue, tools, or paint
Molded pieces snap together easily
Highly detailed and articulated model
Can be put in various poses for display
Some buyers were not expecting a DIY model
Might require an exacto knife for some parts
If you or your child is a Pokémon fan, then this colorful figure from Bandai is just for you! It is the Pokémon Xerneas figure in bright and vivid colors that stands about six inches high.
Read more
This excellent model kit does not require glue, tools, or paint to complete. It includes 88 color pieces that are molded and snap together easily. Highly detailed and articulated, this cute character can be put in various poses for display purposes. The minimum age for assembly is eight years old because of the model size and many small pieces in the set. If your child is collecting these miniature figures, then this one will surely be a treasured addition!
Logic
Critical thinking, creativity, problem-solving, and hand-eye coordination will all be developed when participating in this activity. It takes all of those talents to make the model as intended for play and display.
Design
Made to be quite easy and straight-forward for older kids, this cute model snaps together easily and does not require any added tasks such as paint or glue. It is a fabulous design that makes an amazing figure.
Entertainment value
Collecting such figures is an enjoyment by itself even if the assembly activity was not possible. So, with the added activity of assembly, the enjoyment is doubled for Pokémon fans.
Age range
Most eight-year-olds have the mental and physical skills to handle this small detailed figure kit well. It is not suitable for toddlers or little kids that put things in their mouths since the pieces are small.
Criteria Used for Evaluation

Logic
Model kits take some basic critical thinking and problem-solving abilities in order to understand the order of the building and process of the tasks required. Even the most basic ones demand some sorting and organization talents to put the pieces into perspective and get the order of assembly correct. Parents can help greatly with this as they perform the duties of building the figures together with the child. There are many abilities to be gained with building kits that promote creativity and artistic expression. We even feature some that can be taken apart and put back together multiple times. One of them comes with its own set of small tools to put the robot creatures together. These are skills the child learns by doing.
Design
Depending on the particular model we feature, each one of these products has a varied form for building and creating. Some of them are void of any color or decorating, such as the Funko POP models. These require the paint and added features to make the figure presentable as a certain character. The others either have paint or do not need paint to complete the finished project. We suggest that you look at the suggested age levels closely to ensure you get one that matches the age of the child best.
Entertainment Value
Having toys and figures that bring out the creative genius in you or your child makes for some enjoyable and entertaining fun. Whether parents join in and help or not, kids will be so excited to participate in making their own toys in the design they like best. They will become favored toys just for the simple fact that the child had the decision-making position of how the figure was put together with their own little hands. They can take pride in themselves and their abilities to create something they enjoy.

Age Range
There are a few choices listed that are perfect for toddlers to put together themselves possibly with a little help. However, the majority of the models require an older child or adult to do the assembly of the very small parts that can be lost easily or swallowed by a toddler or infant. Especially the Bandai Hobby products are for the older children of fifteen or better. It takes their mental skills and physical coordination and balance to handle the pieces well and snap them together. Toddlers are better off with the two robot figure products listed as they have larger pieces and even soft pieces for the Robot Invasion foam models. These are colorful, bright, and inviting to a child to learn the necessary talents for assembly projects.
Most Important Criteria
(According to our experts opinion)
Experts Opinion
Editors Opinion
Users Opinion
By Default

Parents, Did You Know?
Model and construction toys exercise critical thinking, classification, problem-solving, cause-and-effect, and imagination skills in kids. These occur automatically as the tasks are performed.
Parents, Did You Know?
As kids build, they learn. Children get a sense of accomplishment when they create puzzles, model kits, robots, building sets, and blocks. As they use their own fingers and hands to produce the forms and shapes, they make great discoveries.
Other Factors to Consider

Ease of Use
We have quite a selection of various models that all demand different assembly approaches from the user. Some are quite easy as they just need to be snapped together for the completed model. Others require paint, decals, stickers, and hours of the detailed assembly to get them perfect. It greatly depends on how involved you want to be with a DIY action figure kit, as to which one you should buy. Make sure you look at the suggested age recommendation by the manufacturer to not get something too sophisticated for a child. You do not want to discourage them with something too hard or difficult.

Physical Development
The easiest kits for toddlers demand the same physical skills like the ones for the older children but just not at the same level of expertise. Good hand-eye coordination, balance, finger dexterity, and fine motor talent is necessary to do any type of assembly project even with large pieces. The smaller the pieces and the finished model, the better the skills must be. This is why it is good to start young children off with very simple model items to begin those talents early and strong. The needed painting and decorating of some of these products add to the ability level of the child and to their growing list of successful skills.
Frequently Asked Questions
q:

Do kids need anything extra to complete these kits, such as glue or tools?

a:

Only the Funko POP models require decorating and painting and do not include the accessories for doing that. The others that need the decorating come with the supplies for that.
q:

What is the age range for these products?

a:

This varies greatly with each product. Some are for older kids, fifteen and older, while others are terrific for toddlers that are three years old and up.
q:

Can kids play with these action figure after they have made them?

a:

The ones for the younger kids can be used after the assembly, but the ones for older children, such as the Bandai Hobby models, it is best to leave them in the form they were made. They are more for display and collecting that playing with.
q:

Are these large or small models?

a:

The majority of them are small and probably around six inches high or less. A few of them are larger at about ten inches high for younger kids. We give the sizes when they were provided by the manufacturer.
q:

These all seem like they are mostly for boys because of the characters, are they?

a:

No, not at all. Girls love the colorful characters of these sets too. Anyone who loves puzzles and assembling things will really want to put these figures together.
q:

Do kids have to paint these action figures when they have them assembled?

a:

Most of these figure sets come with parts already painted. The Funko POP characters must be decorated and designed by the user, and nothing else comes with those but the figure itself. A couple of these items have the paint with them for the person to use on the model. We specify which ones do and do not have paint and accessories in the detailed sections.