Ideas for Eating Healthy on a Low Income
It's Friday night, you're exhausted from work, and the kids are hungry and fussing more than usual. The last thing you want to do is clean the dirty dishes in the sink and break a sweat cooking in the kitchen. In this all too common situation, most of us cave in and call in a pizza or pick up some burgers. Usually this is fine as long it's once in a while, but as the month starts coming to an end is when we really start to realize how bad of a habit eating out is, and just how much money cooking from home can save. We have some ideas to help you with eating healthy even if you have a low income.
It's probably safe to assume cooking was never your favorite activity in the world to begin with, or maybe it was, but it becomes more and more financially necessary when you start having kids. For those with big families, cooking quickly becomes a necessity. Even when you are in the habit of cooking, it can still quickly add up and still be too expensive for your budget. Cooking is an art as well as a science, and if you're trying to save money it needs to become a lifestyle.
Keep the cheap stuff stocked
The first big favor you can do for yourself is to keep the cheap staples on hand. Load up on the cheap stuff, especially the stuff that doesn't go bad for a while. Items like beans, noodles, rice, or other miscellaneous food is always good to have on hand to enhance or make a meal out of whatever leftovers you have to work with. Say you have chicken or ground beef left over from last night's dinner, if your pantry is stocked with beans and rice, you can easily whip up a satisfying and filling rice bowl. If you like salads and keep vegetables on hand, you could easily turn your left overs into a taco salad.
Efficient cooking is not just utilizing your leftovers, but actually planning to have leftovers to work with in the first place!
Invest in a Slow Cooker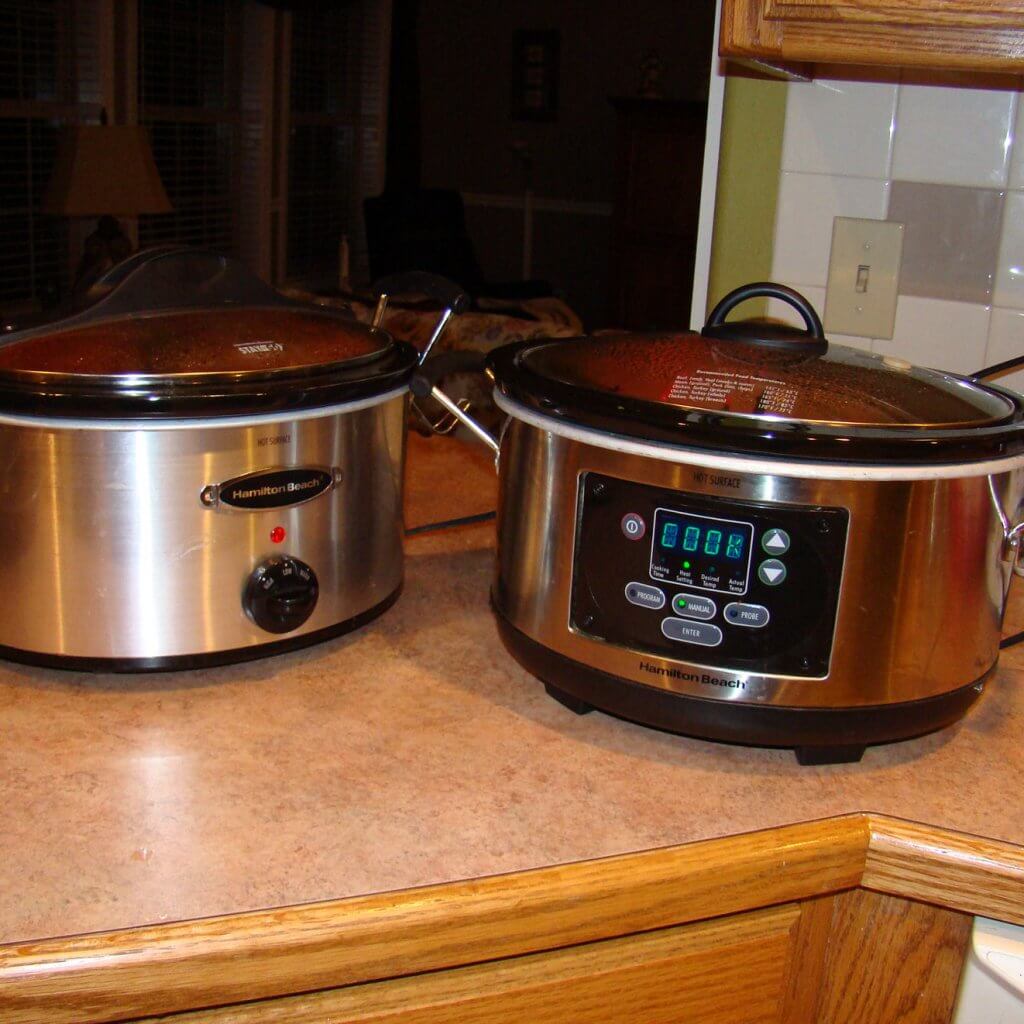 If you have a big family and you don't have a slow-cooker, something is terribly wrong! Slow-cookers have become so commonplace due to their convenience that it's likely that one of your friends, family, or neighbors has a spare one laying around. So don't be afraid to ask. Alternatively, it is almost assured that your local goodwill or thrift shop will have a used one available for a cheap price.
Slow-cookers are unbelievably convenient, there is an infinite amount of recipes available online, and preparation can be as easy as simply throwing the ingredients into the pot and letting it sit all day. Hopefully your children like beans, because chili will quickly become your best friend when you have access to a slow-cooker!
There are a number of great and easy recipes online, but it is also incredibly easy to improvise with whatever you have laying around the house. Beans, vegetables, chicken, salsa, and nearly anything you can imagine can go into a chili and come out tasting good. Chili is also easy to make healthy with vegetables, beans, and going easy on the cheese and sour cream.
Another indispensable slow-cooker fix is pulled pork. Pork usually ranks as one of the cheapest meats available, the prep can be as minimal or involved as you want it to be. The great thing about pulled pork is that besides using it for the classic pulled-pork sandwich, it can also be reused in salads and chili as well. If your children are picky and don't like pulled pork, chicken thighs can also be cooked in the same way and also tend to be affordable.
Breakfast for dinner
According to many professionals, breakfast is the most important meal of the day, it can also be the cheapest! Eggs are very affordable, come in bulk, and are incredibly versatile in the styles they can be cooked. Omelets are a great way to utilize leftovers, as you can essentially throw anything into an omelet such as ham, spinach, broccoli, cheese etc. Low fat turkey bacon is a healthy and affordable alternative to pork bacon, and honestly (at least to me) tastes better because it's not so greasy. Eggs can also be hardboiled, saved in the fridge, and later diced up to be added to salads.
Plan, plan, plan!
Scheduling and planning is going to go a long way in making sure your groceries are utilized efficiently and there is as little waste as possible. A great way to start is by picking a day of the week to be your shopping day and sticking to it every week. Not only will this give you a better sense of how long certain food items last in your house, this also turns shopping into a routine, which makes you more aware and conscious of your purchases and thus makes it easier to budget.
When your shopping is sporadic it's easy to lose track of your finances in a sea of small transactions. On the flip-side, buying a stock pile of groceries all at once can easily lead to over-buying and food waste, as you over estimate what you need. Keeping a good shopping list is essential to proper budgeting.
It is also a good idea to pick a day of the week to be your meal-prepping day. Versatility will always be your friend when trying to stretch a budget. Casseroles can be cheap, but they aren't necessarily a dish that can be turned into anything else besides a casserole at the end of the day.
On the other hand, if you cook chicken in bulk, there is an endless variety of what you can make with it later in the week. Nachos, tacos, quesadillas, salads, the options are endless. Variety is the spice of life, and it is also what will keep you committed to cooking. Once you start getting bored of the food you have been making is when you will become tempted to order out.
Don't forget pasta
Spaghetti and meatballs is always a crowd pleaser for even the pickiest of eaters. Ground beef is reliably the cheapest meat for purchase at most grocery stores (make sure you drain the grease). Pasta is even cheaper than the beef and, like other dishes we've listed so far, can have many elements added to it to prevent wasting food.
Nearly any vegetable can be added to spaghetti and taste great. Spinach, mushrooms, peppers, or broccoli are among our favorite additions, but also beans can be added to make a chili mac. Spaghetti keeps well in the fridge and still tastes fine out of the microwave.
Snack ideas
Need something more than a pb and j sandwich to throw in the lunch bags? Apples can be cheap to buy in bulk, try slicing up apples and also packing your kids some cheese cubes. Other healthy snack options include string cheese, carrots, bananas, and peanuts. If available in your area, sunflower seed butter can be a healthier alternative to peanut butter, and tastes pretty good.
Going Forward
The internet is your friend! If you choose to invest in a slow-cooker, there are awesome resources online for recipes and supportive communities. Pinterest is a great website you may already be a member of that has endless lists of any kind of recipes you can imagine.
We also found a super helpful website called supercook.com which allows you to search for recipes by ingredient so that you can utilize what you already have and stretch your budget further. Cooking healthy for a big family is going to be a learning process, and it is going to rely on your ability to stretch ingredients and be creative. Once you get the hang of cooking from recipes you will slowly start to realize what works for you your family, and how to get creative. Above all, make sure you're having fun, because fun is what will make budgeting and cooking a sustainable practice!
Most Read